Whenever I bring home a piece of furniture to paint, I usually have to let it sit for a few days before I decide on the color. There are those few times when I run across a piece and know immediately the color it will be. But, for the most part, I need a little time. Neutral paint colors are always a good choice because they go with any style and they do sell fast. I also know that neutral can describe any color. You can have a neutral green and a neutral blue. You don't have to paint everything white to get a "neutral" look. Today, I am going to share some of my favorite blue furniture makeovers that I have done over the years. I think most of these makeovers are a more neutral blue tone. They aren't super loud or overpowering.
Note: Click on the links under the photos to be taken to that particular project to find more information about the color and other products I used in that makeover.
This tall dresser was so beautiful. I couldn't wait to try this new-to-me blue color on it. It was just what this piece needed. It sold in a few hours.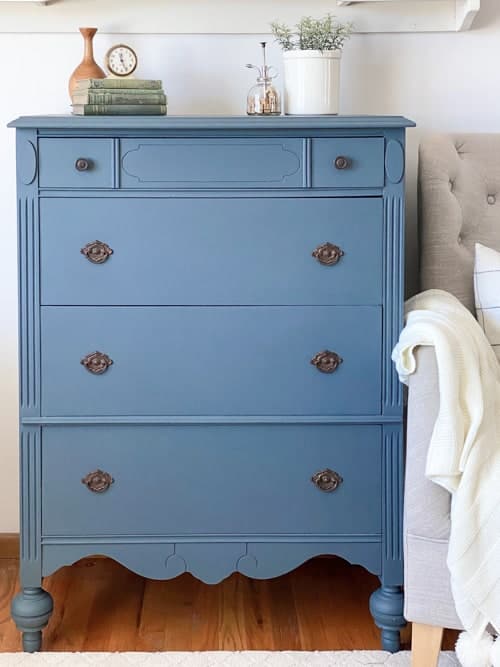 I have had many people ask for chippy, rustic pieces. The blue color on the piece below is faint and so beautiful. It is definitely one of my favorite blue shades.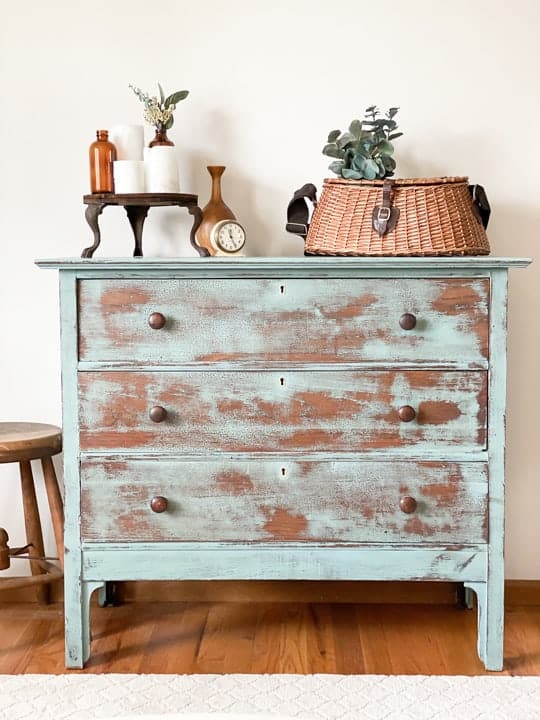 I love a smaller dresser that only has a few drawers. The natural wood knobs on the piece below pop nicely against this blue color.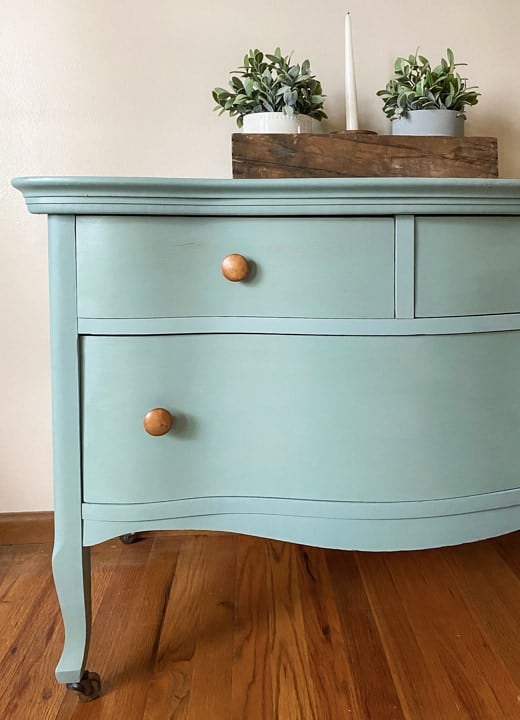 Bird's Eye Maple Dresser Makeover
Buffets are my favorite to make over! I just love how versatile they are. The blue color made this buffet handsome and rich.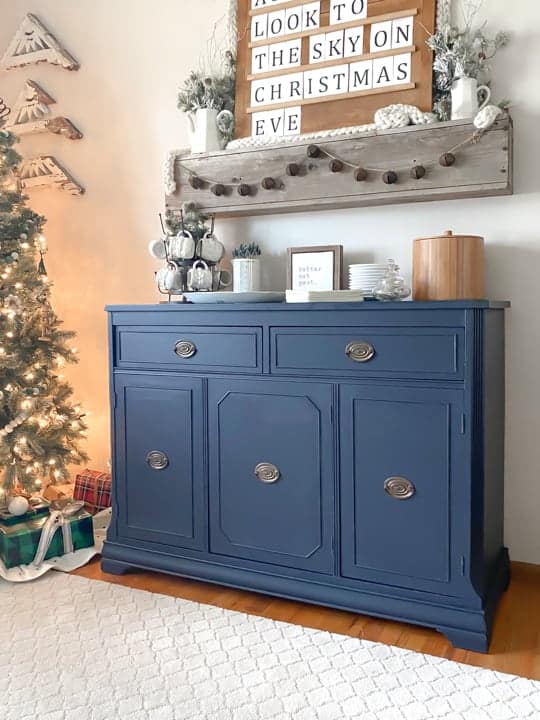 If you are looking to add a pop of blue into a space, paint a side table in a shade of blue. It won't take up a lot of space in the room. The blue won't be a huge standout on a side table and it is a great piece to add the color to your space slowly to see if you like it.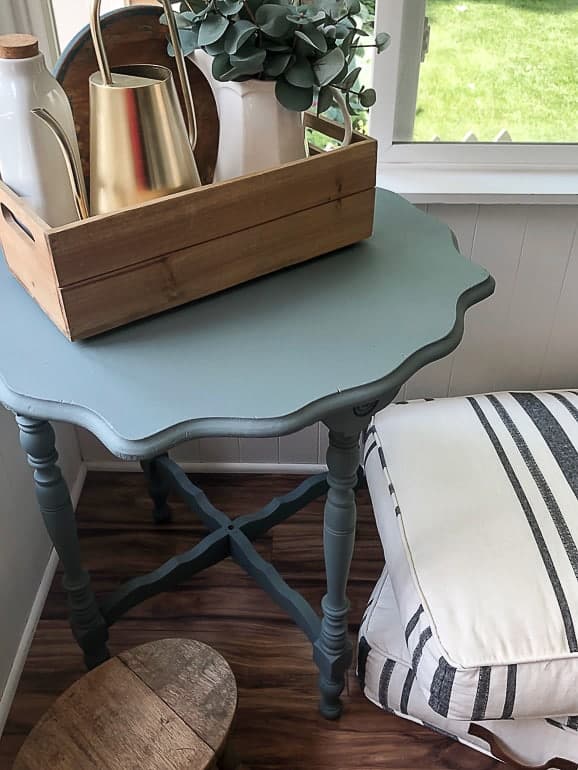 Adding the blue color to the broken piece below made this piece sell SO FAST! It is the cutest piece that can be used in so many spaces.
3 Drawer Dresser Makeover With Paint & Hardware
Using a dark glaze over this blue color below took this dresser over the top. It is one of my most popular makeovers to date.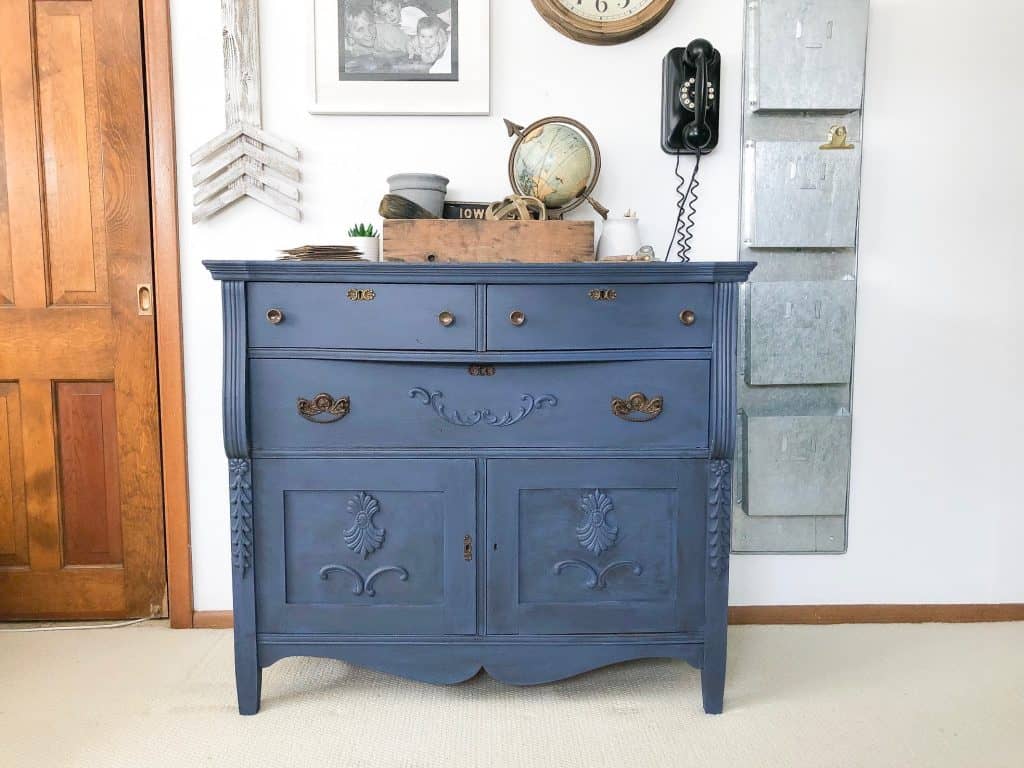 Sometimes, you just want a hint of blue. You want the essence of blue. The color below is just that.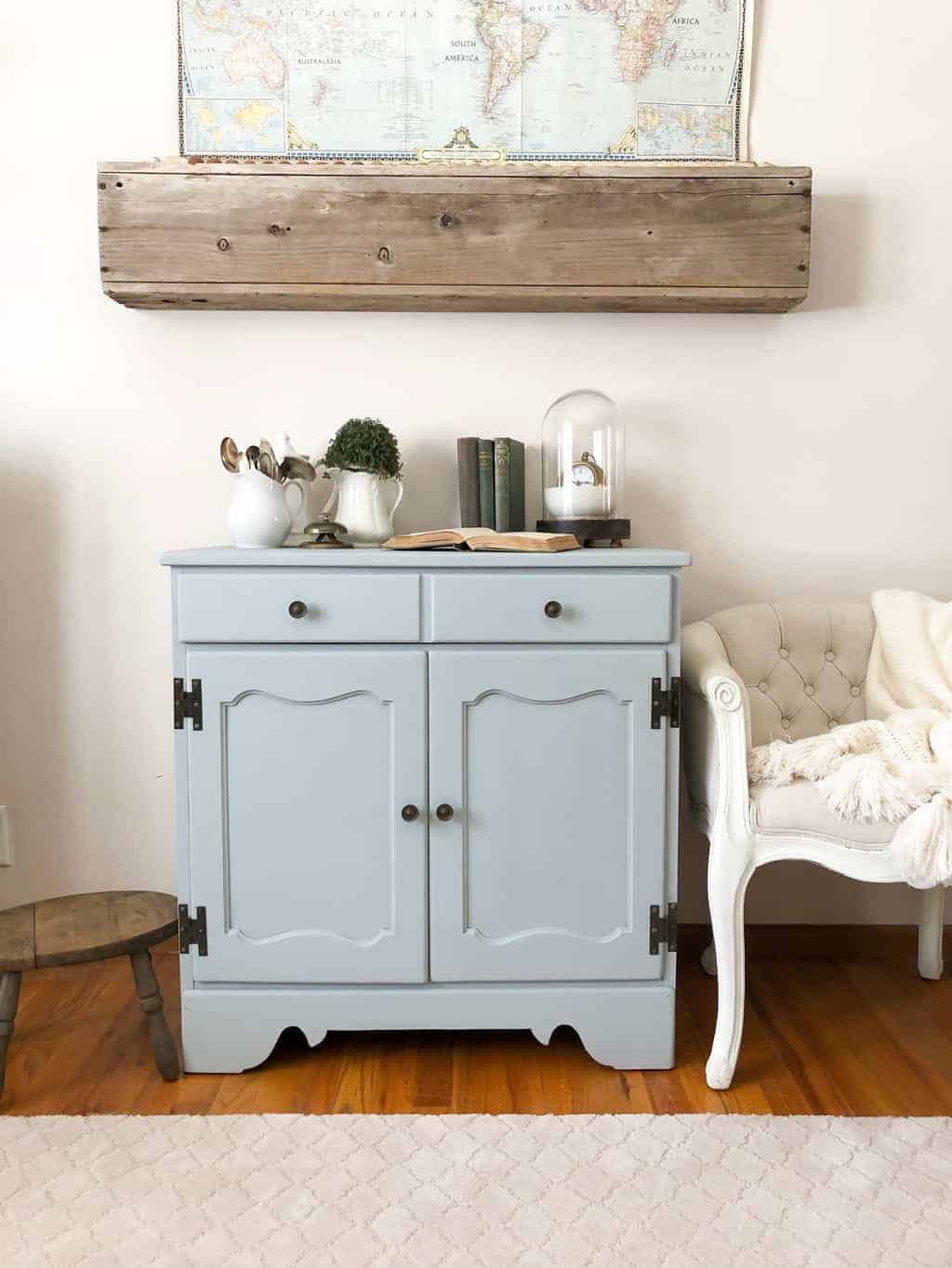 The piece below is another popular makeover. Don't pass up pieces that may be missing a drawer or door. You can reinvent them into other things to make them functional again.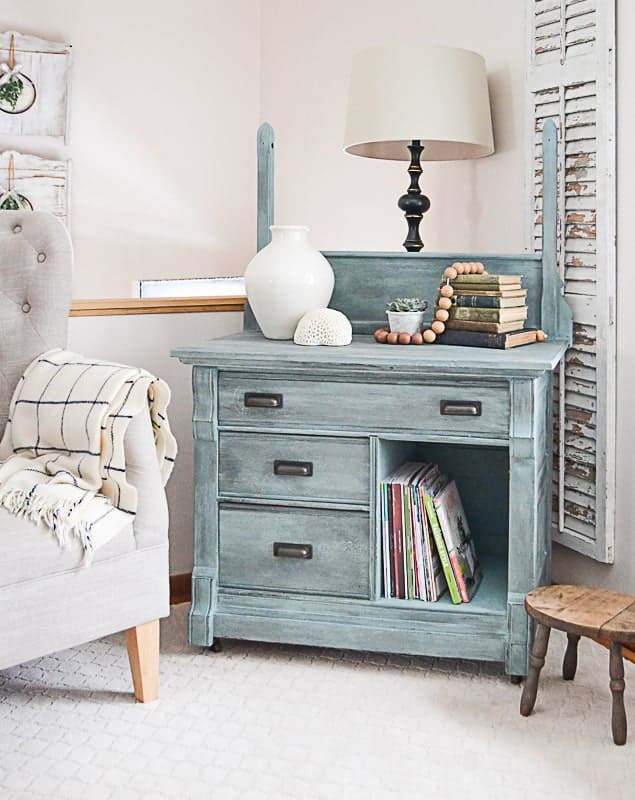 Antique Chest Of Drawers Makeover
The mix of blue and wood tones is SO GOOD! The buffet below is one of my favorite pieces. It was too large for us to keep. It sold so fast and went to a space that could accommodate it well.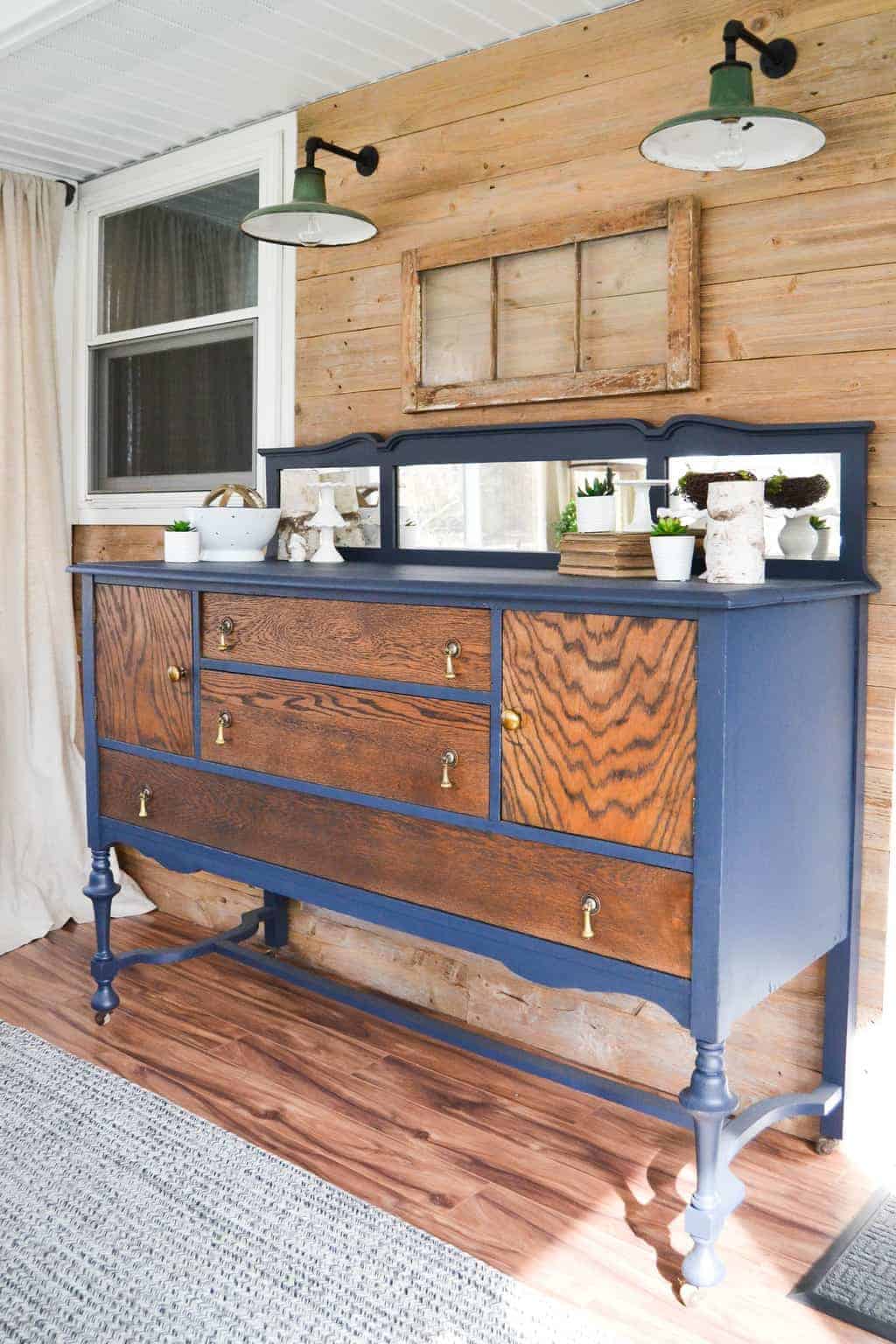 The blue color on the piece below is perfect for a nursery. It can work great for a boy or a girl.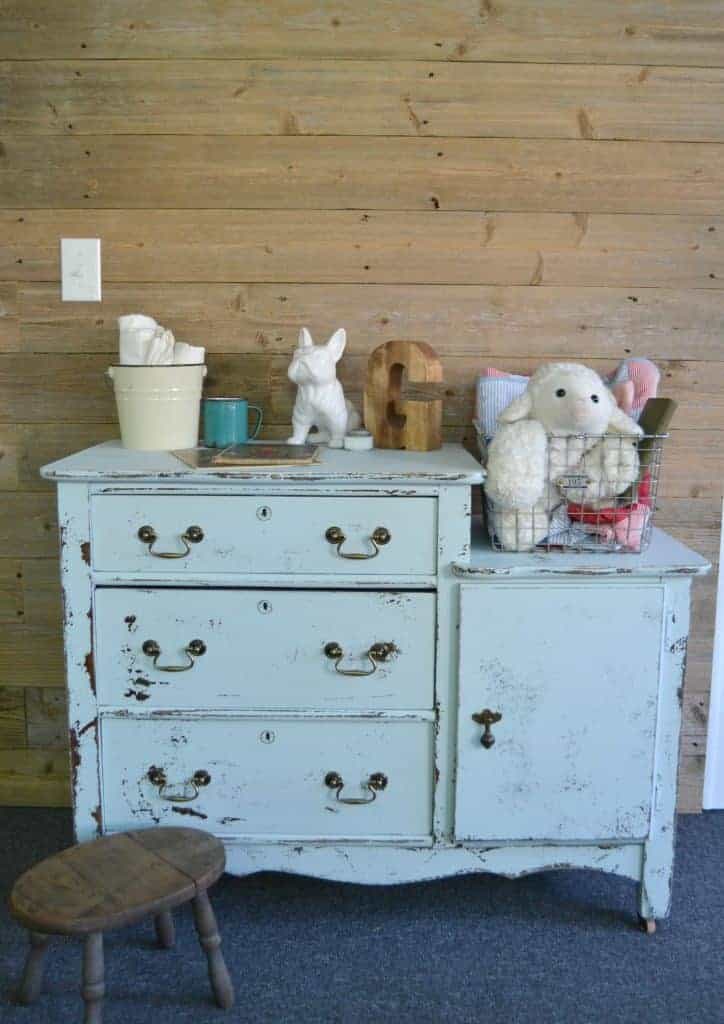 A blue-gray color is stunning. If I had to choose one blue color, it would probably be a blue-gray variation.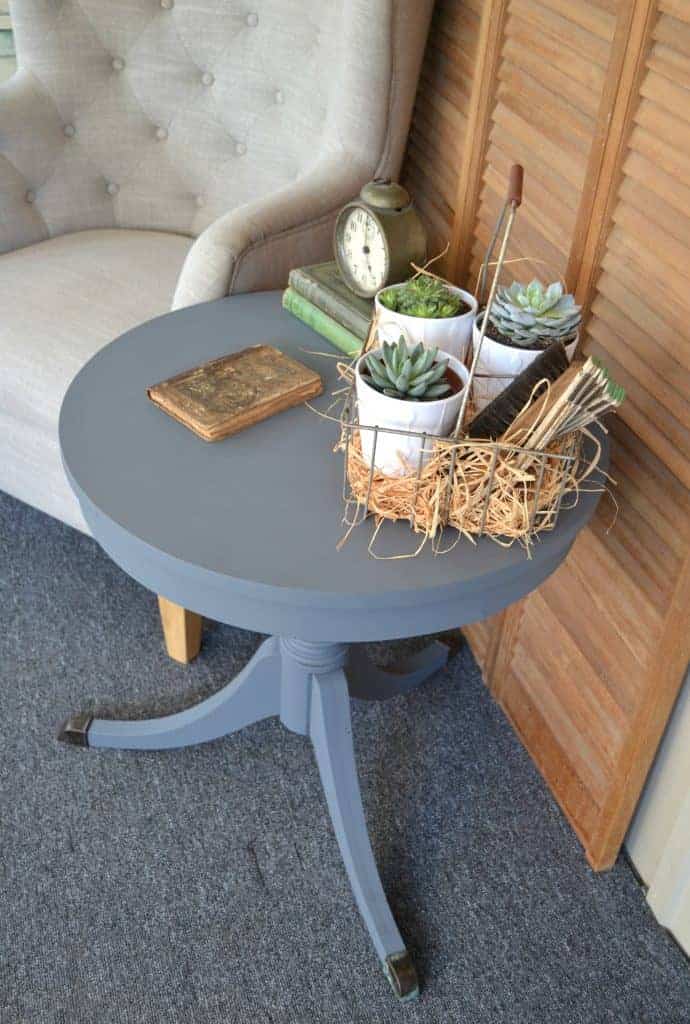 Another example of a blue-gray color on a bigger piece.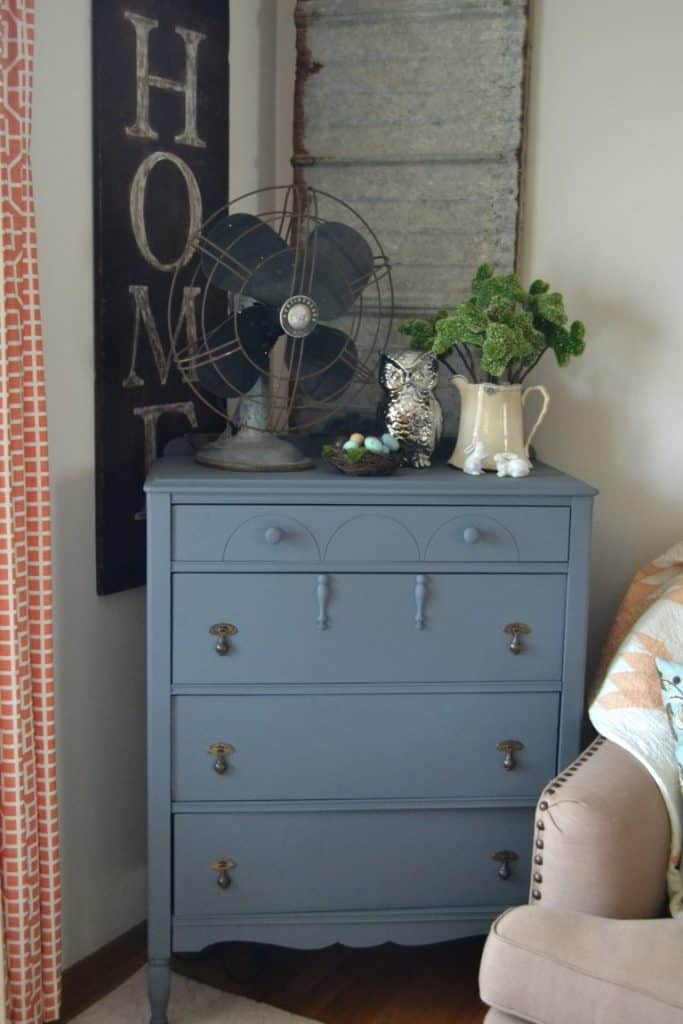 Painted Blue Gray Dresser Makeover
We used this piece in Gabrielle's room for a long time. She picked out the color and helped with the makeover.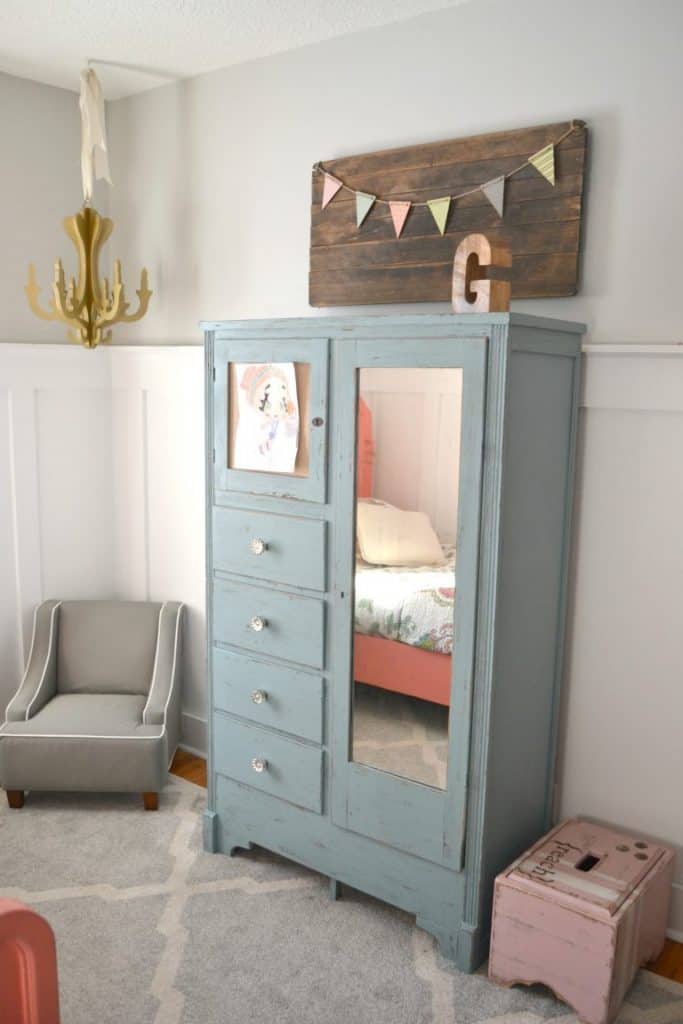 This desk was where all of this started. I used to work on it during naptime, nights, and weekends in the living room. This is another favorite makeover of mine. I have been looking for another desk like it for a long time. I just want to do this makeover again.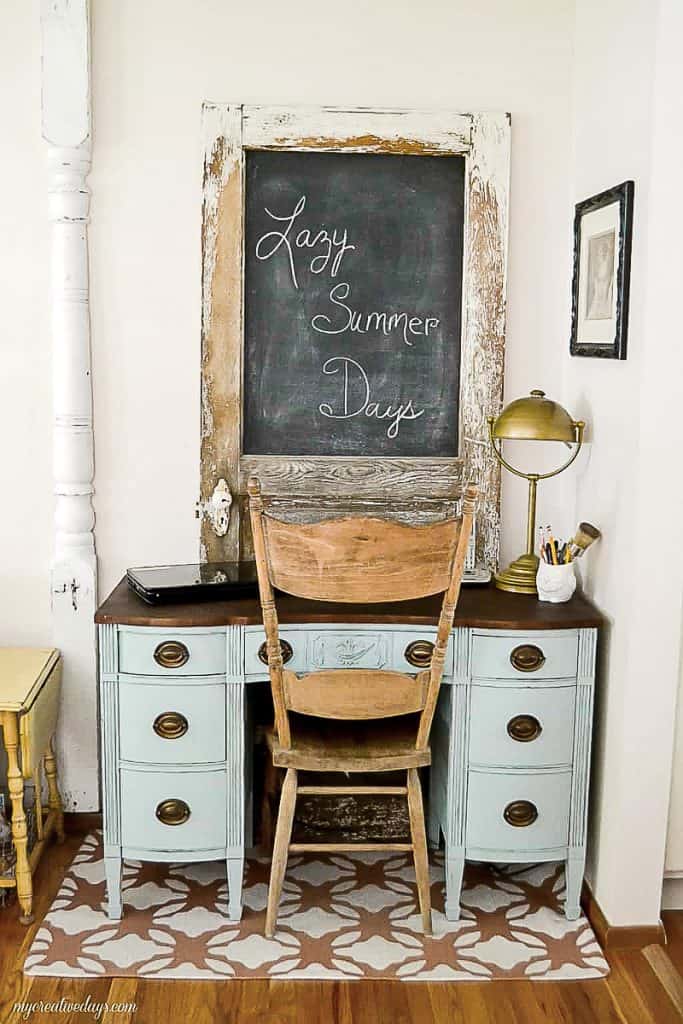 A broken dresser becomes a shelf piece in blue. Another piece that sold fast.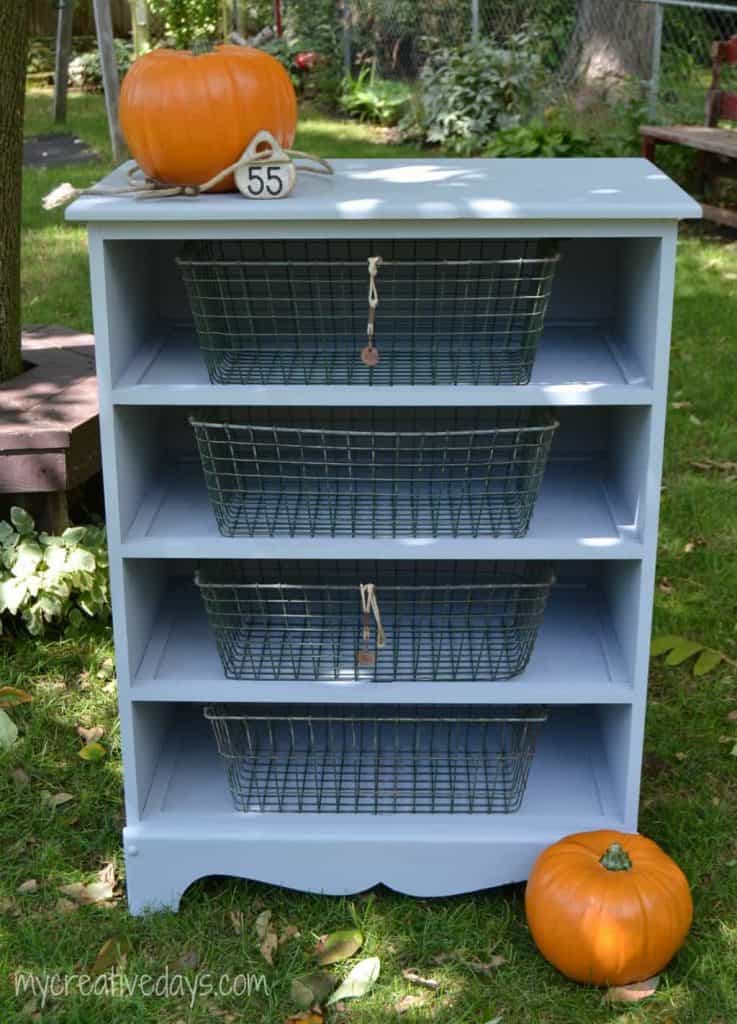 Which of the blue colors was your favorite? Did you have a favorite furniture piece in this post? I hope these blue furniture makeovers have given you some ideas and you will use the inspiration on your next blue project.
I WOULD LOVE to see your blue makeovers. Post a picture of them on Instagram and tag me @mycreativedays!
Do You Want To Make Money Flipping Furniture?
After twenty years of doing this, I am still picking up pieces when I can find them because I love the creative outlet, but I am now coaching other furniture flippers on how to make more money in their business. If you are someone who is looking to start and/or grow a furniture flipping business, I would love to help you. There are ways to make money in your business beyond painting a piece of furniture. Once I learned that, my business flourished. Don't waste your time trying to figure it out on your own.
To help other flippers, I created The Furniture Flipping Academy! The academy includes everything you need to start, grow, and/or scale a furniture flipping business. It includes courses, resources, templates, social media planner and guide, a private community, and so much more. It will ensure that you are doing the steps that will lead to success and not wasting your time on things that won't.
You can find all the information about the Furniture Flipping Academy HERE.
Let's get your business started and/or moving in the right direction. The Furniture Flipping Academy is for any flipper, from beginner to experienced. If your business is stagnant, there is a reason for that. Let me help you grow it into a flipping career that is profitable and fits the lifestyle you want to live.
PIN THIS POST!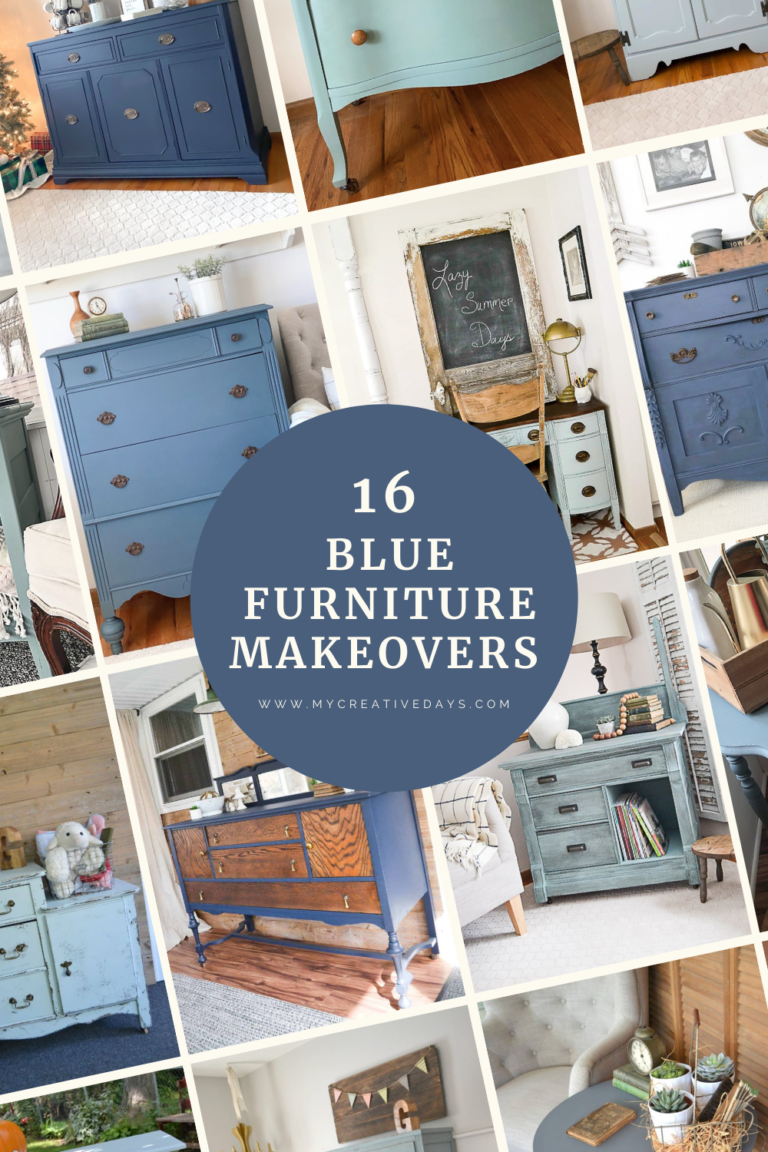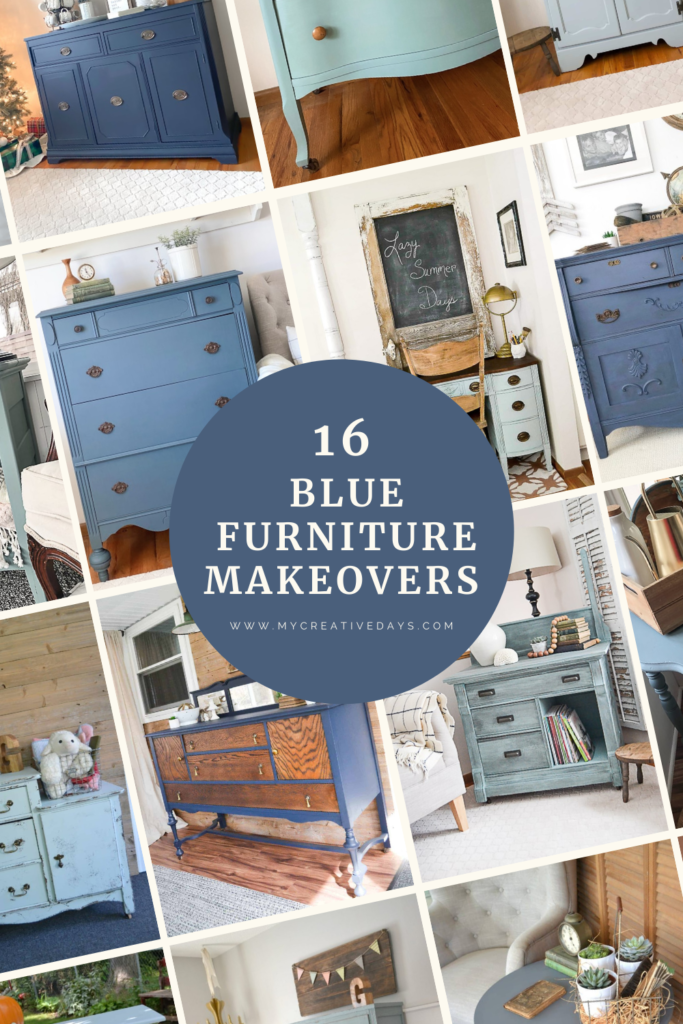 If you liked these blue furniture makeovers, you will also like these transformations:
Traditional Dresser Makeover DIY
Small End Table Makeover With Wise Owl Products