I love navy. When we bought our first home, the first thing I did was paint the walls in our bedroom navy. We had white bedding and it became such a cozy little room. White and navy are classic color combinations that I will always be drawn to. I have been telling Matt that I really want to do some navy makeovers. When I was out on one of my routine thrift store hunts, I spotted this buffet that I knew I could makeover in navy. The problem was that they wanted way too much money for it. (I find that a lot). I decided to walk away from it and stop by in a couple of weeks and see if it was still there.
Guess what?! It was! My dad was with me and he was talking to the manager about it. The manager really wanted to move it because he needed the space and since it had sat there for so long, he gave us a price for it that I thought was reasonable. This DIY Buffet Makeover was a "scratch" for my navy "itch" and I am excited to find some more pieces to do in this color.
(Sorry for the phone picture. My camera was out of commission when I took the before photo.)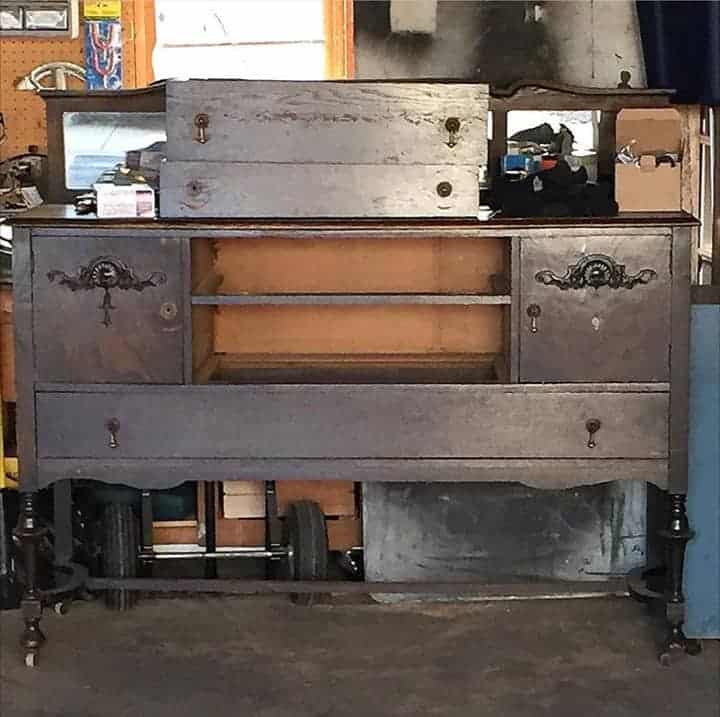 As with all of my furniture rescues, this buffet came with a lot of issues. Most of the ornate overlay on the right side was missing. What remained was so brittle. I hit it lightly with a board when I was moving some things around and it crumbled off to the grounds in tiny pieces. I knew I was going to remove it all when I bought it, but I was amazed how it crumbled into tiny pieces. That was an easy start!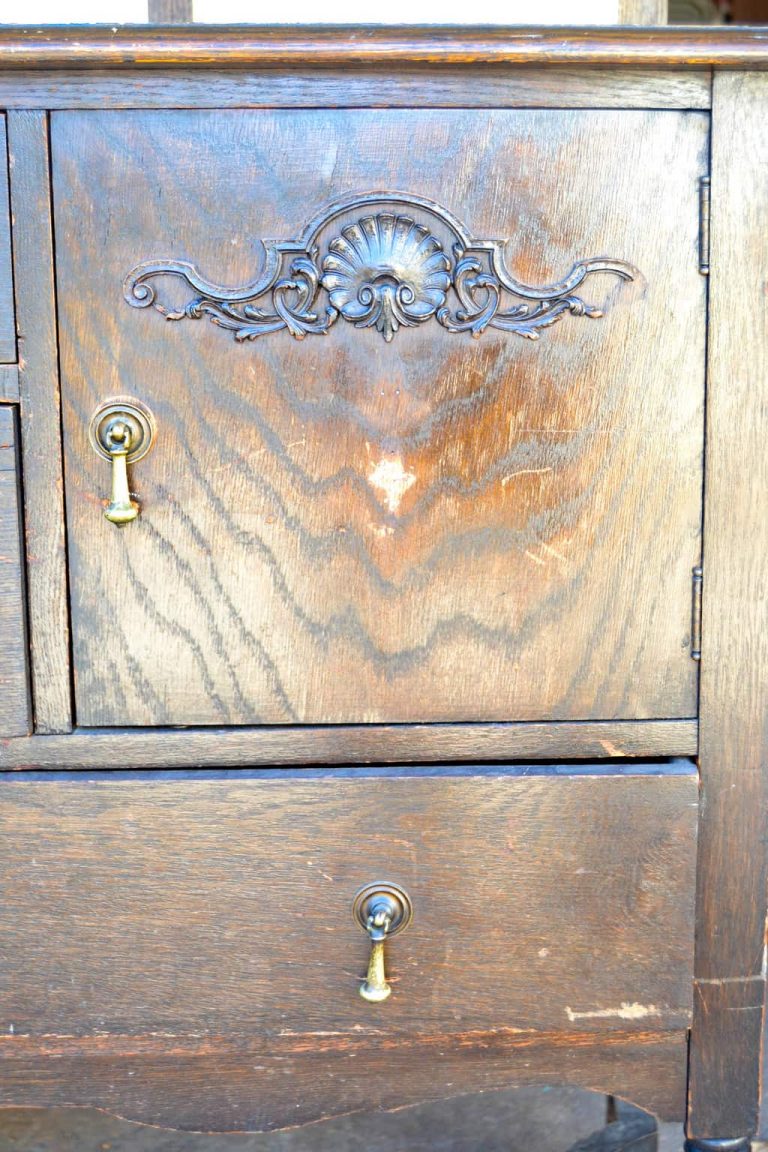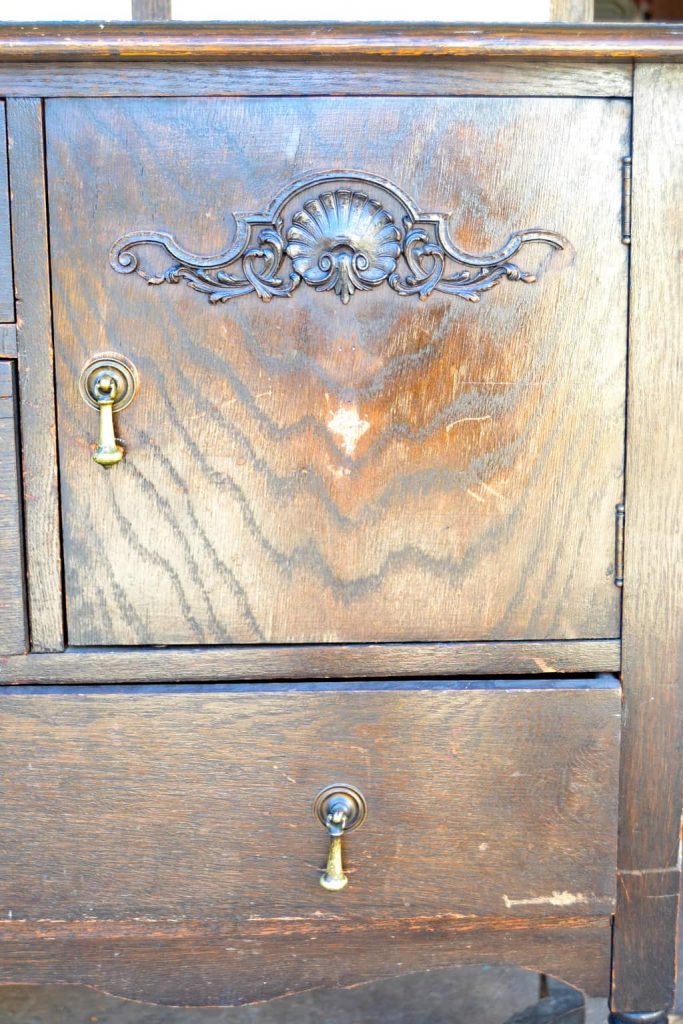 The pulls this buffet had were amazing!!! Again, I am usually drawn to pieces by the hardware along. Of course, they weren't all there, but I had enough to use on all the drawers.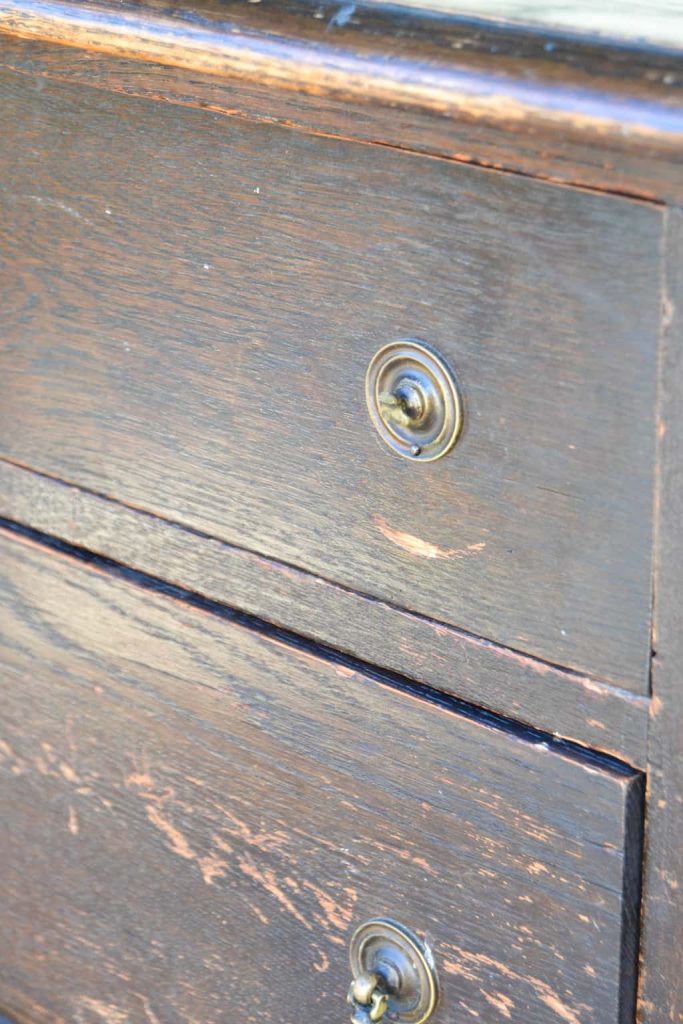 There were chunks out of the veneer on both sides of the buffet and the top was separated a little on top. All things that never scare me away.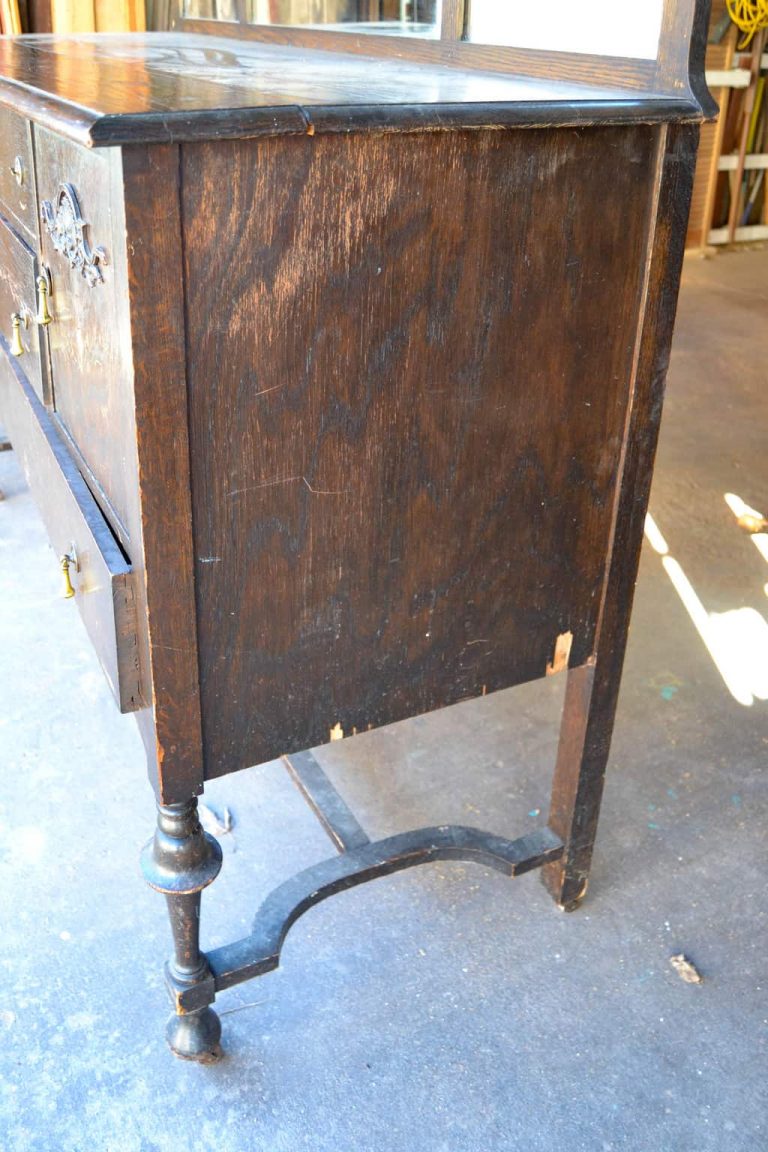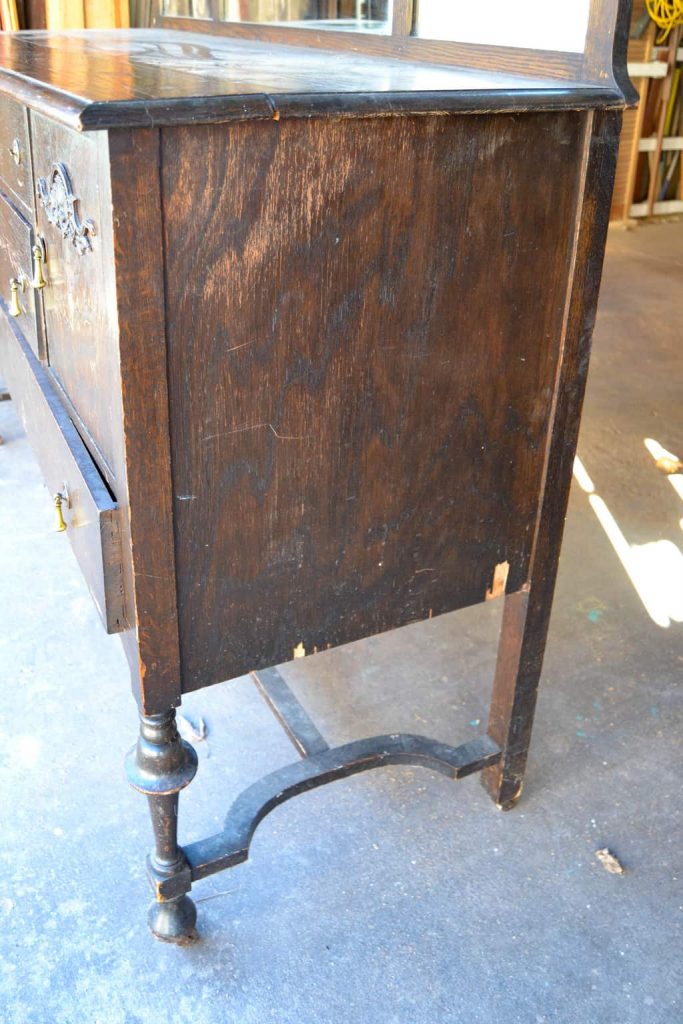 The mirror was intact and gorgeous!
The problems this buffet had were things a lot of people would look over, but it checked off my list of must-haves when I am bringing home a piece of furniture to makeover. It was sturdy. The legs were fine and the drawers weren't falling apart. The rest could be worked with and/or fixed.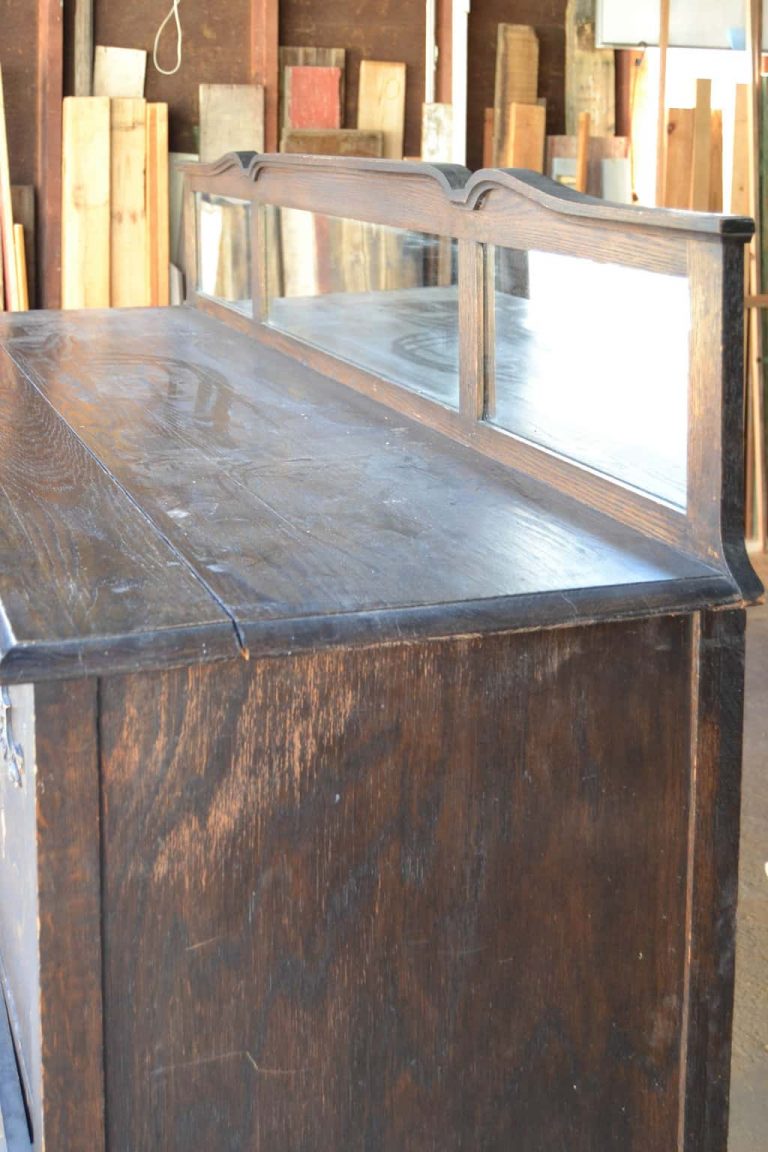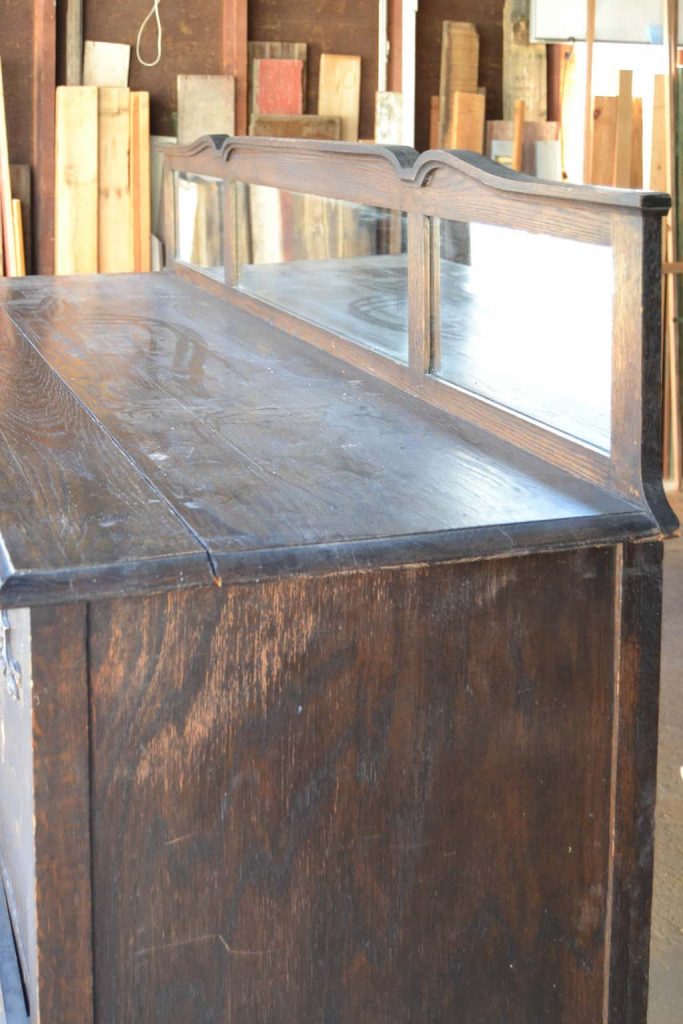 (Affiliate links are used in this post. You can read my disclosure here.)
Supplies Used In This DIY Buffet Makeover: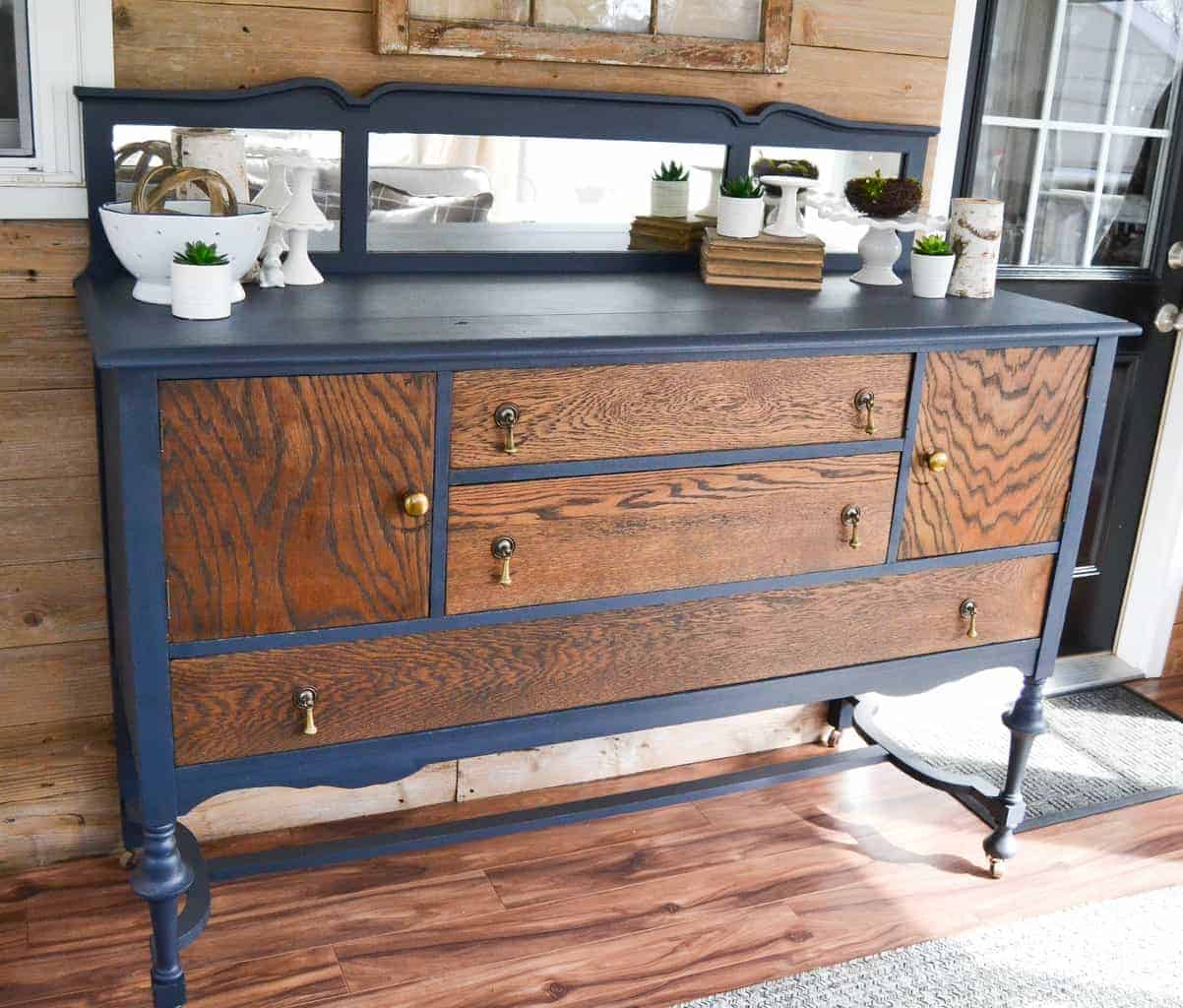 This DIY Buffet Makeover could not have been easier. Most projects don't run this smoothly, so when one of them is easy, I always get excited. I planned on leaving the doors and drawer natural wood and paint the rest of this piece in "Midnight Blue" from Fusion Mineral Paint . That was my initial plan. I always know going into a makeover like this that I need to be flexible. It usually doesn't go as you plan so you have to be willing to change things up when you hit a roadblock.
A lot of times, that comes when I start sanding pieces and finding that I won't be able to get it down to the wood, base layer so I can stain it again. Not this buffet! I painted the "shell" of the buffet and then used my Orbital Sander to see if I could get the doors and drawers down to the bare wood. IT WORKED! The finish came right off and they were ready to stain!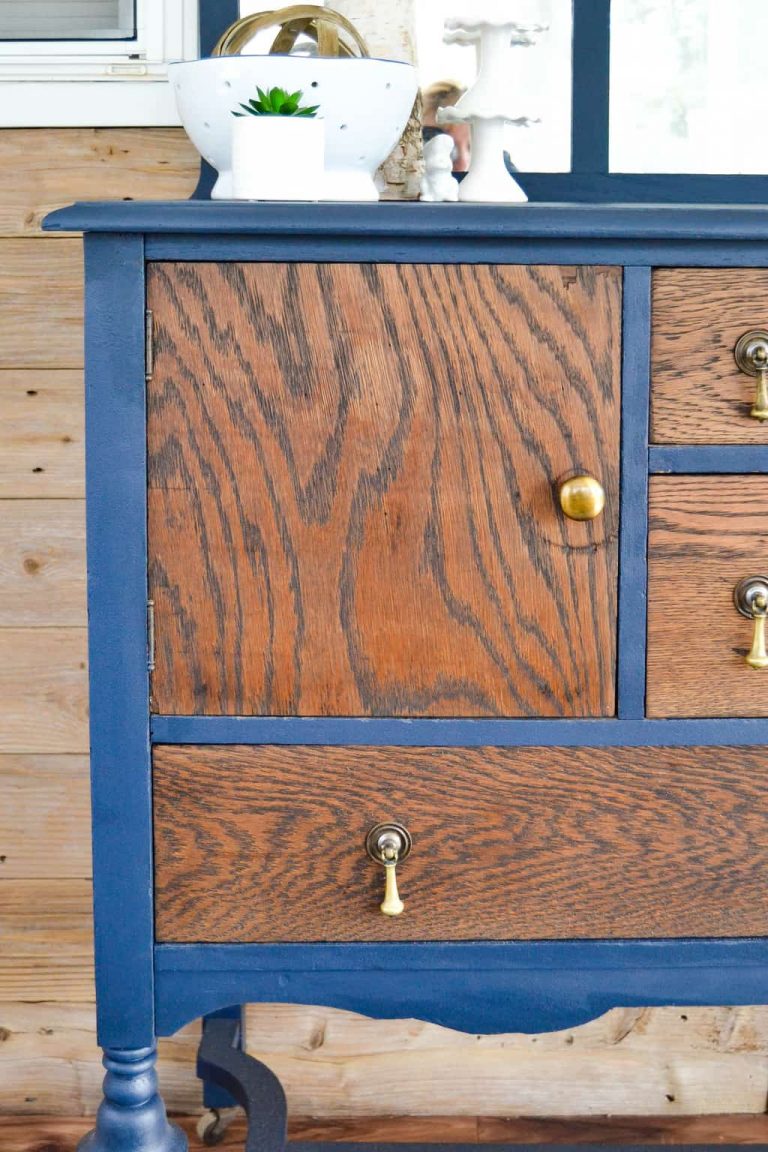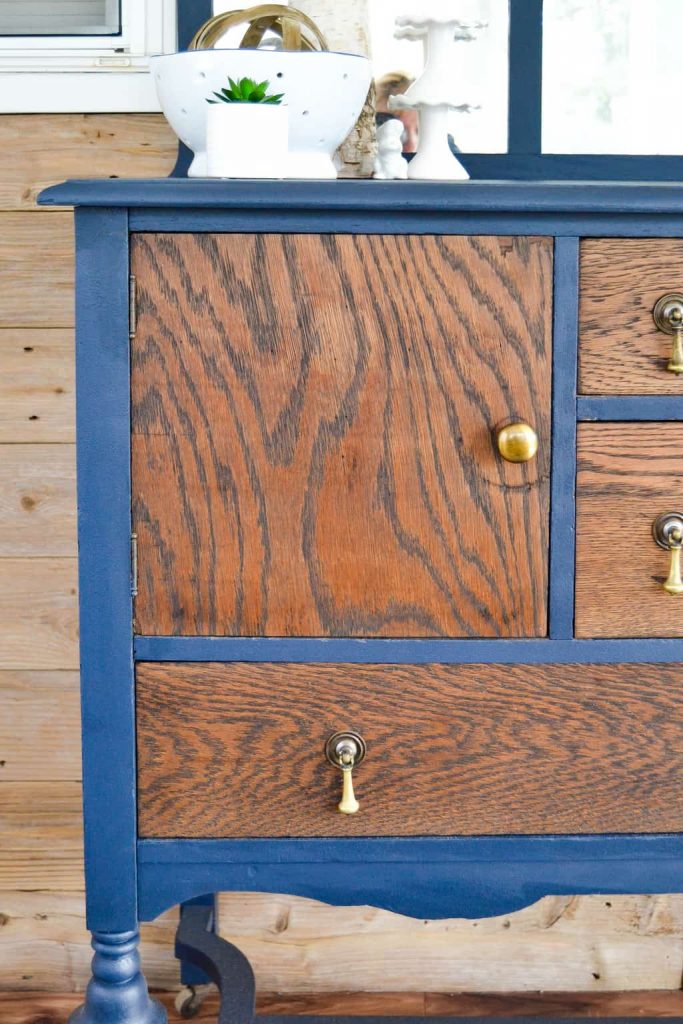 I wiped down the doors and drawers after I sanded them and then applied "Jacobean" Minwax Stain to them. They came out gorgeous! The makeover worked just like I planned it! My first plan. Plan A! No flexibility is used here. It was exactly what I wanted right out of the gate. Chalk this one up as a success!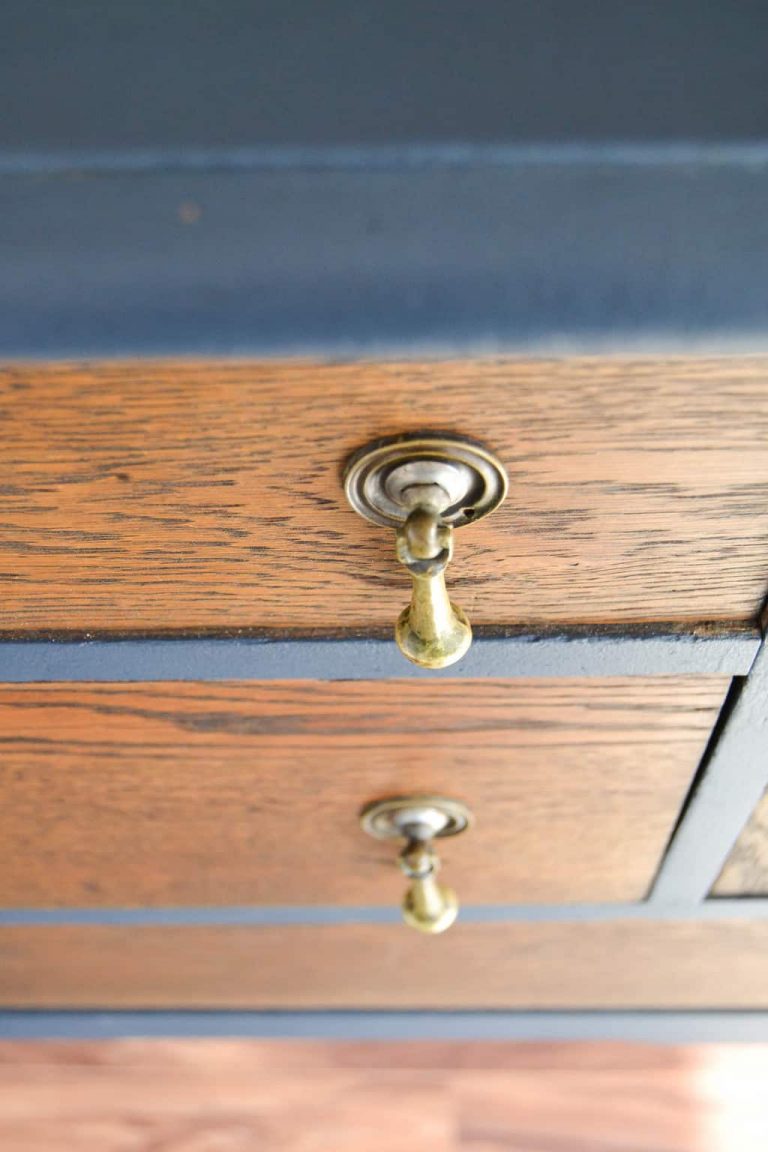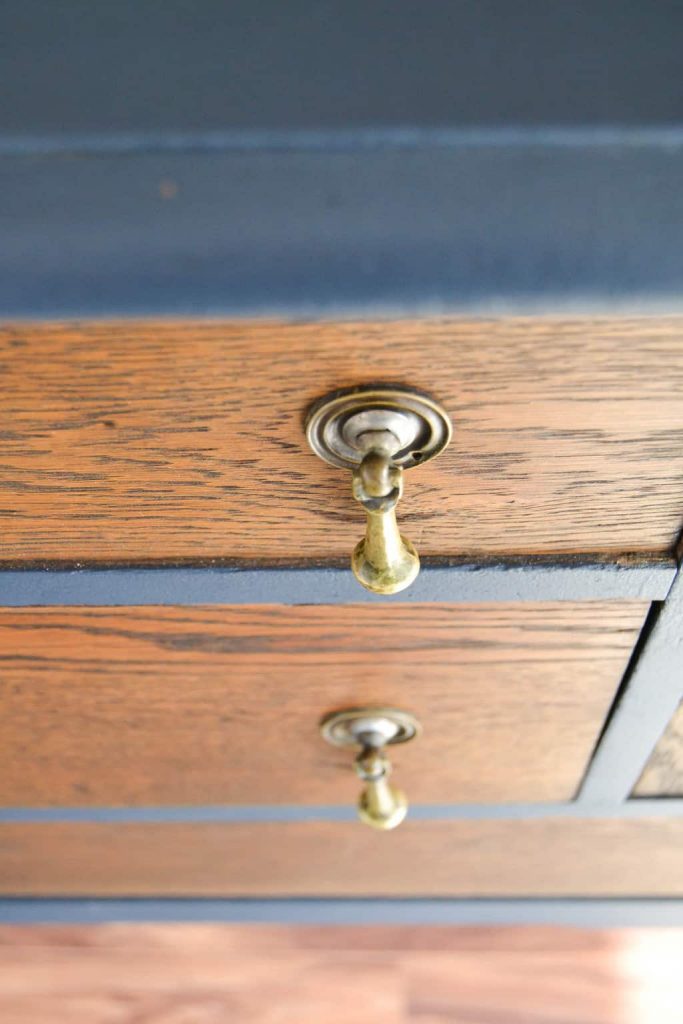 The only thing I had to do in the end was to move the knobs around on all the drawers and add the 1-1/4 IN. Value Cabinet Knob from Hickory Hardware to the doors.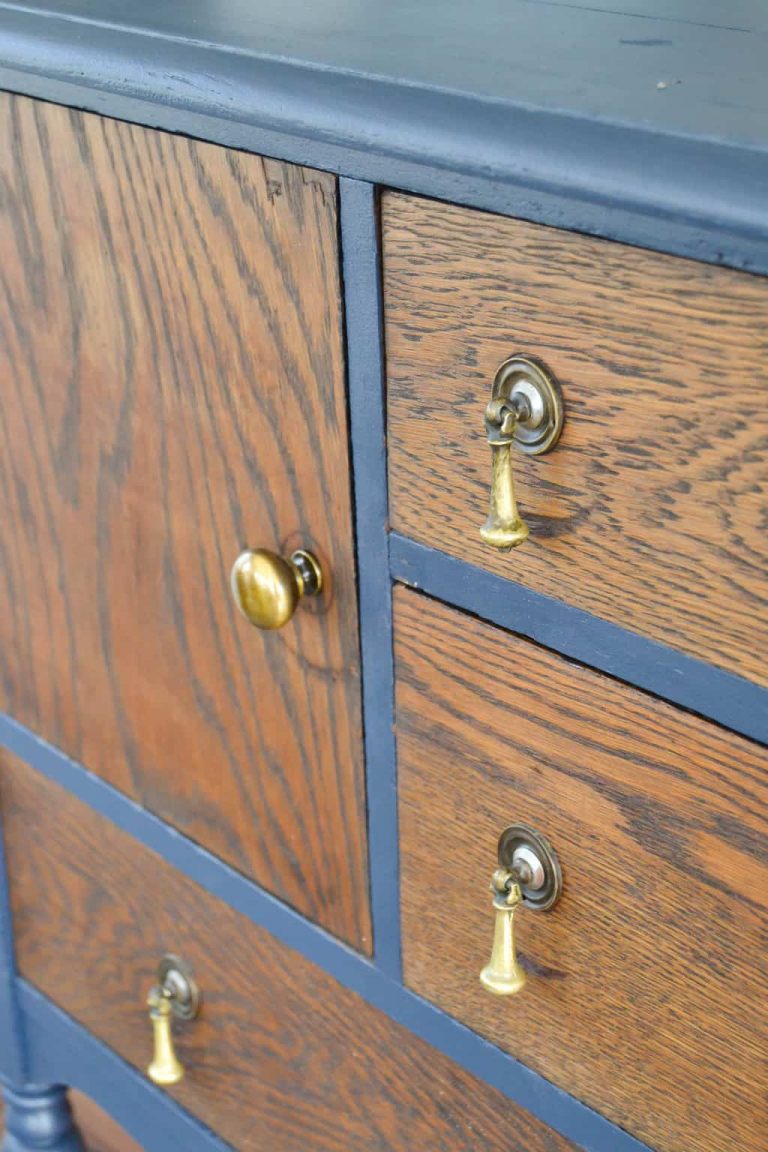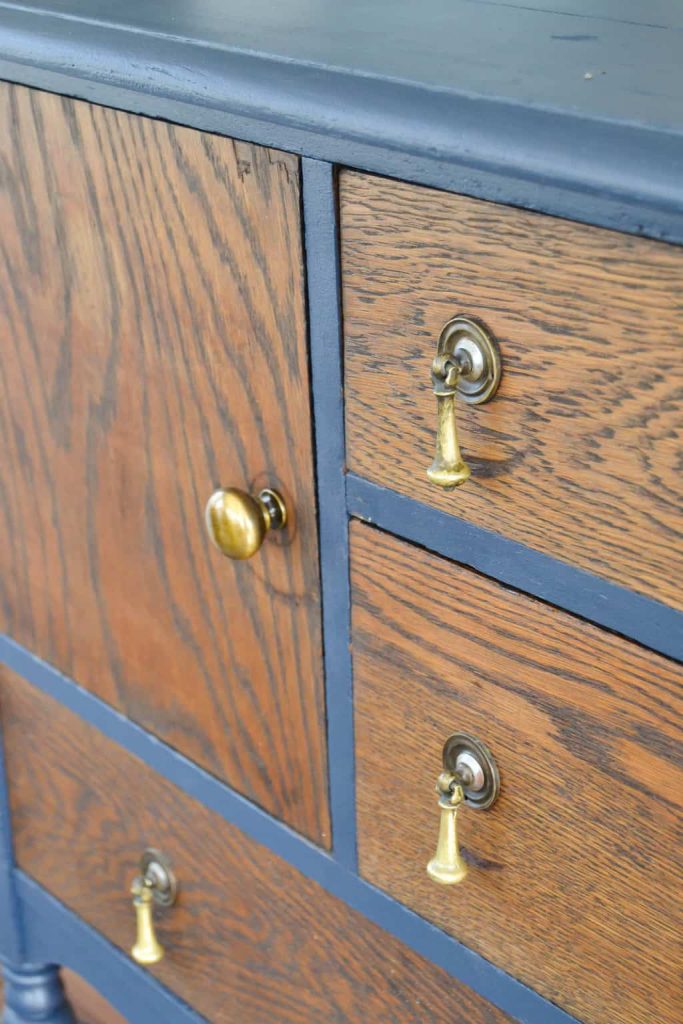 The knobs are a perfect match for this DIY Buffet Makeover.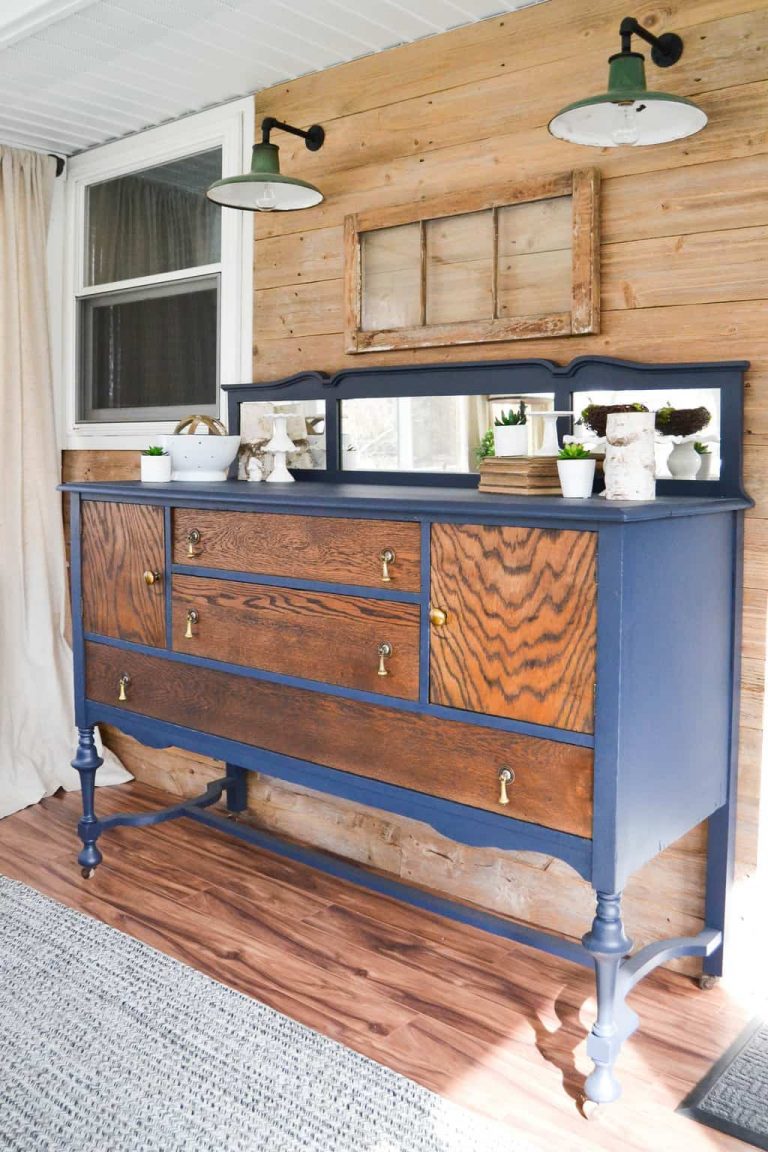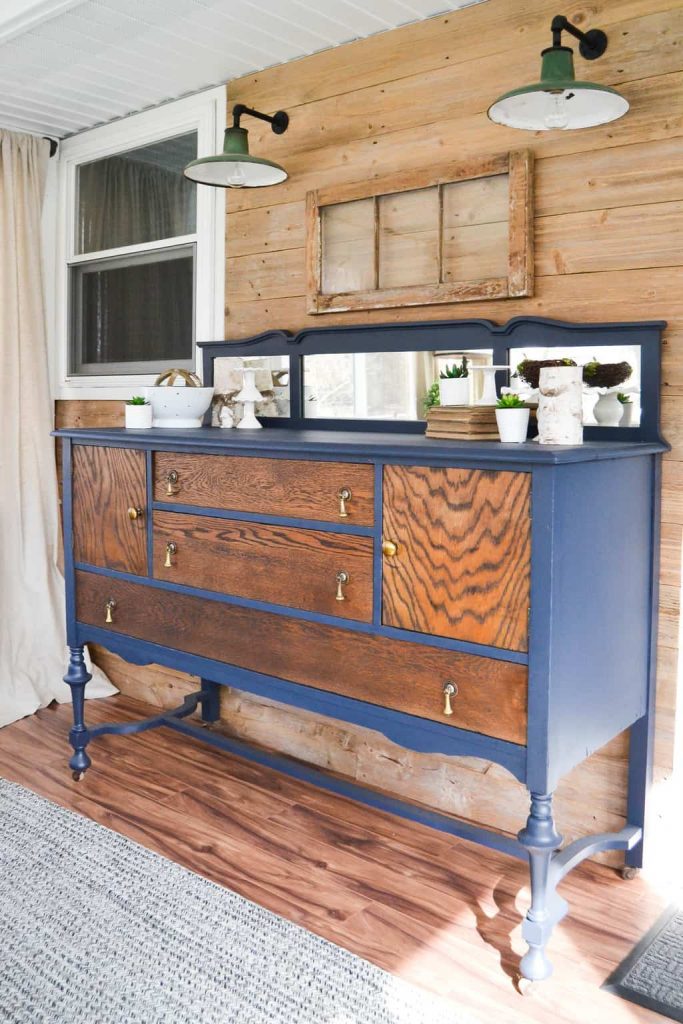 This buffet is big. It is tall and long and it is gorgeous.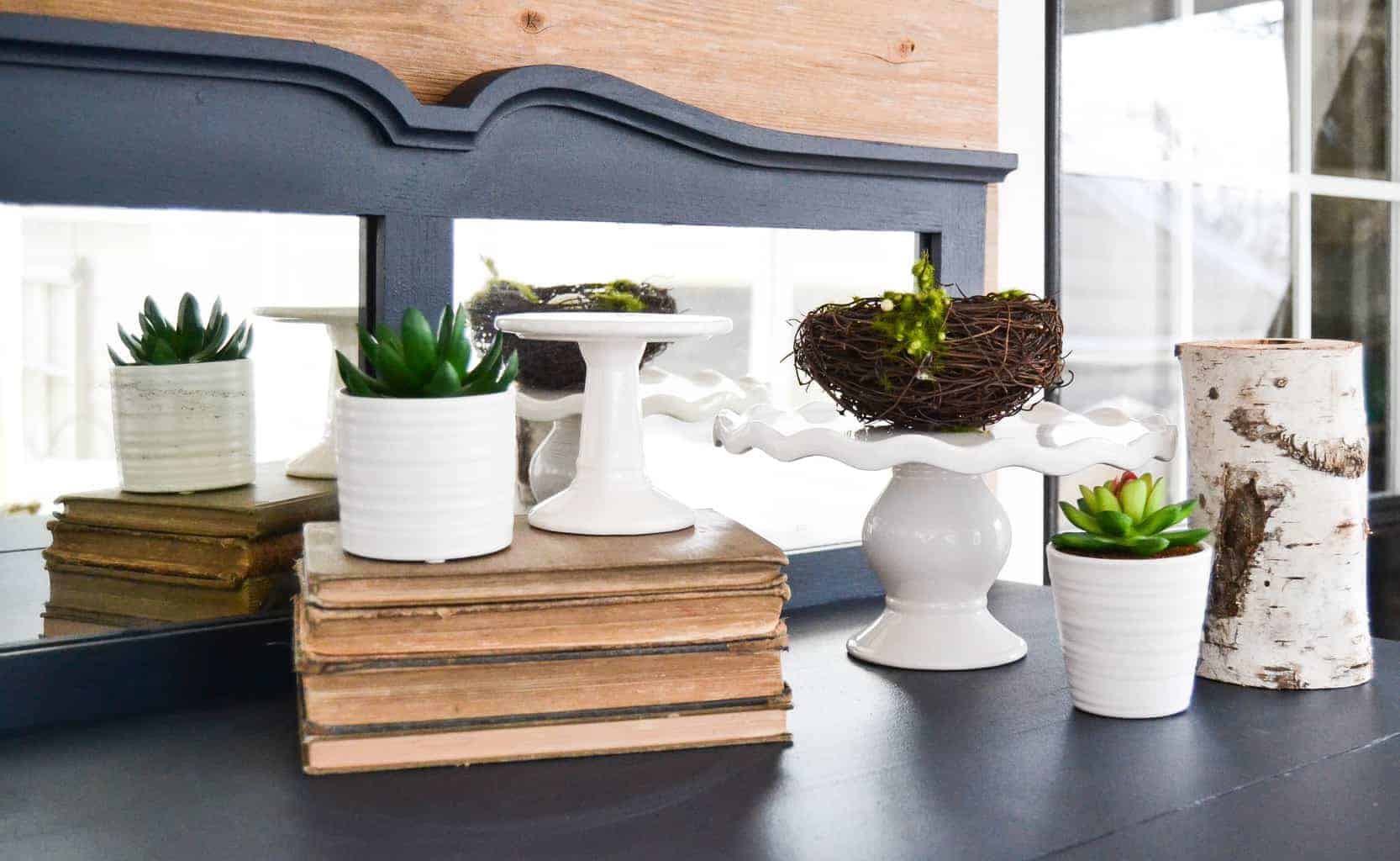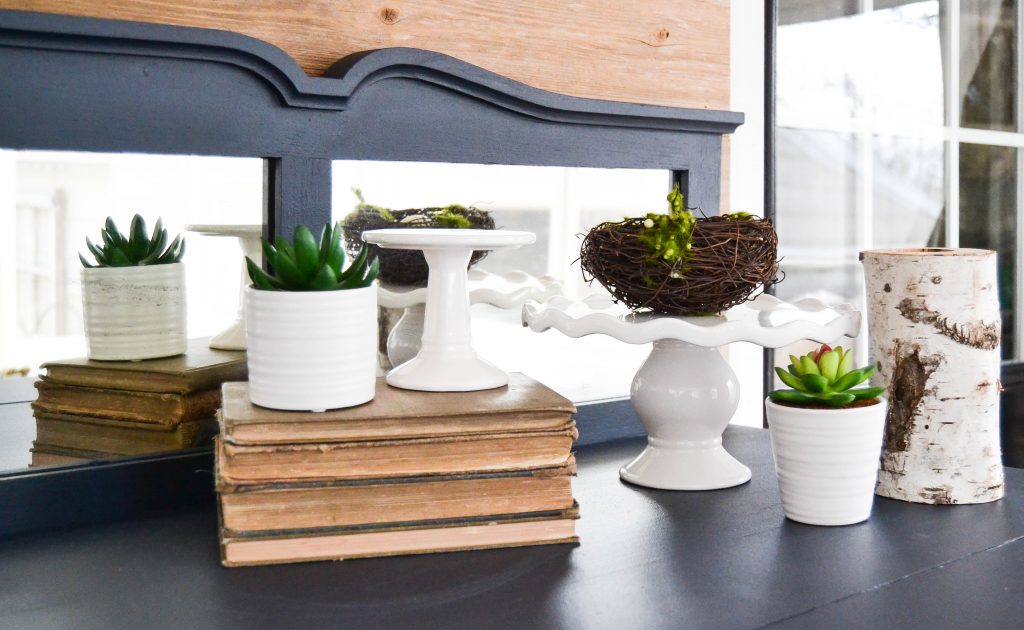 When I started staging the buffet, I wanted to bring in white pieces. It reminded me of the bedroom Matt and I had in our first home. Classic, pretty and clean.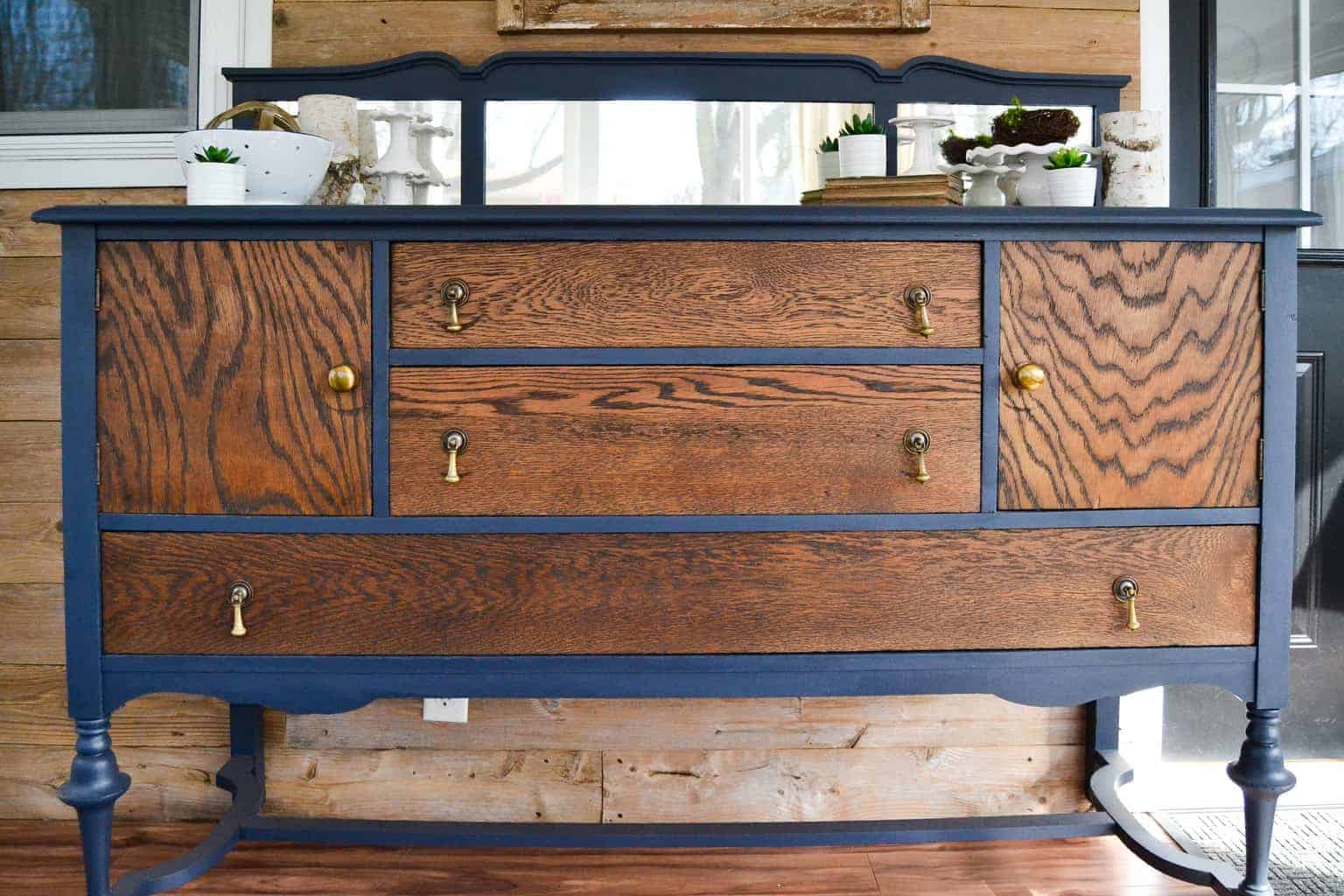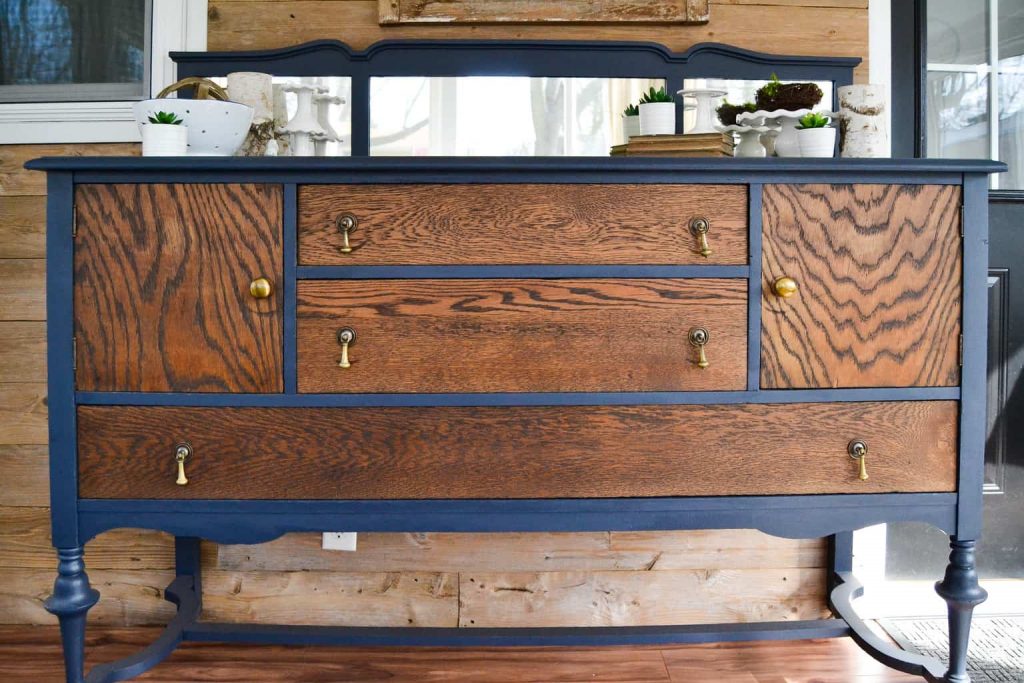 We don't have room for this gem in our home so I will be selling it at our spring yard sale. I will not stop rescuing pieces. Even if we don't have room for them in our home, I will continue to bring them home, make them over and sell them if we can't use them. I couldn't imagine not doing this!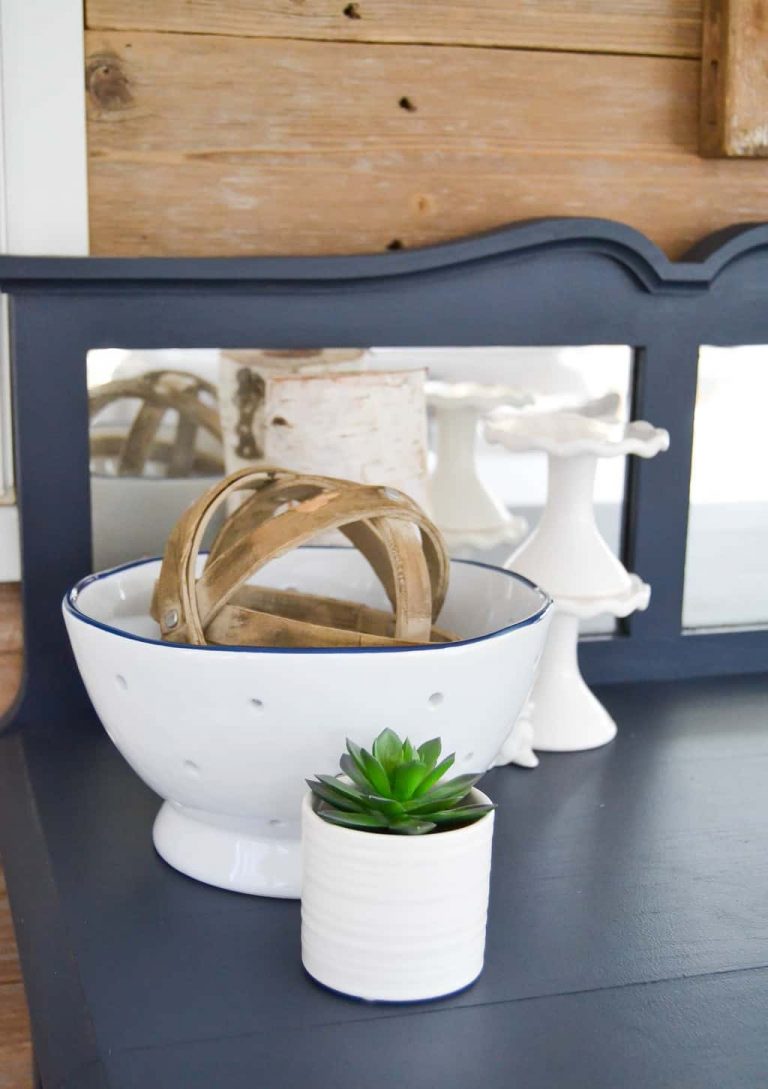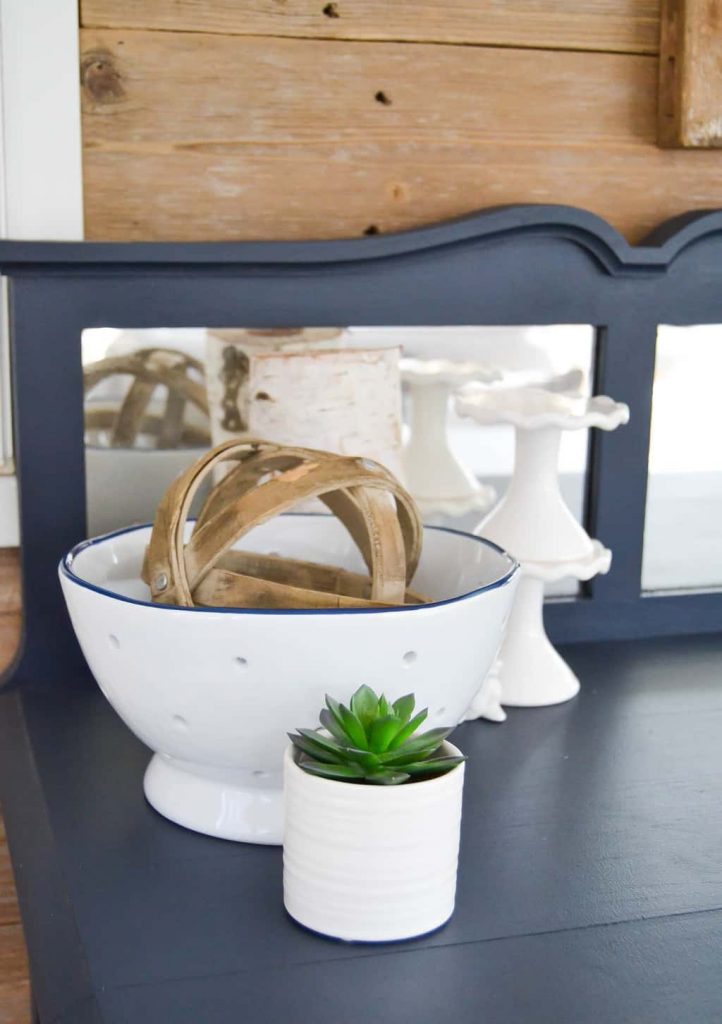 Do you have a buffet in your home? What color would you have painted this buffet?
Supply List Recap For This DIY Buffet Makeover:
Don't have a buffet to makeover today? Pin this post for later!


If you like this DIY Buffet Makeover, make sure to check out my other furniture makeovers.