Gray is such a beautiful color. Just like any other color, it comes in all kinds of shades and tones. Sometimes, gray can look blue, it can look green, and sometimes, even purple. Today. I am talking all about gray furniture makeovers that are sure to inspire your next gray transformation.
I have to tell you a funny story about a gray paint color and my mom. You really have to be careful when picking out gray paint colors because they really can look like a different color. It all depends on the lighting and the shade you go with. My parents made over their bathroom a few years ago and my mom went ahead and picked out a gray paint color on her own. I told her I would help her but she just decided to go one day and didn't say anything to me. (She is a lot like me. Or wait, I am a lot like her. HAHA. If I have a project that I can do myself, I just want to get it done).
Anyway, when I came over to the house to see the bathroom after she painted it, I said, "I didn't know you decided to go with purple." That was the wrong thing to say. She thought it was a pale gray color. It may have been on the swatch, but when she got it on the walls it was a light lavender color that made the bathroom look purple.
The moral of the story: be careful when picking out gray paint colors. AND, don't talk about a paint color at anyone's house in case you say the wrong color. Just say, "this is a great color!"
In this post, I am going to take all the guesswork out of it and share some of my favorite gray furniture makeovers.
Note: Click on the links under the photos to be taken to that particular project to find more information about the color and other products I used in that makeover.
This first makeover is one of my favorite colors because it leans to green. I love the color green and this color has a gray/green combo that is just beautiful. Whenever I paint a piece this color, it sells so fast!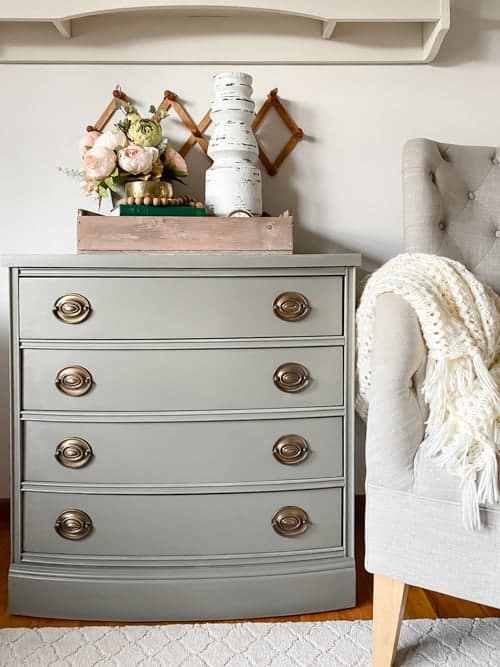 The makeover below is more of a classic gray. It is beautiful on its own, but it pairs nicely with wood tones as well.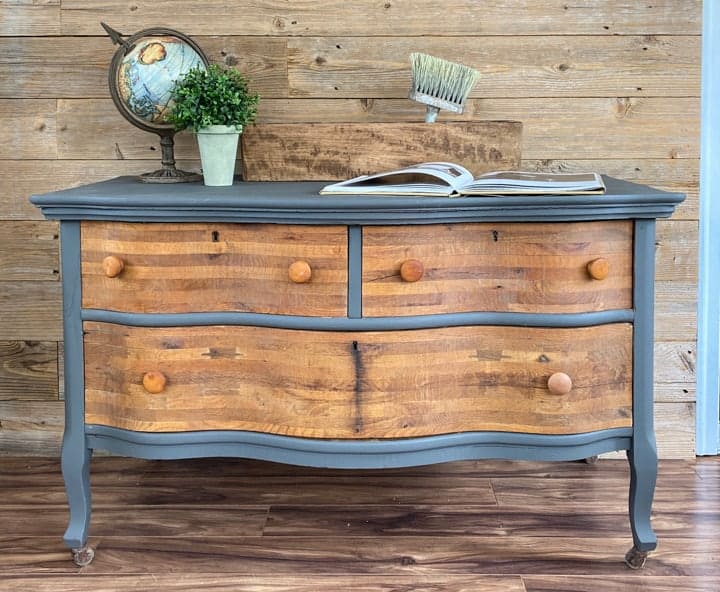 The gray furniture makeover below is one of my favorites. This color is STUNNING! If you paint a piece of furniture in this color, you will be so happy. It is classic, clean, and soft all at the same time. It is a safe color every time. I grab it often to make over furniture.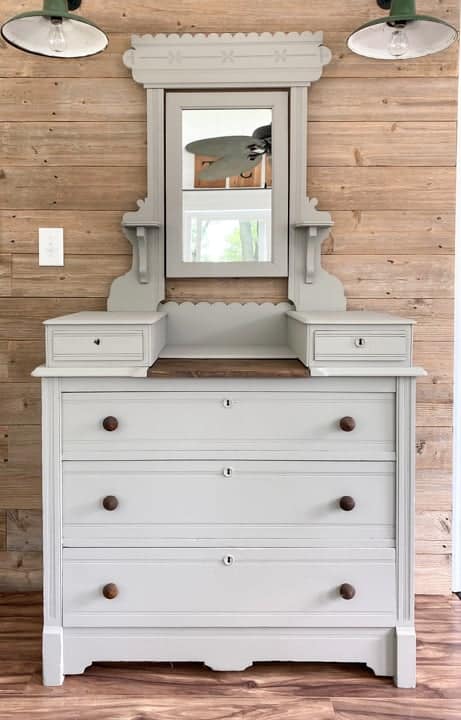 The color below is beautiful but I wanted to add a little more depth and character. I love using waxes and glazes over paint colors to give them an entirely new look.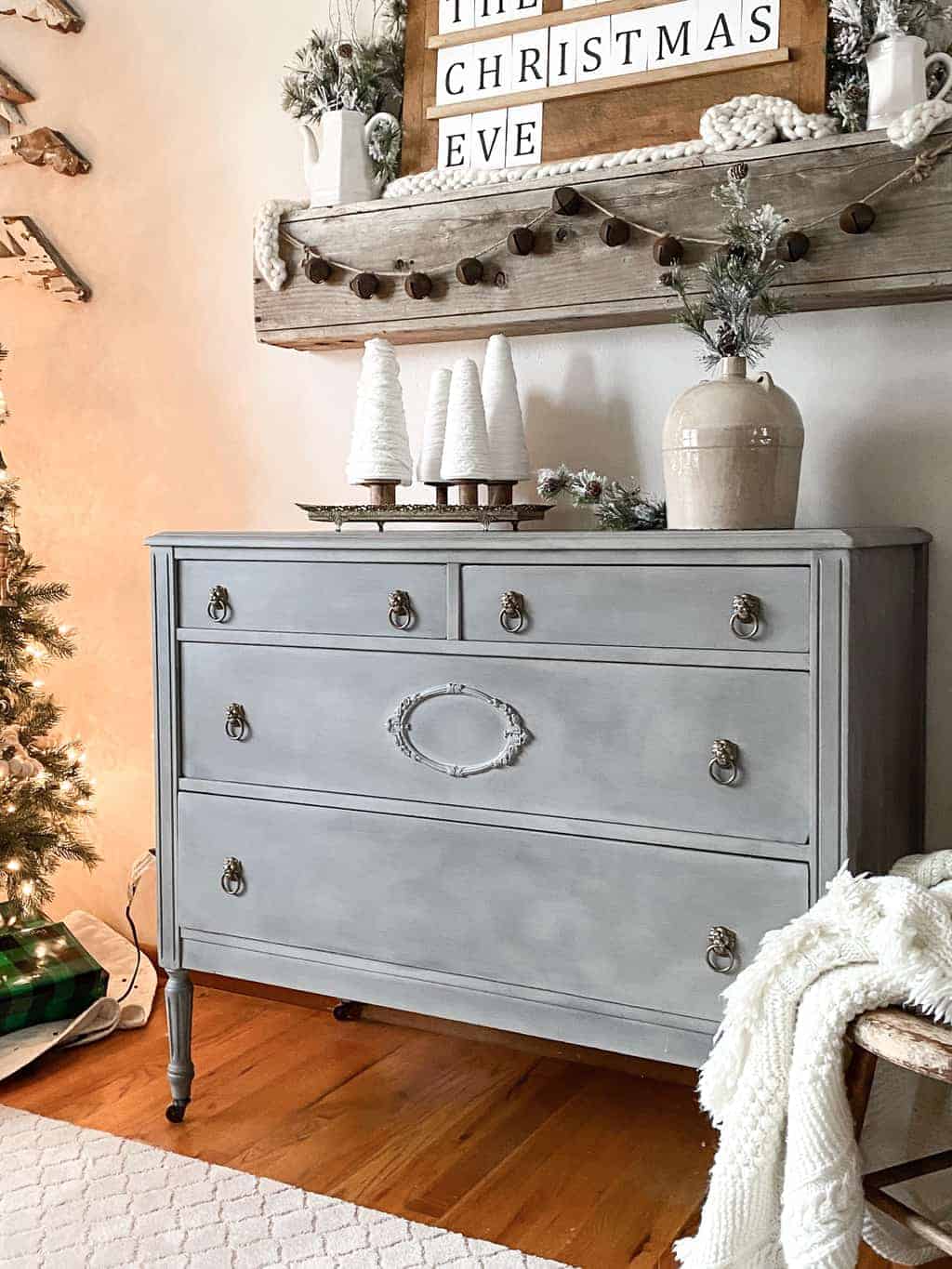 French Provincial Dresser Makeover
The gray color below can lean on the blue side in the right light. It is such a pretty color and another safe option when choosing gray for a makeover.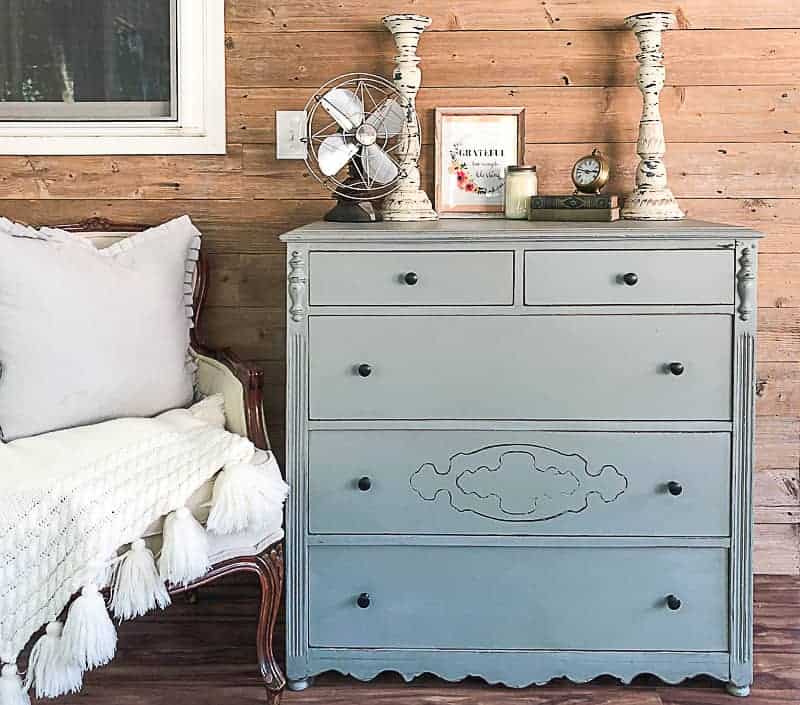 The color on the table below is a good gray staple.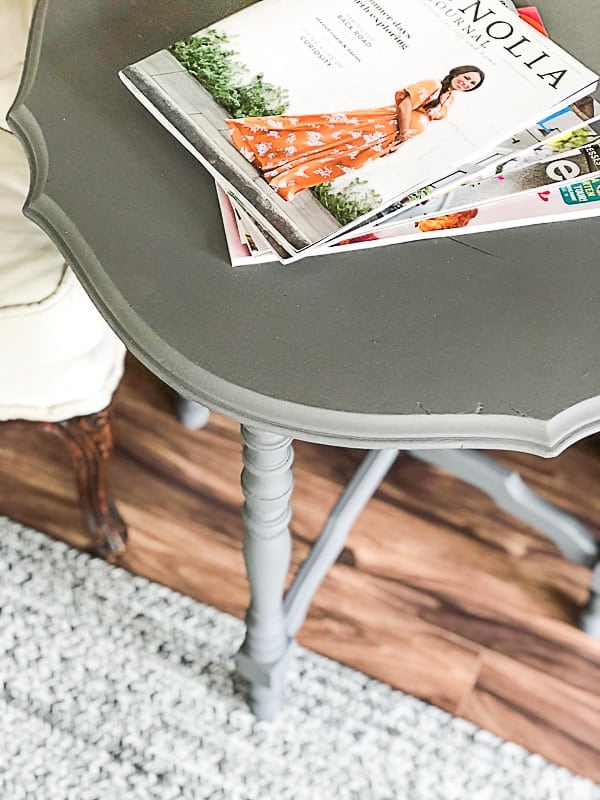 Sometimes, I will mix a couple of different gray paint colors together as I did on the China cabinet below.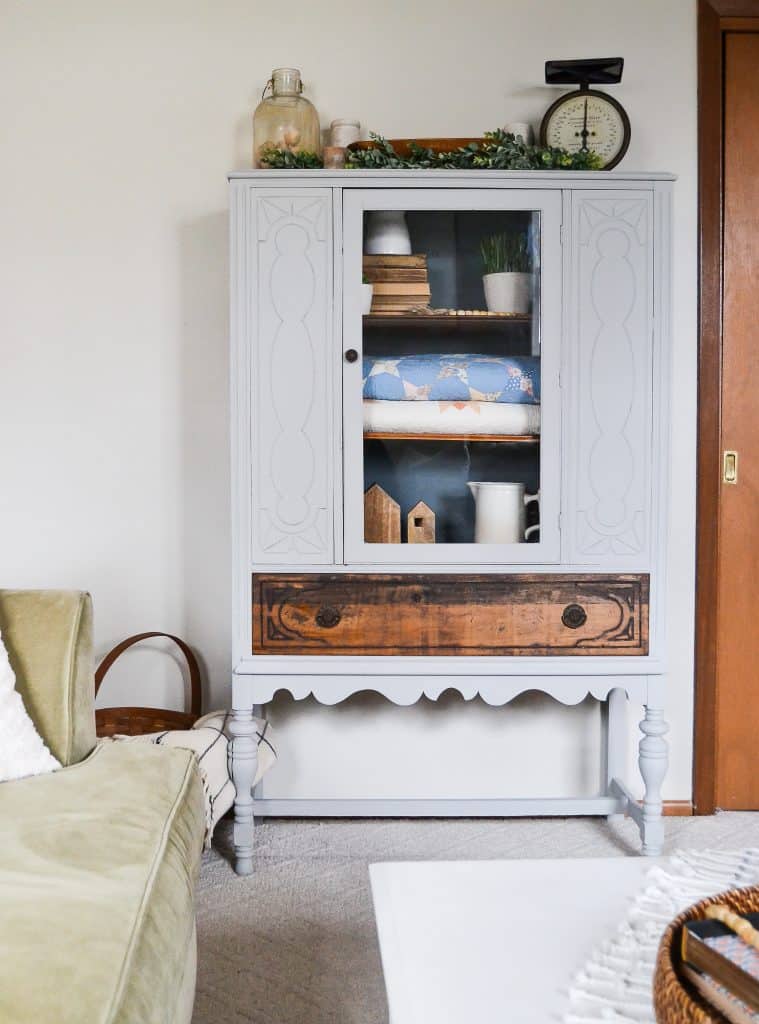 I thought this cabinet was going to fit perfectly in my office. Sadly, it didn't. The gray makeover made it sell very fast though!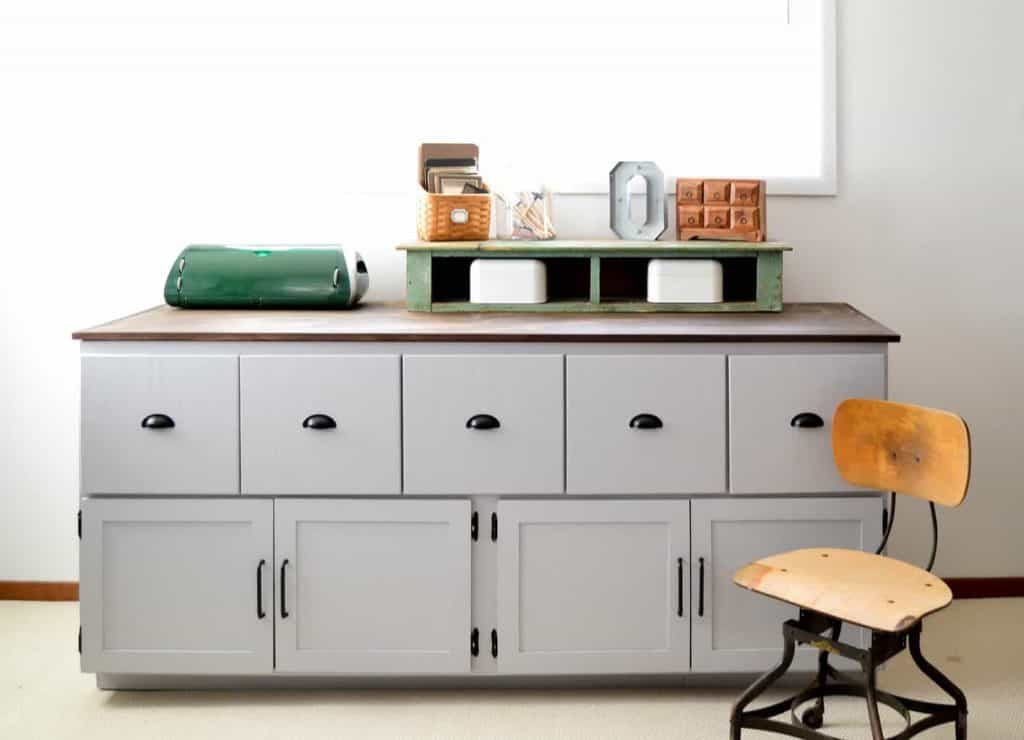 I love to make over buffets. The color on the buffet below is GORGEOUS! It is a neutral gray that goes with any style.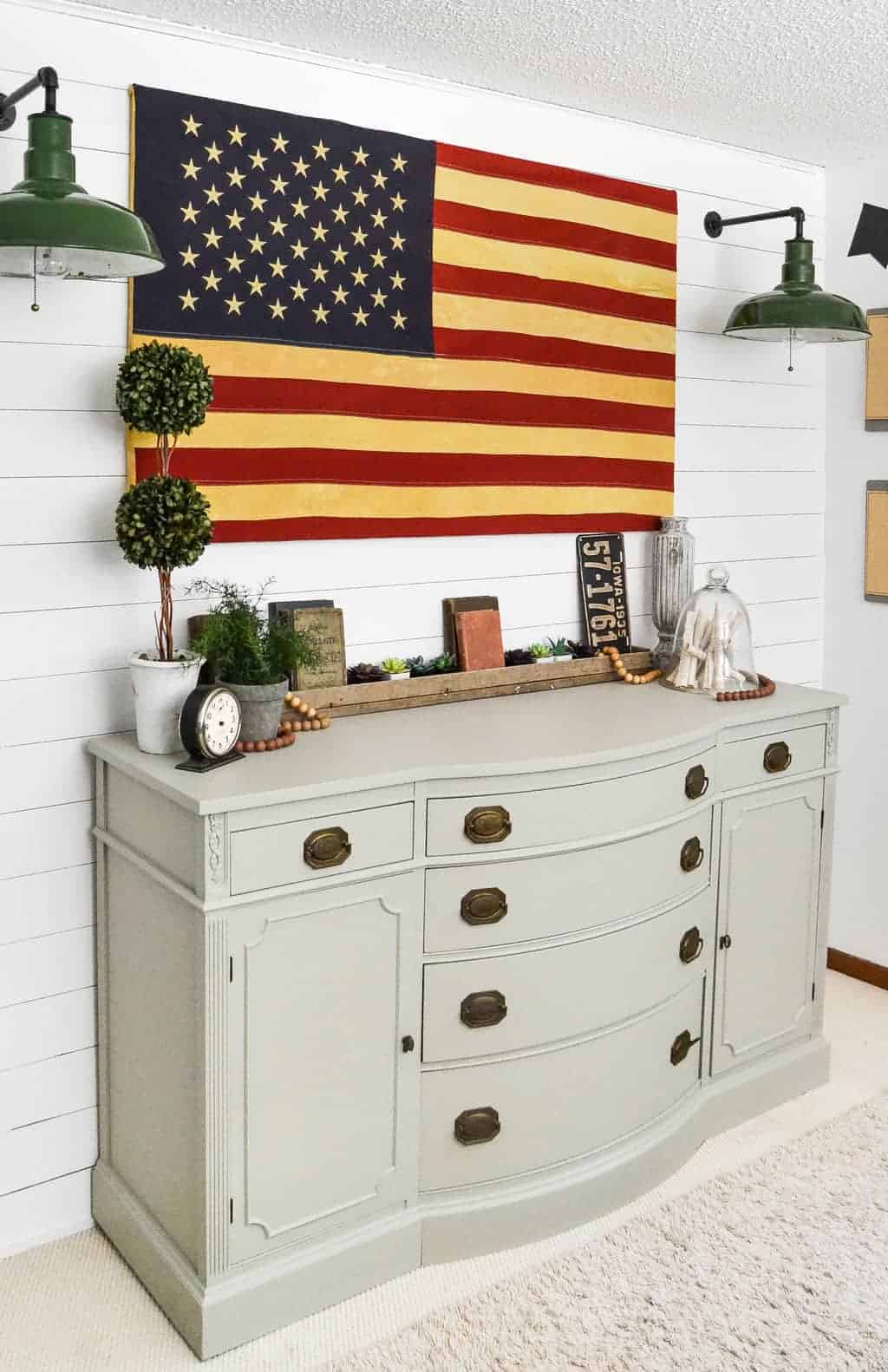 The makeover below was my first time using milk paint. The color is definitely a cool gray color. Very pretty.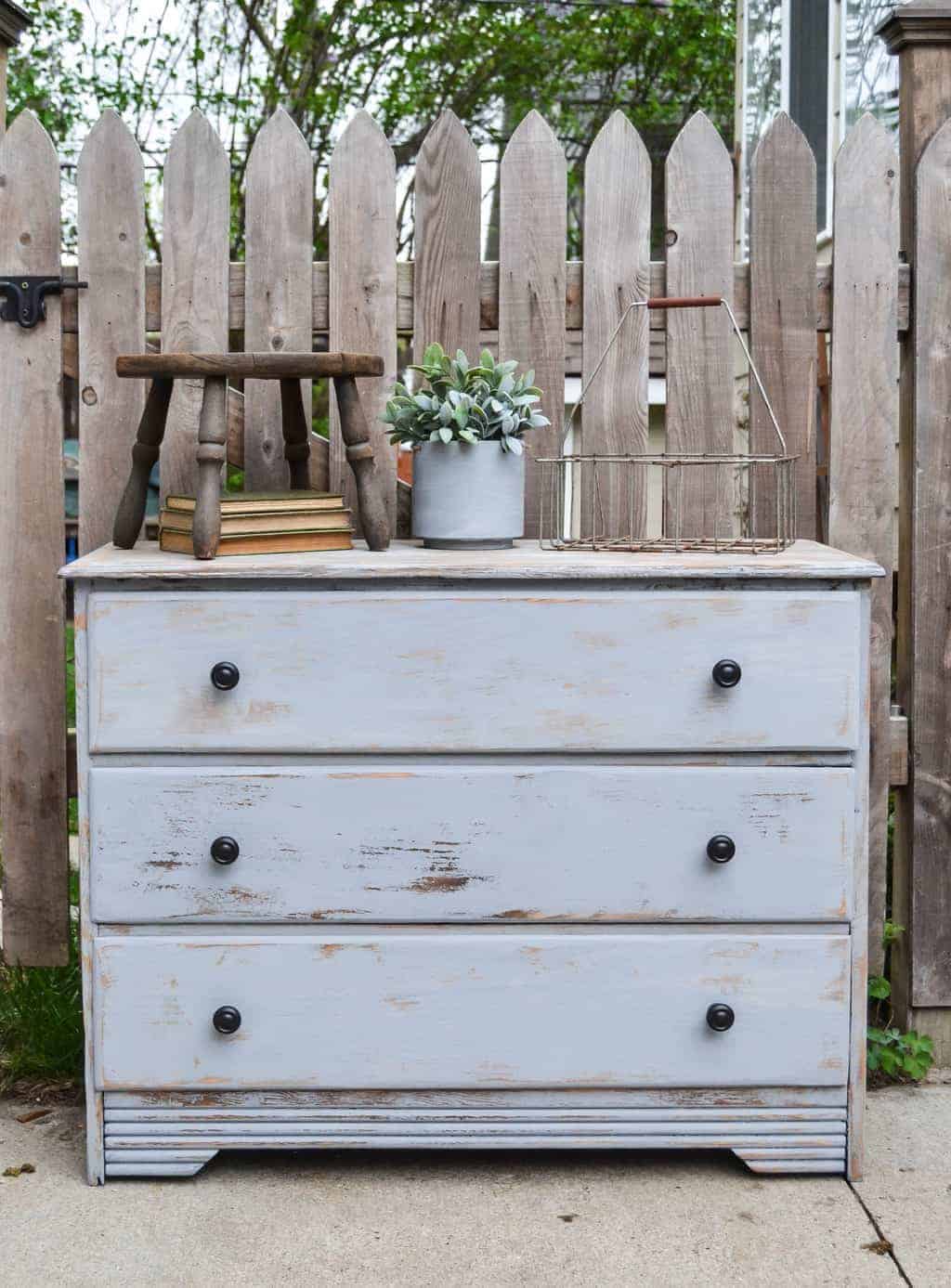 I used leftover gray paints I had on the nesting boxes below. I love a good nesting box/cubby DIY. They are easy to make!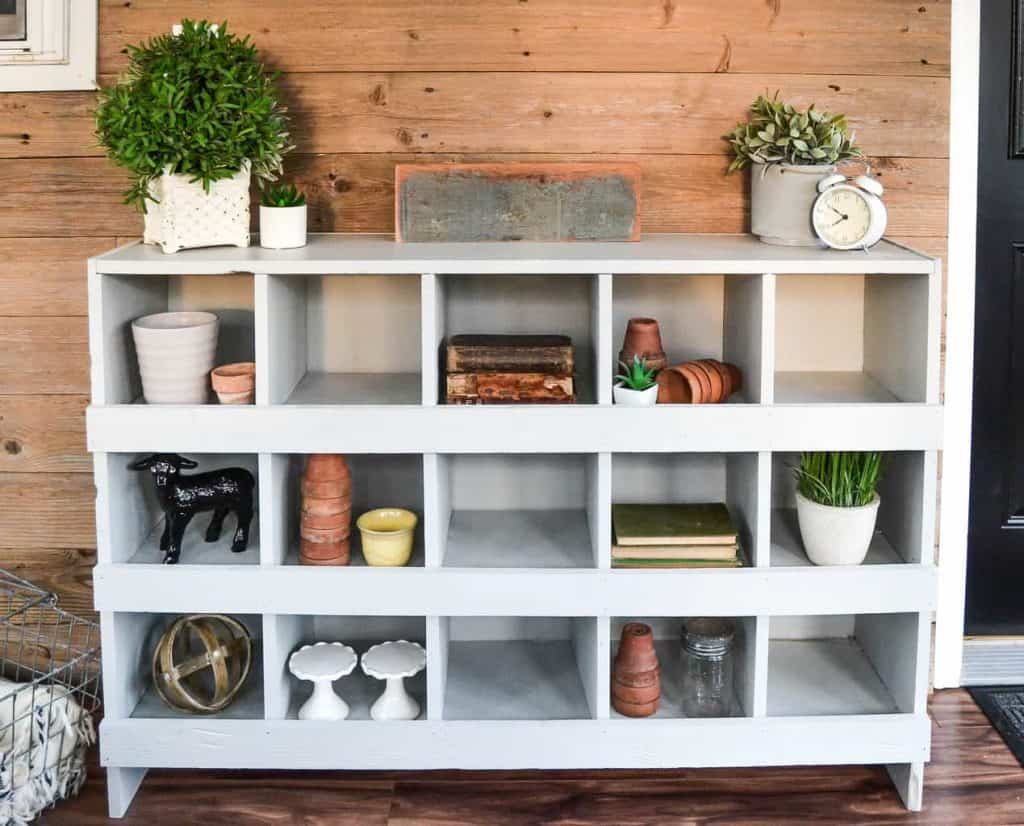 I used Fusion Mineral Paint and gift wrap to make over a pair of bookshelves.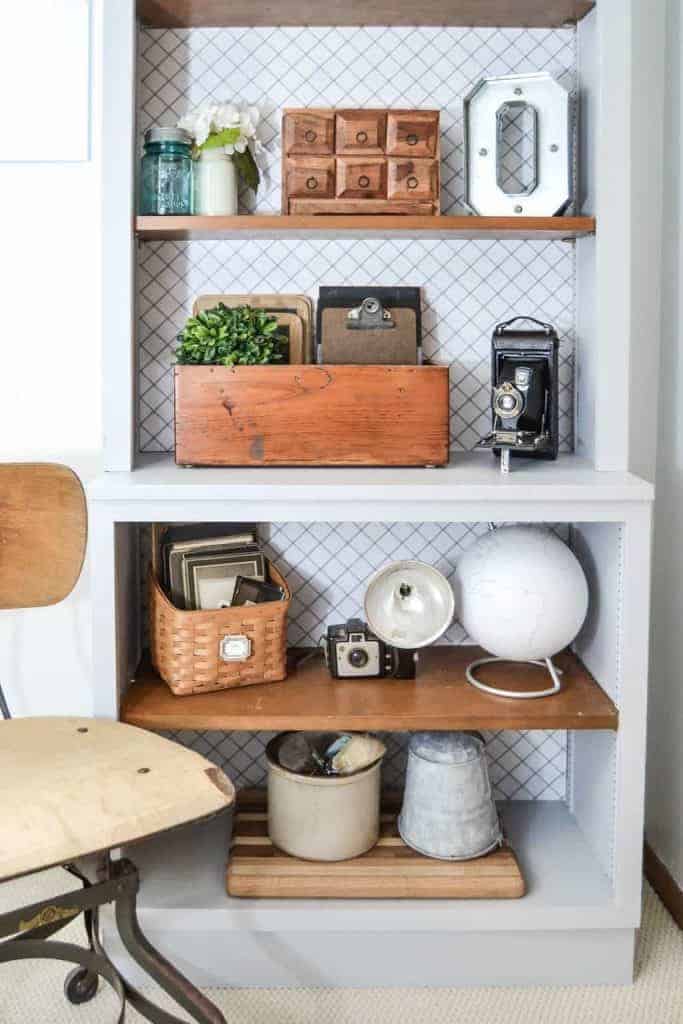 The omber dresser below was easy to do! This is a great way to showcase many different gray colors and make a statement with the piece you are making over.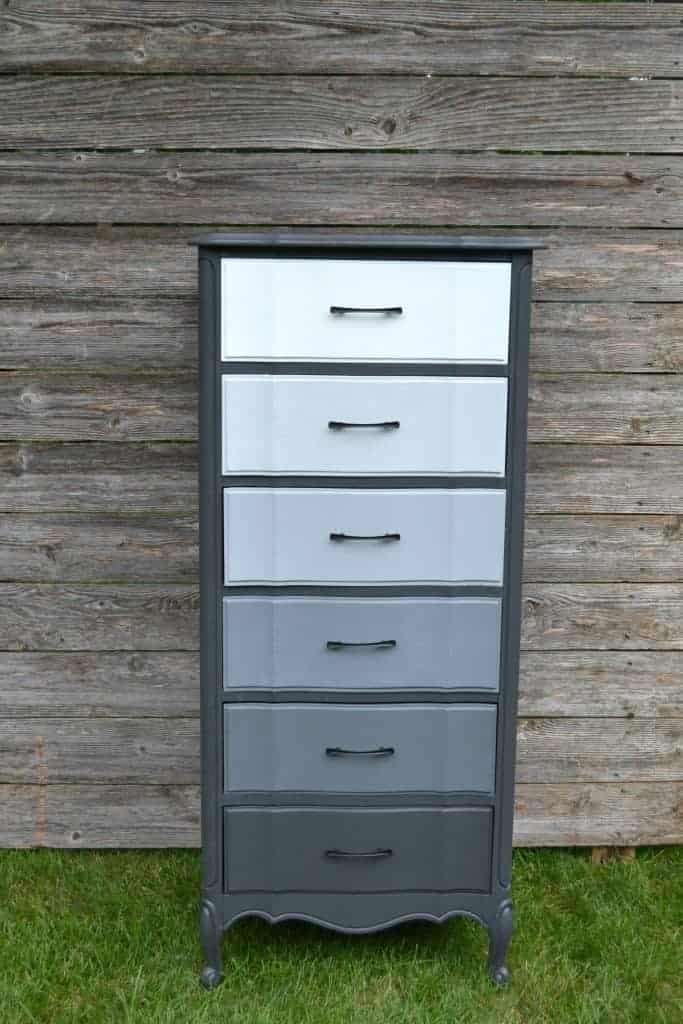 A chippy gray paint is always pretty. This vintage desk was a fun one to make over.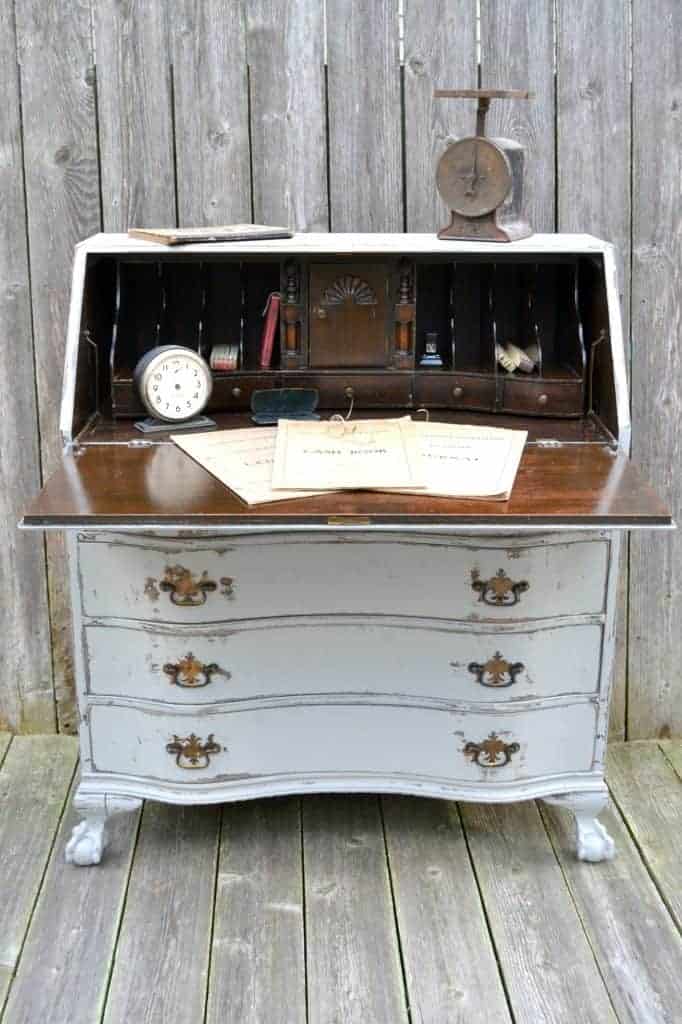 The bar cart below was made from a curbside dresser find. The dark gray color made it sophisticated and fun.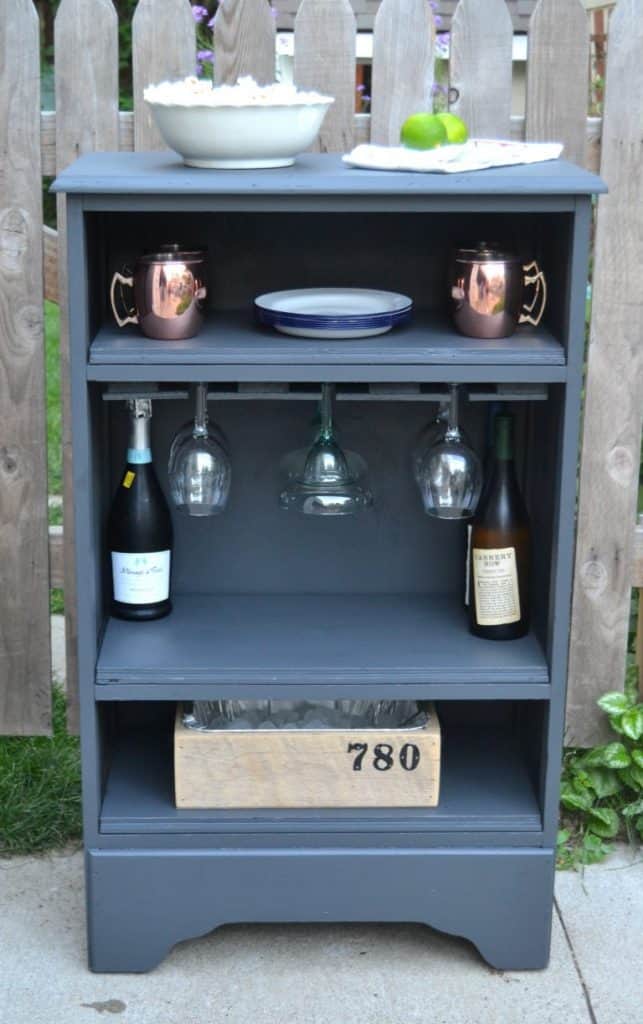 The dresser below is another great example of how rich a charcoal gray color can be.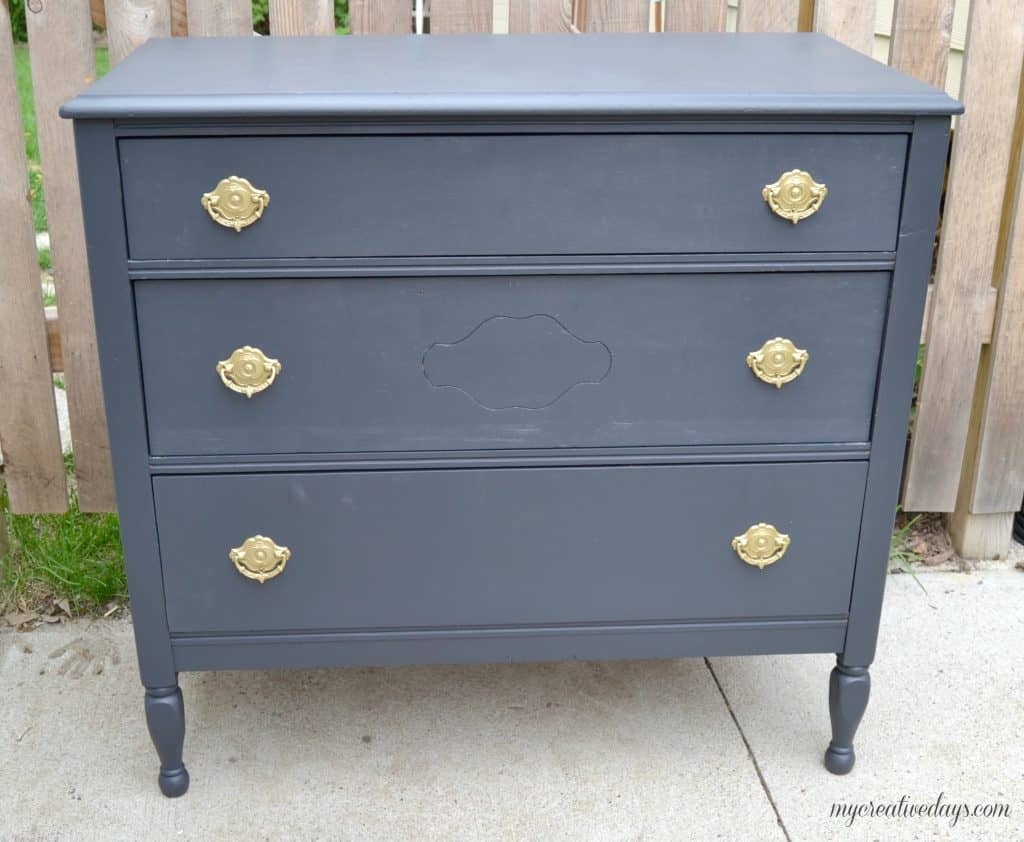 Gray is a beautiful color. It is one of my favorites. It is neutral and goes with every style. I hope some of these makeovers have given you inspiration for your next gray makeover.
If you have a gray makeover, I would love to see it! Post a pic on Instagram and tag me @mycreativedays.
Do You Want To Make Money Flipping Furniture?
After twenty years of doing this, I am still picking up pieces when I can find them because I love the creative outlet, but I am now coaching other furniture flippers on how to make more money in their business. If you are someone who is looking to start and/or grow a furniture flipping business, I would love to help you. There are ways to make money in your business beyond painting a piece of furniture. Once I learned that, my business flourished. Don't waste your time trying to figure it out on your own.
To help other flippers, I created The Furniture Flipping Academy! The academy includes everything you need to start, grow, and/or scale a furniture flipping business. It includes courses, resources, templates, social media planner and guide, a private community, and so much more. It will ensure that you are doing the steps that will lead to success and not wasting your time on things that won't.
You can find all the information about the Furniture Flipping Academy HERE.
Let's get your business started and/or moving in the right direction. The Furniture Flipping Academy is for any flipper, from beginner to experienced. If your business is stagnant, there is a reason for that. Let me help you grow it into a flipping career that is profitable and fits the lifestyle you want to live.
PIN THIS POST!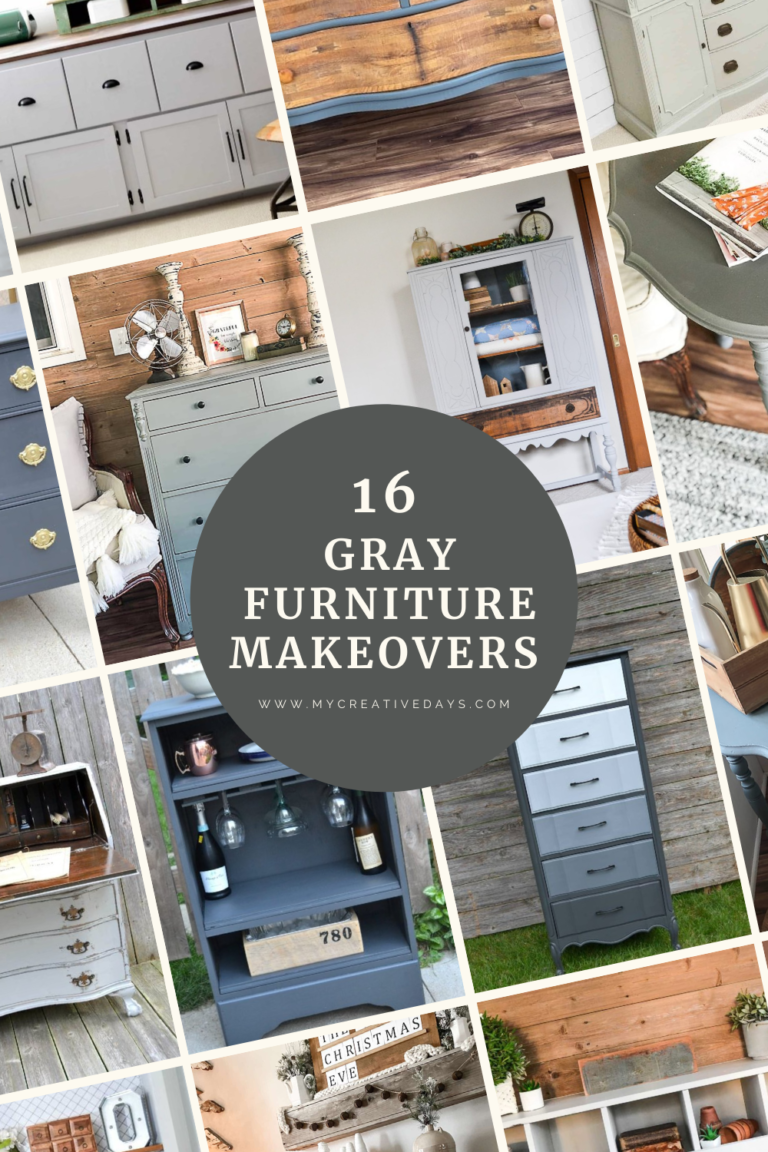 If you liked these gray furniture makeovers, you will also love these transformations: