Have you ever fallen in love with a piece of furniture for the feet it has? I have. Along with hardware, the feet on a piece of furniture can be the deciding factor on whether or not I take it home. This vintage desk caught my eye first by its claw feet. They were beautiful! The rest of the desk was great too, but the feet really stood out to me. I knew this would be an easy transformation because all it needed was a little paint and a little sanding. This Vintage Desk Makeover was one of those projects that didn't take a ton of time, but the transformation was big.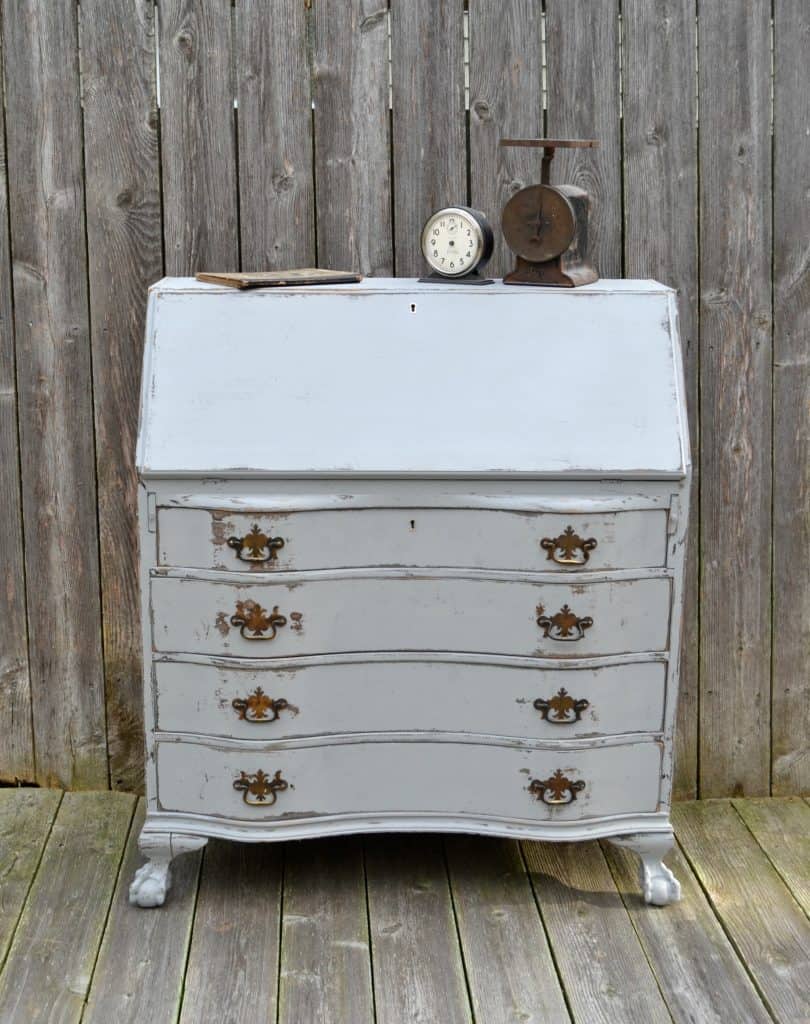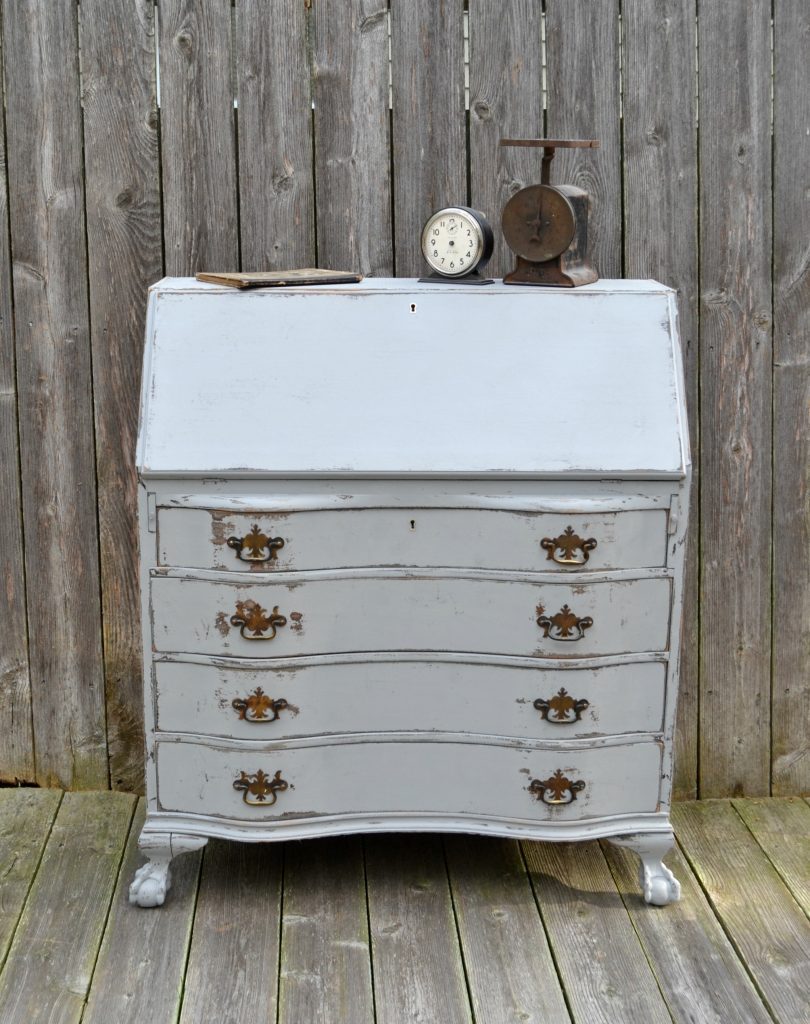 I decided to paint this vintage desk because of the top.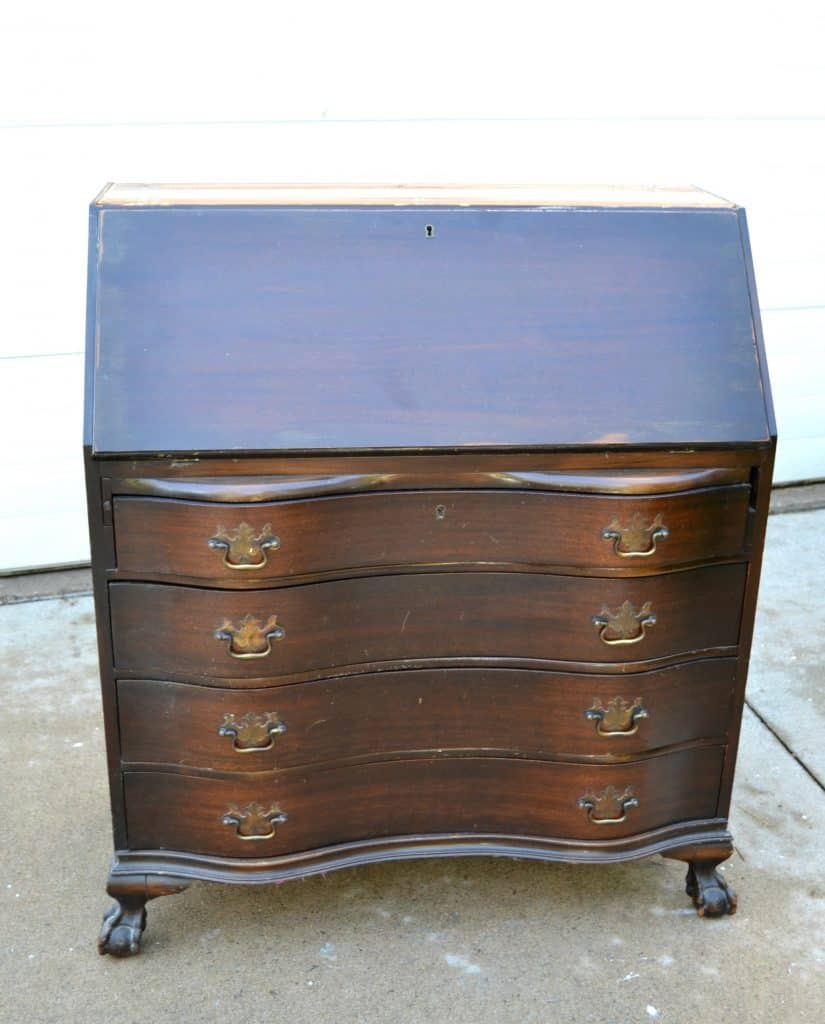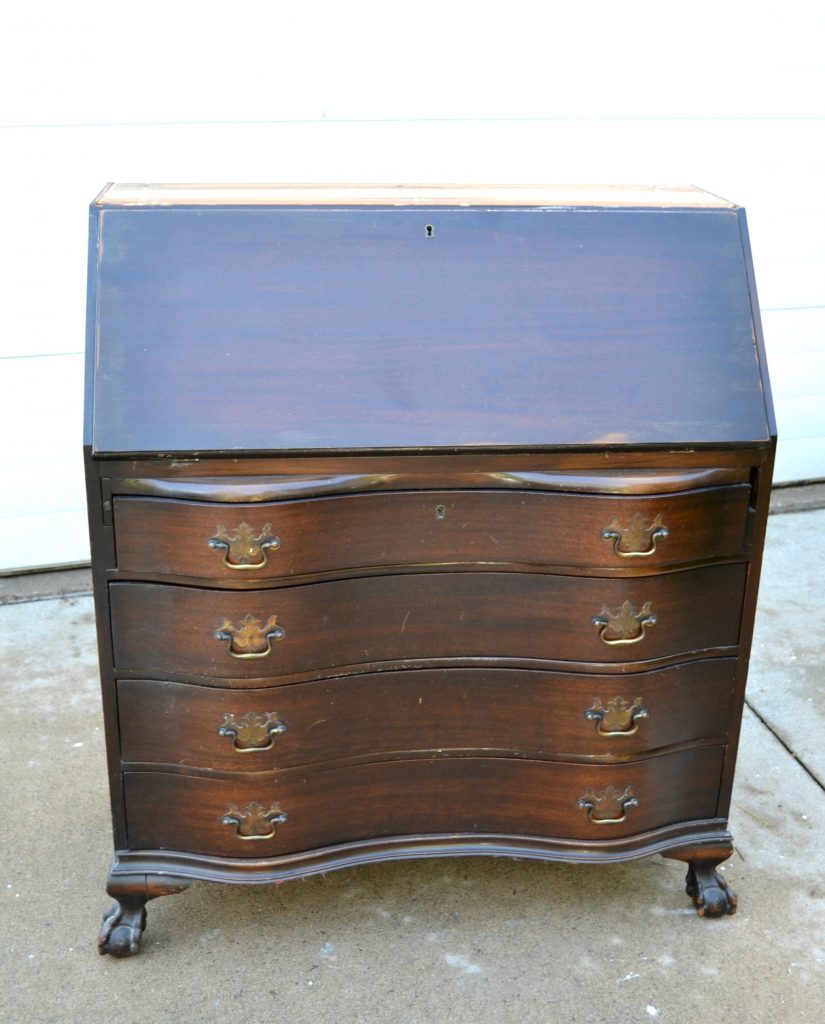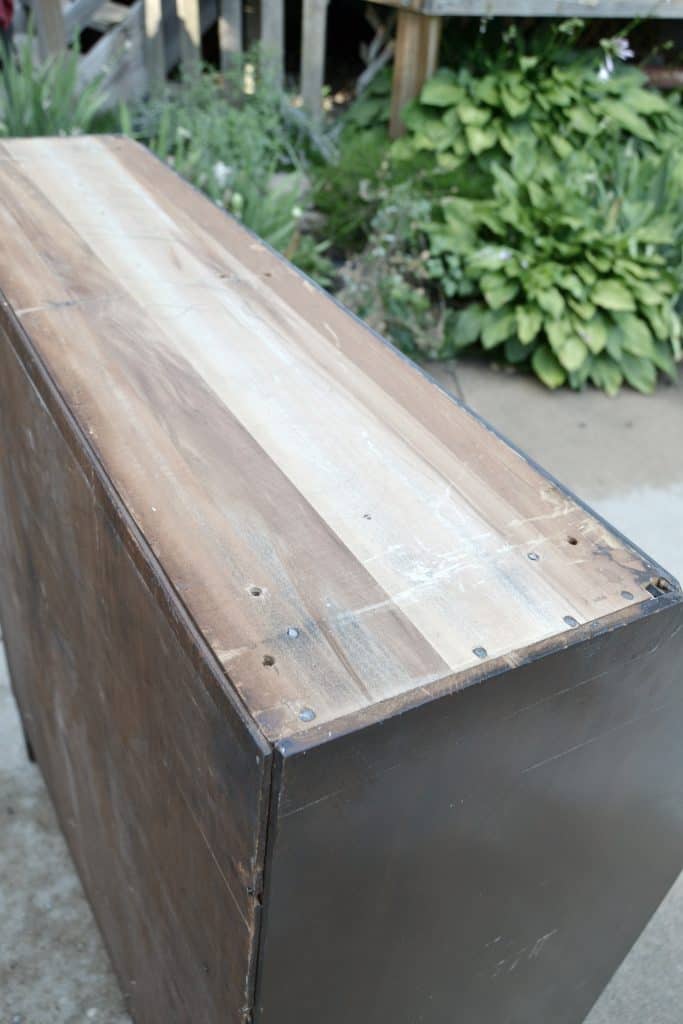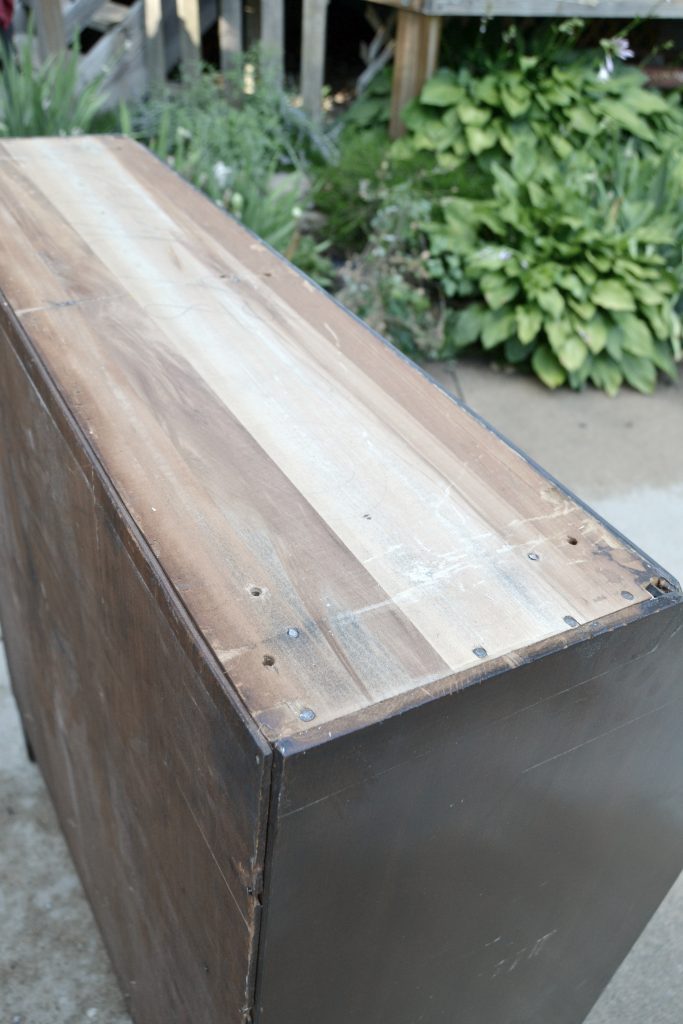 There must have been a piece of wood on the top that was taken off at some point? Maybe there was a whole other piece of the desk that went on top? Whatever it was, it was gone and because it was gone, it made the decision to paint it a lot easier.
After I saw that top, I thought the inside would be a mess, but I was wrong (thank goodness). The inside was in great condition and I didn't want to touch it. I thought it would be fun to keep the inside original.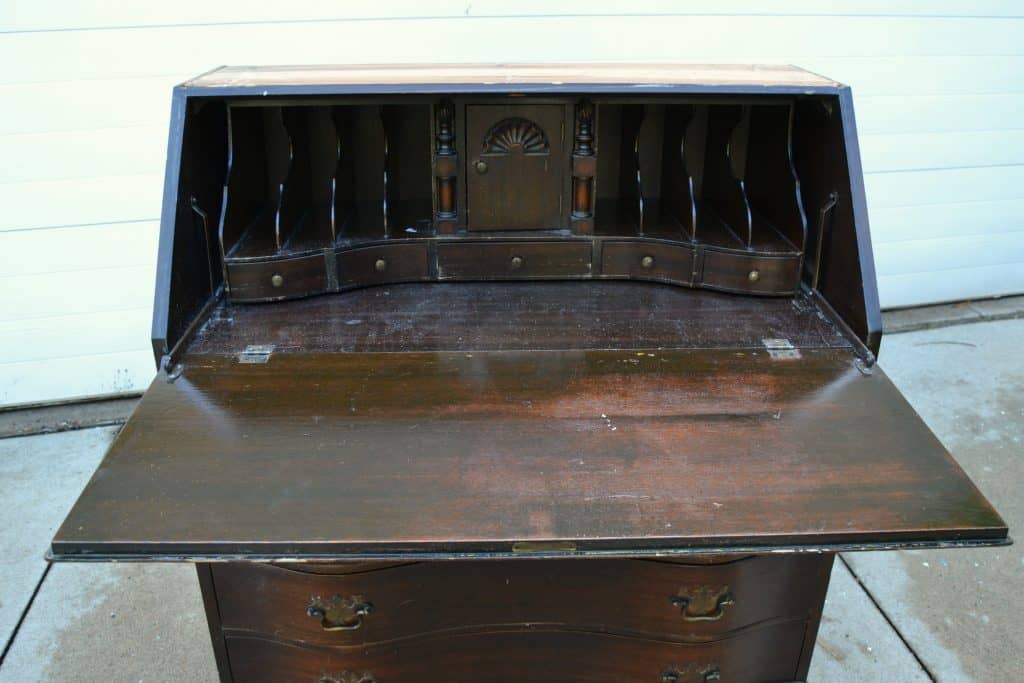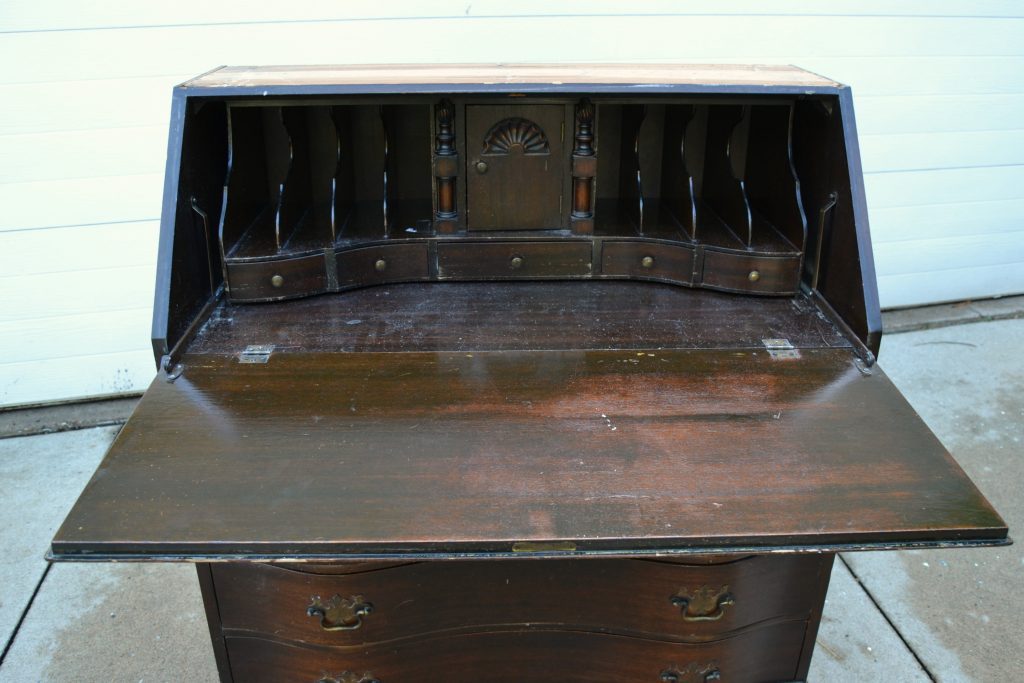 Affiliate links are used in this post so you can easily find the products I used in this project. You can see my full disclosure HERE.
This Vintage Desk Makeover needed to be lighter and brighter. I wanted to breathe some new life into it. I decided to use Fusion Mineral Paint's, "Little Lamb". This color is part of their Tones For Tots line and it is gorgeous!!! I am obsessed with it. It is a soft gray that looks really great with darker wood tones.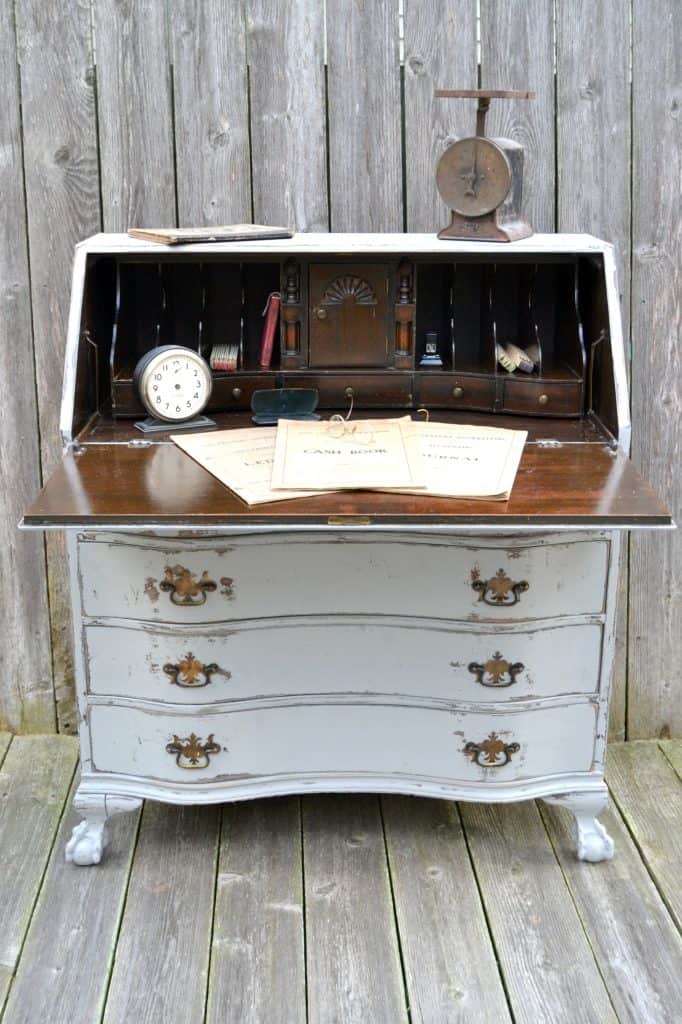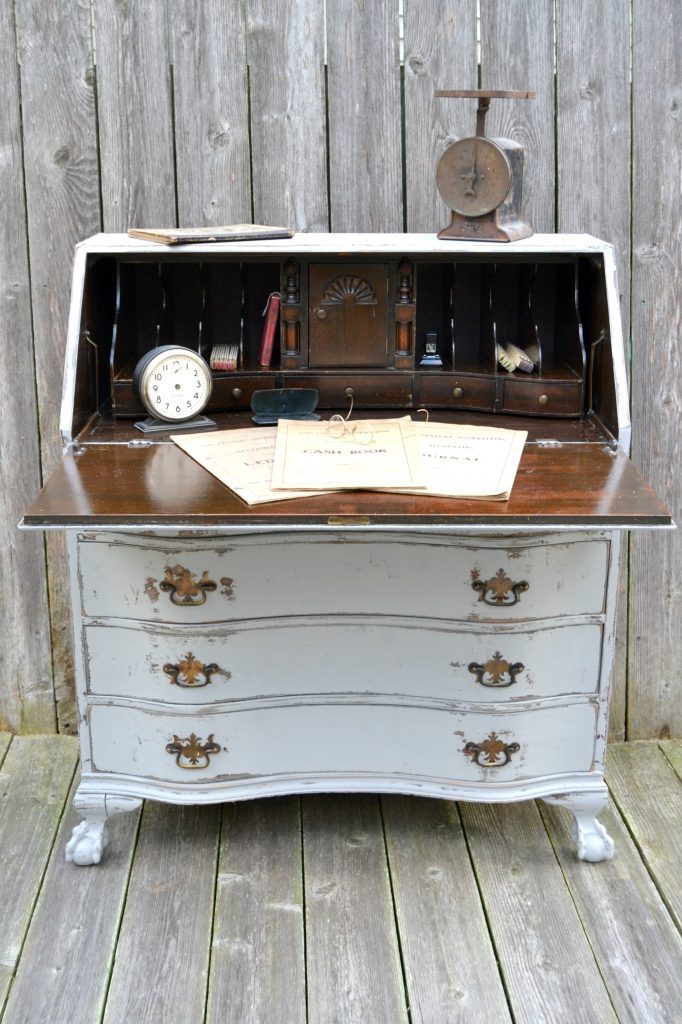 After my daughter saw the inside, she thought we should keep it. She loved all the nooks and crannies, the shelves and the hidden drawers. The inside of these secretary desks are what makes them so fun.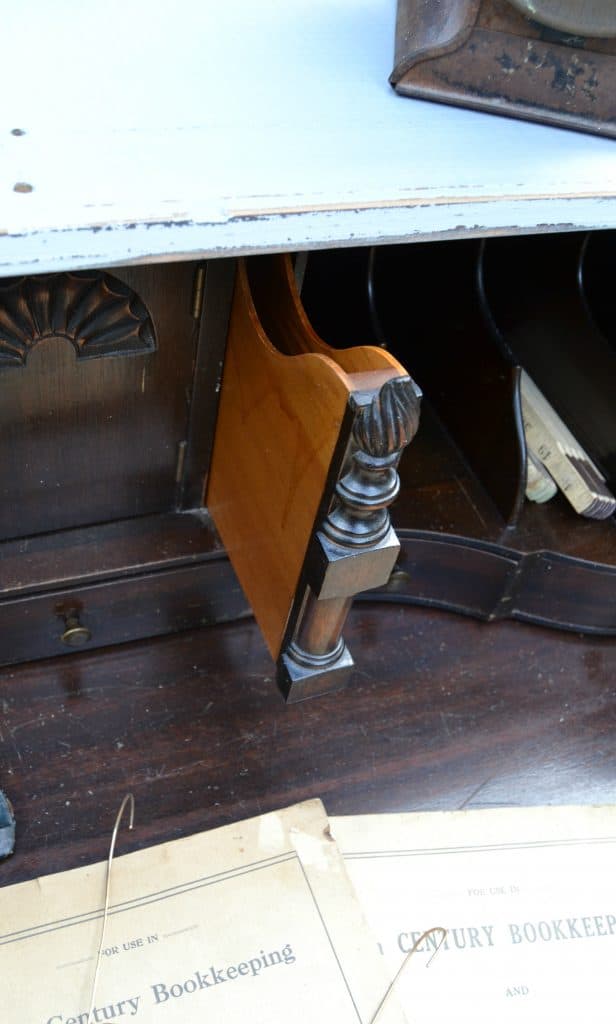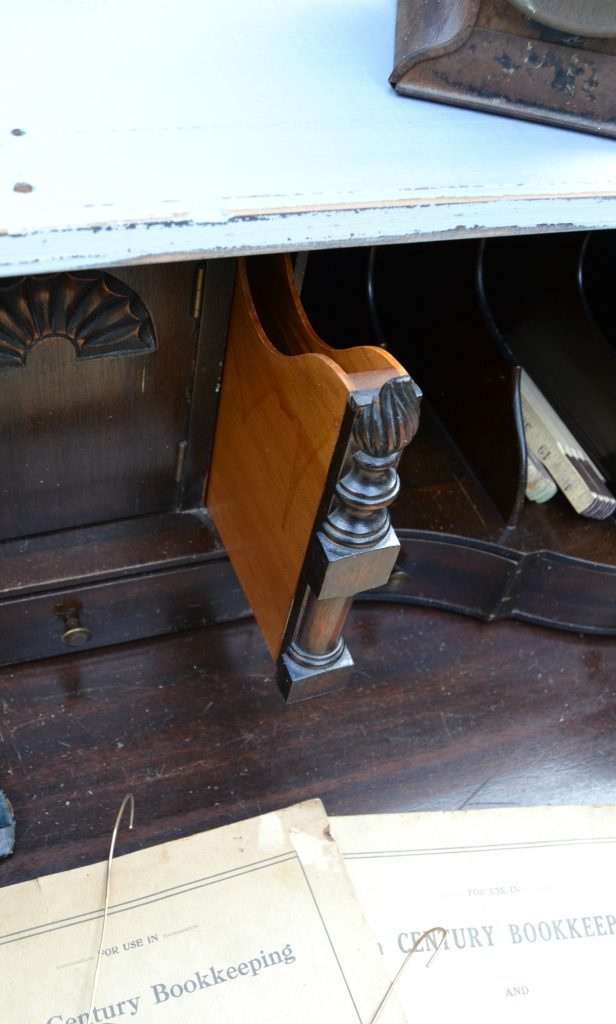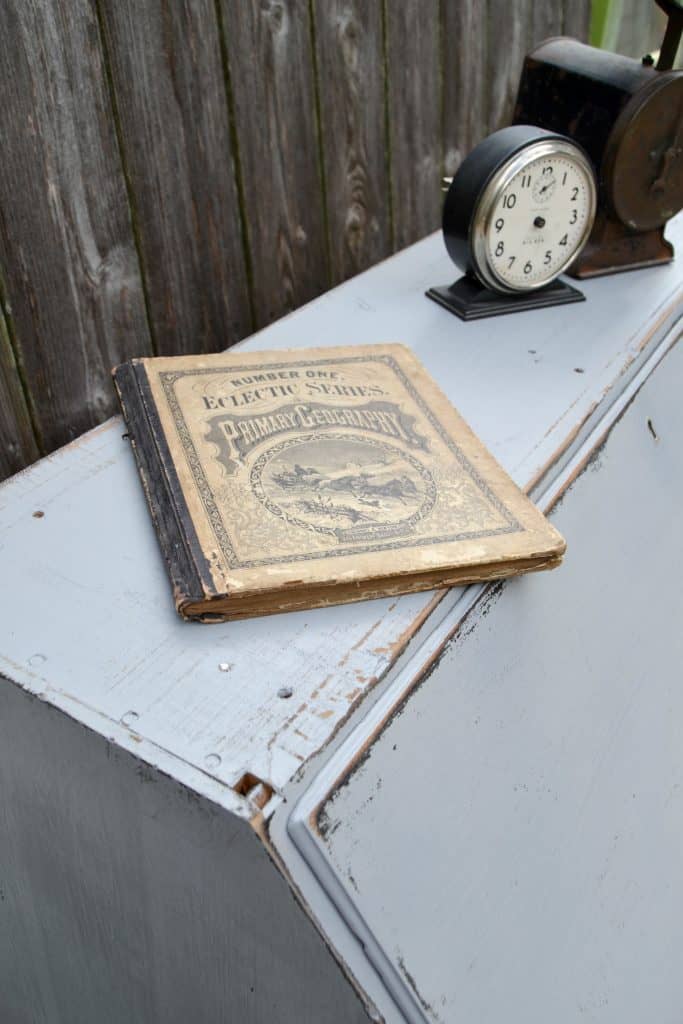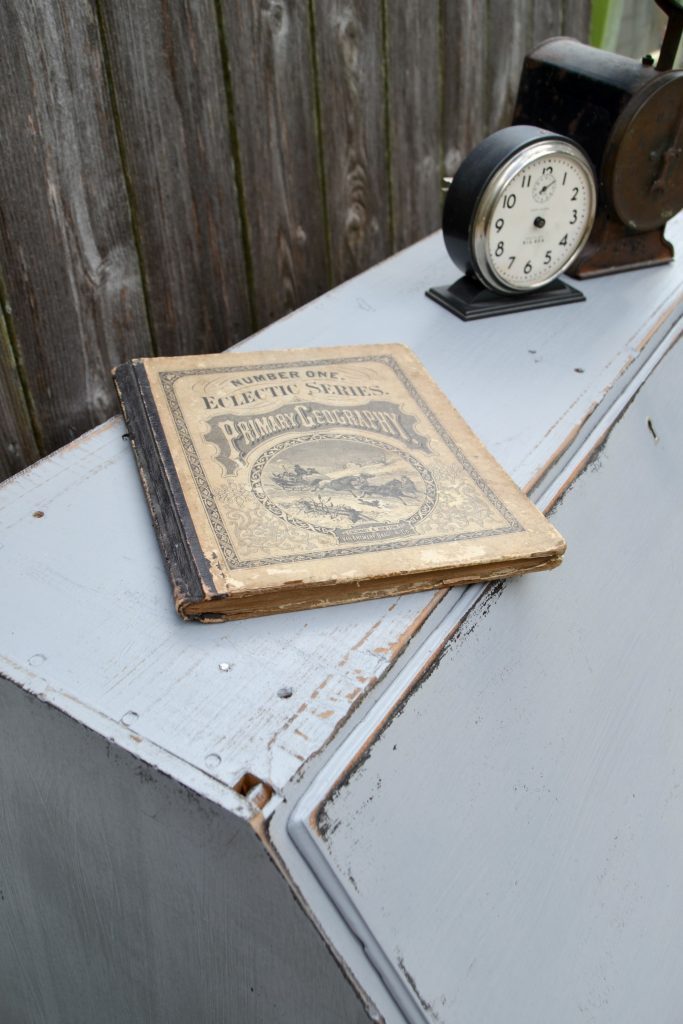 After I was done with the makeover, I had a lot of fun finding things to stage the desk with. I have a postal scale and had picked up some book keeping ledgers at a barn sale that were perfect for this project.
These ledgers took on a life of their own and they are the piece to this makeover story that takes it over the top.
Every spring, I go to my favorite barn sale and last time I grabbed these ledgers. To me, finding things that show what times were like way back when, are priceless. It amazes me to see how people lived and what they paid for different things back then.
Okay, back to the story.
After I had taken the pictures of the secretary desk makeover and started putting things away, my neighbor came over. She was looking at things in the garage and she picked up one of the ledger books. She saw the name and said she thought it was her family!!! What?! She took pictures to send to her parents to make sure. She was right! I couldn't believe it! What are the odds of that happening? My neighbor took the books to give to her parents.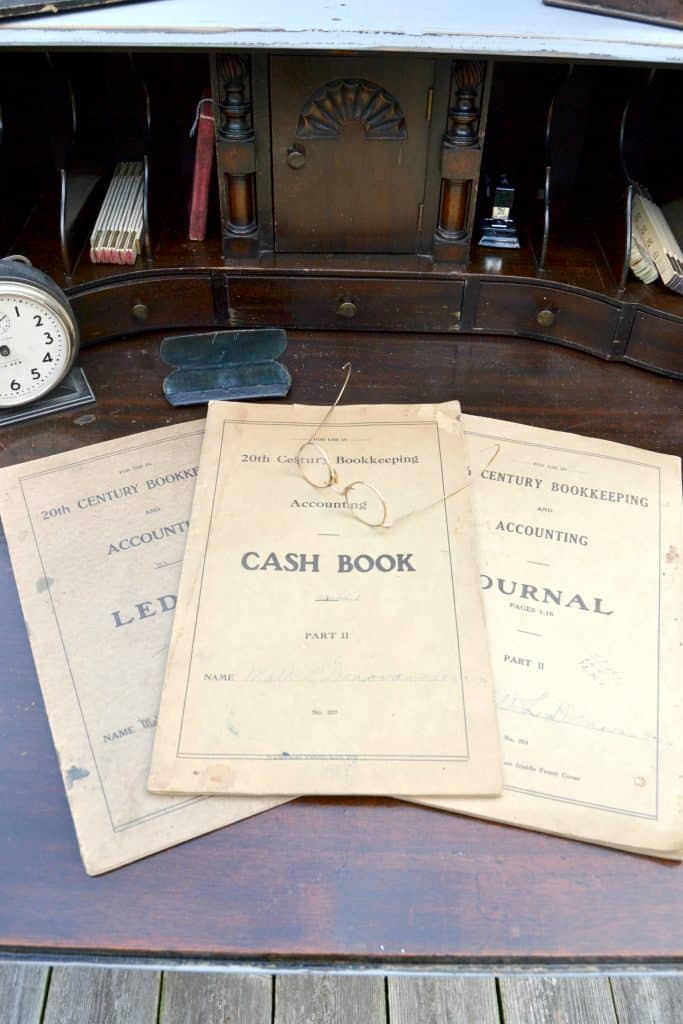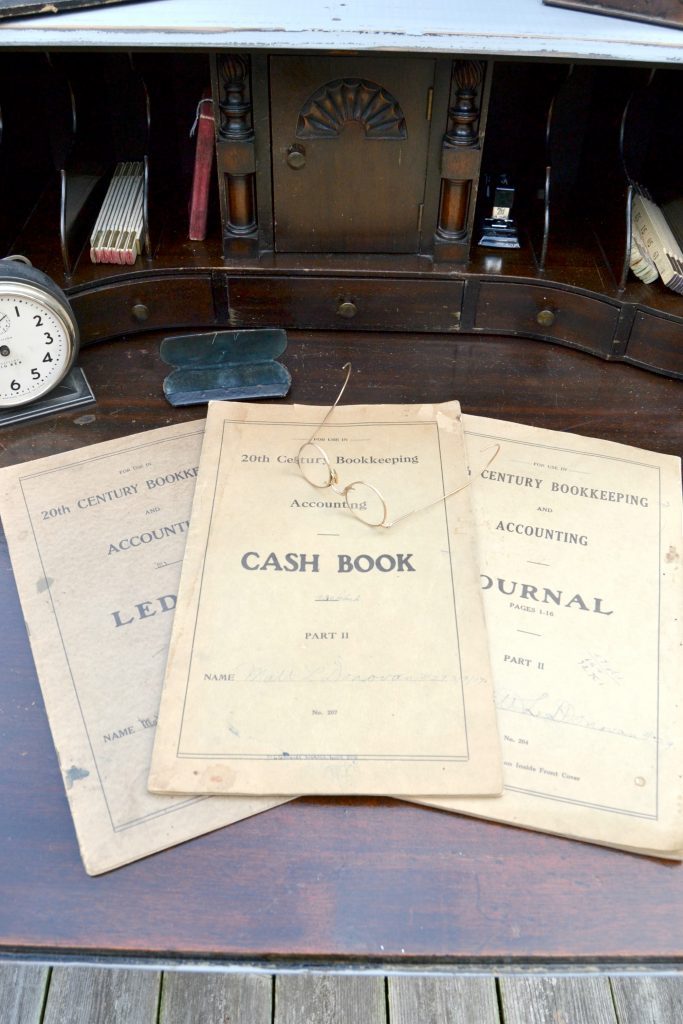 After the great story with the ledger books, I don't have many more exciting things to say about the desk. 🙂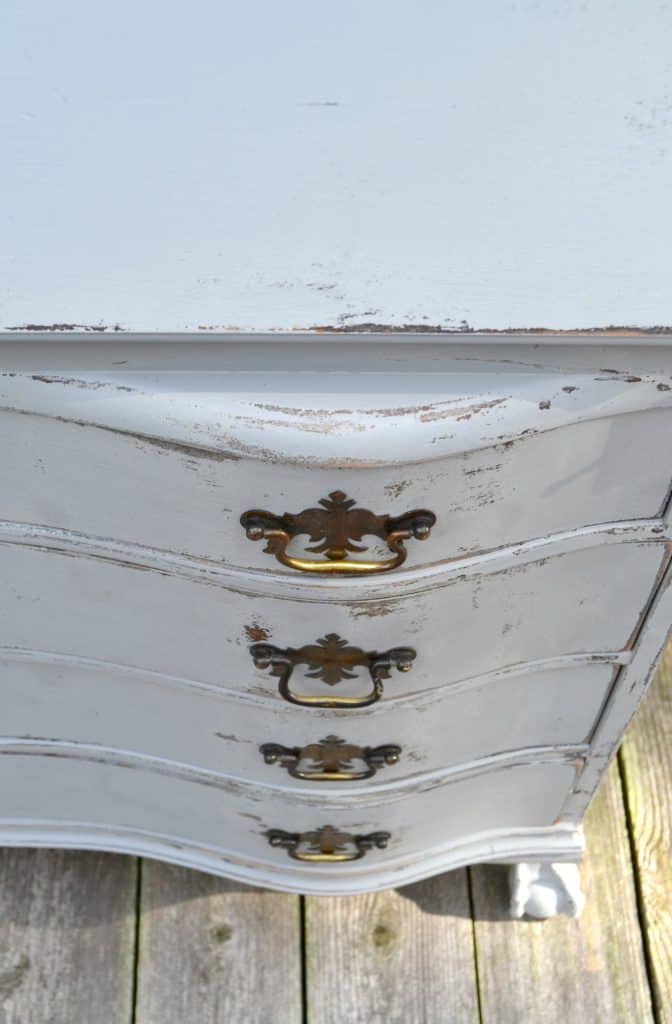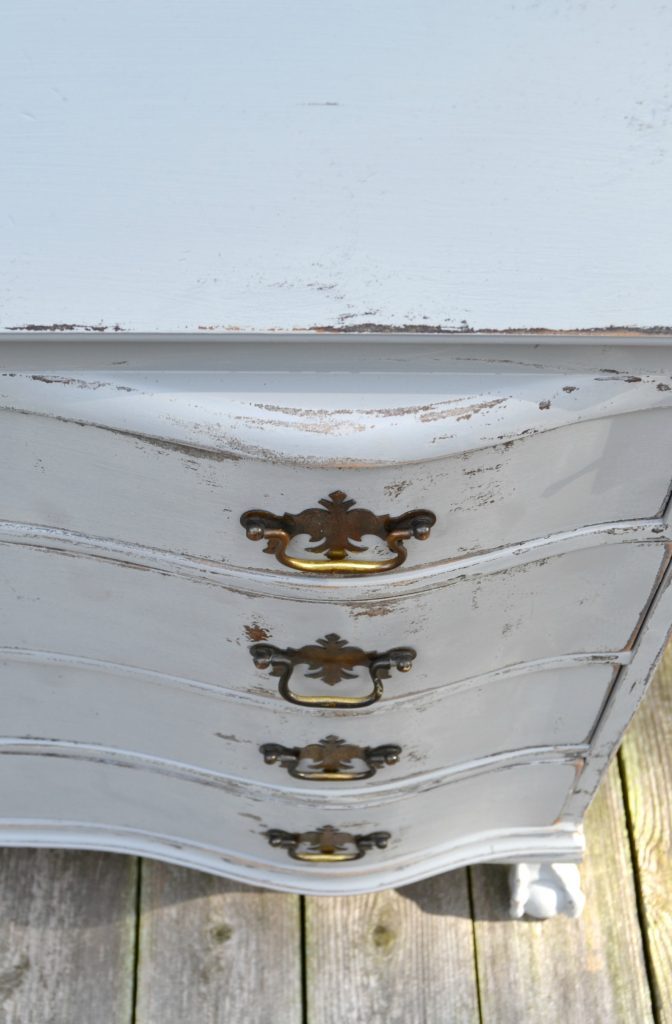 I decided to keep the original hardware and after the paint dried, I used my favorite sander to distress it a bit.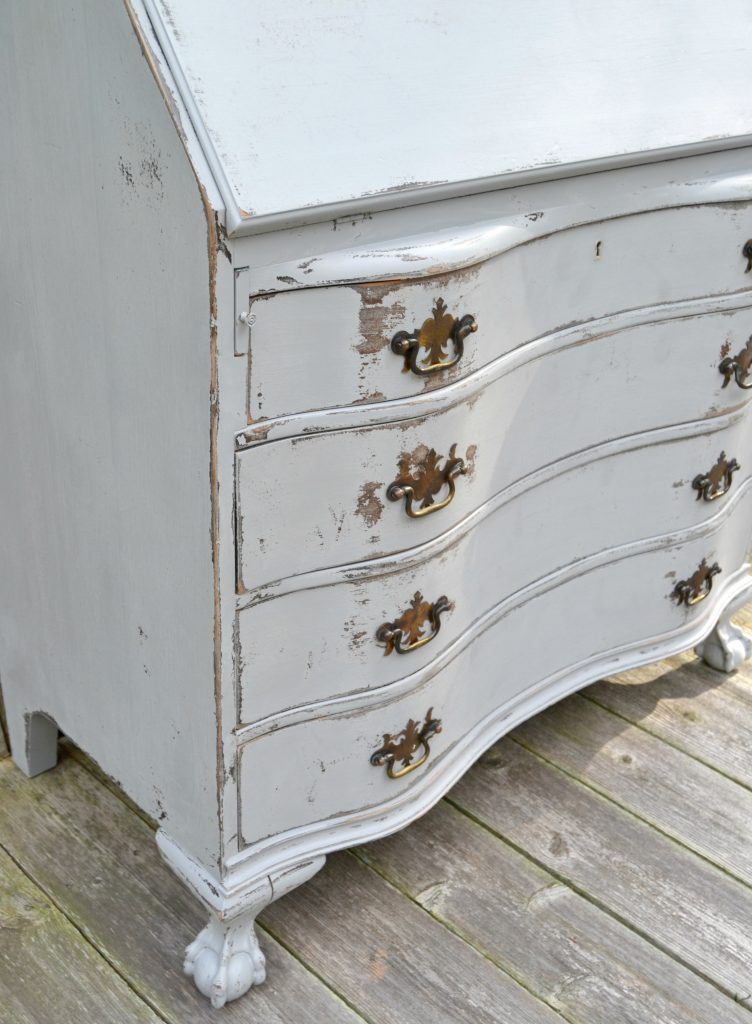 The curves in the drawers and the claw feet stand out even more now which makes me happy.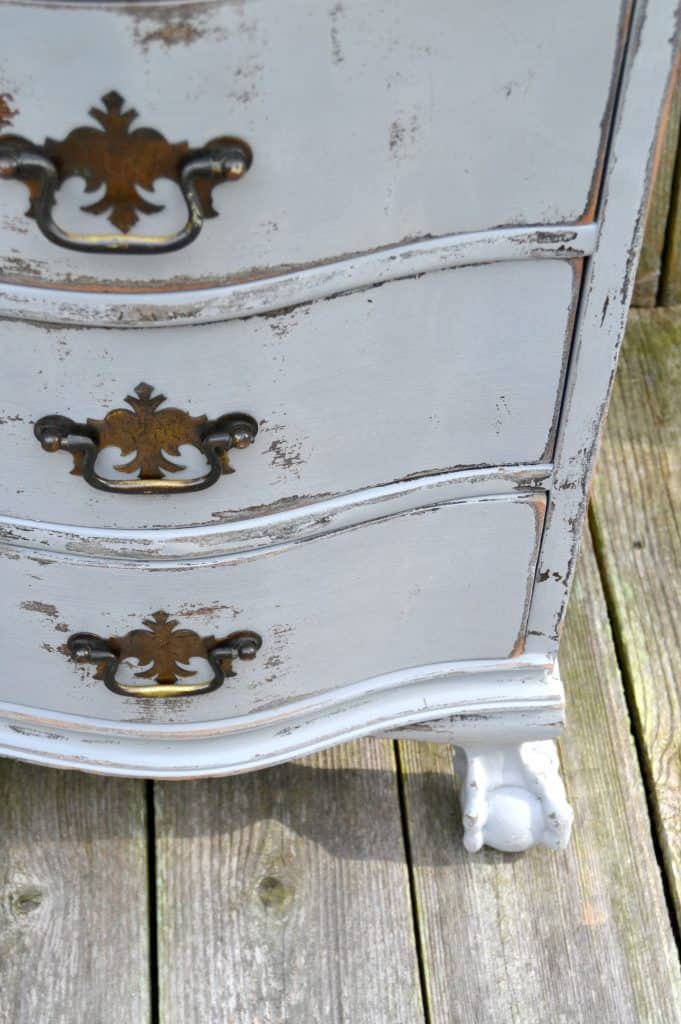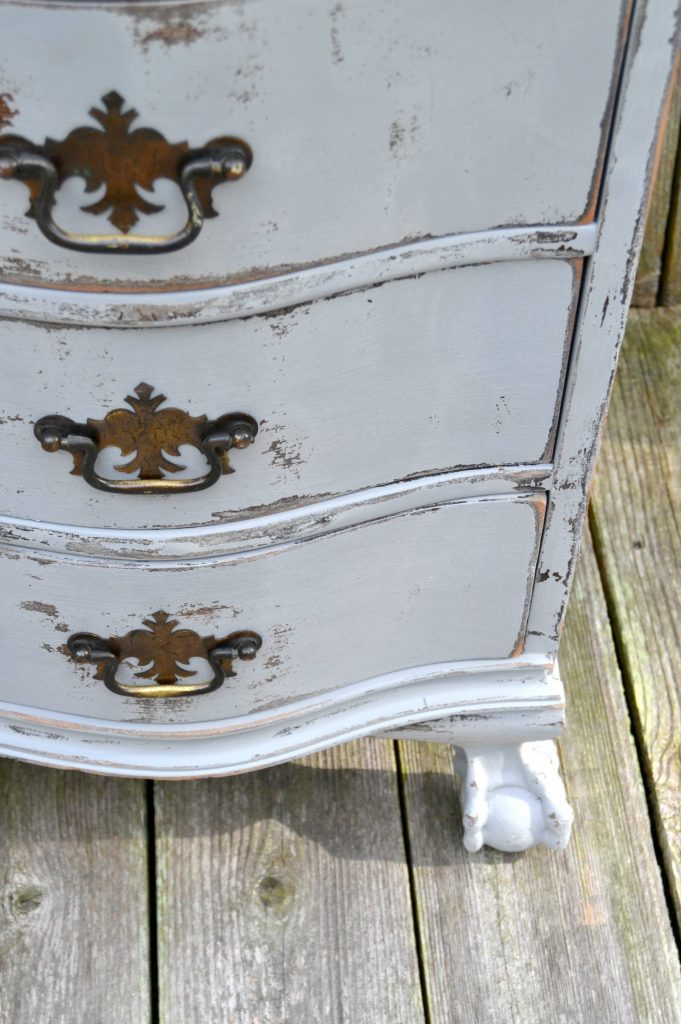 This vintage desk makeover turned out great and even though we didn't keep it, we were happy that it went to someone who loved it as much as we did.
The best thing about this entire makeover was that my neighbor found some amazing family treasures in my garage! This is why DIY and hunting for great things is so much fun. You never know what you will find and everything you find has a story.
Can you remember the last treasure you found? What was the story behind it? Where did you find it?
If you don't have a desk to make over, I found some great options online:
PIN THIS POST!



If you liked this vintage desk makeover, you will also love these transformations:
Antique Chest Of Drawers Makeover
Large Square Coffee Table Makeover