I have been wanting to figure out how to make some unique Christmas ornaments this year and I fell in love with wood bead ornaments. I love decorating our home with wood bead garlands all year long and so I thought why not add them to the Christmas decor this year. Instead of packing away my wood bead garlands, I wrapped most of them around our tree in the living room. I love the way they look.
I haven't put anything else on our tree because I wanted to change it up from previous years.
I saw a wood bead star (they look more like a snowflake to me so that is why you will see both words used interchangeably in this post) and wanted to learn how to make it ASAP. I think they are unique Christmas ornaments that would look great in our tree this year.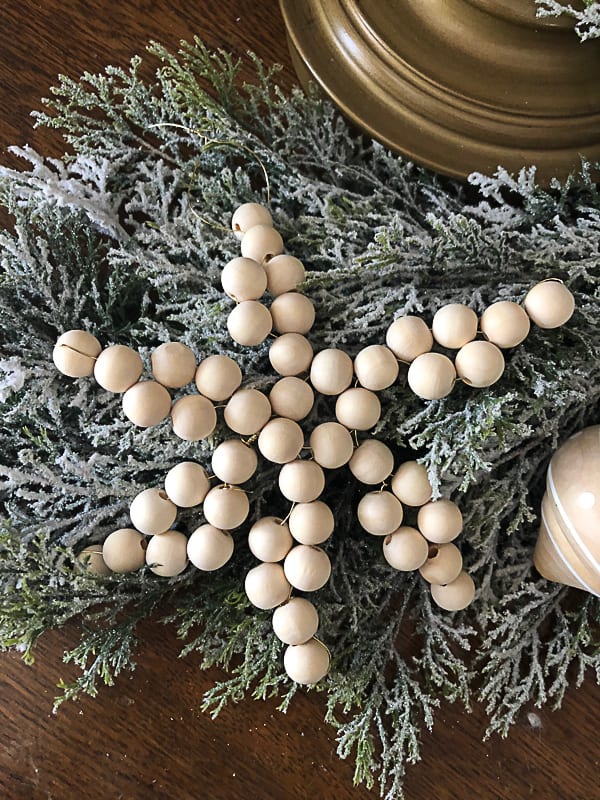 Whenever I figure out how to make something like this, I love sharing it here. I really thought the process was going to be hard, but once I got into the swing of it, it was easy to do.
I made a video to show you the process because I am a visual person. I could write out all the steps in this post, but I thought a video of me making one would be better for this project.
(Affiliate links are used in this post. You can read my disclosure HERE.)
Supplies To Make These Unique Christmas Ornaments – Wood Bead Stars/Snowflakes
Scissors
Here is the step by step video for these unique Christmas ornaments:
Like I said, the ornaments are easy to make once you get the hang of it. Taming the wire is the hardest part. The key to making a great star/snowflake is keeping the wire taught the entire time.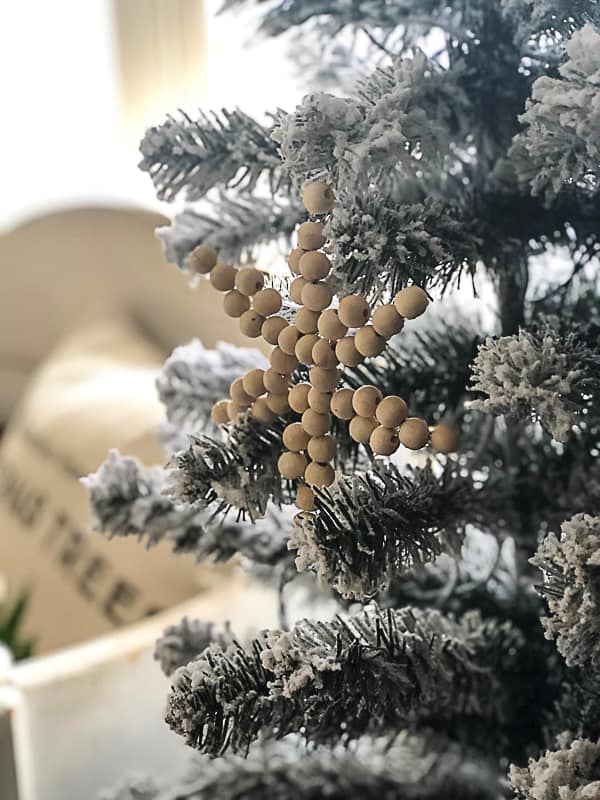 I love the natural wood to go along with the decorations we put up this year, but they would be pretty with painted wood beads or stained wood beads as well. I feel like the stars came out better with the smaller beads but that could have been because I had an extra set of hands helping me too. Gabrielle was holding the wire taught and I was moving the beads around so that could have been the difference too.
What do you think of these homemade ornaments? Would they go with your decor this year?
Make sure to subscribe to my YouTube channel so you never miss a video tutorial! Subscribe HERE.
PIN THIS POST!


If you liked these unique Christmas ornaments, you will also love these holiday posts:
DIY Christmas Tree Made From Scrap Wood
90 Homemade Christmas Ornaments
Christmas Gnome: Make Your Own Scandinavian Gnome