I am always on the hunt for getaways we can do as a family that is close to where we live. I think a lot of times, people don't think there are great places to visit in the Midwest, but as I get older, I am finding that the Midwest is full of beautiful places to get away to. With the kids getting older, their schedules really limit when and where we can go. I have to get creative when planning a trip. Many times, the only way we can get away is if it is somewhere close to where we live. We have never traveled over Thanksgiving weekend, but the kids' schedule was fairly open so I planned a little getaway to La Crosse, Wisconsin.
When I started planning for this trip, I was happy to hear that it would take us less than three hours to get there. When we got in the van, Matt had me put the destination in my phone so Siri could tell us how to get there. (We have never done this before. Matt always researches how to get where we are going). Siri had us take a lot of back-country roads to get to La Crosse which was nice, but we took an alternative route home which proved to be a lot faster. Either way, it was under three hours so it was the perfect distance for a weekend getaway.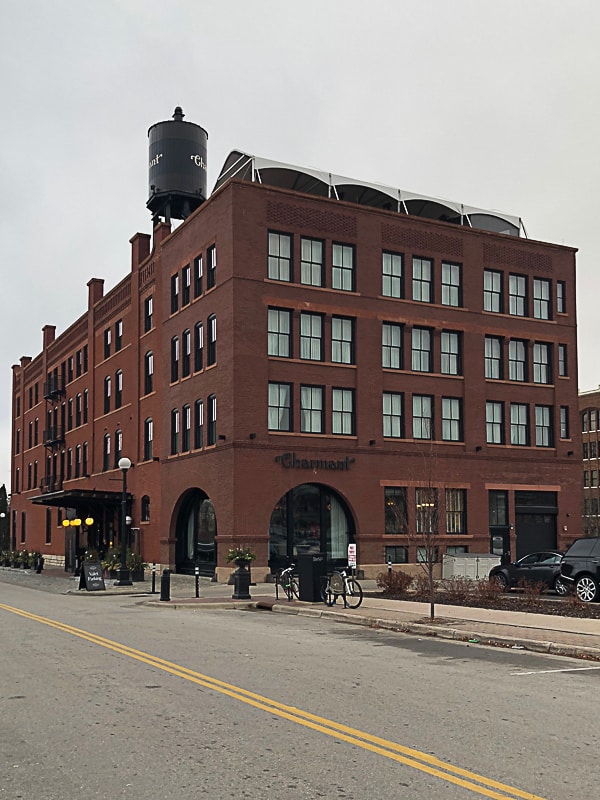 The Charmant Hotel

was hosting us for the weekend. I could spend all day talking about this amazing hotel. And, I mean, ALL DAY!
As soon as we pulled up, I knew I was going to love it.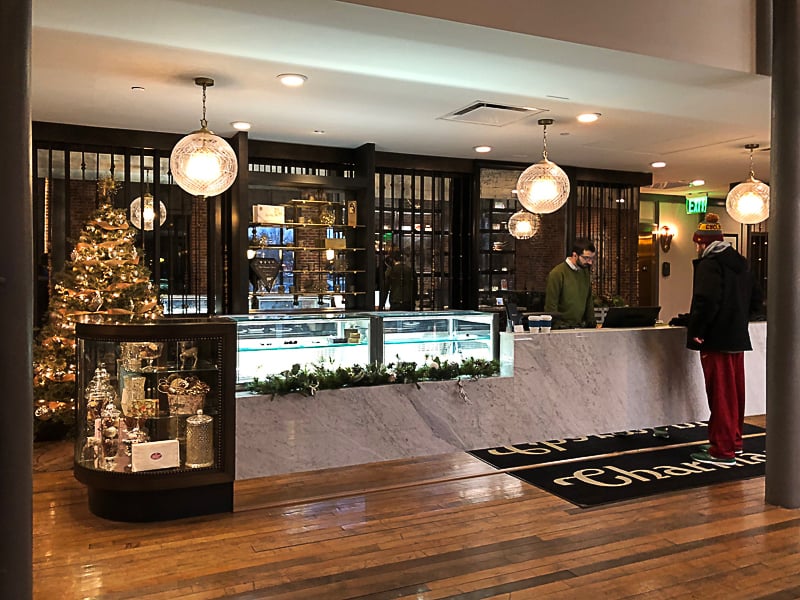 "The Charmant is a 67-room luxury boutique hotel in downtown La Crosse, Wisconsin. The building is a renovated candy factory, constructed in 1898 and in operation for 35 years. The hotel pays homage to this rich history by celebrating the golden era of candy manufacturing. This theme can be seen not only in The Charmant Hotel's offerings and interior design but in its name—Charmant was a premium line of chocolates produced by the resident candy company. Charmant is also the French word for "charming," reflecting the hotel's friendliness, whimsy, and allure.
Architectural details of the original structure, now a historic landmark, have been preserved and reimagined, including maple wood flooring, wood beams, and exposed brick. Some say these materials still emanate the sweet smell of candy. The Charmant Hotel's connection to local history goes even deeper. The hotel is located on the site of the very first building in La Crosse, a log cabin constructed by fur trader Nathan Myrick in 1842. A plaque memorializing this distinction can be seen on the property."
When I read that about the hotel, I was smitten. Anything old, preserved, and brought into working order again has my heart. I couldn't stop gawking at the original wood floors, all the exposed brick, the decor, the design, and the wood beams. The old, tile floor on the elevator floor alone made me want to ride it longer than I needed to. When I visit places like this that are full of history, I get inspired.
I get inspired because I am reminded over and over again that breathing life into old things is amazing and it is what I love to do and share here every day. I need more weekends away like this. Matt is the same way. We both love exploring places like this. So many ideas and thoughts are brought up when we do. It is almost a game to see who can notice the most first.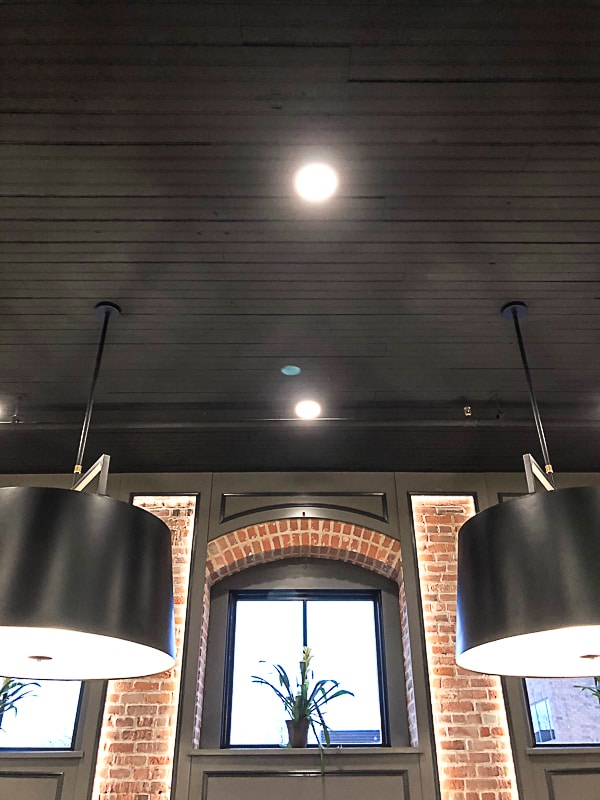 I took so many pictures of so many things on this trip. It was hard to only choose a few to share here, but I am going to do my best.
The original wood floors. Just look at the wear on them!! When I see things like this, I always pause and think about the history behind them. What did these floors see? What were the conversations about on these floors? How was daily life different than ours? Were there similarities?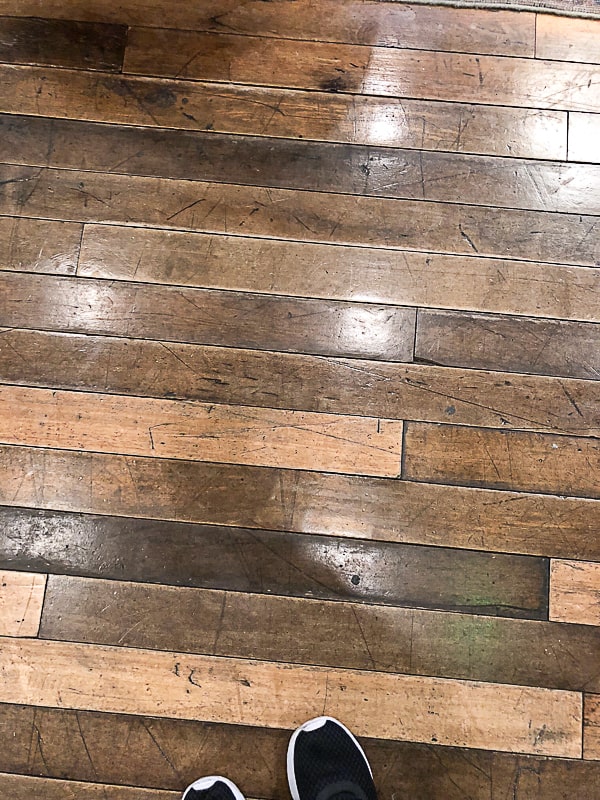 Another great feature of the hotel is that there are chocolates for sale in the front lobby. It is another way to pay homage to the fact that the building was originally a candy factory.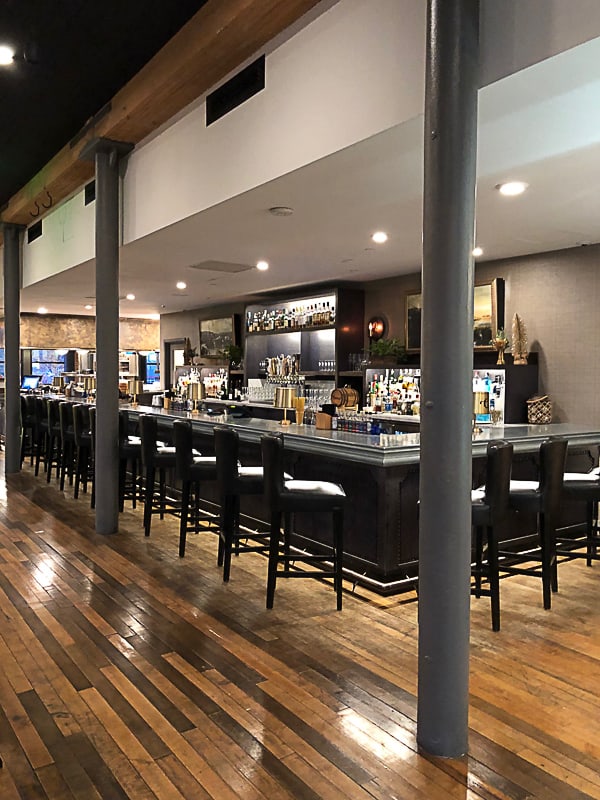 The hotel has two restaurants and a coffee shop. The coffee shop blew me away!!!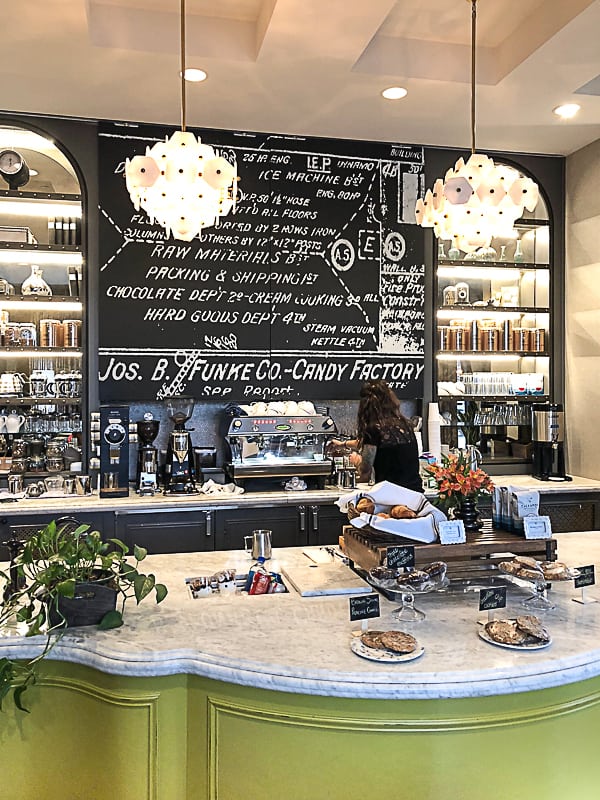 There was a fire going in the fireplace the entire time we were there. They give guests tokens to use in the coffee shop so we frequented the place.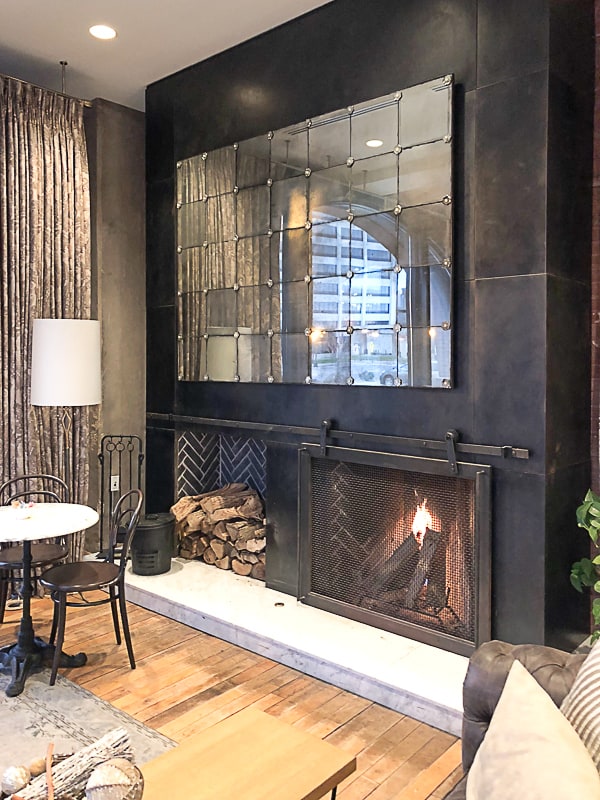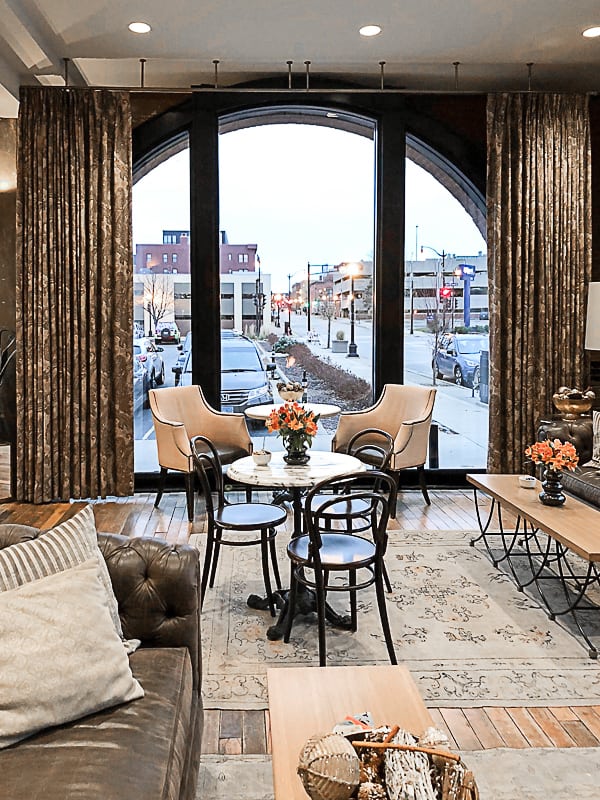 If the lobby, restaurants, and coffee shop weren't enough to stop me in my tracks, I was about to be even more amazed as we headed to our room. When we got off the elevator to our floor, my jaw hit the ground again. The doors to every room are painted a beautiful blue color (I shared the entire trip in real-time on my Instragam stories. If you aren't following me there, head HERE to catch my next video). There was a mix of carpet and the original wood floors in the hallways and it smelled heavenly!!!
When we opened the door to our room, this is what we saw!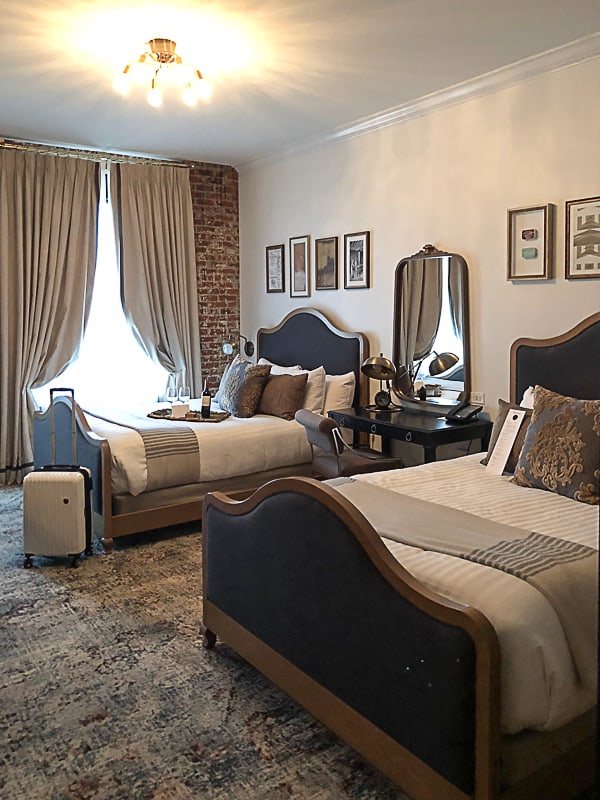 I had to be reminded of where we were!! WHAT?! Again, I shared this all real-time on my Instagram stories and to say I was blown away and excited is an understatement. The beds alone would have made me happy, but the vintage-style rug on top of the original floors and the exposed brick in the room made me even more happy. Then, we opened the curtains and found out that we had a little balcony off our room!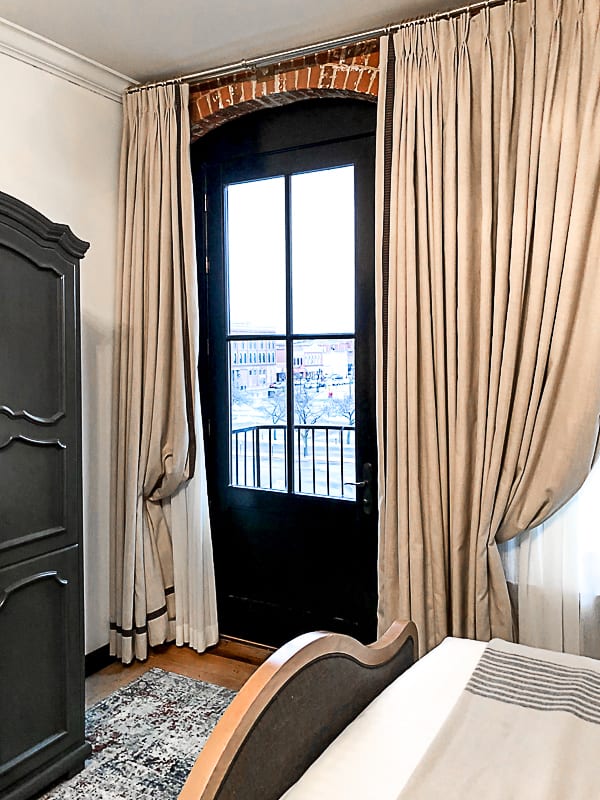 If that wasn't enough, let me share the bathroom.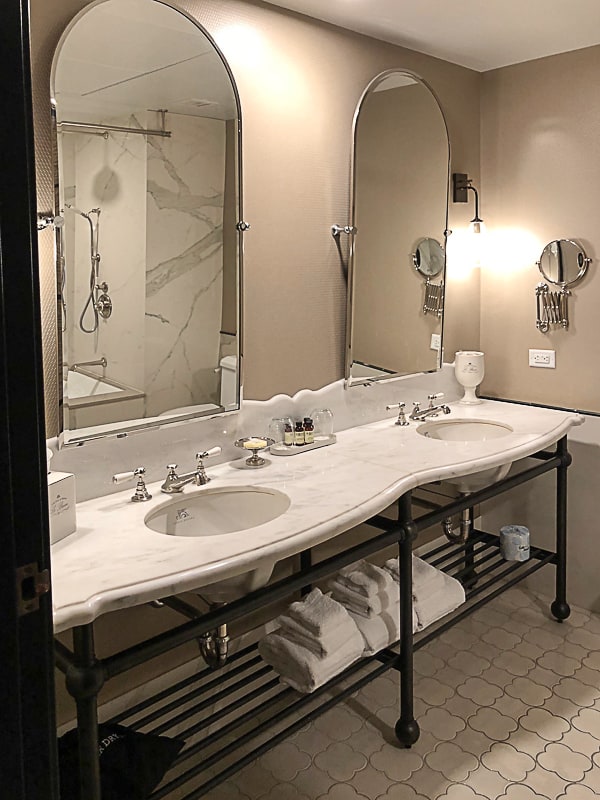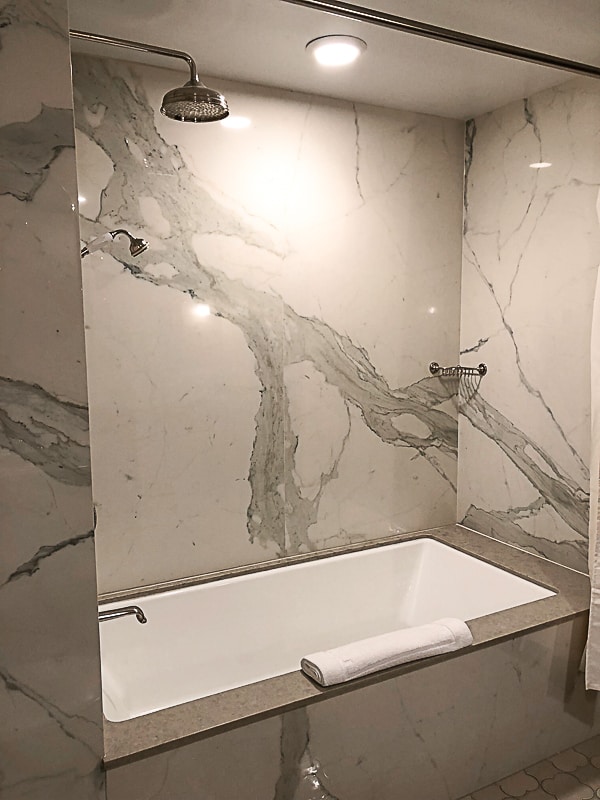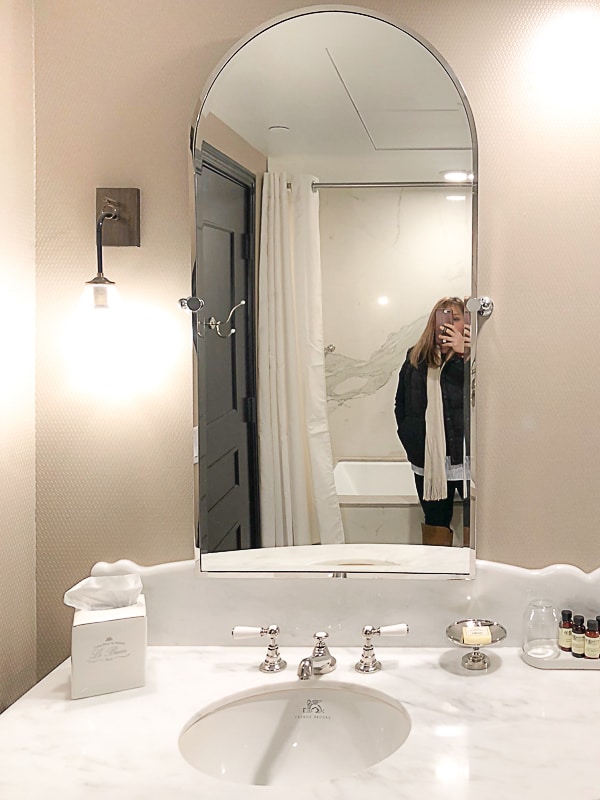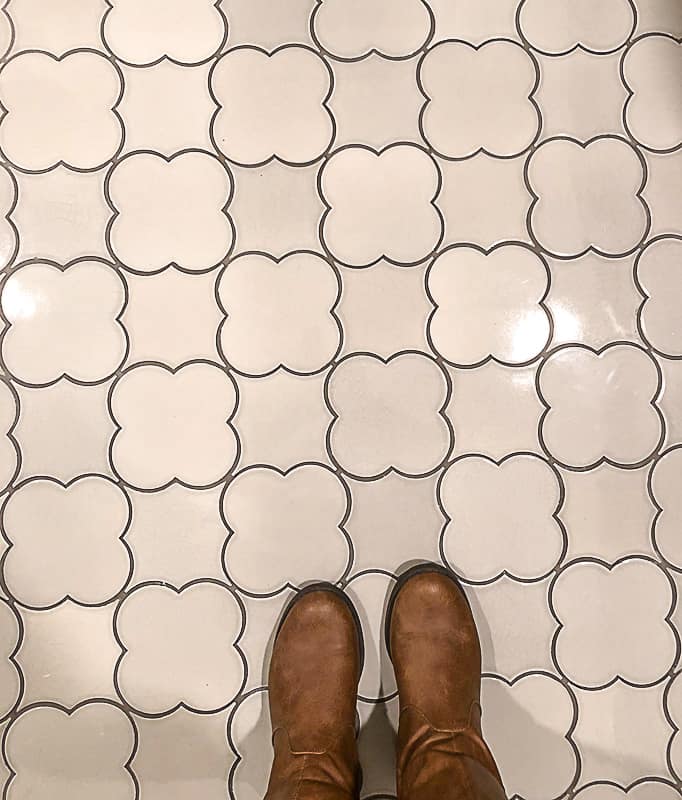 Again, my jaw dropped. The amount of detail the owners put into the hotel and rooms and the fact that they salvaged everything they could, really paid off. This hotel is stunning and one of our favorite hotels we have ever been to. They don't have a pool, but the kids didn't miss it. There was so much to do over the Thanksgiving weekend in La Crosse, Wisconsin that we wouldn't have had time to swim anyway.
As soon as we were done gawking at the hotel room, we were excited to get out and discover the downtown area. As I was sharing everything on Instagram, I had people from La Crosse reaching out to me and telling me all the things we must do while in town, which was so helpful because we probably wouldn't have done them.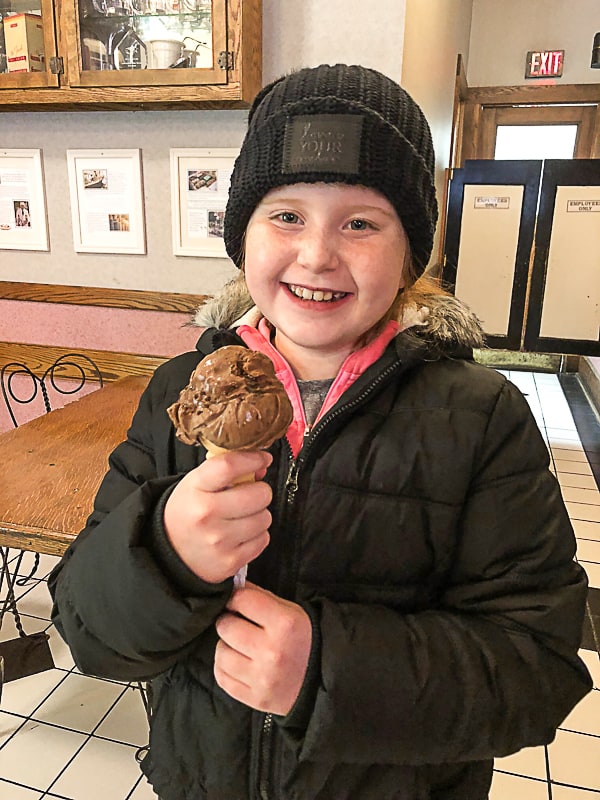 The downtown area is so cute!! CUTE!!!! There are so many pubs, restaurants, shops and other things to do downtown. We went into all the shops and ate at some of the places the locals told us to eat. We also stopped to get ice cream at the Pearl Street Ice Cream Shop. This is a local favorite and also a staple in La Crosse.
After walking around the downtown area, we ventured to Grandad Bluff.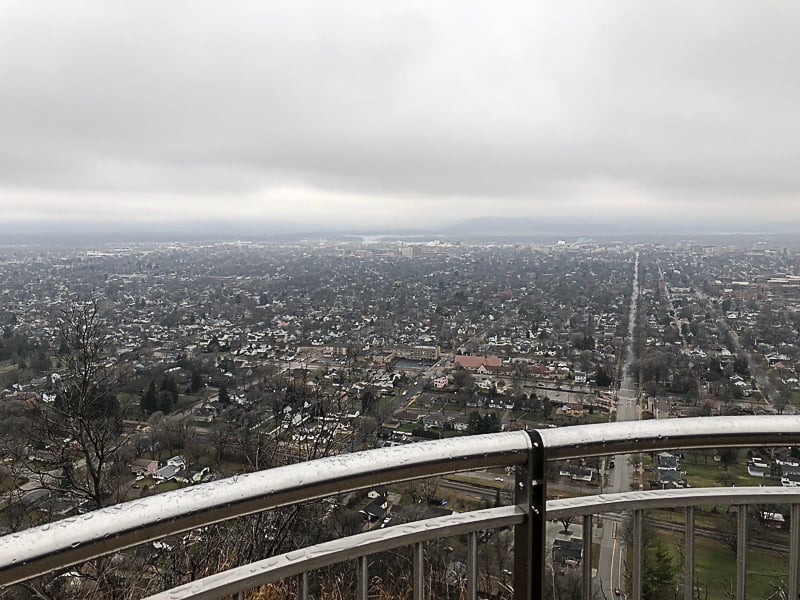 You can see all of La Crosse from the bluff! It was gorgeous and we went on a cloudy day. We can't imagine what it looks like on a clear day. It reminded the kids of when we were on the Empire State Building in NYC. The best part was there were three bald eagles flying around us.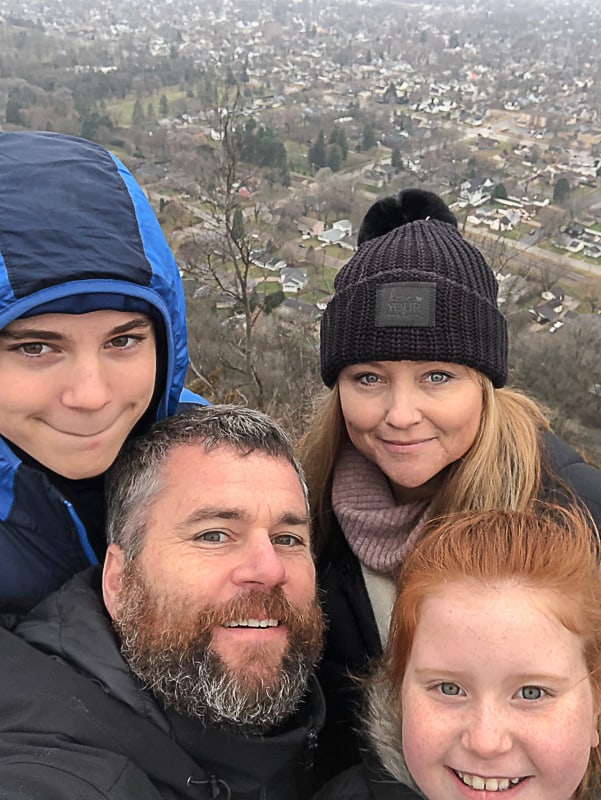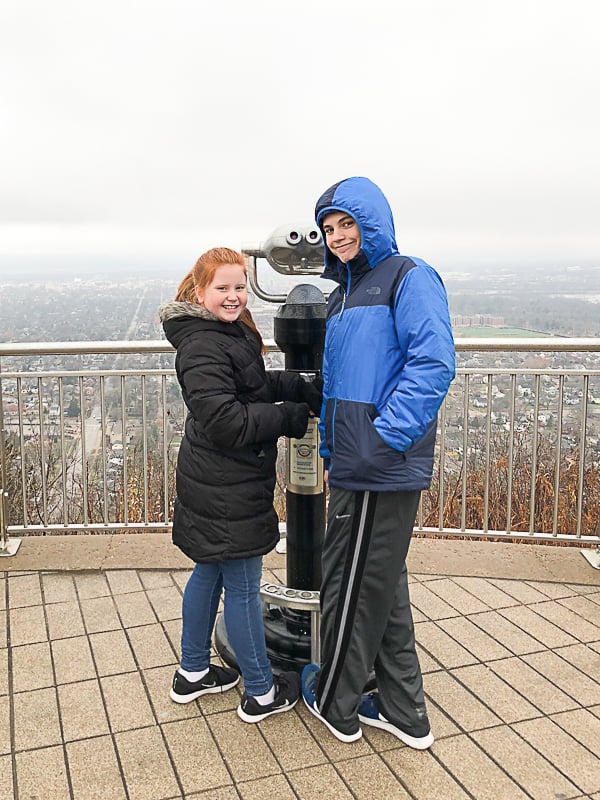 We also visited the

Shrine of Our Lady of Guadalupe

. We didn't even know La Crosse had this before we got there. Landen had just learned all about this in school, so he was our tour guide as we walked around and explored it. We lit a candle inside the little chapel and walked to the top where they were in the middle of a service. The entire area and the way they have it set up are beautiful. The church at the top is unbelievable!!! We are all so glad we got to see it all.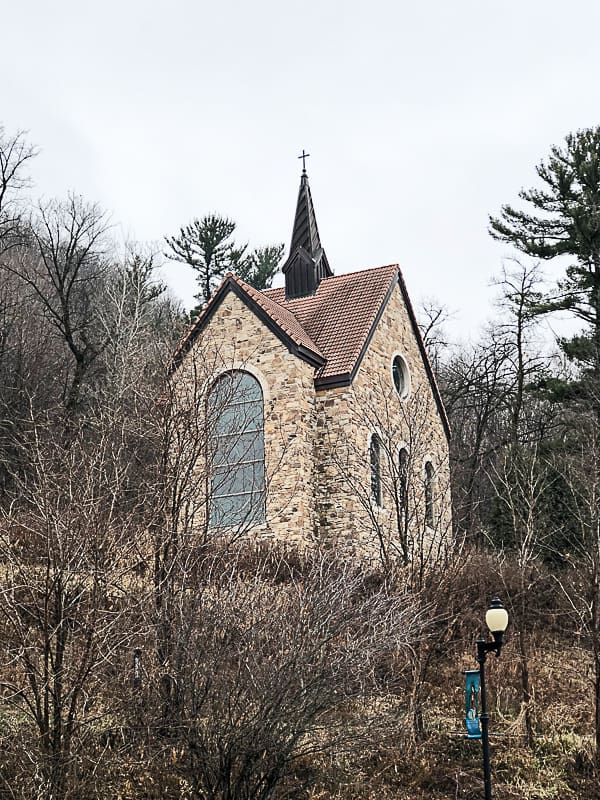 The Great Escape of La Crosse, Wisconsin invited us to come while we were there and it became the highlight of the trip for the kids. I have wanted to try this for a long time, but Matt and the kids had no idea what it was about. We did the Mad Hatter Room. We had one hour to figure out how to make it out of the room and we did it with a little over one minute left!! The kids were so excited!! The amount of teamwork that goes into an escape room is addicting. We all had so much fun that we are ready to try other escape rooms when we visit new places.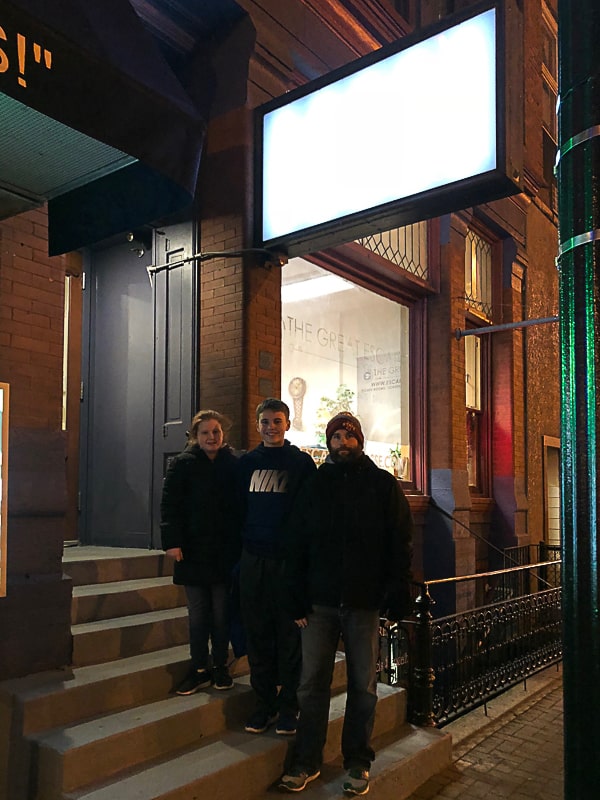 We stayed the weekend after Thanksgiving, so we were able to see the fireworks and lighting of the tree in the park that night we arrived. There was a parade to kick it off and it ended with all of the lights in the park being lit, Santa showing up and a fireworks show. All of this happened right outside our hotel room! We got to see it all from the balcony off our room!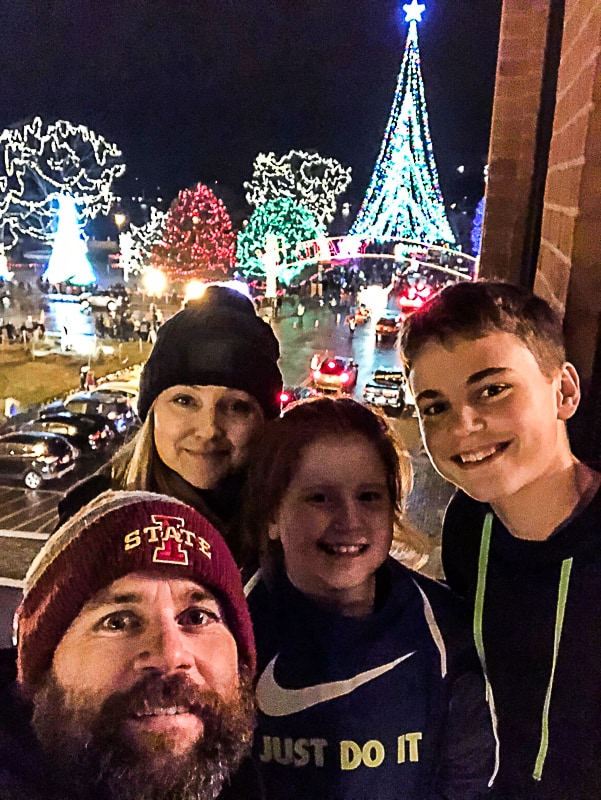 The following night, we walked through the park to see all of the lights up close. We were blown away!! There were real reindeer, a live nativity scene, so many lights, hot cocoa and cookies, Santa, horse-drawn carriage rides, and heated tents throughout that you could step inside to get warm as you were walking around. La Crosse, Wisconsin is doing it right. It was such a special thing to see as we head into the Christmas season. We loved it so much that Matt even said we should make this getaway a tradition after Thanksgiving every year.
To say we had a great time does not even begin to describe our time in La Crosse, Wisconsin. It holds a special place in our hearts and we are already thinking about when we can get back there to explore it even more.
If you are looking for a cute place to get away to, we highly recommend La Crosse, Wisconsin.
Have you ever been to La Crosse, Wisconsin? What was your favorite thing to do there?
PIN THIS POST!
If you liked this La Crosse, Wisconsin post, you will also love these family getaway ideas:


Family Vacation To Minneapolis, Minnesota
South Haven, Michigan – Midwest Family Vacation
10 Tips For A New York City Family Vacation