If you have a small budget but crave beautiful spaces in your home, these creative ways to decorate a living room on a small budget will help!
Decorating your living room doesn't have to break the bank. With a little creativity and resourcefulness, you can transform your space into a stylish and inviting area without spending a fortune. I want to share some savvy tips and tricks to help you decorate your living room on a small budget while still achieving a beautiful and cozy living room.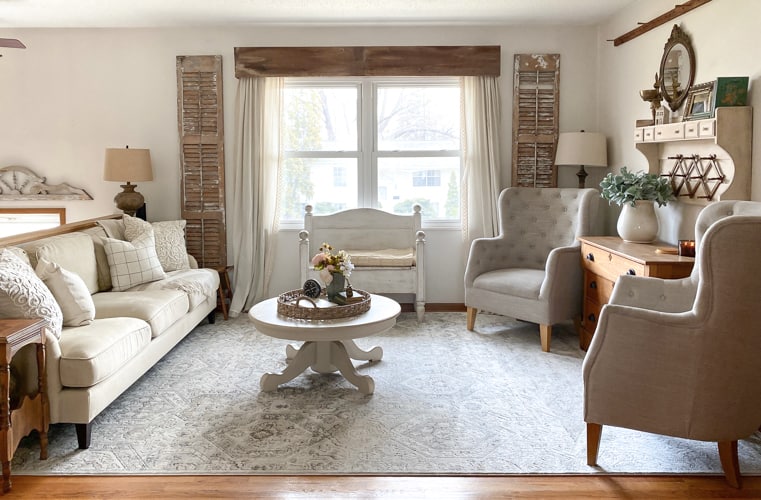 • Determine your style:
Start by identifying your preferred interior design style. Explore different styles such as modern, contemporary, traditional, rustic, industrial, or eclectic. This will serve as a foundation for everything you choose for your living room and ensure you only bring in items that make sense.
• Set a budget:
Even with a small budget, it is important to determine how much you're willing to spend on your living room decor. This will help you prioritize your purchases and ensure you stay within your means. Shop your home for items first. This will help save money on your budget and ensure you are only buying the things you really need.
• Consider the layout:
Evaluate the layout of your living room and consider the flow of traffic. Arrange furniture in a way that promotes conversation and comfort. Keep in mind any focal points in the room, such as a fireplace or a large window. Don't feel like you need to stuff the living room. Less is more. It will save your budget as well. You want it to be open and airy, not cramped and stuffy.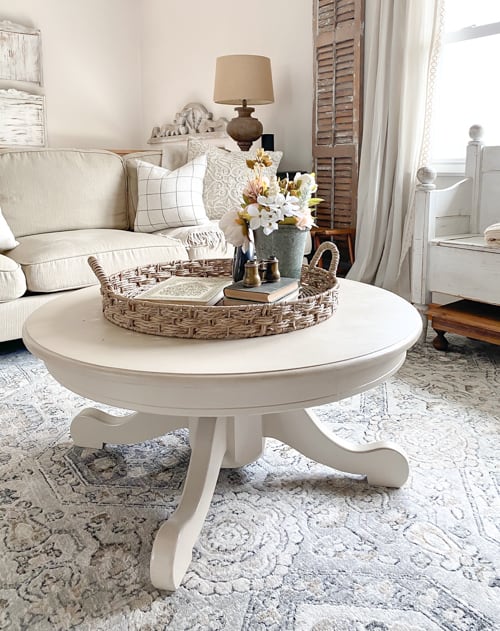 • Select a color scheme:
Choose a color palette that reflects your style and sets the mood you desire. Consider the size of your living room and the amount of natural light it receives. Lighter colors can make a room feel more spacious, while darker colors can create a cozy atmosphere. You can use a combination of colors or stick to a monochromatic scheme.
• Choose furniture:
Select furniture that is both functional and aesthetically pleasing. Invest in quality pieces that will stand the test of time. Ensure that the size and scale of the furniture are appropriate for your living room. Mix different textures and materials to add visual interest. You can flip pieces of furniture that you thrift to save a lot of money. I have a lot of posts that show you how easy this is to do and give you tons of inspiration. Head HERE to find that content. I always say to invest in pieces that your sofa but try and thrift items like coffee tables and end tables to save a lot of money.
• Add lighting:
Lighting plays a crucial role in creating ambiance. Incorporate a combination of ambient, task, and accent lighting. Install overhead lights, table lamps, floor lamps, and wall sconces strategically throughout the room. Thrift stores are full of beautiful lighting options on the cheap. Yard sales and estate sales are another great place to shop.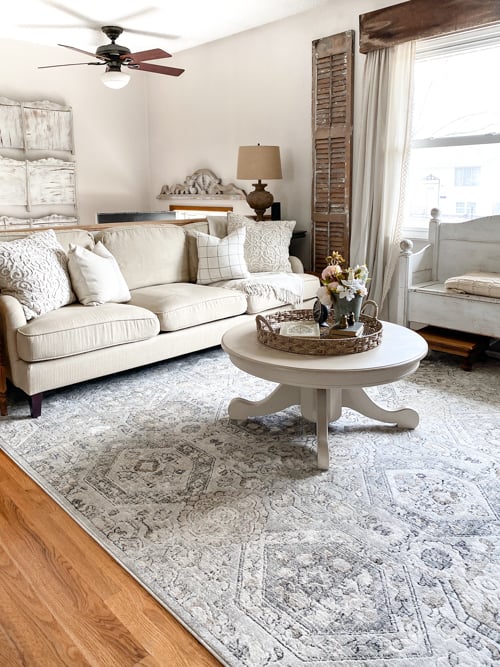 • Enhance with accessories:
Accessories can add personality and character to your living room. Consider adding items such as throw pillows, area rugs, curtains or blinds, artwork, wall decor, mirrors, plants, and decorative objects. Be mindful of clutter and strive for a balanced arrangement. These items should cost the least amount in your living room. I love sharing my thrifted ideas to decorate your home. Not only do you save a ton of money shopping this way, but you are adding one-of-a-kind items to your living room to give it a custom and curated look.
• Create cozy seating areas:
Arrange seating in a way that encourages conversation and comfort. Place sofas and chairs facing each other, and add a coffee table or side tables for convenience. Incorporate comfortable cushions and throws for extra coziness.
Decorating a living room on a small budget doesn't mean sacrificing style or comfort. By implementing budget-friendly ideas, you can transform your living room into a cozy and inviting space that reflects your personal style. Remember, it's all about creativity, resourcefulness, and making the most of what you already have. So roll up your sleeves, unleash your inner designer, and have fun turning your living room into a beautiful sanctuary without breaking the bank.
I am sharing even more tips on this topic in my FREEBIE – How To Decorate Your Home on a Yard Sale Budget. You can grab it HERE.
PIN THIS POST!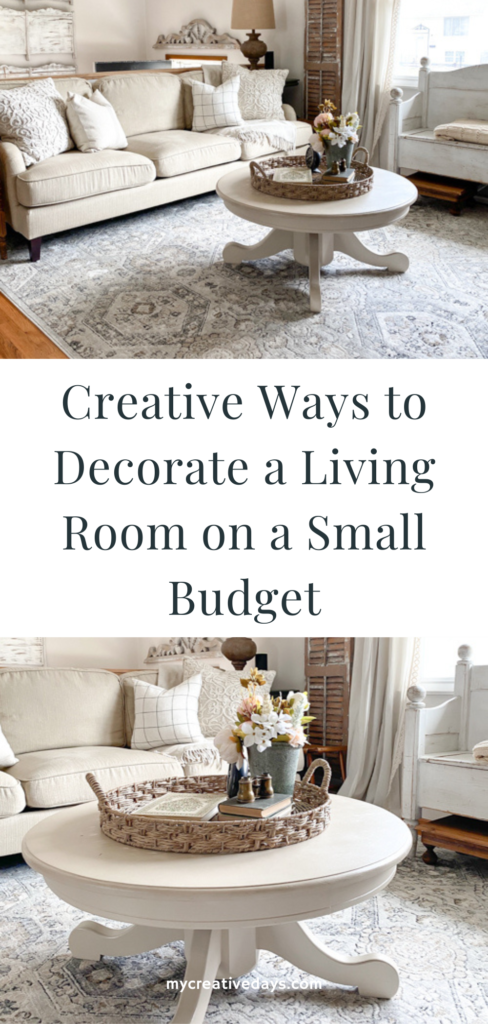 If you found this Ways to Decorate a Living Room on a Small Budget post helpful, you will also love these posts:
How To Decorate A Dining Room On A Budget
Thrifted Finds To Decorate Home