Want to start flipping furniture? Learn from a pro! I am sharing 11 things to know before you start flipping furniture so you are sure to start on the right foot.
Furniture flipping is so many things. It is an amazing creative outlet. It is a way to decorate your home on a dime. You can make money flipping furniture. It is fun too but there are some things I wish I had known before I started my flipping journey. Today, I am going to share 11 things to know before you start flipping furniture.
11 Things To Know Before You Start Flipping Furniture
I would recommend that anyone who is starting to flip furniture to look for real wood furniture pieces. Real wood pieces are the easiest to work with. Real wood pieces are made well and will take the makeover great and hold up well in the end. There are easy ways to tell if a furniture piece is real wood or not. I talked about all the things to look for in my blog post HERE.
If you are starting to flip furniture, I beg you to invest in the right supplies. I learned the hard way. I started out buying the cheapest supplies and I paid for it big time during the makeover. Paint brushes would fall apart. Paint wouldn't stick. Topcoats would be streaky. I share the top 5 tools every furniture flipper should have HERE. I also shared supplies every furniture flipper should have on hand HERE. Please save yourself a lot of time, money, and tears by checking out those posts. They will save you so much!
You Can Make Money Flipping Furniture
Did you know that you can make money flipping furniture? When I started flipping furniture, I did it to decorate our home on our tight budget. I didn't even think about selling my pieces. Then, people started asking for my pieces and I started selling them. I have been able to pay bills, pay things off and grow a full-time business around flipping furniture. Who knew?! I wish I would have known the money I could make when I started flipping furniture because I would have done it a lot sooner. I am sharing everything you need to know and how to make money flipping furniture HERE.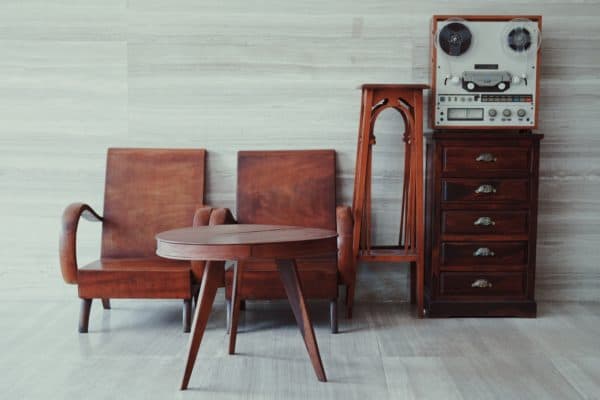 How To Choose Your First Piece To Flip
How do you choose your first piece to flip? I get this question a lot. There are certain things I would recommend looking for when choosing your first piece of furniture to flip. When you are first starting out, it is important to find pieces that are a good fit for your skill set. I talk about what you should be looking for HERE.
Facebook Marketplace is a great place to find furniture pieces to flip. It can also be a frustrating place to find pieces. I have learned a lot of tips and tricks when it comes to buying pieces on FBMP over the years. (These tips can also be used for pieces found on Craigslist, LetGo or any other online platform you are searching for pieces). If you want to make your searches on FBMP successful, make sure to read my tips and tricks HERE.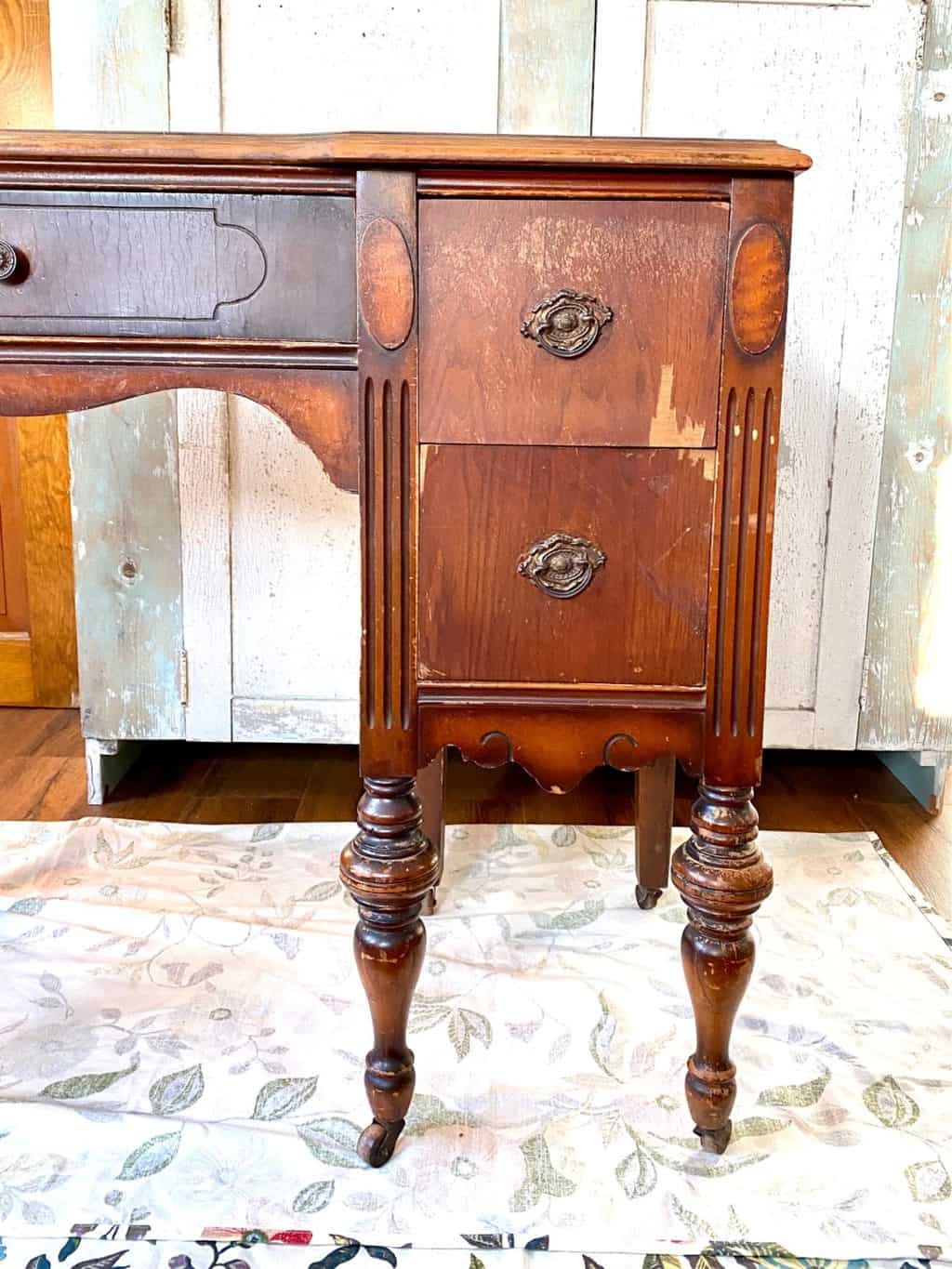 This is the most important part of the makeover process. If you skip this step or you don't do it right, the entire makeover could be compromised. This was something I had to learn the hard way as well. Learn from my mistakes. Do not skip this step. It isn't a hard step but it is one that many people want to skip or overlook. It doesn't take any fancy cleaners or fancy tools. I share what I like to use to clean my pieces HERE.
How To Get Rid Of Brush Strokes
If you are starting your flipping journey painting pieces with a paintbrush, learning how to get rid of brush strokes is going to be something you will want to learn. There are many different ways to get rid of brush strokes and some are easier than others. To learn how to get rid of brush strokes, see my blog post HERE.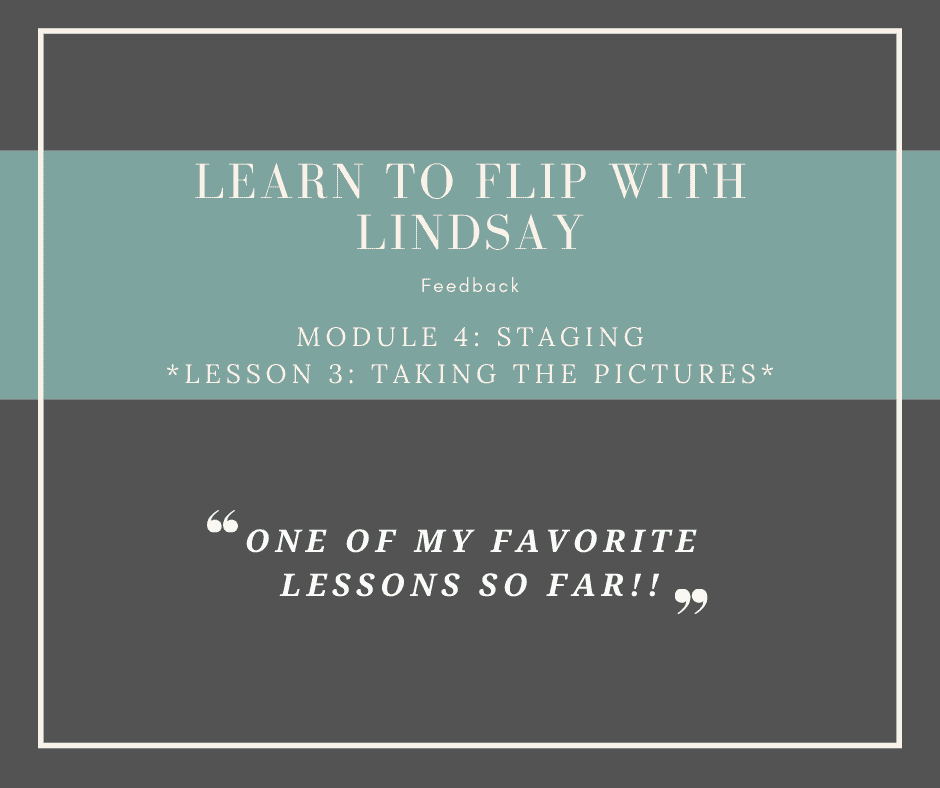 Invest In Your Flipping Business
Investing in your flipping business is important. If you are serious about making money flipping furniture, I encourage you to take a course and learn from someone who has done all the "figuring out" for you. My Furniture Flipping Academy will teach you everything you need to know when starting or growing a furniture flipping business or side hustle. The Academy covers everything from start to finish. I give you detailed and tangible information that will make a grow your business a lot faster than if you went it alone.
Along with the Academy, you will also be part of my private furniture flipping community. The community aspect is a game-changer for your business. When I first started flipping, social media wasn't what it is today. There weren't groups and communities around flipping furniture. Even now, there aren't a ton of communities. I wanted to change that and create a private group where I could offer one on one help to furniture flippers from all over and at every stage of their flipping journey. It is also a place where you are surrounded by like-minded flippers who are there to cheer you on and help you along your journey. Find more about The Furniture Flipping Academy HERE.
Staging your pieces can make the sale. It is important and shouldn't be skipped. I talk all about staging in my course, "Learn To Flip With Lindsay". I cover how to stage, where to find props to stage, and what will make your pieces stand out from other furniture pieces being sold where you are selling. This is one of the favorite lessons in the course from previous students. You can find my course HERE.
Send a "care kit" to your customers when they buy a piece from you. Give them a sample of the paint color you used so they can touch it up if needed. Tell them how to take care of the piece when they get it home. Ask them to send a photo of the piece in their home. Tell them to share your name and your business with friends and family. Your customers matter. Take care of them.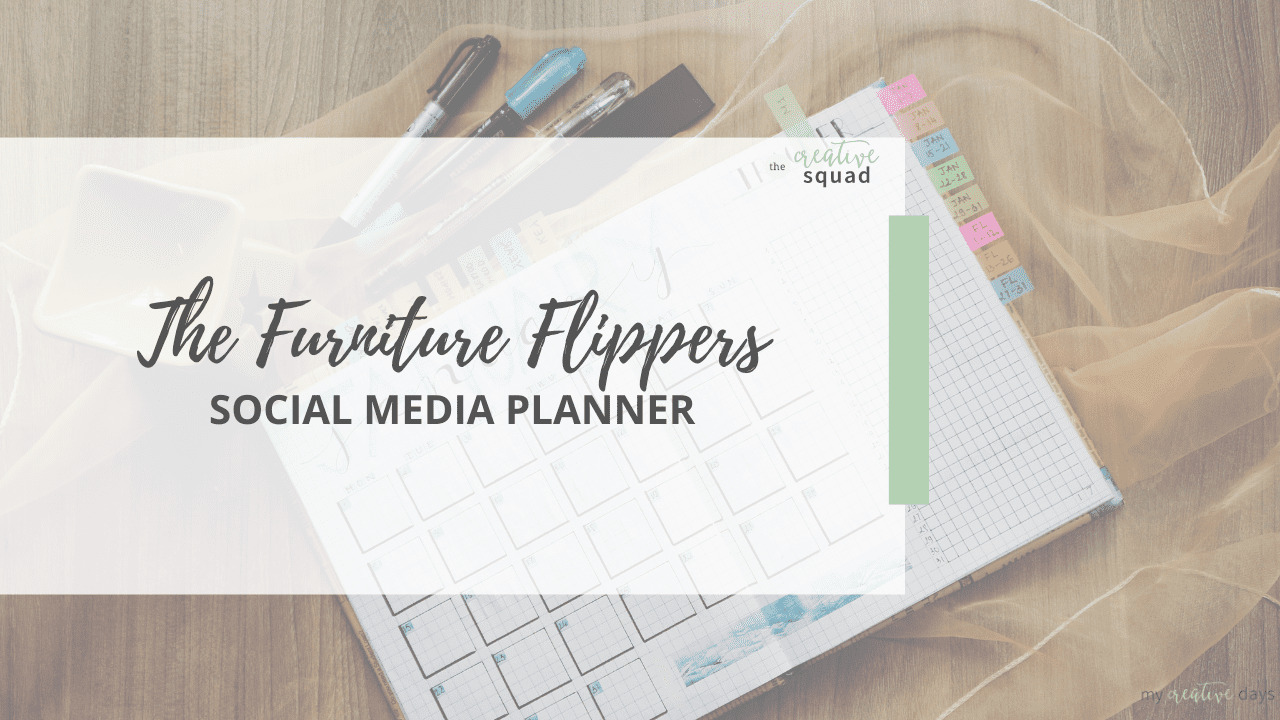 Start A Social Media Presence Around It
Let's be honest. The world is online. The world has social media. If you are in business, a social media presence is important. It is free advertising. It is the easiest way to get in front of customers. Growing a social media presence around my flipping business has turned my business into more than I ever thought possible. I encourage anyone who is flipping furniture to start a social media account.
If you are wondering how to grow a following, I have created a social media planner for furniture flippers. This planner does all the work for you. You don't have to stress or worry about what to post. The planner will do it for you. It also gives you templates you can use for posts, stories, and carousel posts. There are trackers, planning calendars, and so much more inside the planner. To have this content prepared for you by someone who has grown a social media presence of more than 300,000 followers is the way you will grow your account fast.
You can find the "Done-For-You" Monthly Social Media Planner HERE.
I hope these 11 things to know before you start flipping furniture post is helpful. Flipping furniture is a passion of mine. I have seen first hand what it can do for an individual and also for families. I love helping others reach their goals with their flipping business and I can't wait to see you inside the course or inside the private community so I can dive deeper with you and your business.
Do You Want To Make Money Flipping Furniture?
After twenty years of doing this, I am still picking up pieces when I can find them because I love the creative outlet, but I am now coaching other furniture flippers on how to make more money in their business. If you are someone who is looking to start and/or grow a furniture flipping business, I would love to help you. There are ways to make money in your business beyond painting a piece of furniture. Once I learned that, my business flourished. Don't waste your time trying to figure it out on your own.
To help other flippers, I created The Furniture Flipping Academy! The academy includes everything you need to start, grow, and/or scale a furniture flipping business. It includes courses, resources, templates, social media planner and guide, a private community, and so much more. It will ensure that you are doing the steps that will lead to success and not wasting your time on things that won't.
You can find all the information about the Furniture Flipping Academy HERE.
Let's get your business started and/or moving in the right direction. The Furniture Flipping Academy is for any flipper, from beginner to experienced. If your business is stagnant, there is a reason for that. Let me help you grow it into a flipping career that is profitable and fits the lifestyle you want to live.
PIN THIS POST!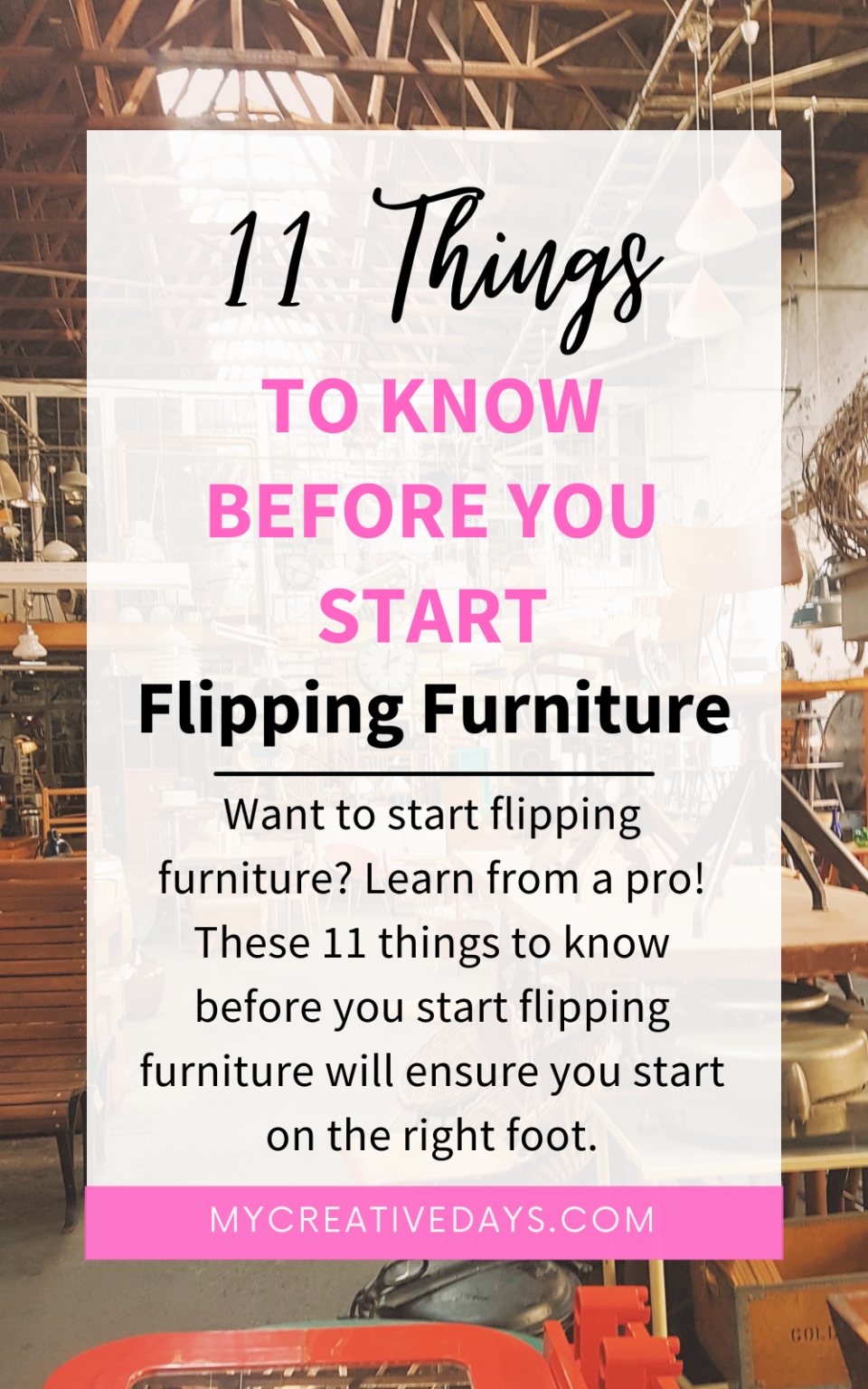 If you liked this post, you will also find these posts helpful:
How Furniture Flipping Changed Our Lives
3 Awesome Tips For A Successful Furniture Flip Every Time