As someone who flips a lot of furniture and who loves to help others flip furniture, I get asked a lot of questions about how to tell if a piece of furniture is real wood or not. It is one of the questions I get asked the most about the entire flipping process so I thought I would share my tips about what to look for when searching for real wood pieces to flip.
I need to preface this post by saying that I prefer to work with real wood furniture pieces. There are many paint companies out there that have created products that work on pieces that aren't real wood. For me, I like working on real wood pieces. I think that paint sticks to them better, waxes and glazes look better on them and the topcoat performs better. Also, the end result holds up a lot better and for a longer period of time. I would highly recommend looking for real wood pieces if you are wanting to flip pieces for your home or for profit.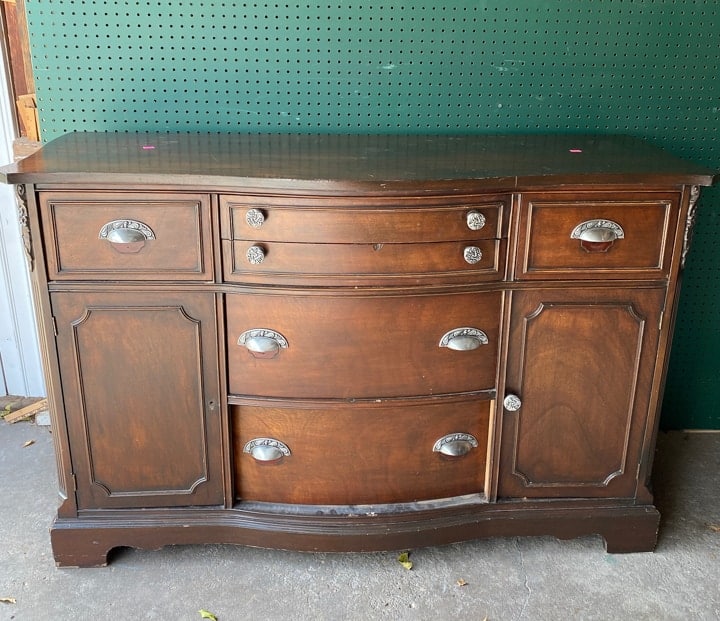 How To Tell If A Piece Of Furniture Is Real Wood
I had to start my post on How To Tell If A Piece Of Furniture Is Real Wood with one of the easiest tips. Open the drawers if the piece of furniture has them. The sides of the drawers can tell you if the piece is real wood or not. You are looking for dovetail edges where the front of the drawers meets the sides of the drawer. Depending on the age of the piece, the dovetail can be more close together or spread apart. If you see dovetail drawers, you have a real wood piece.
Real wood furniture can have a layer of veneer over the wood. If you see chipped or missing veneer, chances are it is a real wood piece. Also, there are many ways you can repair and work with chipping/missing veneer. You can see my fixes for that HERE, HERE, and HERE. I have three different ways to deal with it. It depends on the piece and what the veneer is doing. Just know that chipped, bubbled, or missing veneer is positive signs that you have a real wood piece of furniture and there are ways to fix it so don't be scared away.
Real wood pieces will not have brand new, shiny silver screws holding them together. Real wood pieces aren't going to come in a box to put together. If you see new screws at joints, edges, sides, or any other spot that is holding any part of the piece together, there is a good chance, it is not real wood.
Plastic is another thing that will tell you that you aren't dealing with real wood. A real wood piece will not have plastic on the drawers, the rungs, or the inside of the drawers. It will not be on the back of a real wood piece either. If you see plastic in the construction of the piece, it is not real wood.
The rungs of the drawers will tell a lot about a piece. If the rungs are metal or plastic (like I mentioned above), the piece is not made of real wood.
If the piece has plastic casters, it is not a real wood piece. If the casters are metal or wood, take a closer look. I love finding pieces that have metal or wood casters. They are always made of real wood. I will even pick up the piece if it is missing a caster or two. We have a stash of casters from other projects that I can use on those pieces. I have also just removed the casters on pieces and just had the piece sit on the legs with no casters at all. Wood and metal casters are beautiful. It is always a win when you find furniture pieces that have them.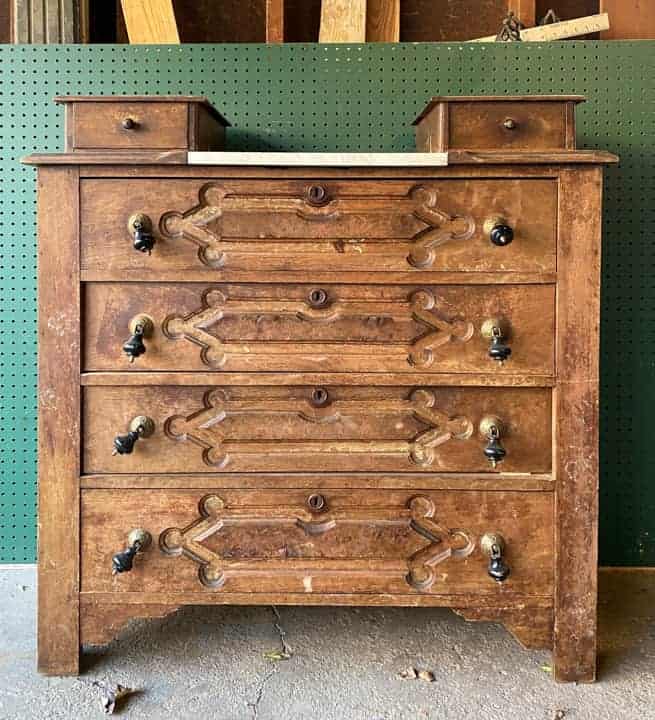 After you do more and more furniture projects, you will be able to see if a piece is made of real wood or not just by looking at the patina. Are there stains on the top? Water stains? Cup rings? Dry wood? Does the patina look different in different areas? Those are all signs that you have a real wood piece.
This is another EASY way to see if the furniture piece is real wood or not. If the backing is made of cardboard or other material that is not wood, it probably isn't real wood. If the backing is wood, the entire piece should be made of real wood.
This is like the signature in real wood furniture pieces. Stamps can come in different forms. It can be a paper stamp, a written stamp, an ink stamp, and even a brass plate can be the "stamp" on some pieces. You can find the stamps on the back of real wood pieces, inside drawers, on the front of a piece under the top, and above the first drawer. These stamps are a great indication that you are dealing with a real wood piece.
To me, the hardware to any furniture piece is like the jewelry of a piece. Old brass, metal, and wood hardware are always a good indication that you are dealing with a real wood piece of furniture.
If there is marble on top of the piece, you have a real wood piece. Sometimes, it can be the entire top of a piece, and other times it is just a portion of the top. If you find real marble on a piece of furniture, you have found a piece made of real wood.
Real wood pieces will sometimes have a mirror or the evidence of a mirror with them. If there is an area that looks like there was a mirror on the piece at one time then you likely have a piece made of real wood.
In conclusion of this post, I really want to encourage you to use these tips when you are looking for furniture to flip. I highly recommend choosing real wood pieces if you are flipping. They are just easier to work with and the outcome will come out much better for you.
If you have any other tips that fit this topic, please leave them in the comments! We would love to learn those as well.
I would love to see the pieces you are finding! Share a photo and tag me @mycreativedays on Instagram.
PIN THIS POST!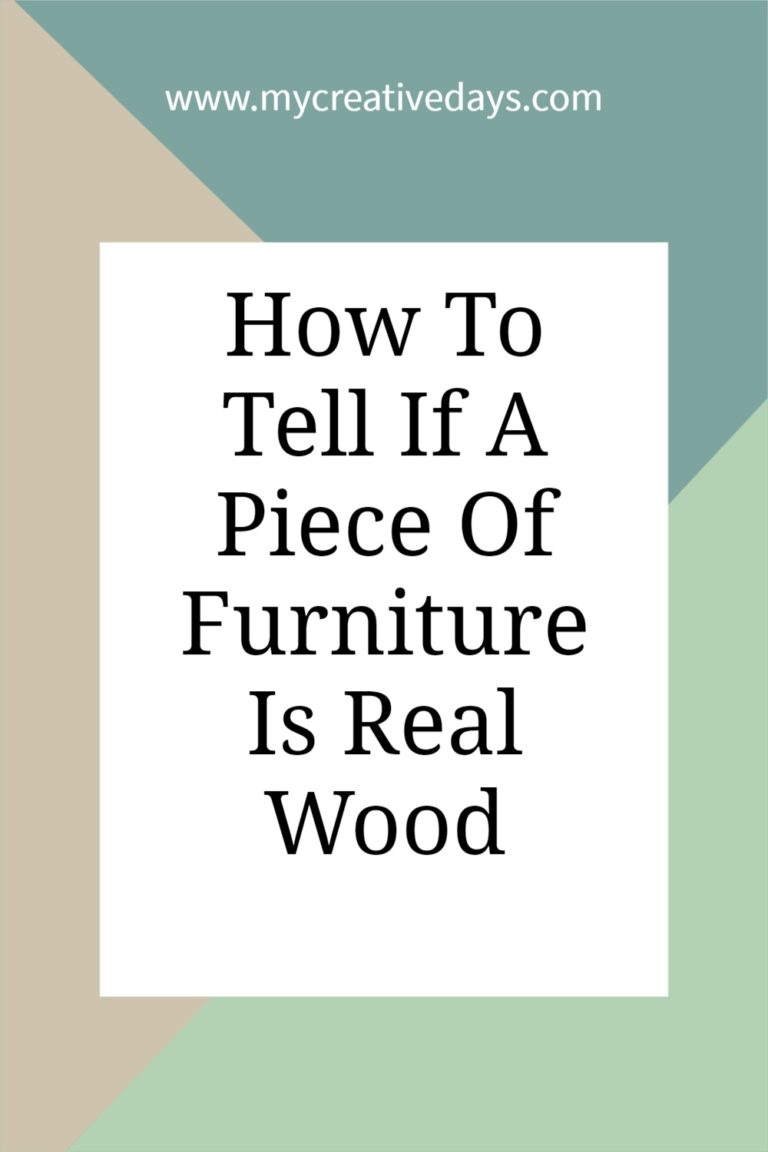 If you liked these tips, you will also find these posts helpful:
How To Get Smells Out Of Furniture
How To Make Drawers Slide Better On Furniture