It is finally time to share all the sources and final pictures of Gabrielle's bedroom! This teen girl's bedroom makeover took some time, but I didn't want to rush through it and then have to redo it in a few months because we weren't totally happy with it.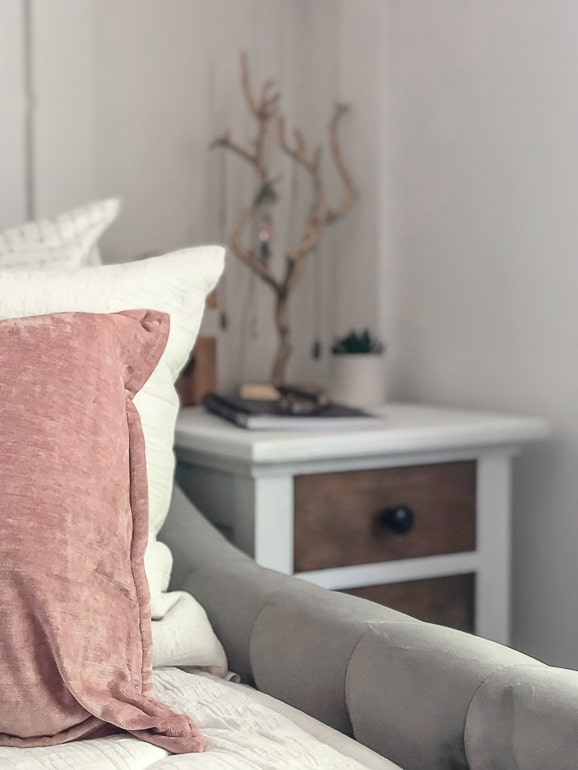 Gabrielle has been asking for a bedroom makeover for a few months now. We were knee-deep in our last flip house when she started talking about it, so I told her we would start looking into it when we finished the flip house. That was a blessing in disguise because it gave us time.
I told Gabrielle to start pinning ideas she really liked while we were finishing the flip house so when I could sit down with her and start planning the makeover, she would have a lot of things narrowed down and we wouldn't have to spend a lot of time just trying to figure out with the direction she wanted to go. She curated a great Pinterest board full of cute ideas and inspiration for teen girl's bedrooms. If you are looking for more ideas and inspiration, you can find the board HERE.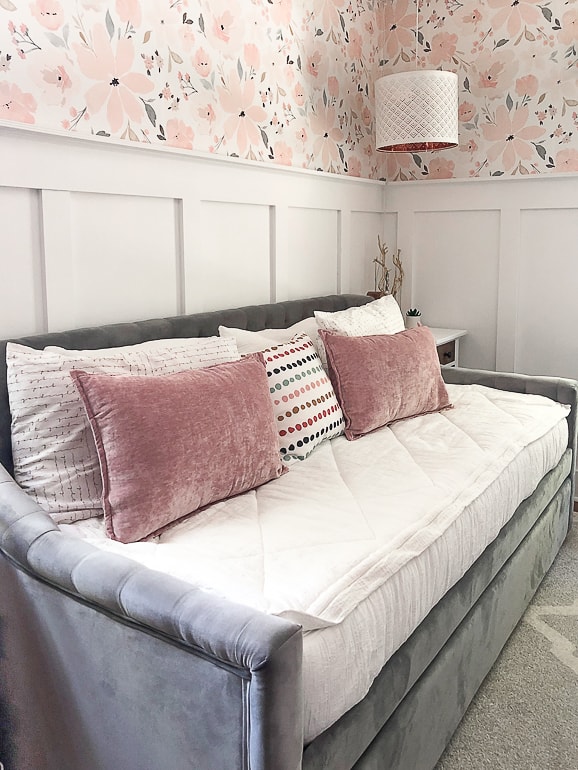 (Affiliate links are used in this post. You can see my full disclosure HERE.)
The one thing I knew Gabrielle needed in the makeover, was a new bed. We bought her old bed from my aunt when we moved into our first house. It served as a guest bed and eventually made it into Gabrielle's room in our house now. When we were searching for new beds for this makeover, Gabrielle wanted a daybed with a trundle. She likes the look of daybeds and the fact that it can serve as a "sofa" when she isn't sleeping in it. A trundle is so great to have for sleepovers.
We browsed around for a while to find a bed and we kept coming back to this one every time. It is classic, cute and comes in so many colors. We went back and forth between a couple of color options, but ended up with the gray because we thought that would transition the best if she decided to change some things in the future. We didn't need to buy mattresses which helped with the budget, but she did need some new bedding.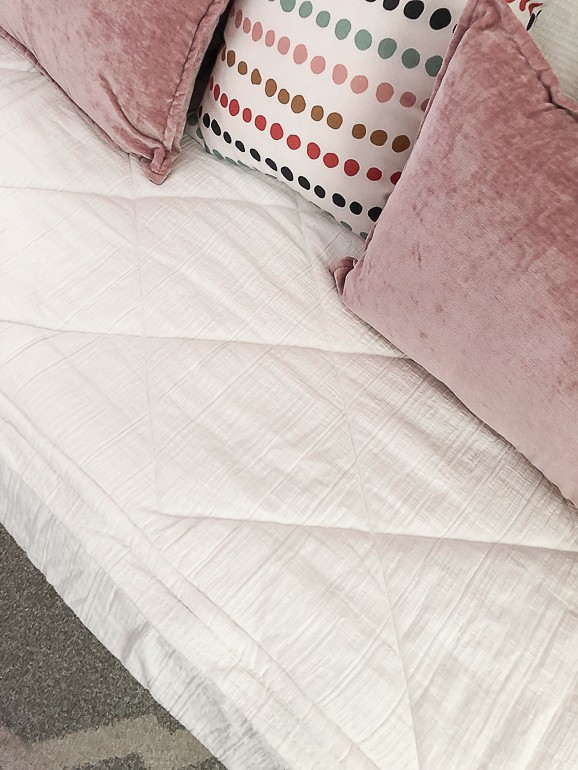 I dedicated an entire blog post about the bedding we got.
I won't write a lot about it here, but this bedding has been a game-changer for Gabrielle for so many reasons. You can read all about the reasons, why the bedding is "genius", and see a short video showing you how it works HERE. In a nutshell, THIS BEDDING IS AMAZING. I can't say enough about it and that is why it deserved a full blog post on its own. I had so much to say about it and Gabrielle has loved it. Please check out the post for all the information you need and answers to all the questions I received about the bedding.
Gabrielle didn't want a ton of throw pillows on the bed. She already had the polka dot pillow and we added a set of blush throw pillows. Other than that, we use the pillowcases and shams that came with the Beddy's sets (I talked all about those in the bedding post as well – the pillowcase is even GENIUS). I think there are just the right amount of pillows on the bed and it isn't overwhelming for her to make her bed in the morning.
Wallpaper!!! We knew we wanted to hang wallpaper in the makeover. Gabrielle had started browsing for wallpaper when we were finishing the flip house and she had a great list of possibilities. There was one we both LOVED right off the bat, but we wanted to make sure we looked at all of our options before we ordered anything. I learned a lot in the process of searching for wallpaper and shared all of that in the post

HERE

. We did end of choosing the initial wallpaper we were both drawn to and are so happy we did. It really set the tone for the entire makeover.
The wallpaper is what made this teen girl's makeover fabulous. We have never wallpapered before, so we were a little nervous. We didn't know what we were getting ourselves into. After the first few pieces were hung, we understood it all a little better and started getting into a flow. We learned so much about what to do and what not to do and how to wallpaper in general. If you are thinking about wallpapering, please read that post. It is full of answers to the questions we had before we started, tips to making the process easier, supplies that worked, and a video tutorial showing the process.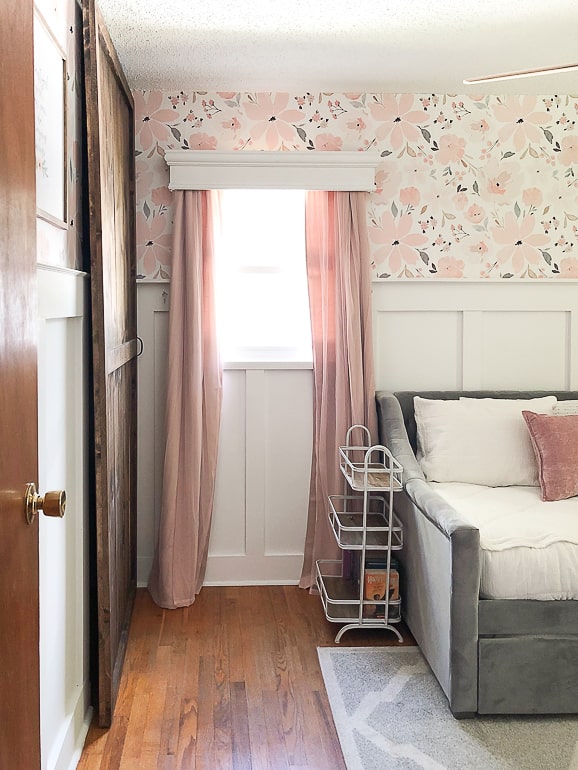 Gabrielle has a small bedroom (we all do) so I am always thinking about creative ways to maximize the space. I found a cute dresser at a thrift store that I was planning to paint and share on my Facebook page. When I was in the garage one day, I looked at the dresser and thought, "What are the odds that the dresser will fit in Gabrielle's closet"?
When Matt got home that day, he measured and found out that if we removed the top of the dresser, we could get it in and then reattach the top once we got it in. It worked perfectly!! She has enough clothes storage between the closet and that dresser and having the dresser inside the closet frees up so much space in her bedroom. I added some IKEA bins to the top of her closet for extra, organized storage. We added the sliding door to her closet years ago.
I thought for sure we were going to have to get a new rug for the room, but once I laid her old rug down, I didn't hate it and she liked it. #winwin. I may find a great deal on a different rug someday, but for now, it works and I didn't have to spend money on a new one.
Gabrielle was adamant about having seating in her room (isn't that what the sofa-looking daybed is for??). She really wanted to add a hanging chair. The only corner we could put a hanging chair is not big enough for one. So, she opted to keep the chair that I bought a few years ago at a yard sale. She does love the look of it and it fits the corner so nicely. It is also a great spot for her to store clean clothes and other things on read in. 😉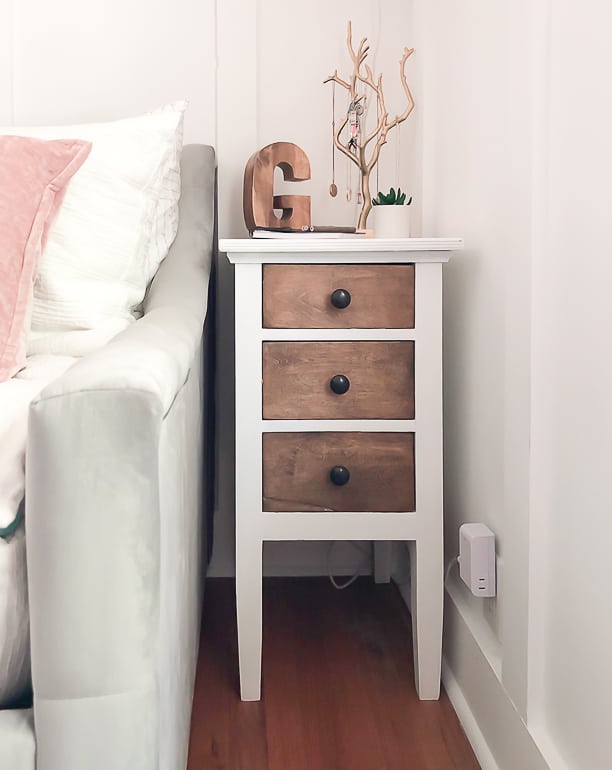 The new bed needed a nightstand.
Gabrielle reads before she goes to bed, so I wanted to give her a surface to hold things like her book, clock, etc. We were keeping the IKEA light over her bed so that corner needed some kind of table WITH storage. Gabrielle is a keeper of things and things seem to accumulate in her small room. Closed storage was something this mom knew we needed in a nightstand. We searched and searched and came up empty-handed. Then, I found the perfect option. Read the full story about the nightstand makeover and how I found it.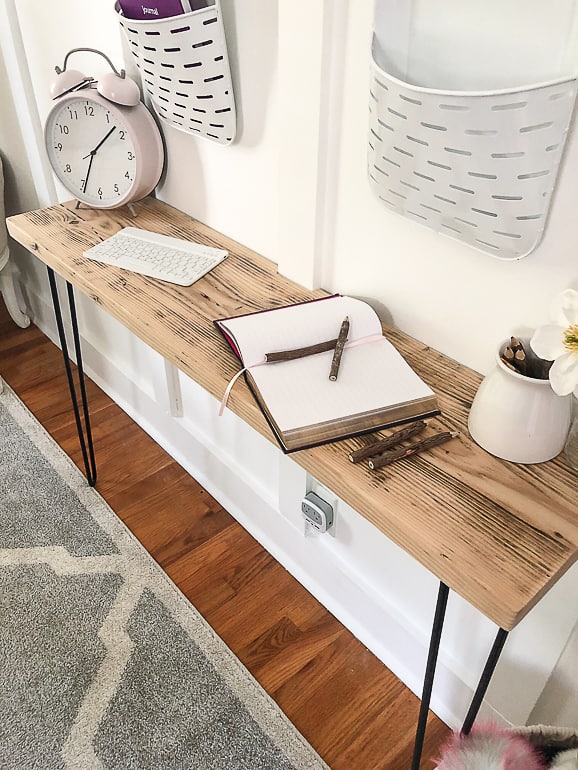 As we were getting close to getting the teen girl's bedroom makeover done, we went on a weekend getaway to Minneapolis and walked through the IKEA store. We were stumped about what we needed to put on the empty wall opposite the bed in Gabrielle's room. She didn't need any more clothes storage, so we weren't looking at dressers, but she did start noticing some desks while we were at IKEA. I didn't think she would use a "desk" in her room, so I wasn't going to buy one. She does love to draw and create so I thought some kind of "work surface" would be a good idea in her room.
Matt and I started talking about some ideas when we got home and I searched through what we had in the garage to see what I could come up with. We had a pair of hairpin table legs that were the exact height we needed to make a work table. Then, I found a thick board we used as shelves at one time. The wood was stained a dark color, so Matt sanded it down to bring out the lighter wood underneath. We spray painted the hairpin legs black and attached them to the sanded board. Viola! We made the cutest work station for her room and it didn't cost a dime!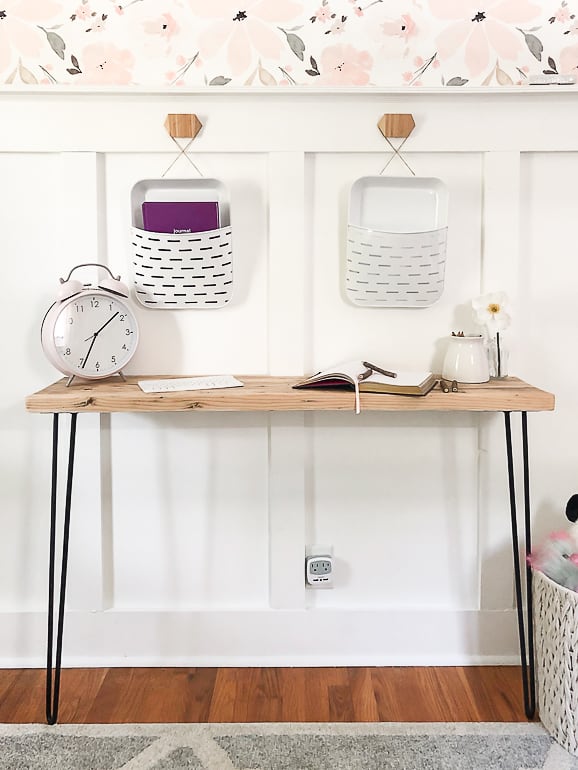 Above the work station, we used wood hooks we found on clearance at IKEA and hung a couple of wall bins I found at Hobby Lobby on the hooks. The bins give Gabrielle storage for all of those things she accumulates that I talked about earlier. 🙂 I thought they would work great for journals, sketch pads, colored pencils, etc.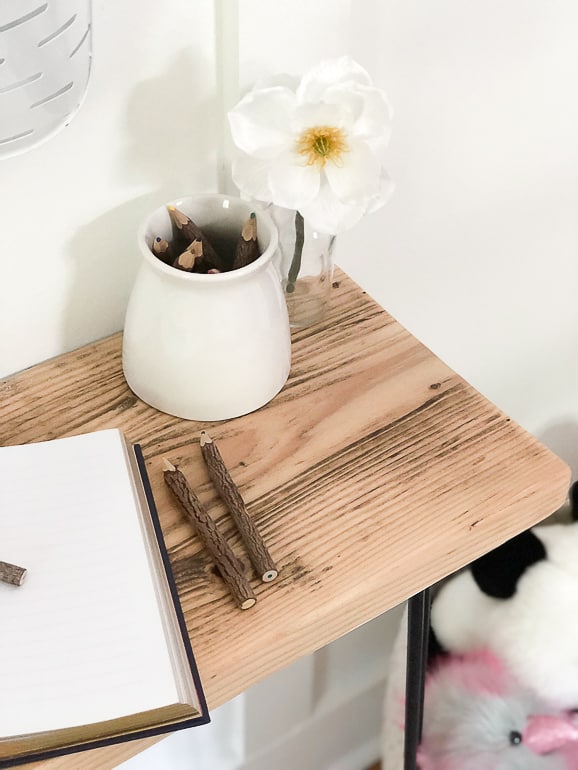 These curtains have taken on a life of their own. If you follow me on Instagram and Facebook, you know the story about the curtains. With the makeover, we needed to find new curtains. I started looking around and didn't find anything until I stopped at Home Goods. I found a pair of blackout curtains that had a layer of toile fabric over the curtains. The color was PERFECT for the new room! The only problem….. there was only one pair of curtains at our store. I thought for sure I would be able to find another set in the coming weeks at our store or the store that is close to Matt's work. I WAS WRONG! We were even out-of-town searching for the curtains and couldn't find them.
I put out an S.O.S on Instagram and Facebook and asked if someone found them that I would pay to have them shipped to me. I had even come to the conclusion that it would be fine to just have one panel on each window.
Then, the curtain angels were watching over me because I got a message on Instagram that someone had found a pair in South Dakota!!! My Creative Days communities are the best! The curtains are beautiful and Gabrielle loves that they are blackout. Since they were so hard to find and I can't link to them from Home Goods, I have been able to find very, very similar ones HERE. They come in different colors and we highly recommend them!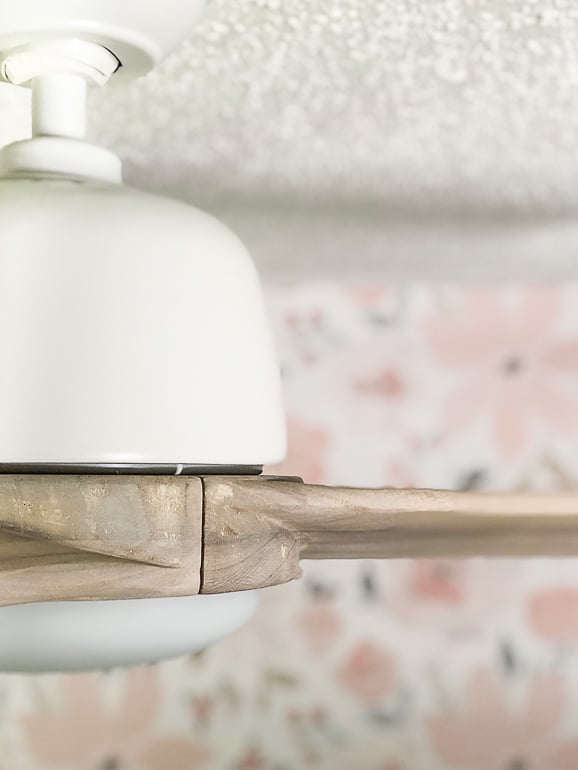 The last thing we added to the teen girl's bedroom makeover was the new Hunter ceiling fan. This fan is so beautiful in her room. Matt didn't think we could get a 54″ fan because the room is small, but I am so happy we did. It doesn't look too large or out-of-place at all. The blades are made of real wood and the color of the blades looks like it was made for this teen girl's bedroom. Hunter Fan Company is doing amazing things with their fans.
Now, I want to put new fans in our entire house because of what Hunter Fan Company is coming out with.
The Norden fan that we got, has three blades that are attached to a reversible six-speed motor. This provides optimal air circulation in warm and cool seasons. Gabrielle can easily adjust the speed and direction of the fan with the remote it comes with. The light is so much better than what we had in her room before. It comes with a LED light kit for lower energy consumption, brighter light output, and a longer lifespan than traditional bulbs. All great things when it comes to ceiling fans. If you are looking for a ceiling fan for your home or makeover, head over to Hunter Fan Company and prepare to be amazed at their selection.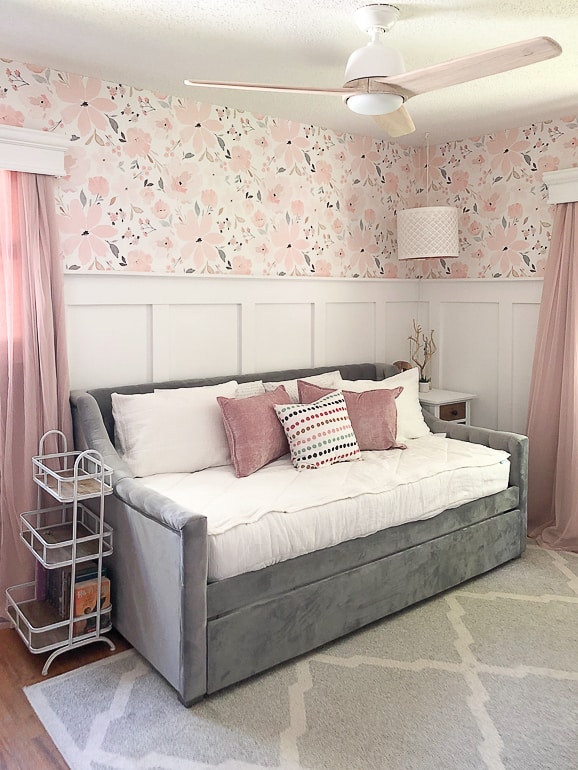 I think I have covered everything we did to make this teen girl's bedroom makeover happen. It was so much fun to do. After working on the flip house for three months, I was ready to do something in our house. If you have any questions about the makeover. Or, if I left anything out, please let me know in the comments below.
The teenage years are among us and so far, they are going well. This teen girl's bedroom makeover reflects 13-year-old Gabrielle so well. It was so much fun working with Gabrielle on the choices. I think she has a future in decorating if she continues to like it. Heck, maybe we will even work together someday. 😉
Source Recap For Everything In This Teen Girl's Bedroom Makeover:
Throw Pillows

(find similar ones

HERE

)
Rug

(find a similar one

HERE

)
Wall Bins

(find something similar

HERE

)
Wood Hooks

(find similar ones

HERE

)
Curtains (find similar ones

HERE

)
Sliding Closet Door (find the tutorial HERE)
Boxes For Closet Storage

(find similar ones

HERE

)
PIN THIS POST!


If you liked this makeover, you will also love these makeovers:
Basement Bathroom Makeover For $216
From Drab To Fab Kitchen Makeover