If you are looking for flooring in your home or a flip house, you must check out the luxury vinyl flooring from Mannington Flooring. This is not a sponsored post.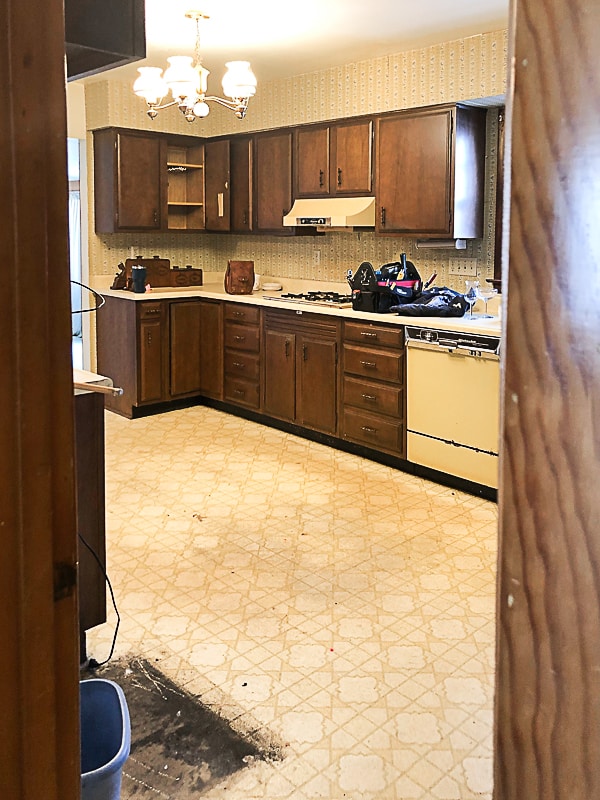 When I toured the flip house for the first time, I was amazed at the size of the kitchen. To be honest, I was amazed by the size of the entire house once we got in it. From the outside, the house doesn't look that big, but once you go in, you are pleasantly surprised by the size. The kitchen itself is the perfect size.
It has tons of storage, it is big enough that you aren't on top of each other when there are many people in it and to have the family room and dining room flank each side makes it perfect for entertaining. I was so excited about it even when it looked like the photos above and below.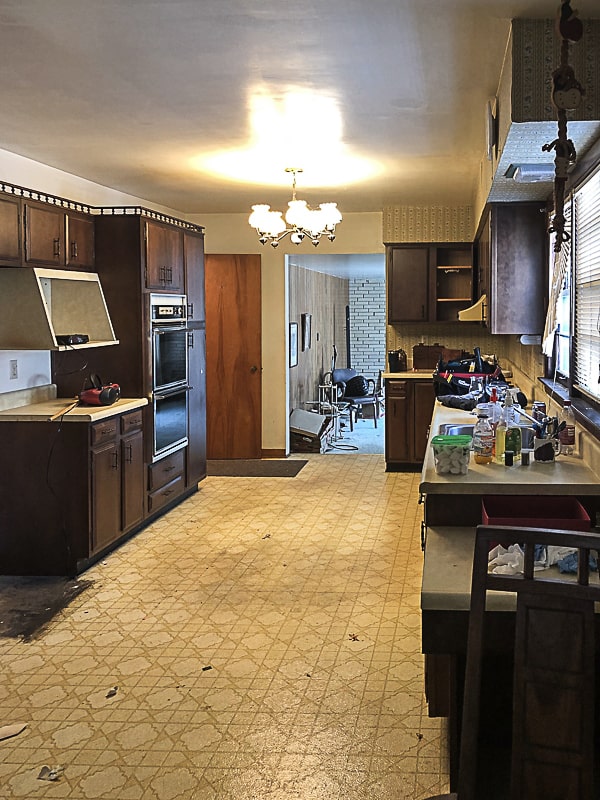 When I go into a flip house, I look past what is there. I look at the size of the space and not necessarily what is in the space, if that makes sense. I need to picture what can be done to the space to make it look better without blowing the budget. Most of the time, we are looking at houses that haven't been taken care of so I have to see the potential and what it can be once we take care of it.
I knew this kitchen would be amazing when we got done with it because of the size and the layout.
After we removed some cabinets, painted and added new hardware, countertops and sink, it was time to pick out flooring, I headed to my local Carpet King Carpet One store in Marion, Iowa.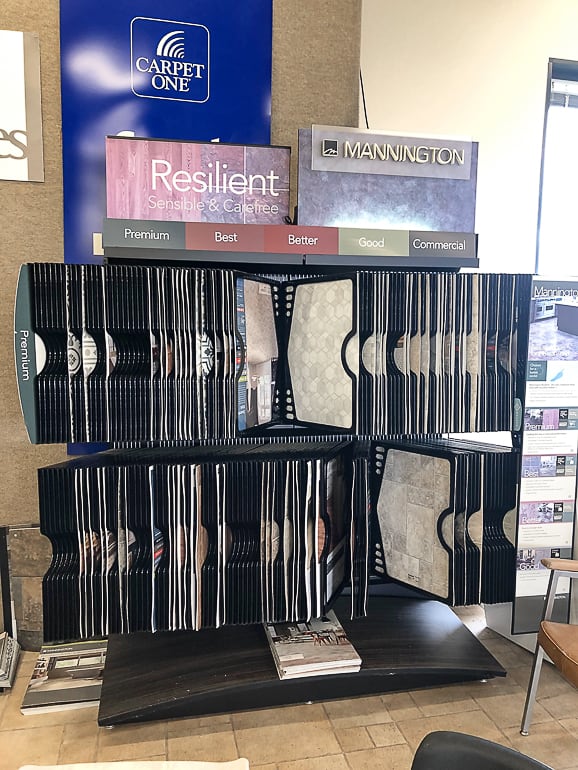 When I went into the store, I started looking at plank flooring and what we could install ourselves. I didn't want the flooring to look like wood at all because the kitchen runs right into the real hardwood flooring we had refinished.
I didn't love any of the plank flooring I saw. Then, I said that I wanted to look at linoleum flooring. They all looked at me like I had said a bad word. I had. I guess you don't call it that anymore. You call it luxury vinyl. Who knew? I was still a little skeptical, but wanted to check out all of my options.
I was BLOWN AWAY! Whatever thoughts you have about "linoleum" flooring need to be thrown out the window. This luxury vinyl is where it is at. This is not your grandma's kitchen flooring at all. I couldn't believe it!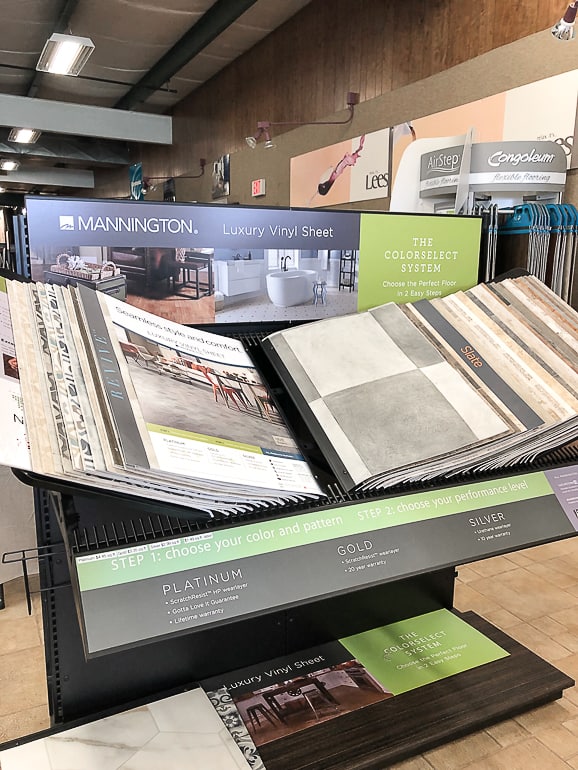 In other flip houses, we were able to install wood-looking plank flooring on our own. In this house, we needed something different. I didn't want tile because it would raise the flooring quite a bit. It worried me that it would be a tripping hazard going from room to room.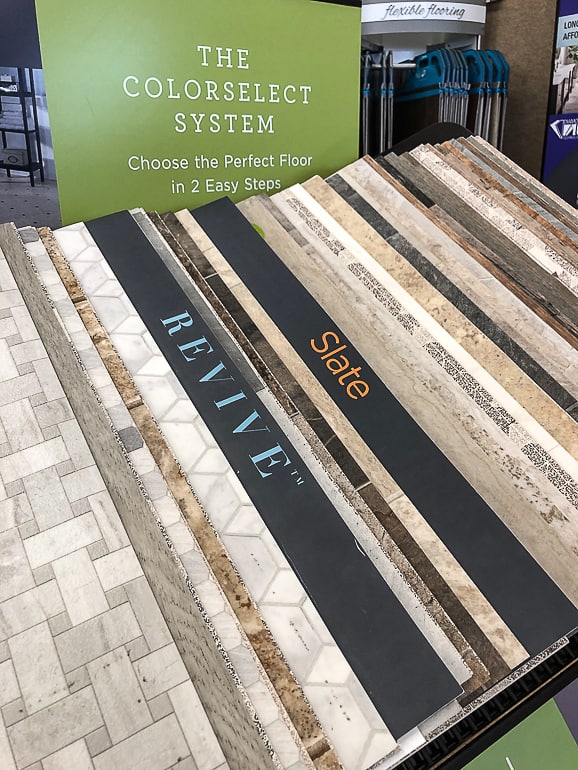 I started looking through the luxury vinyl options from Mannington Flooring and could not stop looking. It was beautiful! I never would have thought that this is what it would be.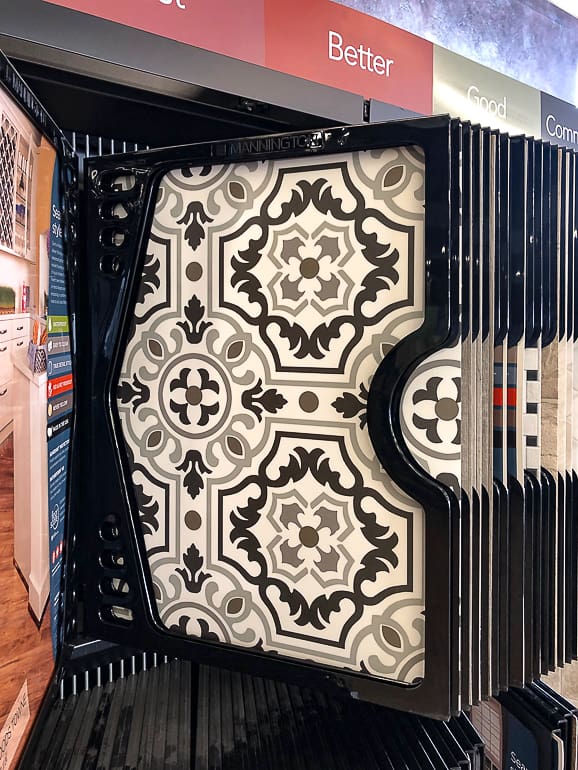 There is no more "linoleum" thoughts coming from me anymore. I will be calling it "luxury vinyl" from now on.
Here are a few of my favorites: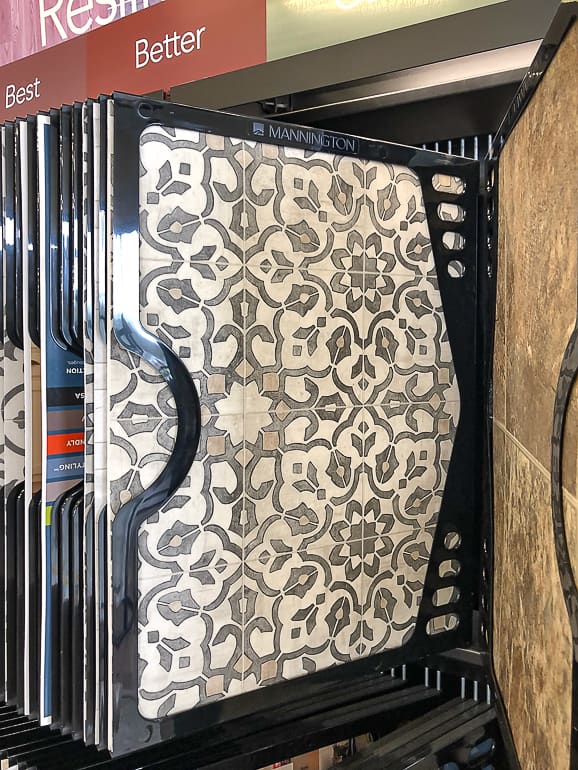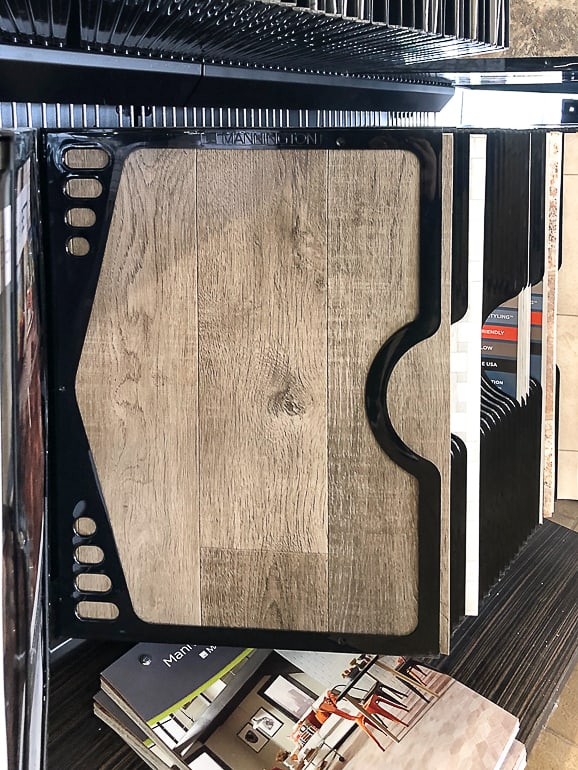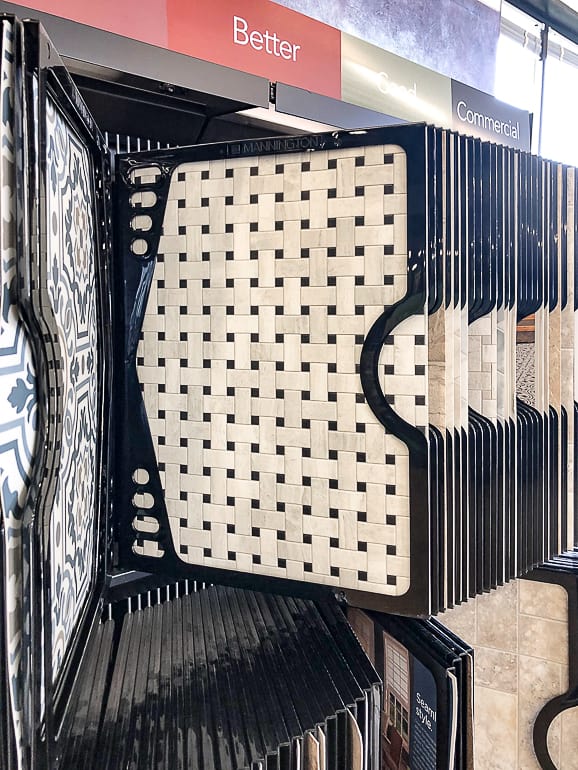 I had more fun looking through them all then I thought was possible. As I was going through them, I was envisioning each one in a space. I had all kinds of ideas each time I saw a new one.
In the flip house, I knew that I needed something in the gray tones. I didn't want it to look like wood flooring and I wanted the pattern to be a little bigger. When I saw this option, I knew instantly that this was what needed to be in that kitchen.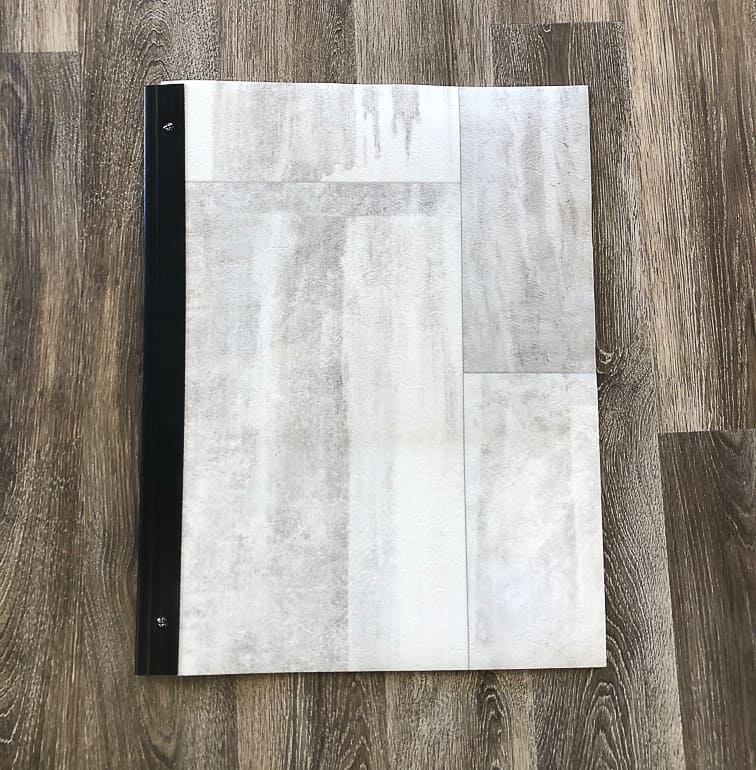 I was sharing my shopping trip in my

Instagram stories

and was asked over and over for a link for the flooring. I took a picture of the back of the sample. You can find it

HERE

.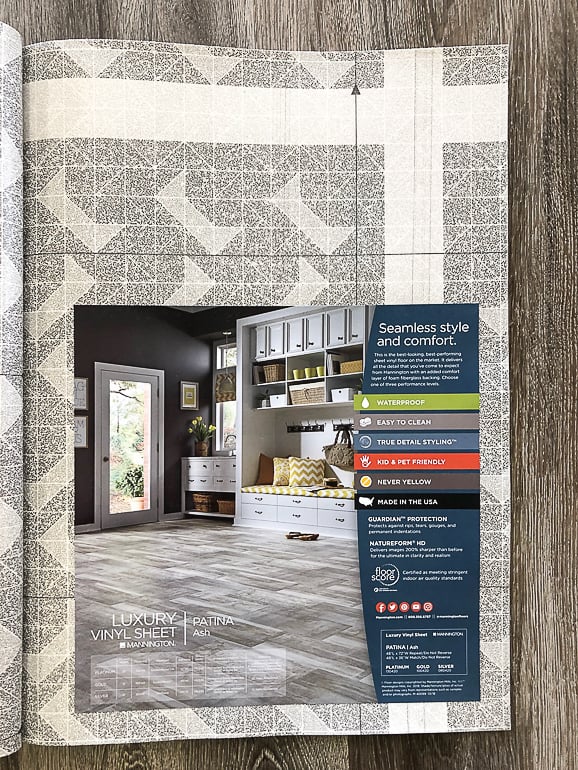 I couldn't be more happy with how it looks in the kitchen. It is exactly what this space needed.
The kitchen has come a long way.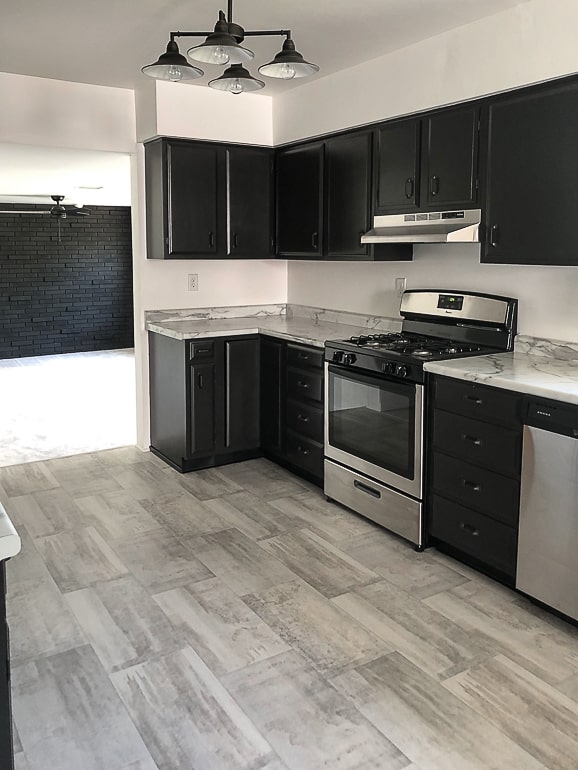 I can not recommend this flooring enough. If you are looking for flooring in any space, check out Mannington Flooring and their luxury vinyl line. It is nothing like linoleum used to be.
What would you have chose for the floor in this kitchen?
PIN THIS POST!


If you liked this Mannington Flooring post, you will also love these posts:
Basement Bathroom Makeover For $216 In Flip House
Black Cabinet Pulls For Flip House Kitchen