I want to thank Hickory Hardware for partnering with me on the black cabinet pulls for the flip house kitchen. All opinions of their amazing hardware are my own.
If you are looking for black cabinet pulls for your kitchen, the tips in this post will help you choose the right pulls without any stress. Picking out hardware can be overwhelming, but I have learned so much through trial and error that I wrote that post to help others choose hardware without the stress.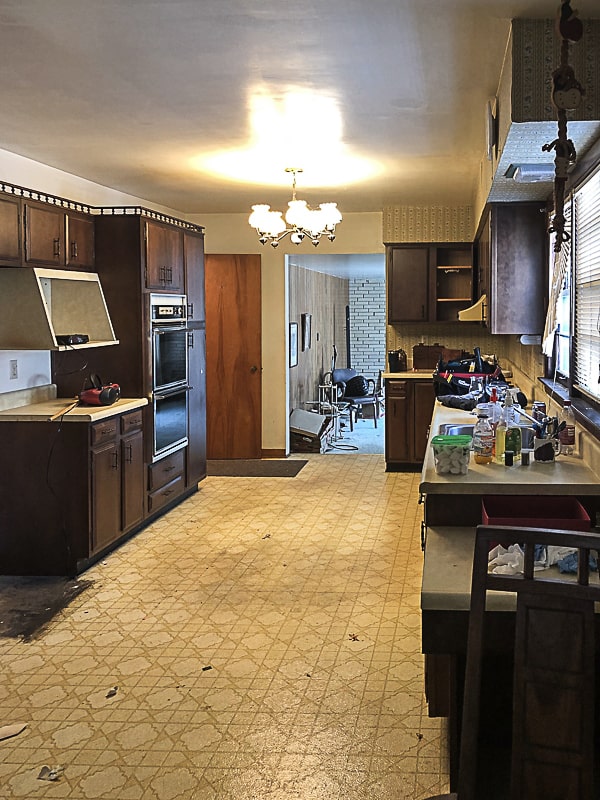 We have been finishing up our fourth flip house.
I am happy to say that it will be ready to sell this week! We got it done a month and a half earlier than our deadline. That is crazy! It is the biggest house we have flipped. I thought it would take us a lot longer than it did. You can see the before video tour of the house HERE. I also posted a video last week as we were finishing the work on my Facebook page HERE.
The kitchen in this flip house has been one of the biggest transformations we have done. I am so thankful I get to document the entire process of these projects. Now, I have reminders of where we started and how far we have come. You get lost in the work that you can quickly forget that there is progress being made.
When we bought the house, the kitchen was very yellow – for lack of a better term. It was dirty and ugly too, but yellow was the word that came to mind first. It was the room that was going to need the most work and I was excited to tackle it and make it look totally different, all while staying on budget .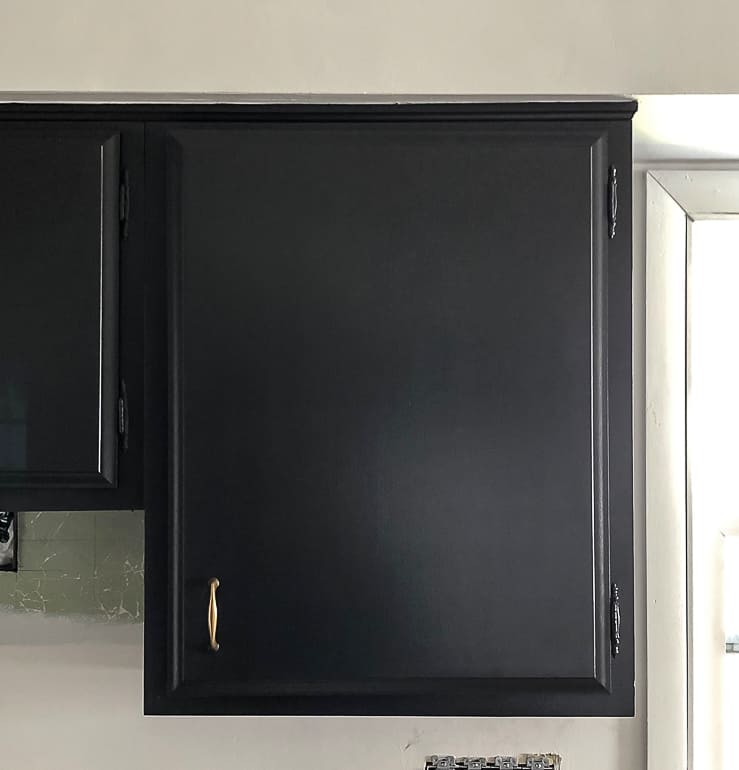 I knew I was going to remove some cabinets and paint the remaining cabinets black. Brass pulls are what I thought I would go with. I was dead wrong.
I didn't like the way the brass looked in this kitchen at all. They didn't fit.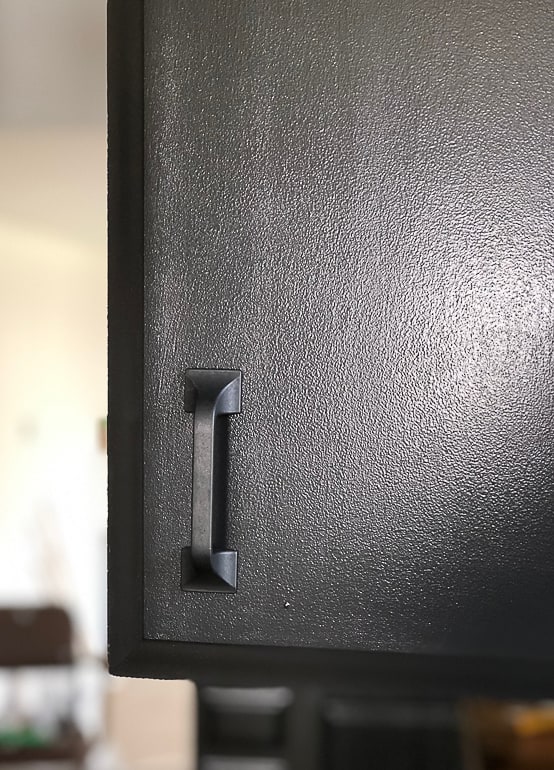 Once I put the Forge Pull from Hickory Hardware on the cabinets, I knew right away that they were the pulls for this kitchen. They were the right feel and the right look for this makeover. I never would have thought I would choose them, but after I went through all the steps and tips that I share in this post, the Forge Pull was the perfect fit.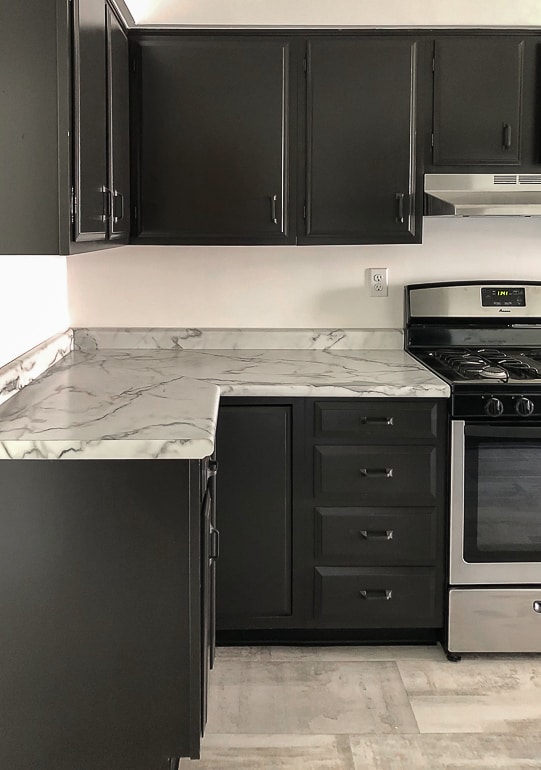 Once the hardware was on, we added the countertops. I chose the in-stock laminate countertops from Menards.
They look amazing in this kitchen and fit within our budget.
The last thing we added was the floor. I will be writing a post all about the flooring we chose soon.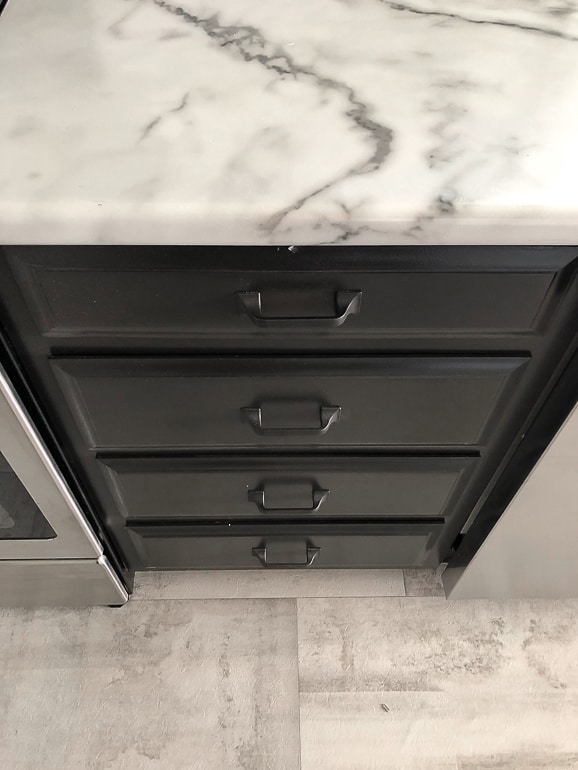 The original hardware that was in the kitchen was small.
The Forge Pull is a lot chunkier and "heftier" than what was originally there. But, they fit this kitchen so much better.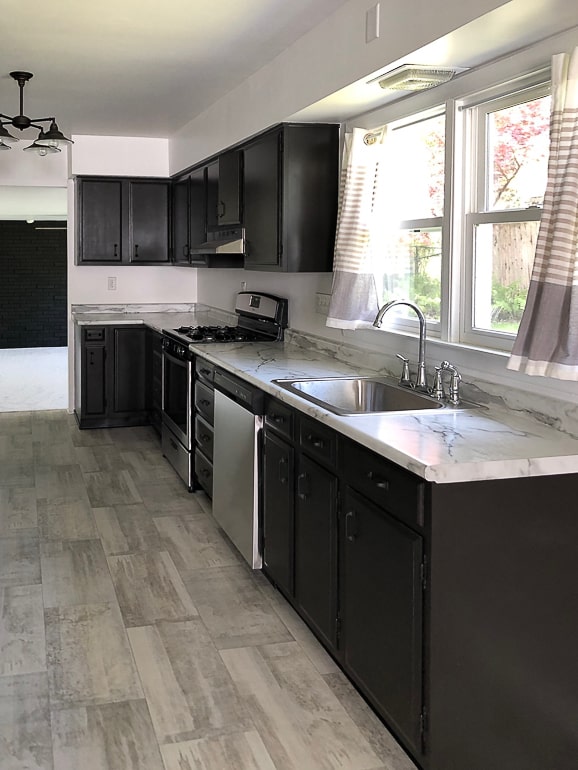 I have been so proud of every flip house we have done. This kitchen might rank up there as one of my favorite makeovers. It looks so different from when we bought it and it didn't break our budget. We were able to stay under budget and make it look totally different and completely fabulous. 🙂
If you are looking for black cabinet pulls for your kitchen or any other projects for that matter, head to Hickory Hardware. You will definitely find what you need.
PIN THIS POST!

If you liked this black cabinet pulls post, you will also love these projects that were transformed with hardware:
Easy Ways To Update An Old Dresser