I want to thank Carpet One Floor & Home® for partnering with me on the carpet for the flip house. All opinions are my own.
If you are looking for carpet for your home, this post will give you all the tips we use for choosing the right carpet for any space!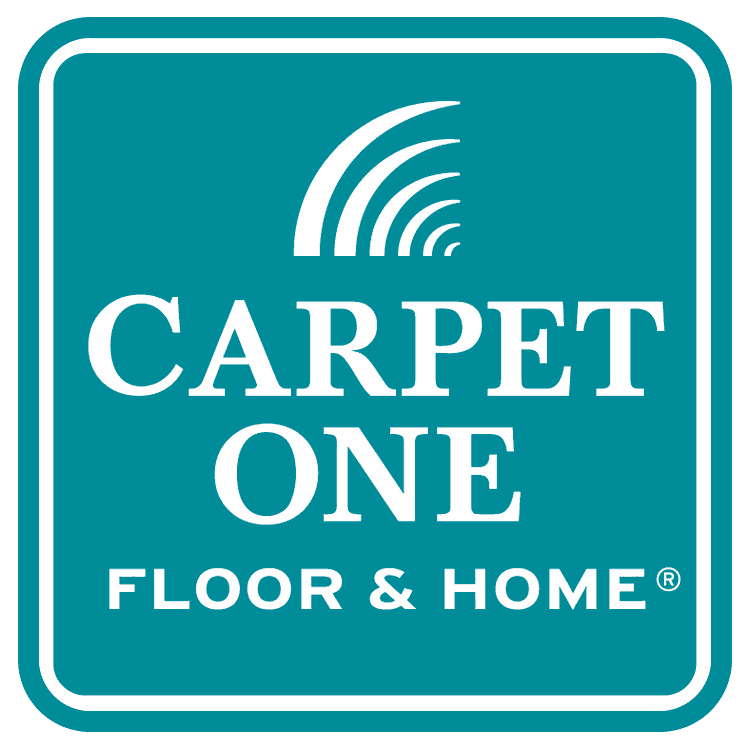 Whenever we have a flip project, I look forward to choosing the flooring because I feel like that is the turning point in the project. The flooring is usually done towards the end of the work and I am excited to report that we have picked out the carpet for our current flip house!
It will not go in for about a week and a half, but I wanted to share the process I use when picking out carpet, where I get the carpet and the kind of carpet I chose for the flip. Choosing flooring for your home or a flip house can be overwhelming, but I am hoping the tips I use and am sharing in this post will lessen the stress and make it so much easier for you.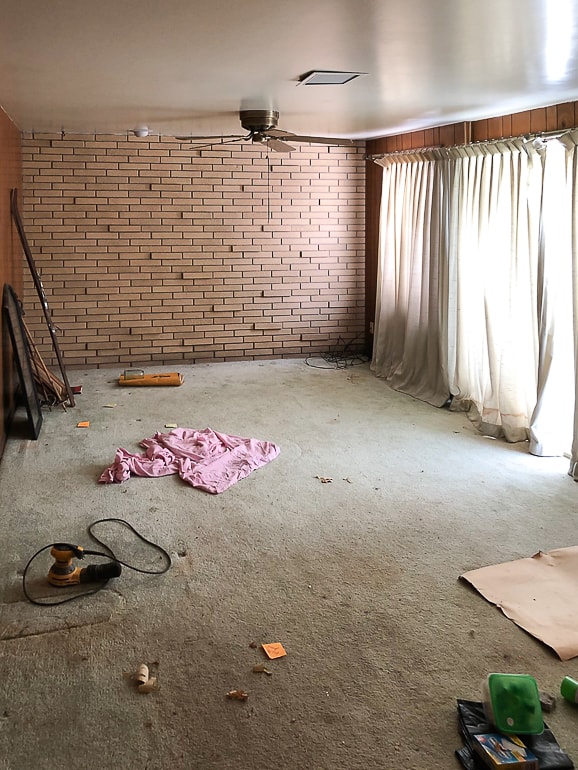 How To Pick Out Carpet:
Room Function:
When choosing carpet, I always think about what the new home owners will be using the room for. This gives me the best idea of what I need to look for when I am in the store. In our current flip house, we have what we are calling the "brick room" that could be used for multiple things. To me, this room is perfect for watching football games. It is the family room on the main level. It is a hang-out space. It's the movie night room.
I picture extended family hanging out in this room, kids and their friends snacking in this room and I also see quiet nights in after the kids go to bed. All of this paints a picture of what I think the carpet needs to be in the space. When I know that, I feel more confident heading into the store.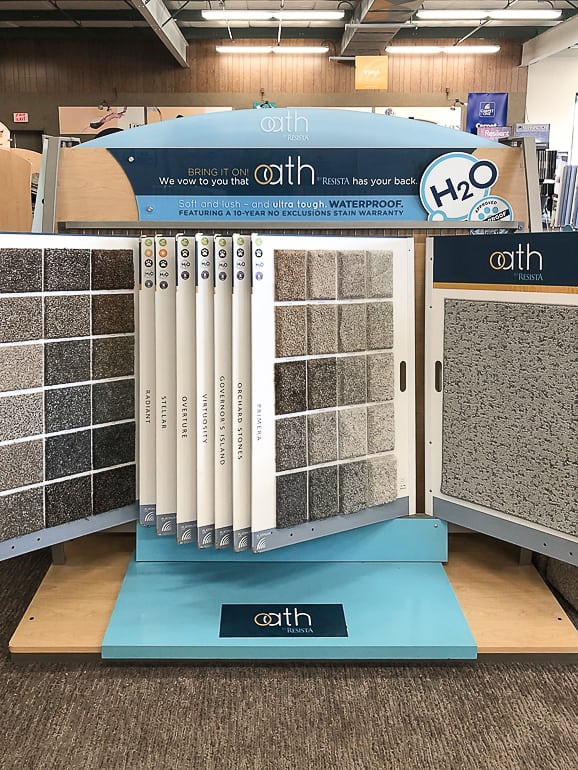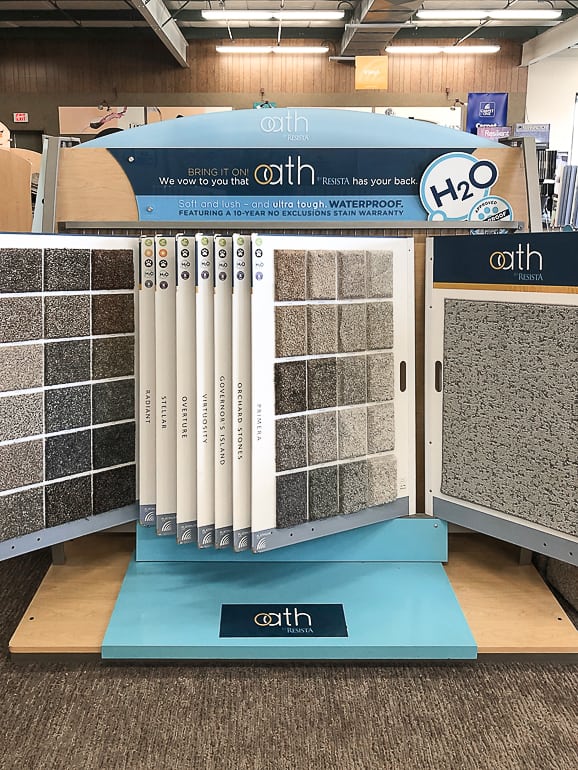 Brands:
When you walk into a carpet store, you can get overwhelmed quickly. One way I lessen the overwhelm is to look at the different brands and what they offer. In the flip house, I chose Oath by Resista®. Here's why: Oath's advanced fiber technology and specialized dye-formula resists crushing and visible wear which makes it the perfect carpet for a high traffic room that will have a lot of time spent in it.
This carpet also provides ultimate color retention which made it very appealing for this room. I know that there will be a lot of snacking and drinking in this room and Oath has a re-engineered, stain-repellent polyester that keeps liquids from seeping into the fiber. It also has a waterproof backing system that protects the cushion and subfloor from undetected spills. All of those features made it the perfect flooring for the brick room.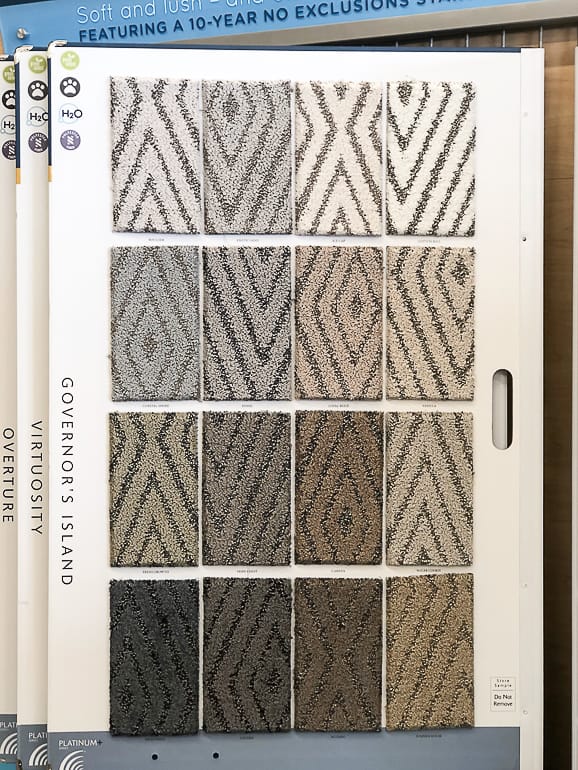 Color and Pattern:
Carpet comes in so many colors and patterns now. I love that, but it also makes it even more overwhelming sometimes. To help with that, I take into account the entire room. What colors are on the walls? Do I want to have the flooring be muted or make more of a statement?
The brick room needs to be a cozy, soft place to land after a long day. It is also the space to spend an entire day when family is visiting. I wanted the flooring to blend well with the black and white we have on the walls, but I didn't want it to stand out. I knew a pattern would not do well in this room. The narrowed my search down immensely.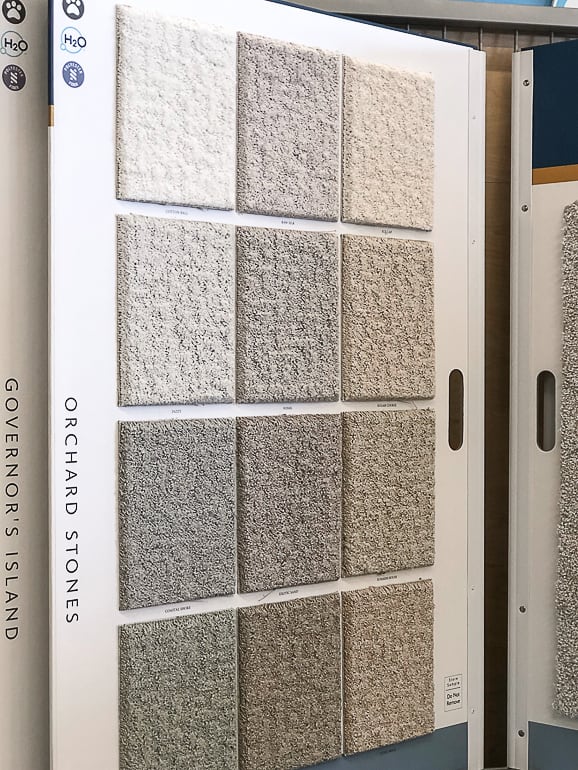 Pile:
After I have the color narrowed down, I think about the pile of the carpet. Do I want something plush, long, thick or more on the flat side? Since this room is going to see a lot of relaxation, gathering and "hanging-out", I wanted to go with something that was between long and short. I didn't want the carpet too plush, but I wanted something that would be super soft on the feet. That is why I chose the Primera line. It was the perfect feel for what I thought this room needed.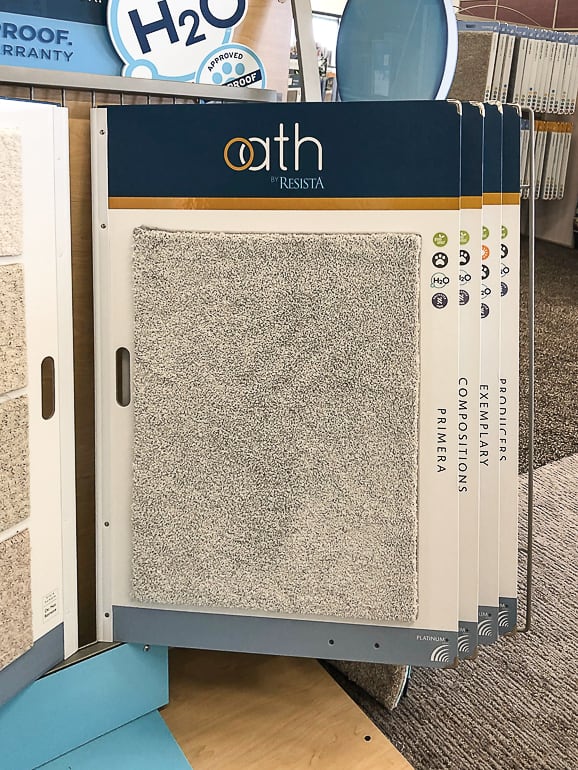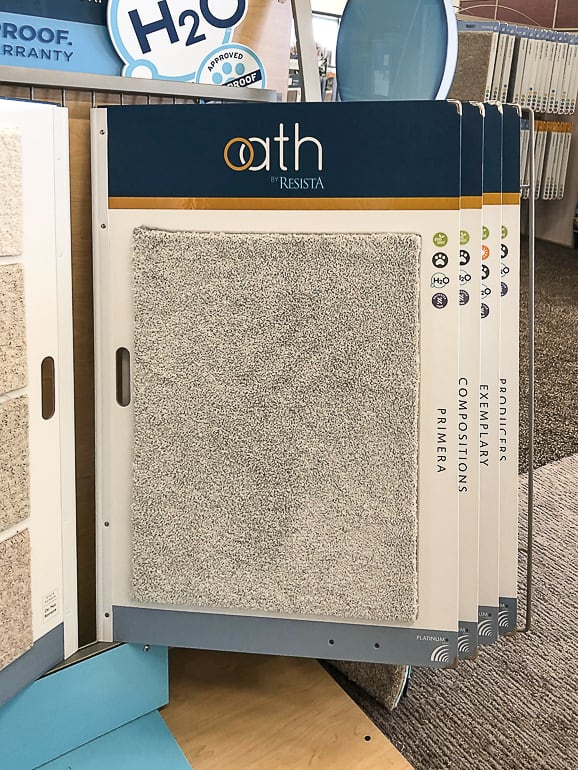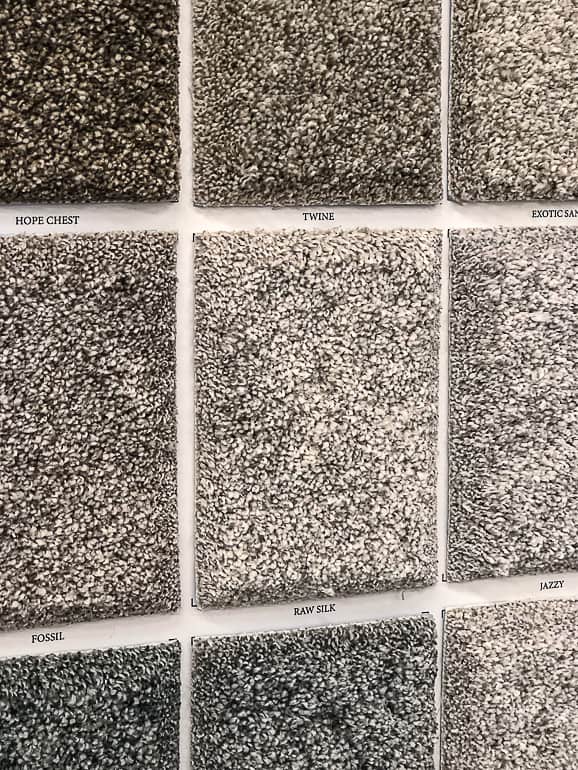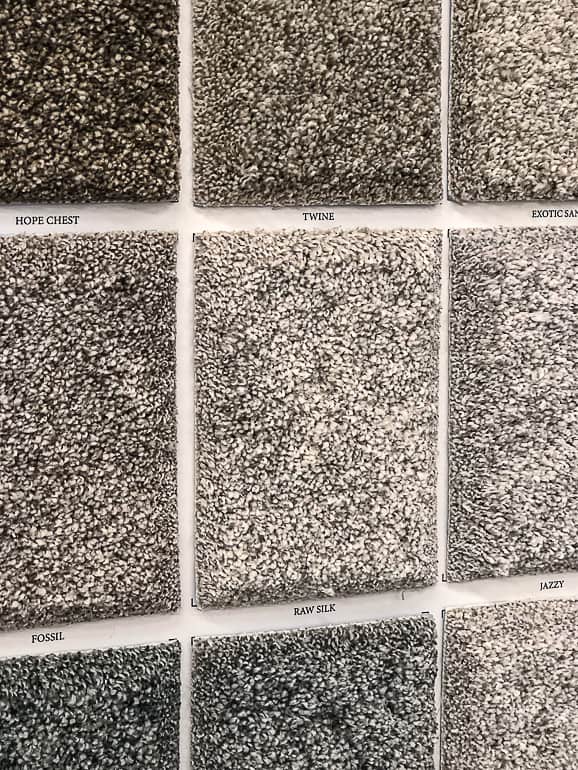 After some back and forth and looking through all the colors, I chose the Primera line in the color "Raw Silk". I didn't want anything in the beige color realm because of the black, brick wall and white walls. I knew I needed to stay in the gray tones. The "Raw Silk" will keep the room bright, but it will also make it soft and comfortable too.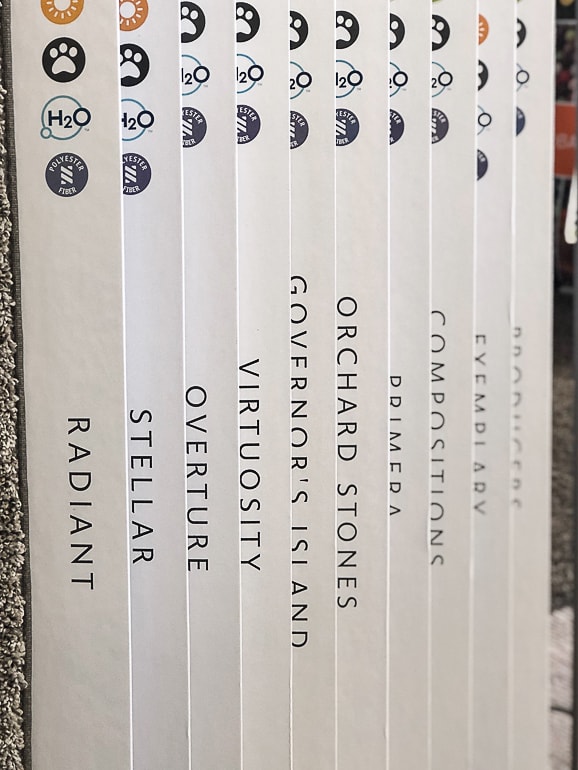 Warranty:
When you are looking at brands of carpet, look at what the warranty is with each one. When we hand the flip house keys over to the new home owner, I will be so happy to tell them that the they have the Platinum Plus warranty coverage with their Oath by Resista® carpet. It is a 10-Year, No Exclusions Stain and Soil Warranty. PLUS there is a 10-Year Non-Prorated Stair and Hallway Abrasive Wear Warranty! Warranties like this help me feel super confident with the carpet I chose.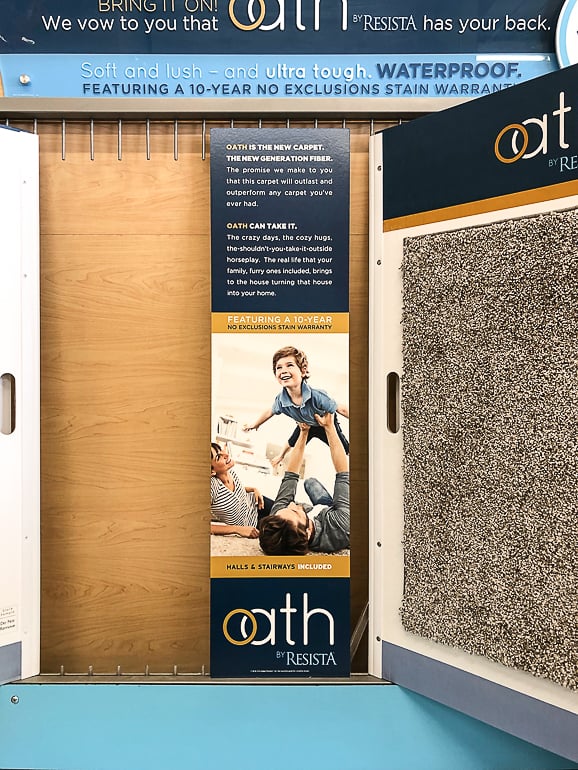 Guarantee:
This part is so amazing and something I think is priceless when it comes to buying carpet. This is the thing that keeps me going back to Carpet One Floor & Home for our projects. Before partnering with Carpet One Floor & Home® on this project, we have used our local Carpet King Carpet One store for every one of our flip houses. The rug in our living room is from there too. They are located in Marion, Iowa.
Get this ….. Carpet One Floor & Home offers something called the Beautiful Guarantee®. They know how important it is to feel confident in your flooring selection. Therefore, they strive to ensure that the floor you create together is as beautiful as the one in your dreams. If not, they will replace it for FREE! Did you read that? If you don't like the flooring in your home after it is in, they will replace it for free! You can't beat that guarantee.
Company:
As we work with more and more companies on our projects, it is imperative that we find amazing companies to work with, support and to share with you. We have learned the hard way and have had contractors and companies who didn't pan out or didn't live up to the standard they promised.
That is not the case with Carpet One Floor & Home. As a cooperative, Carpet One Floor & Home has the benefits of international buying power and independent ownership. What that means is that we can shop and support locally without giving up value or selection. The staff at our local store is so helpful and they make the process so easy. I always get competitive pricing on a huge selection of carpets.
I love sharing places, people and companies with you. I know how much I rely on word of mouth and people I trust when we are looking for certain products and services. If you are looking for carpet for your home, a flip house or any other space, please check out Carpet One Floor & Home. You will be so happy you did.
I can't tell you how excited I am to get the carpet in the flip house! It is going to make the room look brand new. I will be back sharing the before and after with you here!
Stay tuned!
PIN THIS POST!

If you liked this post, you will also love these posts:
Hanging Doors To Hide Mechanicals In The Flip House
Waterproof Flooring For The Shower At Flip House
Paint For Wood Floors In The Flip House
This is a sponsored post written by me on behalf of Carpet One Floor & Home®.