Summer is in full swing. Whenever the 4th of July rolls around, it feels like summer is officially here. I never decorate for summer and this summer is definitely not different. We are spending so much time at the flip house that I am just trying to stay afloat at our home. Before we closed on the flip house, I really wanted to add something to the reclaimed wall in the back porch that I pulled from the barn we picked a few months ago. This summer porch tour is simple, laid back and easy. Exactly the way things should be during the summer months, right?!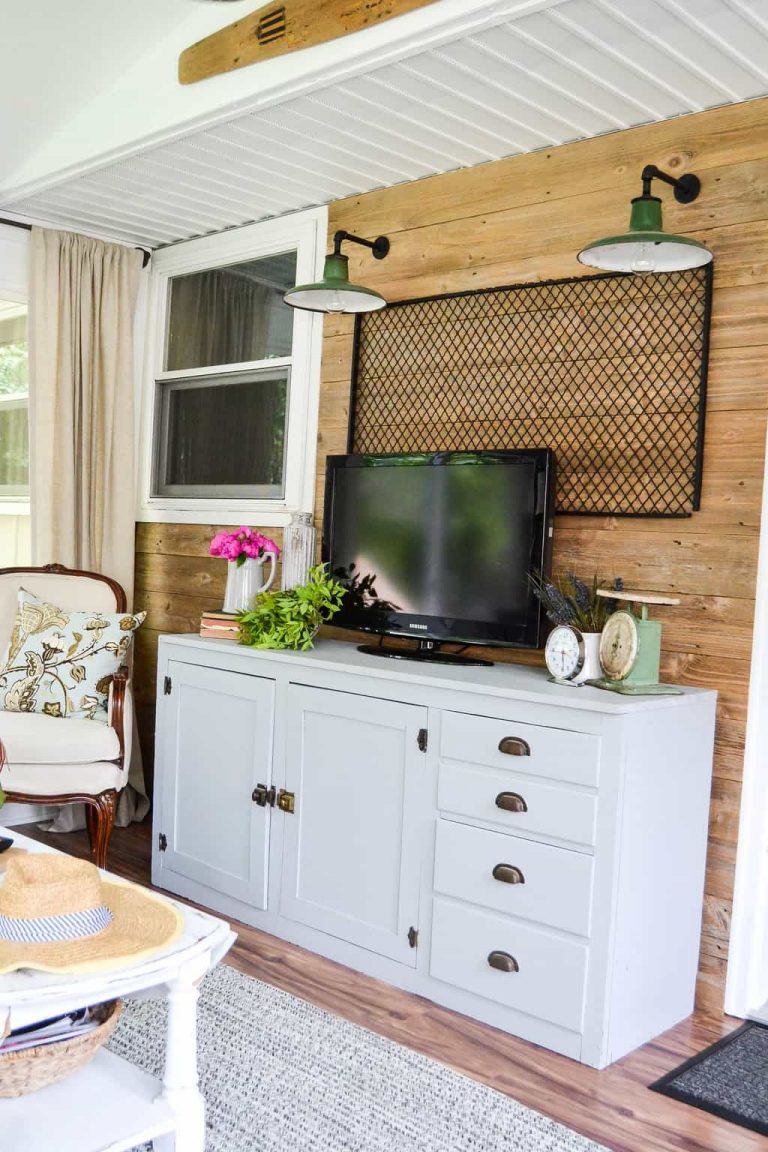 When I saw the iron grate thing at the barn we picked, I grabbed it immediately. It was old, dirty and a little rusty. I didn't care. I wasn't positive, but I thought it would fit perfectly behind the TV in our back porch. After we added the FREE reclaimed wood wall in the porch, I hung a small, old window on it and let it be. I knew I wanted to add something more substantial there, but hadn't found anything until the barn pick.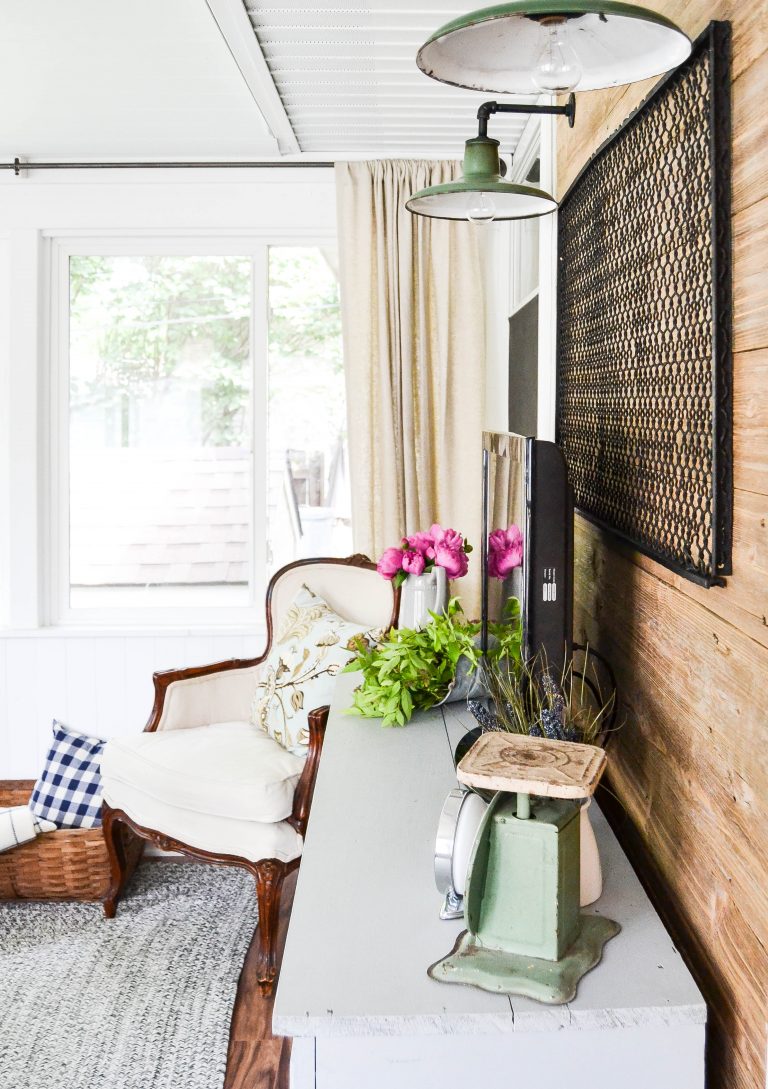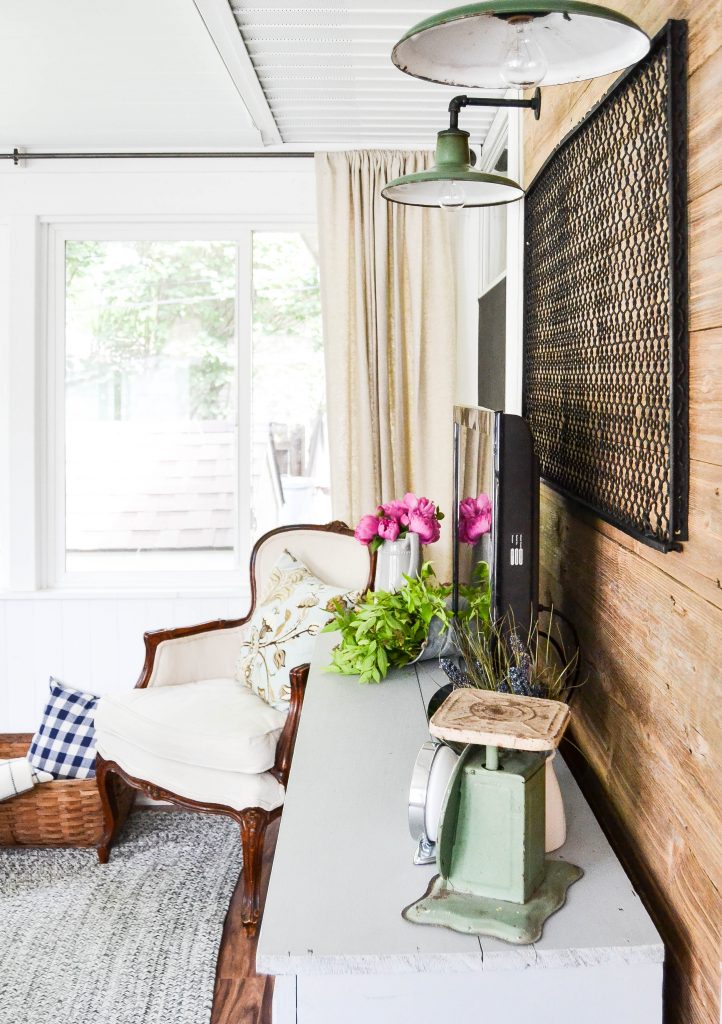 I spray painted the grate black and then when Matt got home, I told him my plans for it. He looked at me a little funny.
He didn't think it would fit.
I told him it would. Debates like this always end with a little wager between him and I. Guess who won this one? 🙂
The grate fit so perfectly that one of the corners that was not intact fit exactly over the light switch we have behind the TV for the barn lights we added to the wall.
I laughed so hard when we saw this and Matt just shook his head and smiled. He was happy to owe me the Starbucks beverage we bet.
#sweetvictory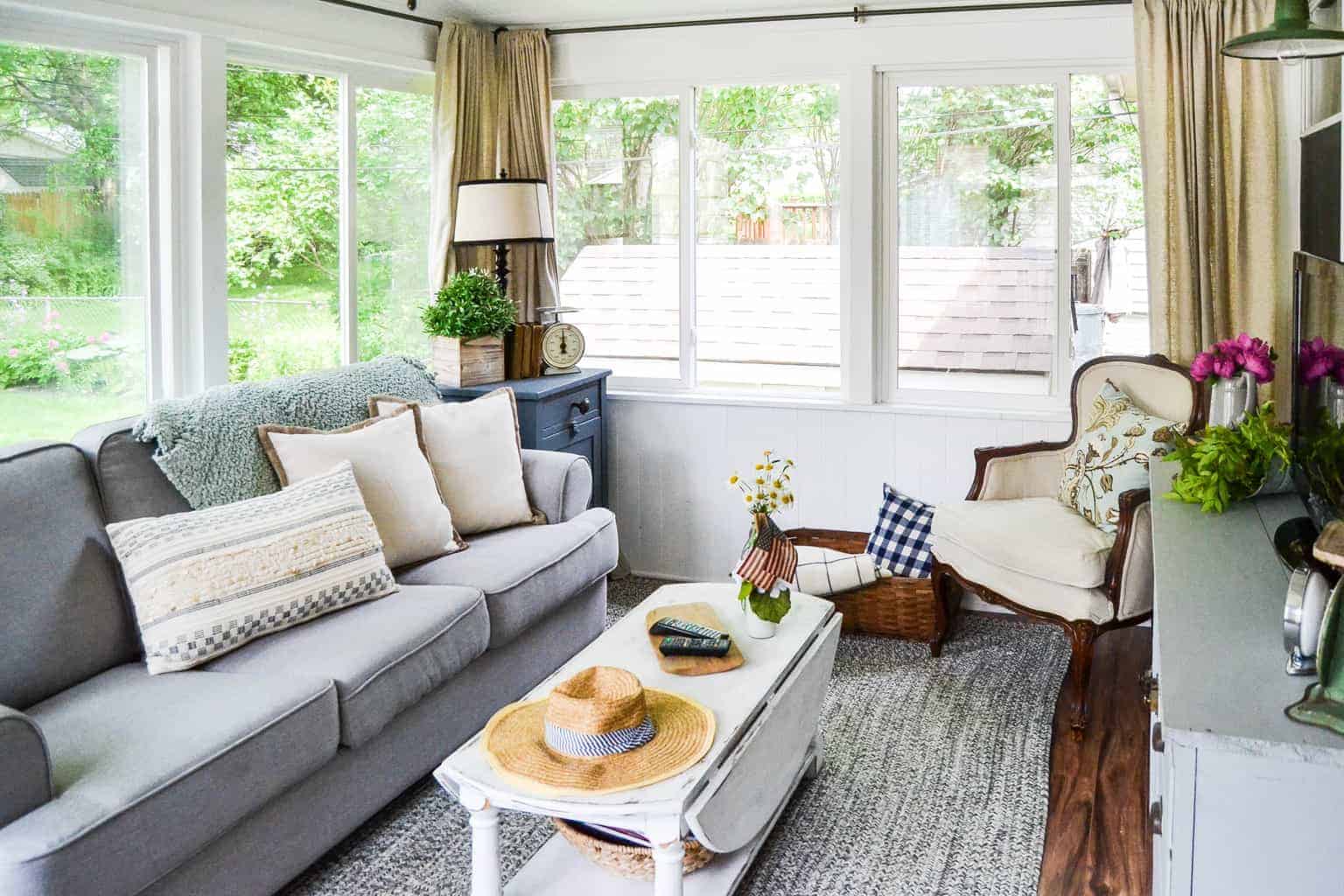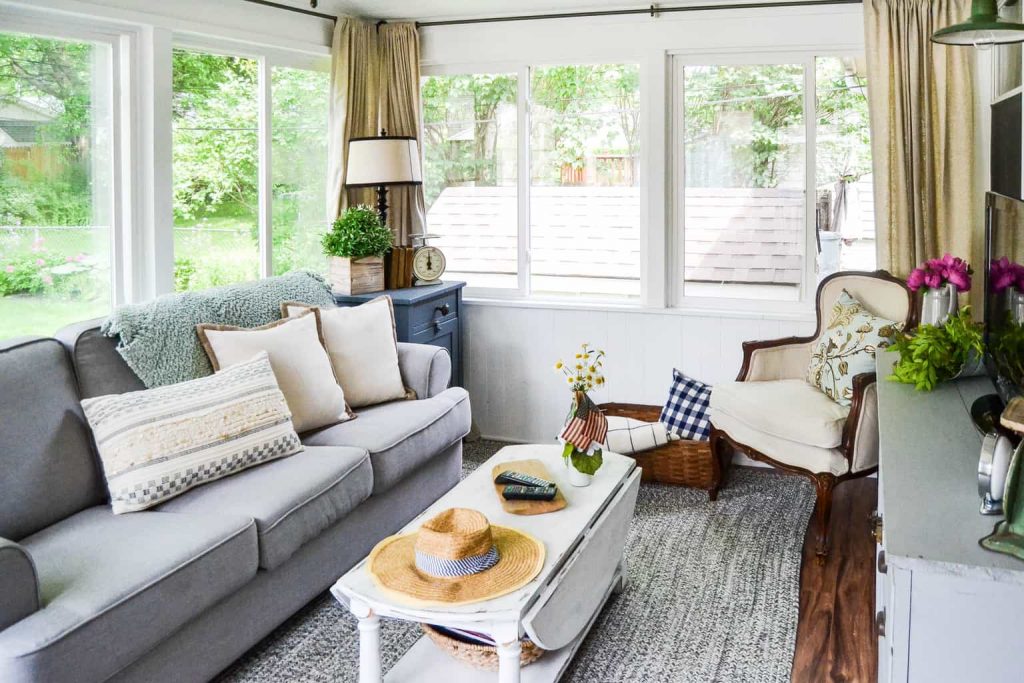 Once summer rolled around, I moved throw pillows and blankets around the house and added some small flags to the porch.
Other than that, the summer porch tour is not much different than it is all year round.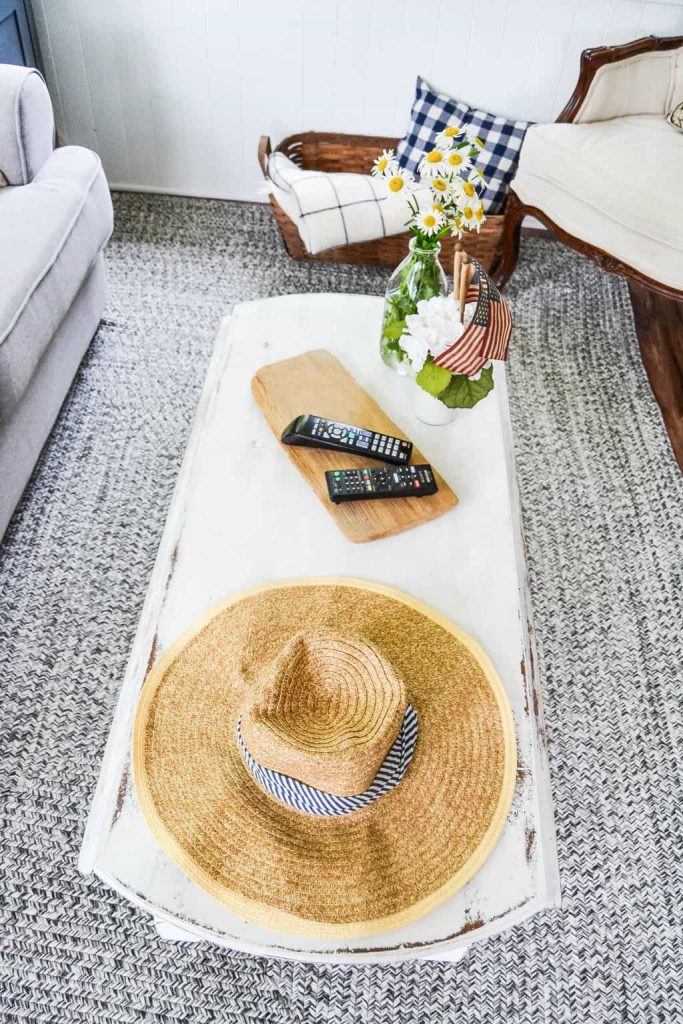 The TV is part of our back porch so that means the remotes are part of the back porch. It is what it is. Can't get around it so why hide it? #keepingitreal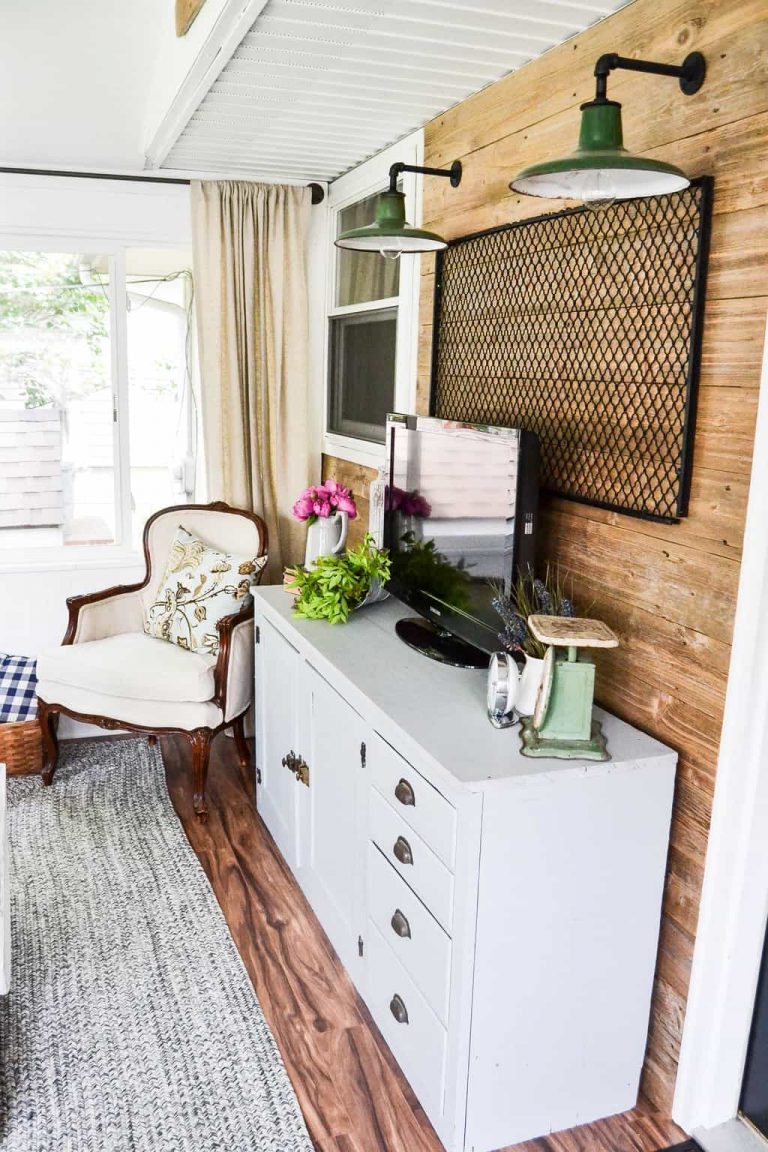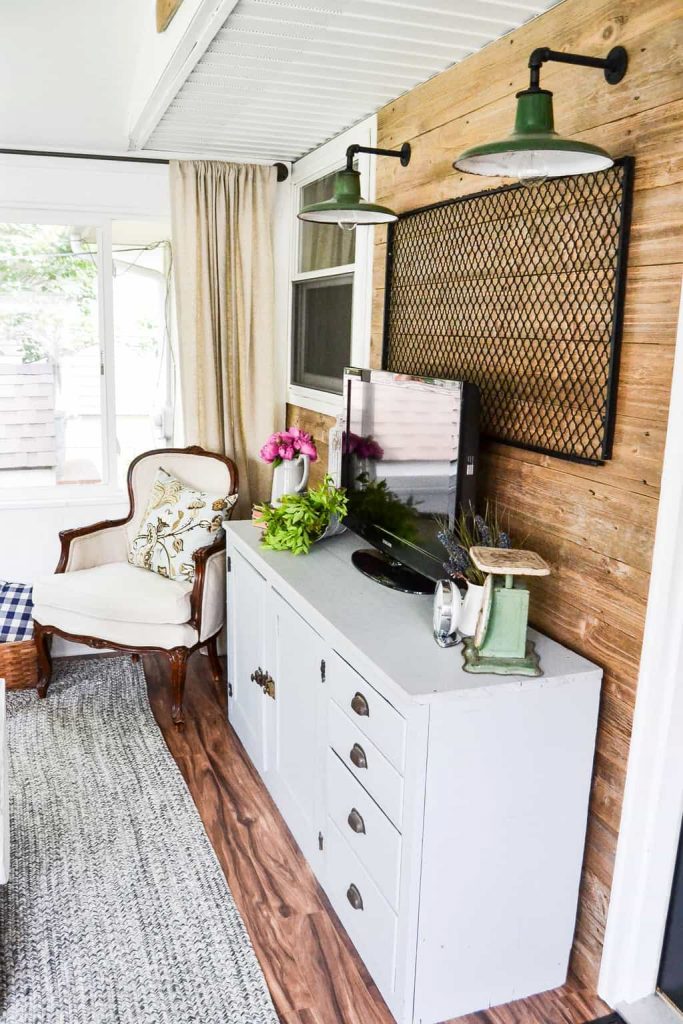 After we hung the grate, I thought about maybe hanging something on it. I shared it on my Instagram feed and asked everyone what they thought. Hands down, the vote was to leave it as is. I love the texture and the black against the wood wall. If I find something that really jumps out at me, I may hang it up there, but for the summer, it will stay as it is.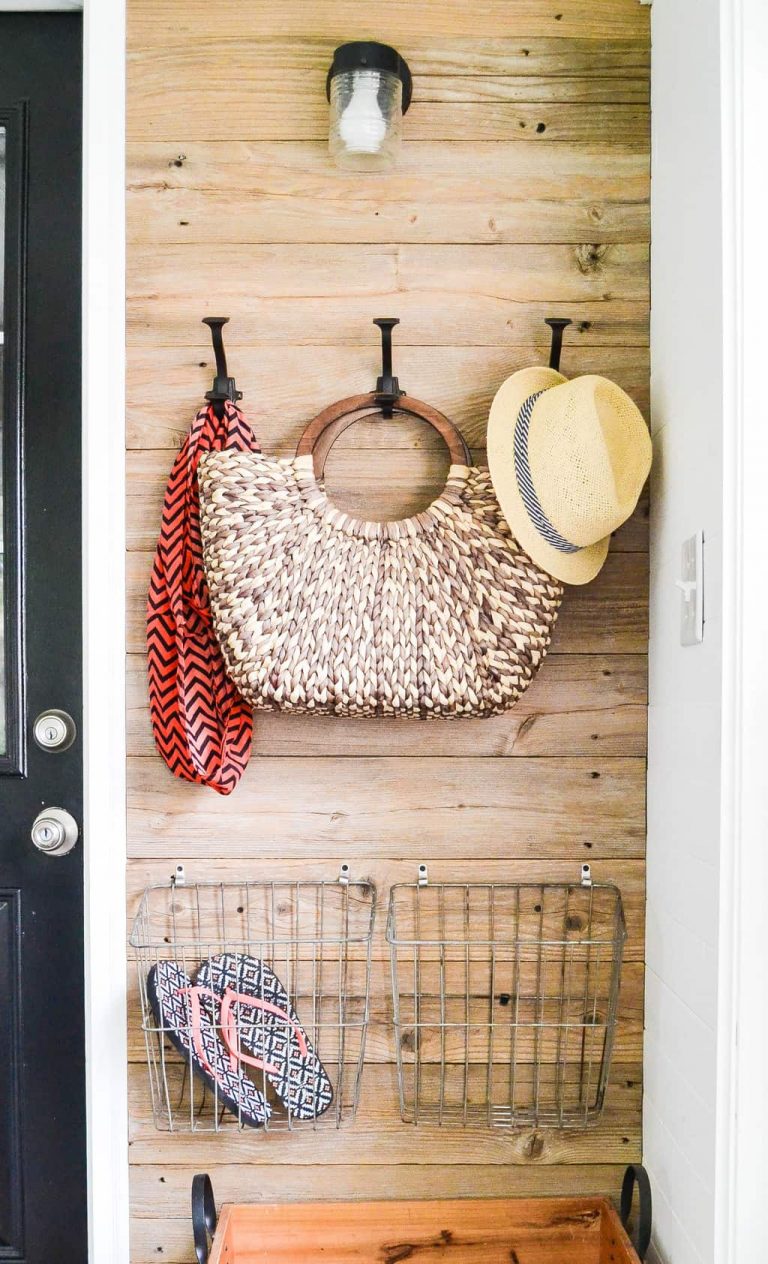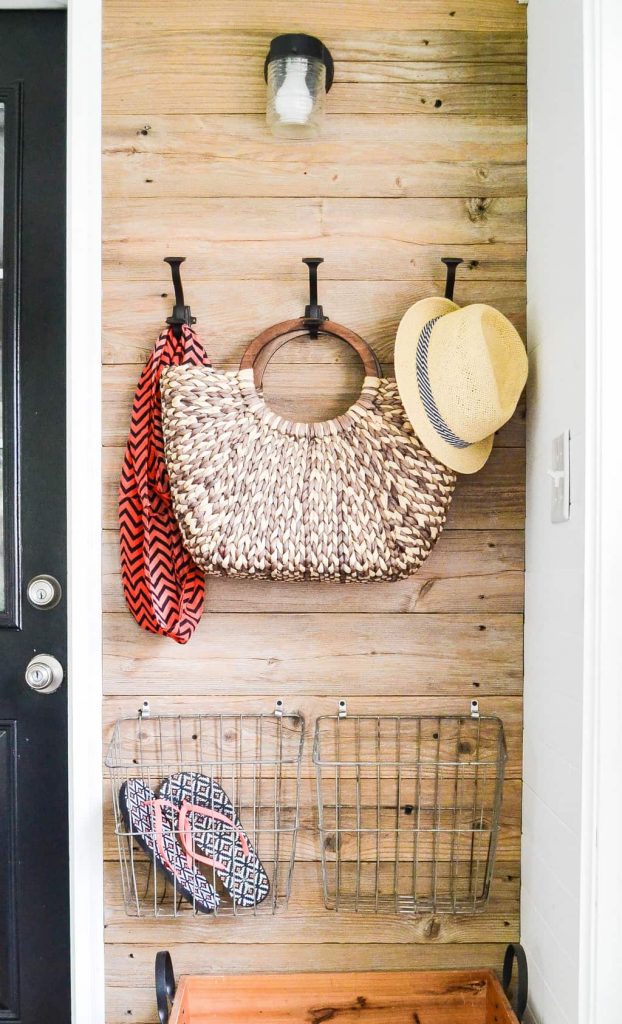 The hooks and the wire baskets in the porch are fun to "style" for different seasons, but this is exactly how it looks during the summer. Flip flops, hats and a straw bag are here every day.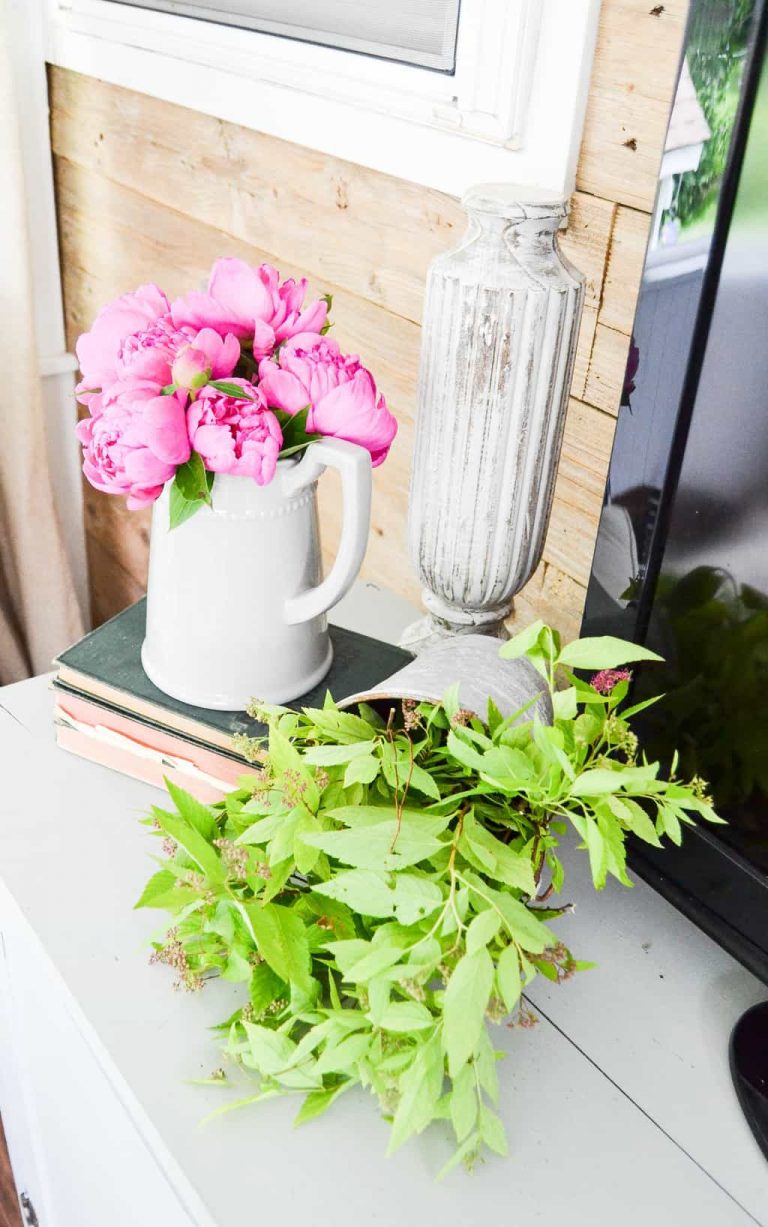 My favorite thing about the summer is being able to head out to our yard and pick flowers for our home. This summer porch tour would not be complete without some pretty clippings in it. Peonies were popping that day and I clipped some green branches to bring in as well.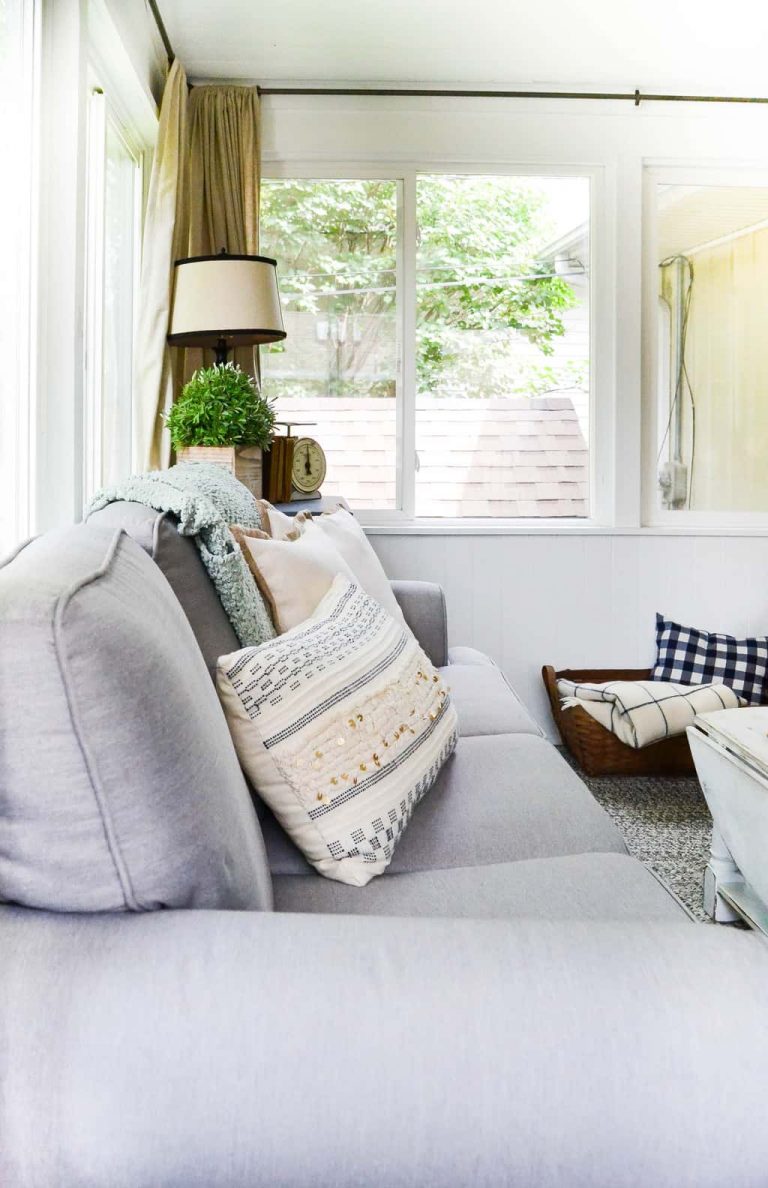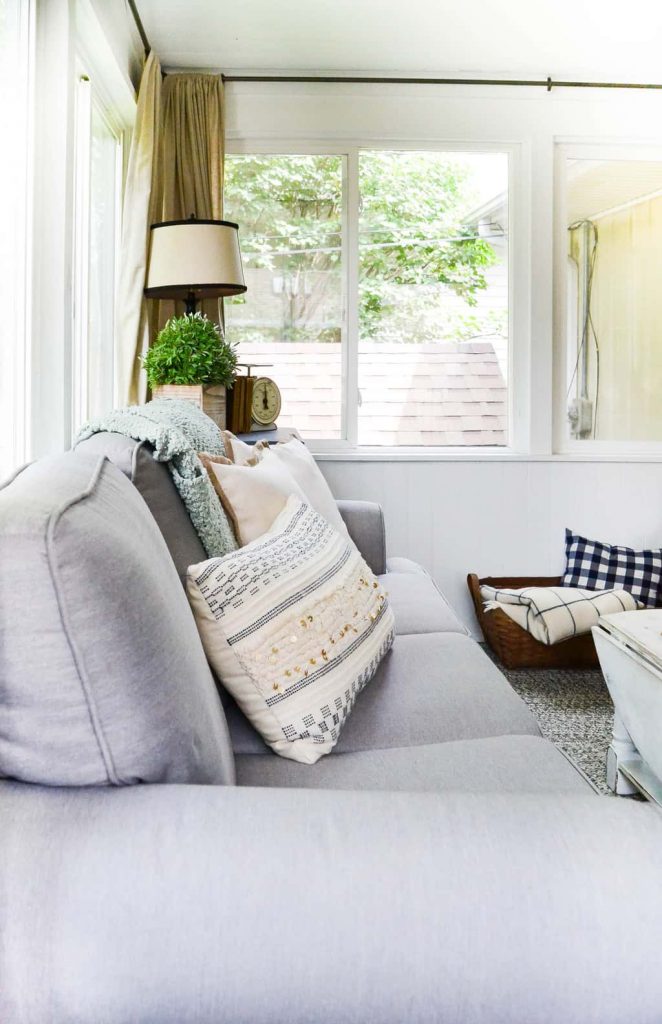 The porch is cozy all year-long, but in the summer when the windows can be open and our schedules are quieter, it is even more special. We have had some pretty great weather so far in Iowa so we have been able to enjoy the porch a lot already this summer.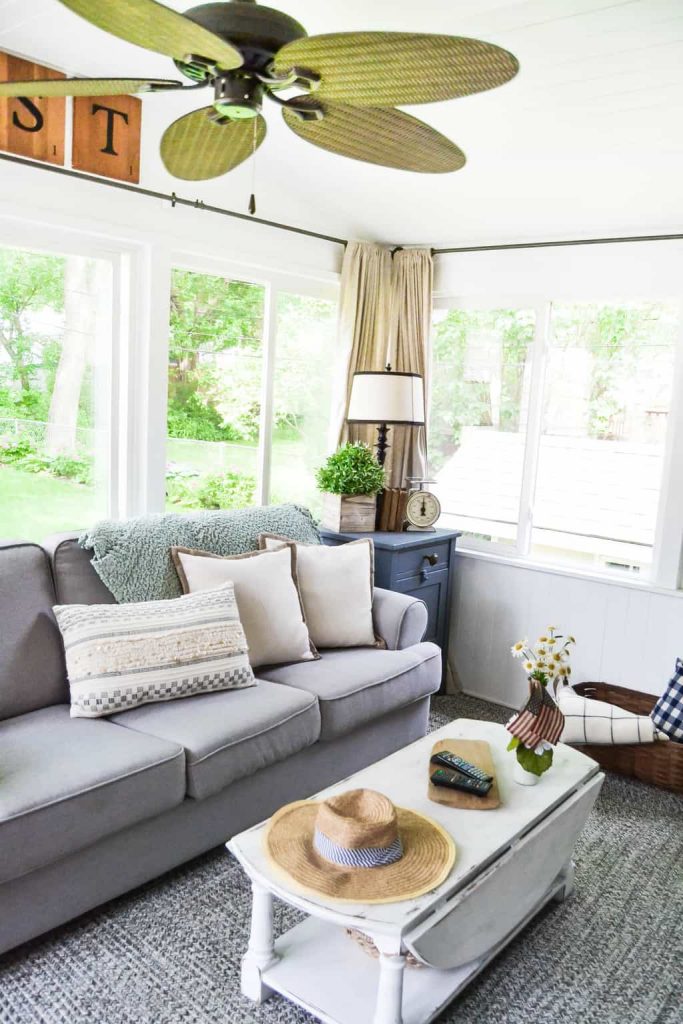 Do you decorate for the summer? What do you do differently in your home's decor during the summer months?
PIN THIS POST!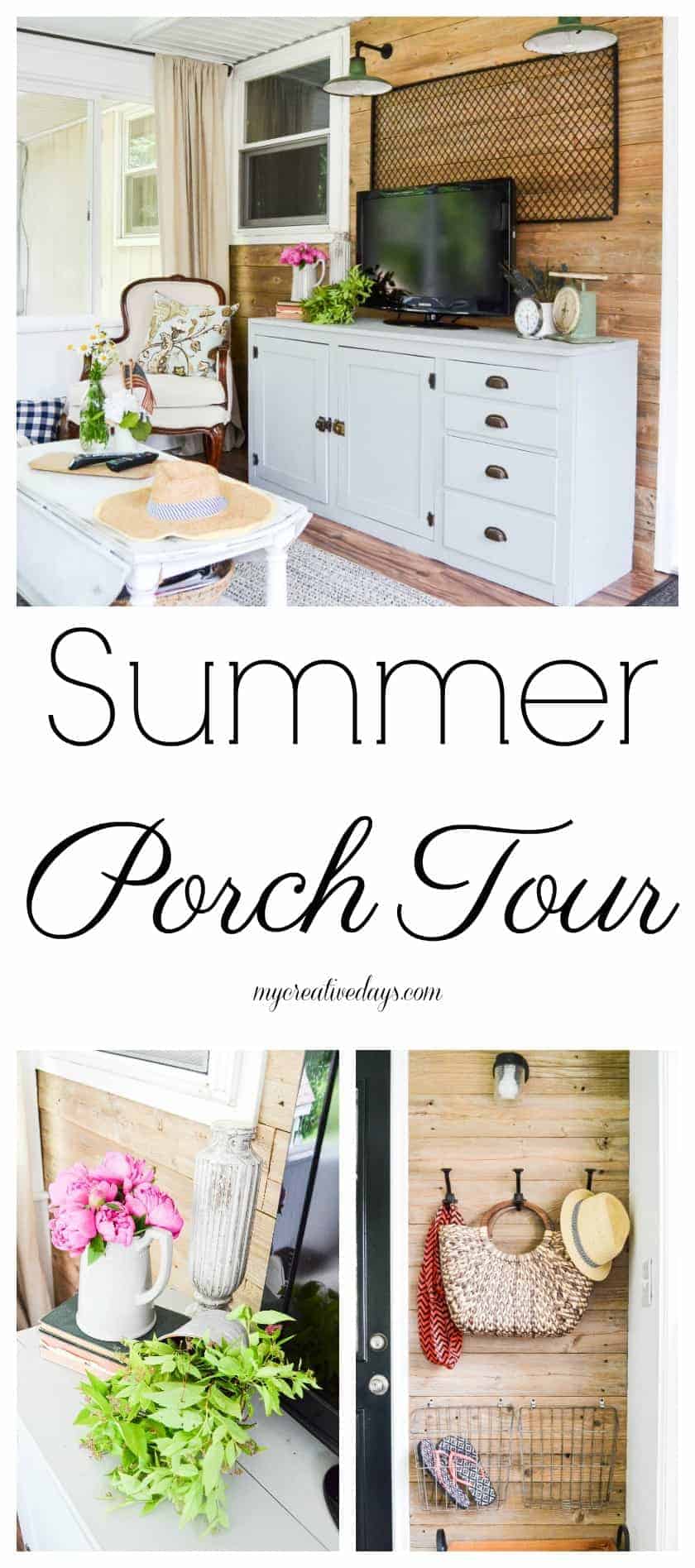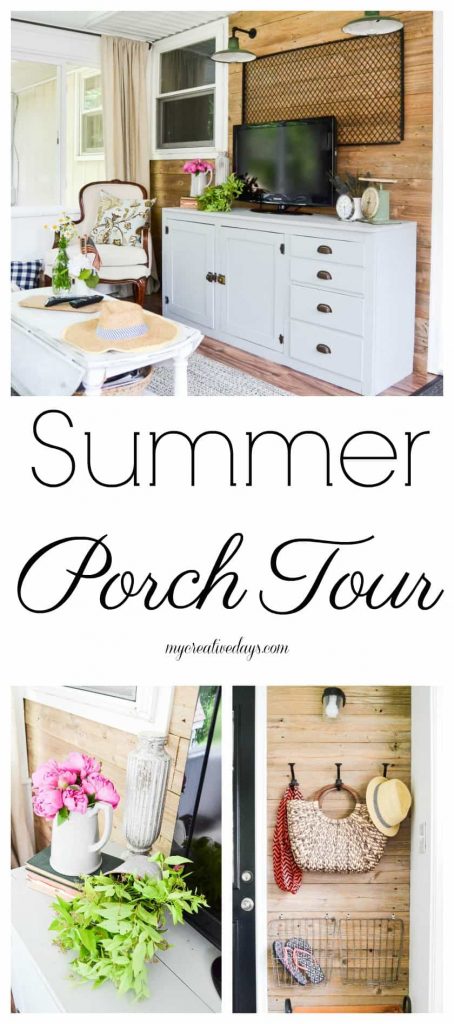 If you liked this summer porch tour, you will also love these posts about our home:
Magnolia Home Paint In The Family Room