I love mini makeovers and a budget makeover is even better. This mini budget bedroom makeover was done a few months ago and I am finally sharing it. #summerisbusywithkids
Our bedroom is always the last room I think about when I am in the mood for a makeover in our home. I need to change that. I Googled how many hours we spend sleeping and was amazed at what I found. If you get eight hours of sleep per night, you spend about 1/3 of your life sleeping. That's about 25 years of your life asleep or 9,125 days!
Those numbers blew me away and made our bedroom a priority on the makeover list. We spend so much time in our bedrooms that it should be a retreat, an oasis to go to at the end of a long day.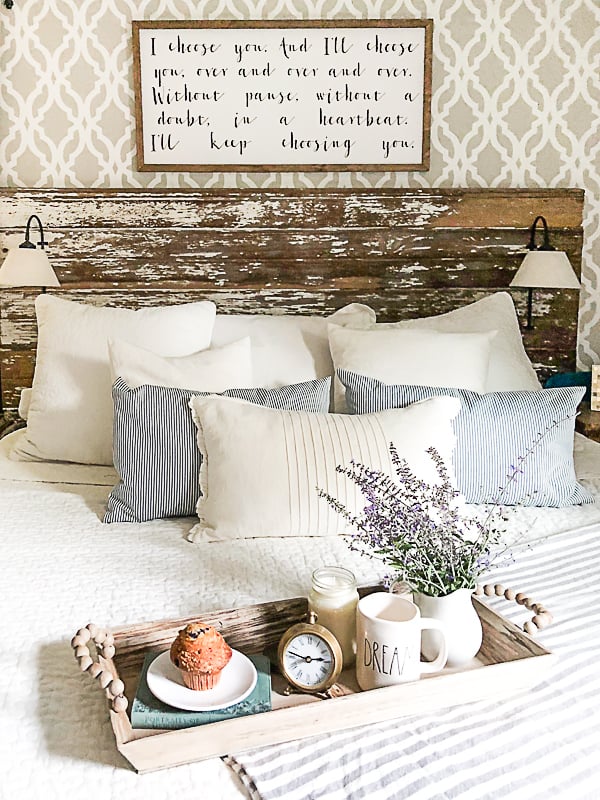 I have been wanting to change the bedding in our room for a long time, but everything I found was so expensive. I wanted something lighter for the bed, but I didn't want to spend a ton of money on it. Rewind a few months ago when we were

visiting Minneapolis

and made a stop at IKEA.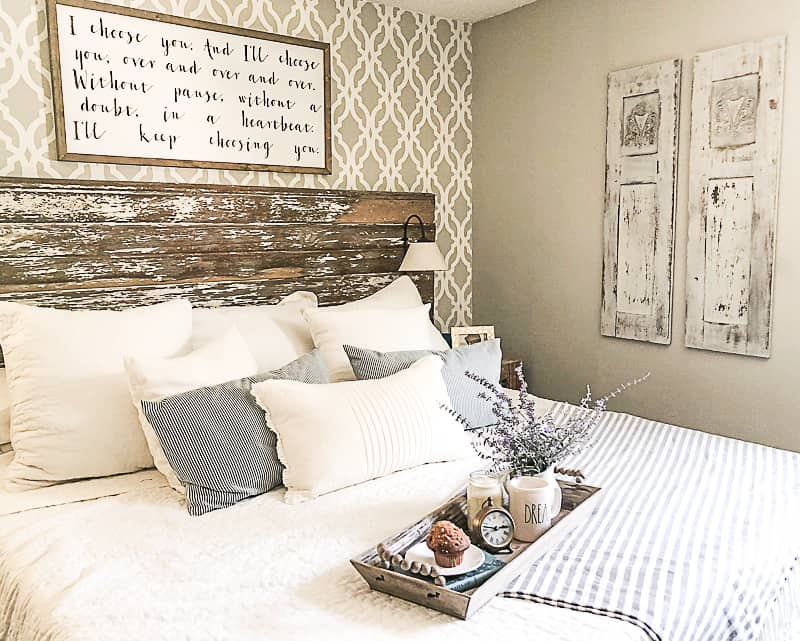 While I was making the rounds around IKEA, I saw this bedspread and pillow cover set on clearance for $29. For a queen/king size! I wasn't sure if it would fit our king bed since it was queen/king, but I had to buy it because it was such a great deal and if it didn't work, I was just going to fold it and lay it across the end of our bed. I didn't have to do that because it fit with room to spare! It is a white bedspread with a simple design on it. It was perfect for what I was looking for and the price couldn't be beat for this budget bedroom makeover.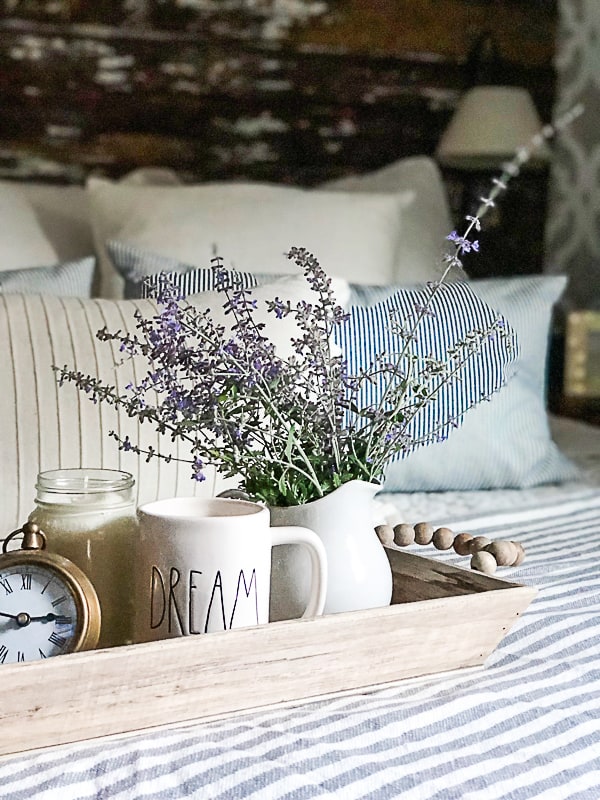 While at IKEA, I picked up some throw pillow inserts and covers. I have heard a lot about the inserts and covers at IKEA, but had never picked any up. Now that I have tried them, I am hooked. I will be picking up more inserts when we go back because they are amazing. I chose the inserts that are like down inserts.
They cost a little more than the cotton-filled ones but I didn't care because they are still inexpensive, I can karate chop them like a pro and they look fantastic on our bed! 🙂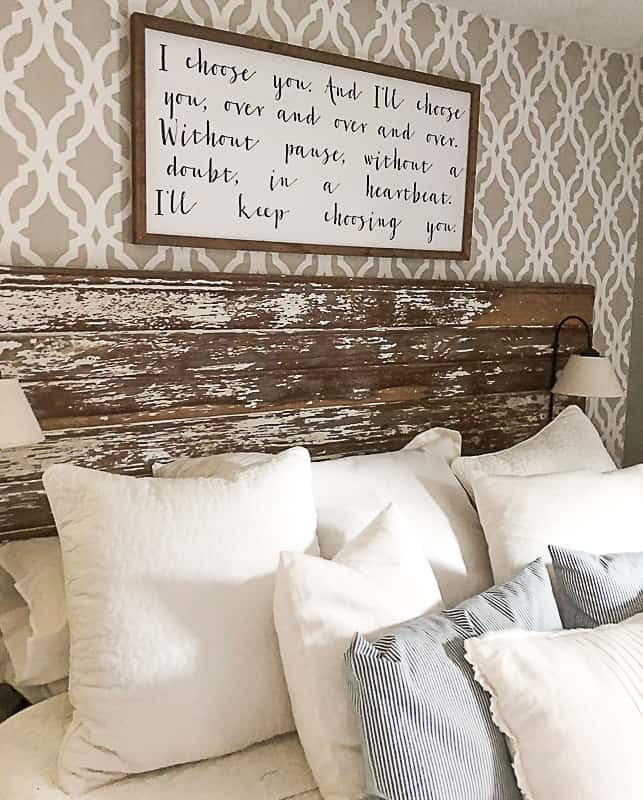 IKEA has tons of pillow covers to choose from and I had more in my cart while I was there. Then, as we were leaving, I put a few back and have been kicking myself since we got home. Why do I do that? I need to stop second-guessing myself!!! They will be the first things that go in the cart the next time we are there.
As we were getting ready to check out, I went in to the clearance room (like I always do) and found the blue and white striped pillow covers that were in my cart on clearance! You bet I put the full price covers back and grabbed the clearance ones instead.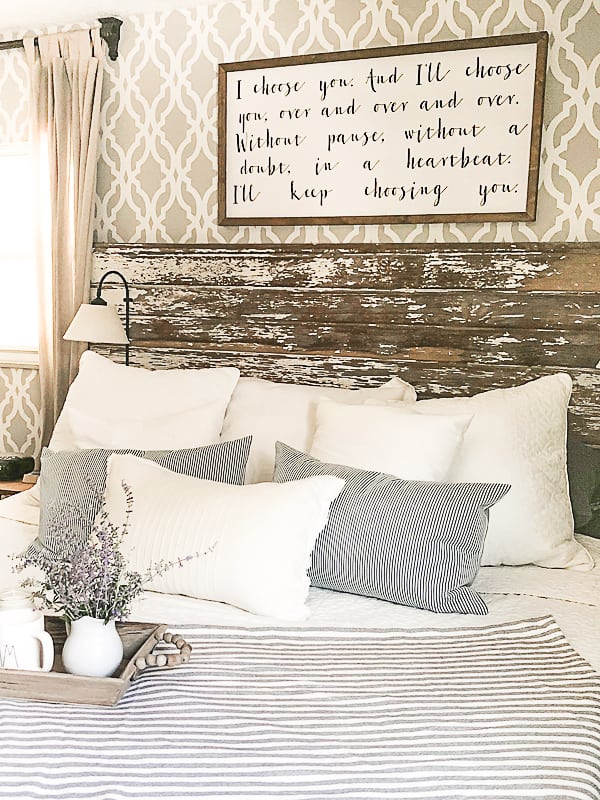 Along with the new bedding in our room, I ordered a sign to hang above our bed from Small Wood Home. Their signs are very inexpensive and they were having a huge sale so I bought two signs for our home. You can see the other one in my summer home tour HERE.
Now, the thing with their signs is that the middle part is like a heavy-duty cardboard. It isn't wood. That didn't bother me for this budget bedroom makeover. If you are looking for an all wood sign, you need to see the sign we added to our family room that made the makeover complete. You can find it HERE.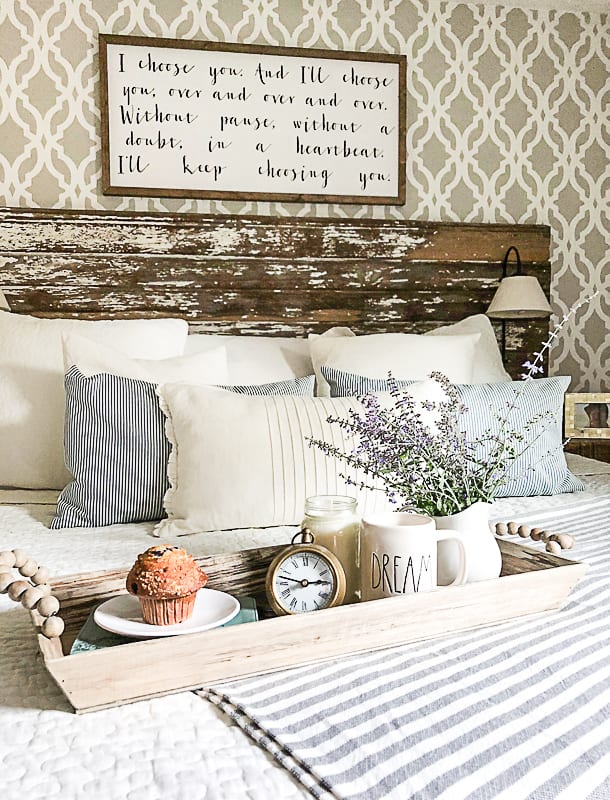 I wanted to do this mini makeover on a budget and wanted a sign above our bed so this option was good for what I needed. The saying is what really mattered to me. This one was perfect for above our bed.
Makeovers of all sizes and budgets make me so happy. You don't have to spend a ton of money to make a big impact in any space. I preach all about budget decorating here and across my social channels. Whenever you can save money to get the look you want, it is like winning the lottery.
What room in your home is in need of a makeover?
PIN THIS POST!

If you liked this mini budget bedroom makeover, you will also love these posts:
Summer Home Tour 2018 – Using What You Already Have