It seems like forever since I have done a home tour. When Meg from Green With Decor asked if I would like to join them on this Summer Home Tour 2016, I jumped right on board.
For summer, our home is decorated simply. There is nothing fussy or fancy about it and I don't spend a lot of time over-analyzing things. I want our home to be cozy, welcoming and comfortable all year, but in the summer, I really want it to be laid back and a place for our guests and us to relax and unwind in.
For the living room, I took the bench out of our back porch and moved it in here for the summer. I found the old quilts recently and had to put them in here. Their colors are great and we will actually use them to curl up on the couch with.
(*On a side note: This morning, I found a coffee table at a yard sale that I have been looking for. I will probably put it in our living room when I am done with it so stay tuned for more changes.)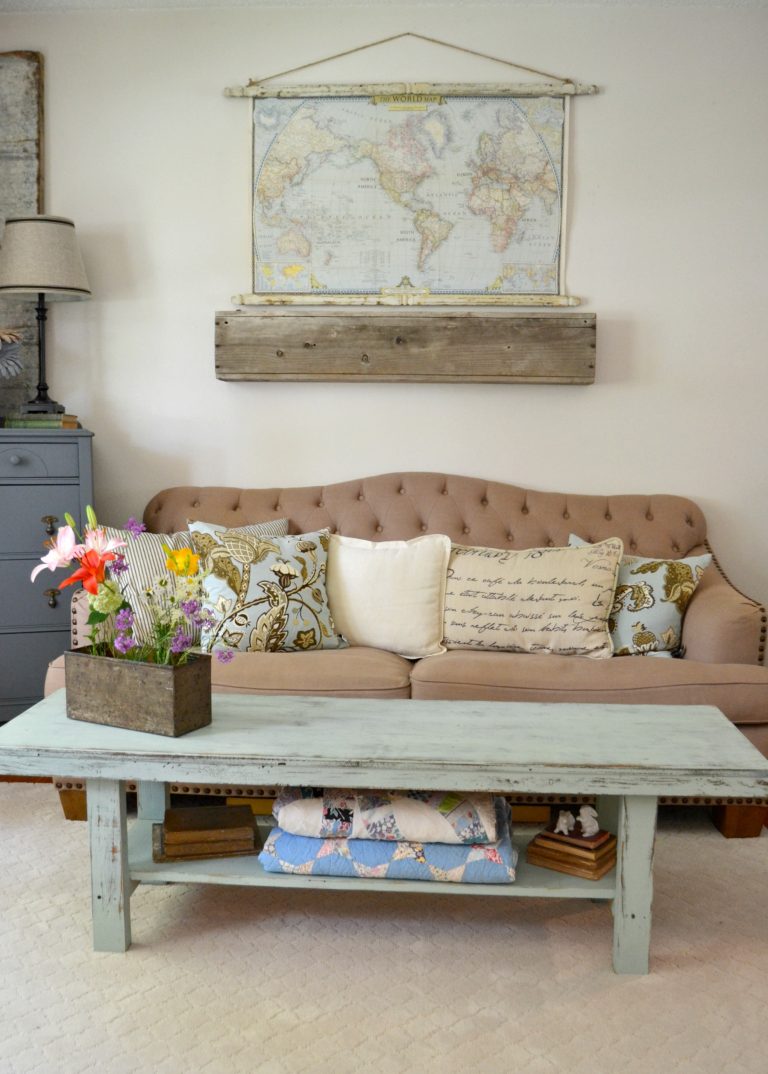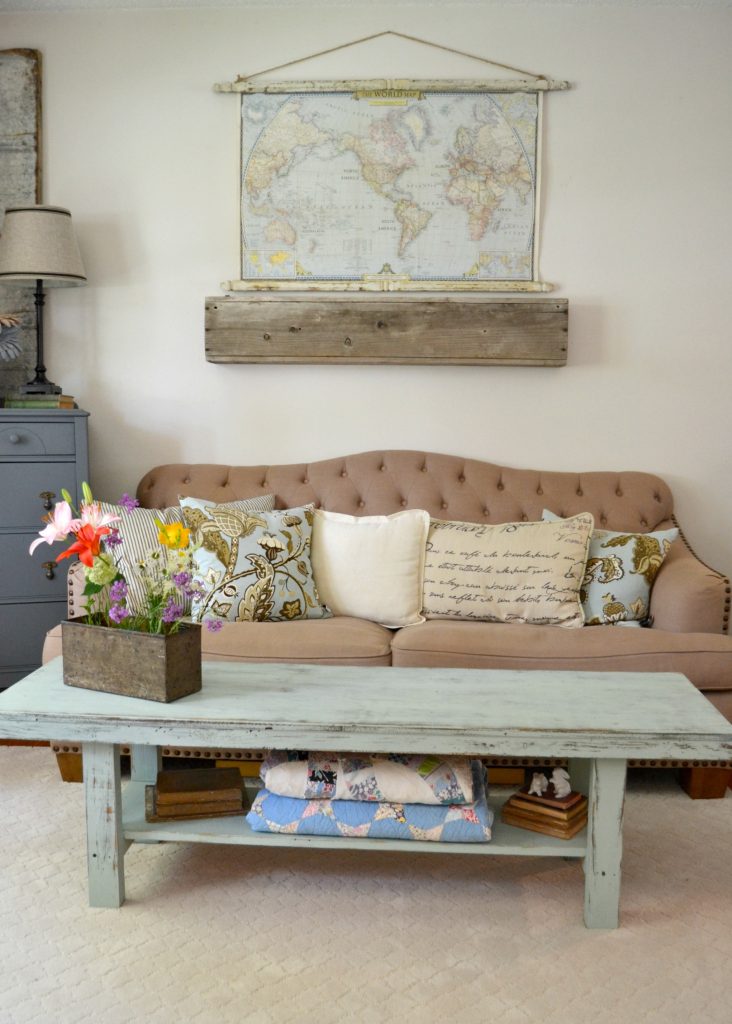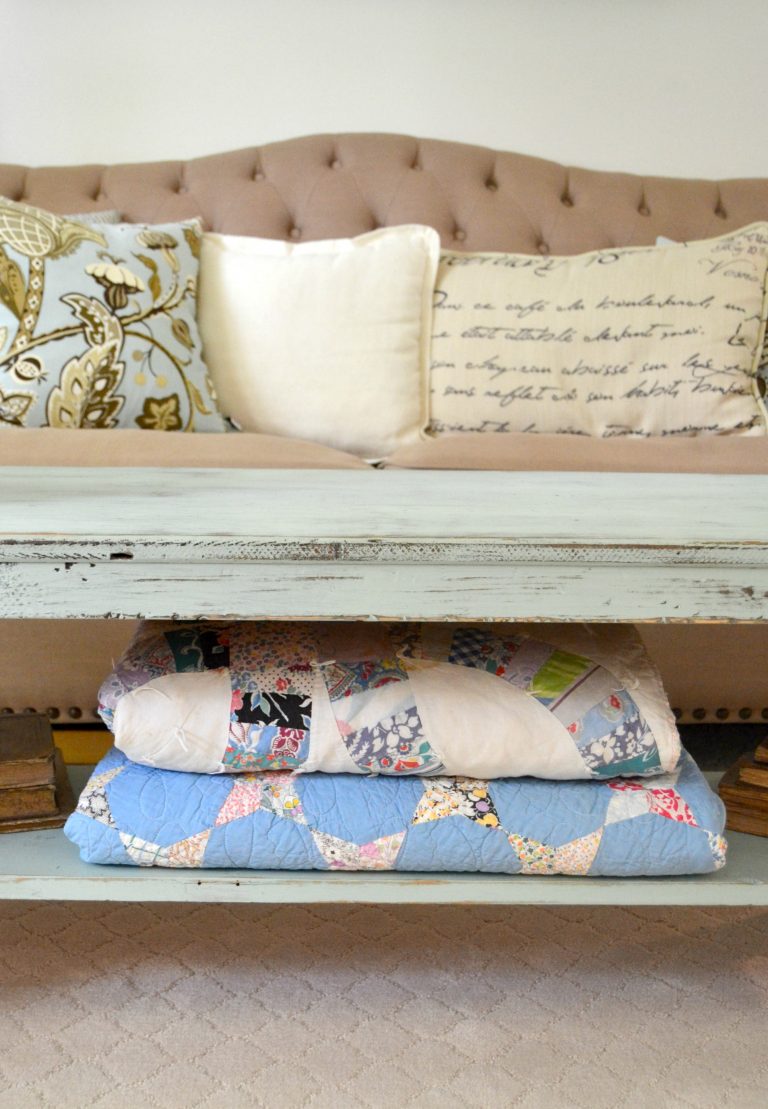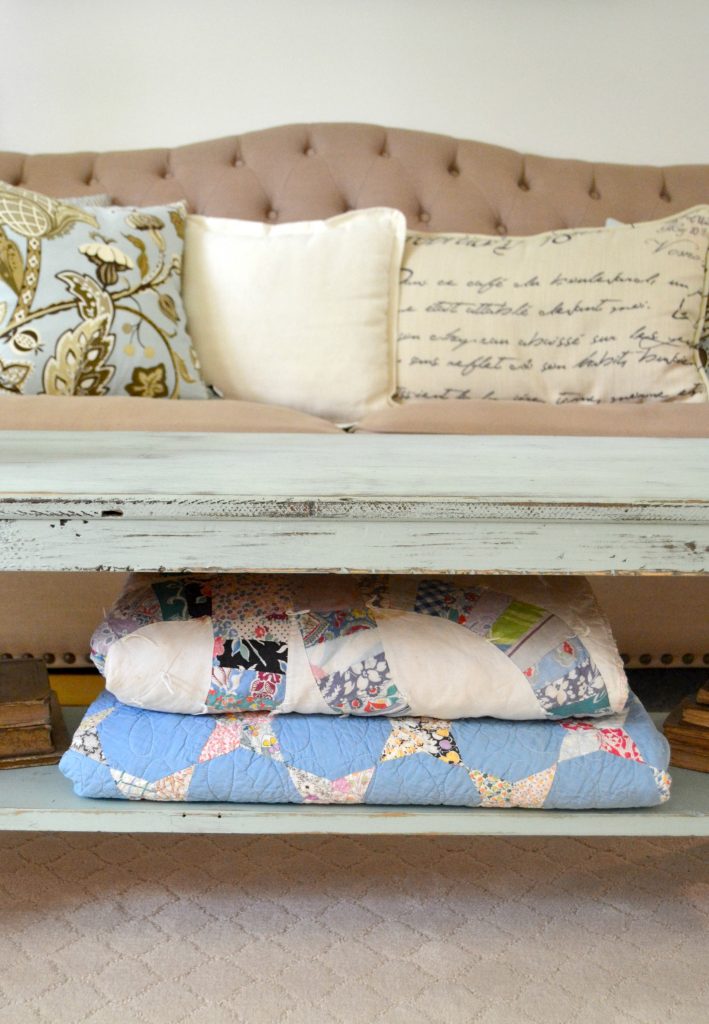 I get a lot of questions about our sofa. It was found at TJ Maxx on final clearance. I want to do a "Where Did She Get It" post that will share where I got the pieces in our home and how much I spent on them. (You will be amazed how frugal I really am. 😉 ) If you like our sofa, I did write a post about sofas and found one very similar to ours. Find it HERE.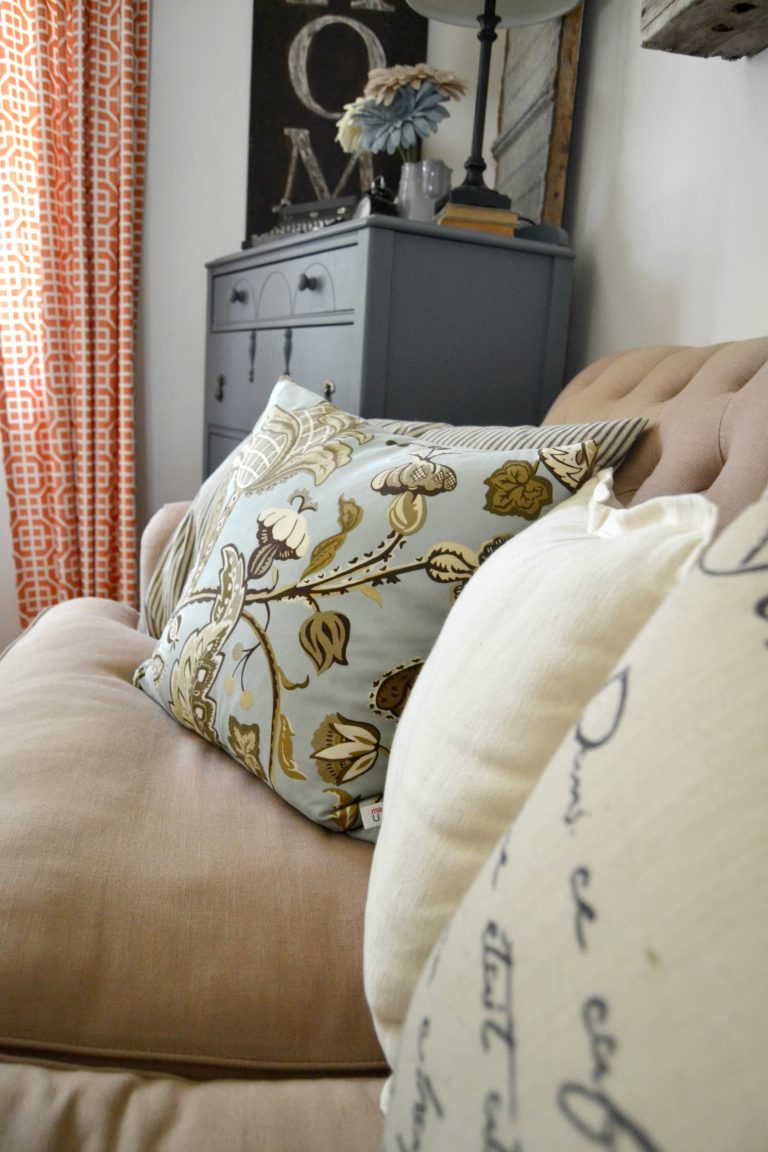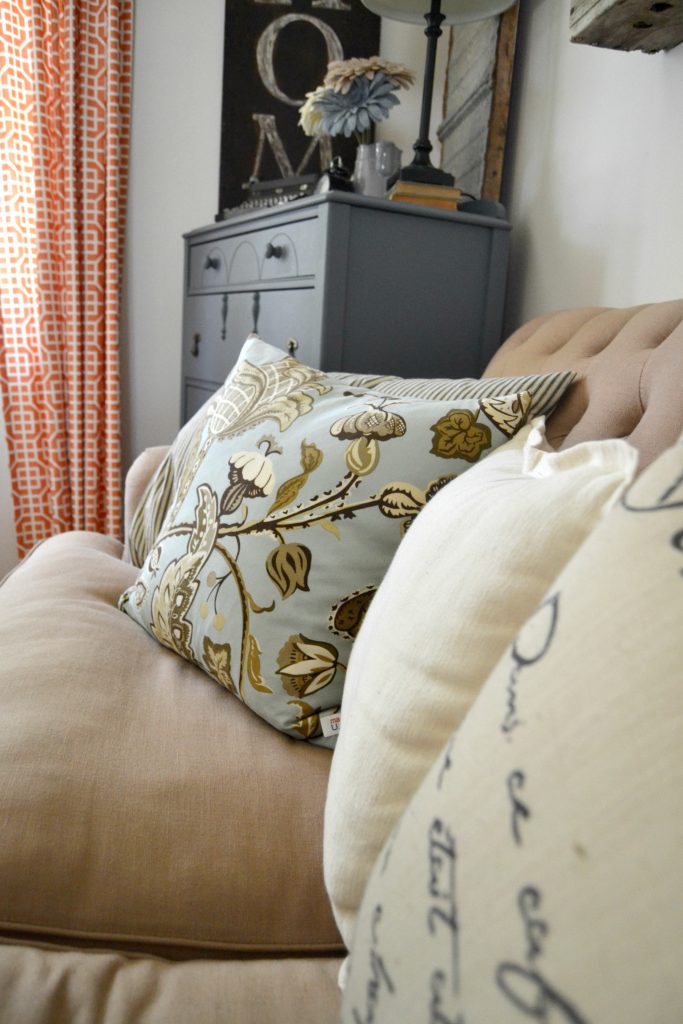 My favorite thing about decorating for a summer home is having an endless supply of flowers to bring inside. They brighten every room we put them in.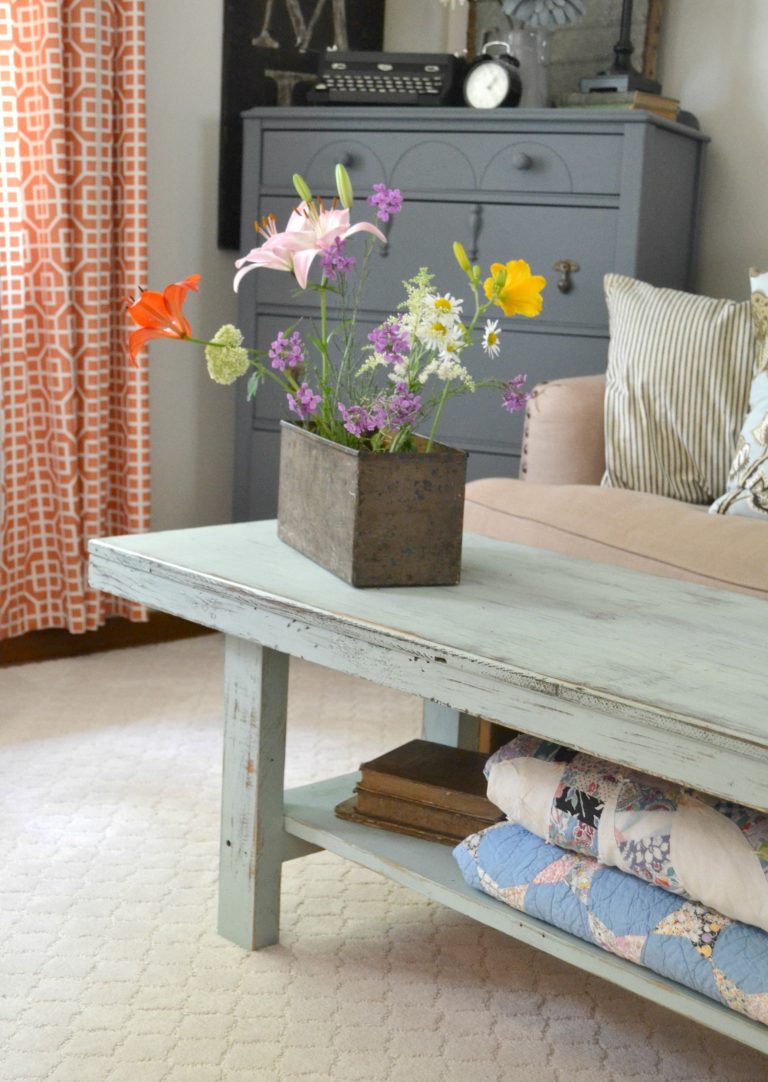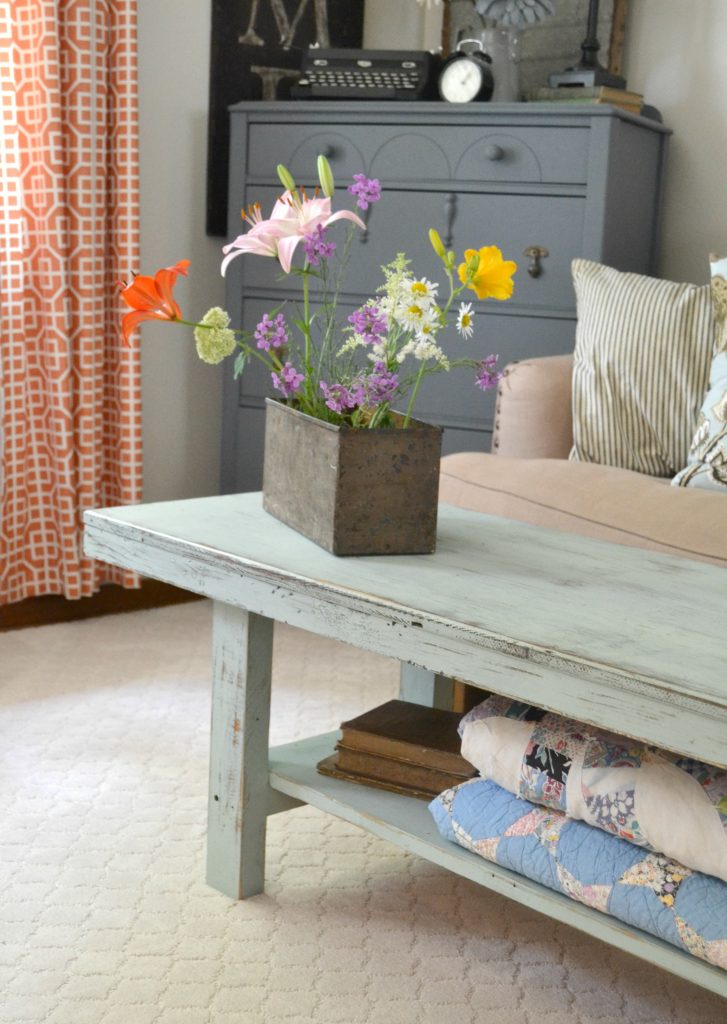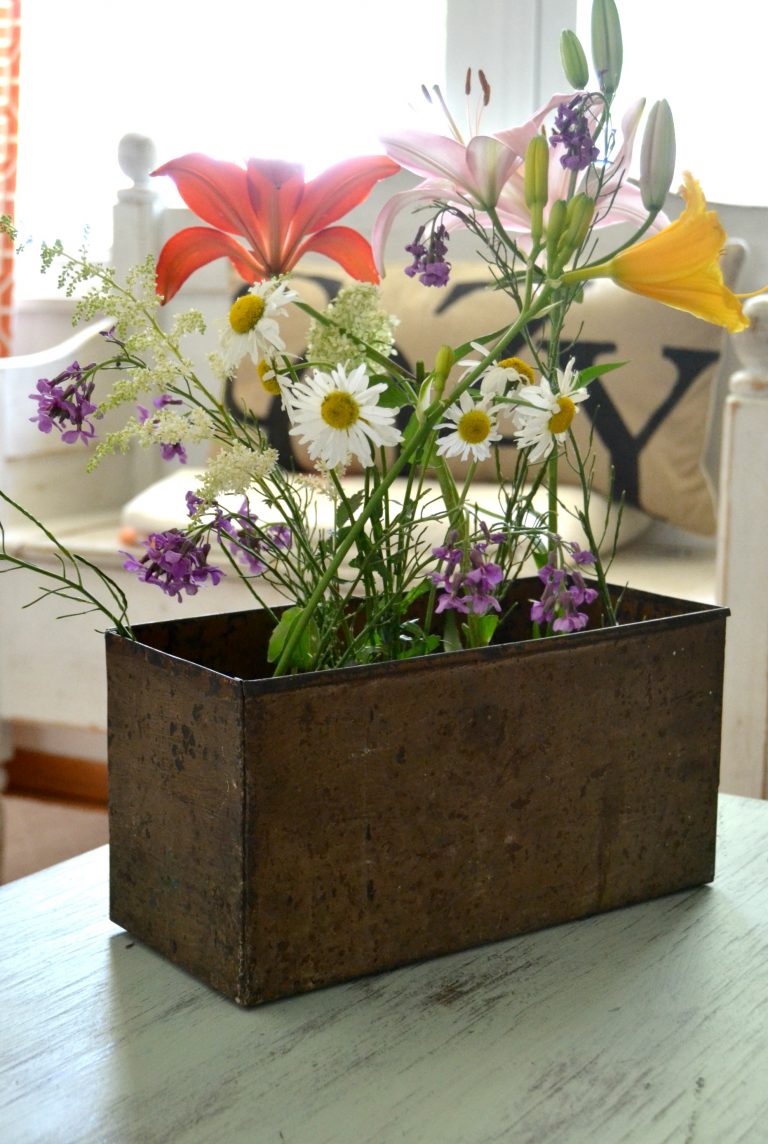 I mean…… look at these beauties!!!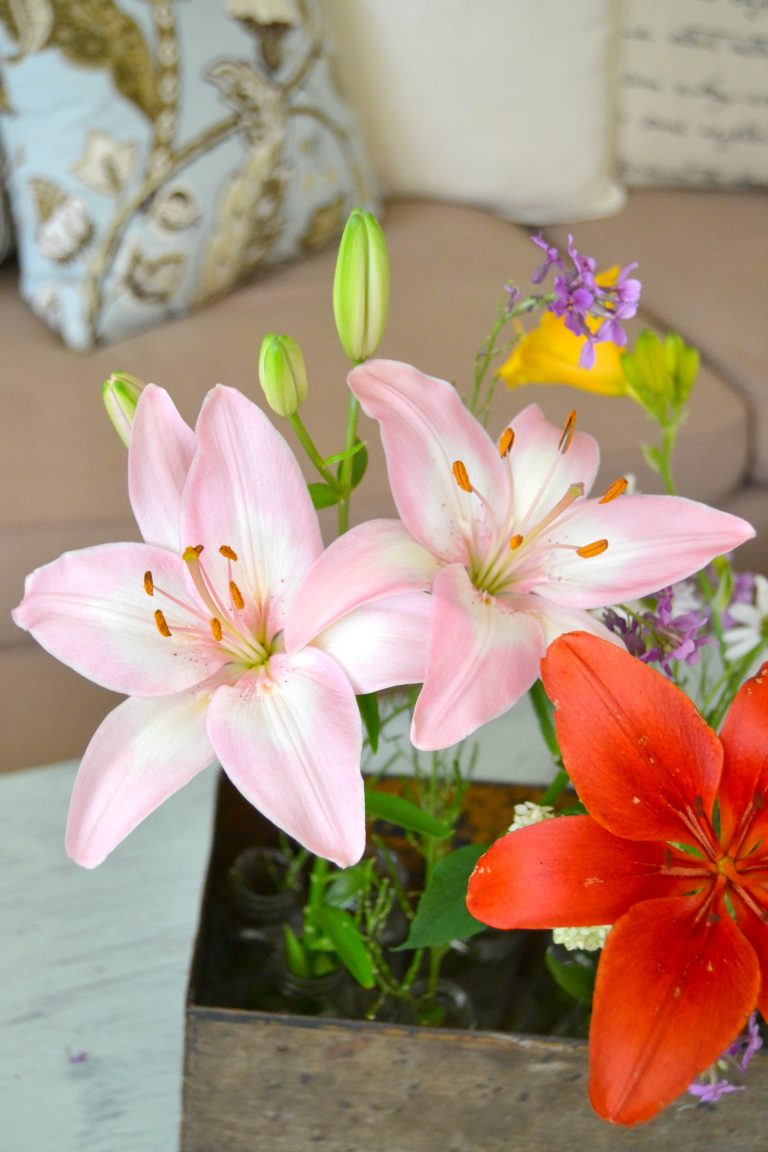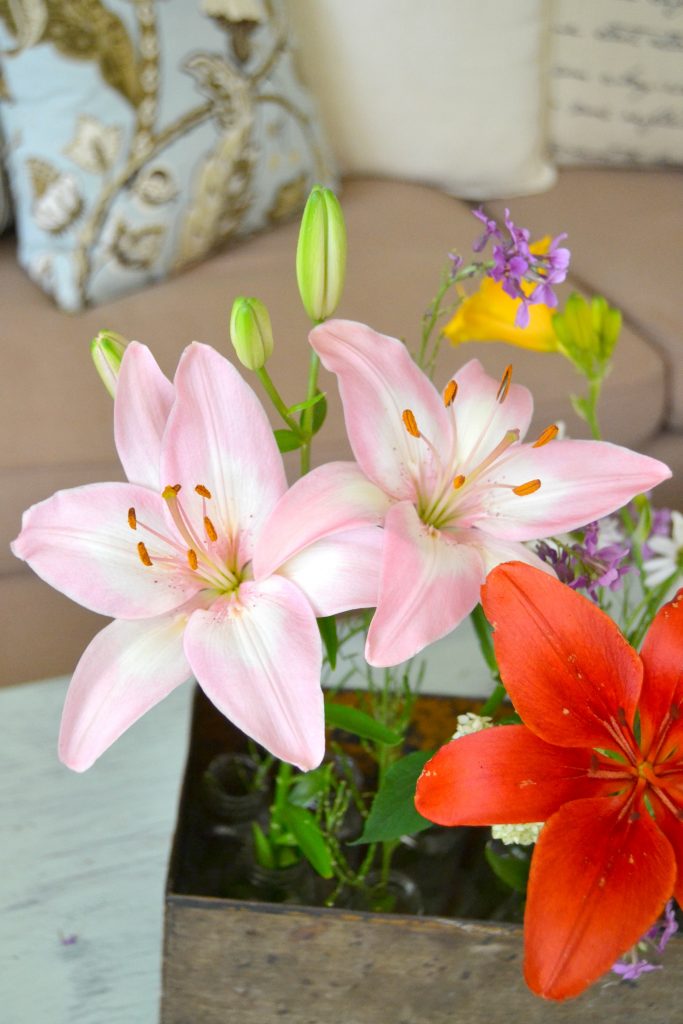 I took this exact picture last year. Things change fast around here.
This is my desk for the time being. I have made some big changes recently and we are pretty sure I am going to have to make a "proper" office in our guest bedroom. I need more space to spread out. This desk area will probably remain here thought because it is a great space for the family computer.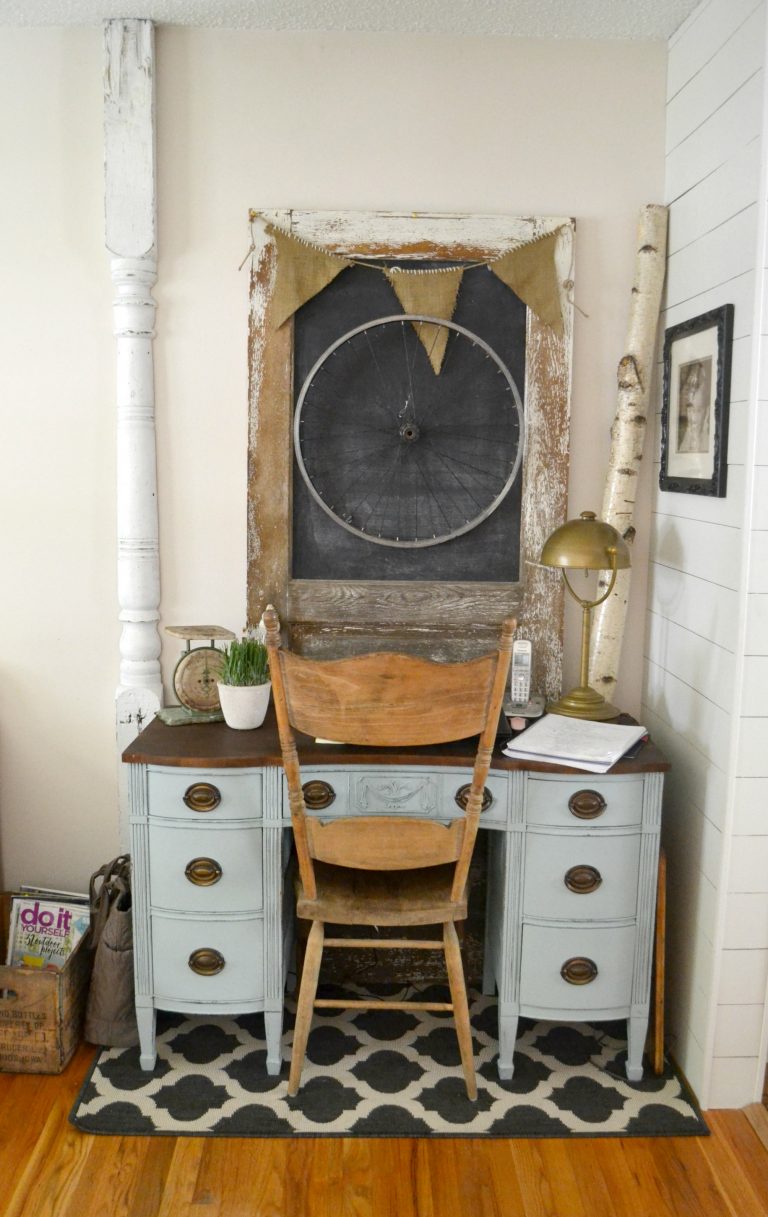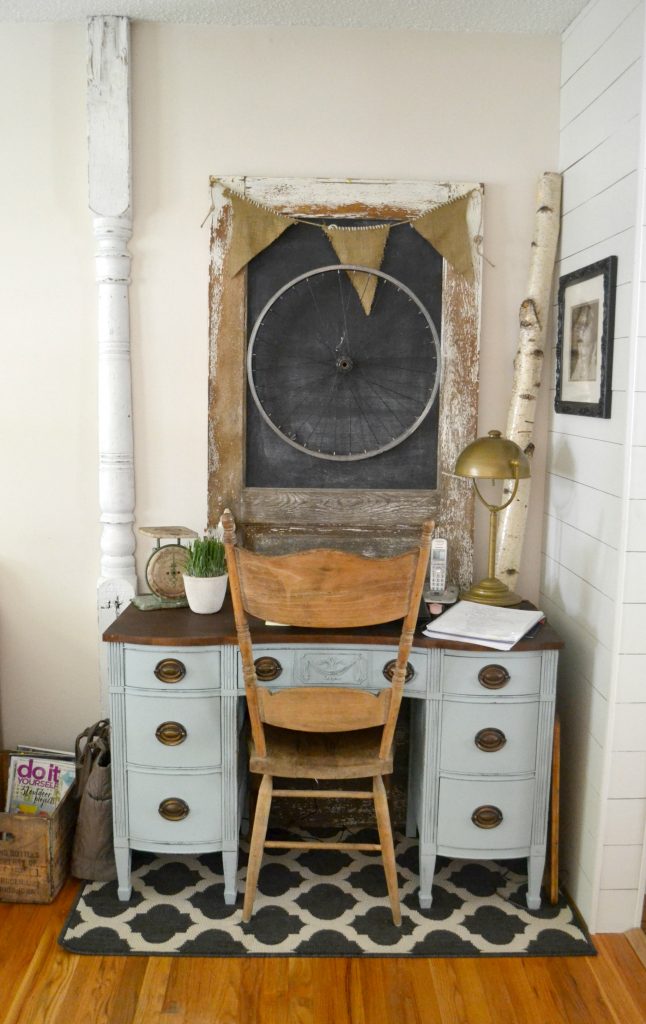 Even a fake plant adds life to my desk.
It is the little things that can make the biggest difference in summer home decorating.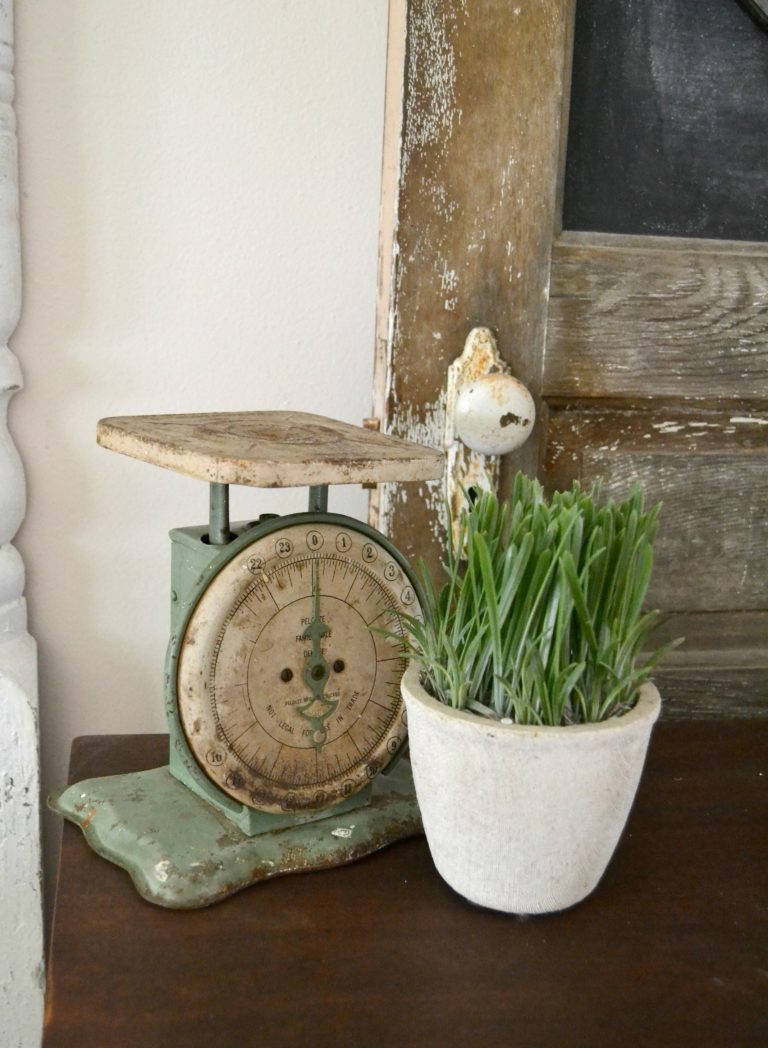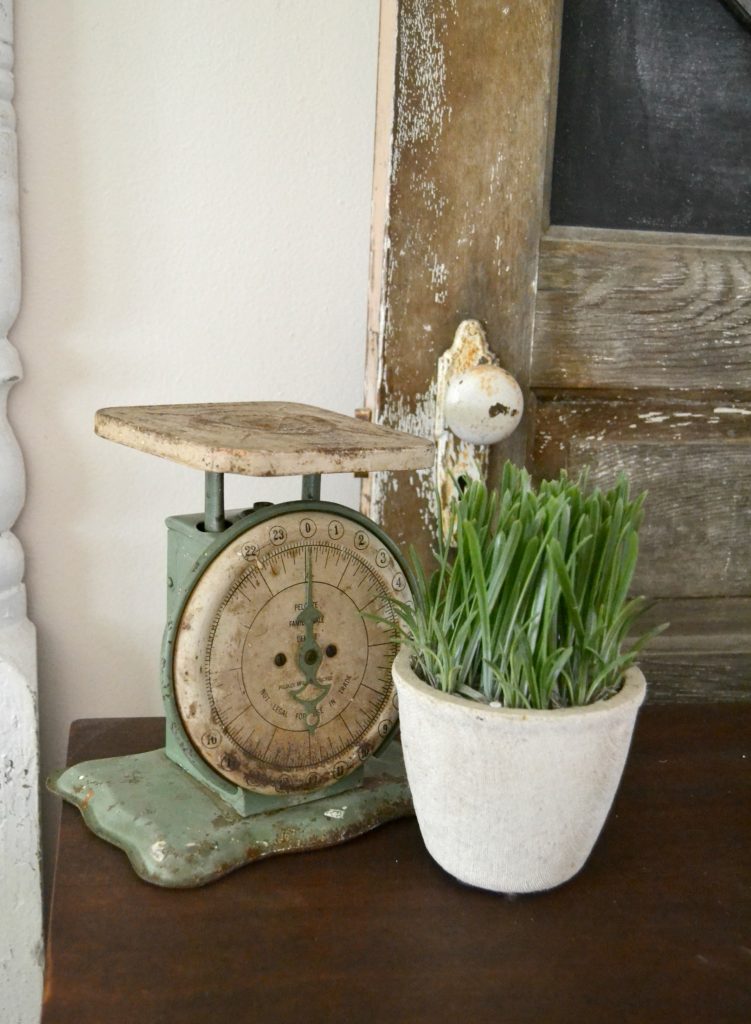 I have been pinning things to this wheel all year, but this summer, I wanted it blank. The simpler, the better.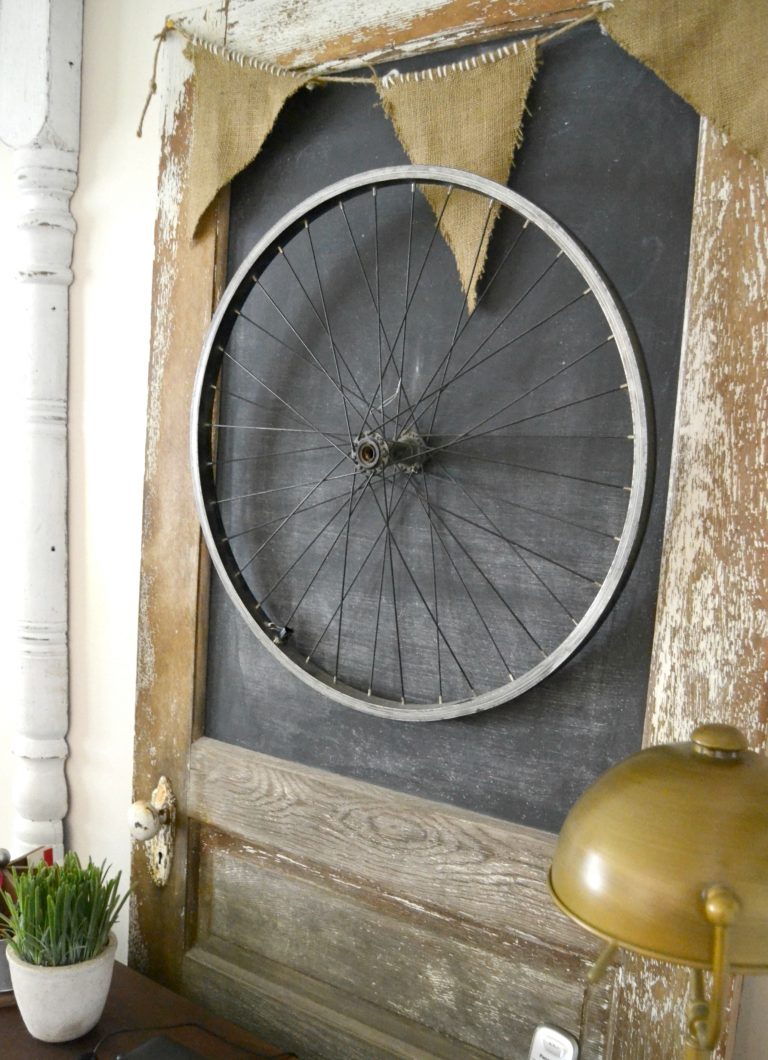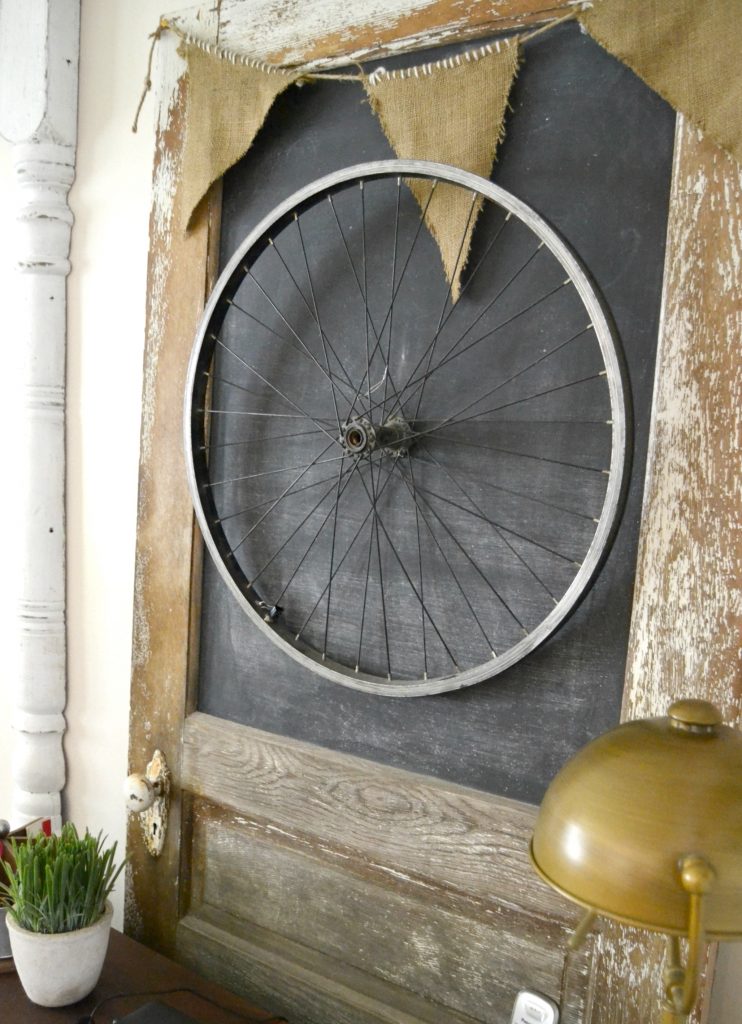 When we added the built-ins in our dining room, it gave me a fun spot to decorate as the seasons change. A lot of times, this is the area I decorate first when I want to change things up.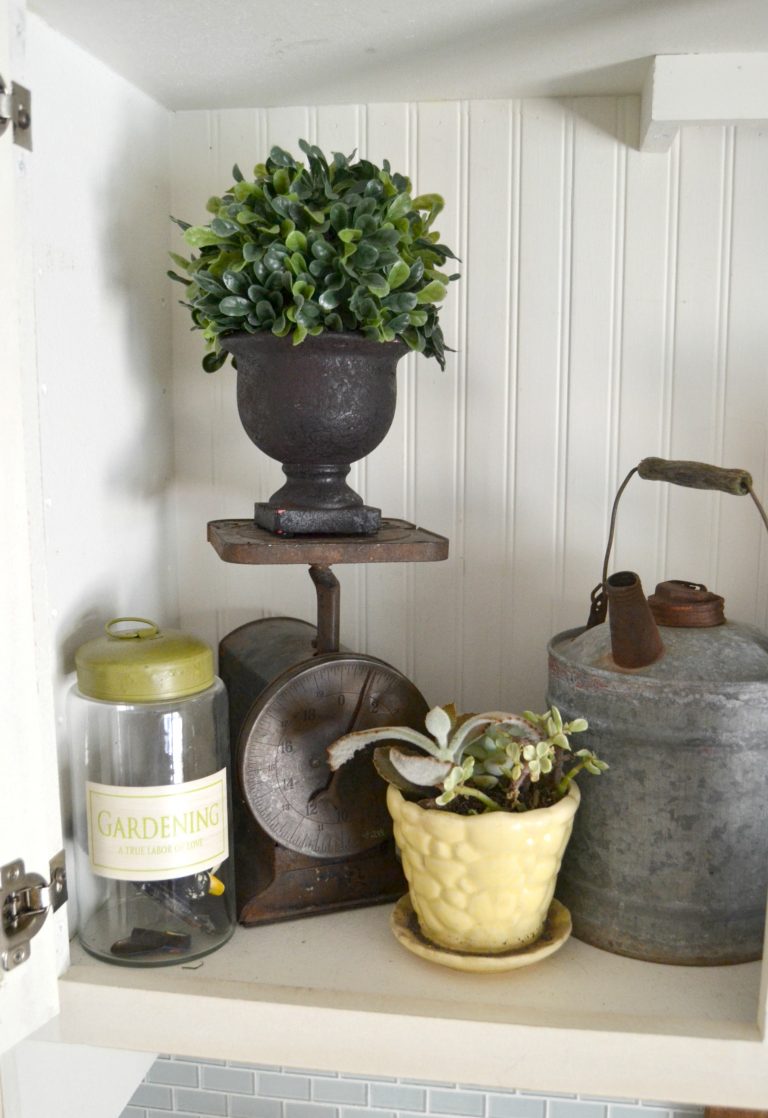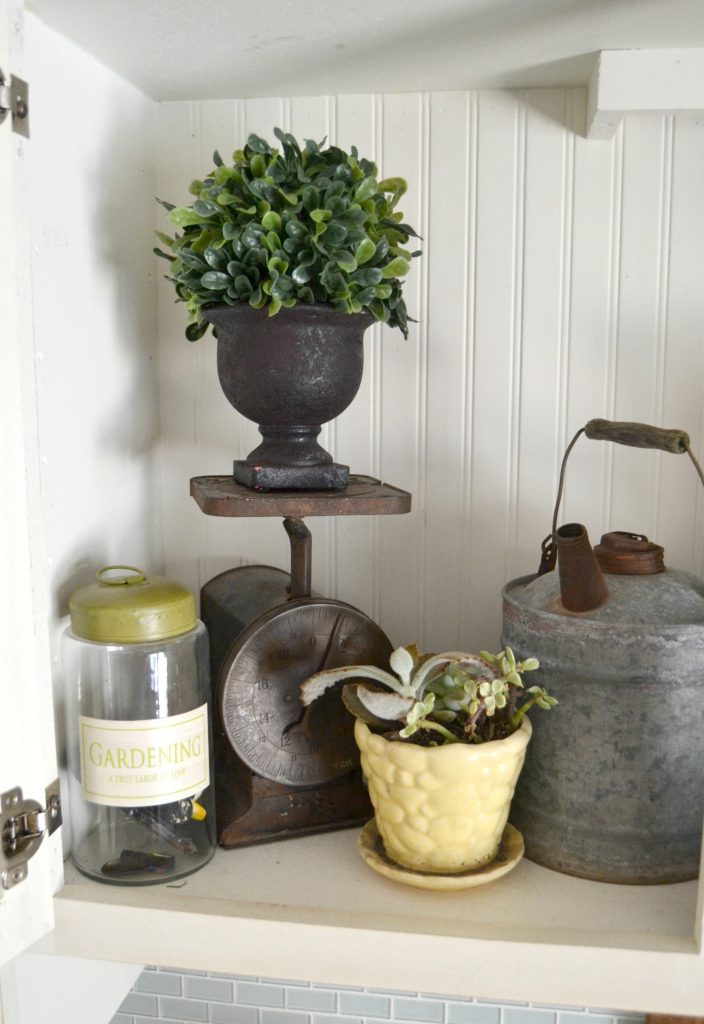 Our back porch was a "much-needed" addition a few years ago. This year, we want to make some fun changes in here. We had plans for a wall treatment, but that didn't work out so now I am working on a Plan B.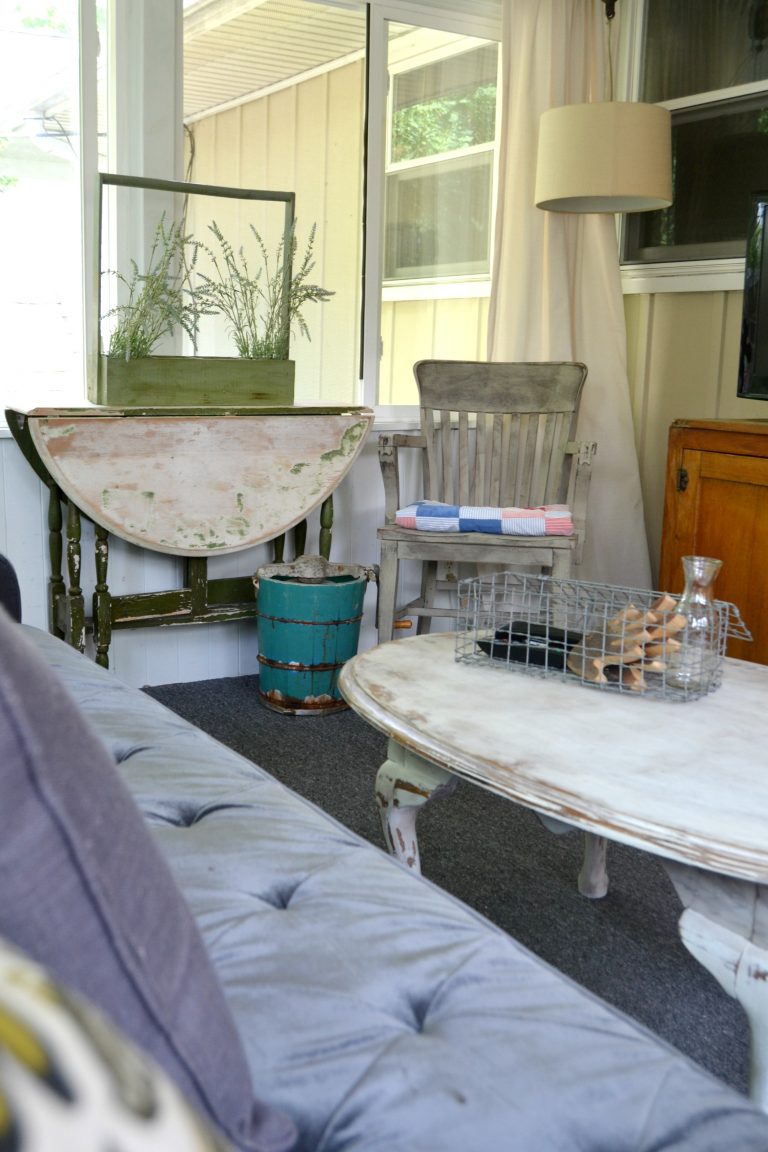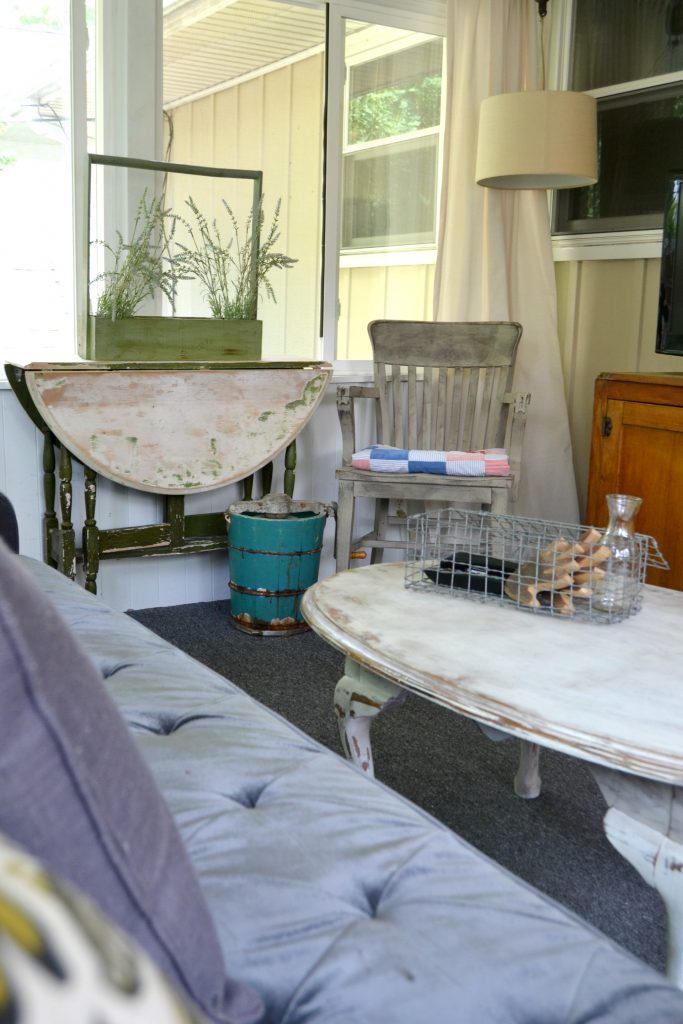 Our summer hats and scarves hang in our back porch so they are easy to grab as we are walking out the door.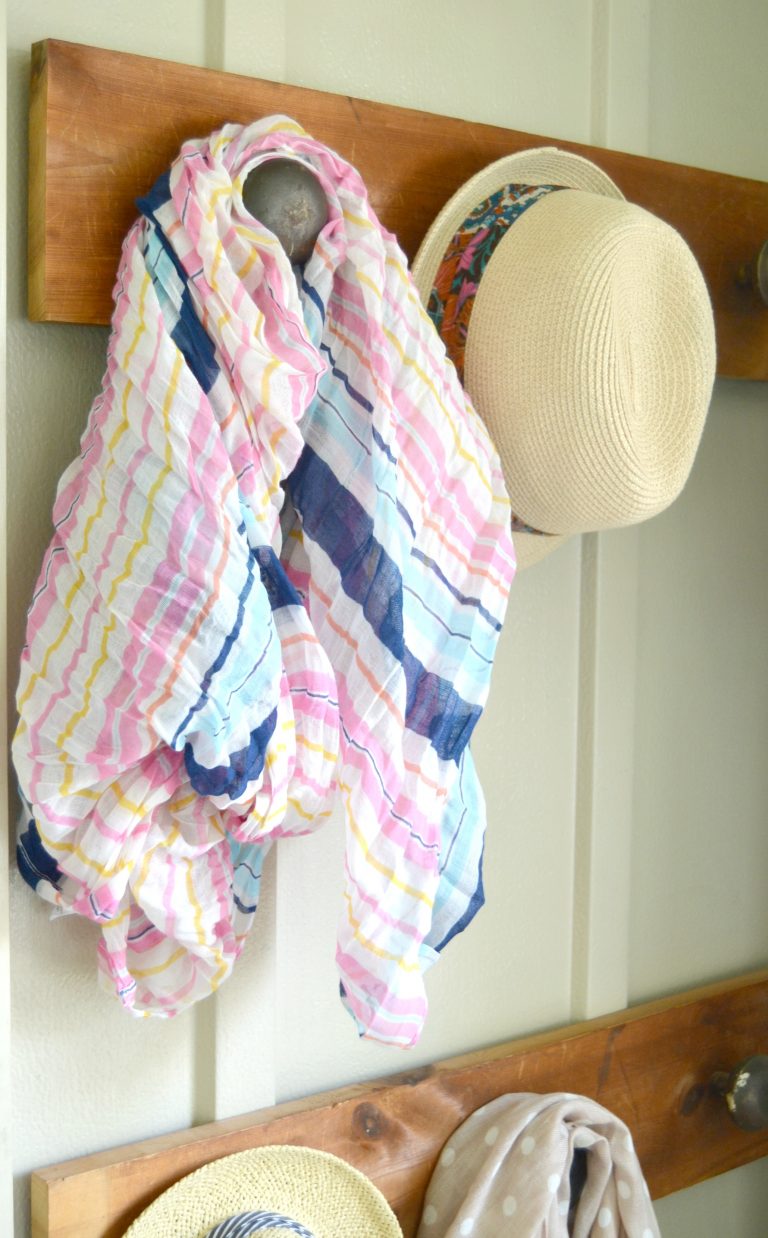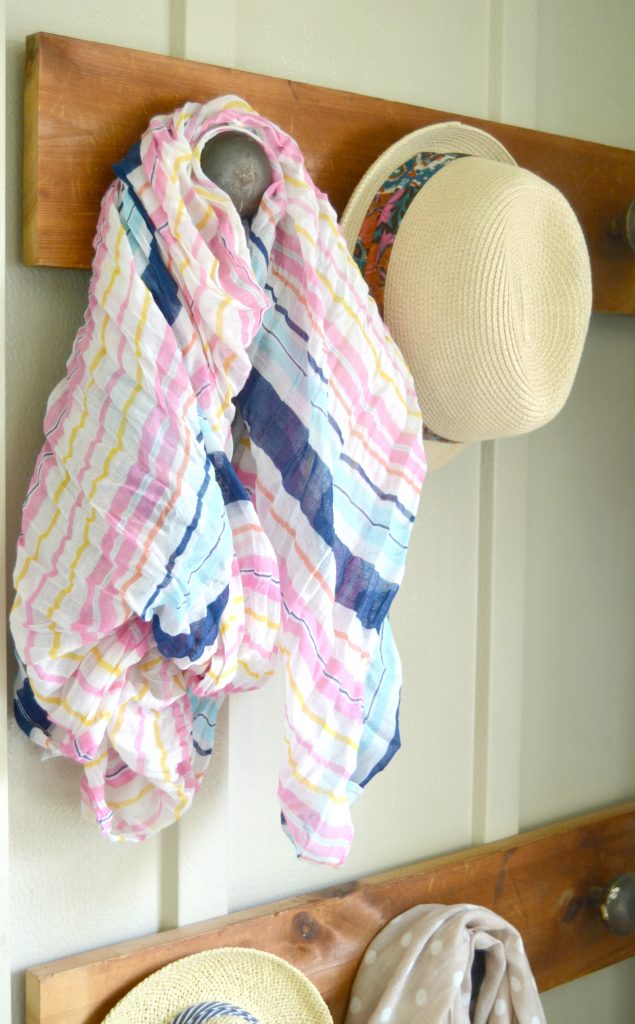 A group of flags in a vase is all I need for a summer home tour.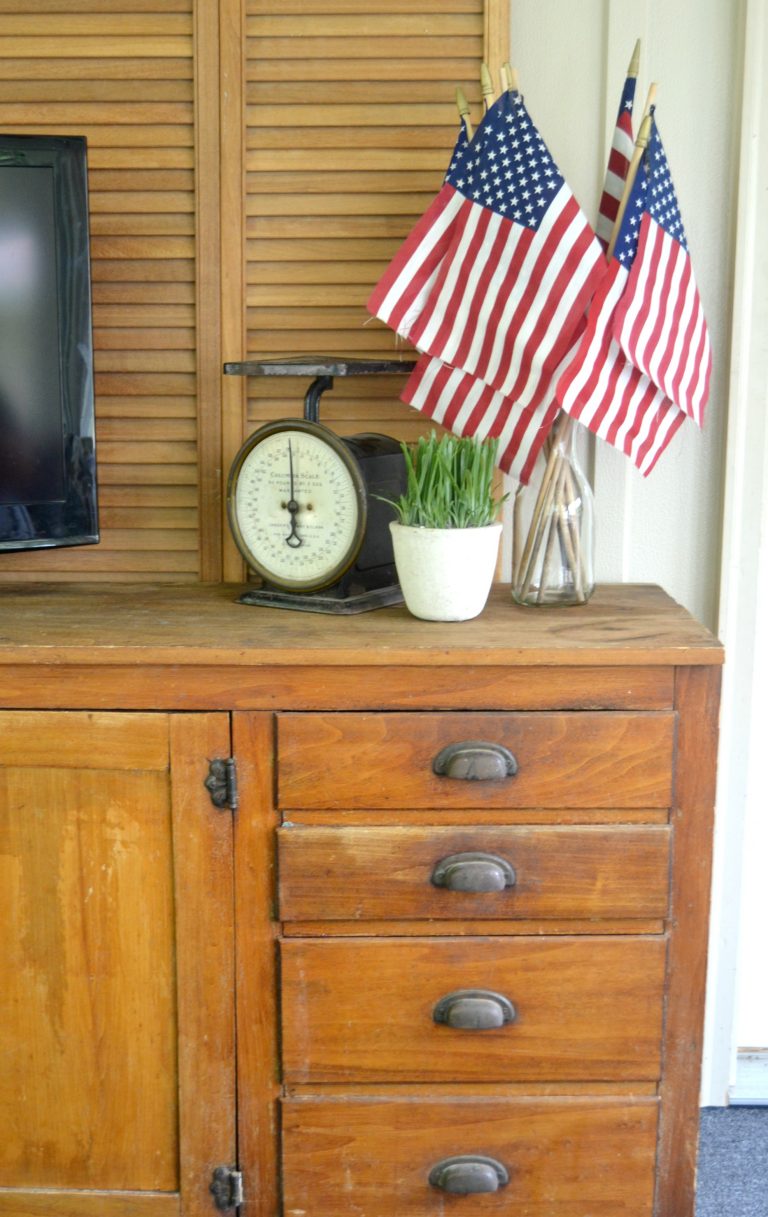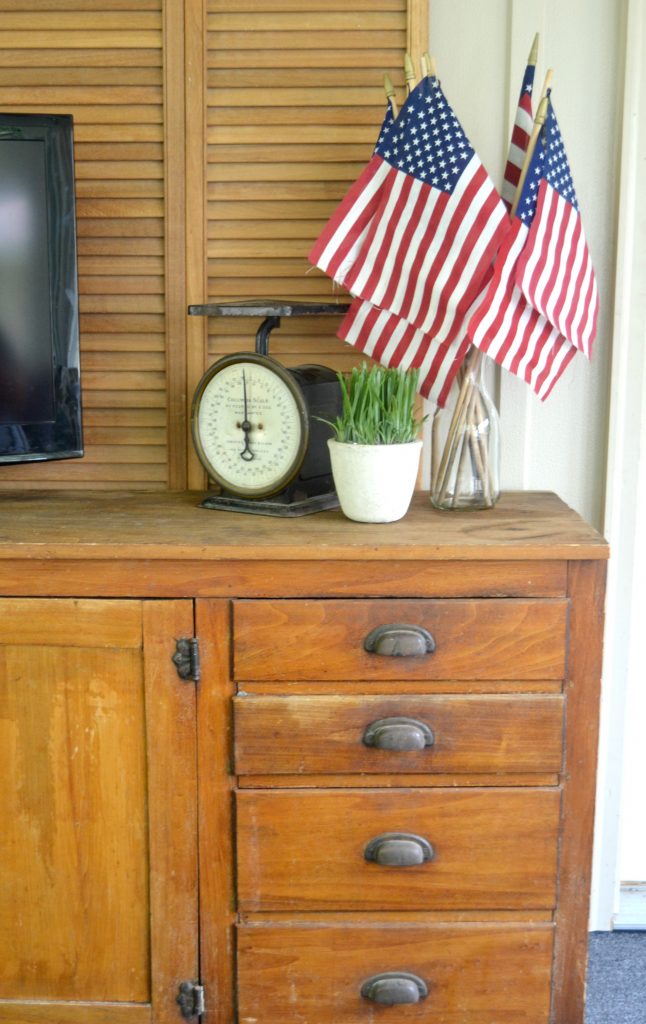 The American flag goes with every season, but in the summer, I like to add just a little more patriotic flair here and there.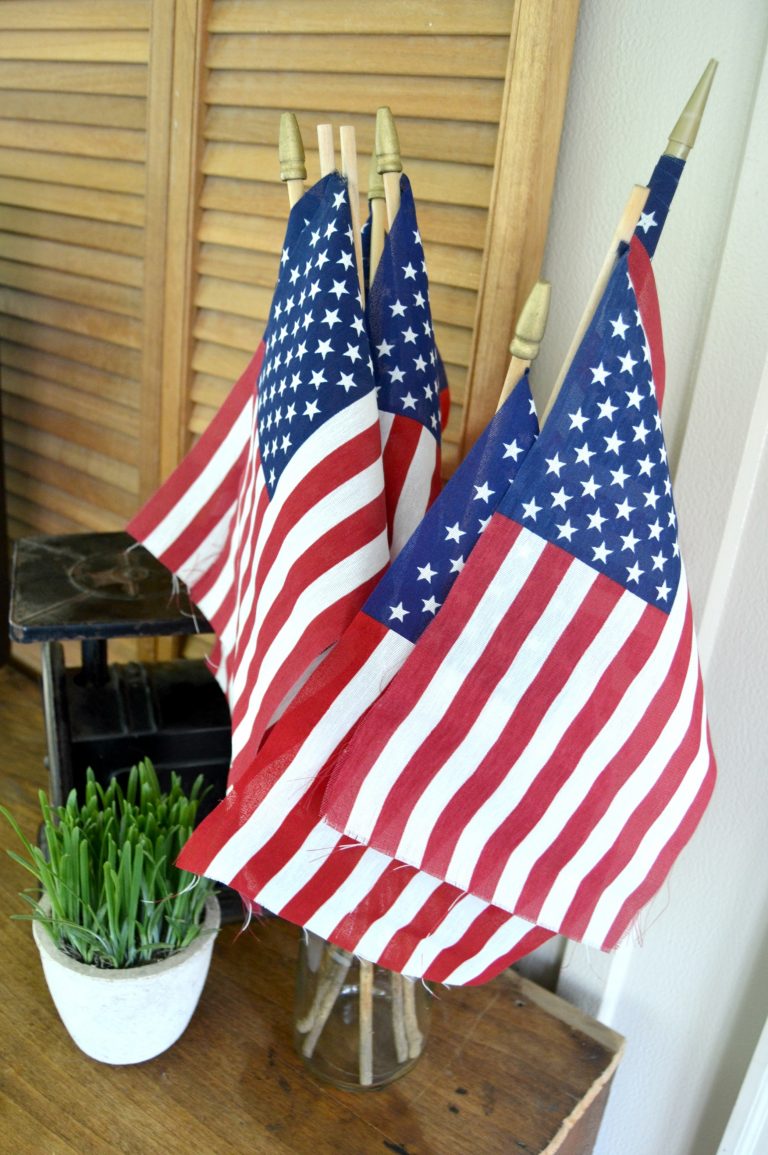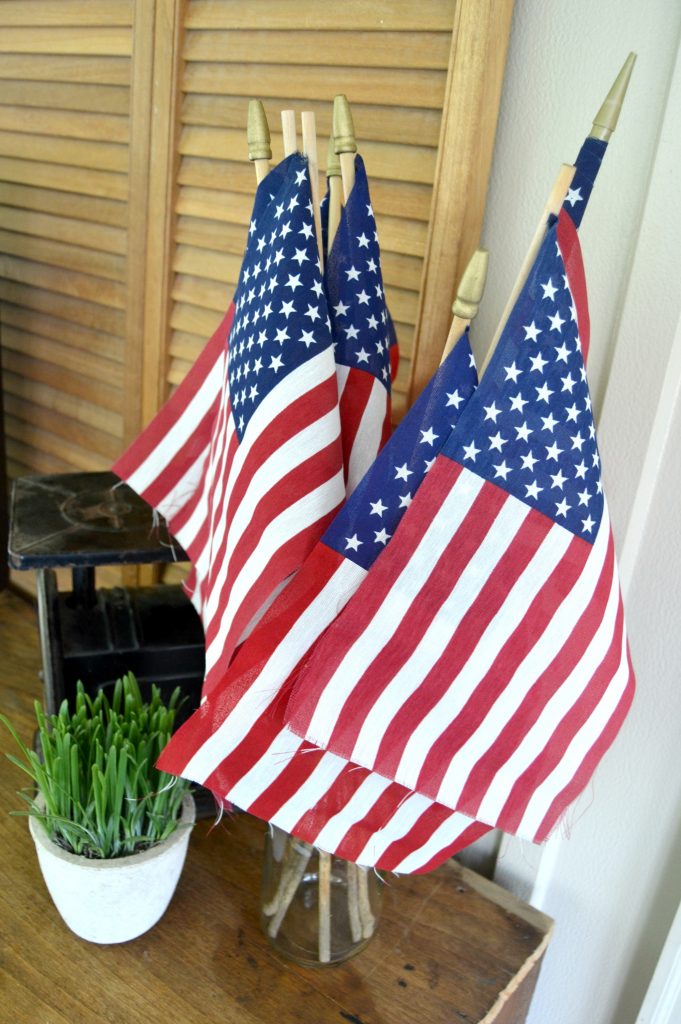 The homemade quilt goes well with the American vibe in our porch. I laid on an old chair I painted and it is easy to grab when we want to eat lunch on the lawn.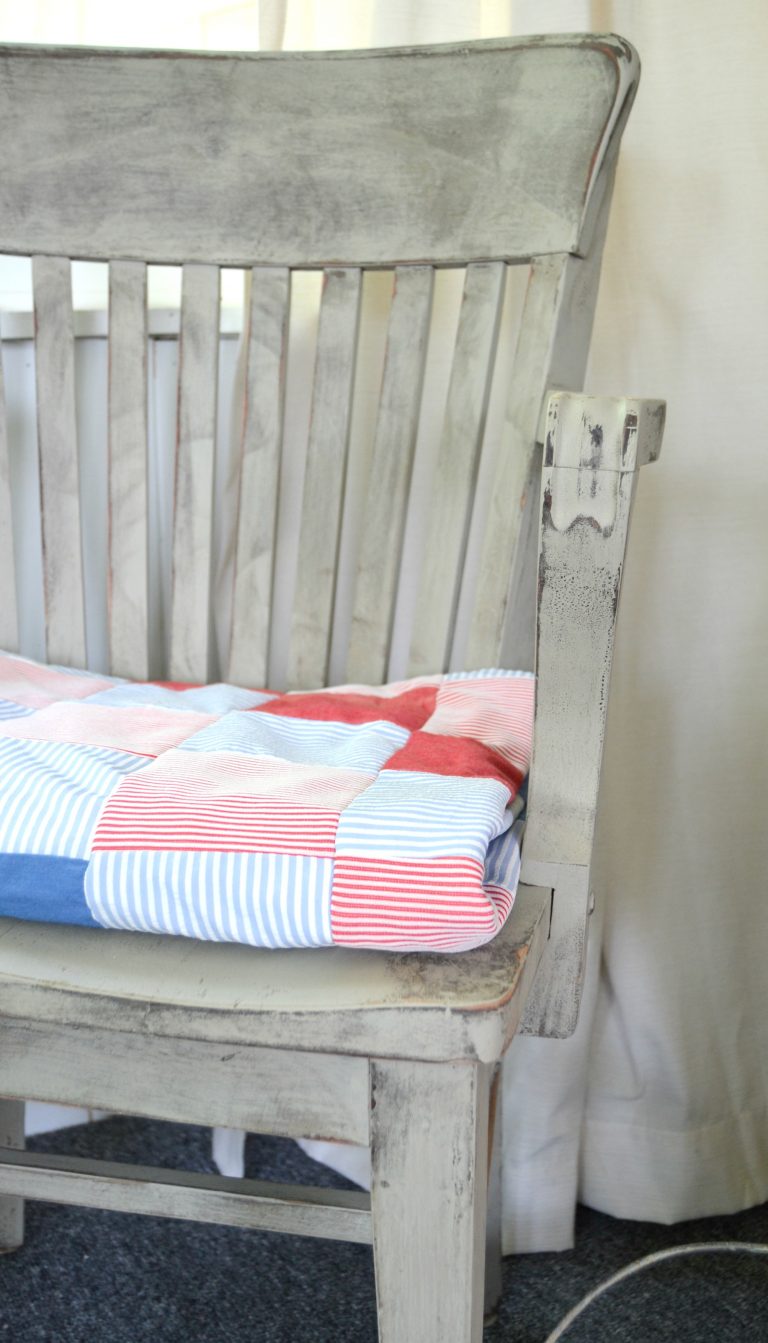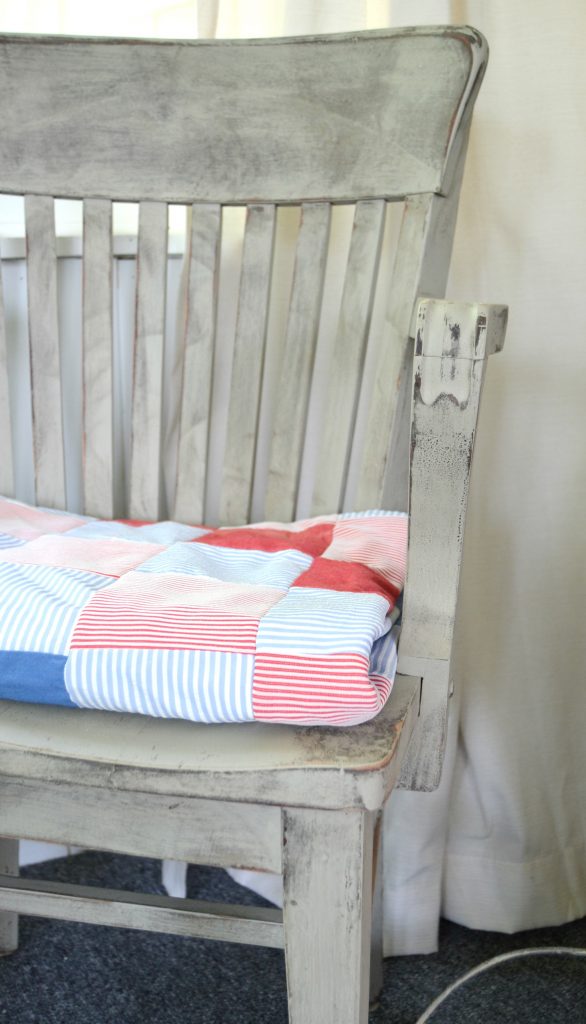 I recently found this wire basket at a yard sale. It reminded me of crab baskets and summers on the East Coast. (Which, I really hope to experience some day.)
I put an empty vase in the basket because my daughter picks flowers a lot. She is always asking for a vase and this way, she has one ready and waiting for her when she needs it. If I could capture this time with her and bottle it, I would. It is going by way too fast.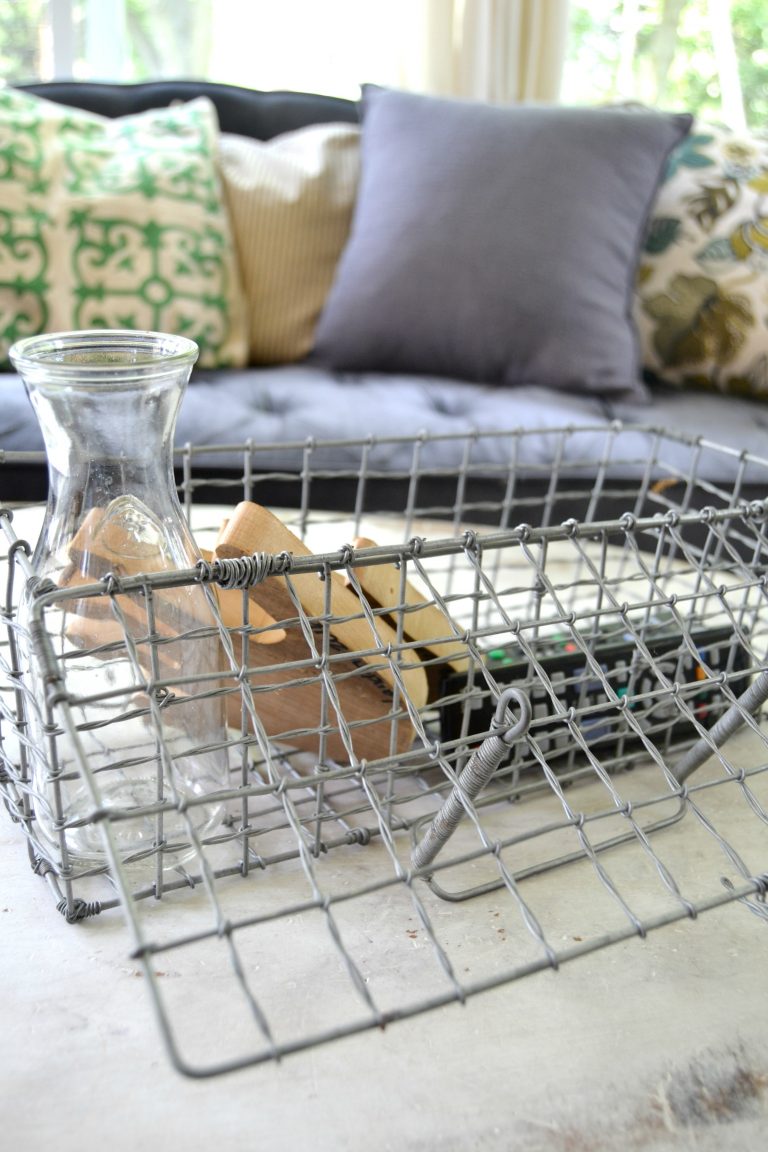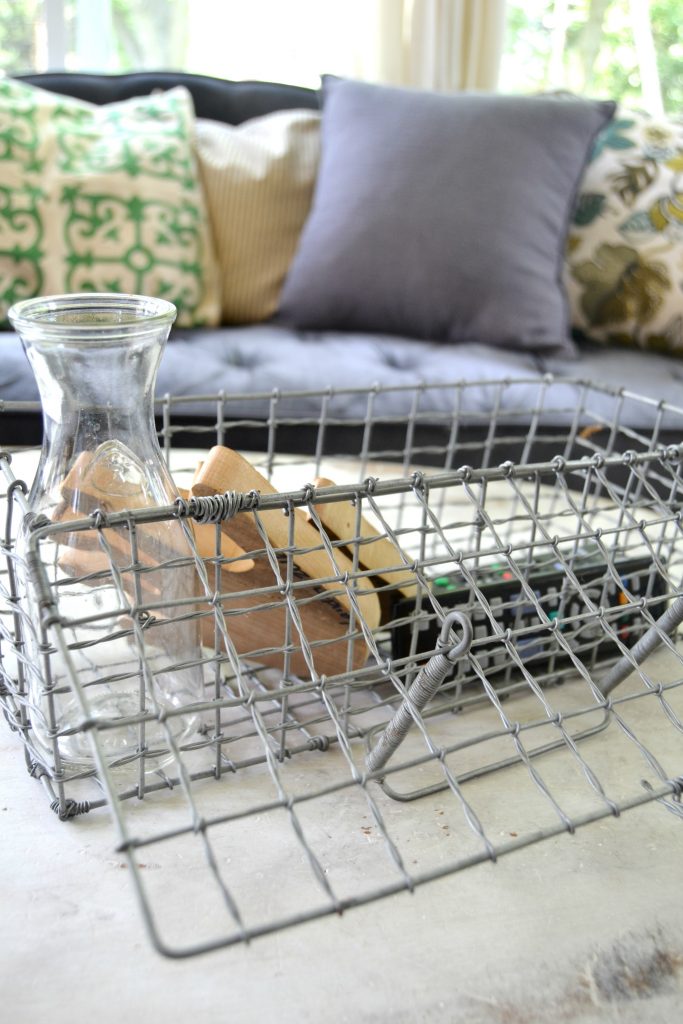 The picture below wraps up the entire feeling I want our home to have this summer.
I took a few pictures in our bedroom. I hung this Vintage Ironing Board Sign in there.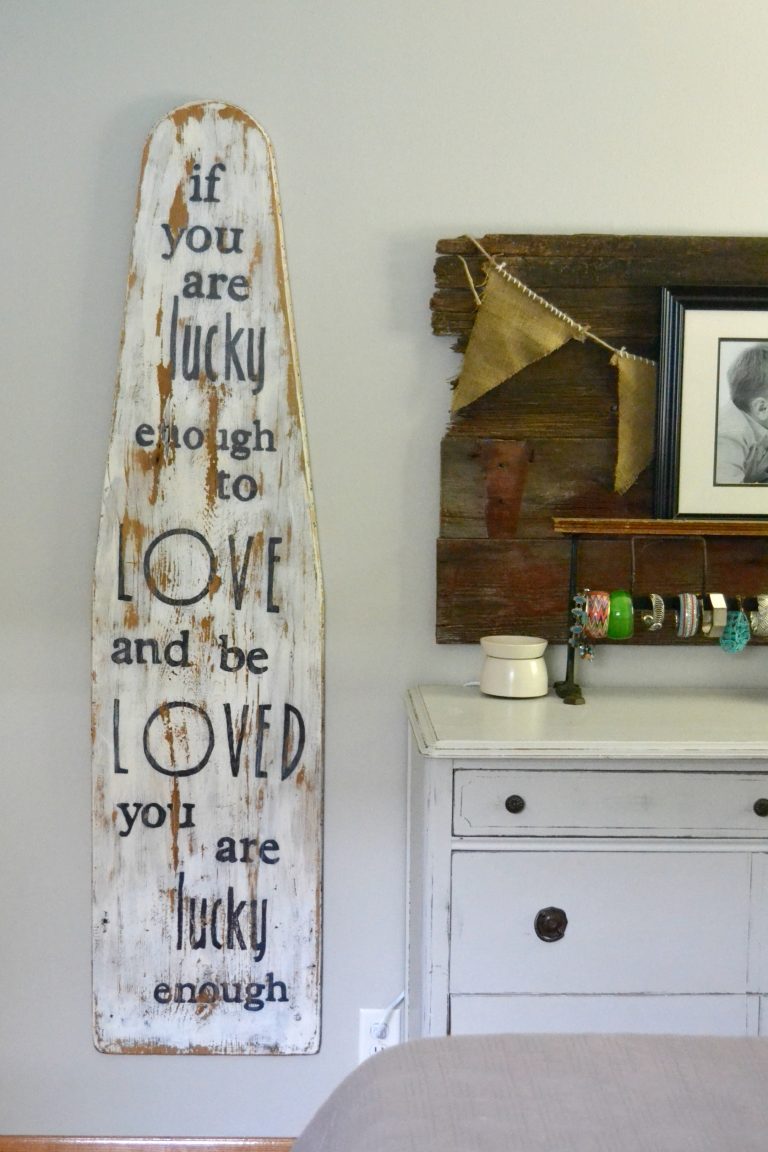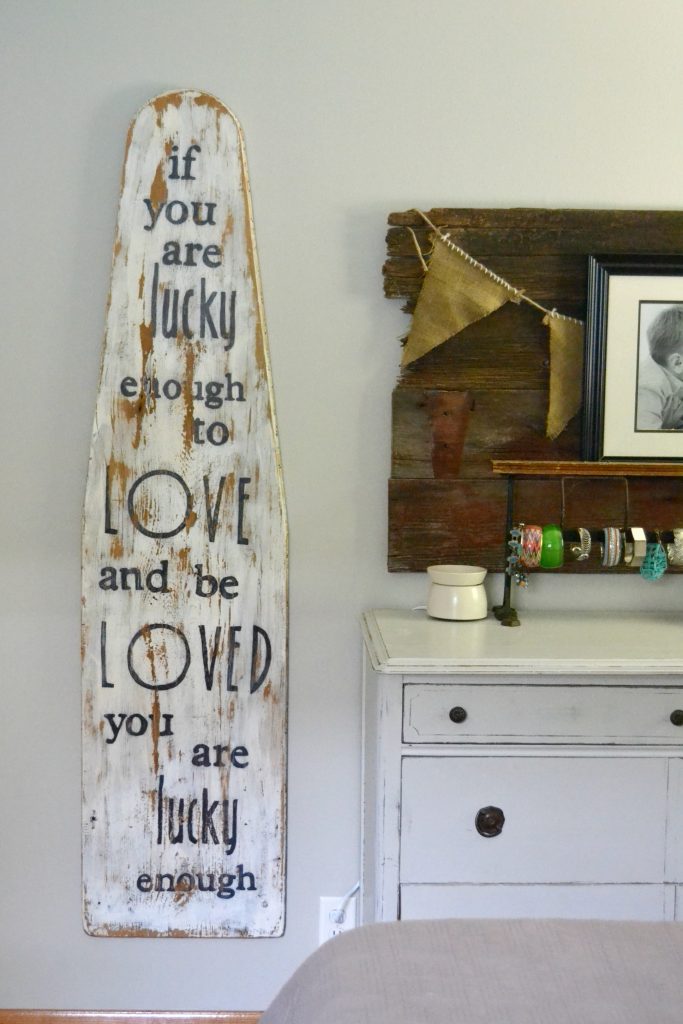 But the real reason I took pictures in our bedroom was because of this: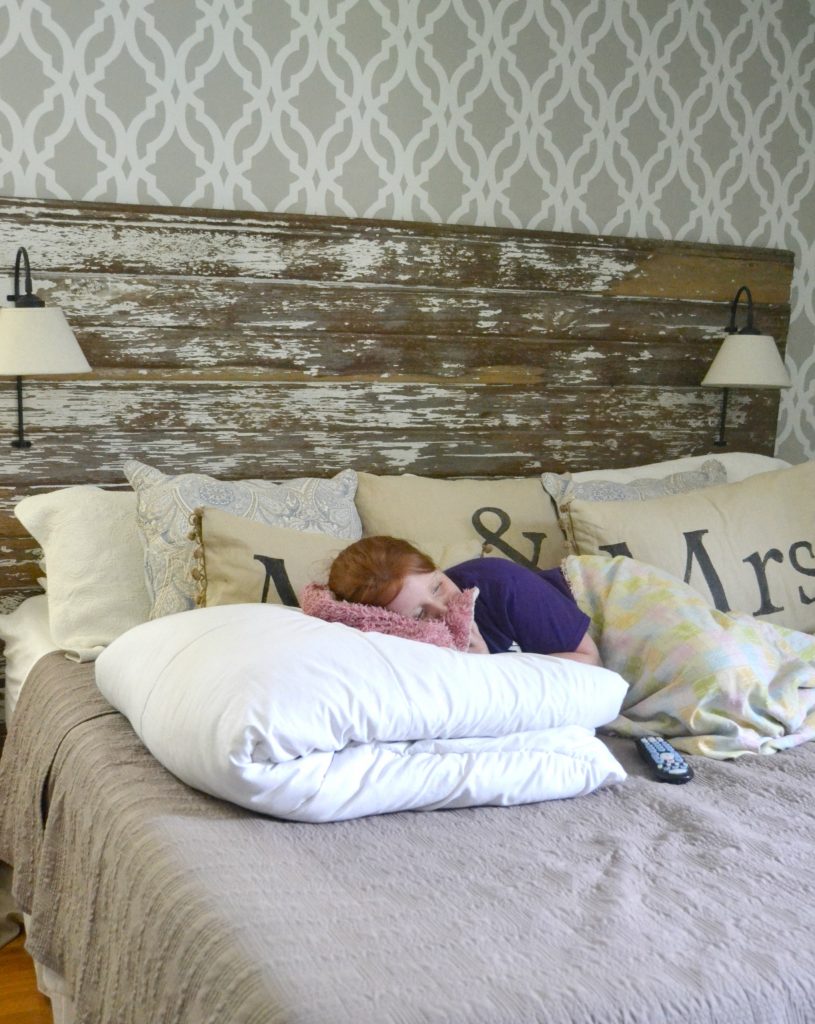 This is what summer is all about. We had been at the pool all afternoon and she came in our room to rest. I love when they do this. Summer is for relaxing, loose schedules and fun in the sun.
PIN THIS POST!


What is your favorite thing about summer? Do you change your decor during the summer months?
Make sure to head over to the summer home tour of each of my friends:
Monday
Green With Decor
Iris Nacole
My Life From Home
Refashionably Late
Tuesday
Seeking Lavender Lane
The Weathered Fox
Q-Schmitz Home Design + DIY
Our House Now a Home
Wednesday
Twelve on Main
Little Bits of Home
Beauteeful Living
My Creative Days
Live the Fancy Life
Thursday
Architecture of a Mom
Two Purple Couches
The Tale of an Ugly House
2 Bees in a Pod (house 1)
Friday
Simple Nature Decor
2 Bees in a Pod (house 2)
Lehman Lane
Farmhouse 40