I want to thank Greenworks for partnering with me on this Easiest Way To Clean A Concrete Patio post. All opinions are my own.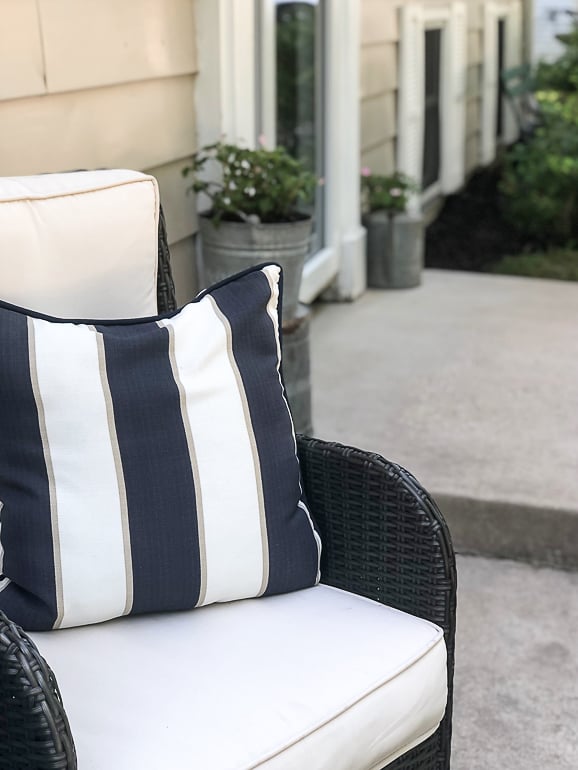 Let me set the record straight right from the beginning. When spring rolled around this year, we were waist deep in our fourth flip house work. Our spring yard work and landscaping took a back seat as we raced to get the flip house done before we left on vacation. Now that the record has been set and I have given all the excuses for this dirty embarrassment of a patio, I can move on with this post. 🙂
Wait, I have to be upfront about this too: I didn't even know the patio, rug and chairs were this dirty!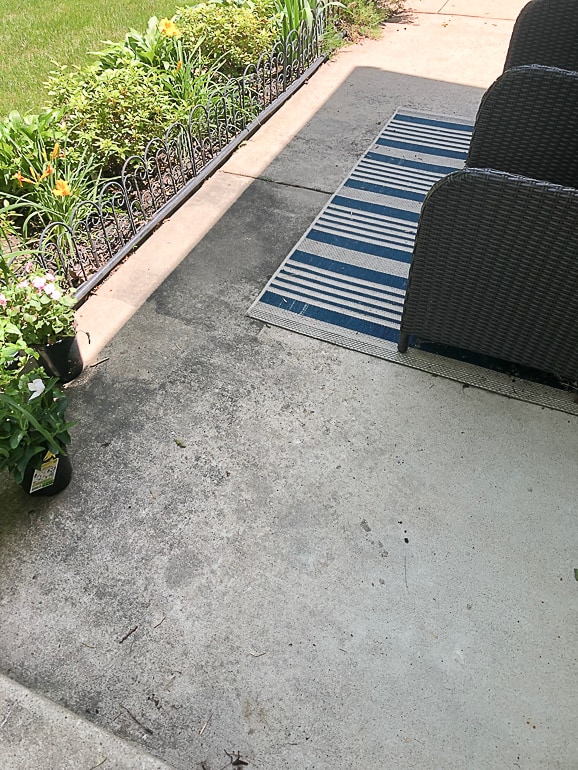 Once we got the flip house done, we started looking around our yard and figuring out which plants needed to be moved, if we needed to buy new plants and what maintenance needed done on the outside of our house. We had gotten as far as bringing the patio rug and chairs (minus the cushions) out, and that was about it for getting the front porch ready for summer. We did however add a privacy fence to the back yard and moved and added some plants in the back yard so it's not like we were neglecting everything. Come on, we do have some decency.
We love sitting on the front porch and watching the kids play basketball or volleyball so I told Matt we needed to give the front of our house some attention.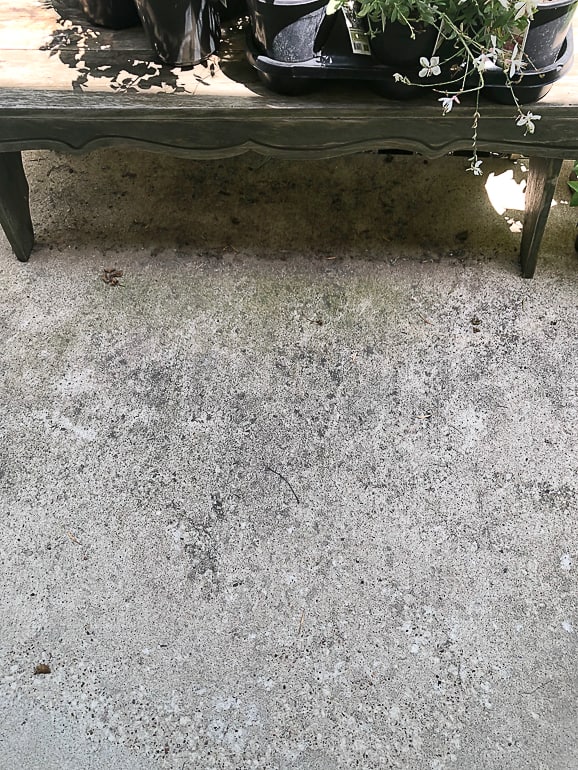 Again, I didn't think the patio was that bad. I WAS SO WRONG!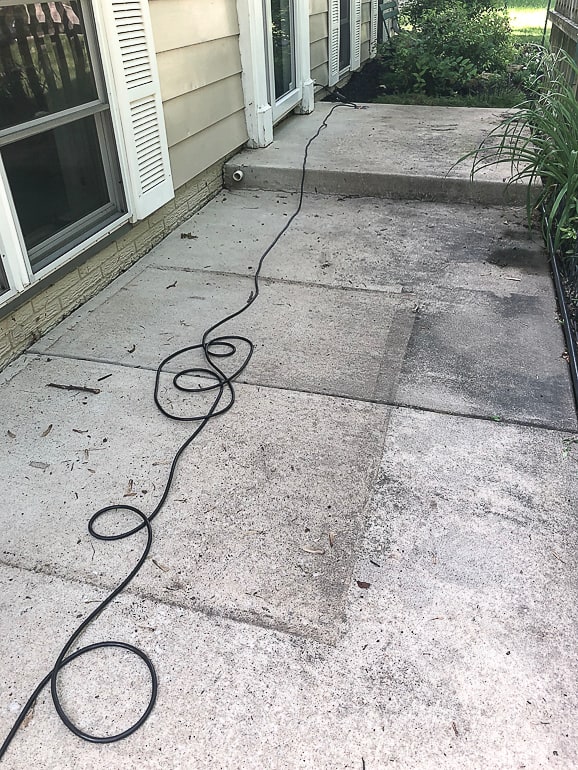 The Easiest Way To Clean A Concrete Patio
When we received the Greenworks 2000 PSI Electric Pressure Washer I didn't know what to use it on first. A lot of people wash their siding, but I really wanted to put it to the test. Gabrielle had spilled popcorn oil on the front patio years ago when she was having a bake sale and we could never get rid of the stain. I thought that stain would be the best place to start washing.
It took Matt less than ten minutes to put the sprayer together after he got it out of the box.
The pressures washer comes with different nozzles for different projects. The manual tells you what each is used for. It is important to use the right nozzle for each project because some are a lot stronger than others.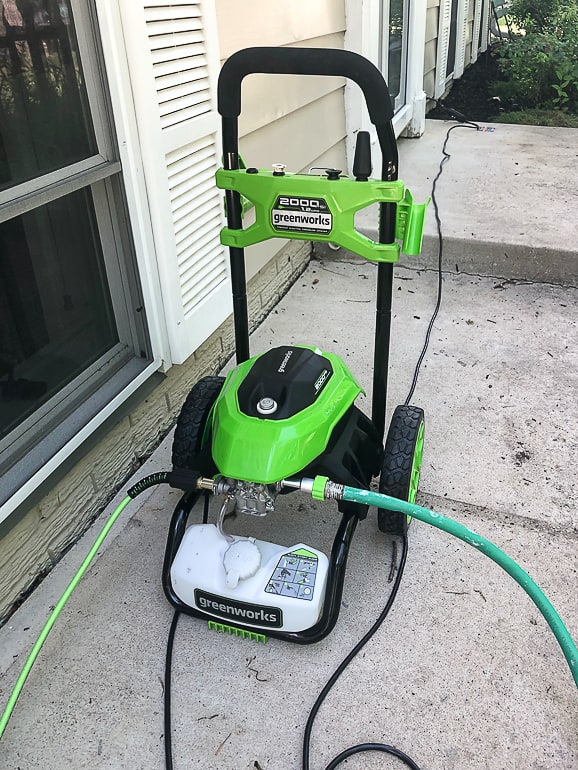 Here is a video showing you how easy it was to clean the patio with the pressure washer and the real life/behind the scenes of just how dirty is really was. I understand if you are embarrassed for me. We are friends, right? Let's just keep the dirty part between you and me. 🙂
I have to tell you that this is one project that will give you instant satisfaction. You can see results when you power wash concrete INSTANTLY. This is a project that I could do all day. I was hooked. I was taking the photos and recording the video while Matt was using the pressure washer and I couldn't wait to get done so I could finish the job.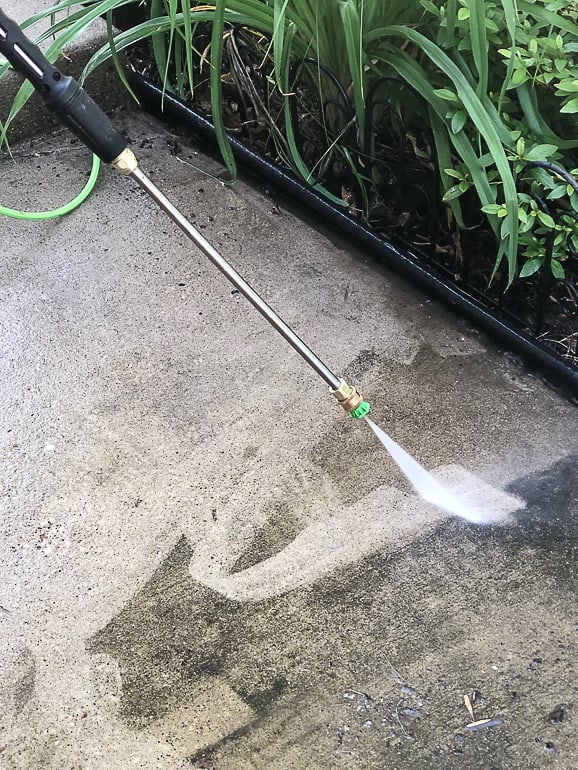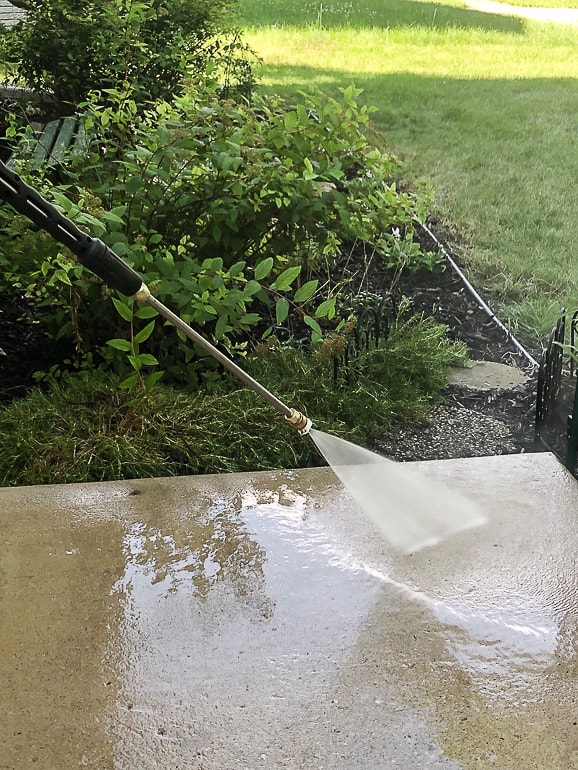 The front patio was done in no time. Then, we pressure washed the outdoor rug that we use on the patio.
The rug was SO BAD too!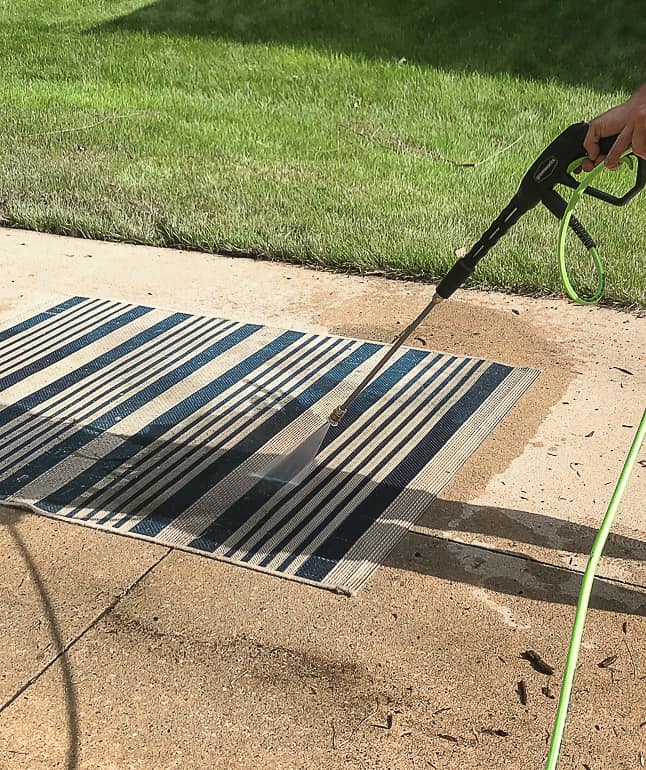 Once the rug was cleaned and it had dried, it literally looked as good as the day we got it. I could not believe it!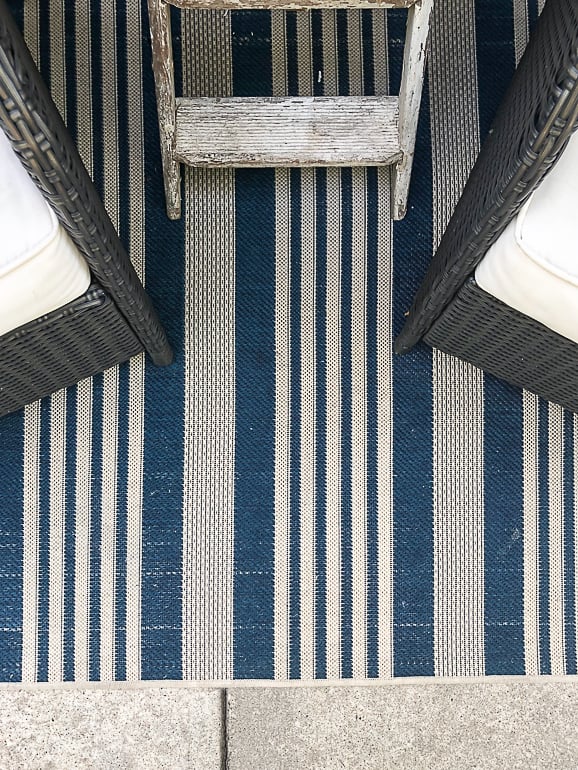 Once we had the front patio done and the rug cleaned, I pressure washed the bench. I need to water seal it and it will be good for another year out in the elements.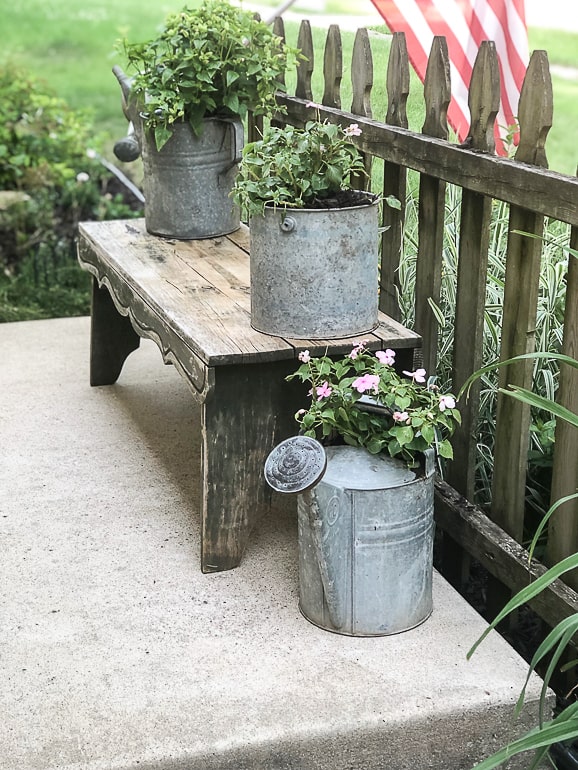 Not only was I thrilled to have a patio that looked new, but because we waited so long to tackle the front of the house, I was able to get plants for the galvanized pots for $1! Any time I can score a great deal on plants, I am all about it. Especially potted plants and annuals that don't come back every year.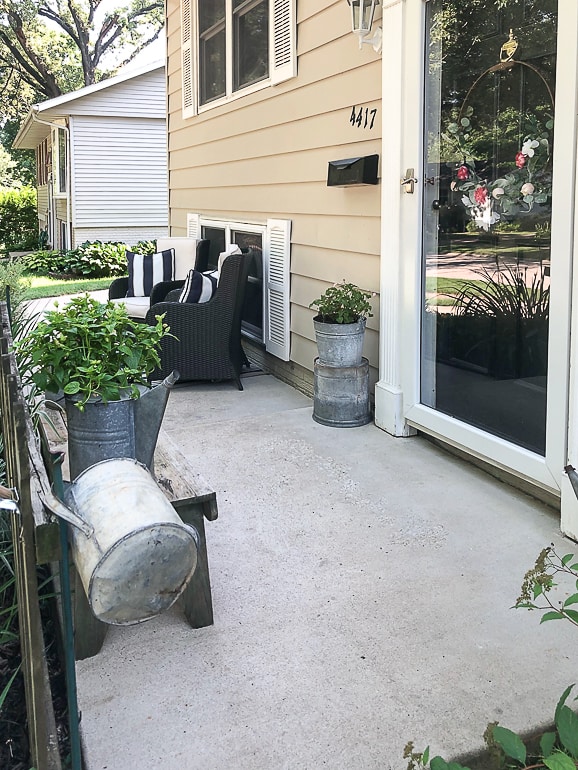 Matt used a different nozzle and washed the siding on the front of the front of the house. It all looked so nice once it was done.
Since working out front, the Greenworks 2000 PSI Electric Pressure Washer has been out to do the deck our back, a gate, the garage and the back of the house.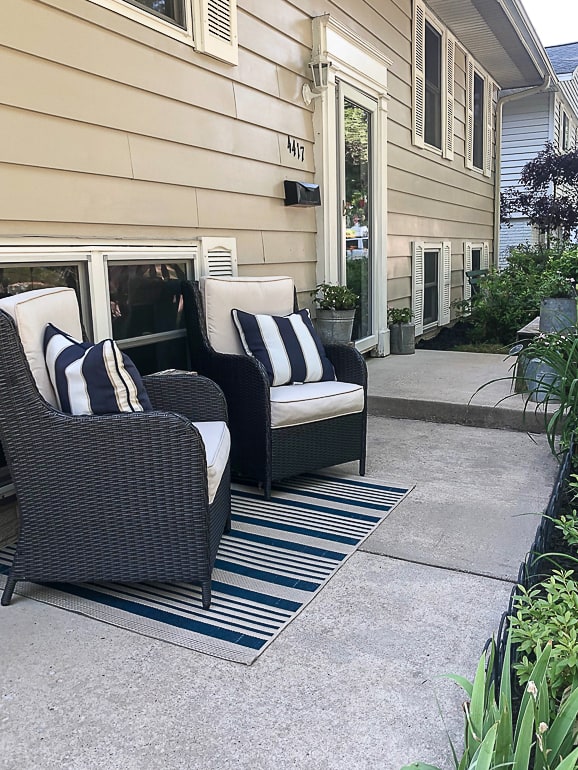 The pressure washer is one of those tools that is easy for me to get out and run so nothing is safe in my path now.
Everything is getting cleaned …. even the things I don't think need it (because they obviously do).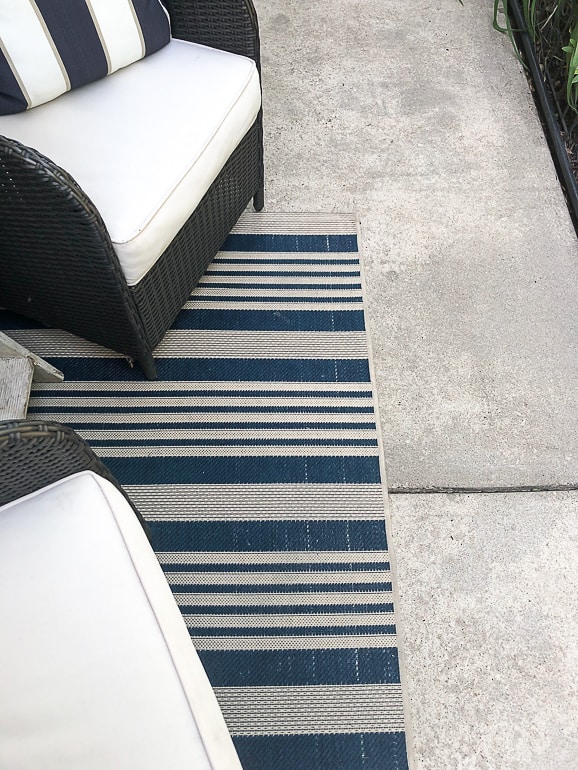 After this, pressure washing will definitely be on the spring cleaning list every year. I would recommend this pressure washer to any home owner. It is something everyone needs! If you are looking for a gift that a new home owner actually needs, this is it! Hands down. They will thank you over and over again.
To see details about the items we have on our patio, you can read all about our mini patio makeover HERE.
Okay, now that I have shared the easy way to clean a concrete patio, I want to know….. What is the first thing you will pressure wash when you get one?
PIN THIS POST!


Check out these posts to see what else you can use a power washer on:
How To Clean A Patio To Prepare For Outdoor Entertaining
Is Battery Powered Lawn Equipment Better