Learn how to paint a bathtub easily and inexpensively with these tips. This is an inexpensive way to give your bathroom a facelift without having to replace your bathtub!
Our budget bathroom makeover in our flip house was one of the final projects we did before it was finished. The bathroom had been put on the back burner because we were dreading getting rid of our the bathtub. But then we realized we didn't have to get rid of it — we could PAINT it and refinish the bathtub!
Can you paint a bathtub?
Yes! You can paint a bathtub.
You don't have to spend tons of money to update your bathroom by buying a new bathtub. It can be easily updated with a few tools and some easy steps!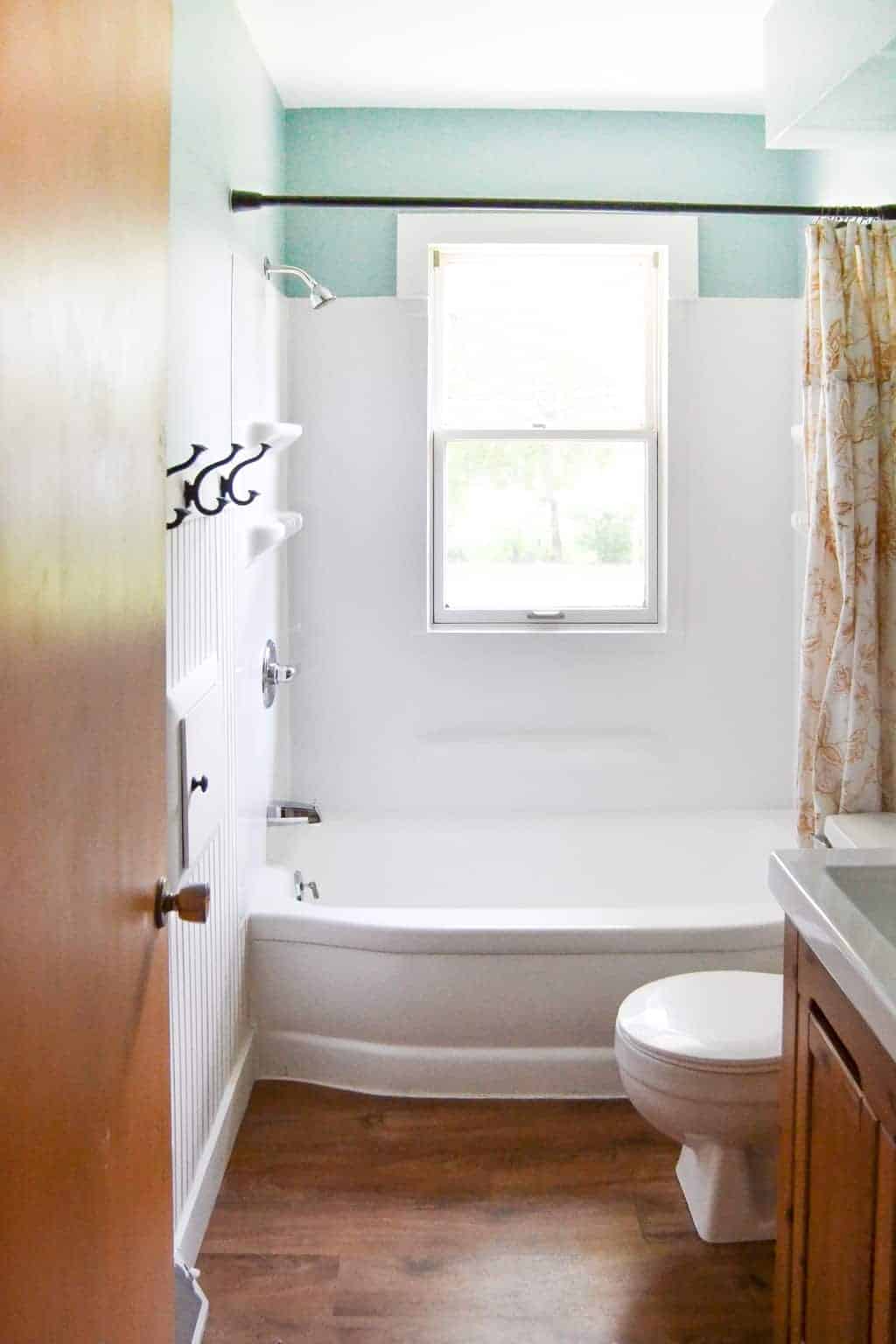 Let's start off with a before photo of our flip house bathroom.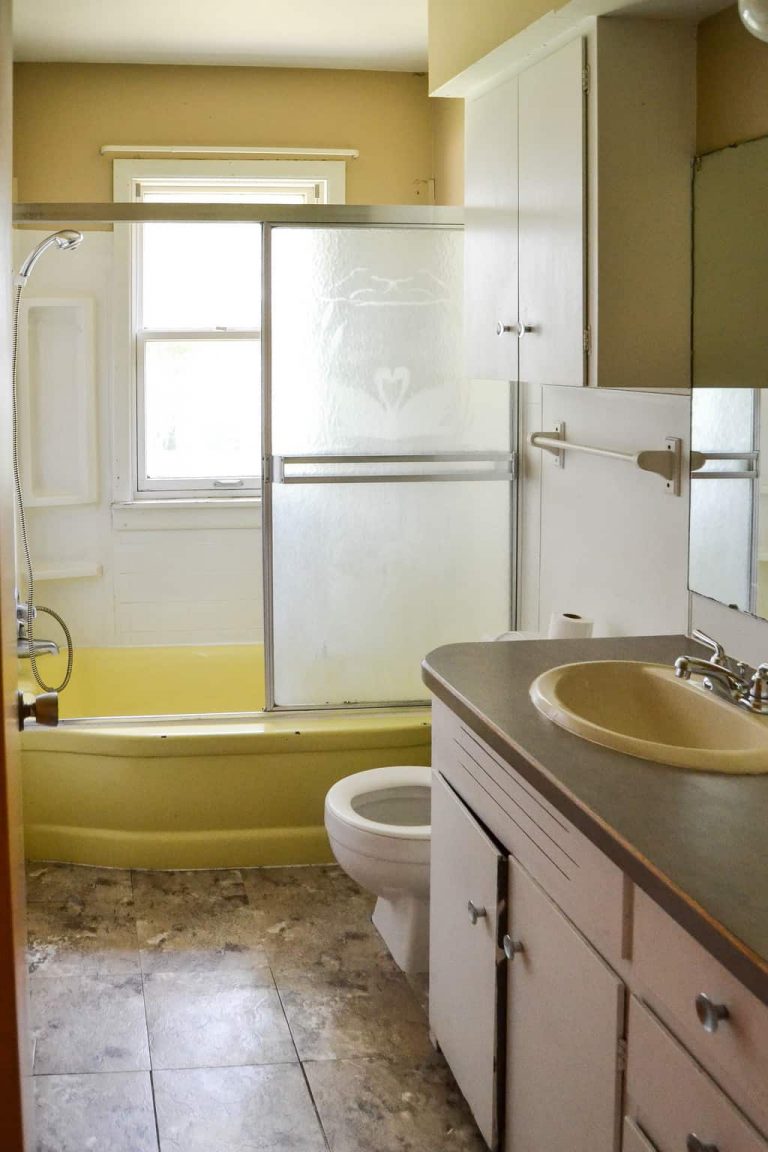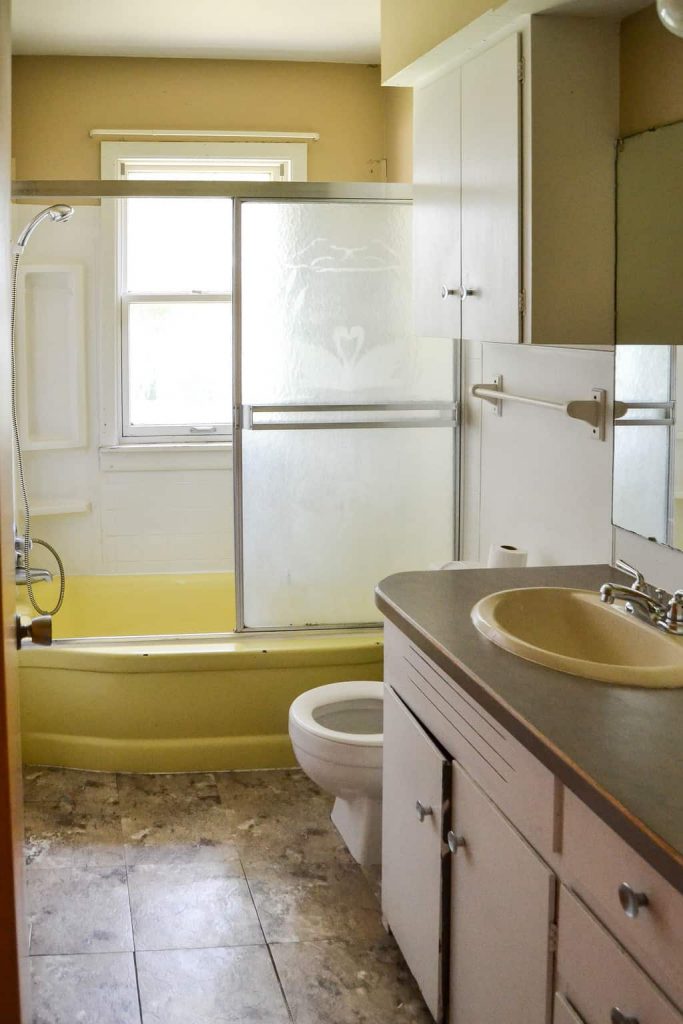 I don't even remember this bathroom! It was bad. We knew we had a lot of work in here and I was most excited about this transformation.
I had a plan for the bathroom right away, but we were going back and forth about the bathtub. I knew the yellow tub had to go, but it was the original cast iron tub that was going to be a beast to get out and there was nothing wrong with it.
You don't have to remove a bathtub from your bathroom – just paint it!
As we worked on the rest of the house, the bathroom got demoed around the bathtub. After more conversations and a better idea where we were on our budget, we decided to paint the bathtub.
We had nothing to lose. If it didn't turn out, we could take out the tub and say goodbye to our intended budget. My dad had painted bathtubs in his flip houses so we had to give it a try.

Affiliate links are used in this How To Paint A Bathtub post. You can read my disclosure HERE.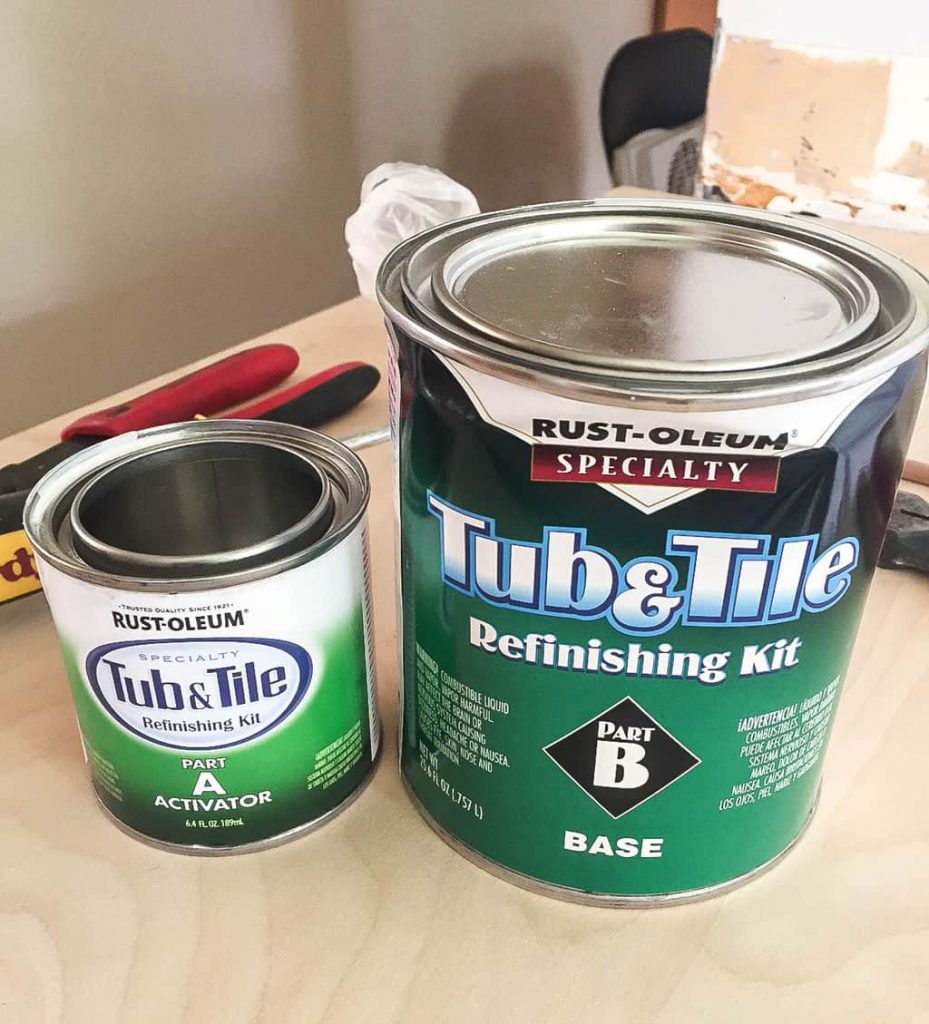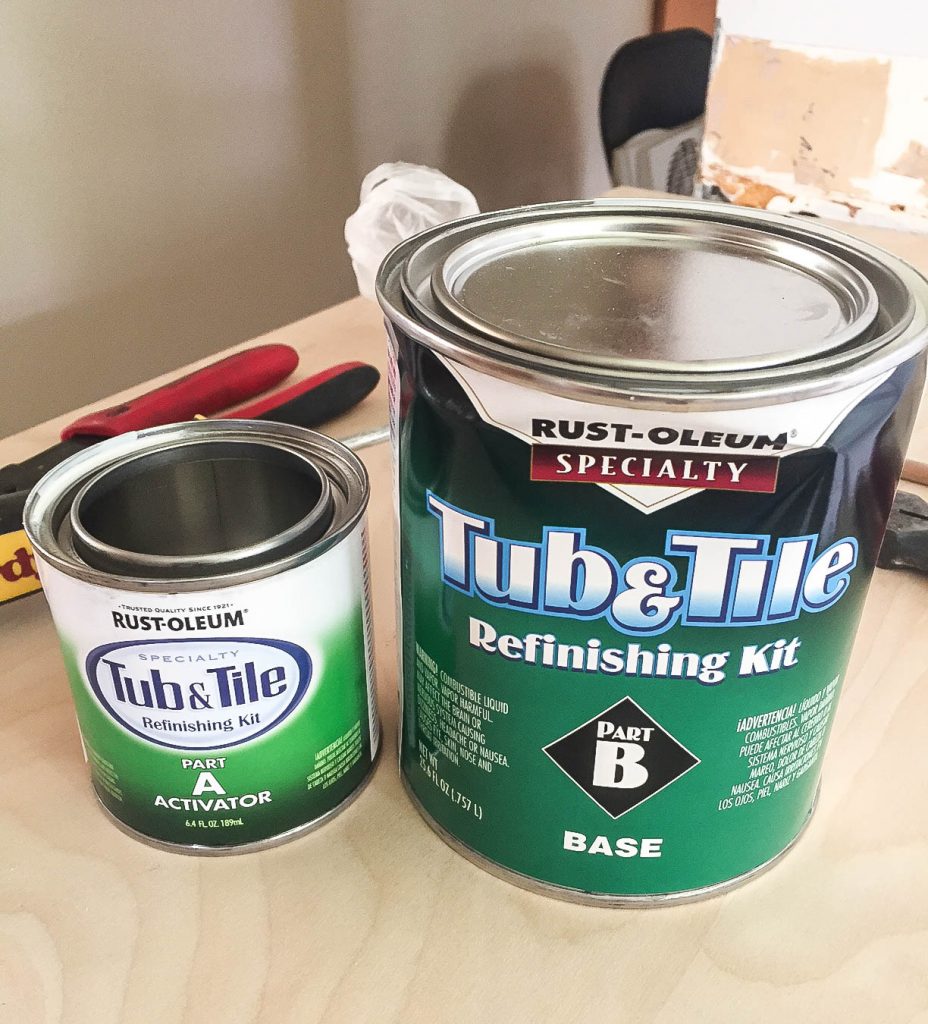 Materials and Tools to Paint a Bathtub
Paint Roller
Paint Brush
Plastic to protect walls and/or floors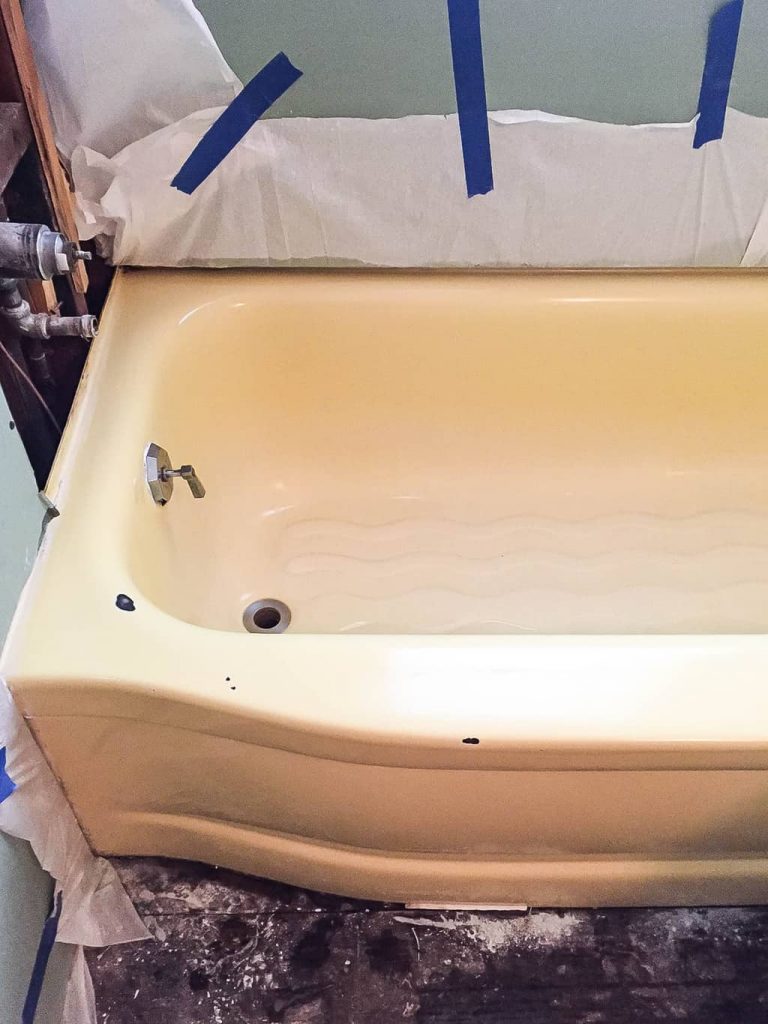 How to Prepare a Bathtub for Painting:
Scrub the bathtub with Comet Cleaner and Scour Pads.
Use Lime Cleaner to remove any lime or calcium buildup or stains.
Allow the bathtub to dry, then go over it entirely with 400 Grit Sandpaper.
Remove all sanding dust from the bathtub with a damp cloth or a

tack cloth.

You want to make sure there is no debris on the bathtub at all before you paint.

Gather the painting supplies.

How To Paint A Bathtub:
Make sure your bathroom is well ventilated before beginning! Open windows or use fans to be sure air is flowing before you begin painting. Use gloves and wear a mask.
Follow the instructions on your refinishing kit to prep paint. The Rustoleum Tub & Tile Refinishing Kit says to mix the two cans of paint together.
Tape around your bathtub using Painter's Tape and plastic, if needed to protect walls, floors, etc.
Use a good paintbrush or small roller to paint the bathtub. Some paintbrushes can leave brush strokes in the paint. To ensure there aren't any brush strokes, use a small paint roller. We found that the paint roller would drip more than a brush. I would recommend you have both on hand so you can use them both and see which one feels the best and which one you can control the paint best.
Let the first coat of paint dry for about an hour. Then repeat with the second coat of paint.
When the second coat of paint dries, you can decide if you want another coat. We have used this technique on a couple of bathtubs in flip houses. One of the bathtubs was covered in two coats and another one took a third coat. I say the more coats the better. I would recommend that you use all the paint you mixed for sure. If you want to make it extra durable, get a second kit and put on more coats. If you can see the original bathtub paint through the paint, you need more coats.
When you think about the option of removing an old bathtub or painting a bathtub, painting is so much easier and cost-effective. Refinishing our bathtub cost under $50 and the process took just under 3 hours. The bathtub looked brand new after a few coats of paint!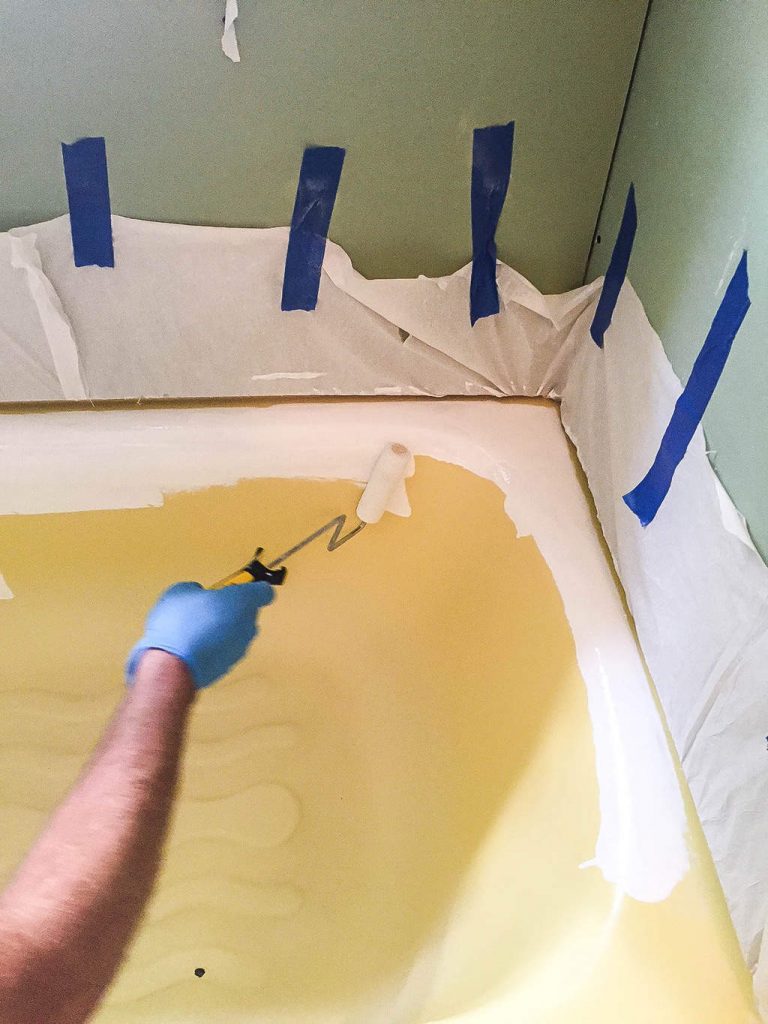 Tips for painting a bathtub:
Make sure your bathroom is well ventilated. Wear a mask and use gloves while painting.
You can use either a paint roller, paint brush or paint sprayer for painting a bathtub. We found that a paint brush gave us the most control and didn't drip like the paint roller did.
The bathtub paint is a lot thinner than most paints. Work in smaller areas at a time and be patient. You have to work slower than you would painting a wall.
If the paint runs, smooth it out as soon as you can because it seems to dry faster than normal paint.
As soon as you get all the coats of paint on the bathtub, let it sit over night to dry fully.
We weren't showering in the flip houses so we let them sit for a few days before we put water in them. I would recommend at least 24-48 hours before running water in the tub. That way, you can be sure the paint is dry.
Once the paint is dry, it is ready for normal use.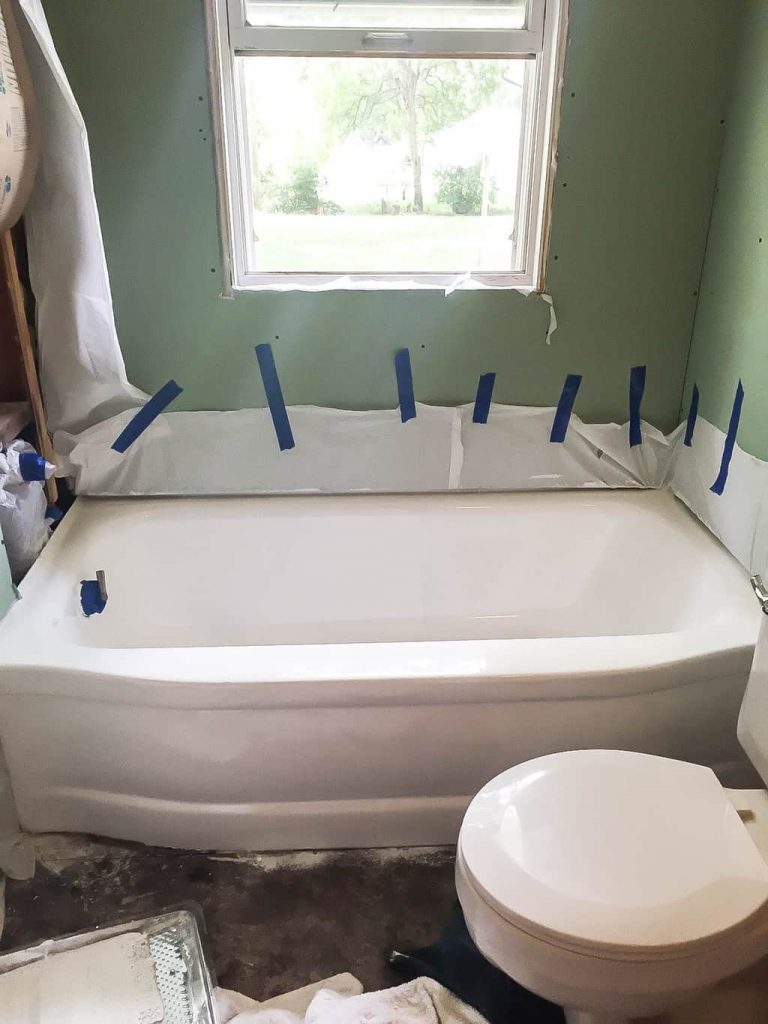 Not only did the bathtub look fantastic, but the smell was non-existent! It was gone. Didn't this budget-friendly bathroom remodel turn out fantastic? I am so excited about it!
This bathroom didn't have it, but another flip house bathroom had outdated tile all around the shower. We didn't have the budget to replace it all so we painted the tile and it looked fantastic! Learn how to paint tile the easy way.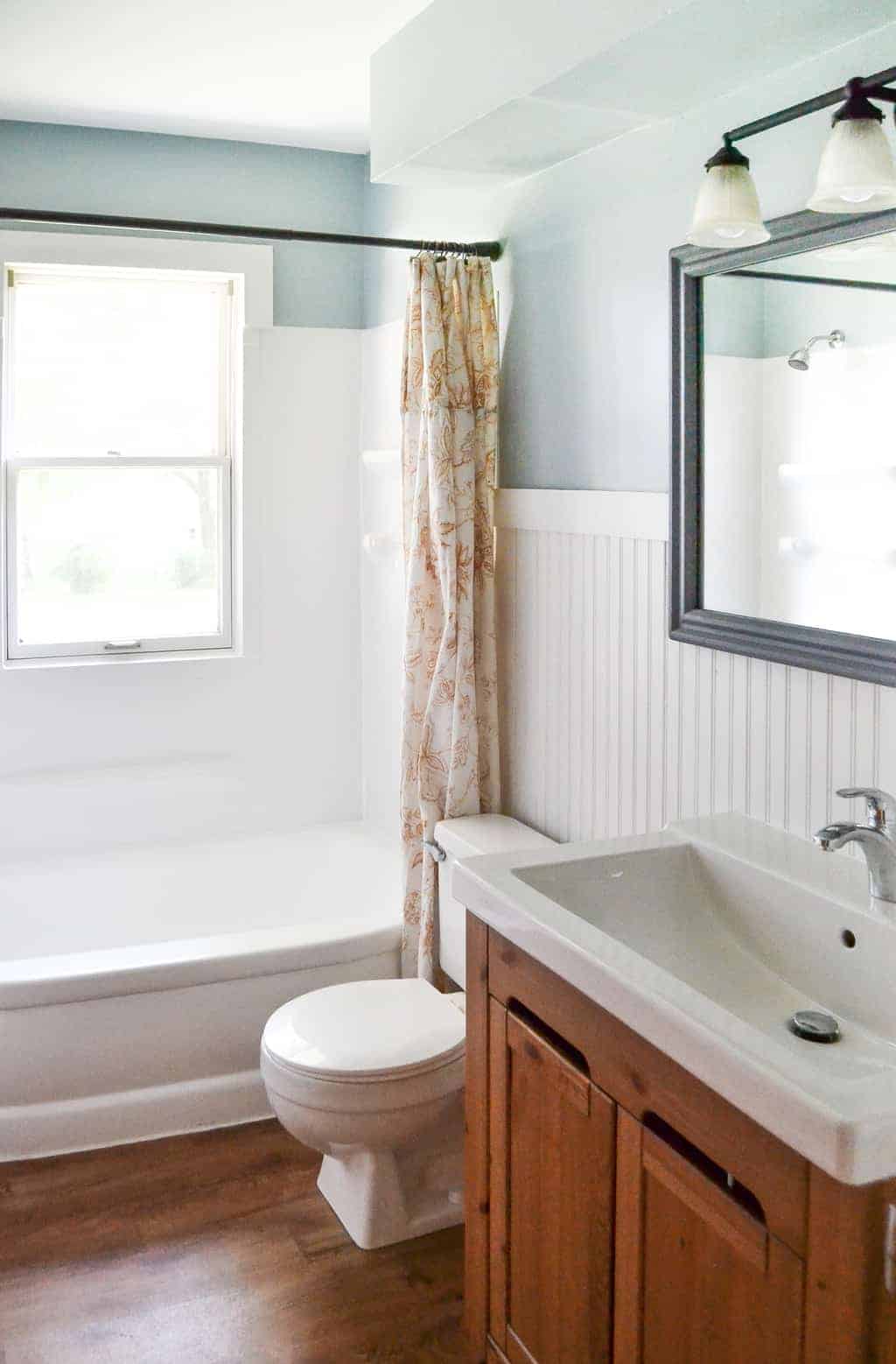 I can't tell you how happy I was about this and how excited I was to write this post. This will save you time, money and effort to update your bathroom by refinishing and painting a bathtub to give your bathroom a budget friendly remodel! Check out the entire flip house remodel, too.
FAQ's I get most about this project:
Can you do this on a claw foot tub?
We have not tried this on a claw foot tub, but I don't see why not.
Can you use this on a tub surround?
NO! This product is not made for tub surrounds.
Can you use this on a sink?
We have not had to do that, but yes! I have seen other people use it on sinks.
How many kits do you need?
We like to put a couple of coats on the bathtub. With one kit, we can get one coat on the bathtub and the tile around the tub is there is some we are painting. We usually get two kits for sure to get enough coats to cover them well.
What do you do with grout lines for painting tile?
We paint over the tile and the grout lines. The paint covers it well.
Does the paint peel or chip?
We make sure to put a few coats of paint on the tub and tile and it doesn't peel or chip. You don't want to use abrasive cleaners after it is done, but it holds up well.
Does the water temperature affect the paint work?
No.
Do you have a bathtub you would like to change? After this post, would you try to paint a bathtub? This is one of my favorite DIY Home Projects Anyone Can Do!
Supply Recap For How To Paint A Bathtub:
VENTILATION!!!
PIN THIS POST!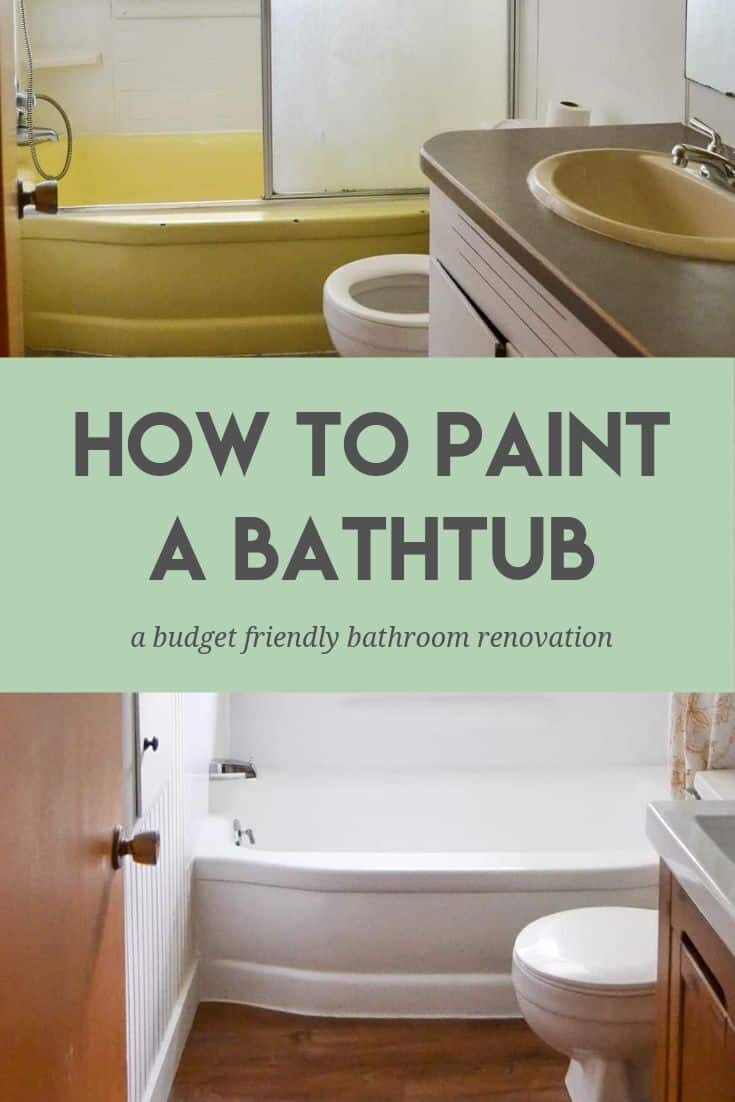 If you liked this paint a bathtub post, you will also love these projects: