Looking for an inexpensive way to change the bathtub in your home? Paint it! This post will show you How To Paint A Bathtub easily and inexpensively.
Paint a bathtub?
What?
Is that even a thing?
Yes!
Don't you just have to rip out an old tub if you don't like the color of it?
No!
I am so excited to share this post with you because it is a project we tried that worked so great and I am here to save you all from having to think you have to spend tons of money to change the look of your bathtub.
Let me start off by saying that this project was done in our flip house. We are down to the final few projects in the flip house and then it will be finished!
The bathroom has been on the back burner while we have gotten other things done.
Let's start off with a before photo of our flip house bathroom.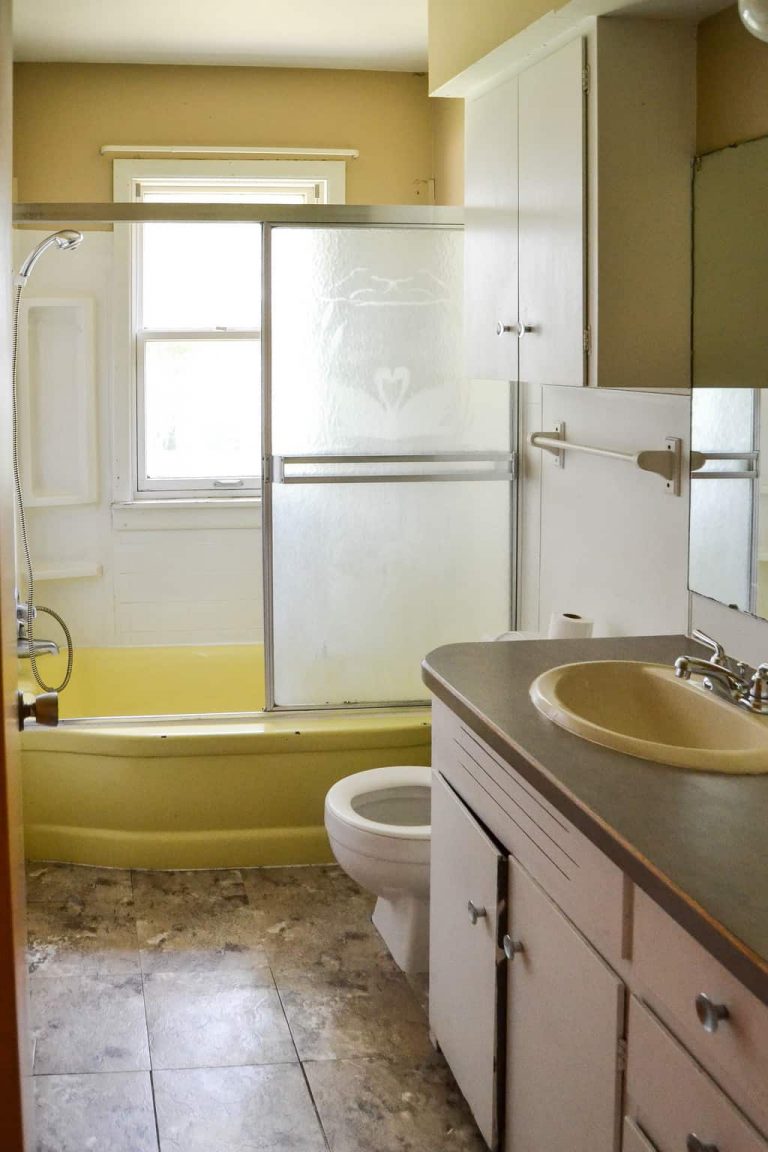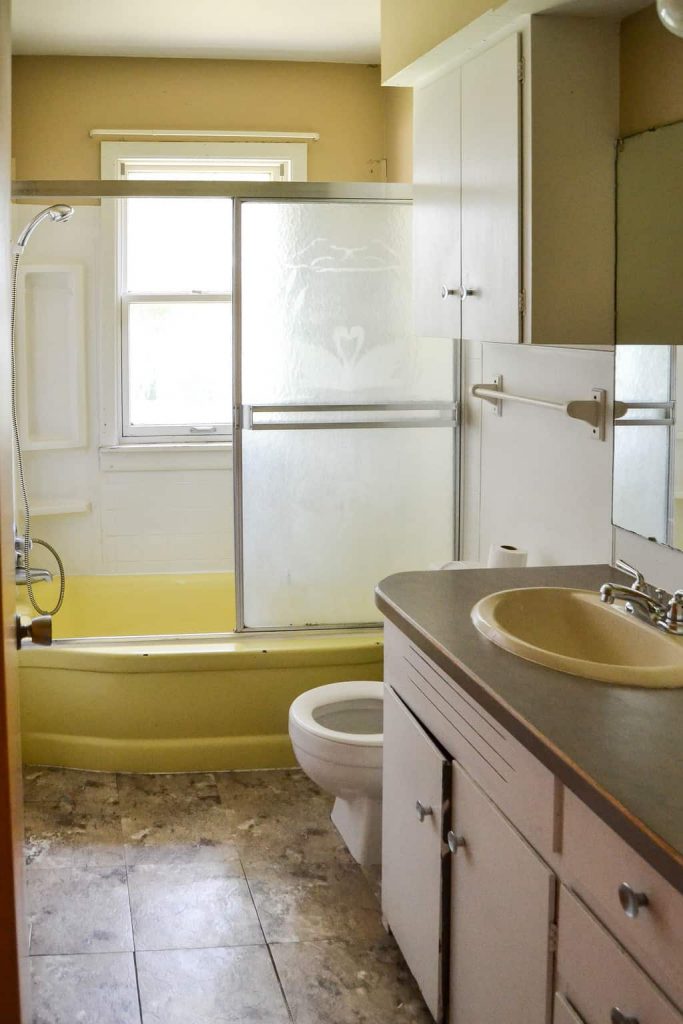 I don't even remember this bathroom! It was bad. We knew we had a lot of work in here and I was most excited about this transformation.
I had a plan for the bathroom right away, but we were going back and forth about the bathtub. I knew the yellow tub had to go, but it was the original cast iron tub that was going to be a beast to get out and there was nothing wrong with it. As we worked on the rest of the house, the bathroom got demoed around the bathtub. After more conversations and a better idea where we were on our budget, we decided to paint the bathtub. We had nothing to lose. If it didn't turn out, we could take out the tub and say goodbye to our intended budget. My dad had painted bathtubs in his flip houses so we had to give it a try.
Affiliate links are used in this How To Paint A Bathtub post. You can read my disclosure HERE.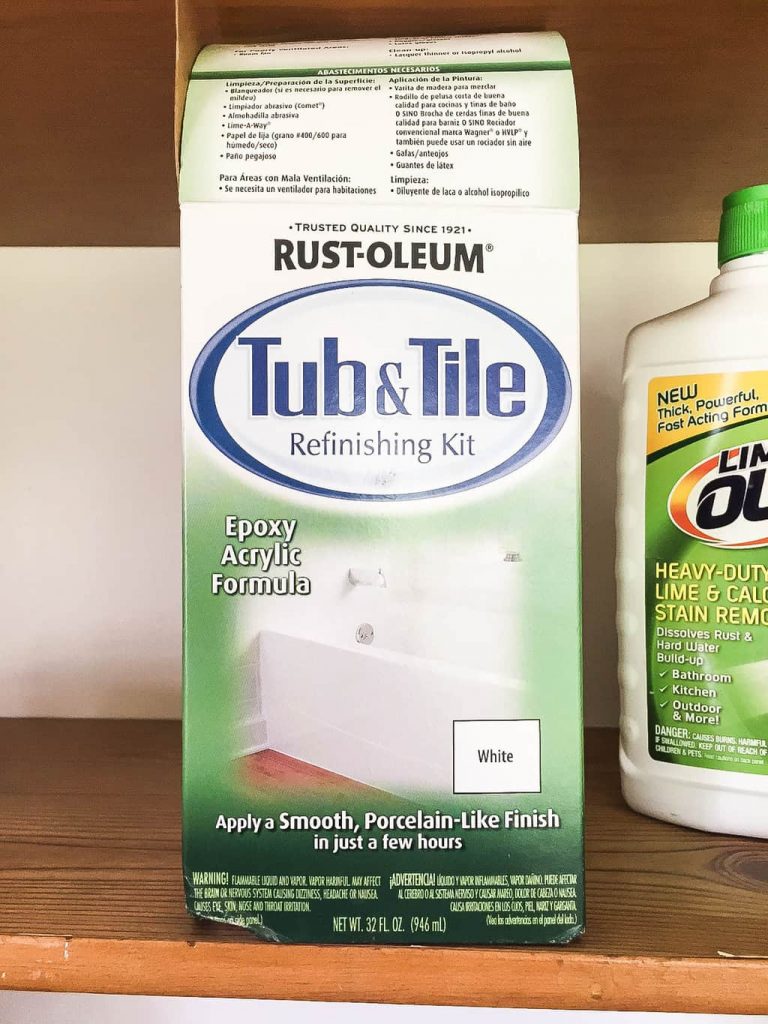 We bought the Rustoleum Tub & Tile Refinishing Kit. We read the instructions on the box a few times and carried out the process exactly like it said.

How To Paint A Bathtub:
The first thing we had to do to paint the bathtub was clean it like a boss. The box said to use Comet Cleaner and Scour Pads so that is what we did.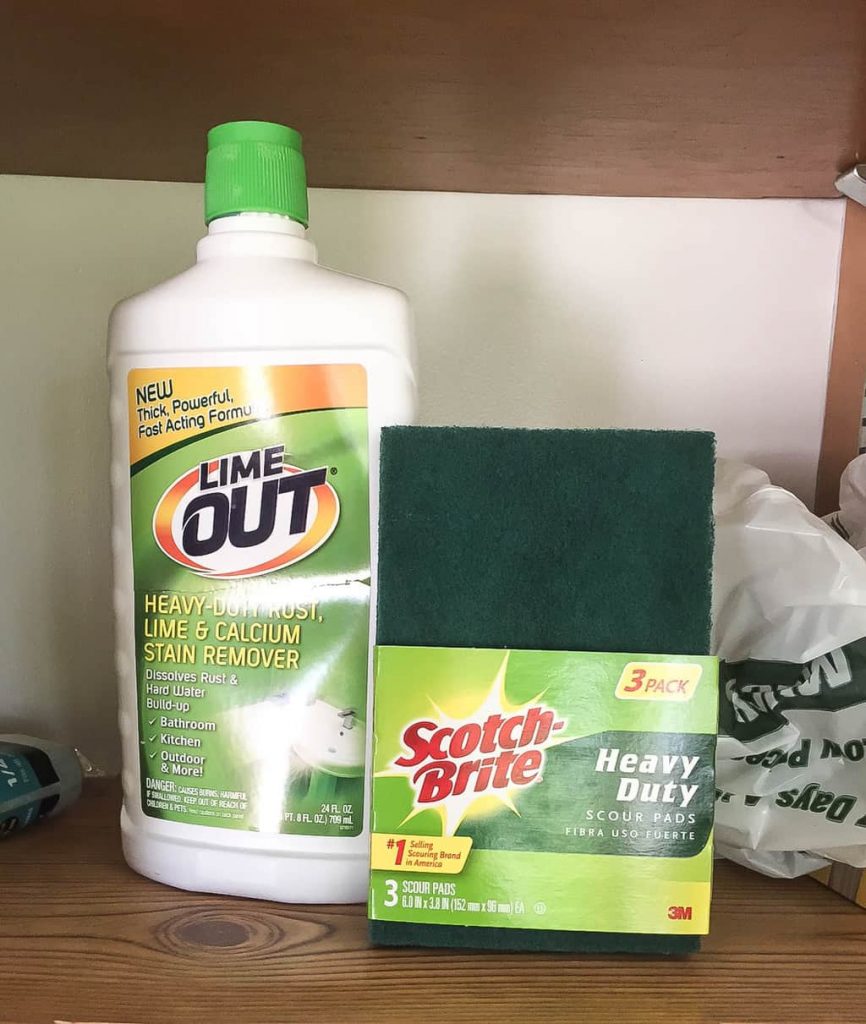 The box also mentioned Lime Cleaner so we used that as well.
After the bathtub was cleaned and dried we went over it all with 400 Grit Sandpaper.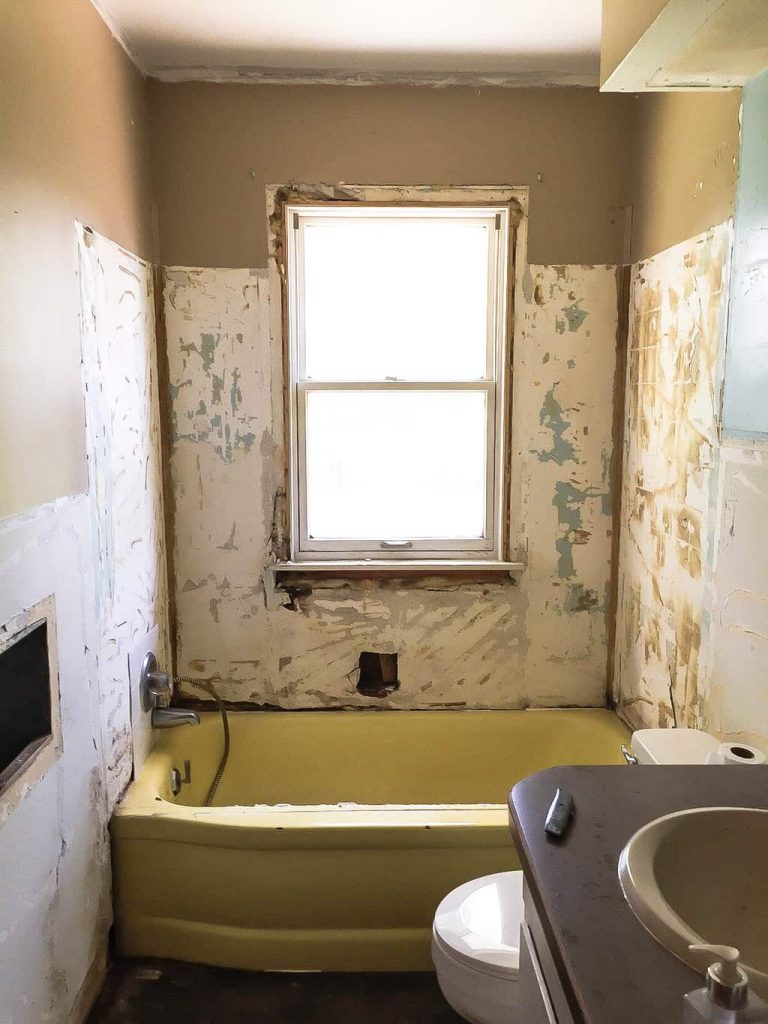 After we had all of the dust removed from the bathtub, it was time to get the paint ready.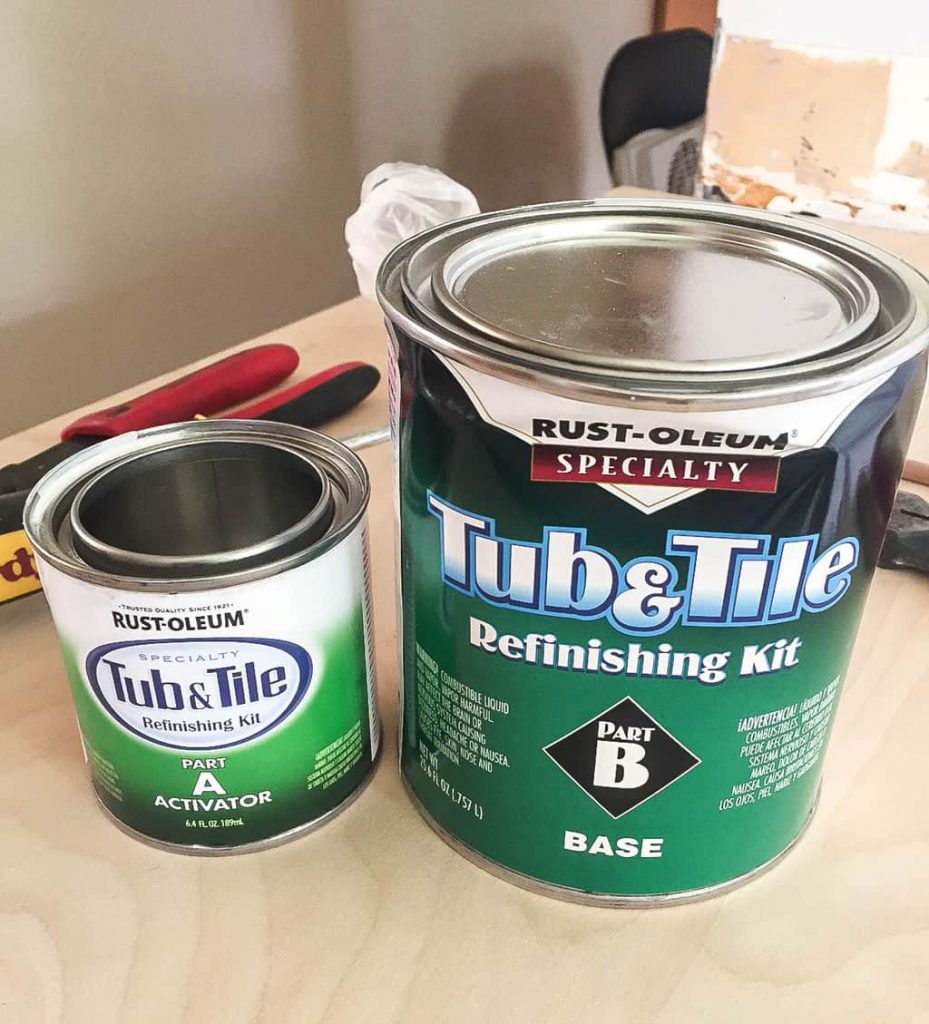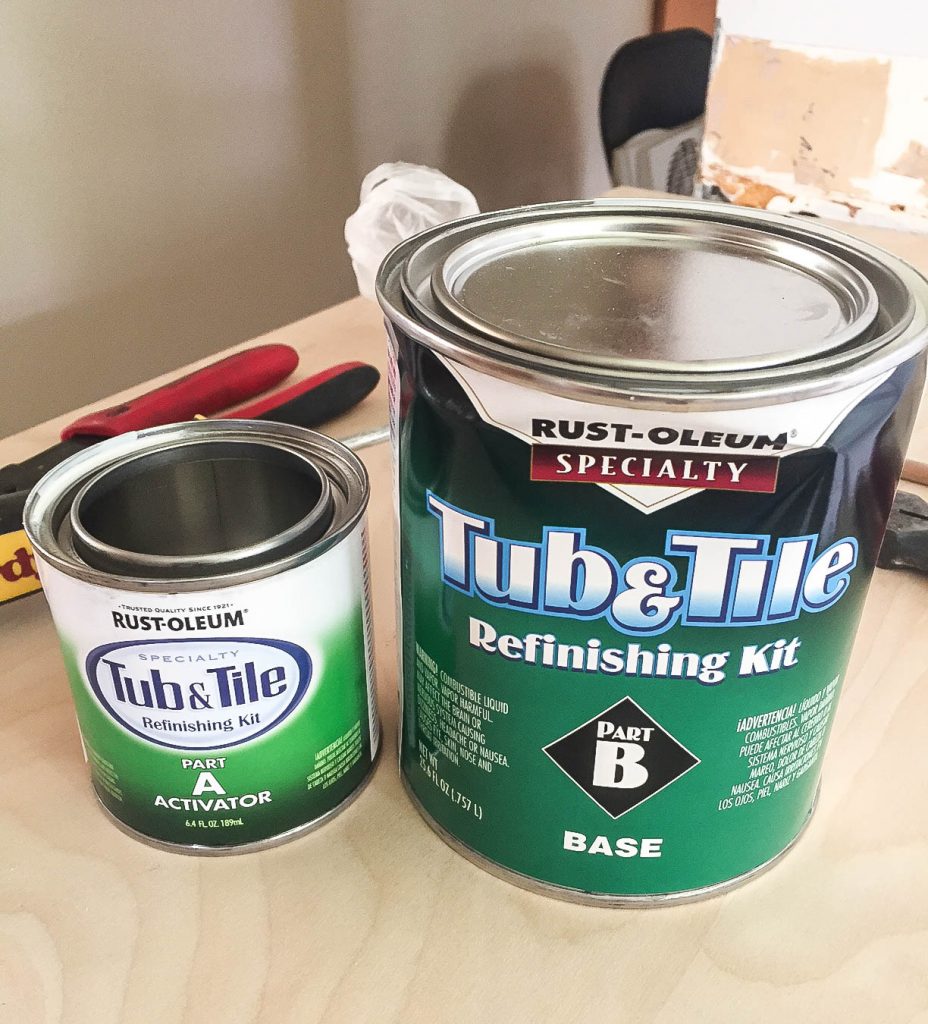 The kit comes with two cans. You need to mix them together as stated on the back of the package.
Depending on what is around your bathtub, you may need to use Painter's Tape to prep it. We had to add new walls around our bathtub and had plastic we had to tape on the wall so we could paint the bathtub. If the walls and/or flooring was already done, I would have used Painter's tape on them to protect them from the paint.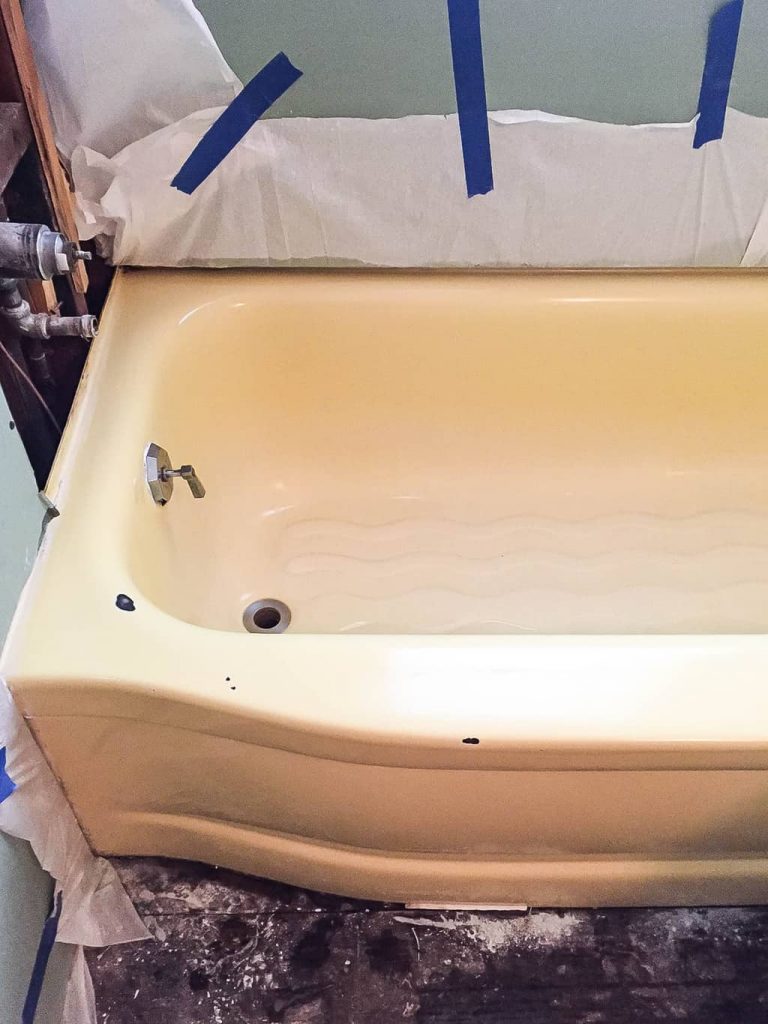 There were different suggestion on the box as to how to apply the paint. It said you could use a sprayer, roller or brush. We used both a roller and brush. We were worried that the paint might ruin our HomeRight sprayer and I didn't want to take that risk.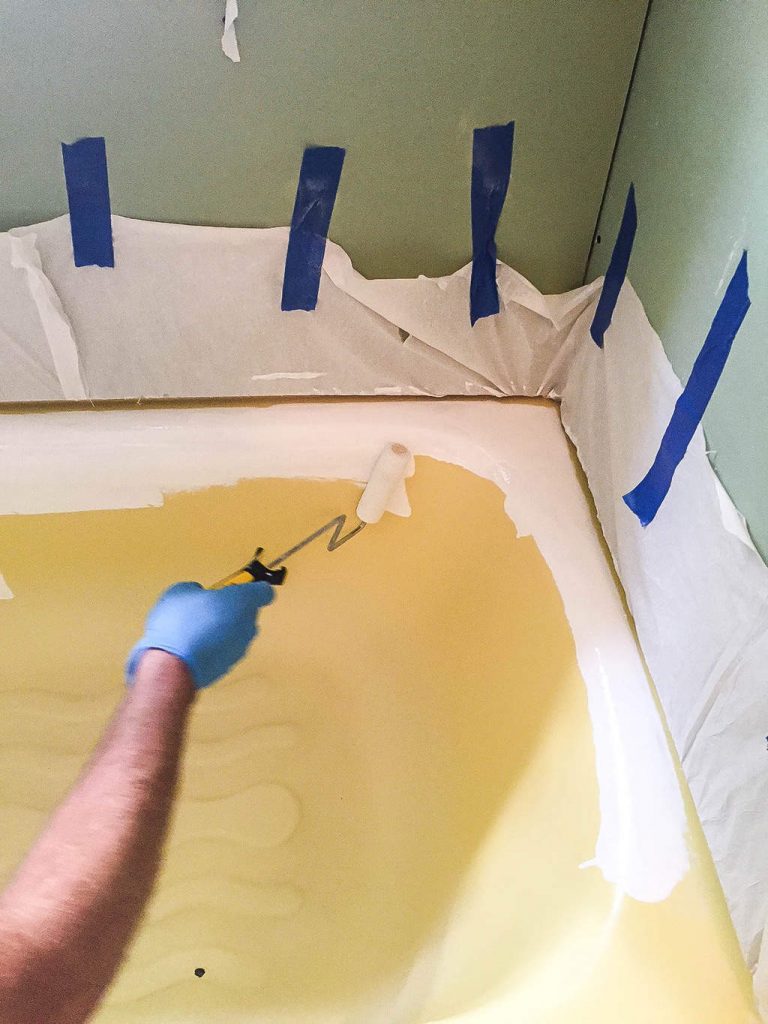 Matt started with the roller, but quickly moved to the paint brush. The paint is very thin and drips very easily so he felt like he had more control over it with the brush.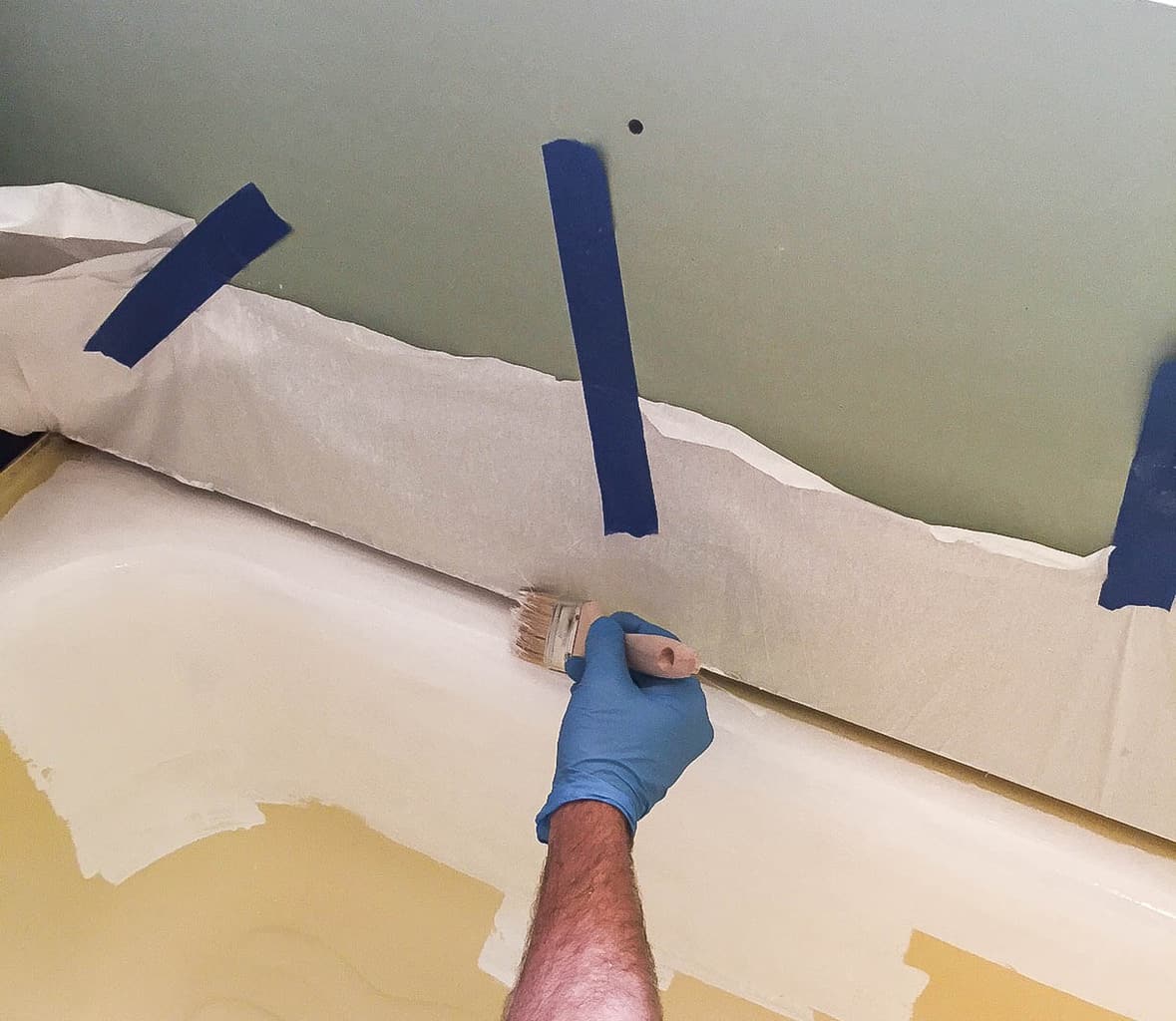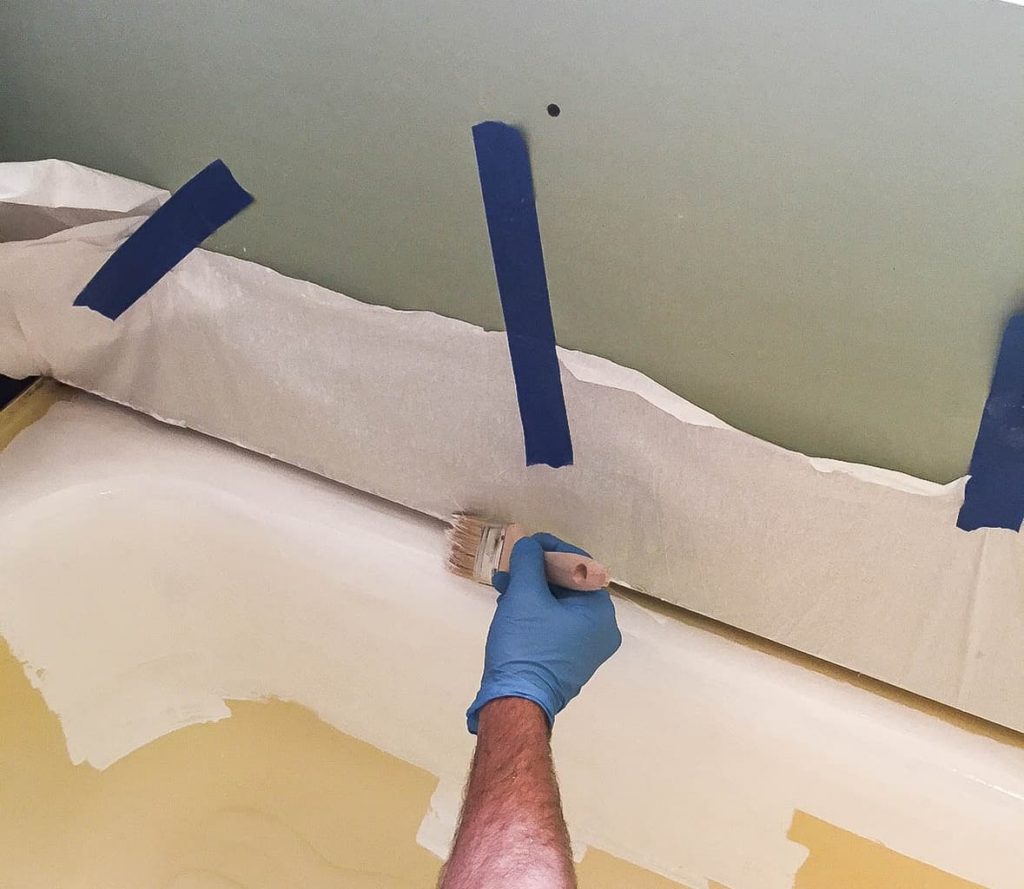 I need to stop here before I get ahead of myself.
MAKE SURE YOU THAT THE BATHROOM IS WELL VENTILATED. OPEN WINDOWS, USE FANS – WHATEVER YOU CAN DO TO GET THE AIR MOVING BECAUSE THE SMELL OF THIS STUFF IS STRONG. YOU NEED TO WEAR A MASK AND GLOVES FOR SURE.
The smell was too much for me. I am someone who can get a headache from a Sharpie smell is that tells you anything. I can't handle smells like that and I told my husband this was like a Sharpie smell on steroids. It was STRONG! Matt does not get bothered by those smells so he was good to go.
I could not physically be in the house when he was doing it. Thank goodness I was able to get a ton of outside work done that day.
After the first coat dried (about an hour), it was time to add the second coat. It looks like it is not going to work at all when you are doing it. My dad told us to be patient and come back the next day and see what we thought.
He was right!!! Look at the old, yellow bathtub now!!!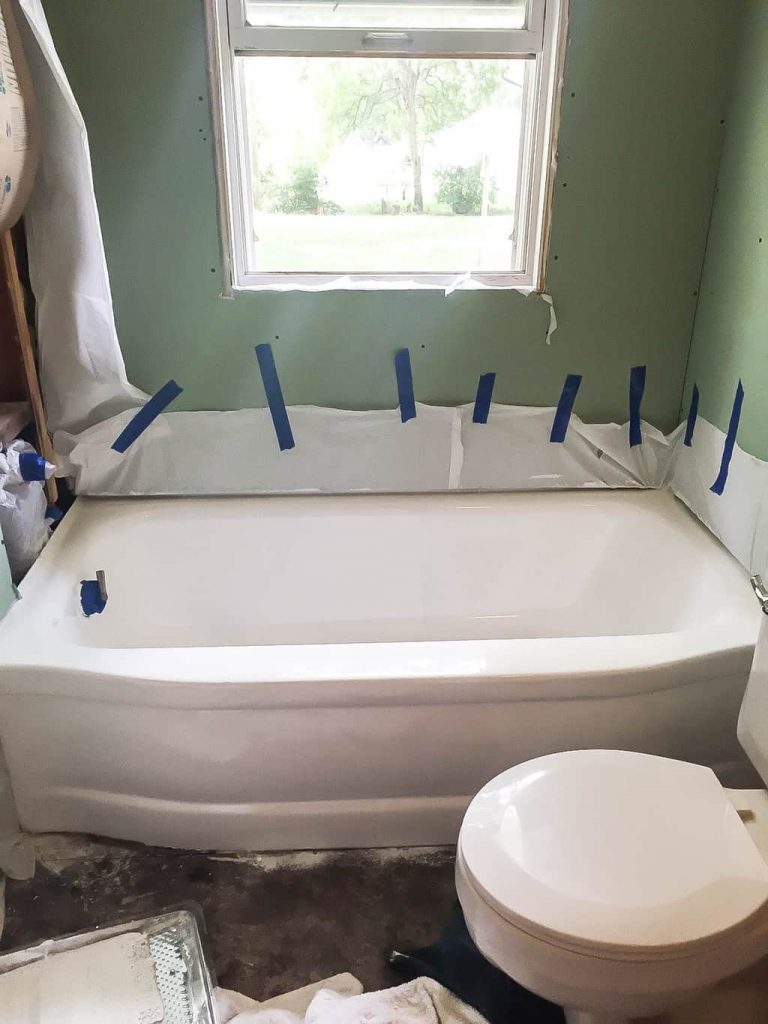 Not only did the bathtub look fantastic, but the smell was non-existent! It was gone.
I can't tell you how happy I was about this and how excited I was to write this post. This will save so many people time, money and effort to change the bathroom they have.
I took all of these photos with my iPhone and will definitely share photos of the entire bathroom once we get it done. I was too impatient to wait for all that after we did this last weekend, so I had to bring this "How To Paint A Bathtub" to you this way.
Do you have a bathtub you would like to change? After this post, would you try to paint a bathtub?
Supply Recap For How To Paint A Bathtub:
VENTILATION!!!
PIN THIS POST!


If you liked this paint a bathtub post, you will also love these projects: