Today is the day! I am finally able to reveal the budget bathroom makeover in our first flip house!
The flip house has brought about so many great things for Matt and I. We are both so happy with the experience and he keeps telling me that the 4 letter word that changed our life is what made it happen. The book I talked about in that post is what gave me a name for what we were going through. I wish all of you can experience that and so today, to go along with this final budget bathroom makeover, I wanted to bring you a giveaway to win a signed copy of the book. Stay tuned til the end of this post to enter.
Now, let's get to one of this biggest changes in the flip house – the budget bathroom makeover!
If you have been following along with our first flip adventure, you know that the bathroom was one of the biggest projects we had to tackle.
It was not pretty.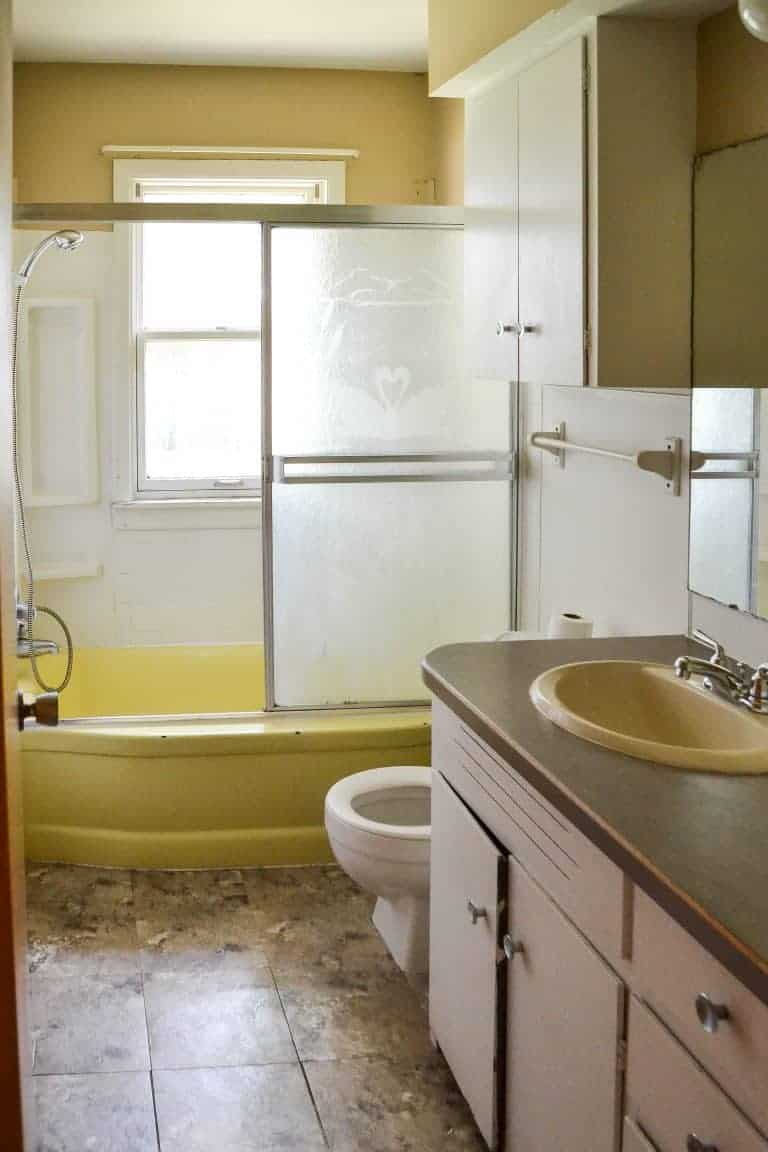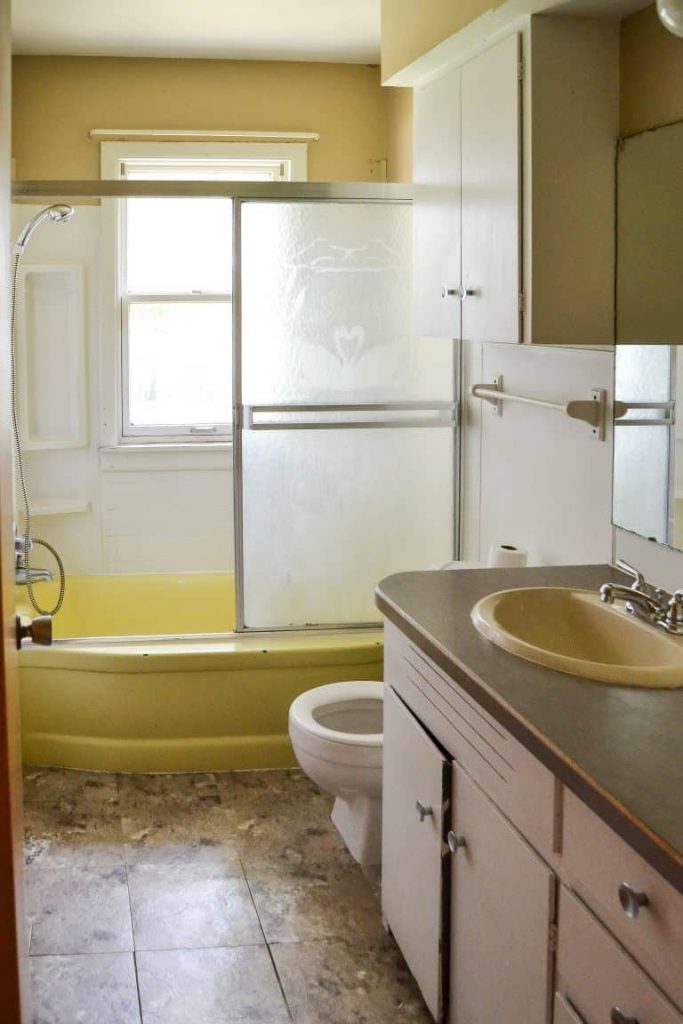 We had so many things we needed to change in this bathroom and once the flip project got started, we learned that we needed to prioritize the budget. Things were moving quickly and we found some things we needed to do that we hadn't initially planned on and other things that we didn't have to do (Related: 10 Tips for House Flipping).
The bathroom was the last room we tackled in the makeover. The yellow tub was really throwing me for a loop because it was going to cost a ton to rip it out and replace it. It was also going to push our timeline out further.
The yellow bathtub was the original cast iron tub and there was no need to demolish it. Instead, we refinished the bathtub by painting it. Learn how to paint a bathtub.
After we decided to keep the tub, we got busy taking everything else out. Demoing the bathroom was one of my favorite projects in the flip house. We ripped everything out so we could make it all new again. We added new insulation, new plumbing and new cement board. We kept the toilet, but had someone rebuild the inside and do new plumbing for it. The vanity came out and our plumber put new valves on underneath. Besides making the bathroom pretty, we wanted to make sure everything was working right too.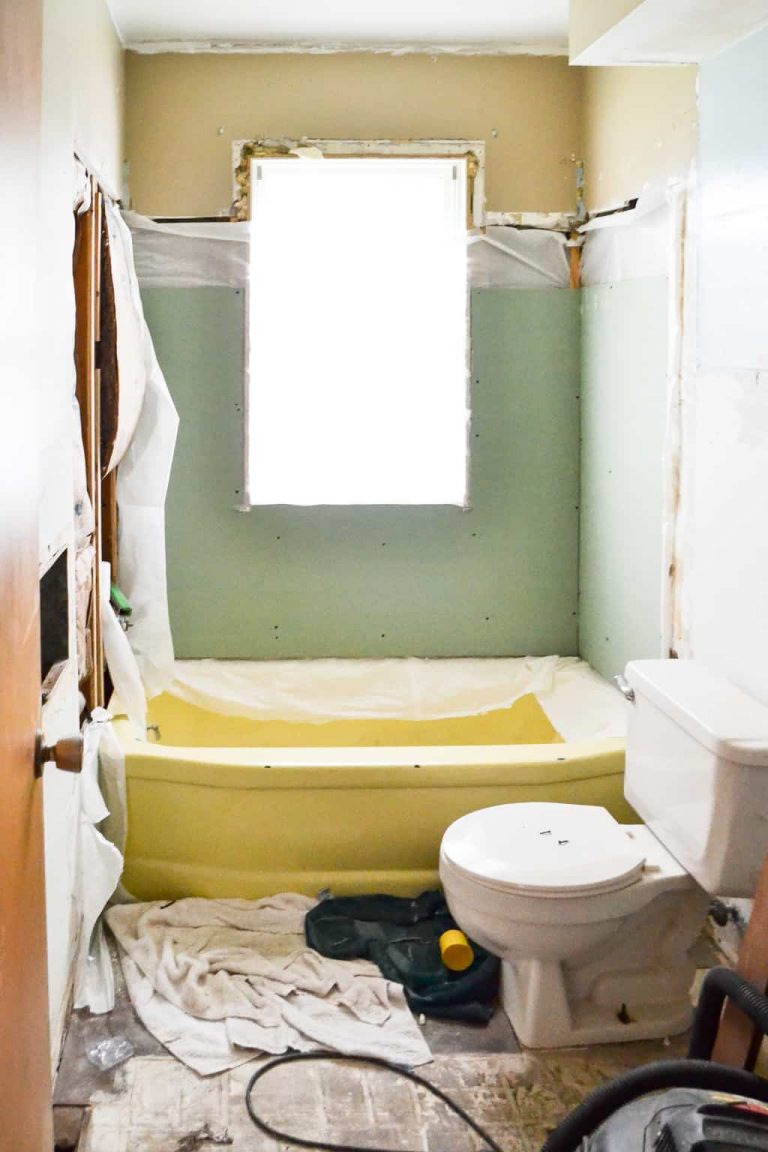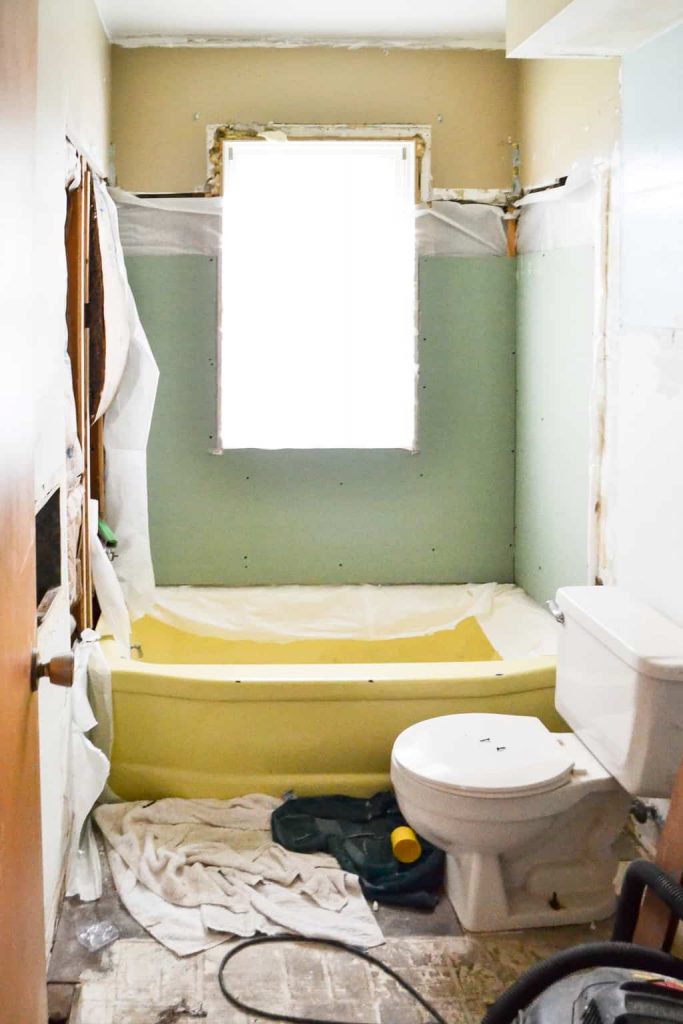 Before the budget bathroom makeover could look better, it got uglier and uglier as we worked on it.
Then, after a couple of weeks of work, it looked like this: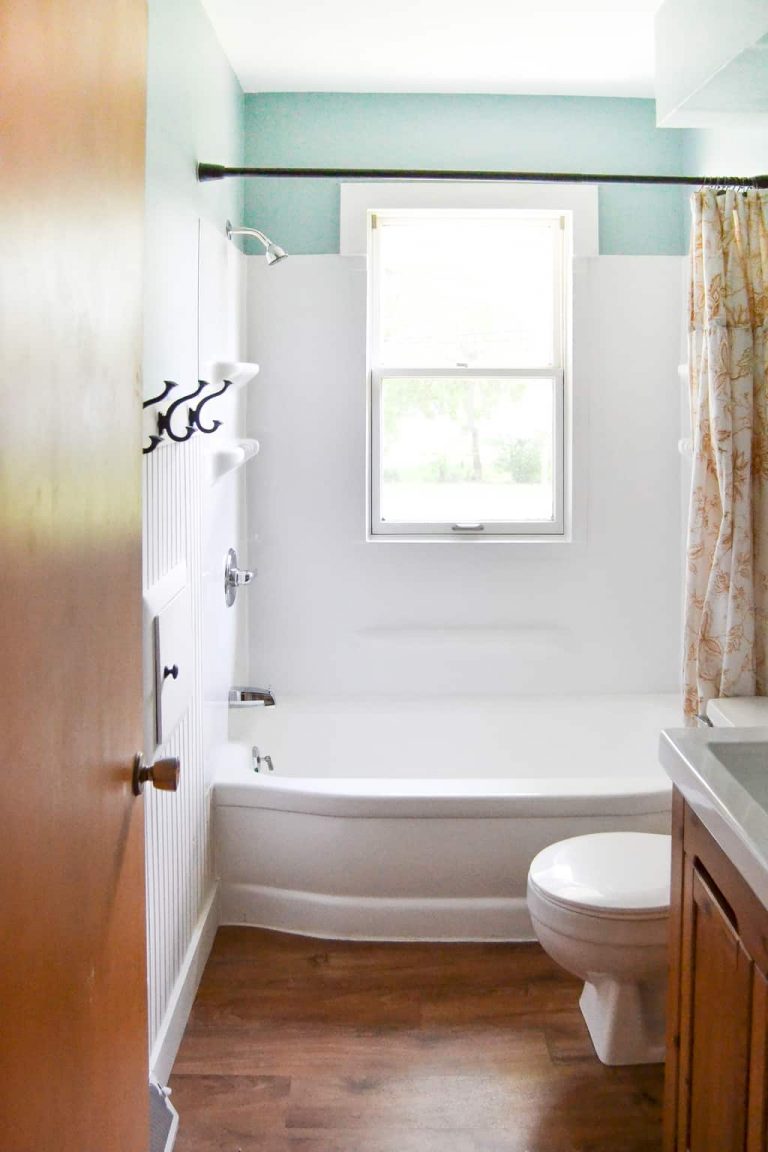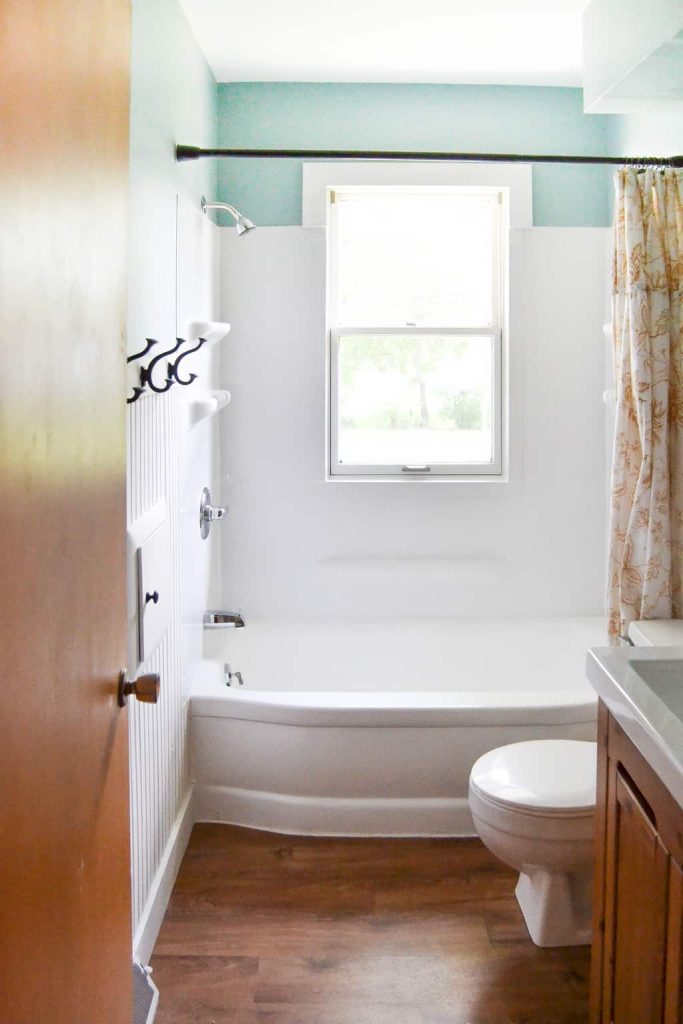 AHHHH!!
It doesn't even look like the same place.
After we painted the bathtub, we put in a new tub surround.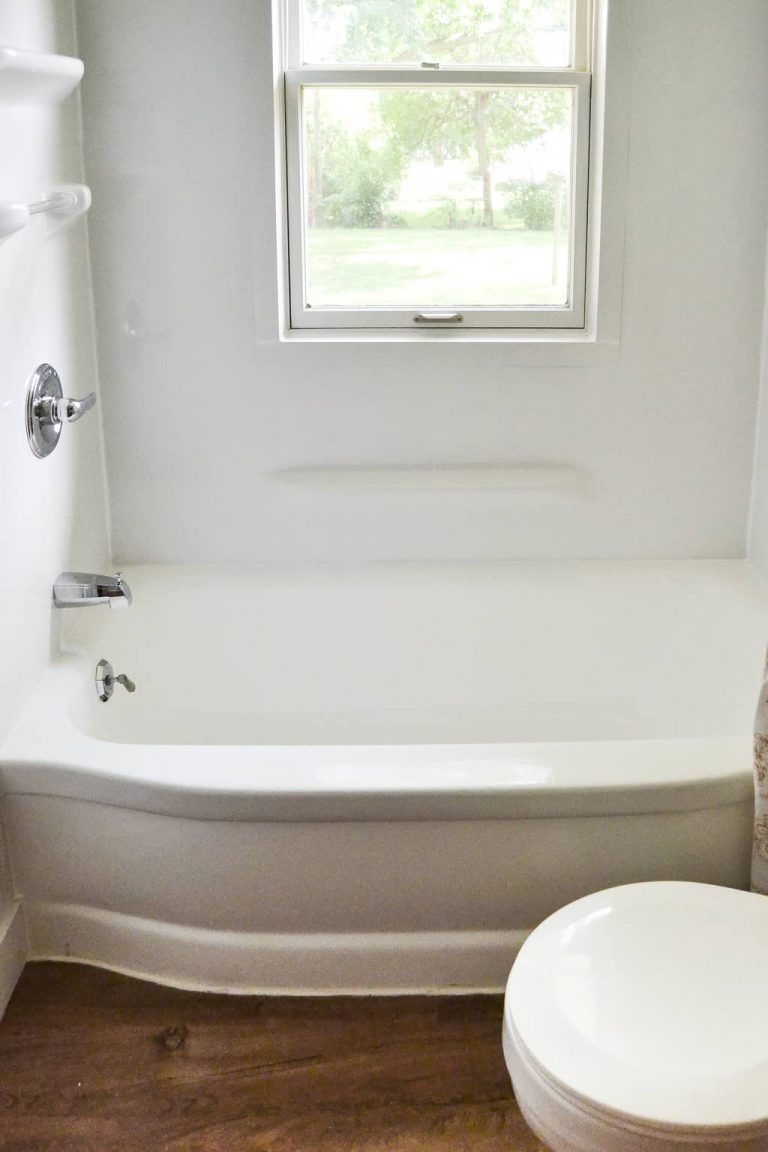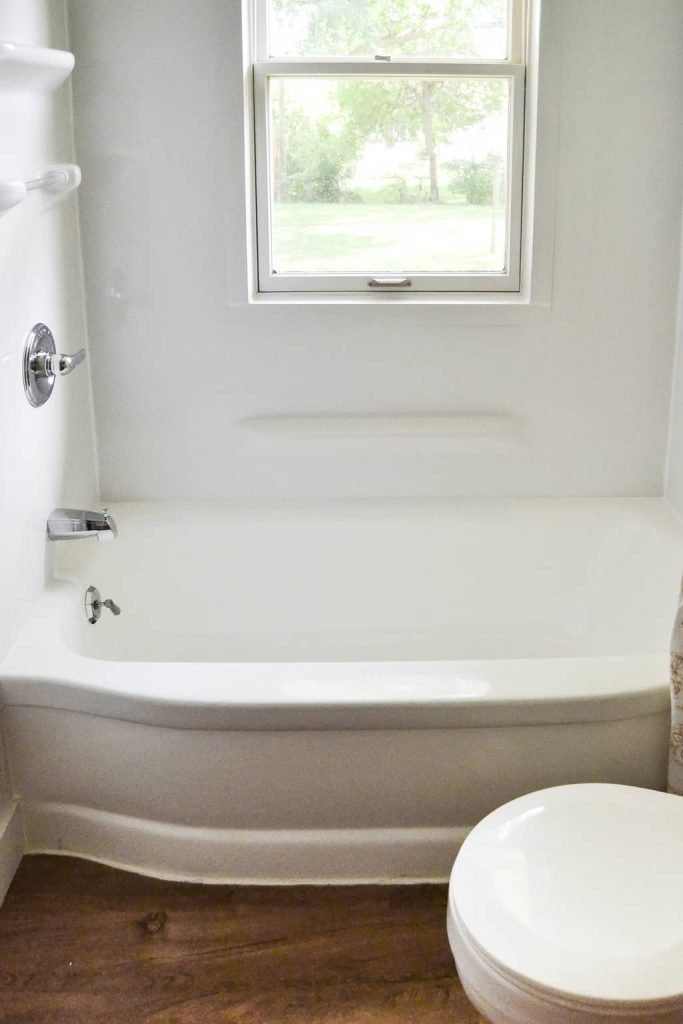 The new vanity, sink and faucet are one of my favorite things in the bathroom. We scored the vanity and sink at Restore and bought a new faucet for it.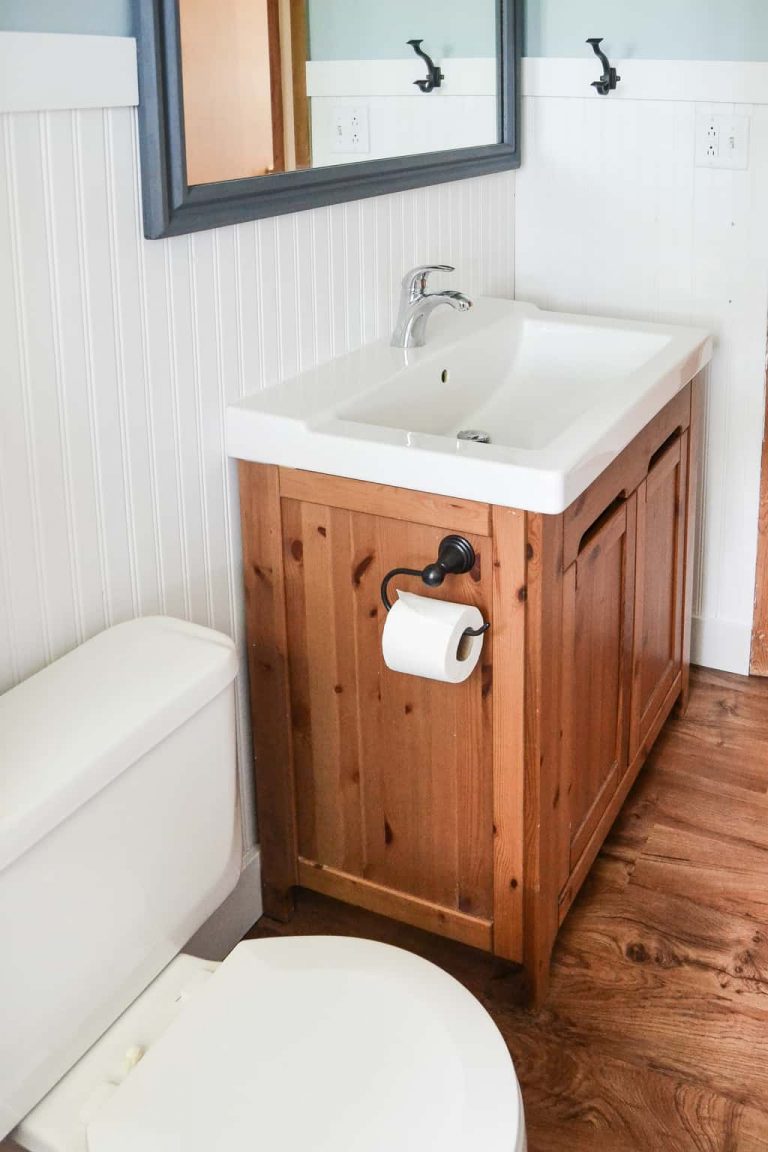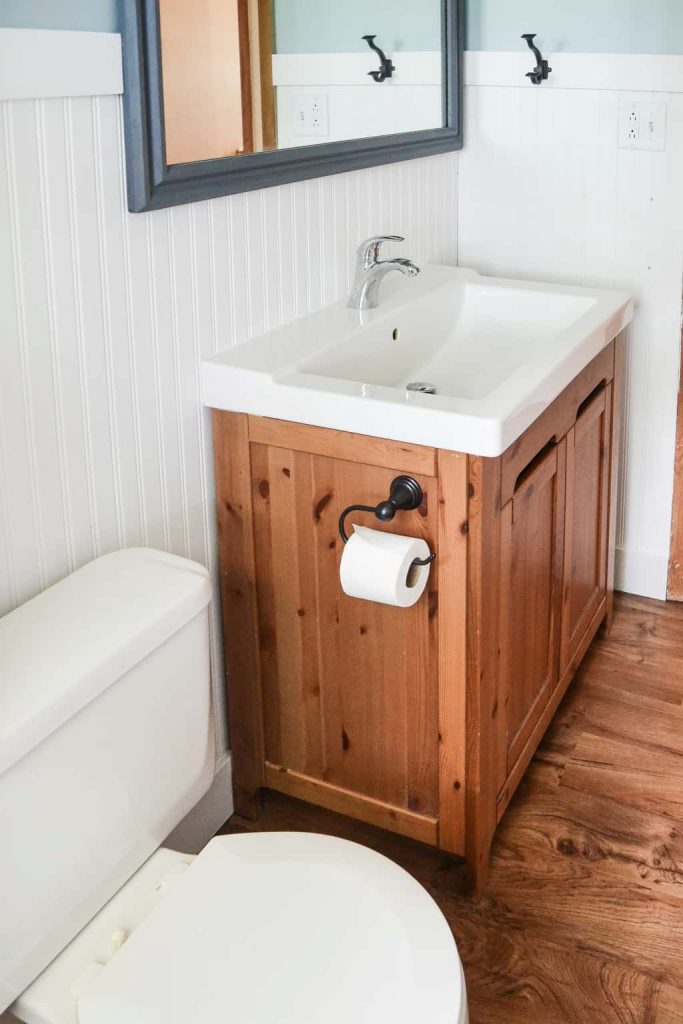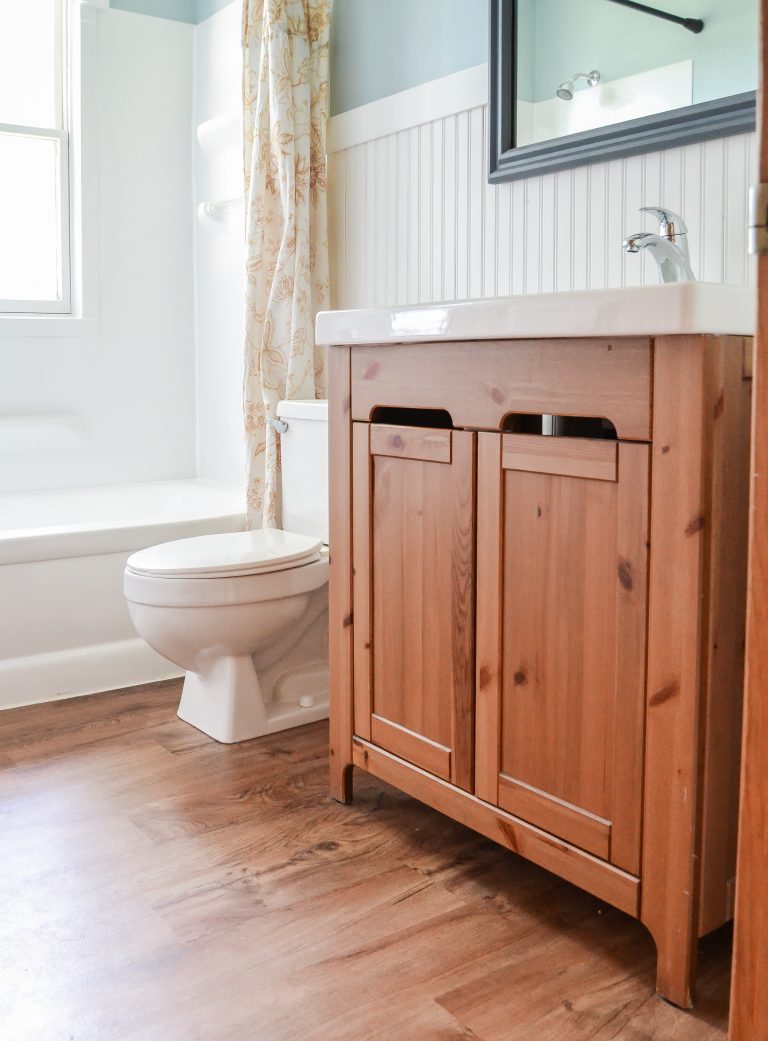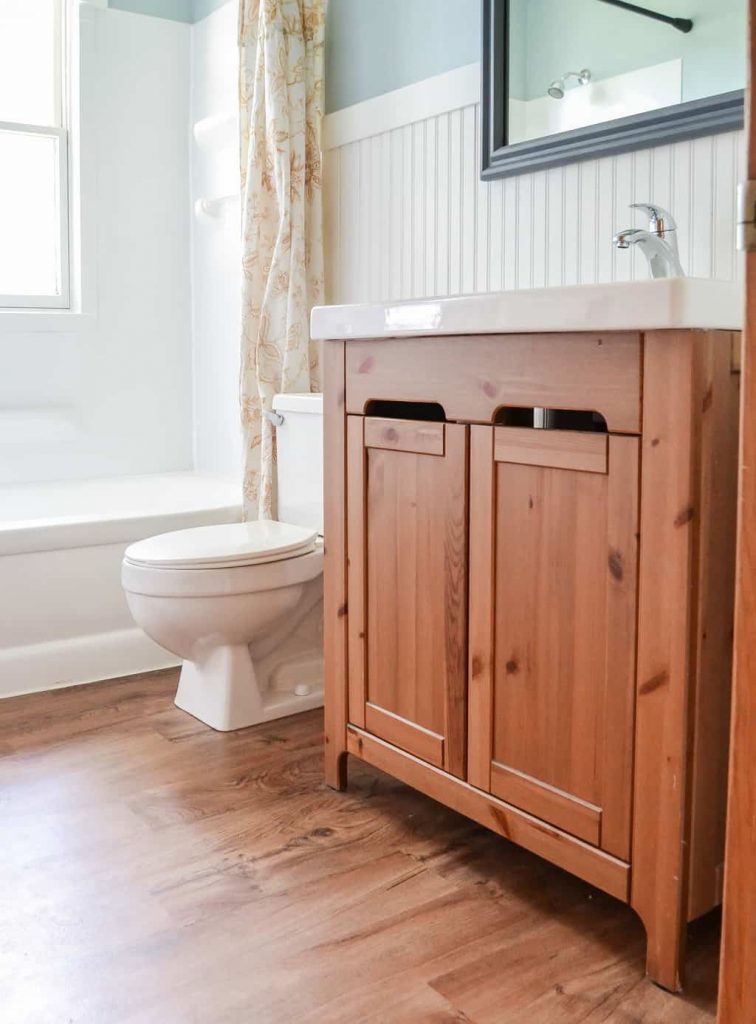 The wainscoting was an inexpensive touch that really made a huge difference in the bathroom.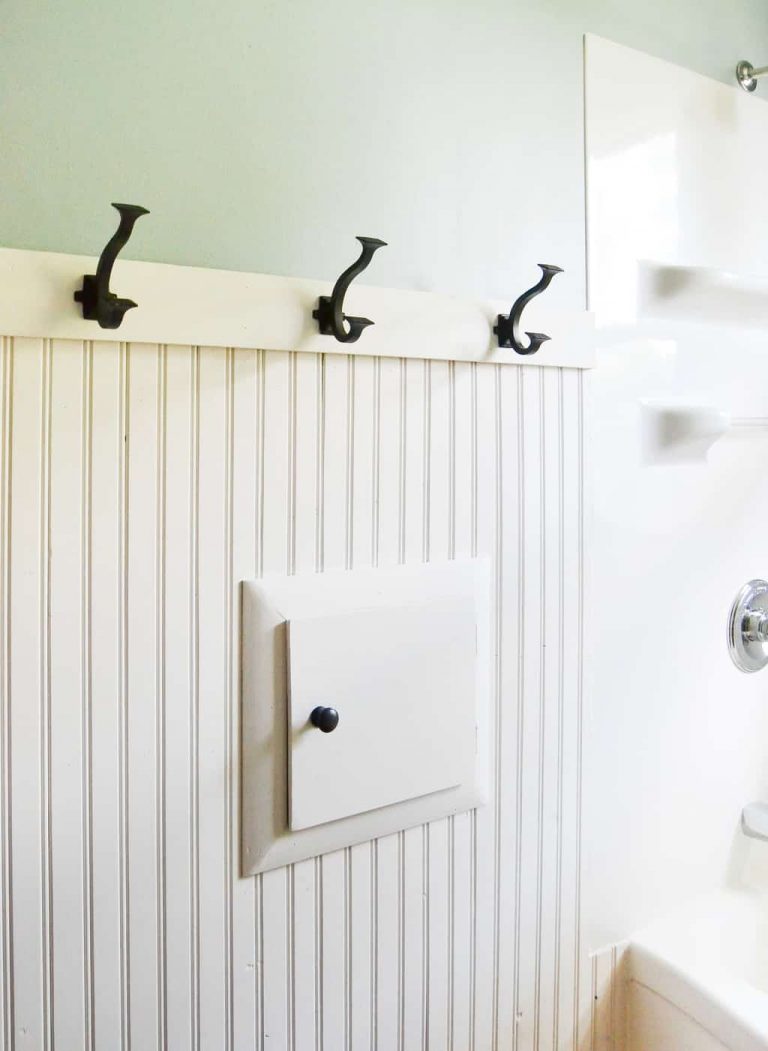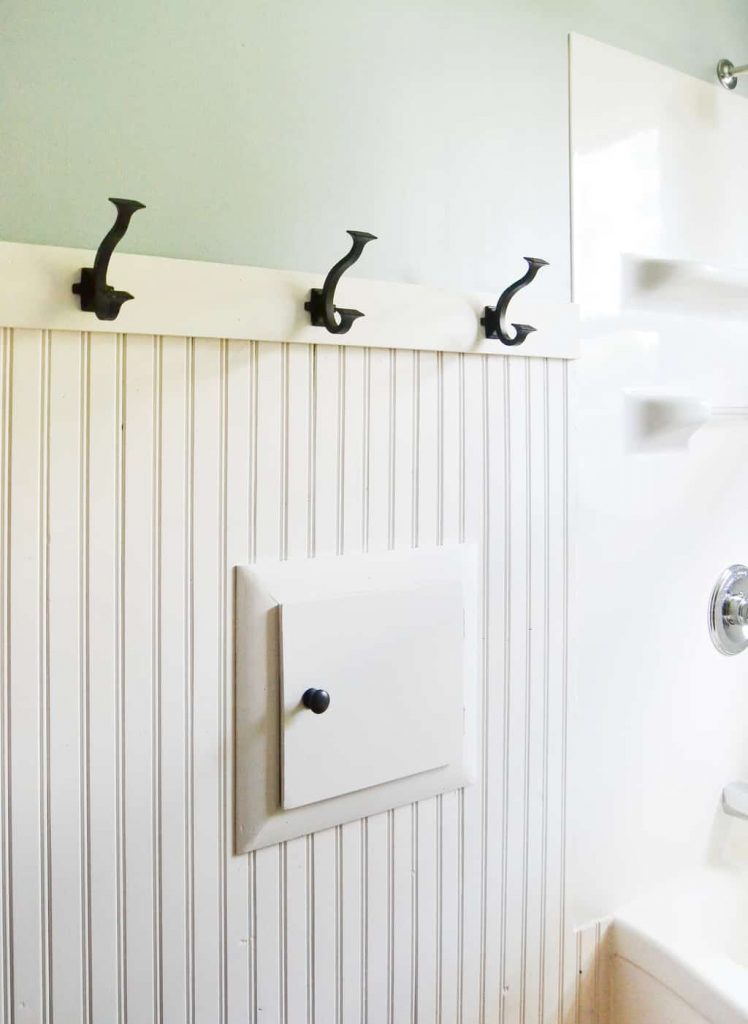 The hooks from Hickory Hardware are another favorite feature of mine.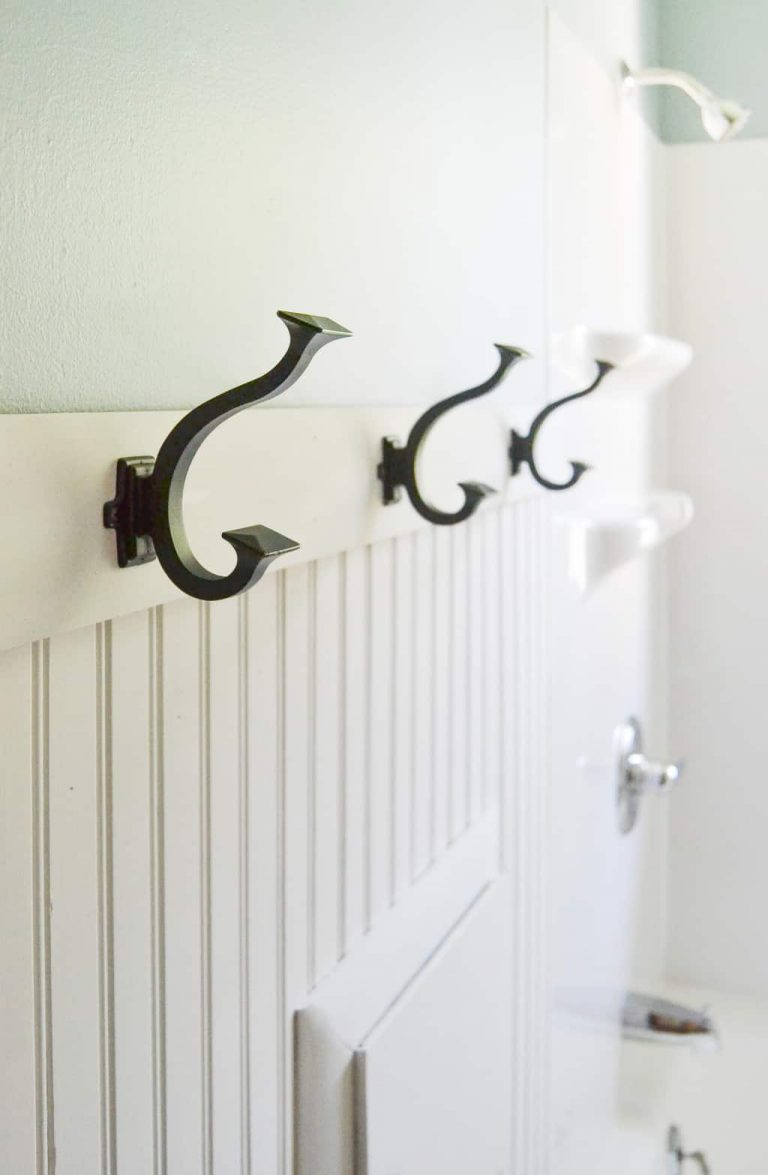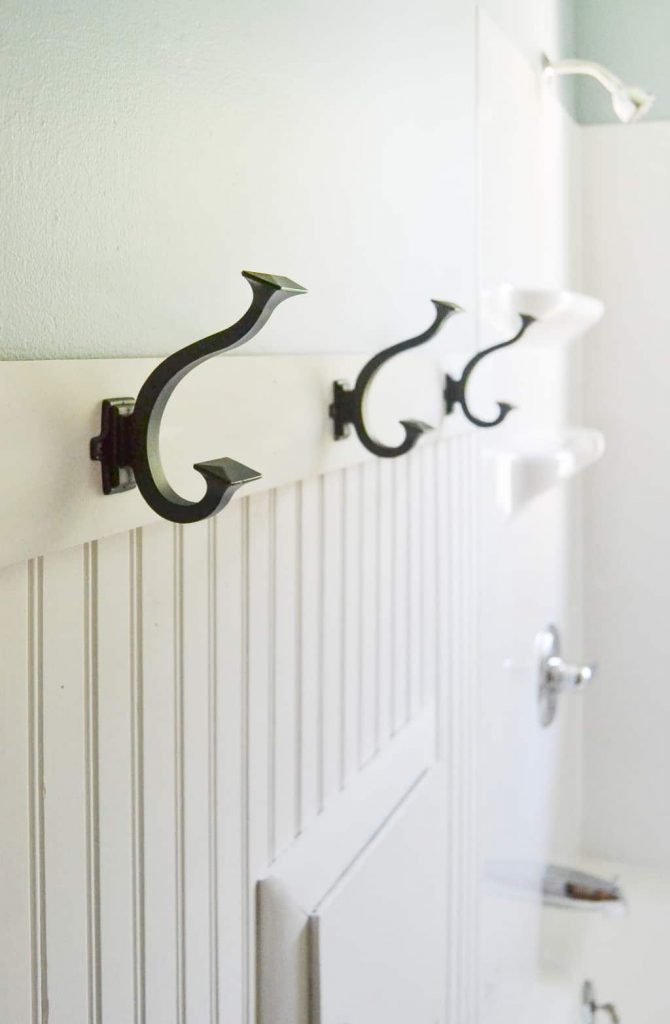 The new flooring is beautiful. Once we had it down, the bathroom looked like a million bucks. Since the bathroom is small, it didn't cost a lot for the flooring.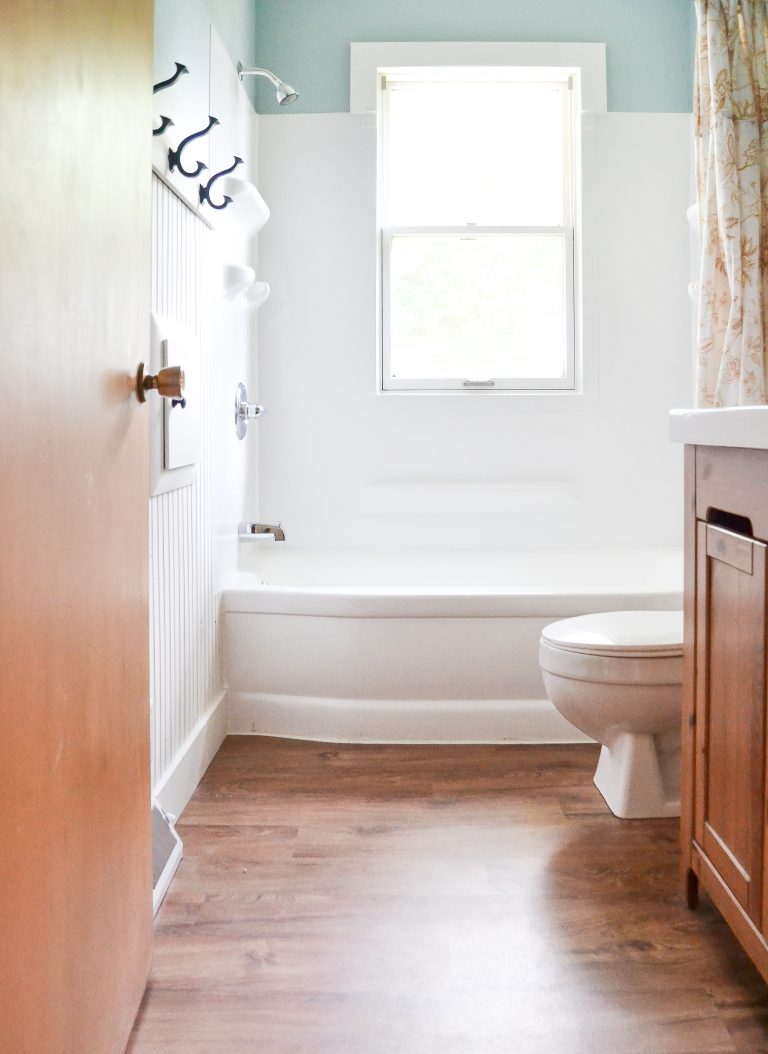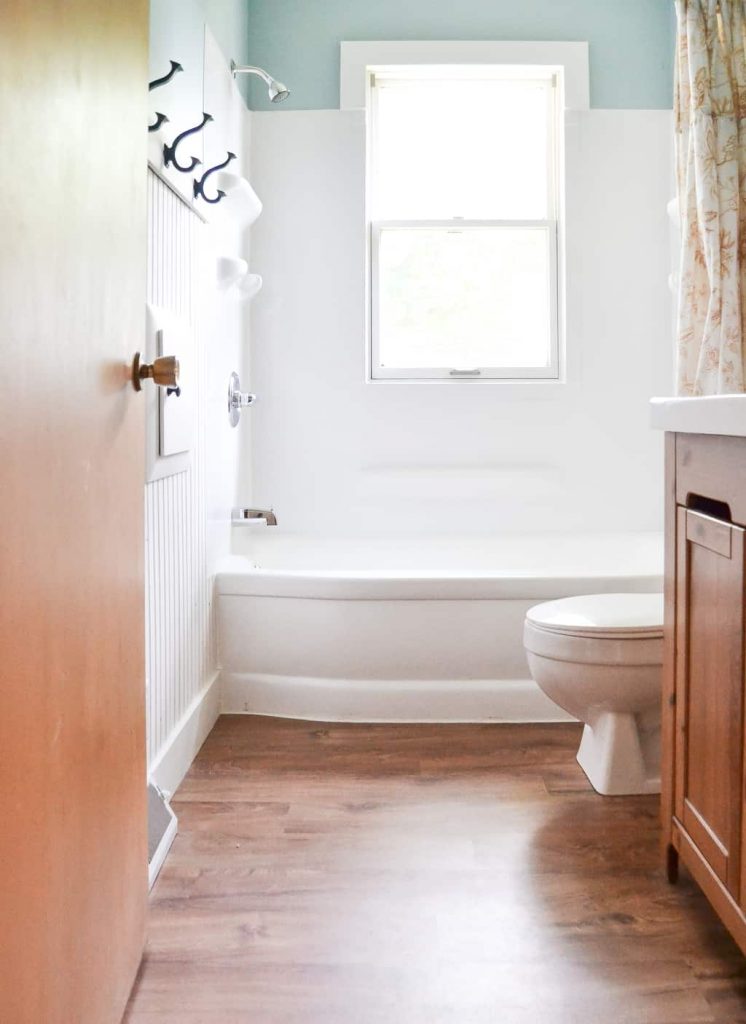 We took the shower doors off and put up a curtain rod and a pretty shower curtain. I love shower curtains because you can change them up when your mood and/or the seasons change.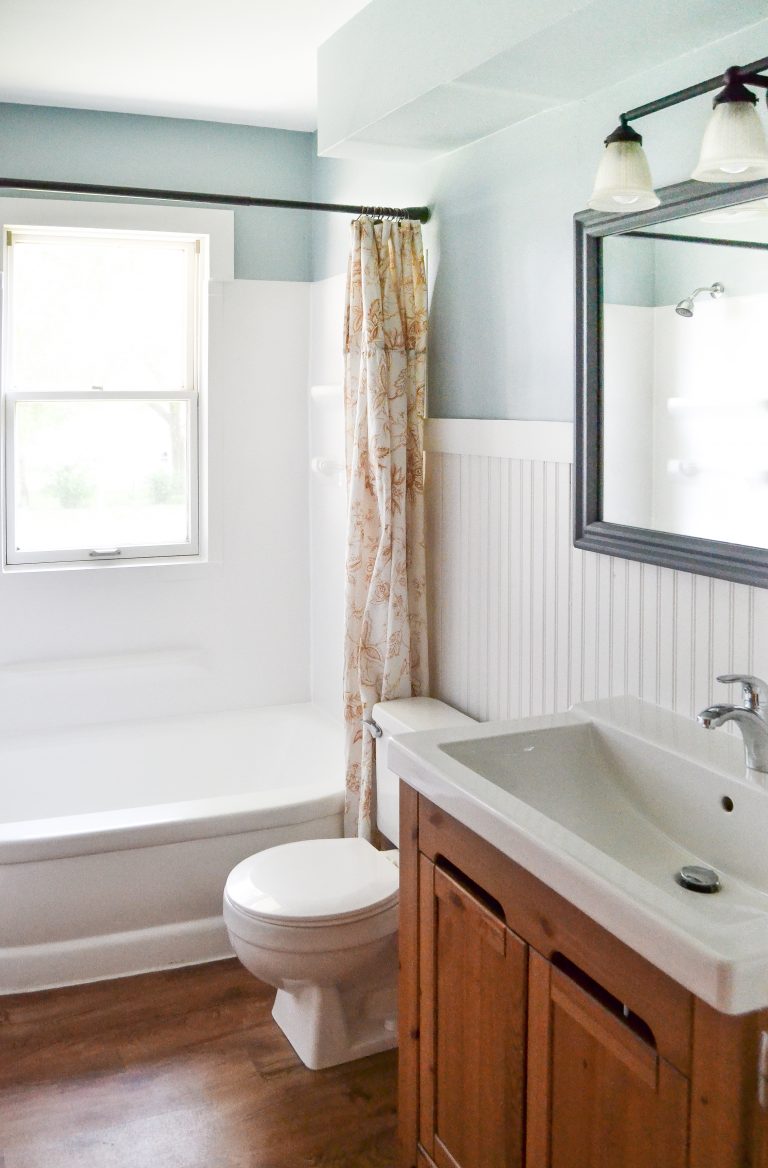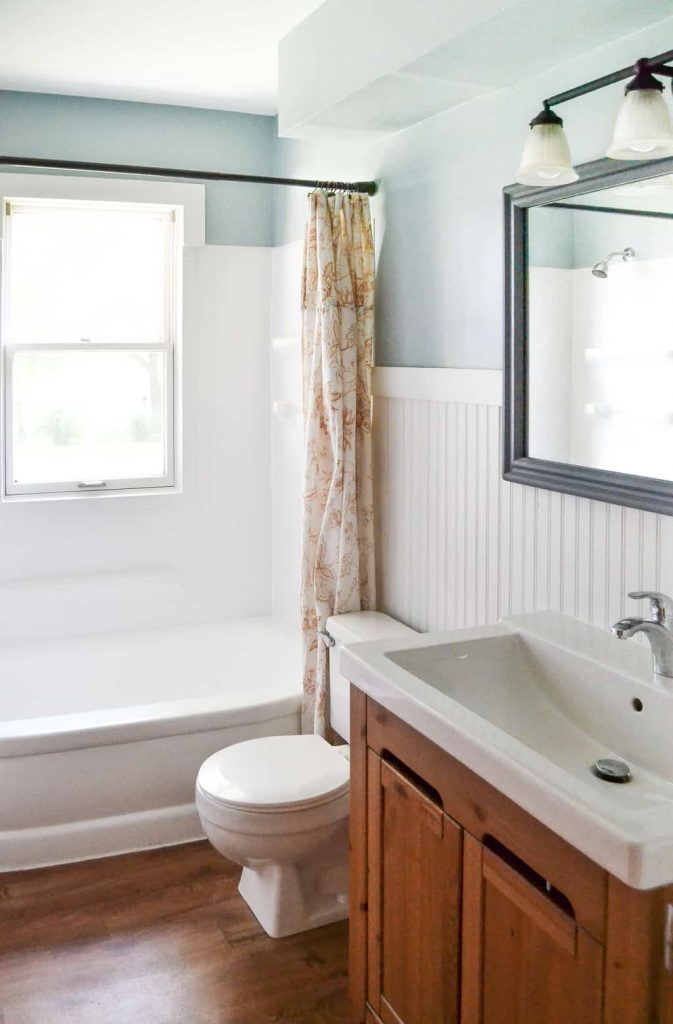 We added a new mirror and light fixture as well. We scored both of these at Restore as well.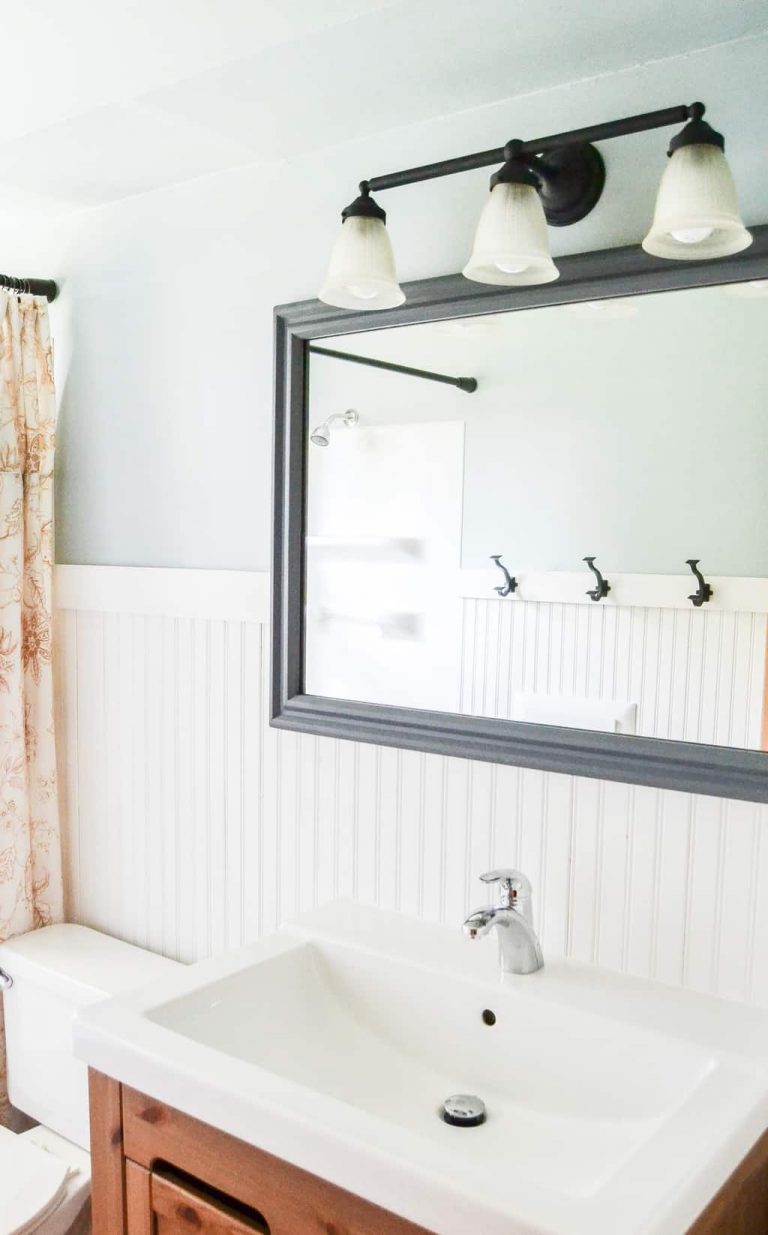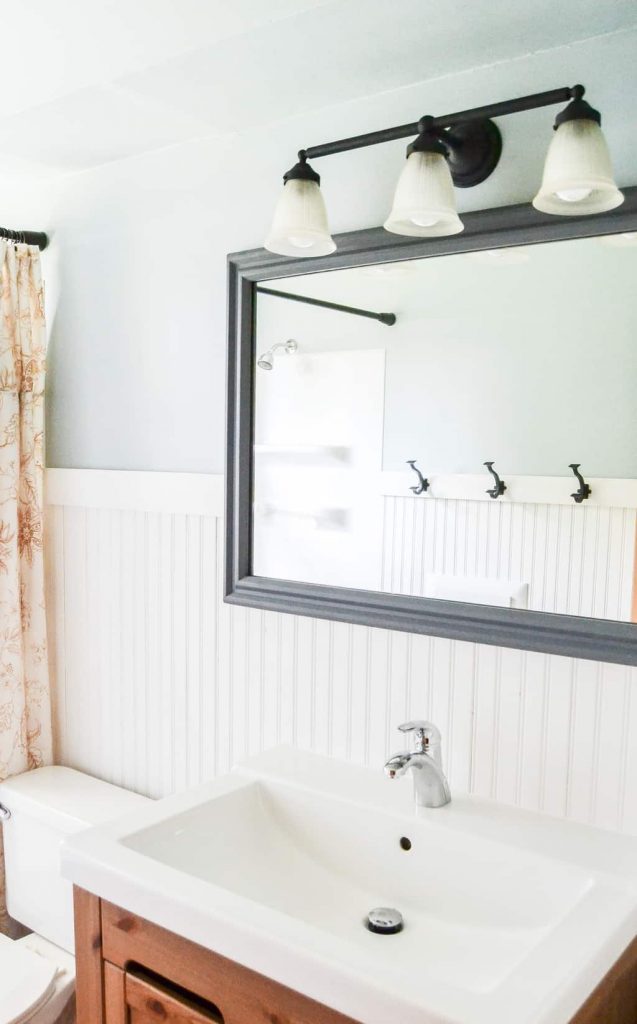 We couldn't be more happy with this bathroom makeover. It really came together nicely and we were able to stay on budget and on schedule.
The rest of the house is totally different as well, but it seems like the bathroom had so many changes that it really was the show-stopper of the renovation.
Check out the final photos of our flip house makeover.
The flip house would not have happened without the 4 letter word that Matt and I acted on. It is something we firmly believe in now and when it all came to fruition, I was reading the book, "So Close To Amazing" written by one of my blogging idols – KariAnne Wood from Thistlewood Farms.
If you have never visited her blog, do yourself a favor and check it out. She is a fabulous story-teller and her home and projects are beautiful. Her stories about being "so close to amazing" are hilarious and made me realize that I need to celebrate the times when I am so close to being amazing and things fall short. We all have those moments and they are important to our story. KariAnne also talks about the jump her and her family made and where it led her in the end.
PIN THIS POST!


If you liked this budget bathroom makeover, you will also love these posts:
Piano Bench Turned Farmhouse Bench