I want to thank HomeSquare for partnering with me on this patio makeover. All opinions are my own.
I can't believe I am finally writing this post. Since last year, I have been thinking about a front patio makeover. Matt and I sit out front when the kids are playing or when we are taking a break from working in the yard. Last year, we had so many other projects going on that the front patio wasn't a priority. When we were writing down our goals for 2017, the patio was high on the list.
I wanted to make the front welcoming and cozy and a better reflection of what the inside of our home looks like. I wanted it to call to us to hang out there more often. Matt works so hard on all the landscaping that I want to spend more time enjoying it.
With the help of HomeSquare, I can say that the front patio is definitely calling us now. It is saying, "Come and sit down for a bit. Relax. You deserve a break!" We have been doing just that too. At night after we are done with dinner or a project, we will sit out front and chill.
I am excited to share the makeover with you and show you what we have done so far to the little patio of ours.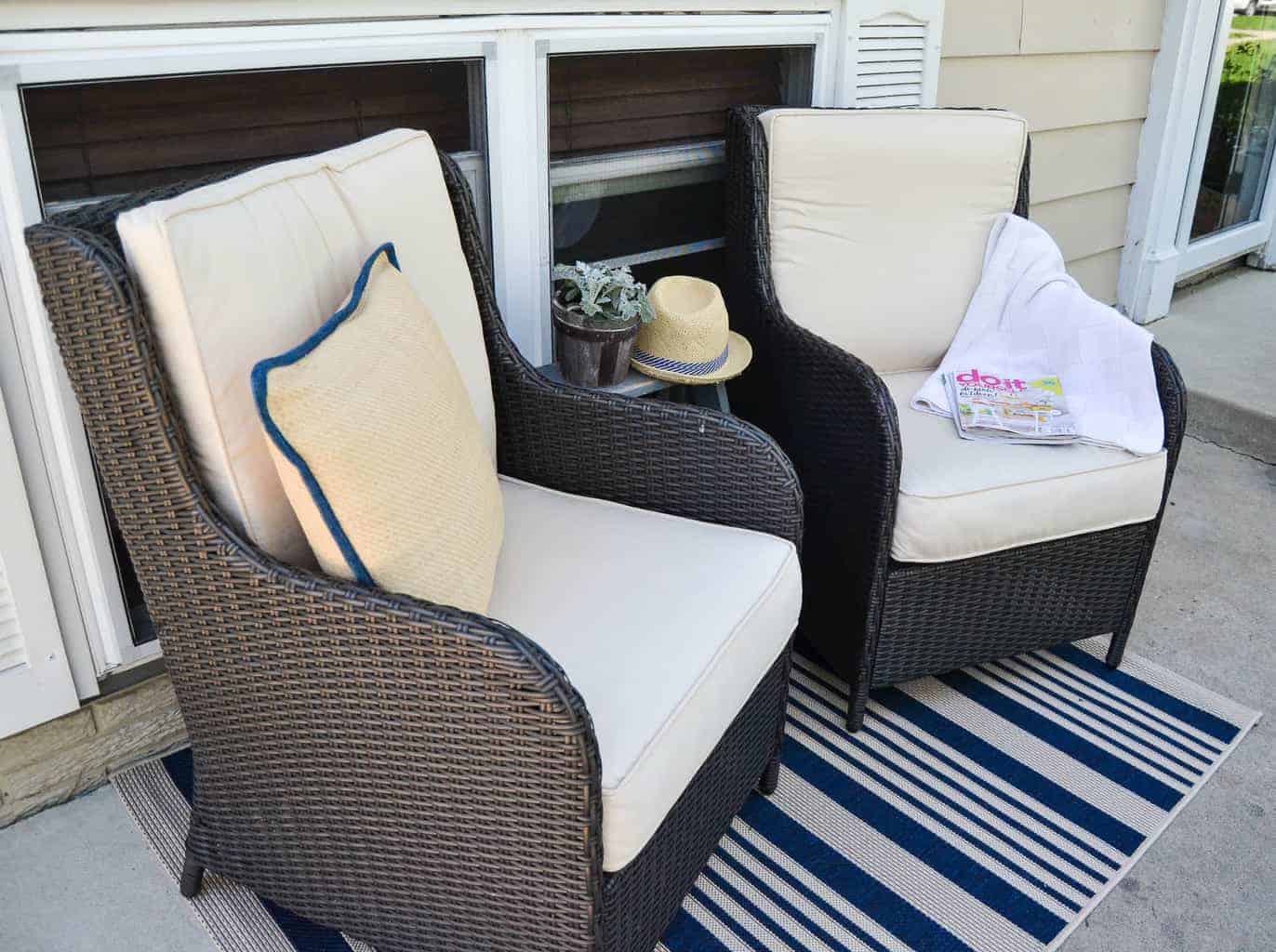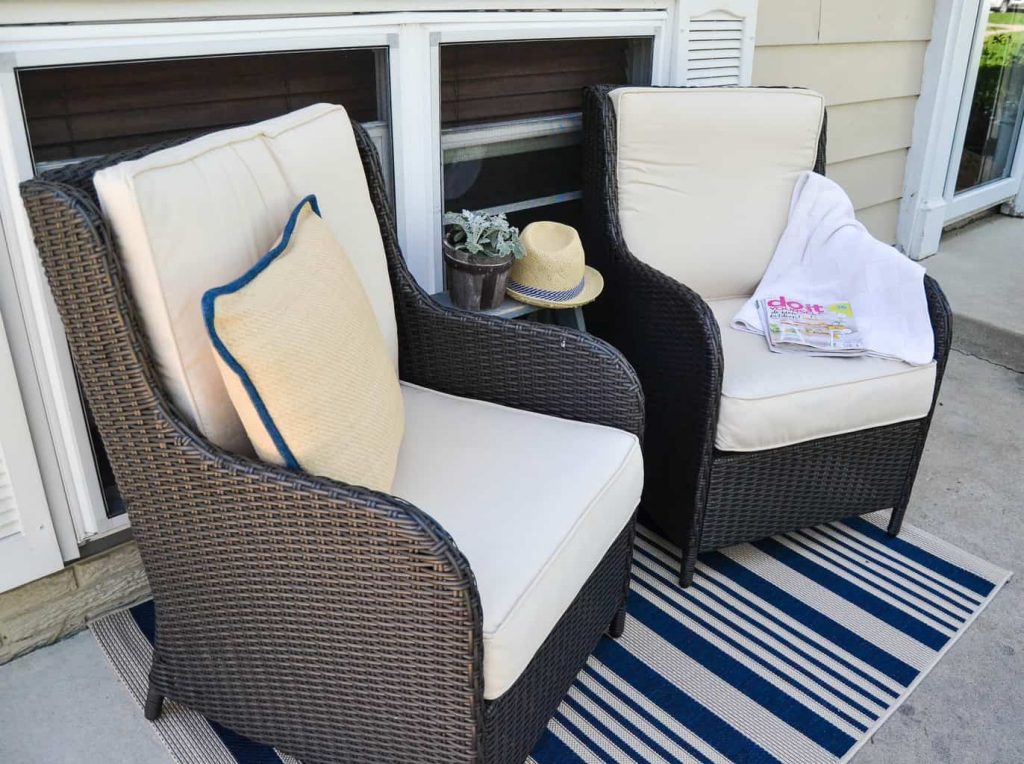 Our front patio extends from the front door to the driveway. It is a long space that I wanted to fill with chairs, a rug, plants, a bench and a little table.
I dream of having a covered front porch some day, but for now, I am grateful for a front patio to decorate.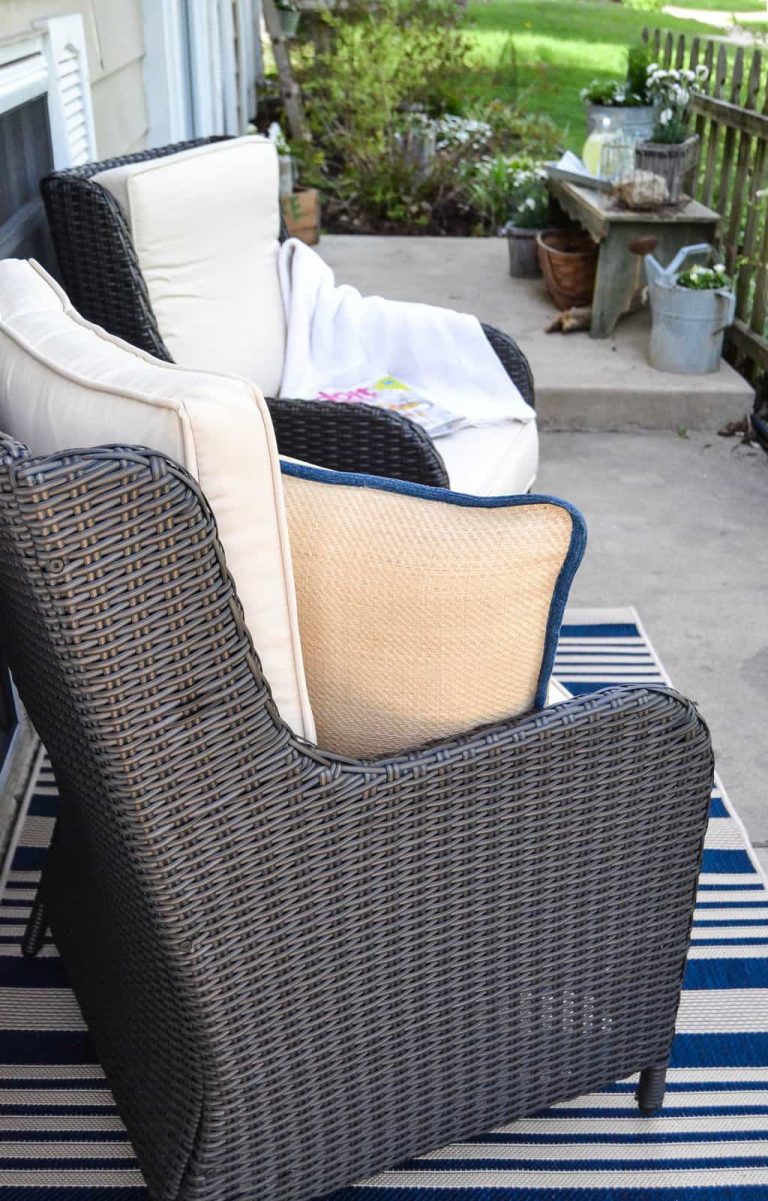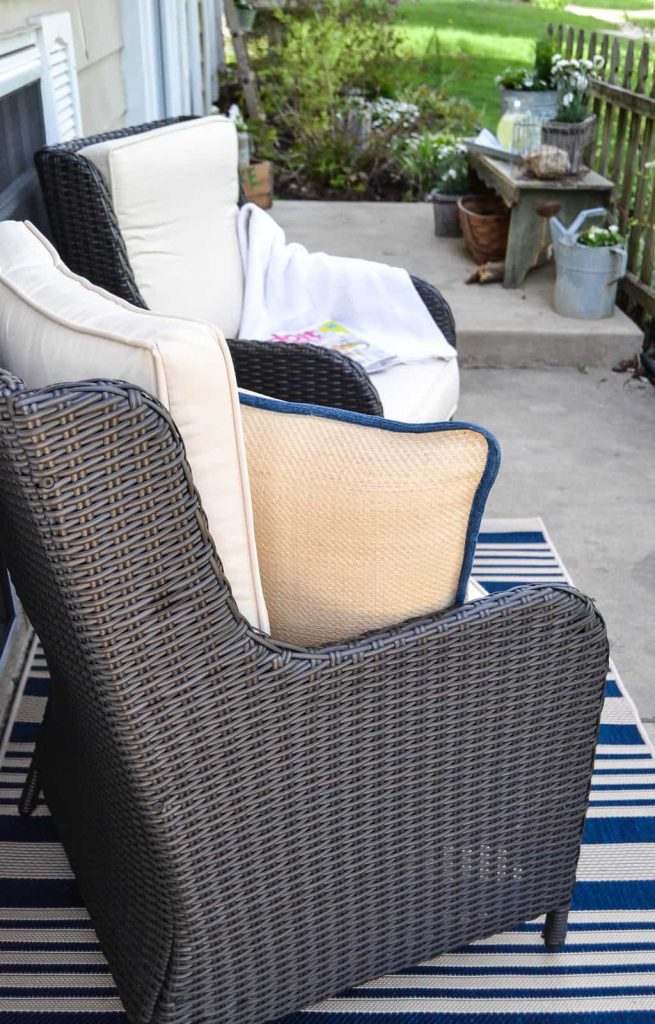 I came across HomeSquare a few months ago and fell in love with so many of the pieces they have! I was super excited to collaborate with them on this patio makeover. I added

two Riviera

Patio Chairs By Home Styles

to the patio. I wanted chairs with arms and cushions to bring the cozy feeling to the patio. I wanted to add an outdoor rug under the chairs and chose the Courtyard Navy Indoor Outdoor Rug By Safavieh. The rug and the chairs together really set the tone for the patio. It is finally the space where you will find me drinking tea and reading a good book or my favorite magazine.
The chairs were easy to put together. I shared the mess Matt and I made with the big boxes on the back porch while we put them together. With both of us working, we turned on The Voice and had both chairs put together halfway through the show. I love how sturdy and comfy they are. Perfect for lounging.
The Courtyard Navy Indoor Outdoor Rug By Safavieh gives the patio a little color without going overboard. If you read my Blue Decor post, you know that blue is one of my favorites. I wanted to add a touch of it to the patio makeover and this rug did the trick. I have to tell you a little funny story about adding the rug to the porch. We always take our shoes off at the door when we enter our home. We have hardwood floors throughout, but there are rugs in some of the rooms. When I got the patio put together, I took my shoes off so I could step on the rug and sit in the chairs. A habit I guess. I will need to retrain myself that this is an outdoor rug and will be out during the elements so I can wear my shoes on it. 🙂
I started putting the patio makeover together after we had our HUGE spring yard sale. We got rid of so much stuff. We couldn't believe it. After a sale like that, I always feel refreshed. It does wonders on my soul and mind when I organize and purge each space in our home. It is even more freeing when I see all those things walking out of the garage and down the driveway to a new home. Once the sale was over, the tables were put away and the garage was put back in order, I couldn't wait to start the patio makeover.
It was a blank slate and with all the "stuff" going from the sale, my decorating mind was ready to work. For me, my creative juices flow when things aren't cluttered and take over space in our home and my mind. I would highly recommend this process to anyone. It is work, but I wrote a post about how to organize a successful yard sale that makes the process less daunting. You will thank me later.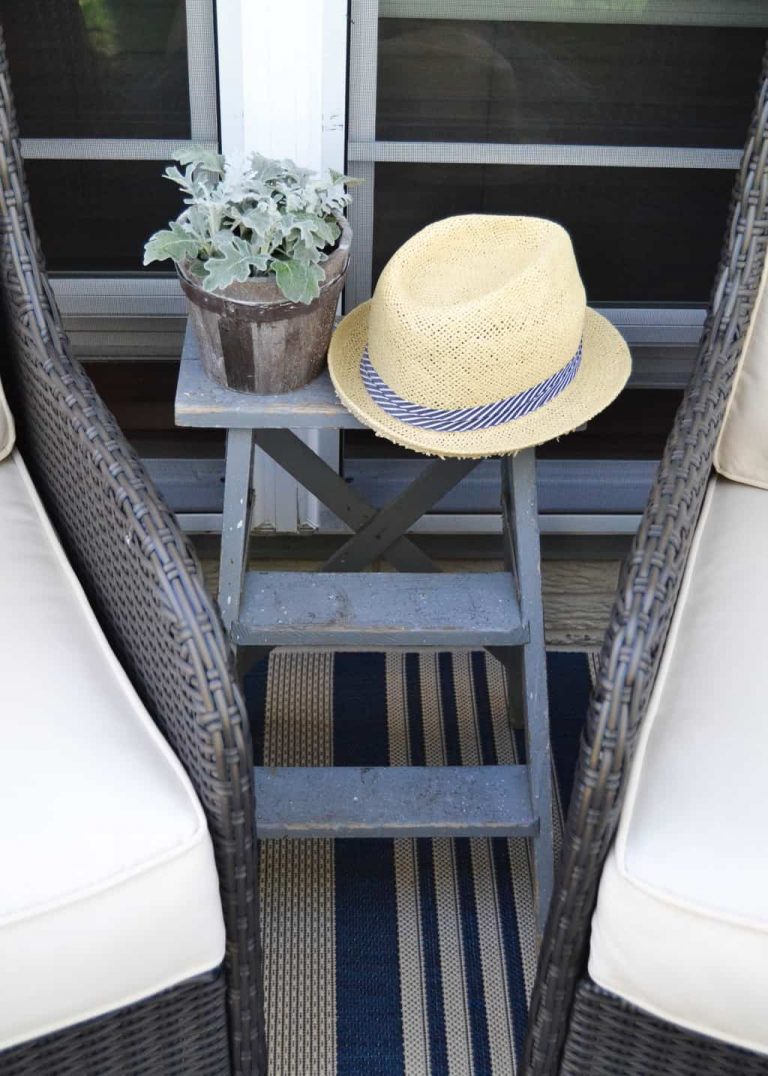 After I had the chairs and rug on the patio, I thought we would DIY a table to go between the chairs. But, as I was going through pieces I wanted to sell at our yard sale, I came across the little gray ladder I picked up last year. I didn't have the perfect spot for it at the time, but I had to keep it. When I saw it again, I knew it would find its new home in the front patio makeover. It is just the right height between the chairs. It doesn't take up a ton of space, but holds our drinks and even some small plants. It was meant to be between the chairs.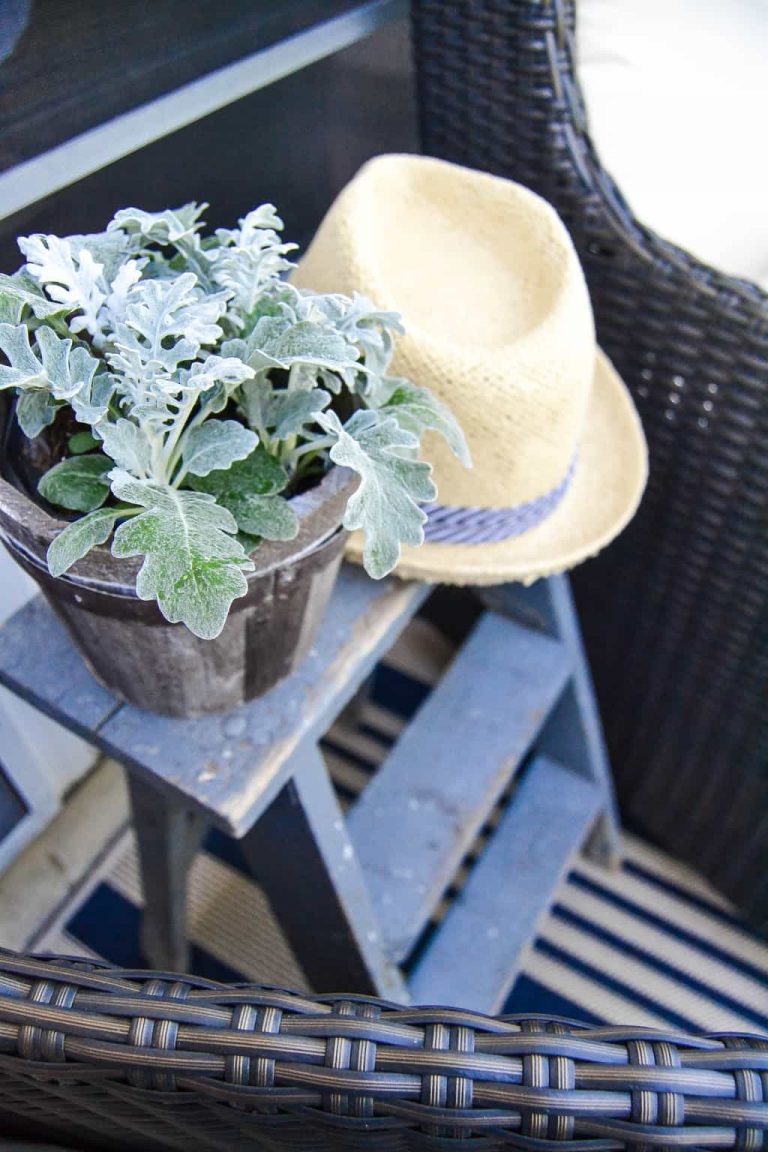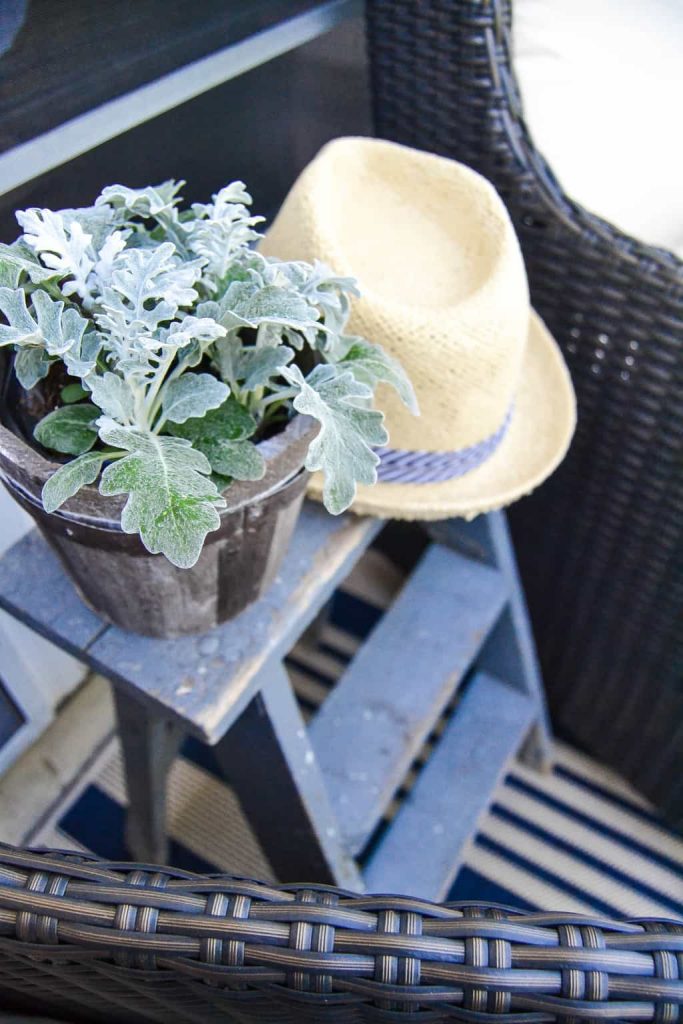 I wanted to fill the patio with plants and flowers. We found green plants and white flowers to make the patio makeover come to life. I am still searching for taller plants to add by the door, but I want to wait until they go on sale. Plants can be expensive at the beginning of spring!!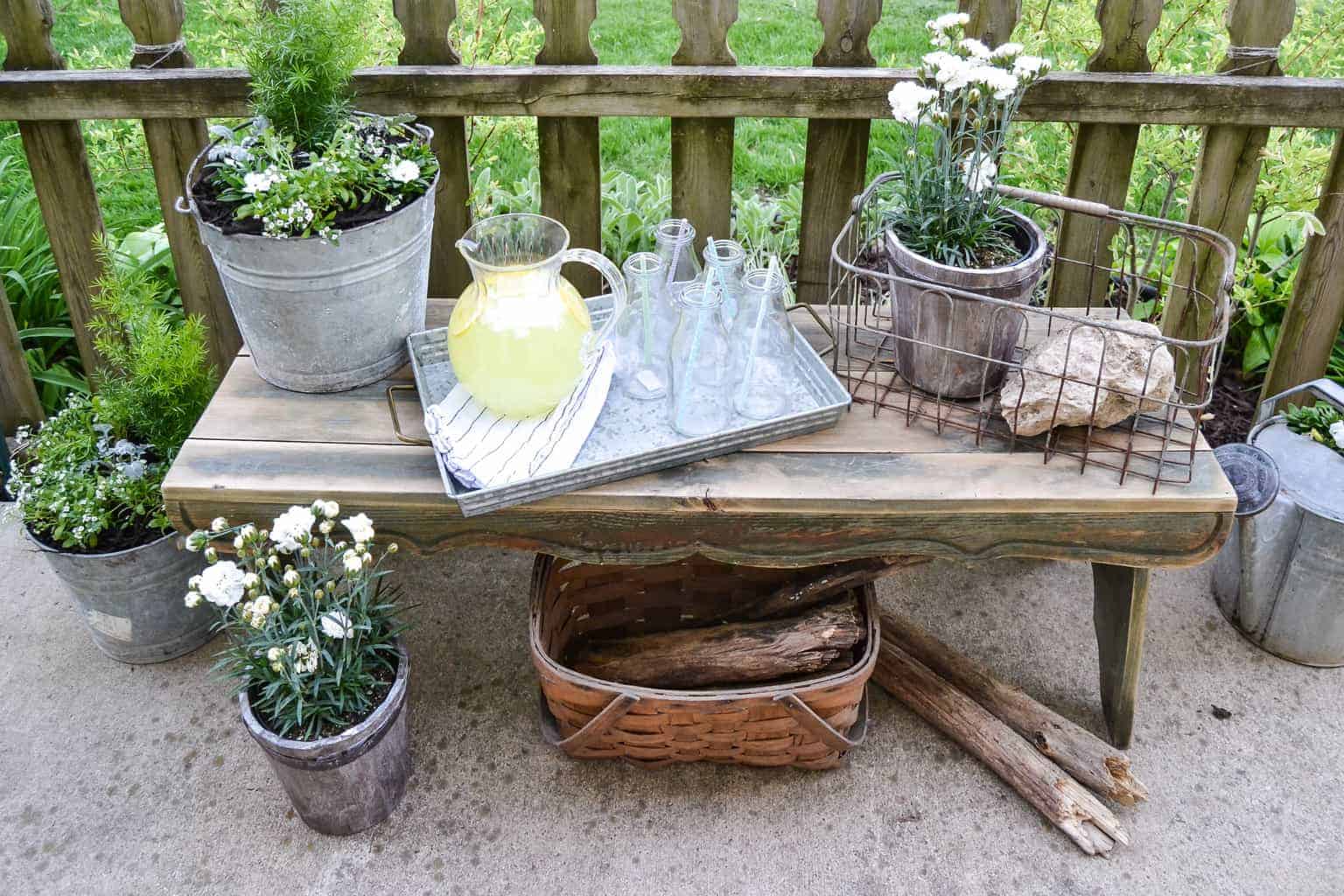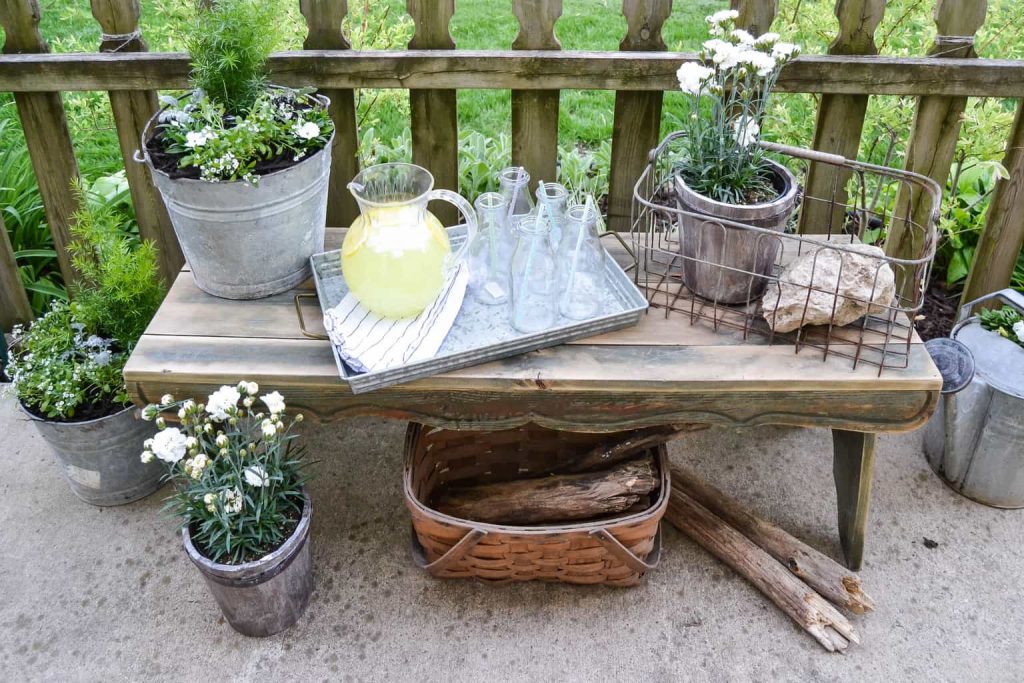 I bought the green bench at a yard sale last year and it has been on our back porch ever since. We weren't using it there so I brought it out to the front stoop and love it here! We water-proofed it and I added potted flowers and plants to it. Basketball is played consistently at our house and the kids look forward to a fun drink when it gets warmer. The bench gives me a spot to serve snacks and drinks to them and it also serves as extra seating if we need it.
Galvanized anything makes me happy. I pick them up whenever I find them. I use them for all kinds of things, but these pieces were perfect planter for the front stoop.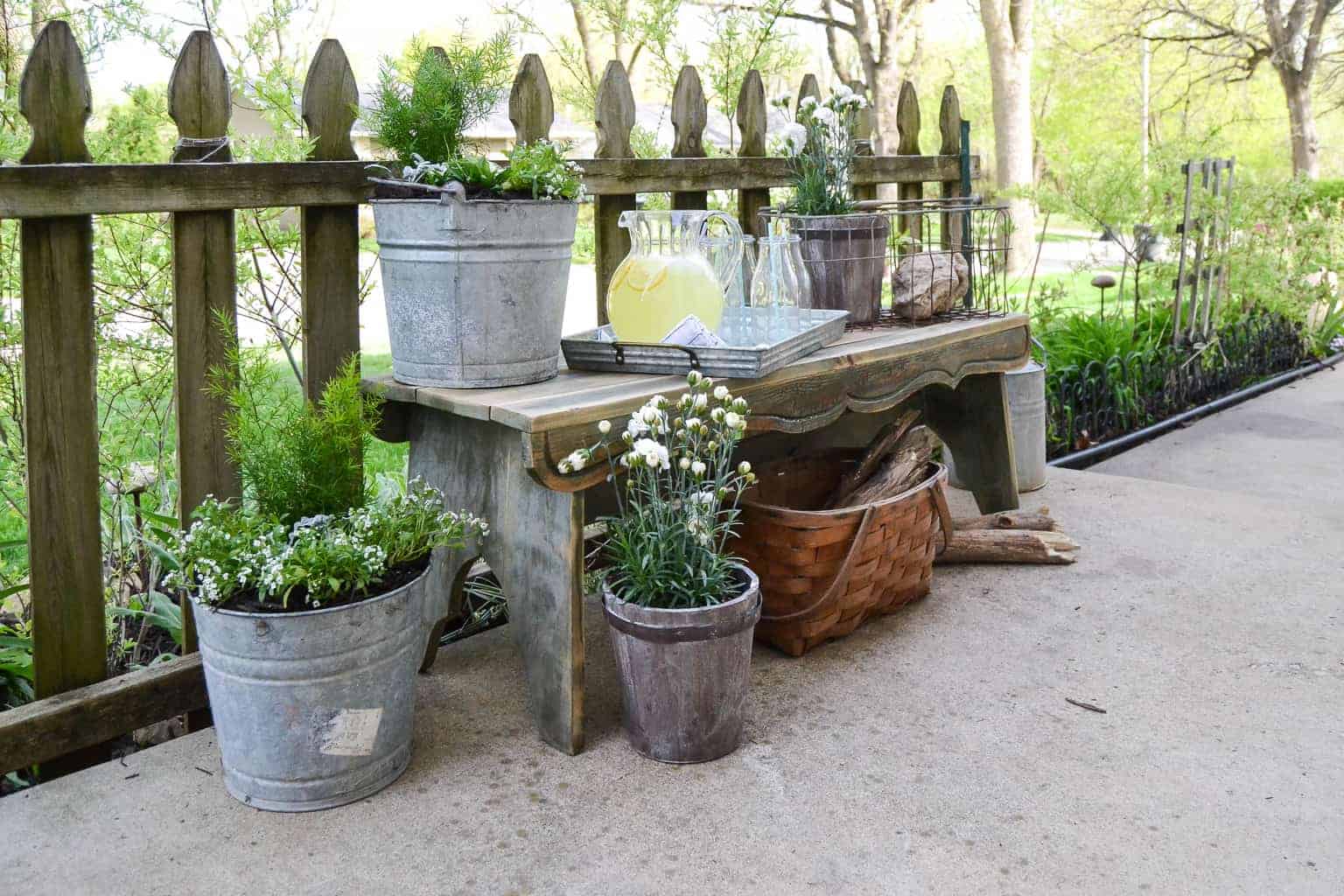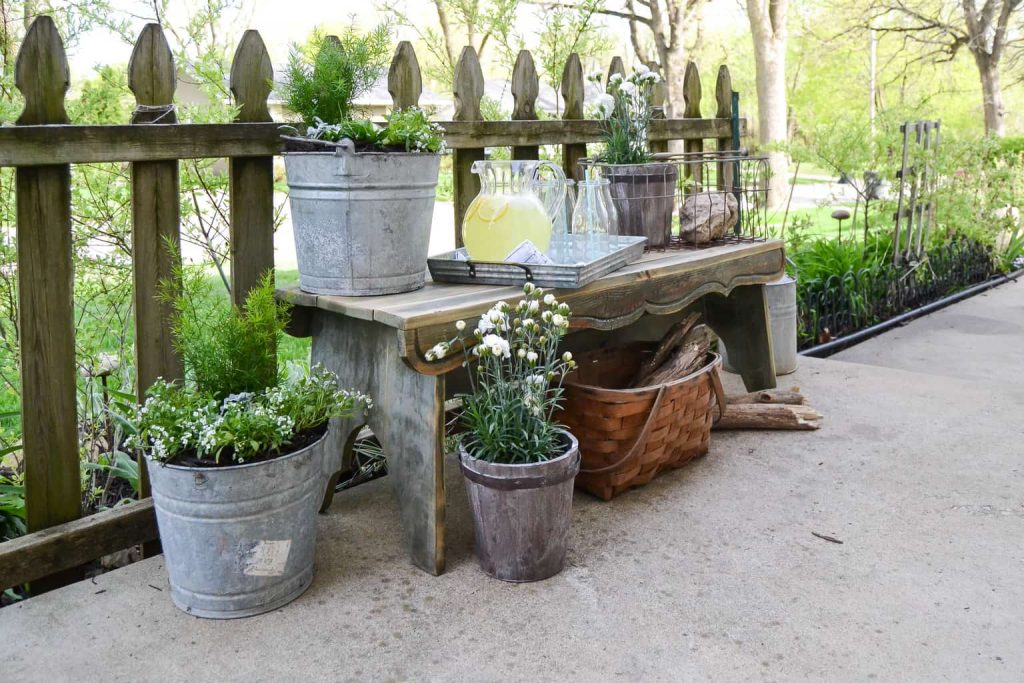 Before I really got into decorating, I didn't think about the entire look and feel of a makeover. With this patio makeover, I really wanted it to look and feel like the inside of our home. I wanted it to give our home some cozy, curb appeal and look great from the street. It really has. I even got in the van and drove up and down the street to make sure. HAHA!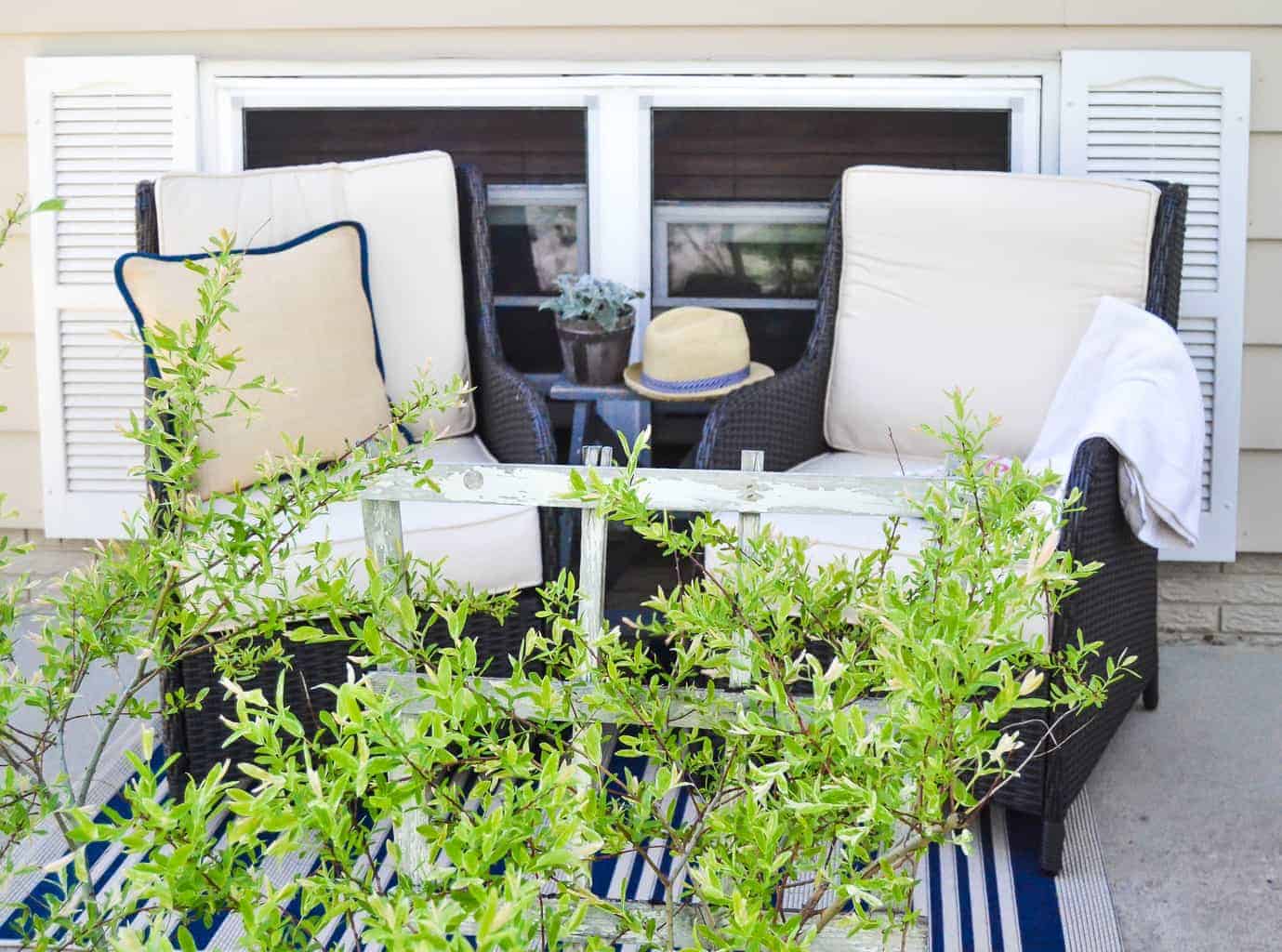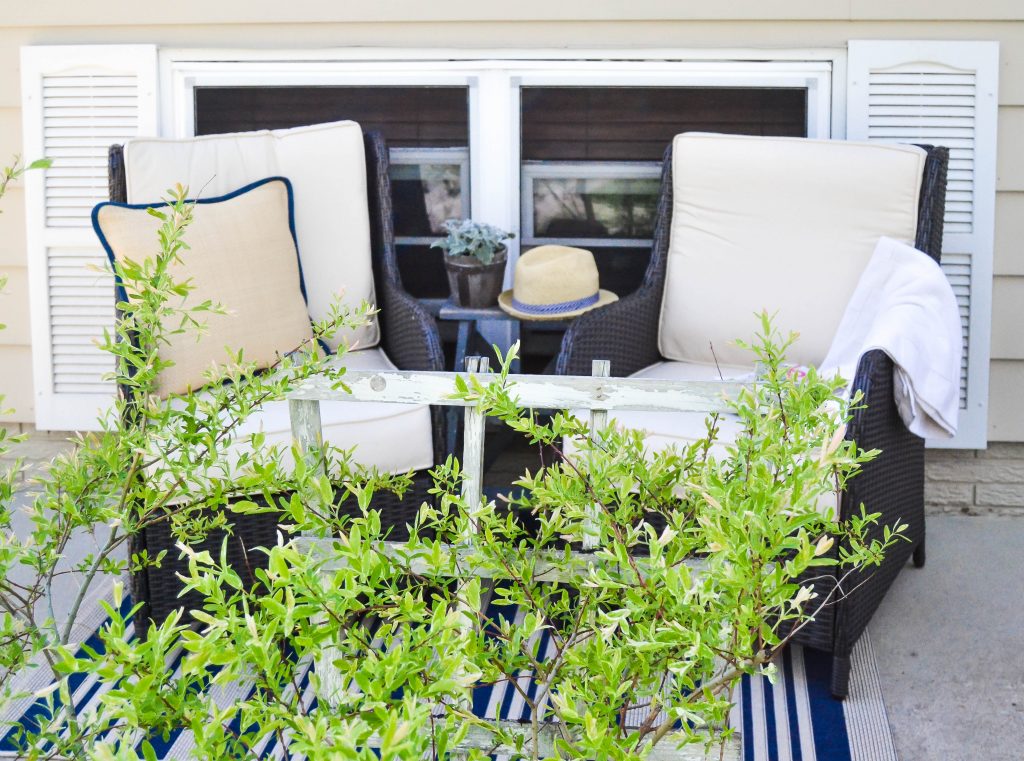 Old, wood boxes are a close second to my galvanized love. I have a few in our home because they are great for so many things. I will not leave this box out in the elements, but wanted to add something in this corner for the photos. I want to add a taller plant or something else in this corner. I will know what it is when I see it.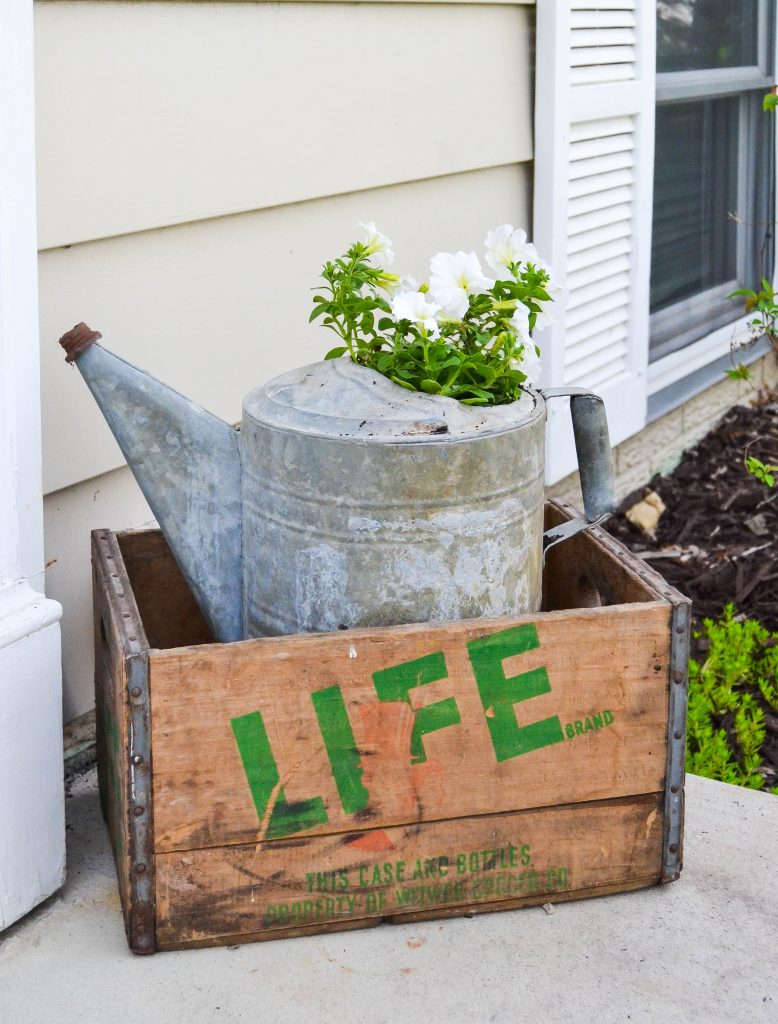 Last year, we planted new plants on the right side of our front door. It was still early when I took these pictures, but things are coming up rather well over here. I LOVE white flowers and we have plans to add a few more to this space.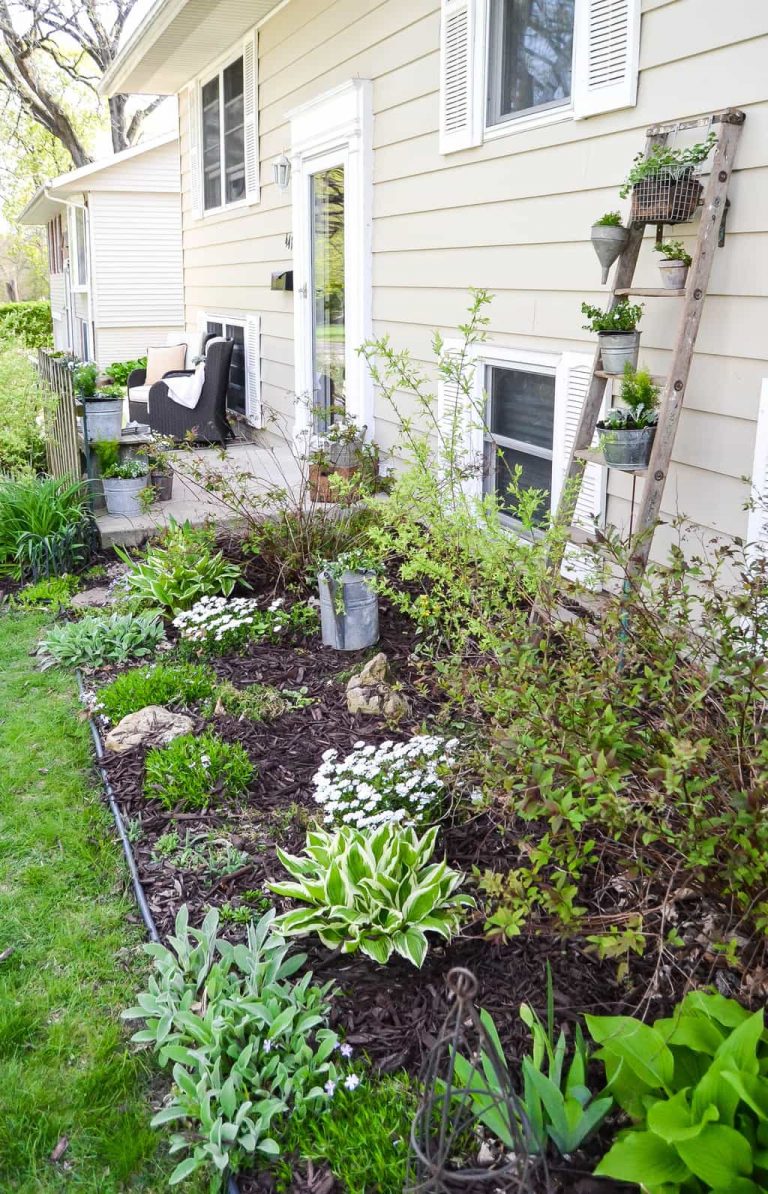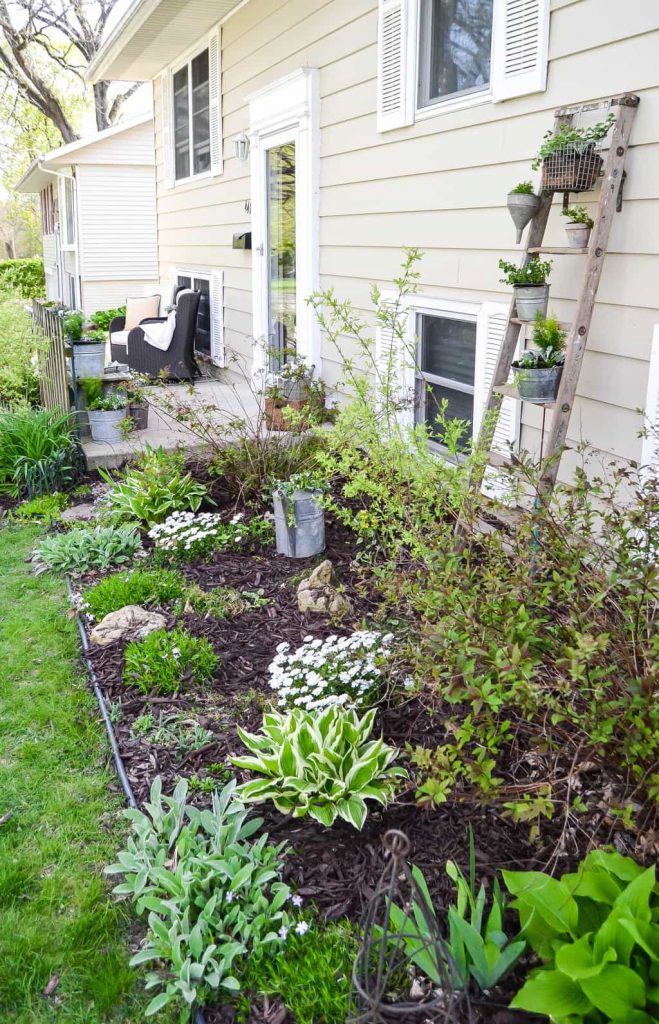 The ladder is so interesting. It has beautiful green parts on it that you can't find anymore. We took the back part of the ladder off and sold that at our yard sale. We kept the front part because we knew it would make a planter for the front of the house. The rungs are flat so it is perfect for holding pots.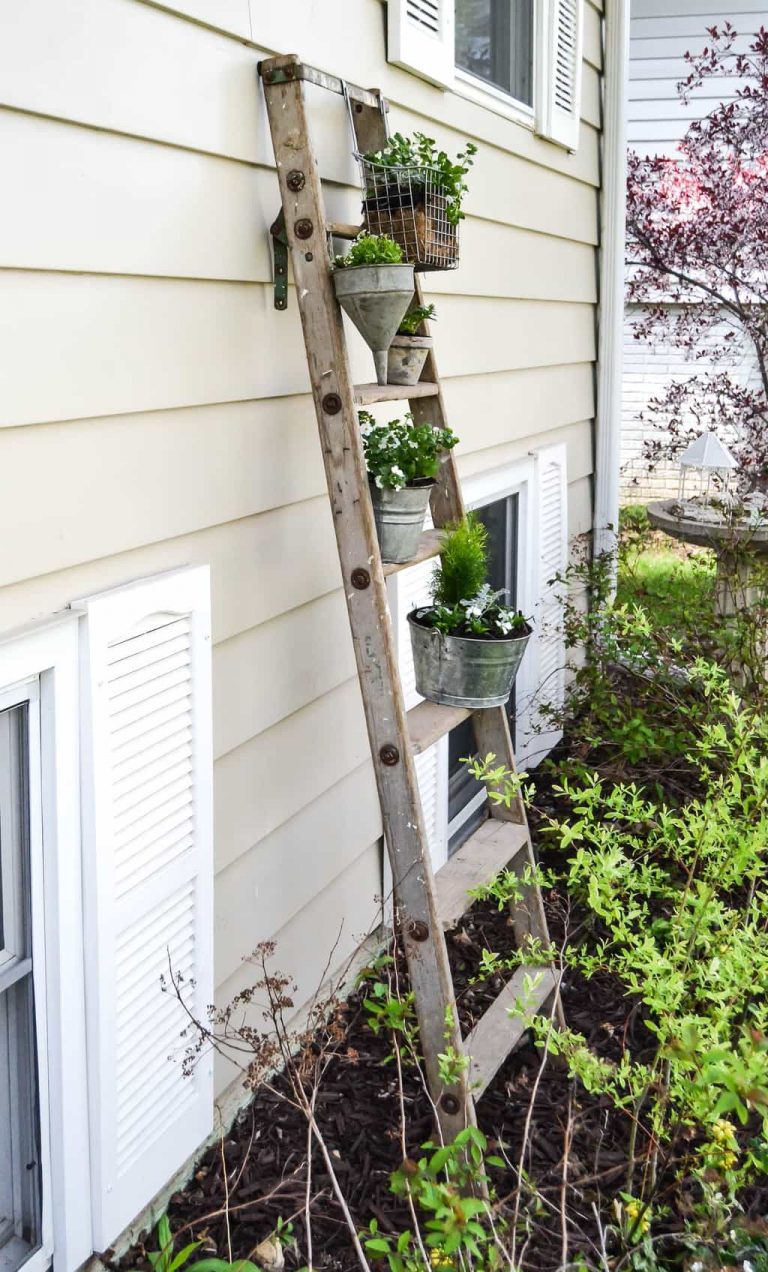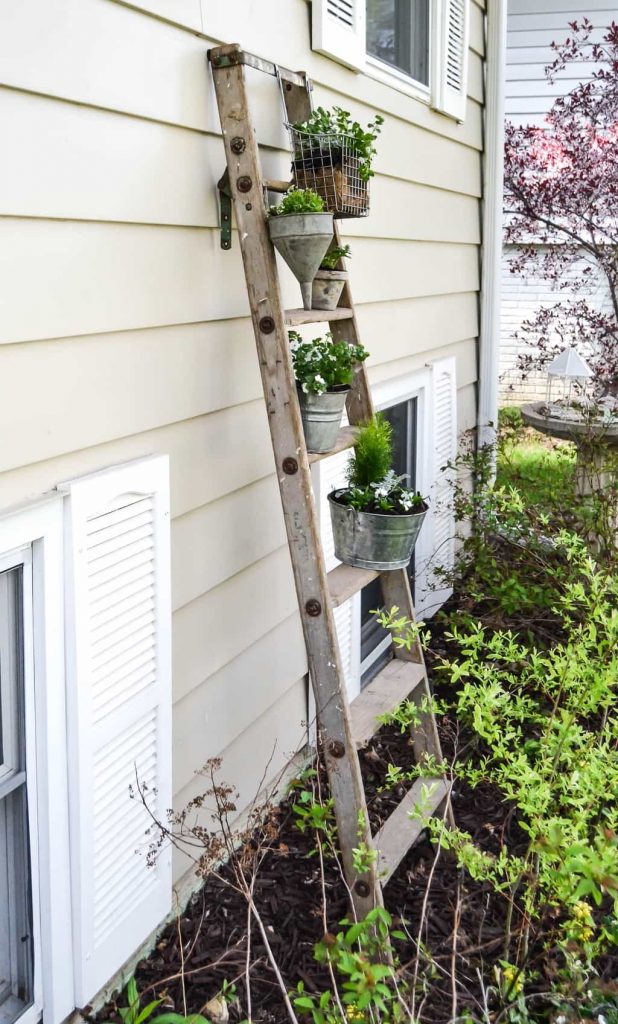 Just a few more pics to share: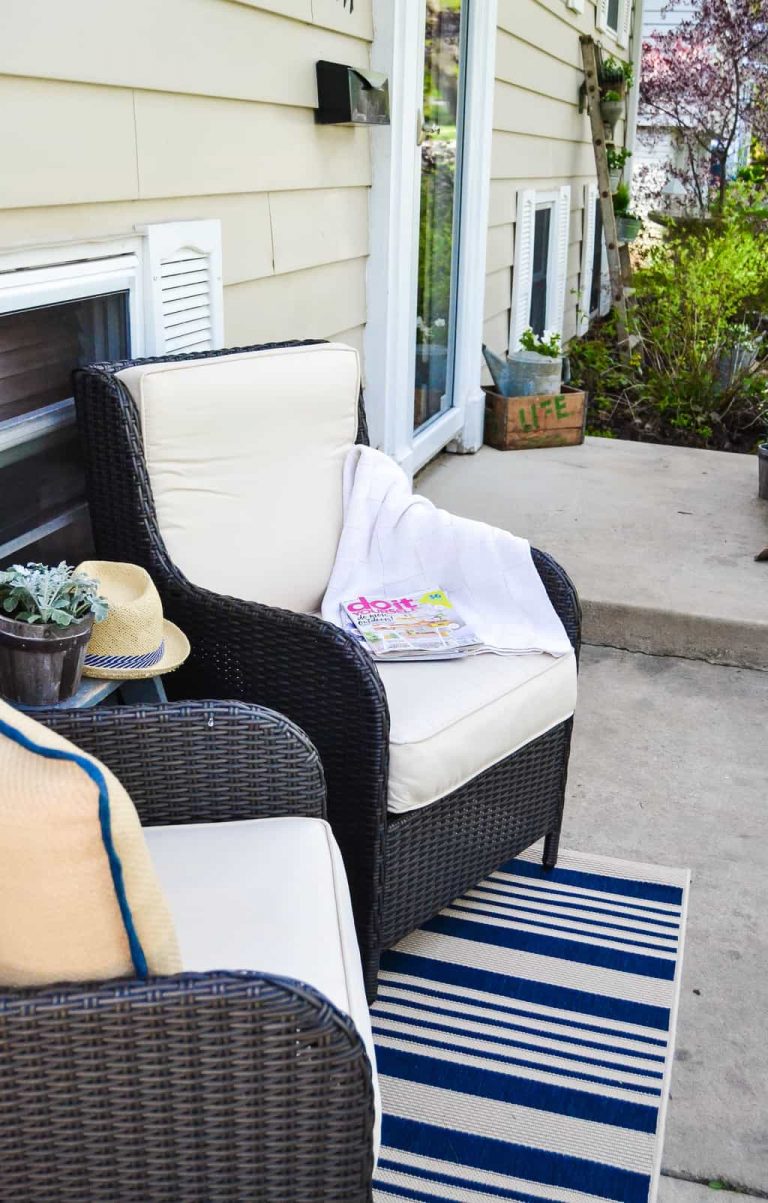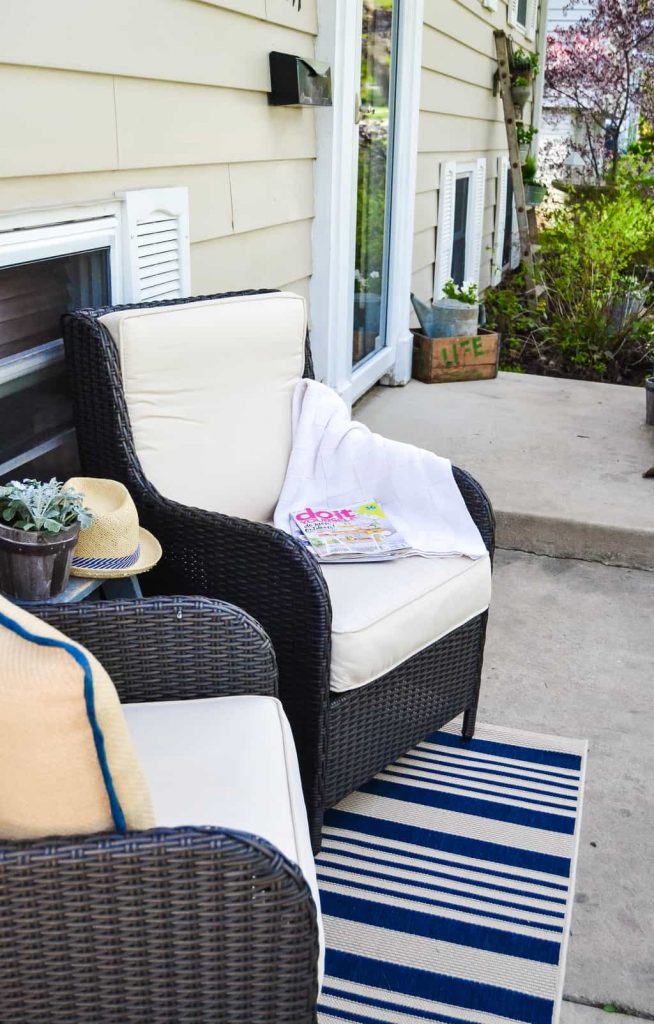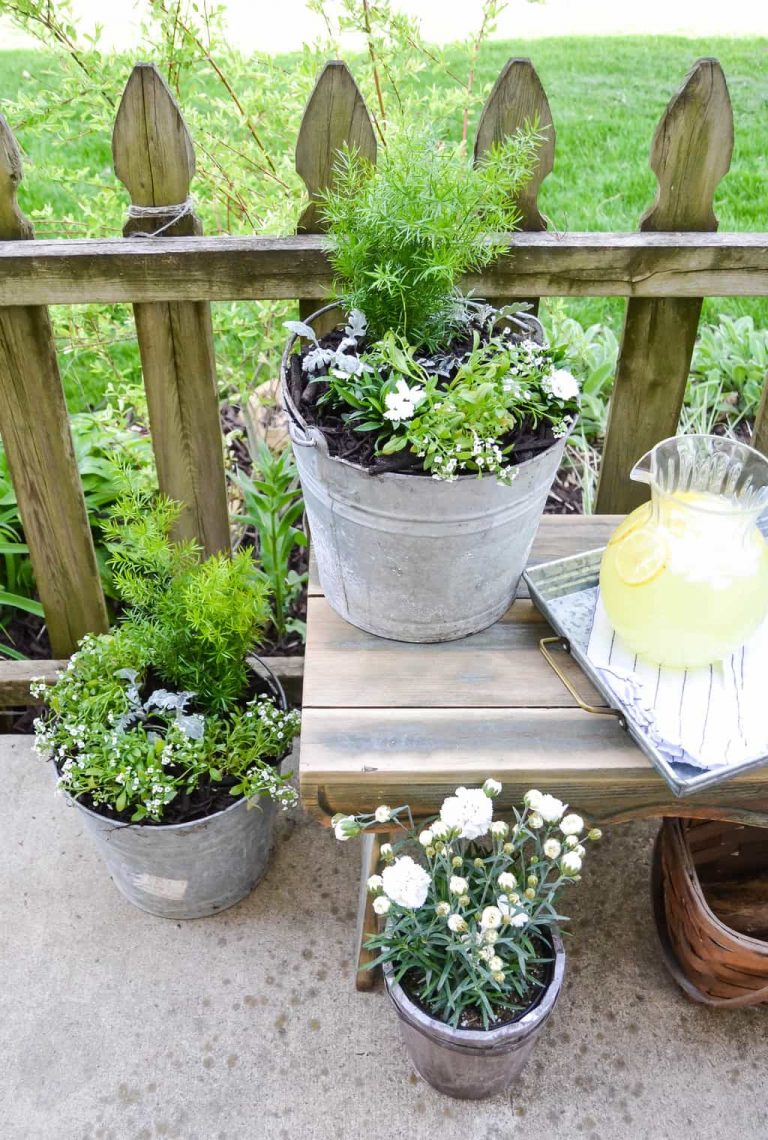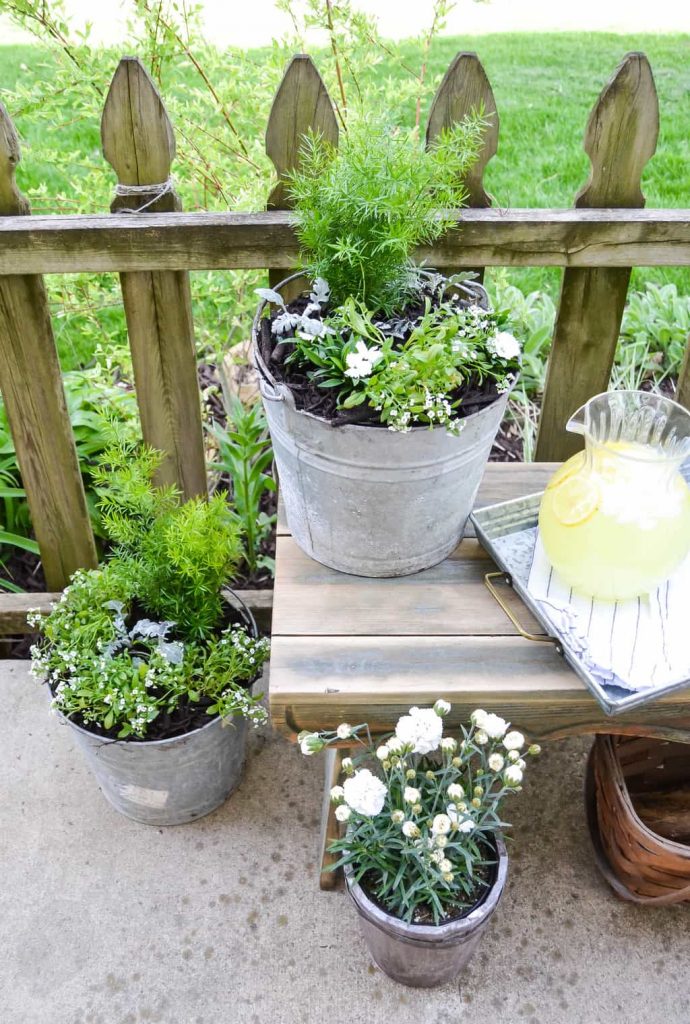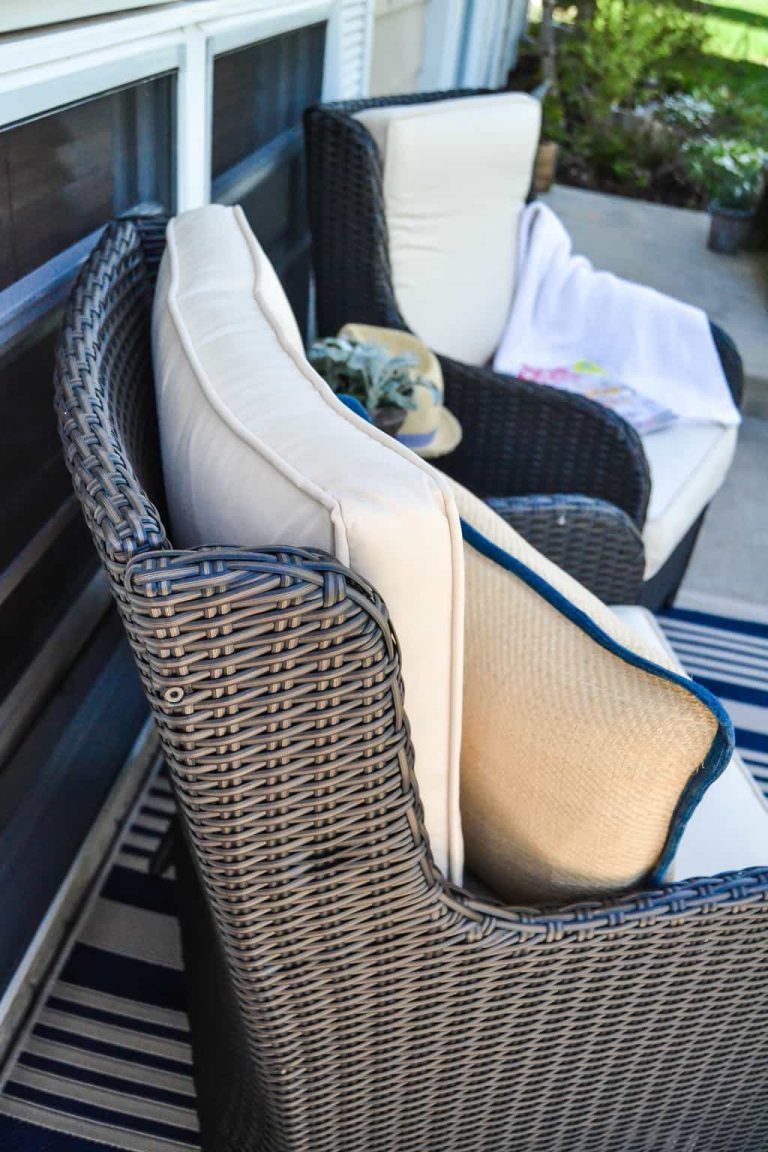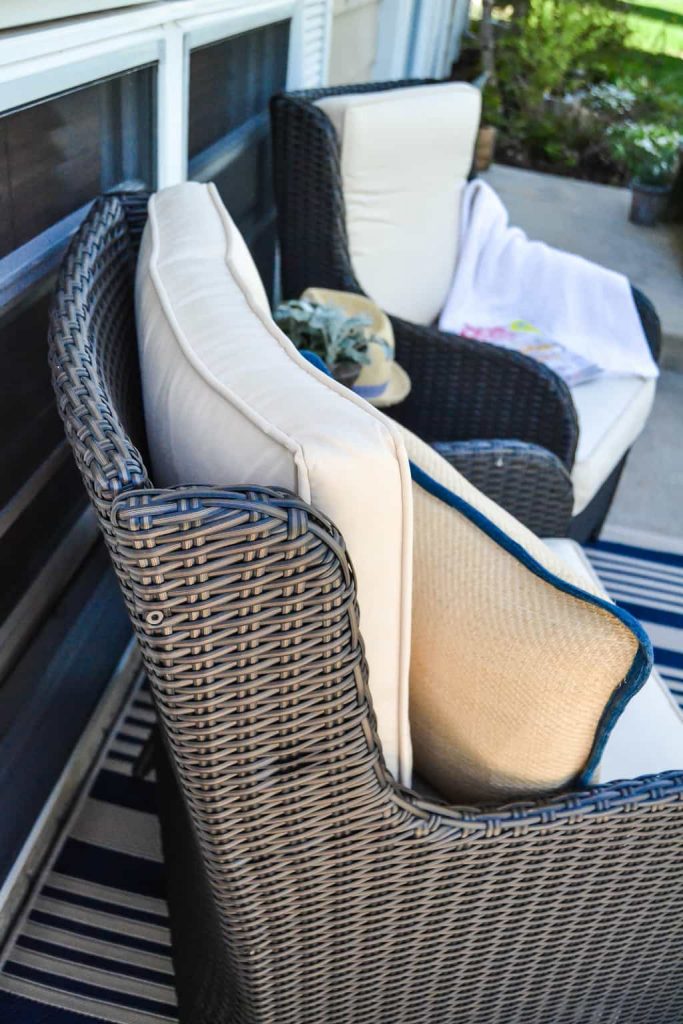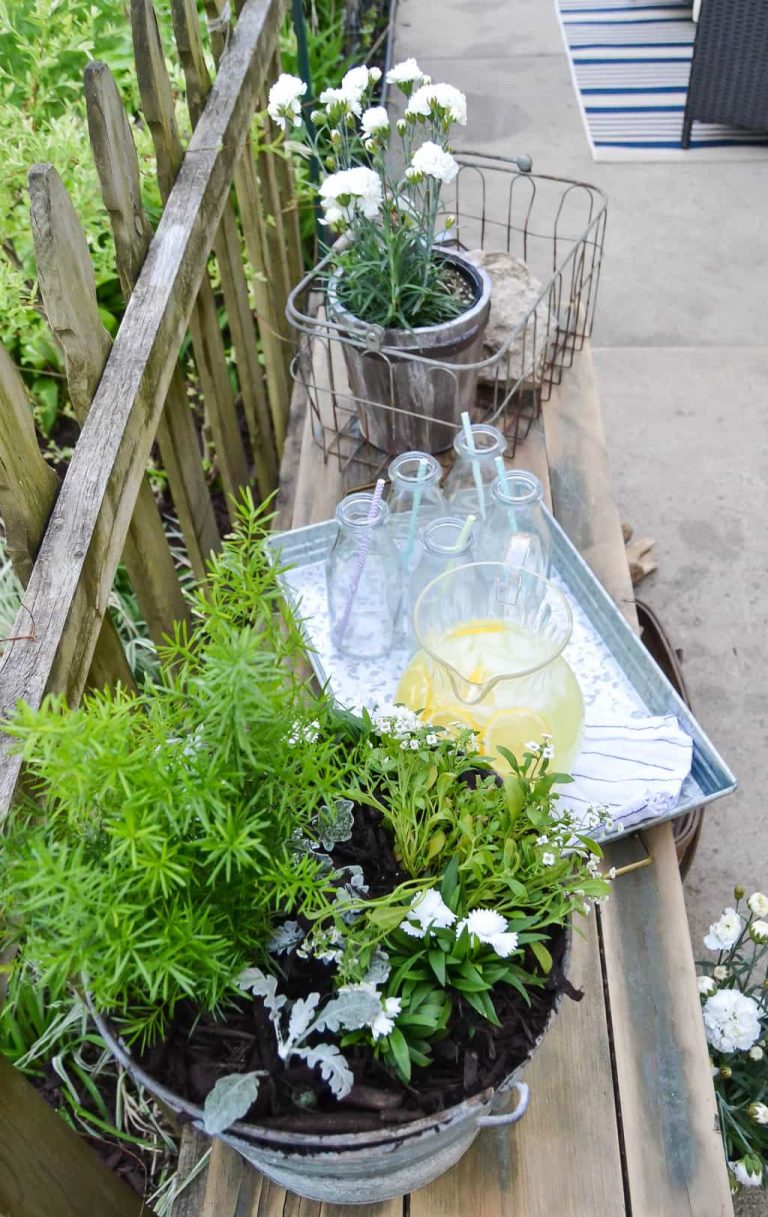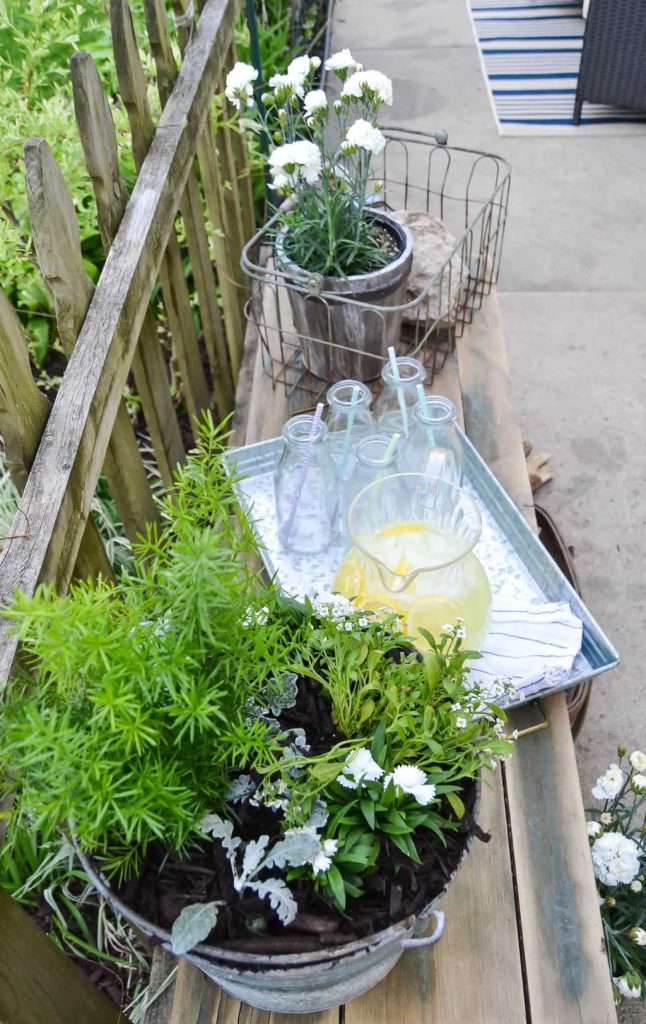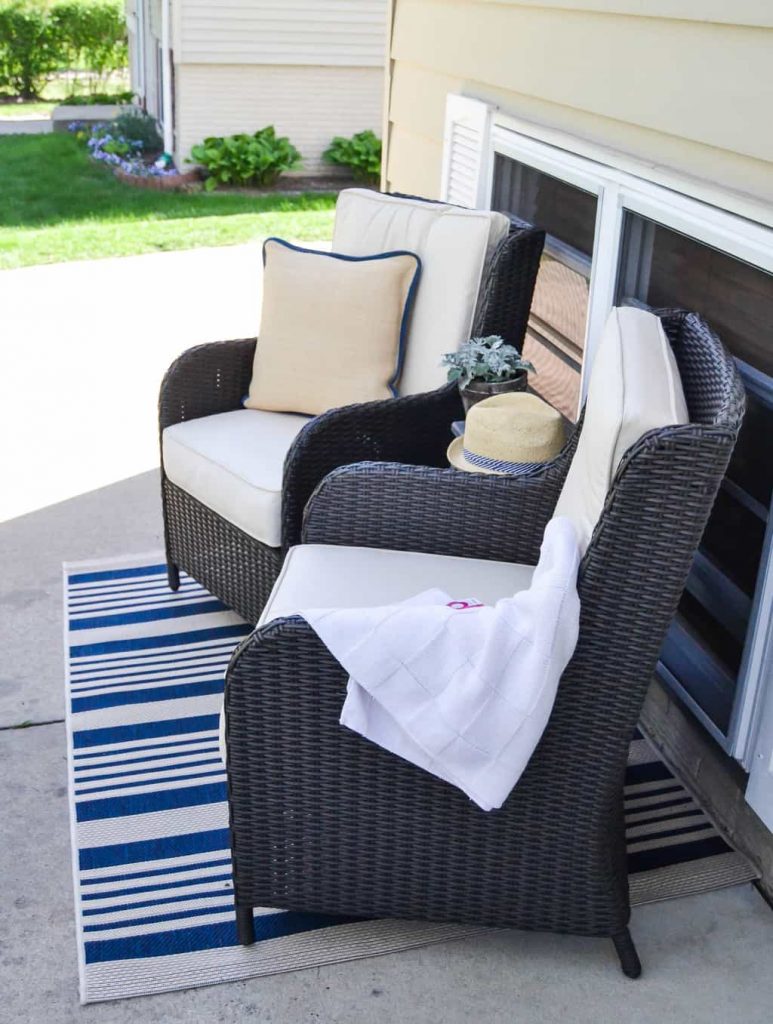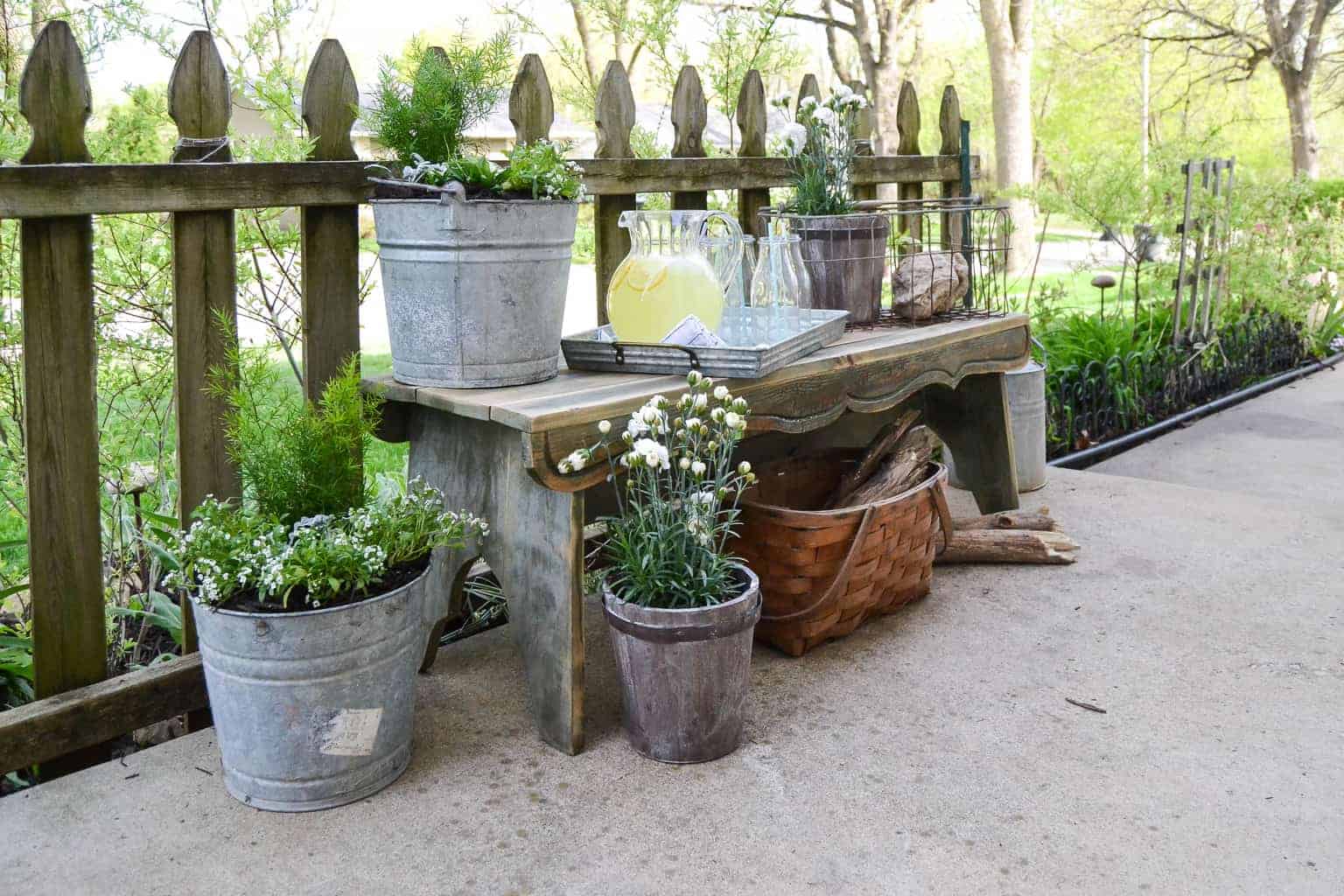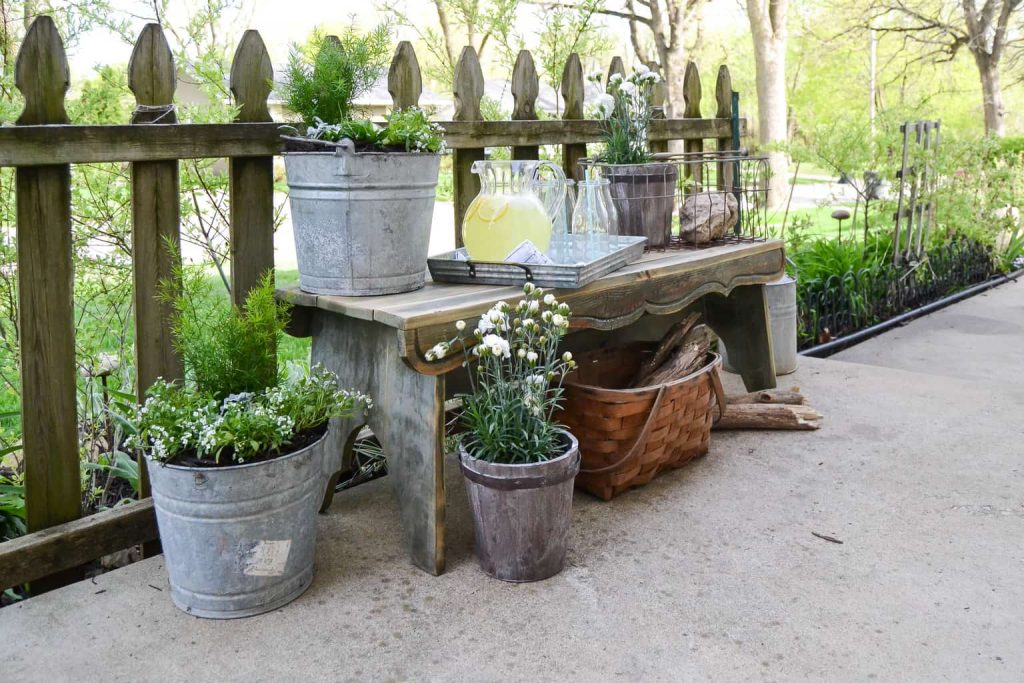 We will be on the hunt for a few more pieces and plants for the patio, but it is already a much happier place. We gave it the love it needed and now we are spending a lot more time out there. This is another great example of loving the space you are in. No matter where you are living; your forever home or your "right now" home, make it your sanctuary. It should be the place you unwind in and feel revived in. Here's to many front patio conversations and memories to come.
PIN THIS POST!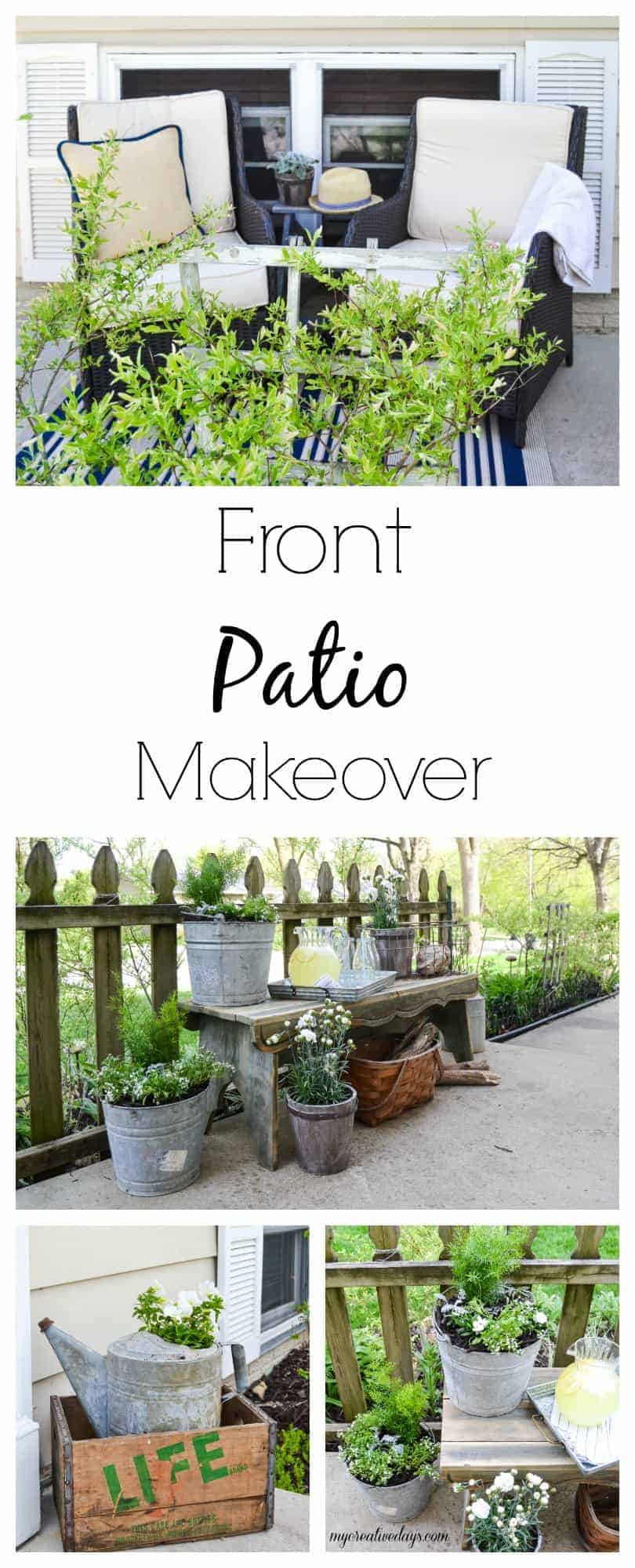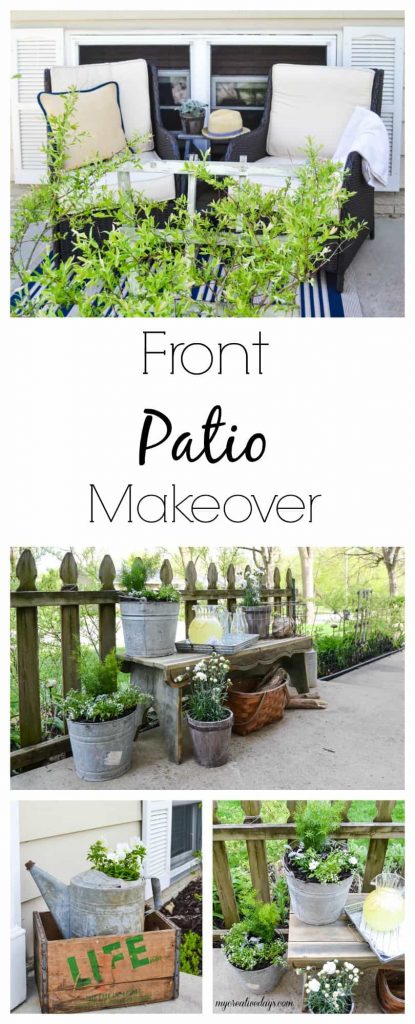 If you liked this patio makeover, you will also love these projects:
Curbside Cabinet Makeover For The Office