My blogging friends and I have come together to share some fun furniture makeovers based on a coastal theme. I had a lot of ideas for this makeover because I could have gone in so many directions. Then, I started thinking what could be "coastal" without being too "themey"? I love the look of driftwood and decided to make a upcycled driftwood coffee table.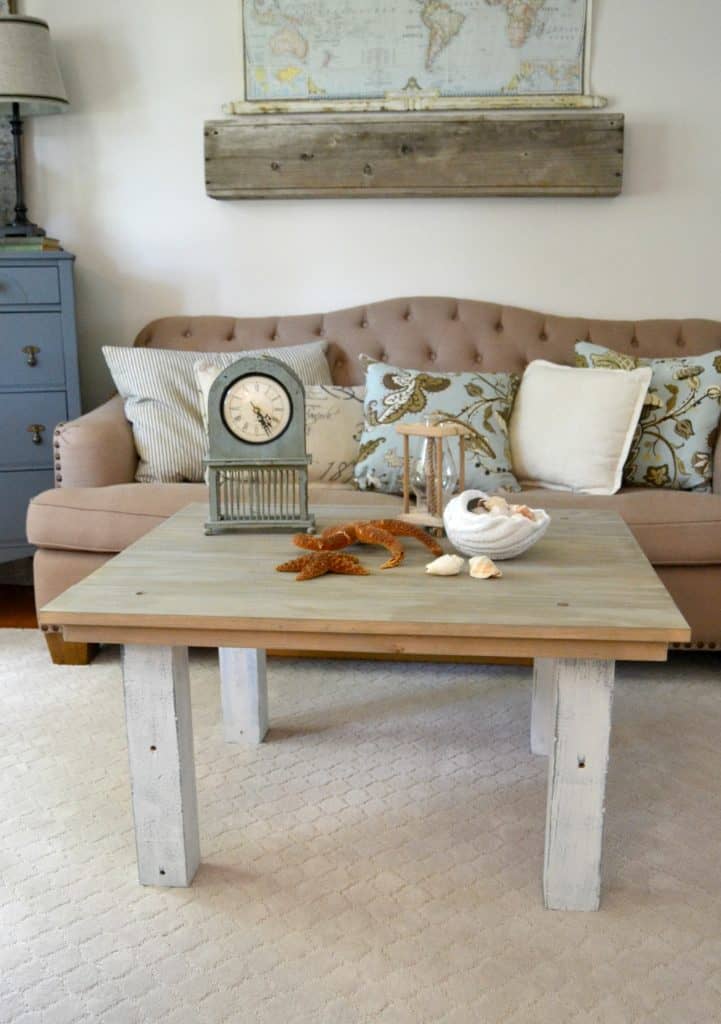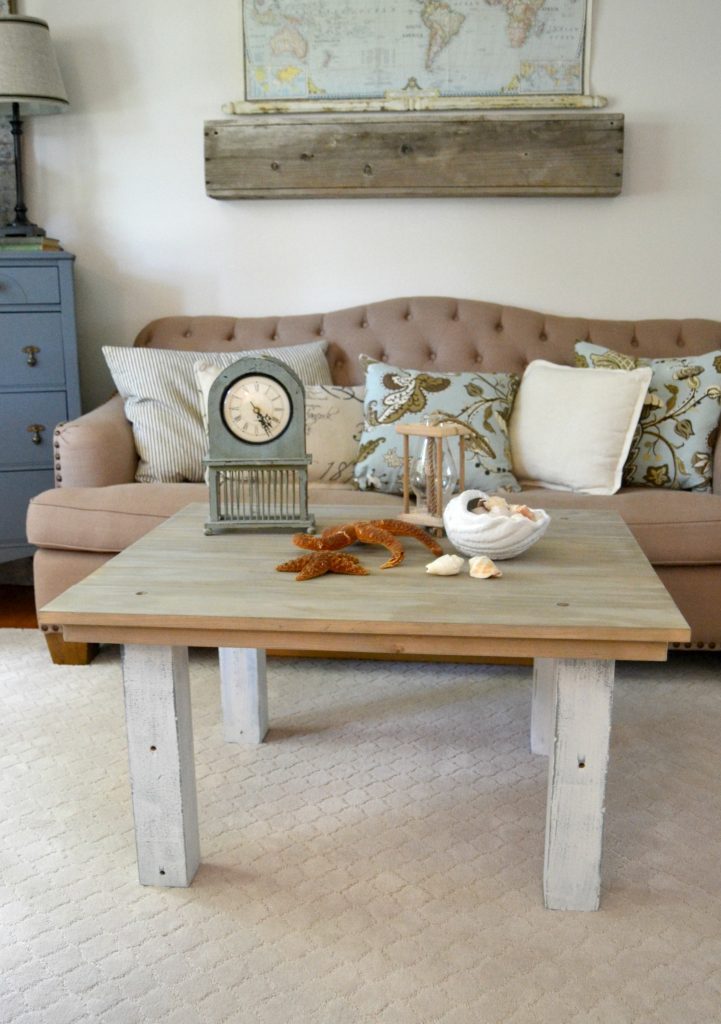 I picked up all of these pieces at my local ReStore. The wood piece was very inexpensive and the raw wood was full of potential. The posts were the perfect blue color and again, they were inexpensive and I thought I could use them for many different things.
For my coastal project, I wanted to upcycle these pieces and turn them into a driftwood coffee table. I wanted to cut down the posts for legs and make the raw wood look like driftwood for the top.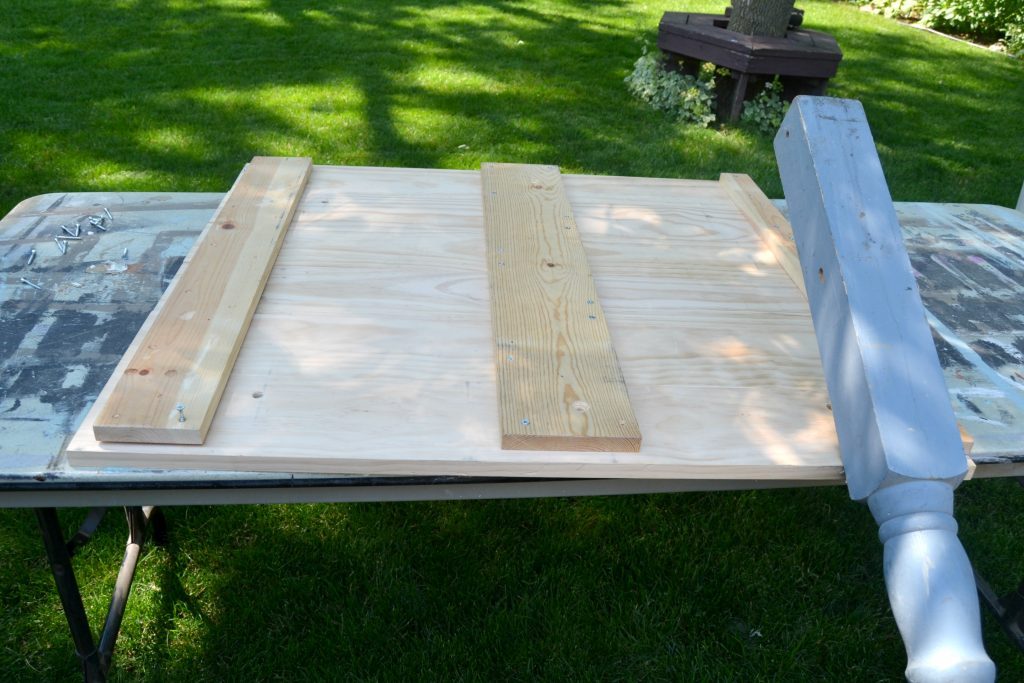 To make the wood work for the top, we had to rearrange the boards that were across the back to make room for the legs.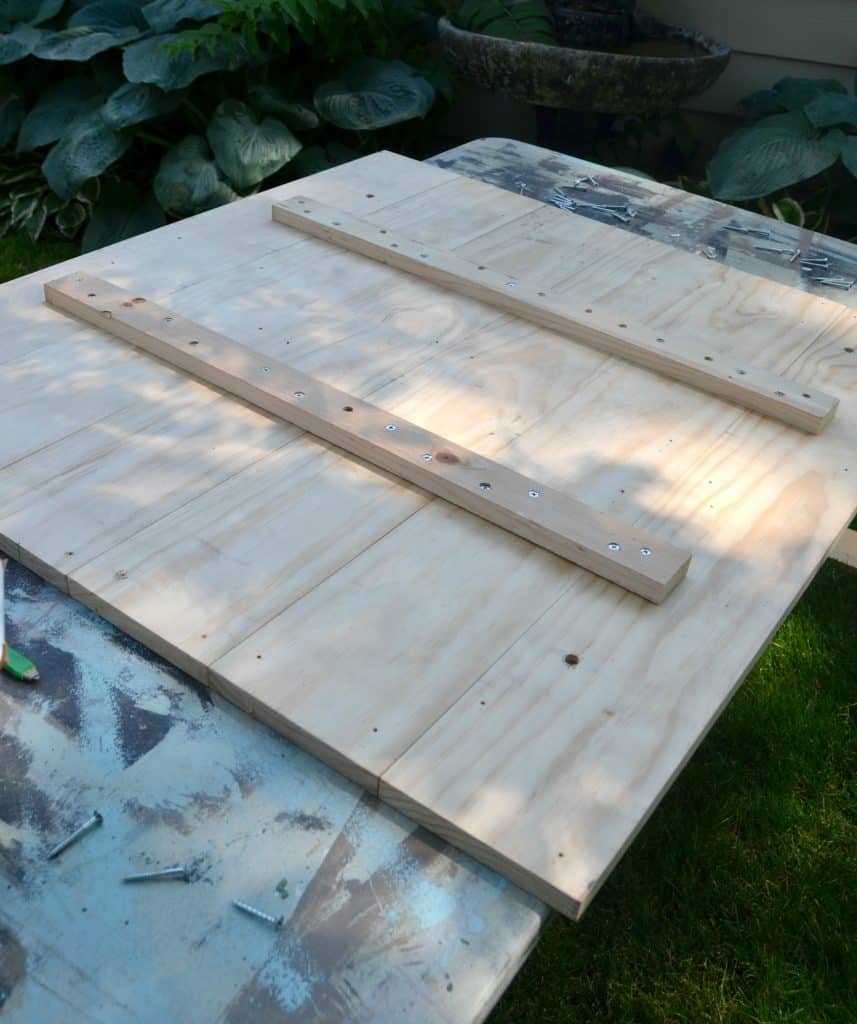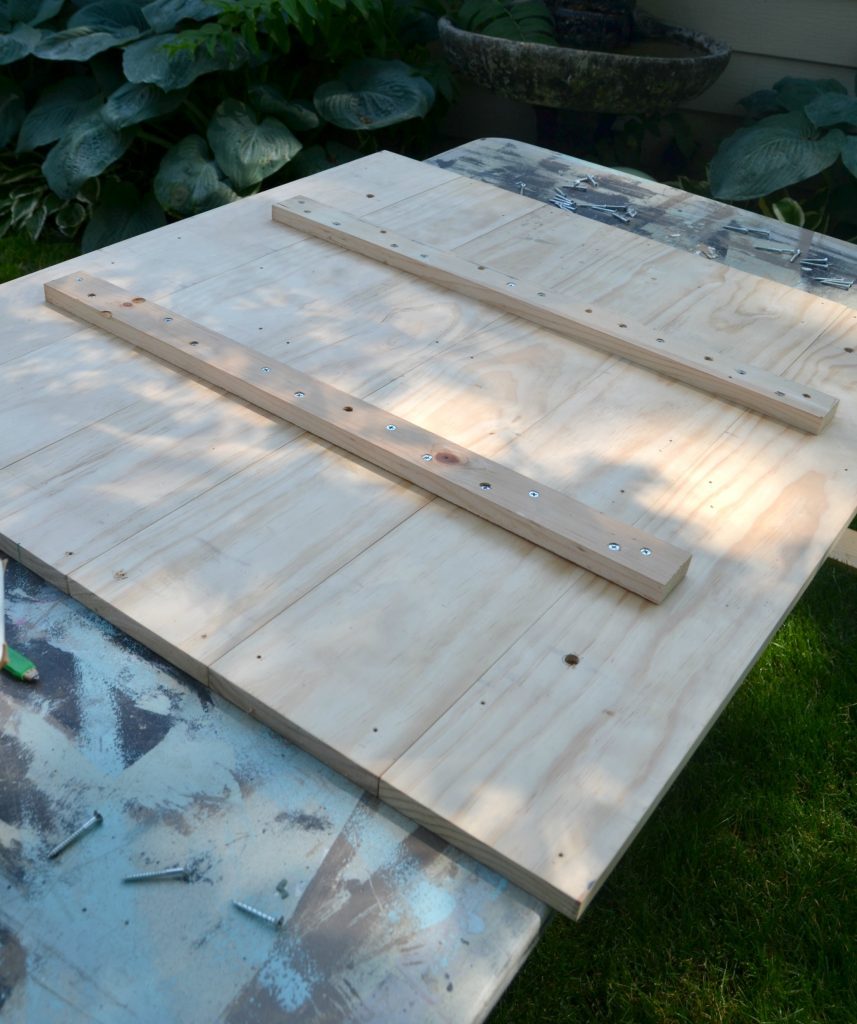 Matt cut the posts down in no time.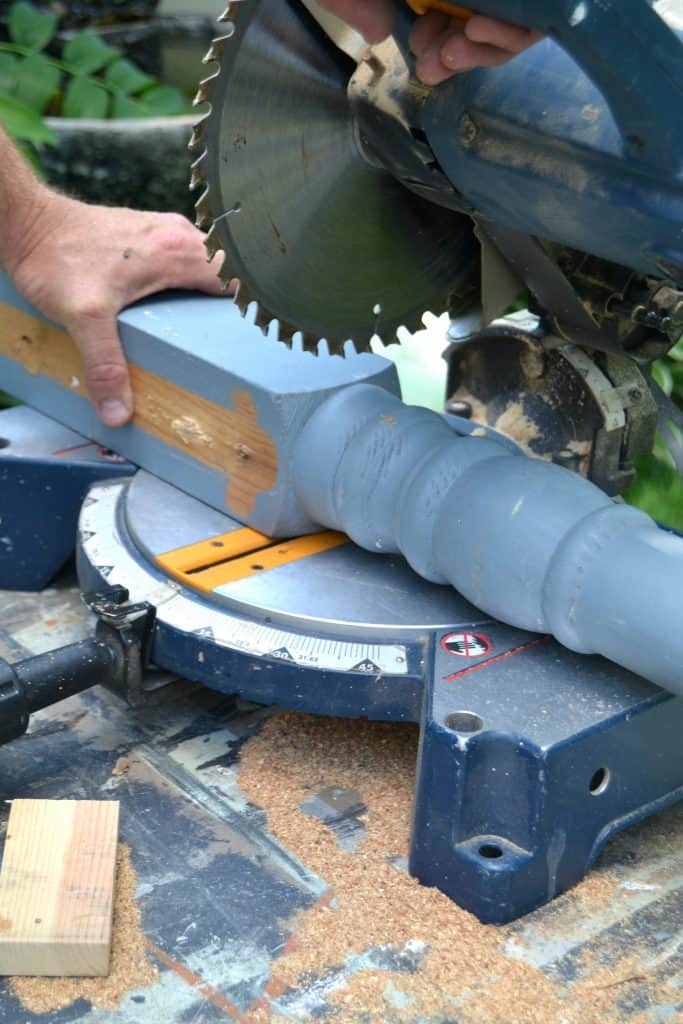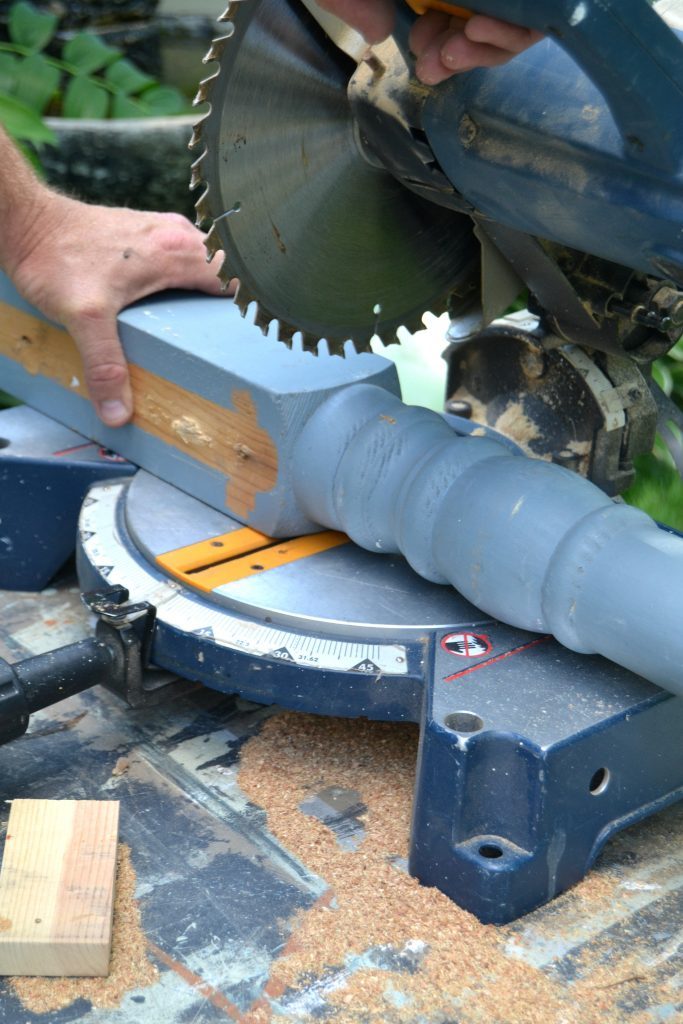 We attached the legs underneath the table top with a few small pieces of scrap wood. We screwed everything in place and the table was together.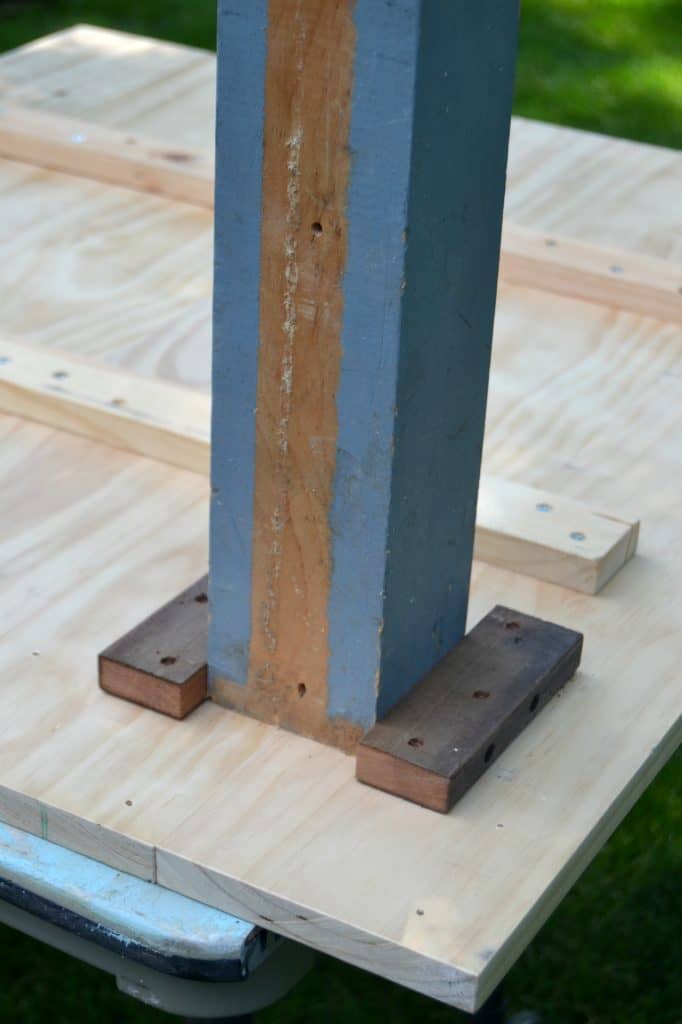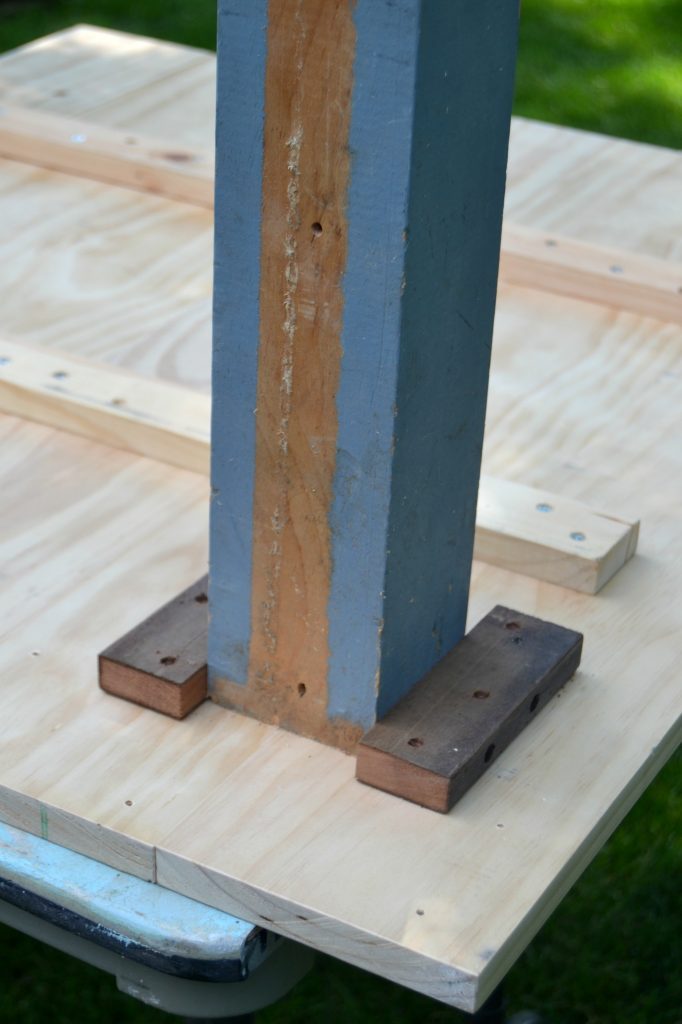 I liked the blue color on the legs and it was a great color for a coastal theme, but I decided to paint them white and distress them so the blue showed through a bit. I thought that would give a more "subtle" coastal look for this table.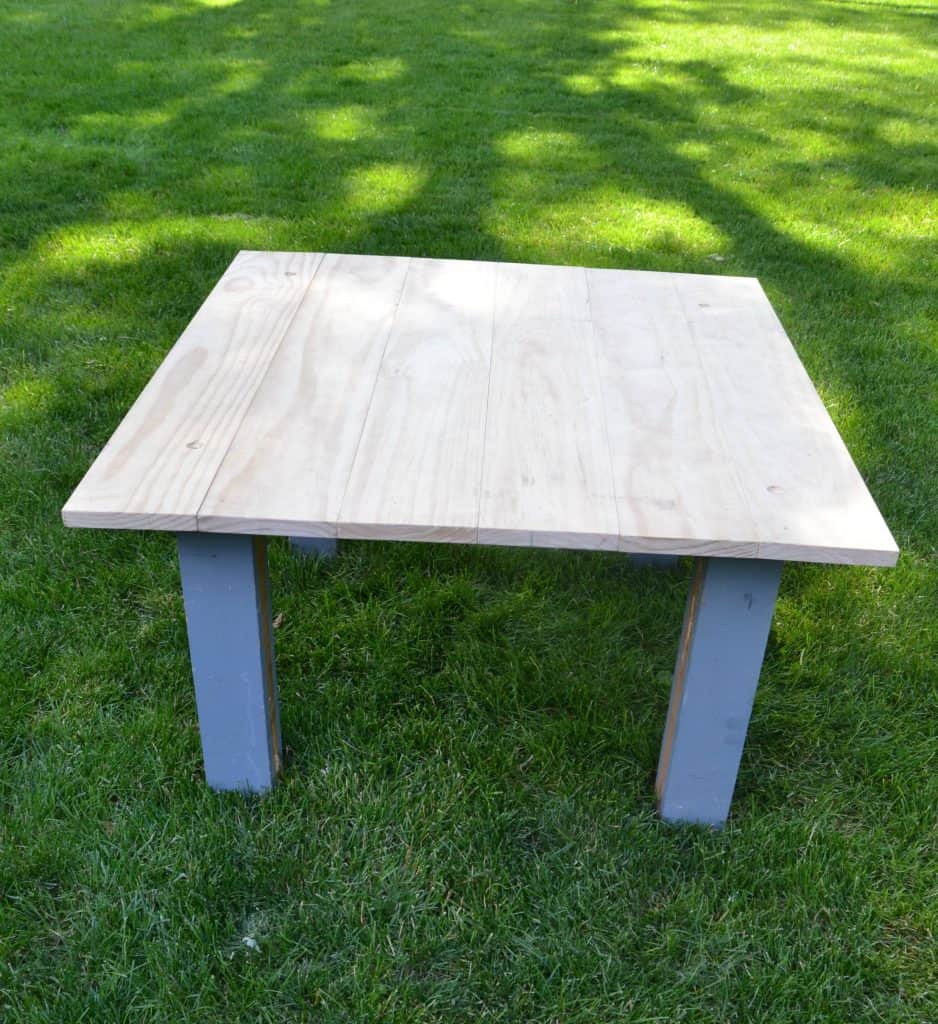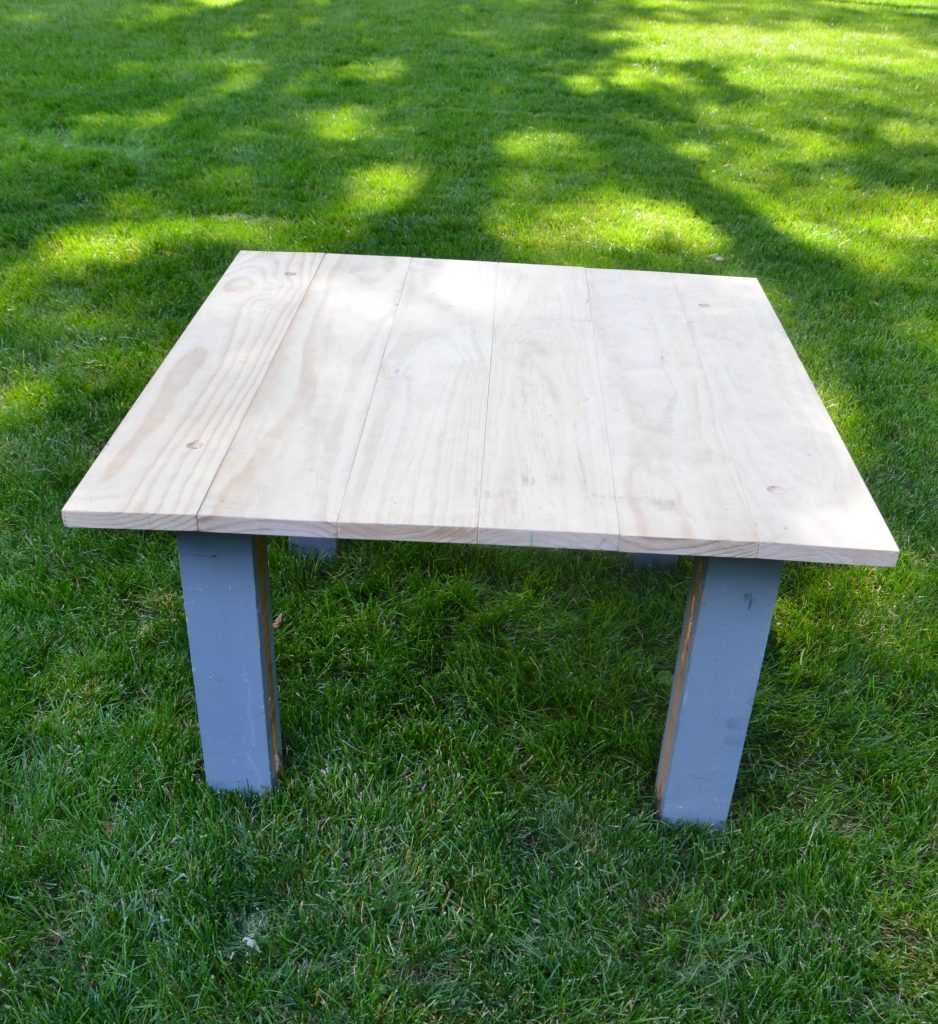 Now, on to the fun part…….. making this raw wood look like driftwood.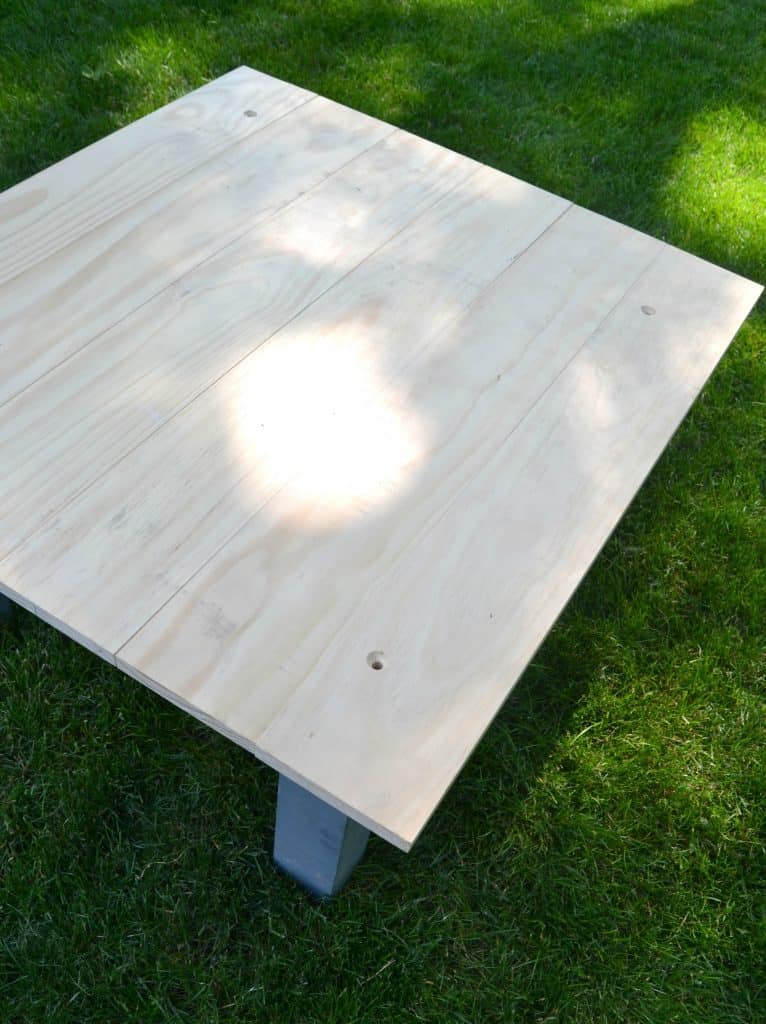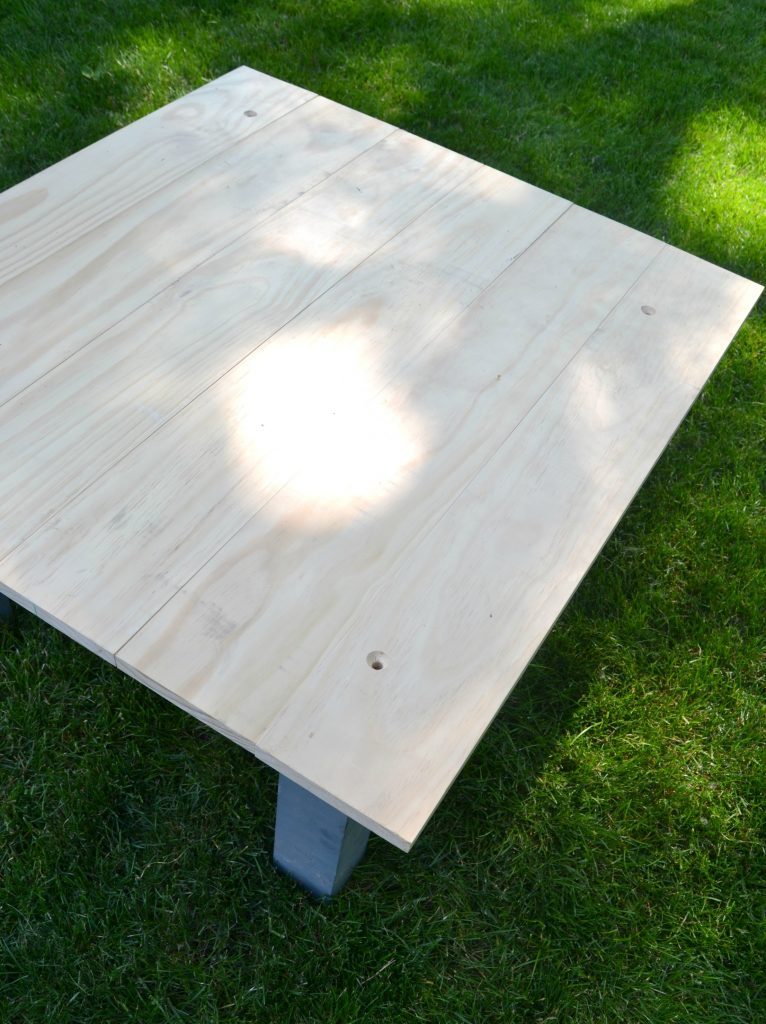 (Affiliate links are used in this post. You can see my full disclosure HERE.)
Supplies Used To Make This Faux Driftwood Coffee Table:
Weatherwood Stain (Reclamation)
Light gray paint
Water
Cotton Rag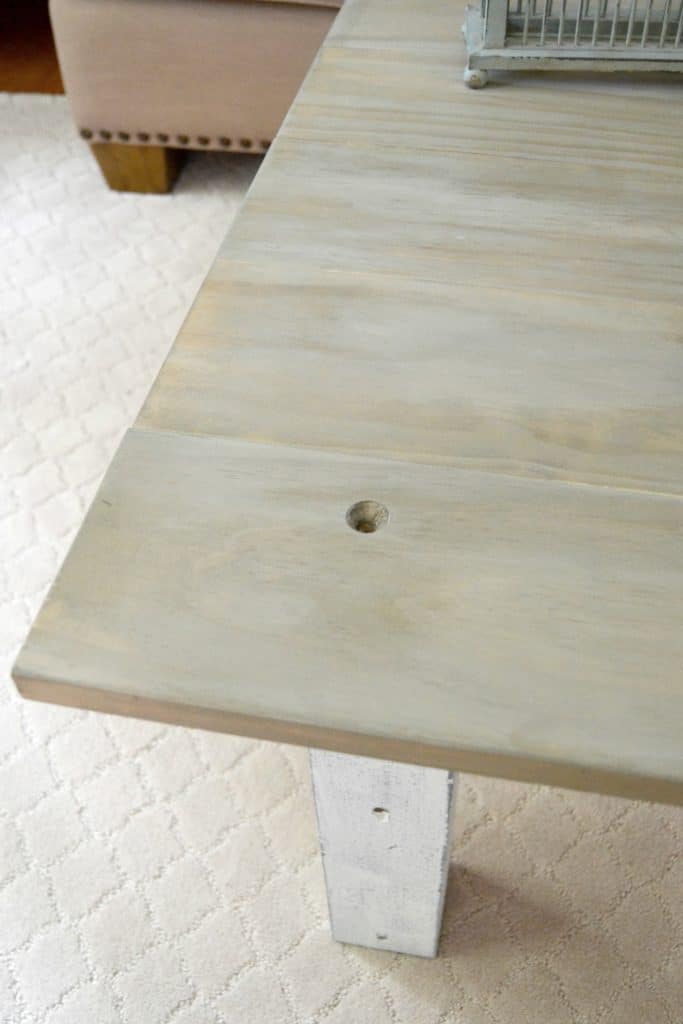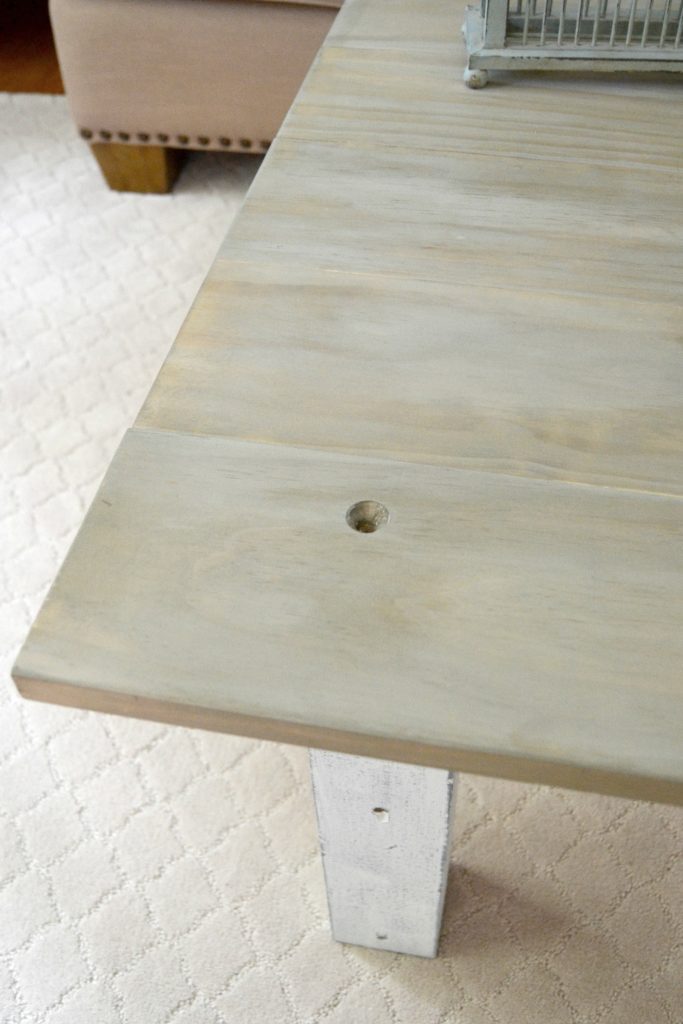 To start the driftwood process, I used Weatherwood Stain first. I put it on a cotton cloth and rubbed it all over the table top.
Once that dried, I did the same process with the Minwax Classic Gray Stain.
I wanted to get different colors and depths of gray just like driftwood has.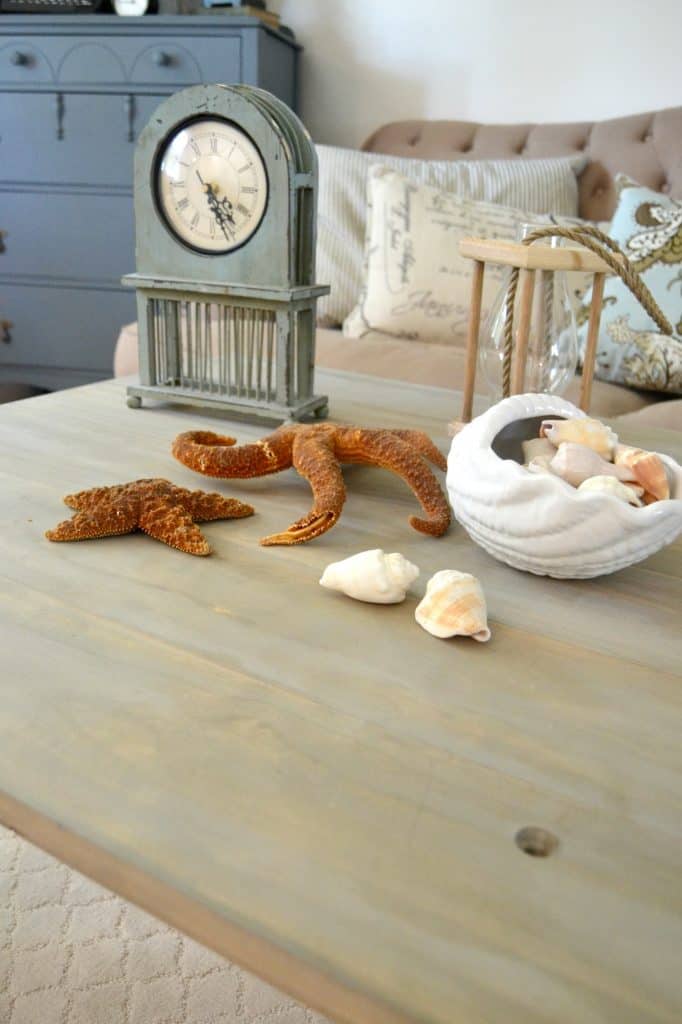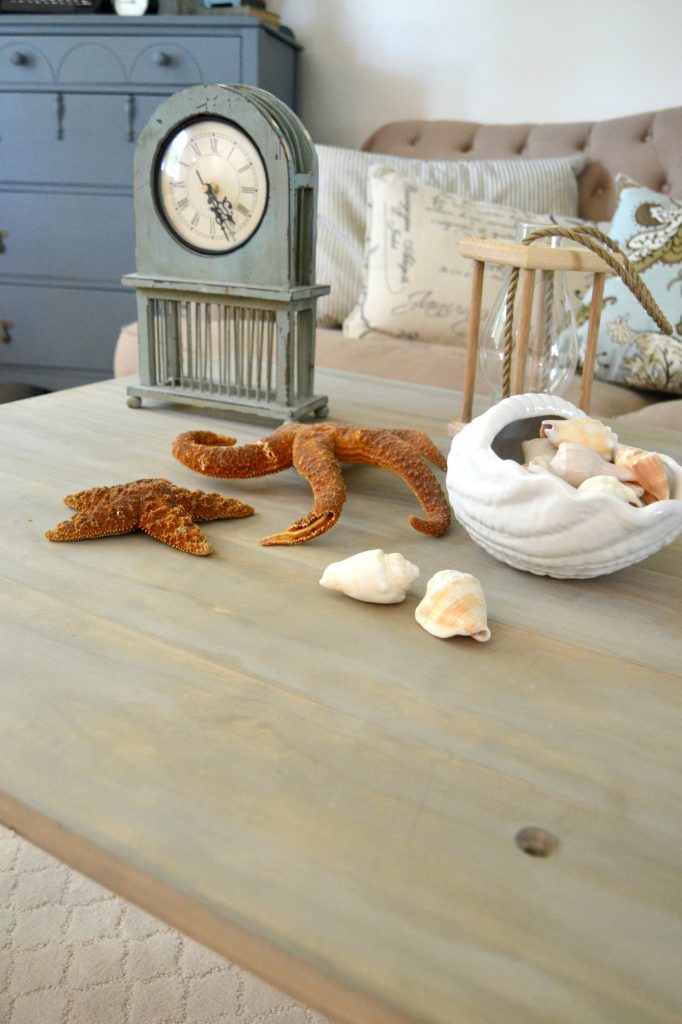 When the Minwax stain dried, I watered down some light gray paint I had on hand. I watered it down to a stain consistency. Then, I used a cotton cloth and rubbed in on the table top in different areas. I used a dry cloth to rub it off. I rubbed it off so it was only subtle hints of the color in different areas. Again, it was just another way to add a different shade of gray to the look of the table. All three of the colors came together to make the table look more authentic.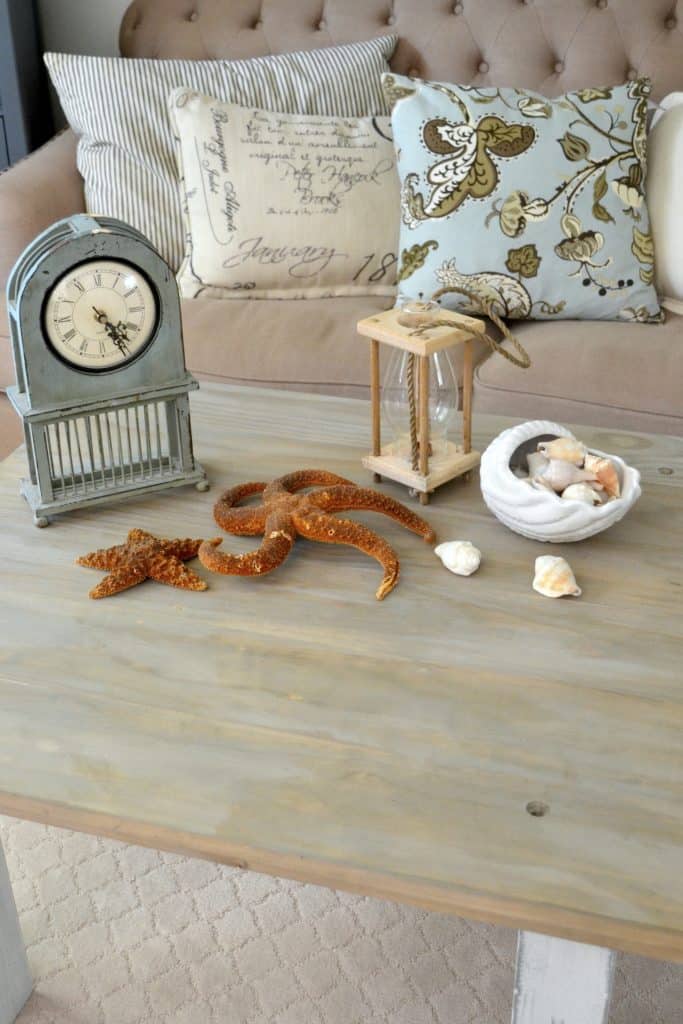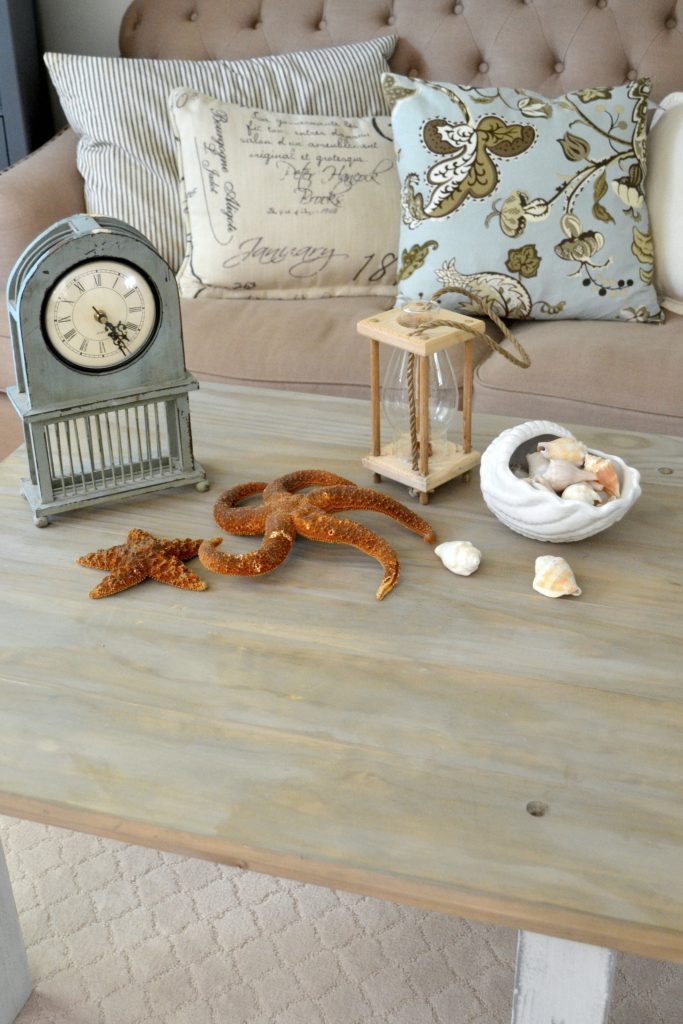 I have to tell you that one of my favorite parts of doing these projects is staging them. I love it! Searching for pieces at yard sales and thrift stores to stage photos is a lot of fun. Then, I have one big sale of my own to get rid of the things I am not using anymore. It is a fun process and a great way to recycle the things I find so I don't turn into a hoarder. 😉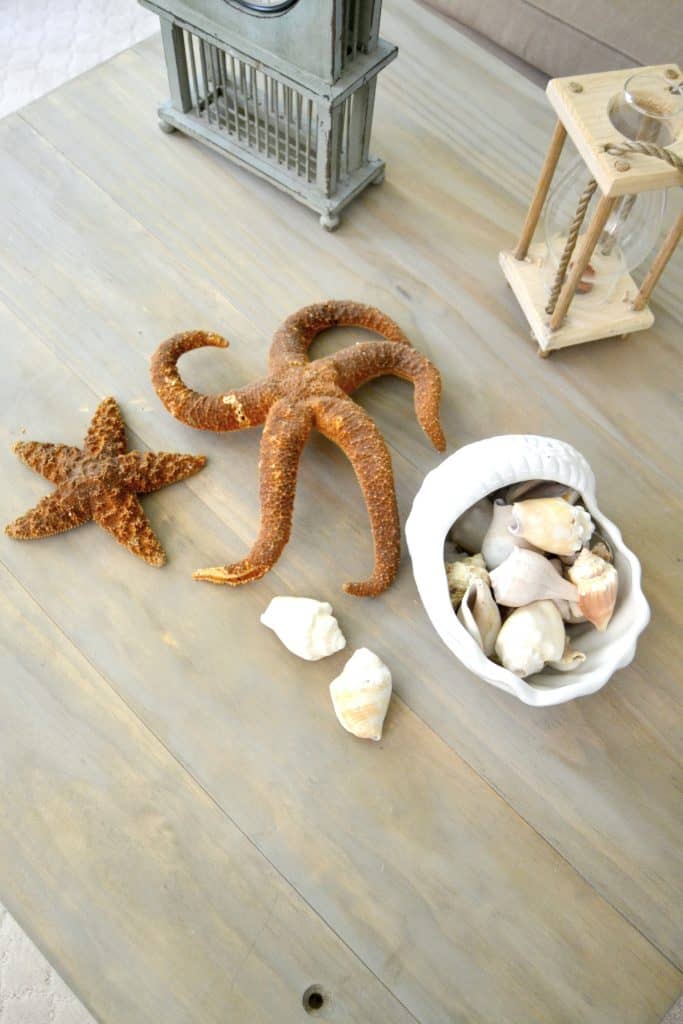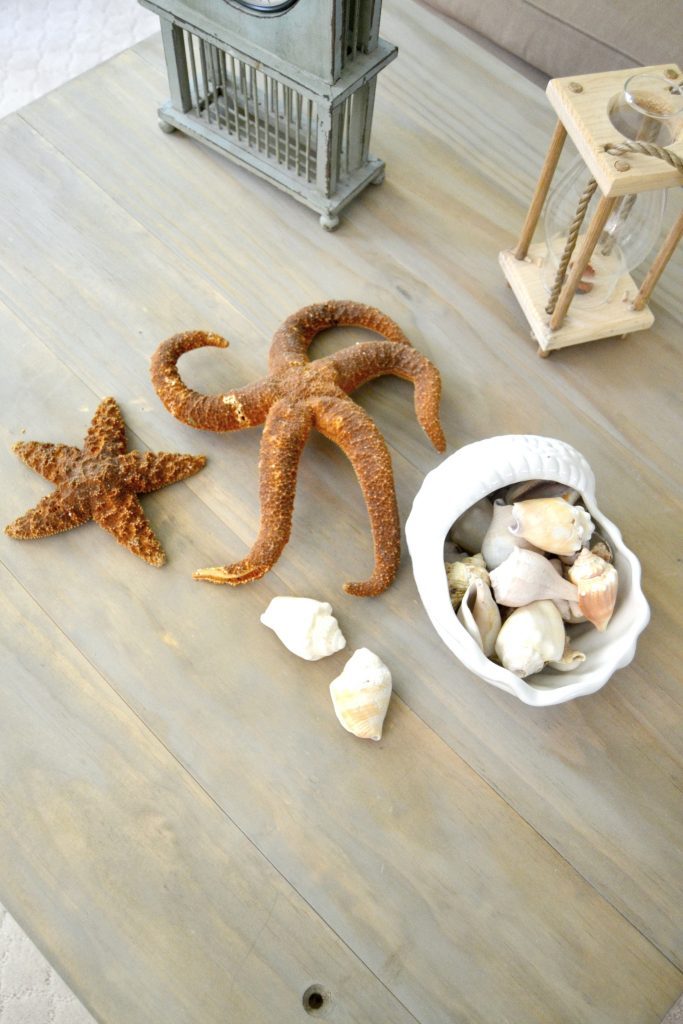 Do you like coastal decor? This driftwood coffee table was so easy to do and the concept could be used on many other things around your home.
If you don't have time to make your own driftwood coffee table, I found some great options online:
PIN THIS POST!


If you liked this driftwood coffee table, you will also love these transformations:
DIY Buffet Makeover With Paint
DIY Nesting Boxes {Made From A Bookshelf!!}