I want to thank Pilot Corporation of America for sponsoring this DIY Desk Organizer post. All opinions are my own.
It is that time of year when I put my OCD in overdrive and get super organized around here. For the first time, my organizing is going to have an extra space to get in order. This past May, I made a huge change and am now blogging full-time. I am more than excited to be doing what I love every day, but there is A LOT of work involved and I have to stay organized.
Since May, we have completed the back porch makeover and started to convert the toy room into a new space for the kids. On top of that, we finished many smaller projects and had a huge fall yard sale. Fast forward a few months and I am still working from our dining room table. Not good. Not good at all. I need a proper office space.
Having the computer on the dining room table means I never get away from work because it is too convenient to just move it for meal times and then get back to it after meals. So, our next project is making the guest bedroom in the lower level my home office. Until we get started on it, I wanted to share a DIY Desk Organizer to show you how easy and inexpensive it can be to get organized.
To make this DIY Desk Organizer, I used things I picked up at yard sales, Target and Restore.
Who hasn't seen a mail sorter in a thrift store or at yard sales a million times? Galvanized buckets are one of my favorite things and these mini buckets were too cute to pass up. The clip was 70% off from Target's Hot Spot and the board was a Restore find.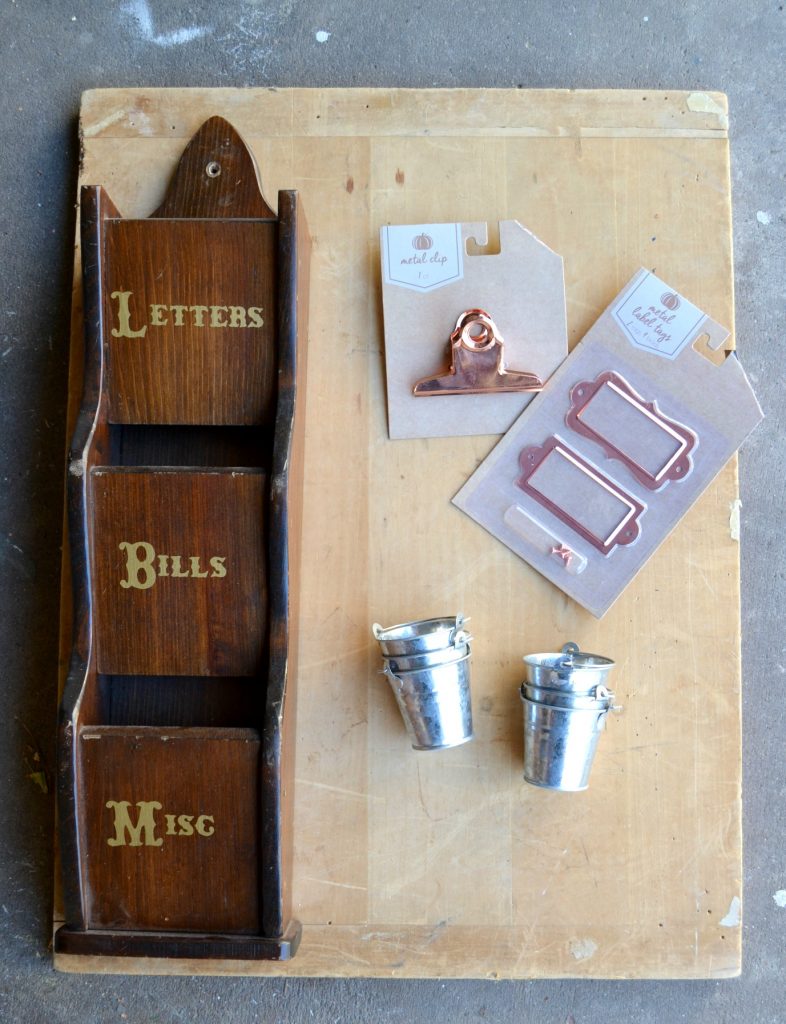 Just like decorating, I like all aspects of the organization to look pretty as well. Organization doesn't have to mean plastic tubs and totes. It can be whatever you want it to be.
To make this particular DIY Desk Organizer, I first painted the board black. Then, I painted the mail sorter a soft gray and cut wood slats from a broken shutter to adhere them on the front of it.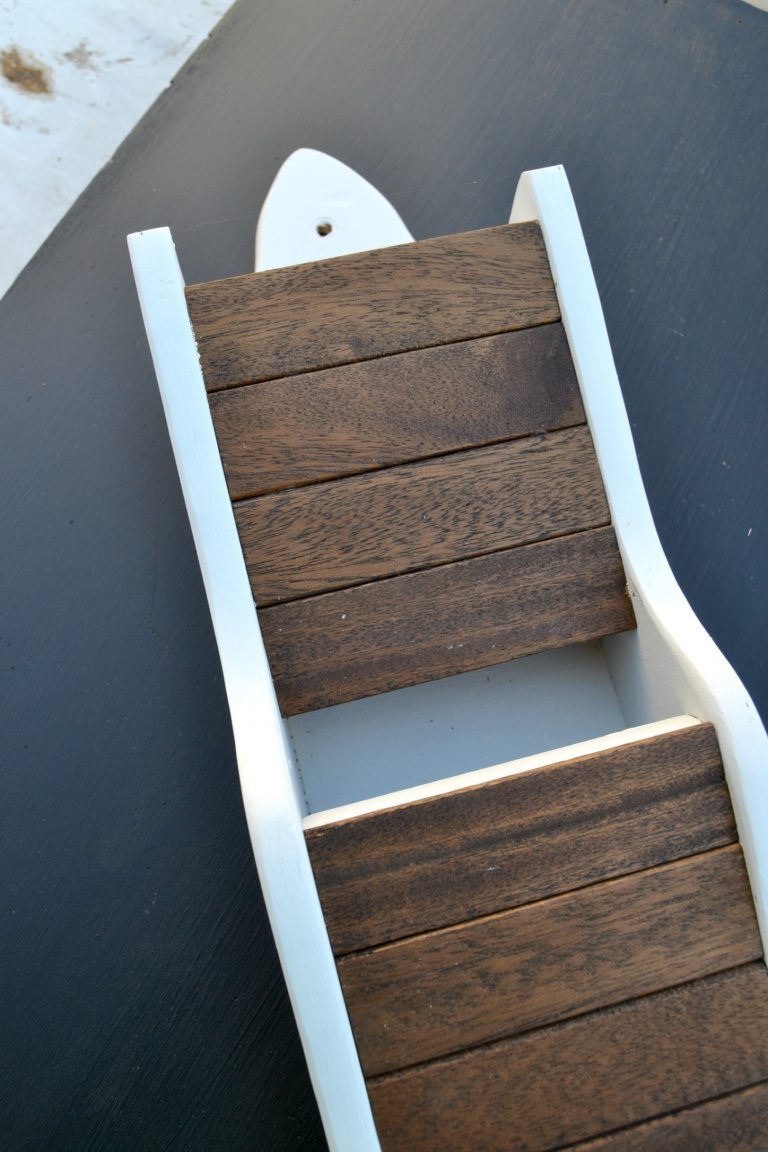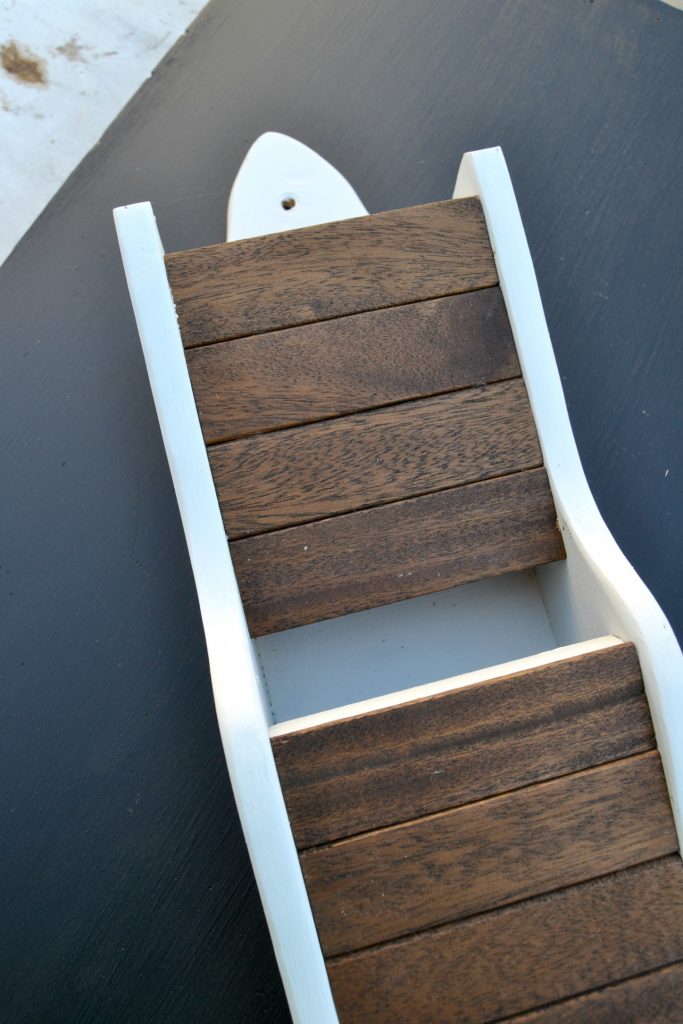 I stained the wood slats a dark color.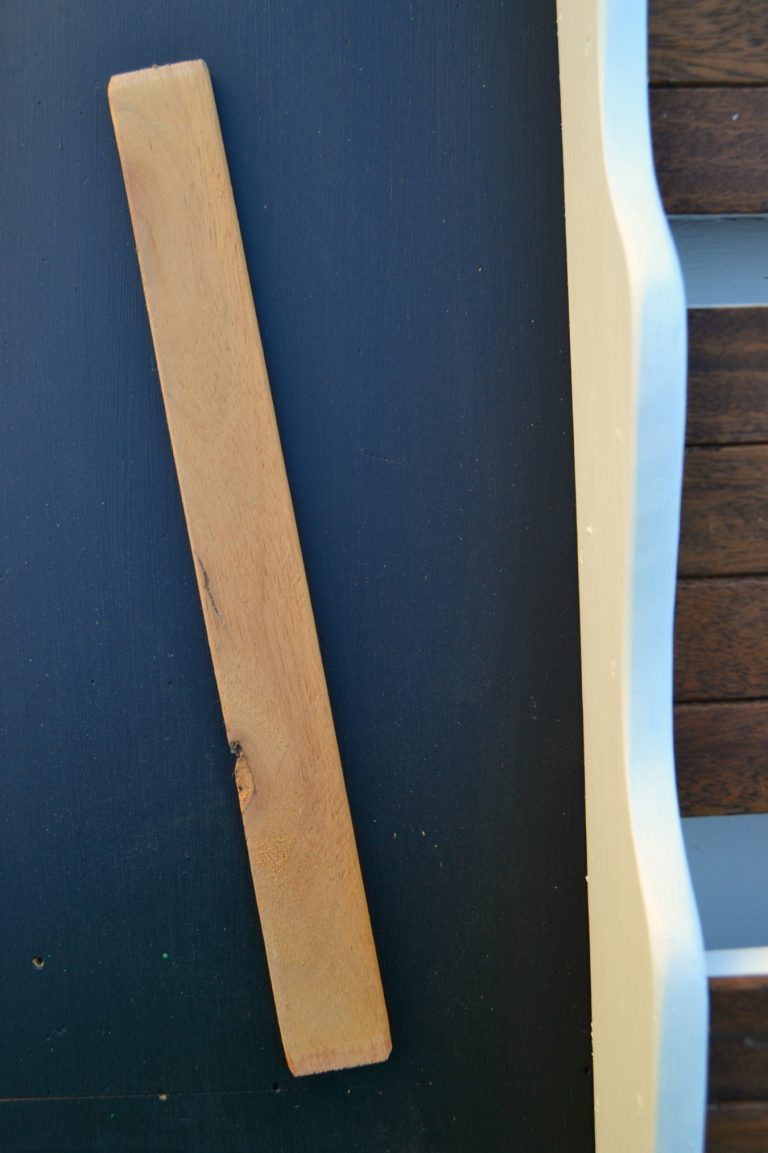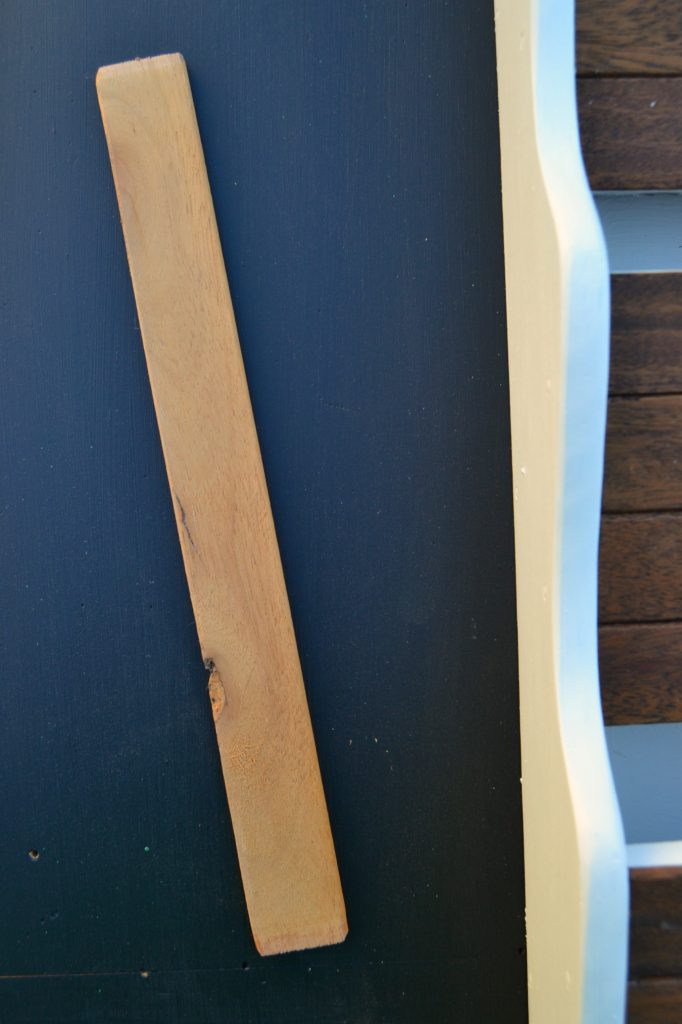 We attached the mail sorter to the painted board and added small labels to the front.
Look at the mail sorter now!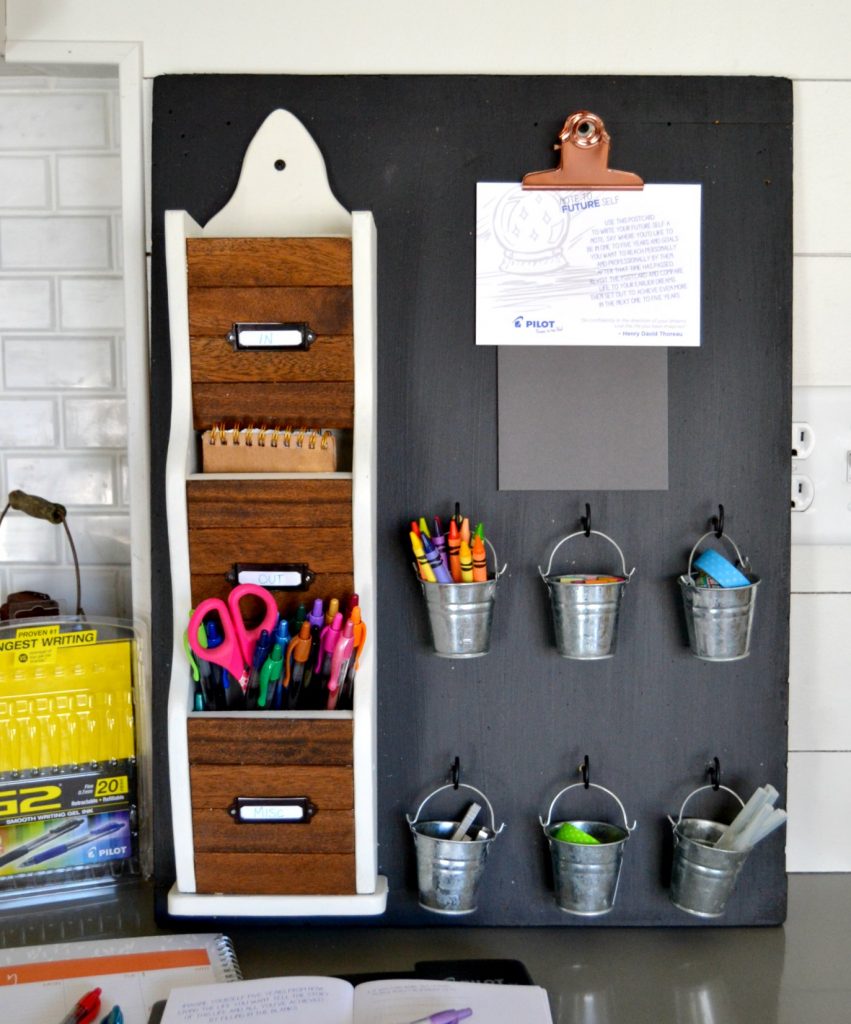 This mail sorter is perfect for holding so many things, but right now, it is the spot for my Pilot G2 gel ink pens. They are the ultimate pen for the everyday overachiever. Pilot G2 gel ink pens feature a unique transparent barrel design and comfortable rubber grip. They are retractable and features gel ink in 4 point sizes and 15 colors.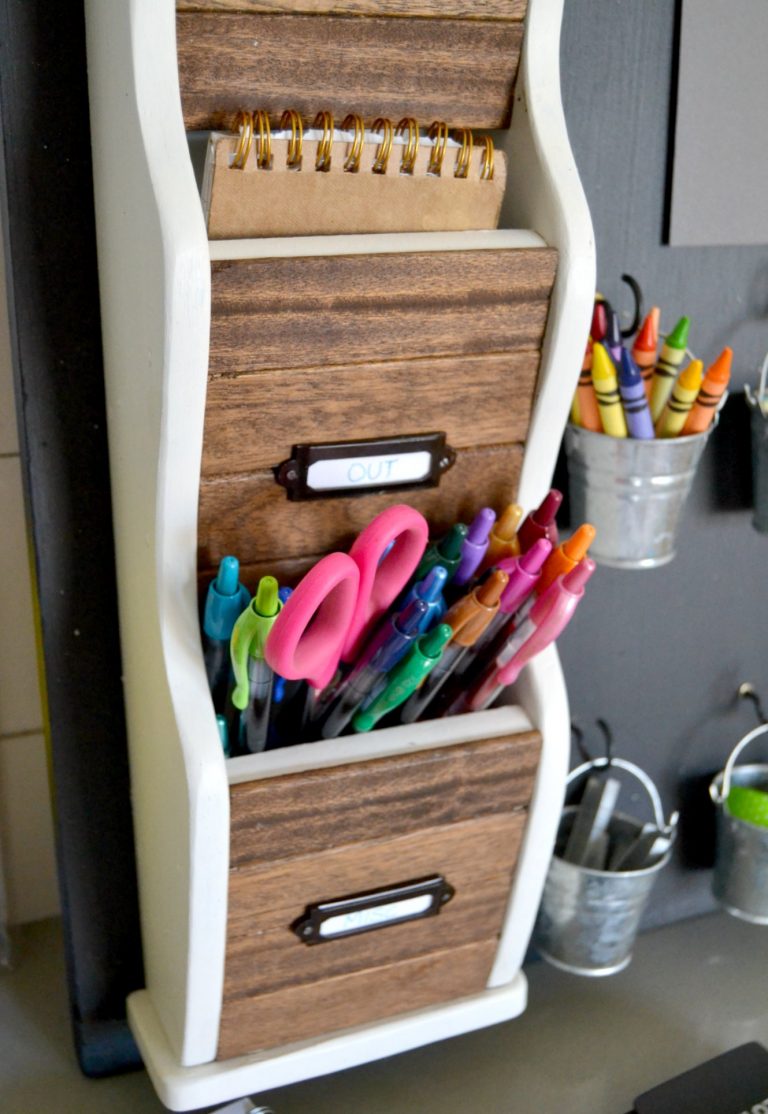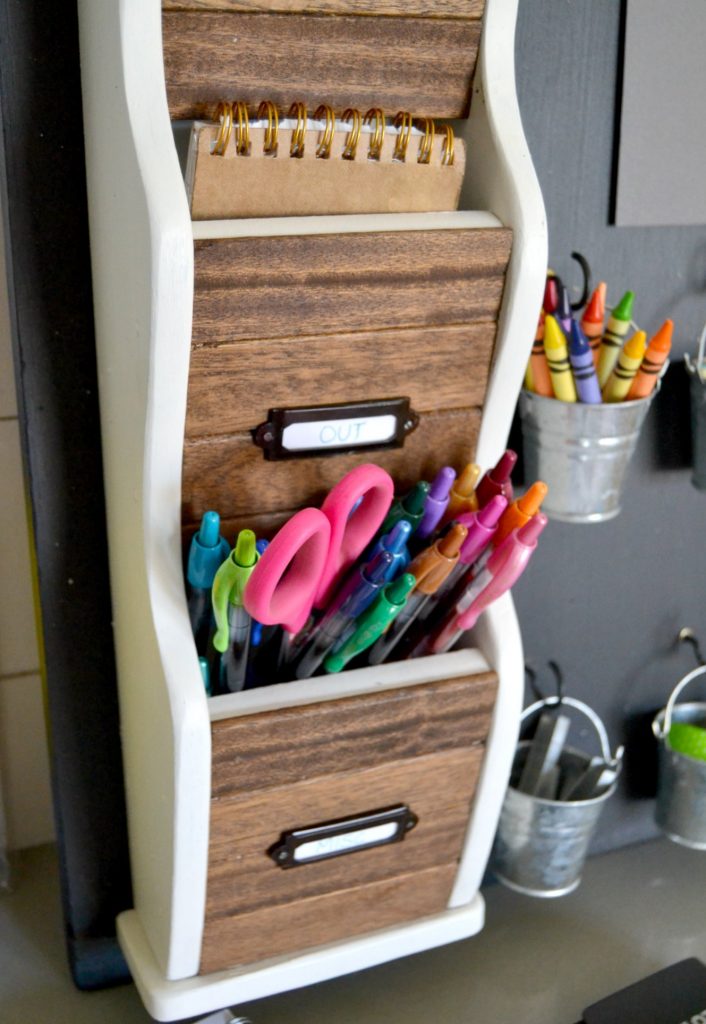 I love the way these pens write and all the different colors are important for me. I am OCD when it comes to organizing and having different colored pens make is easy for me to stay organized with what I am jotting down. As a blogger, my posts are planned out months in advance and the different colored pens will keep me on track.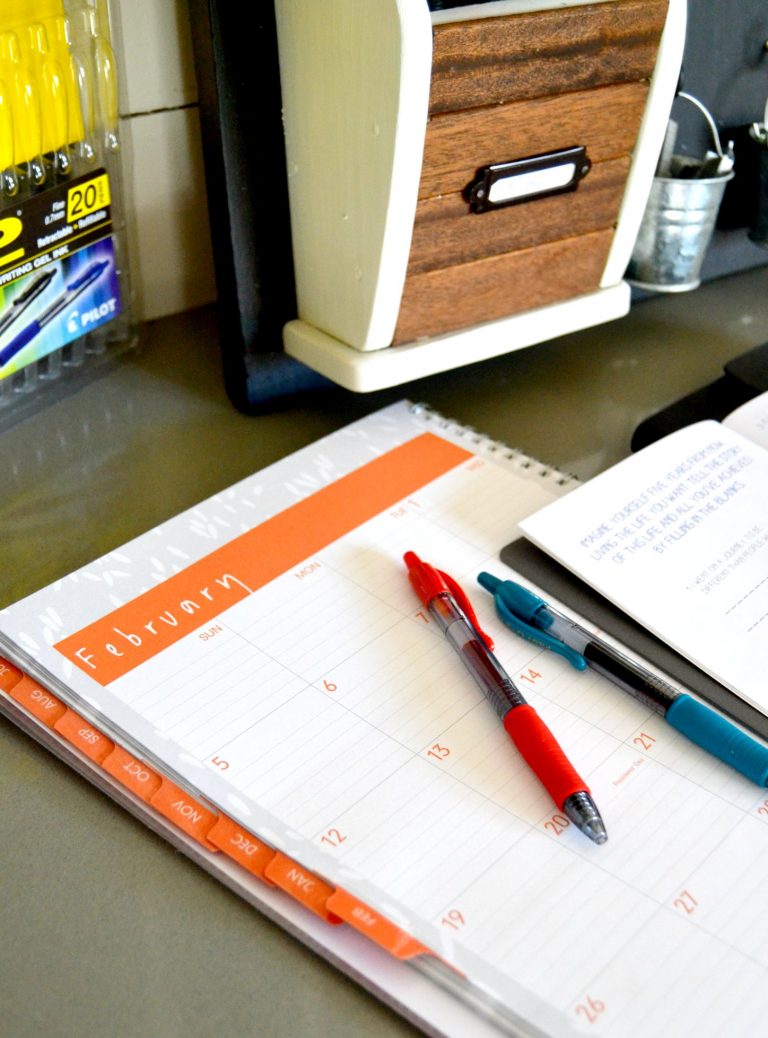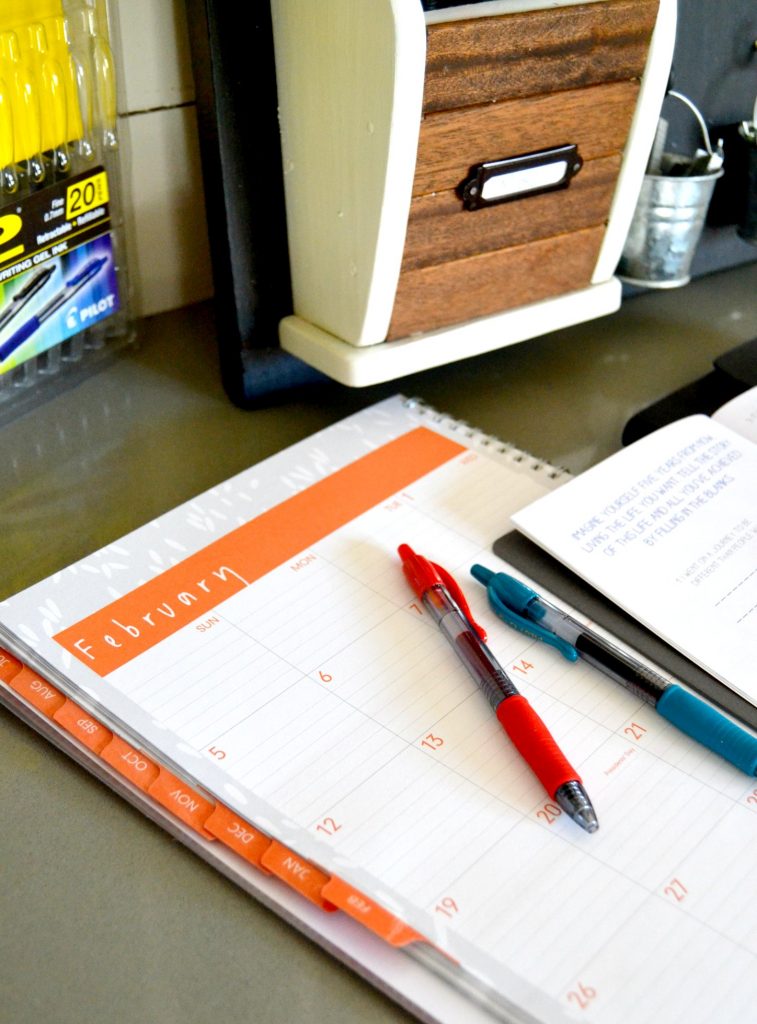 One major change that has come with my new gig is really having to focus on my goals and where I want to go. I can't rely on anyone else to get it done. It all falls on me. Because of that, I have really started to center my thoughts and started writing down my goals and what I want to achieve.
It is amazing what can happen when you really think about where you want to be and actually write them down to stay accountable.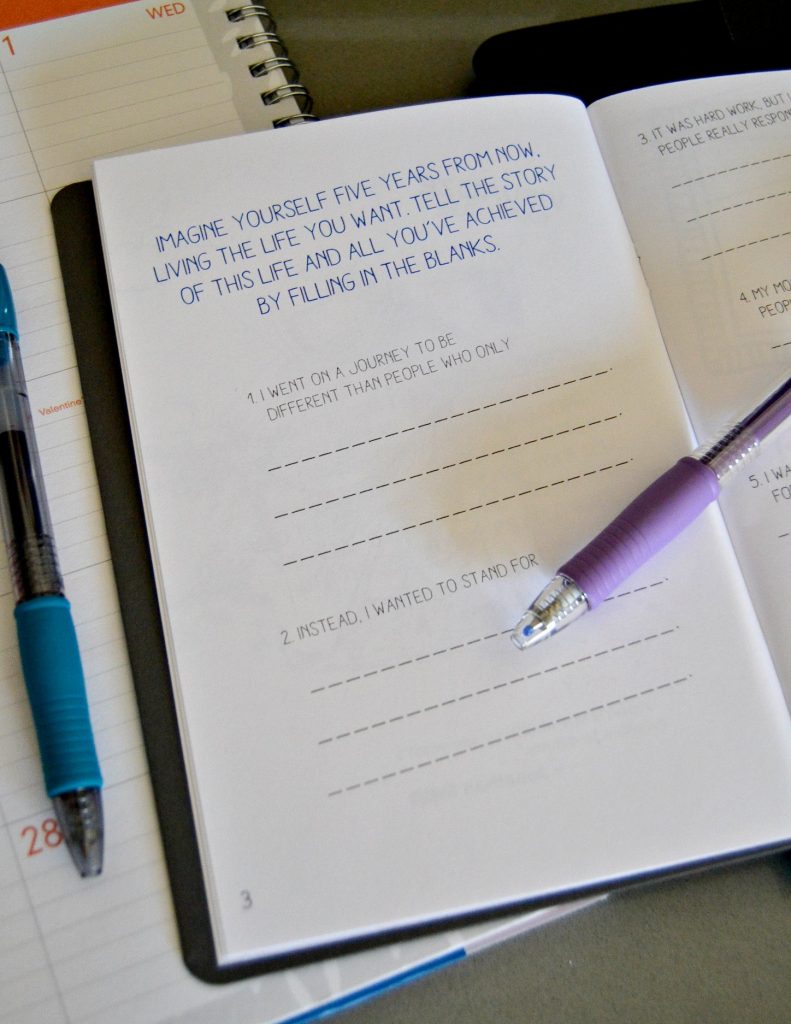 There is something about being a writer (yes, I can actually say that now) that makes getting new pens, notebooks and stationary so exciting. It is like a new box of crayons on the first day of school.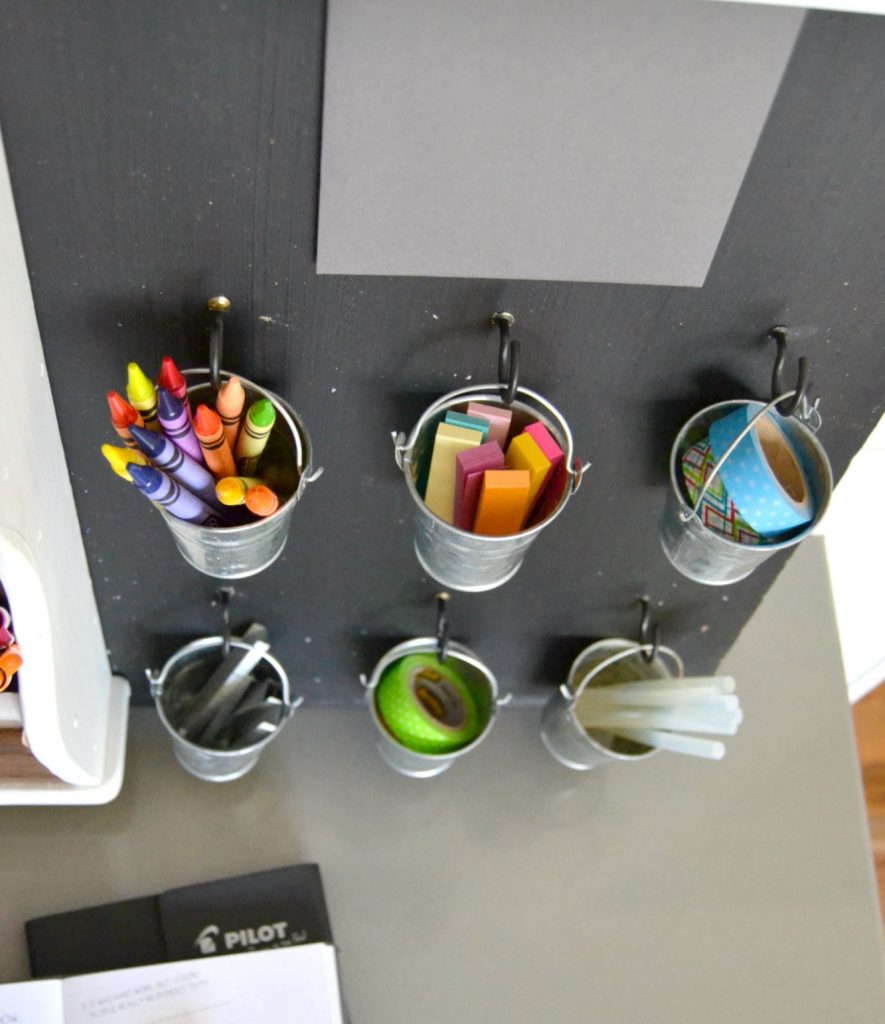 The mini galvanized buckets are great storage for holding small office supplies.
The clip is perfect to hang inspirational quotes, papers, and/or pictures that are going to push me to my goals each year.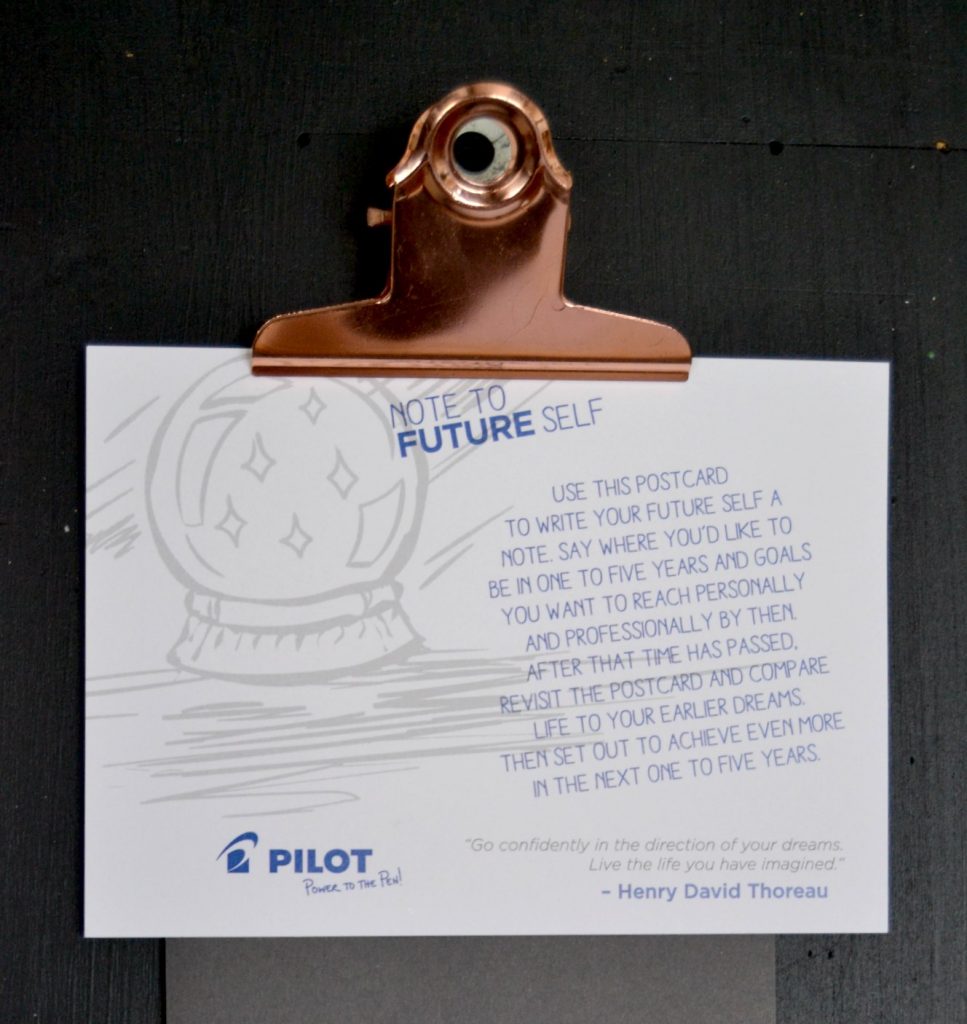 This DIY Desk Organizer came together easily and very inexpensively. If you want some different ideas, head to your local thrift store. Look for things you can repurpose into pretty organizational pieces for your home and office.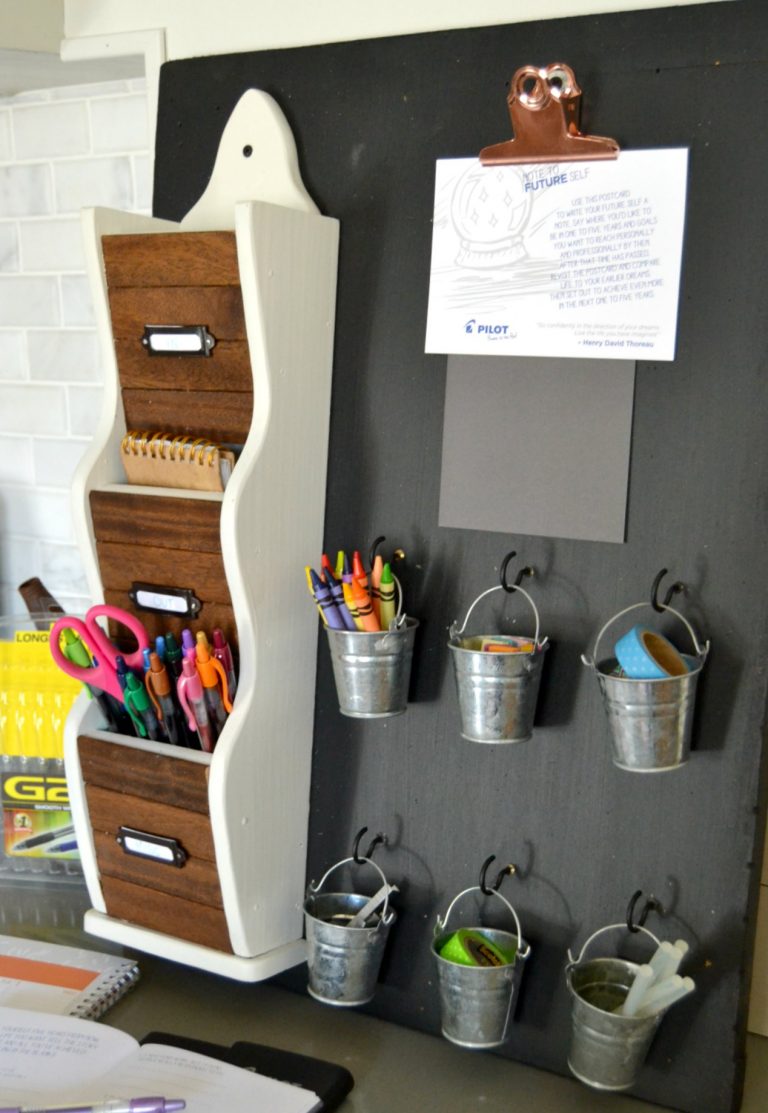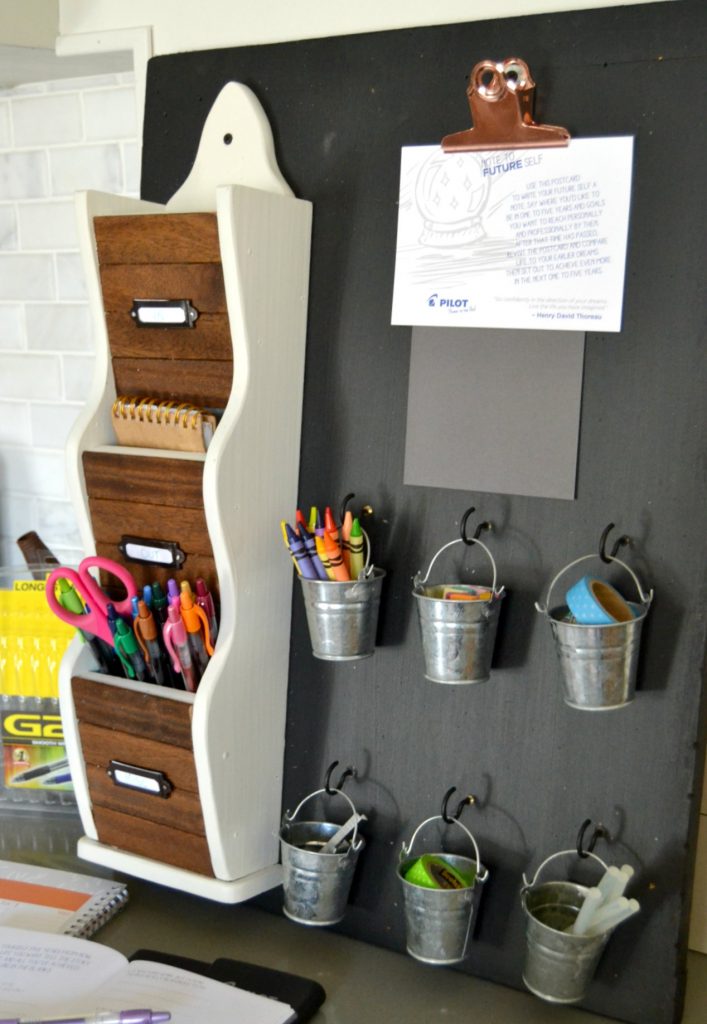 Getting organized and staying organized is the sure-fire way to stay on track with your goals. Start the new year off with organzational processes in tact to make the entire year run smooth and efficiently.
Make sure to invest in a set of Pilot G2 pens to get your organization off on the right foot.
Take charge of your home with my Organization Challenge!
Join me as I guide you through a step-by-step process to declutter and organize your space. This challenge is designed to help you create a more functional, stress-free environment that will inspire productivity and creativity. With daily tasks and helpful tips, this challenge will empower you to take control of your home and transform it into a space that reflects your unique style and personality. Start your journey to a more organized life today!
Not sure if you are ready to commit just yet?
Check out my free webinar to learn more about this Organization Challenge.
You can also check out the 5-Day Organization Challenge to get started, or grab a copy of the Templates if you are looking for some tools to help you stay on track!
PIN THIS POST!


If you liked this desk organizer post, you will also like these ideas:
Back To School Organization For Mom
DIY Cubby Organization Makeover