Small Christmas tree bases can be boring. These DIY Christmas Tree Bases add tons of charm and character to any small Christmas tree.
I love to add little Christmas trees around the house for the holidays. I find them at stores like Target but I also find some great ones at thrift stores and yard sales.
Most of the time, the bases that small trees come with aren't very exciting. They are usually wrapped in burlap or have a wood base.
Here is an example of the burlap base: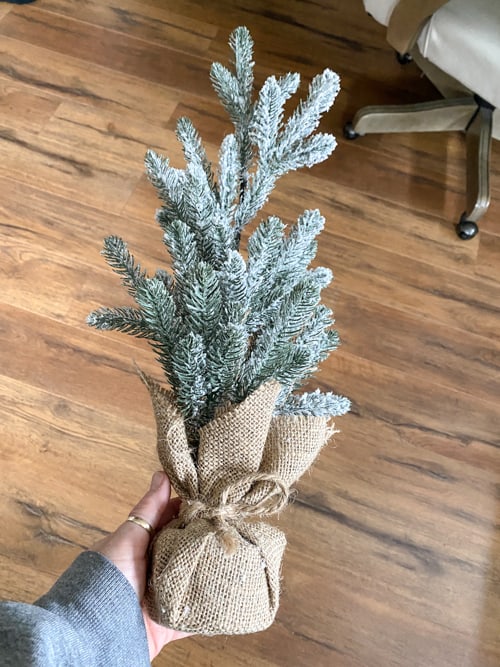 The tree below is a good example of one with a wood base.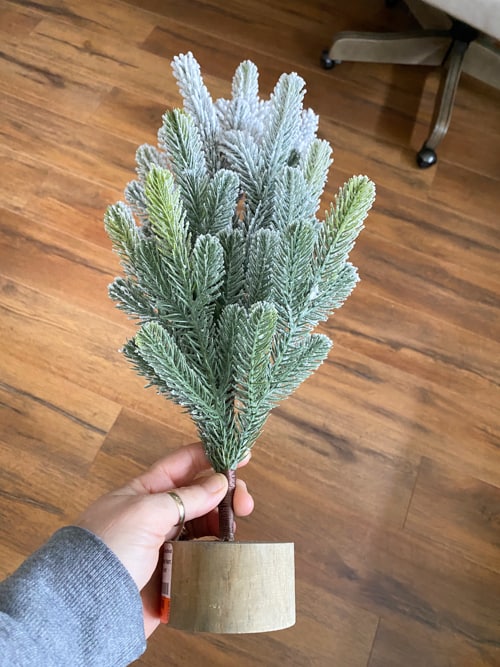 Here are some other examples: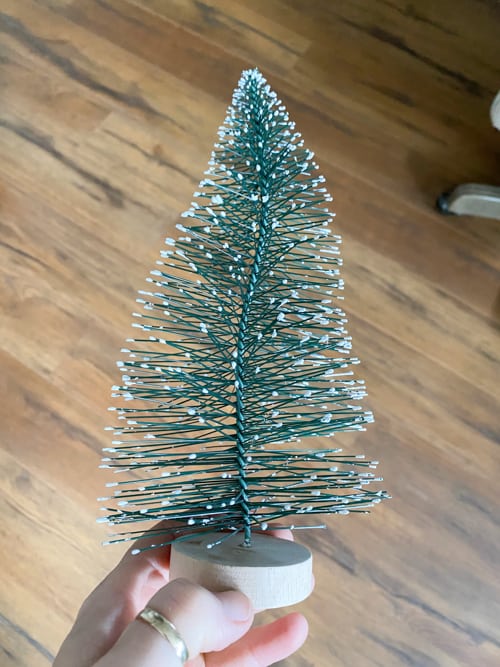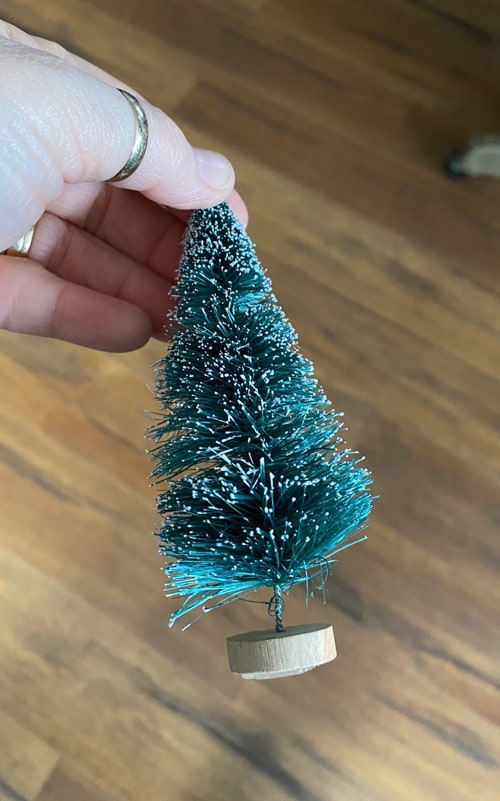 These bases are fine but I always like to add charm and character to our home and decor when I can.
I found the easiest ways to DIY Christmas tree bases that add a little more to your holiday decor.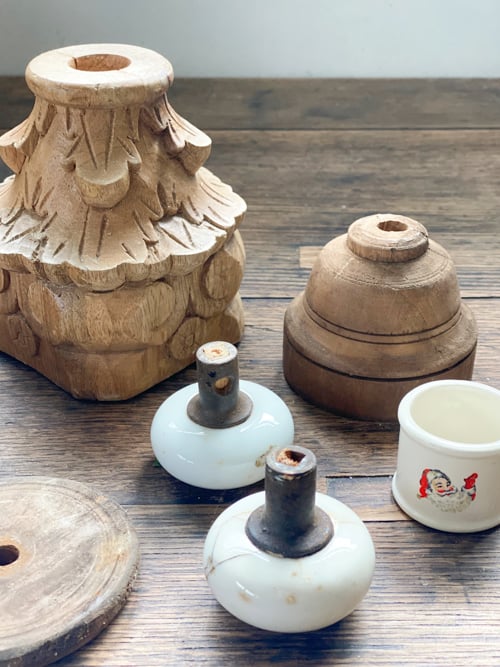 Ideas For DIY Christmas Tree Bases:
Napkin Rings
Candleholders
Old Door Knobs
Lamp Bases
Old Wood Pieces From The Garage
Scrap Wood
Old Crocks
Pottery
Tin Boxes
Vintage Christmas Mugs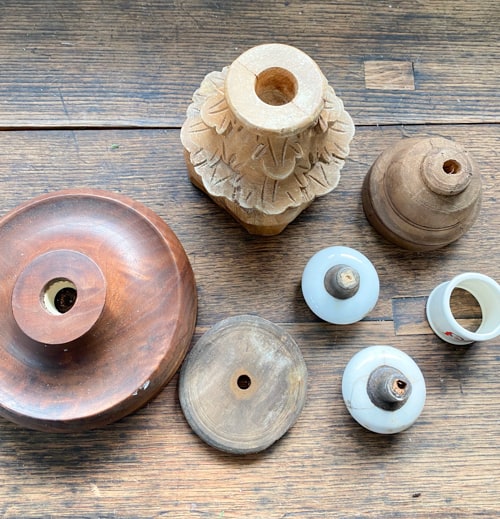 The bases that I am sharing in this post are fairly easy to make work.
Some of the items I just had to put a tree in while others needed a drill to get the job done.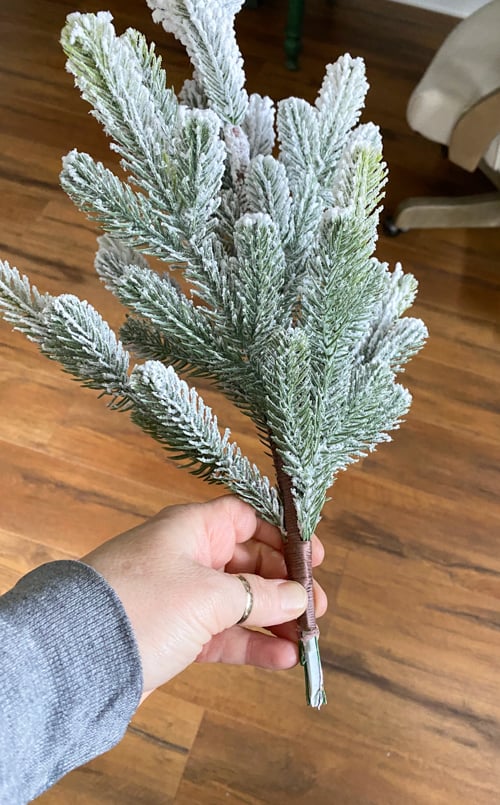 For the tree above, we removed the tree from the wood base by using a drill. Once we had the base removed, it fit perfectly inside a wood piece I found at a thrift store.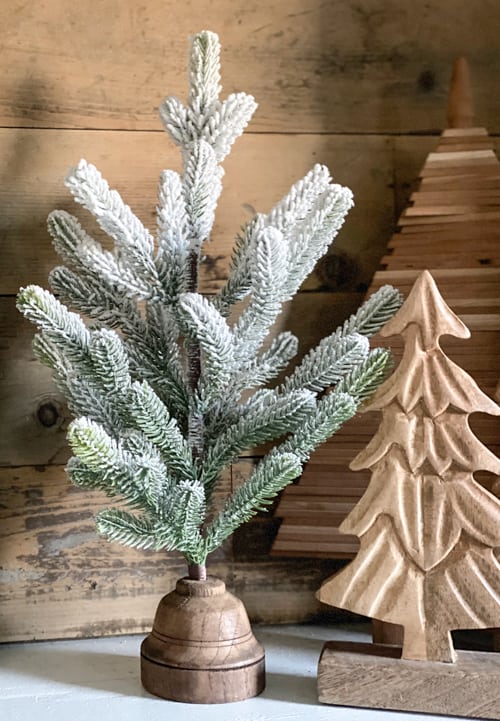 For small bottle brush trees, I like to push them down into fun napkin rings.
I love the vintage-style Santa on these ceramic napkin rings. They make the perfect base for smaller, bottle brush trees.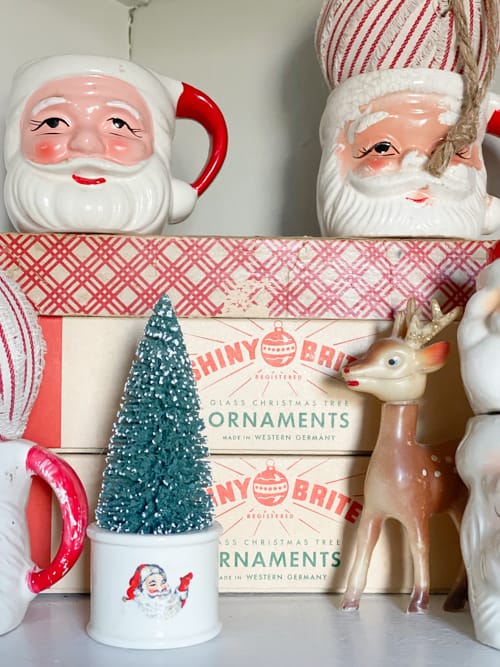 Another great idea for smaller trees is old door knobs!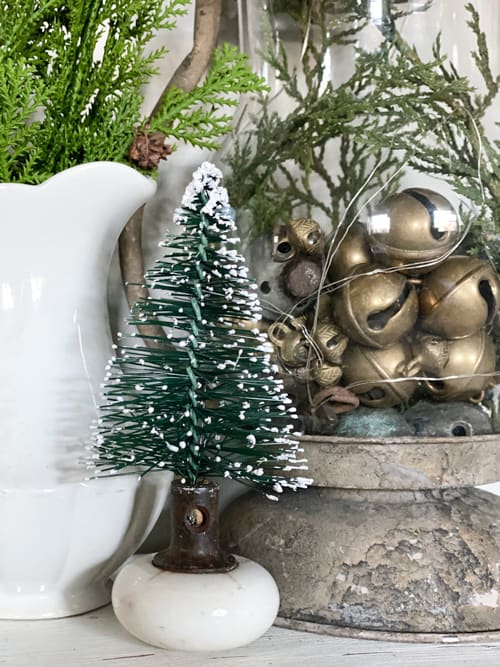 You can make Christmas tree bases out of almost anything!
I am always picking up random, old wood pieces when I find them. They are great for projects like this. I also keep a lot of our scrap wood because you can use it for small projects like this.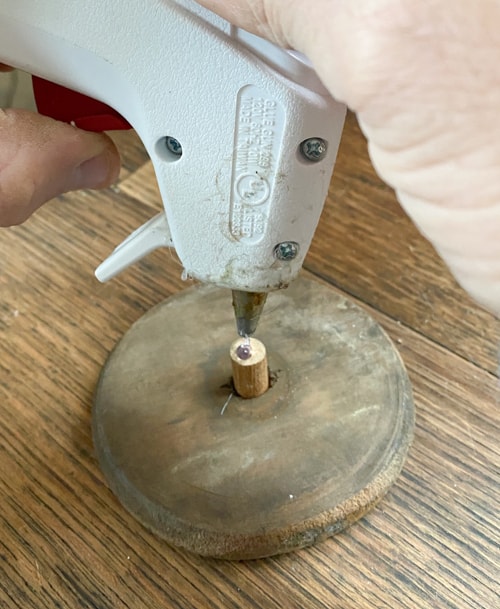 The round piece above was perfect for a Christmas tree base. It had a hole in the middle so we added a wood dowel and some hot glue to make it work.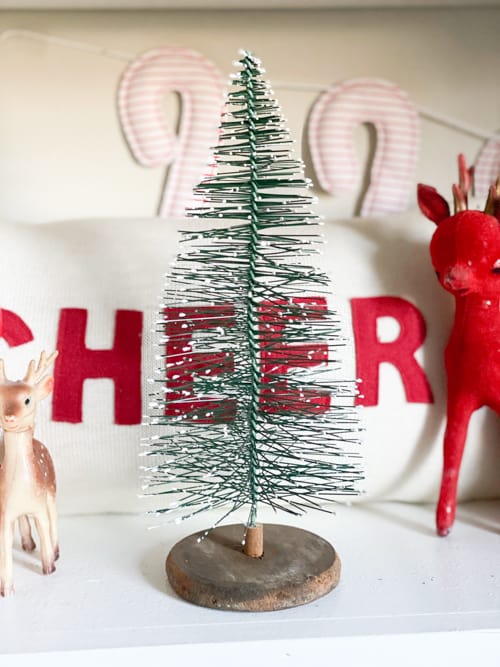 The piece below was also at a thrift store. I think it was part of a lamp base at one point but I knew when I found it, it would make the perfect base for a smaller tree.
You can watch a video of me putting these together and some more base ideas on my YouTube channel HERE.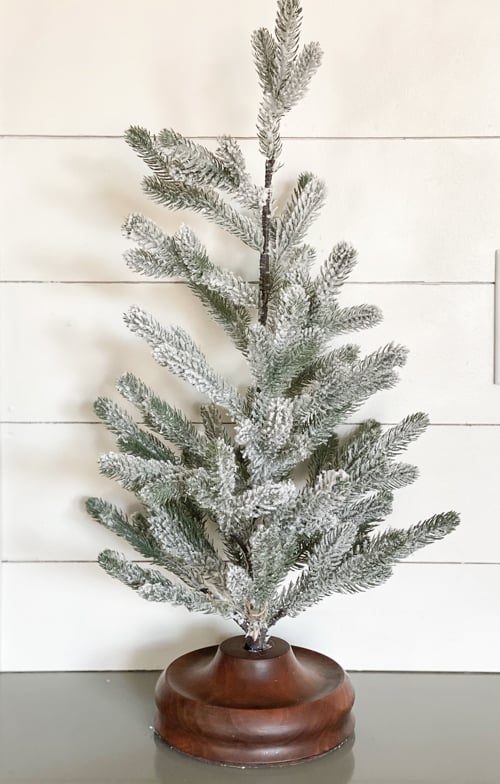 The last one I will show you in this post is a wood candleholder. I found this candleholder and knew I was going to put a Christmas tree in it. Obviously, candleholders have holes for candles, but you may need to drill down even further and smaller for a tree. We had to do that with this one so the tree with fit in tight.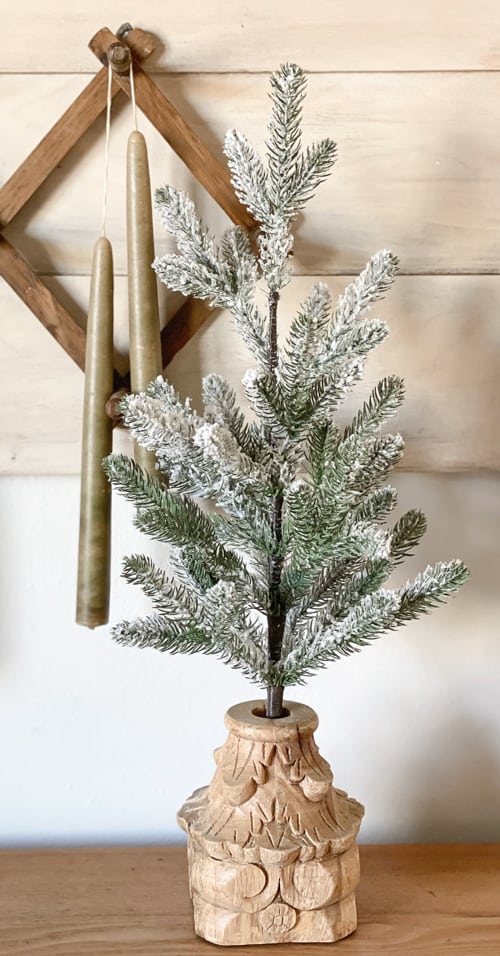 These are just some ideas and ways you can DIY Christmas tree bases. There are so many other ways to add charm and character to the trees in your home. You can find so many ideas just in your garage alone. Thrift stores, Restore, and estate sales are other great places to find "bases" for trees.
I hope these ideas have inspired you to change up some of the trees in your decor. If you do, I would love to see what you come up with! Share a photo on Instagram and tag me @mycreativedays so I am sure to see them!
Looking for some Christmas games to play with the family? You can head HERE to find the games we put together for our family every year.
PIN THIS POST!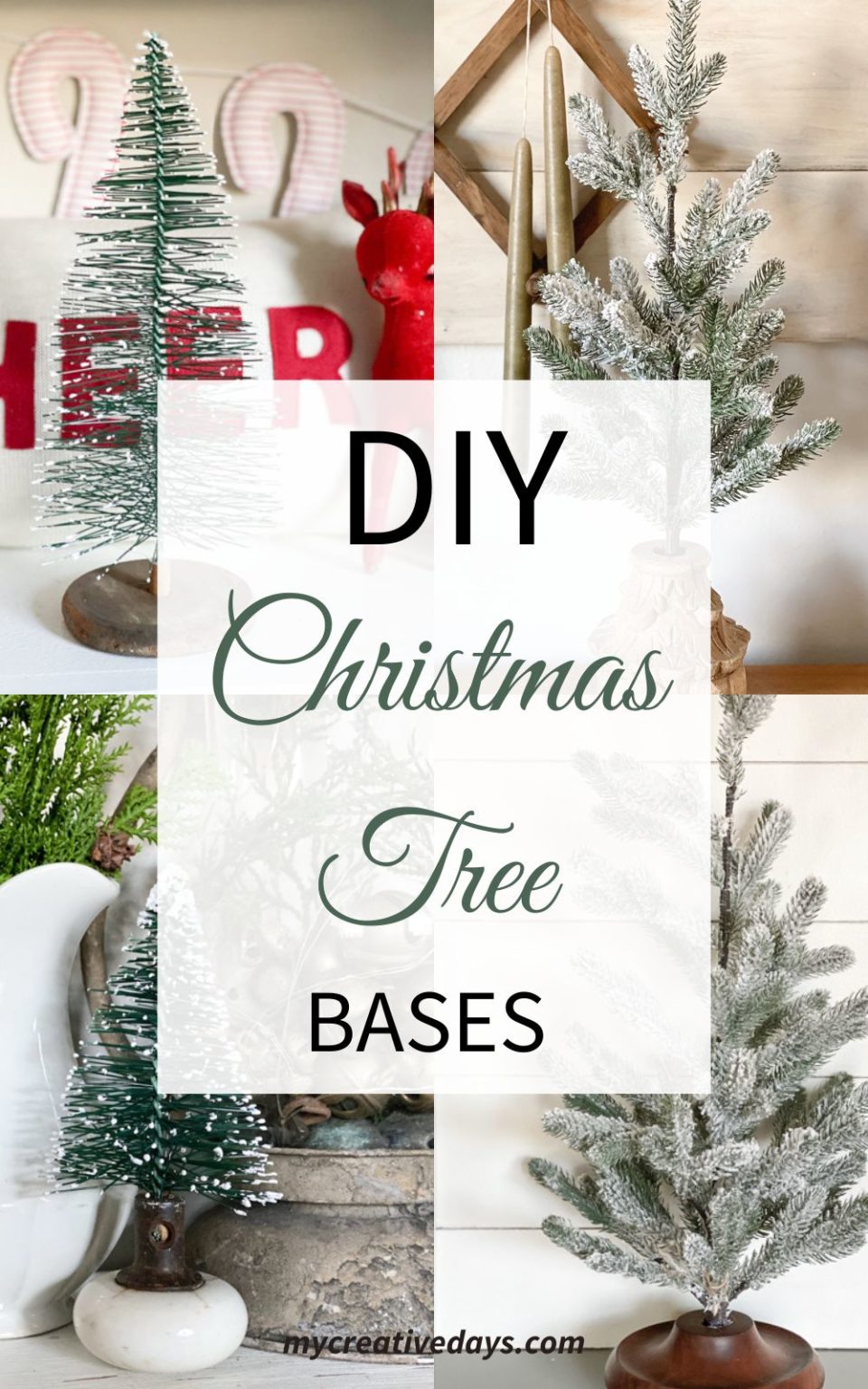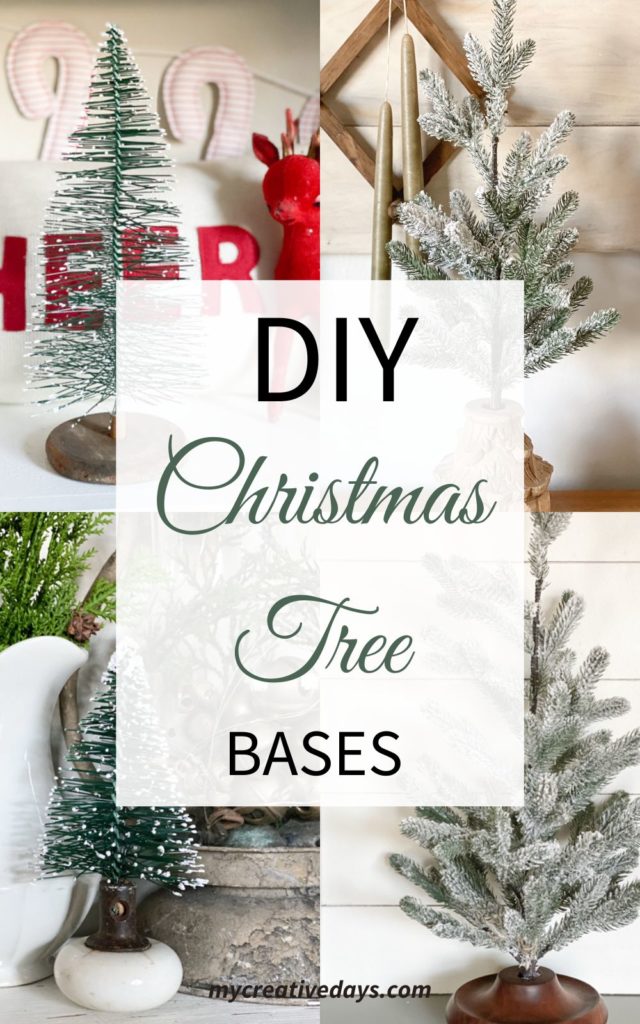 If you liked this post, you will also like these easy ideas: