To say that I have revamped a dresser or two in my time is an understatement. Dressers are fun to make over because they come in all shapes and sizes and there are so many ways you can transform them. This Distressed Dresser Makeover was my latest project.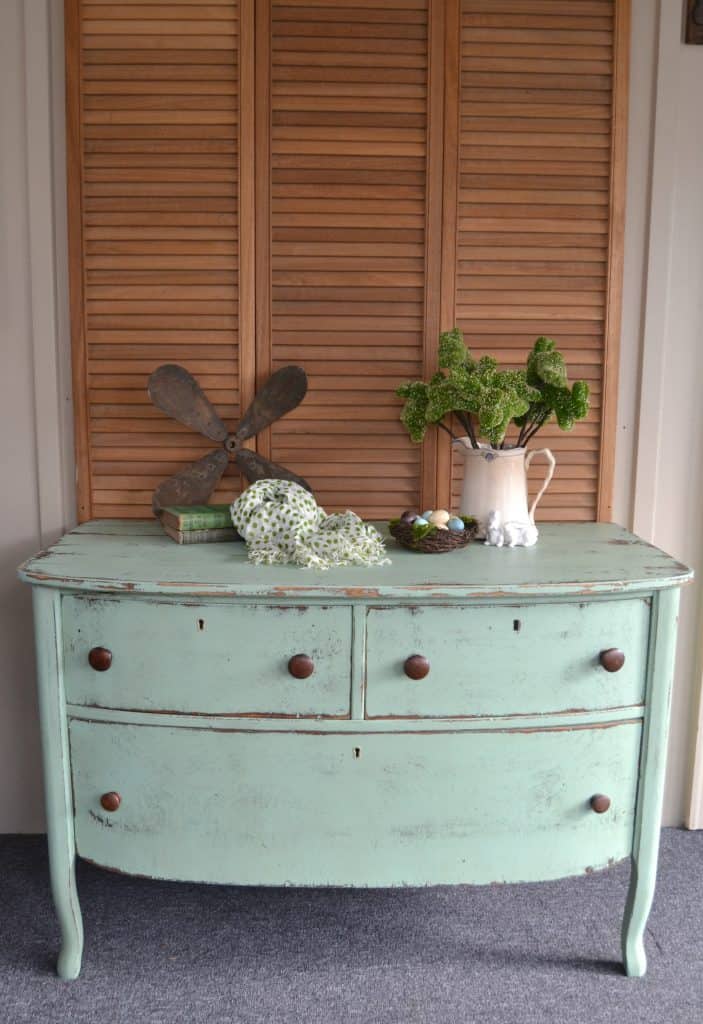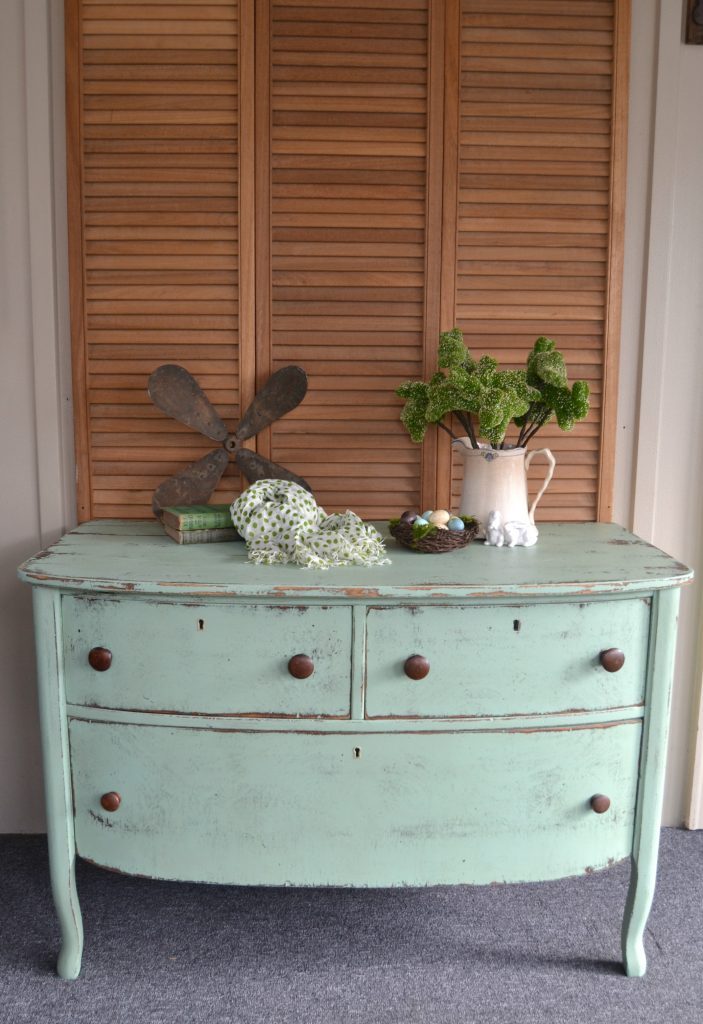 Matt found it like this on the side of the road!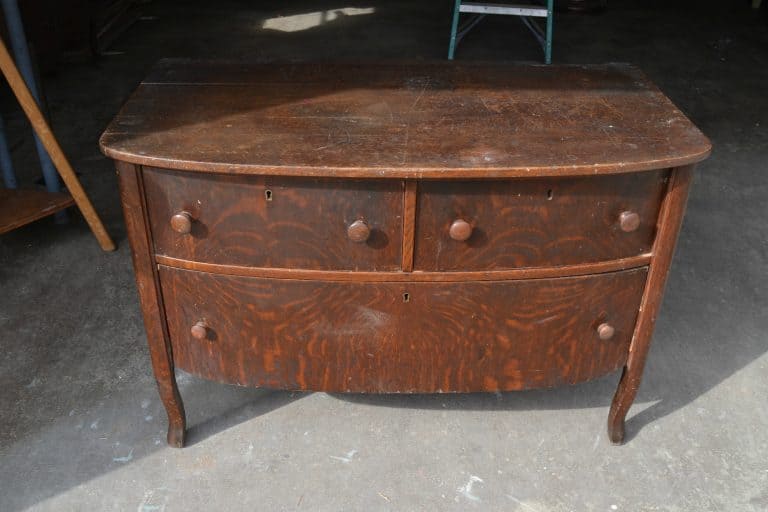 Yes, the side of the road! (Make sure to follow along with me on Instagram. I share all of my finds there!)
It has seen better days and was a little rough, but still structurally sound. Instead of just showing you another painted dresser, I wanted to share how I easily distressed this one. Each piece I make over is different and sometimes they aren't so straight forward, but this one was so easy that I wanted to share how I did it.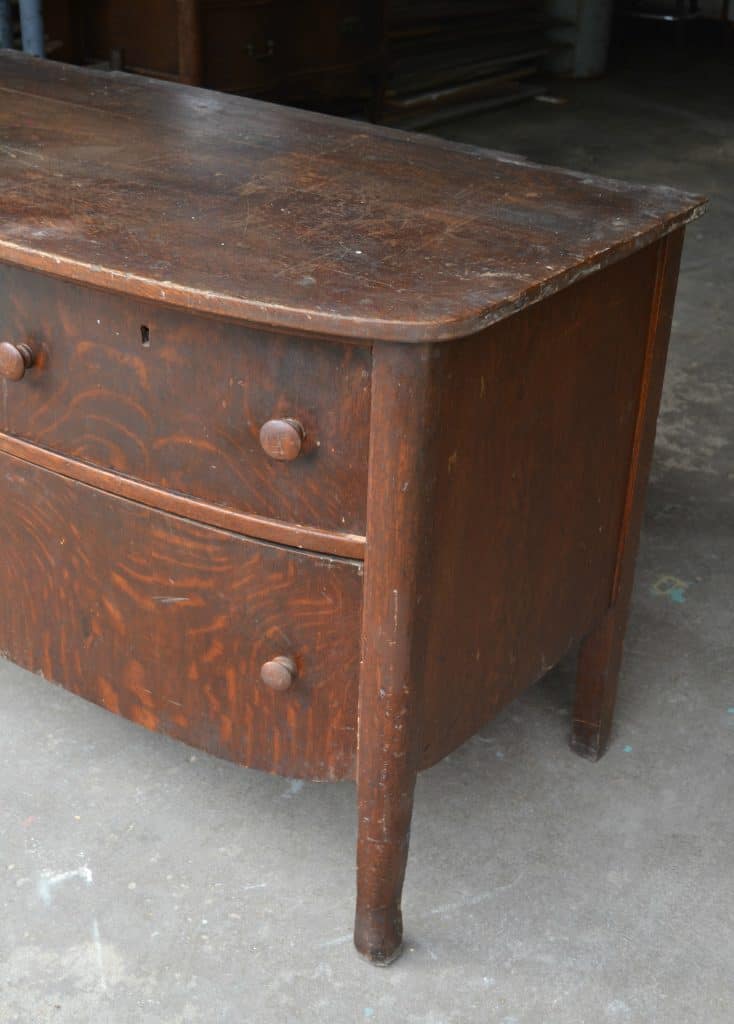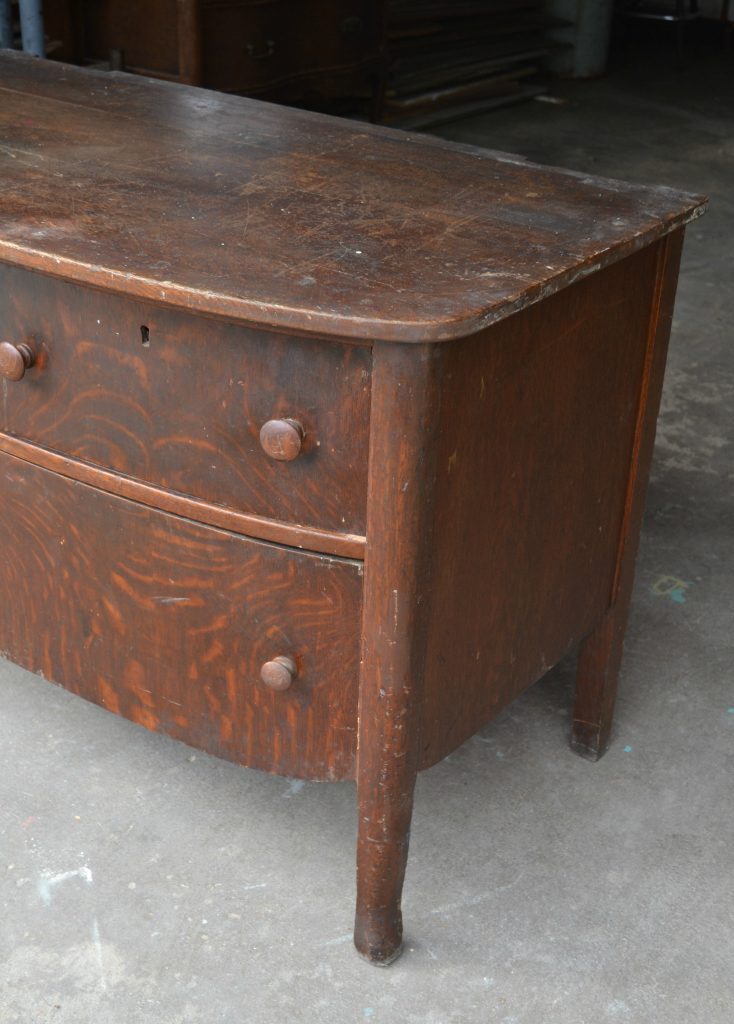 (Affiliate links are used in this post. You can see my full disclosure HERE.)
Supplies Used For This Distressed Dresser:
"Lily Pond" from Fusion Mineral Paint
I started the makeover by painting the entire dresser in "Lily Pond" from Fusion Mineral Paint.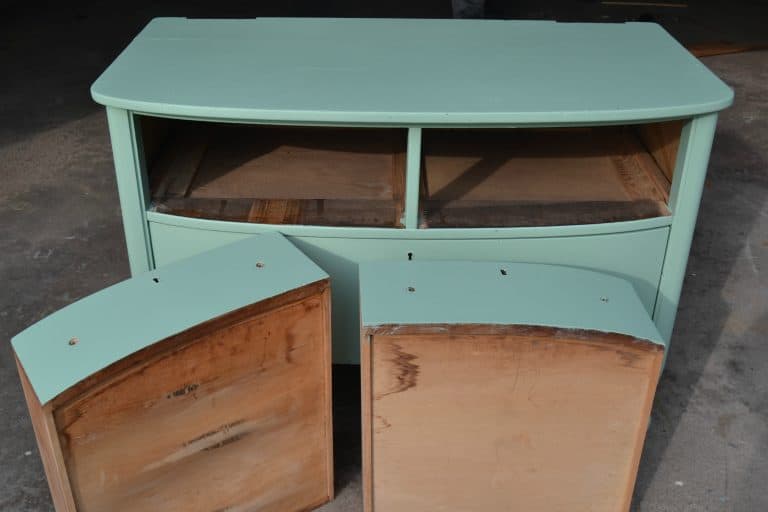 This color is a very pale green color. In these pictures, it looks a lot stronger, but it isn't. I knew it was going to be beautiful with the dark wood peaking through in different spots.
Then, I broke out one of my favorite DIY tools.
If you are a newbie DIYer or a seasoned DIYer who is looking for a good sander, this is the one.
I use this thing ALL THE TIME! It is the best.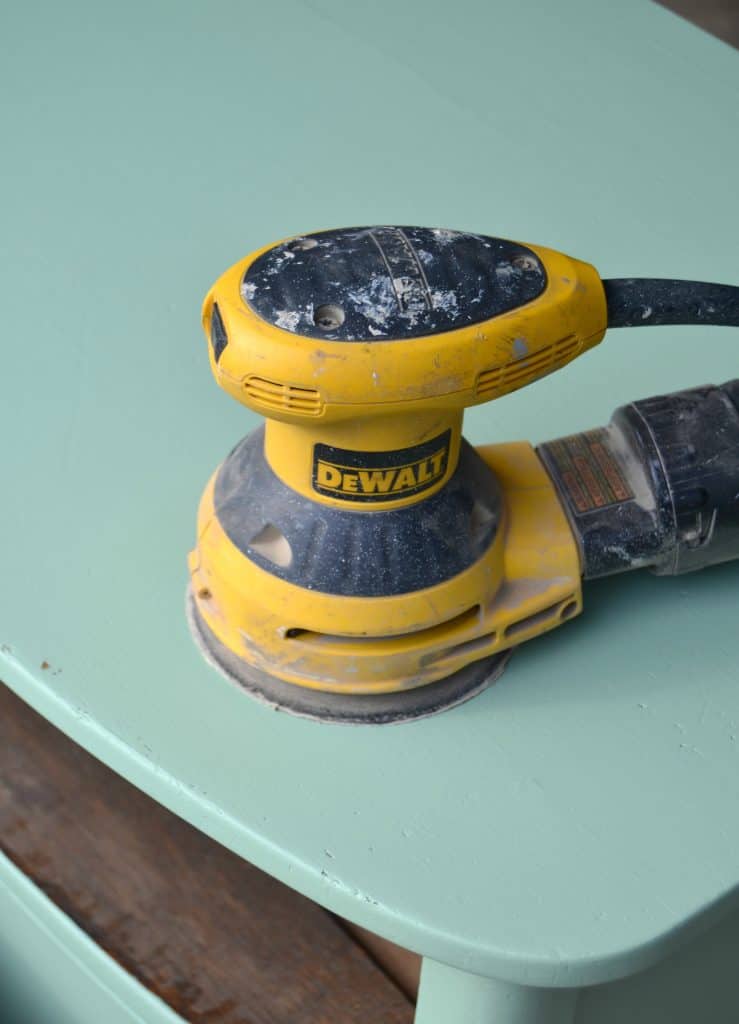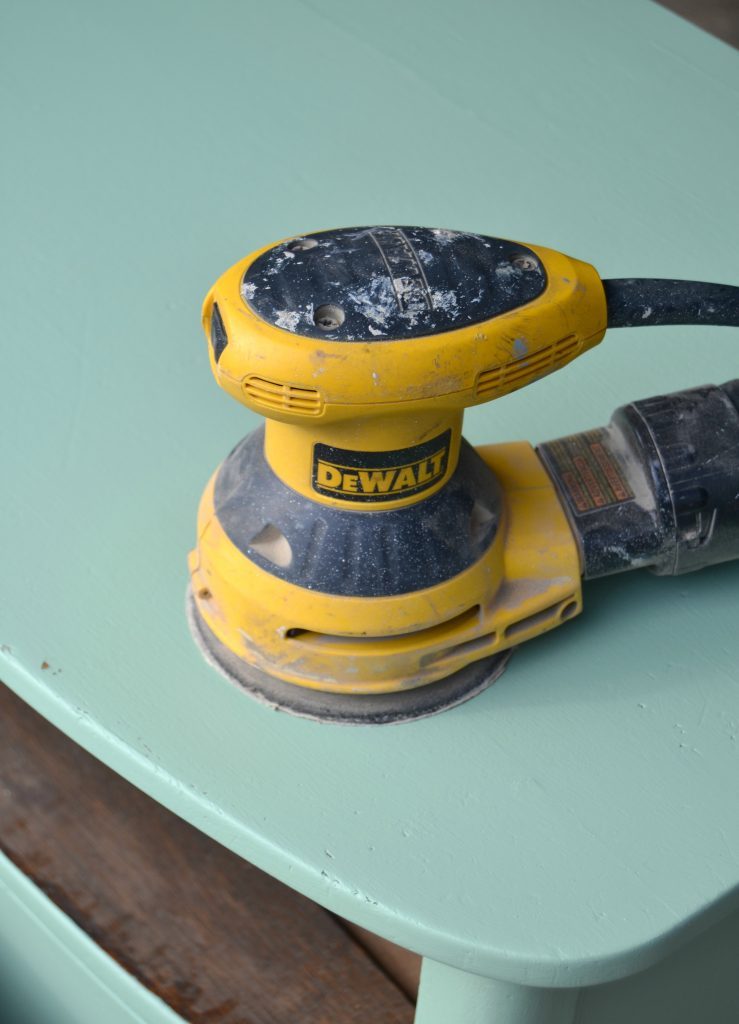 To distress the paint, I waited for it to fully dry and then ran the DeWalt sander on the top. If I wanted more paint to come off, I added more pressure, but I really just let the sander do the work. I do pay close attention to make sure and distress where "natural wear" would be (the edges and corners) with less emphasis on the center.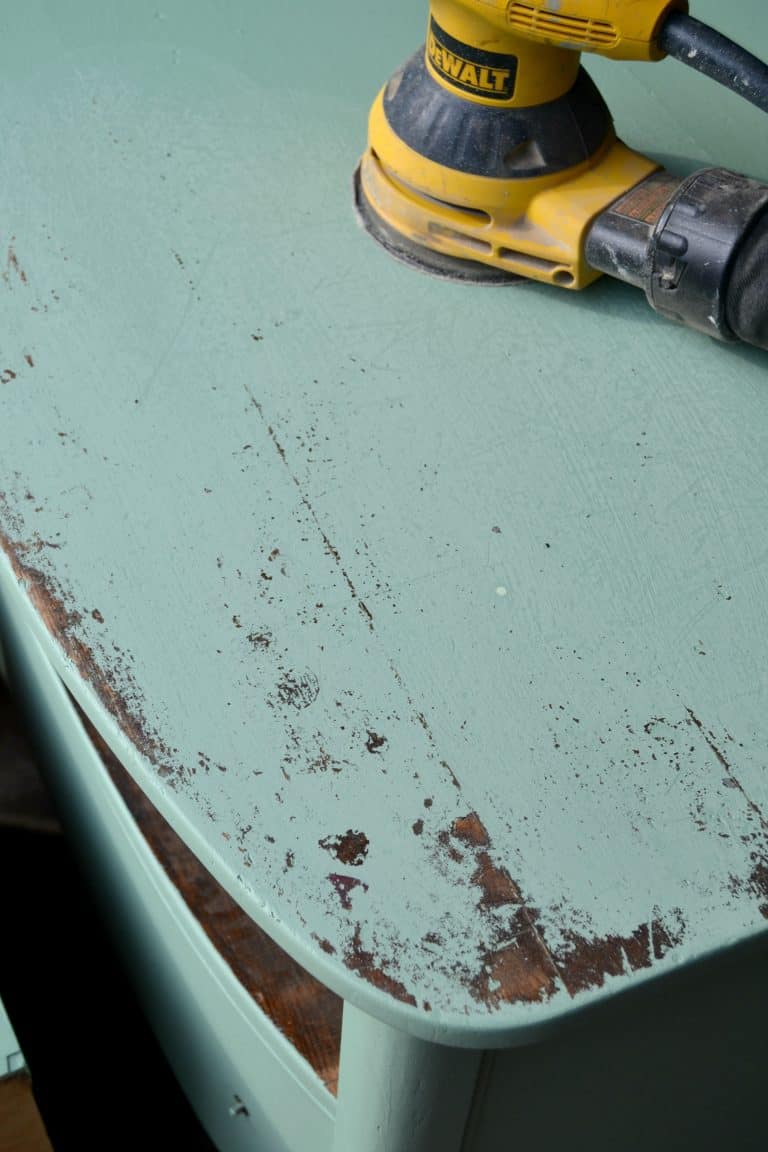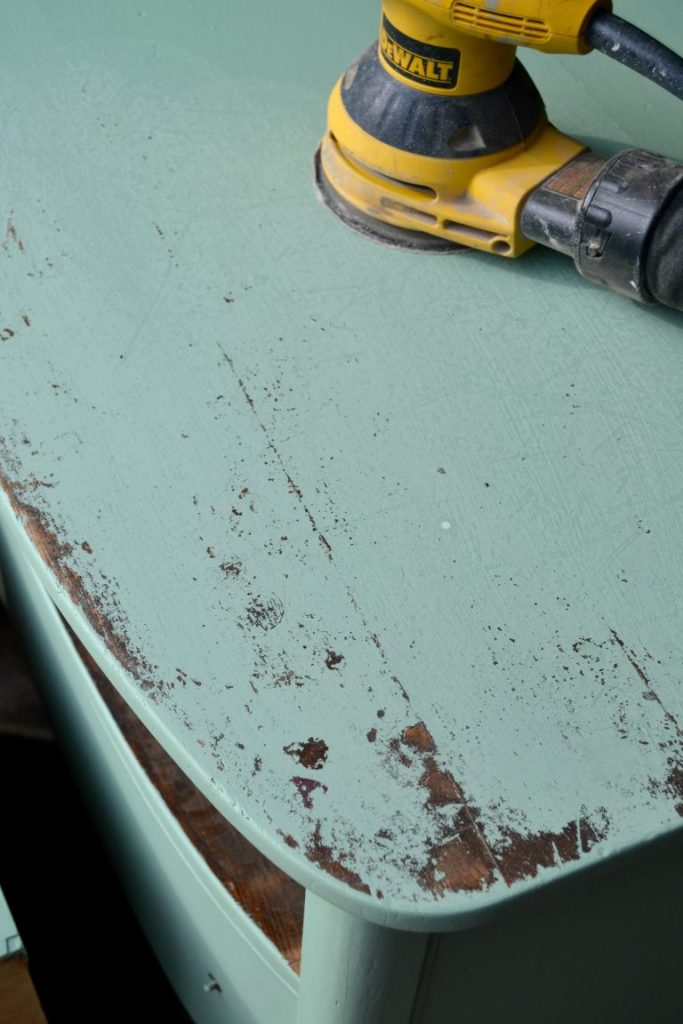 For the smaller areas and in corners where I can't get the sander, I hand sand with one of the orbital sander pads.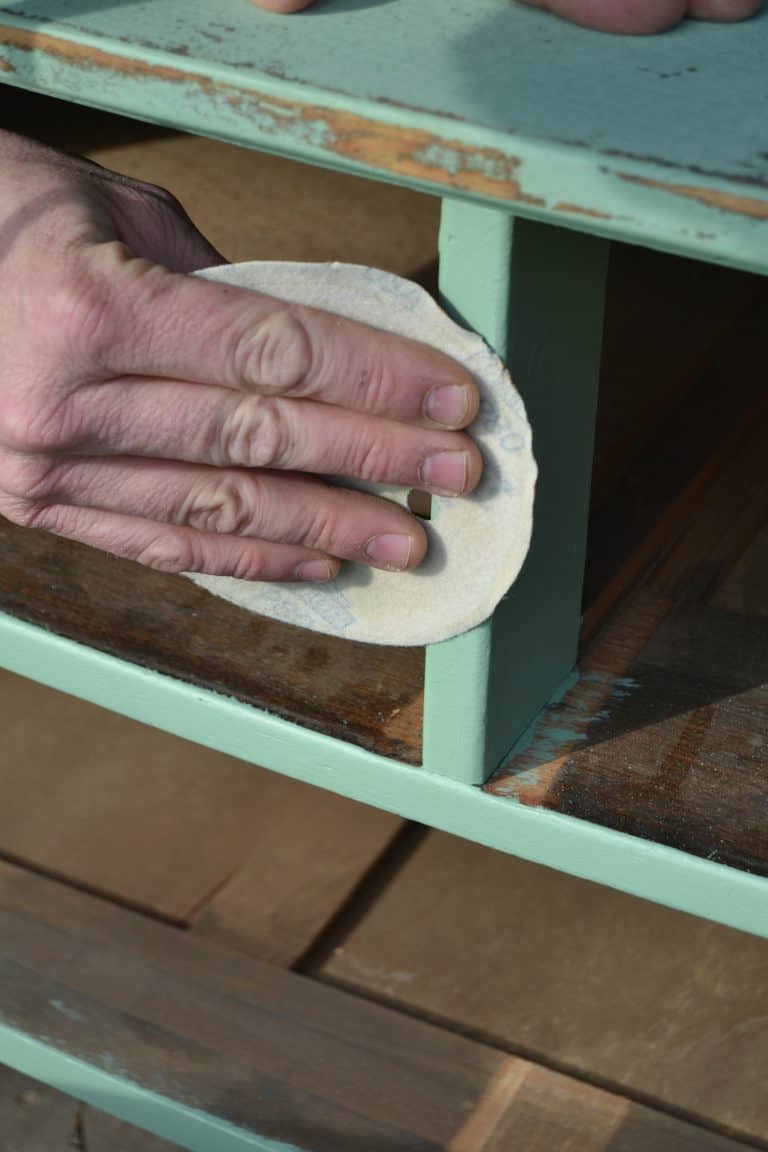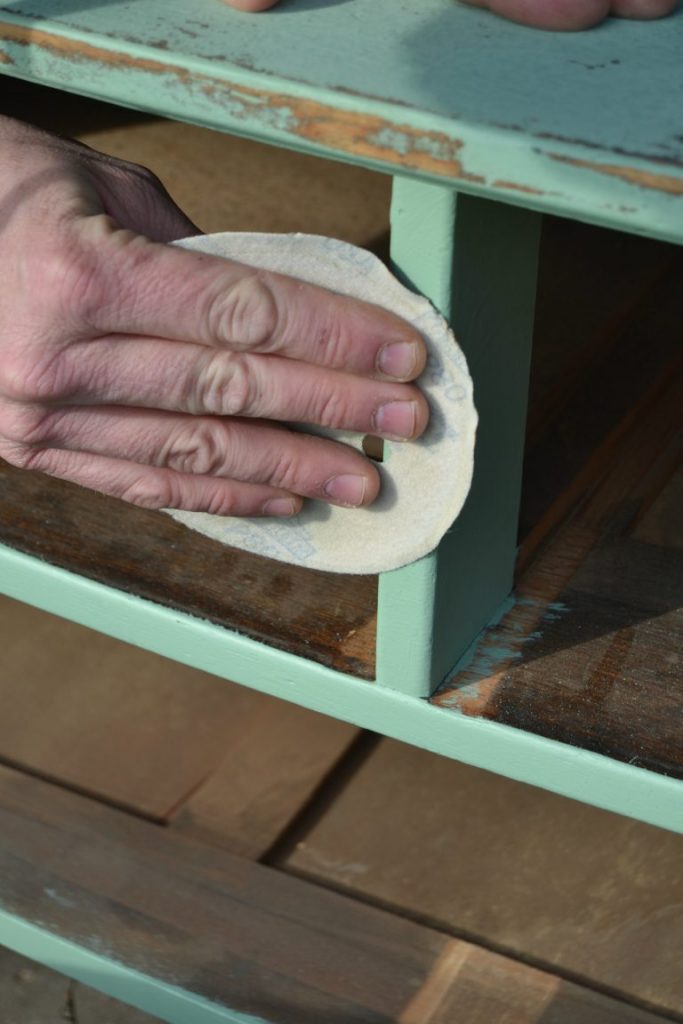 I get so excited to do the sanding part of each makeover. That is when each piece takes on its own personality and gets all its character. It never gets boring. 🙂
I kept the knobs natural. They highlight the dark wood that is popping through the paint.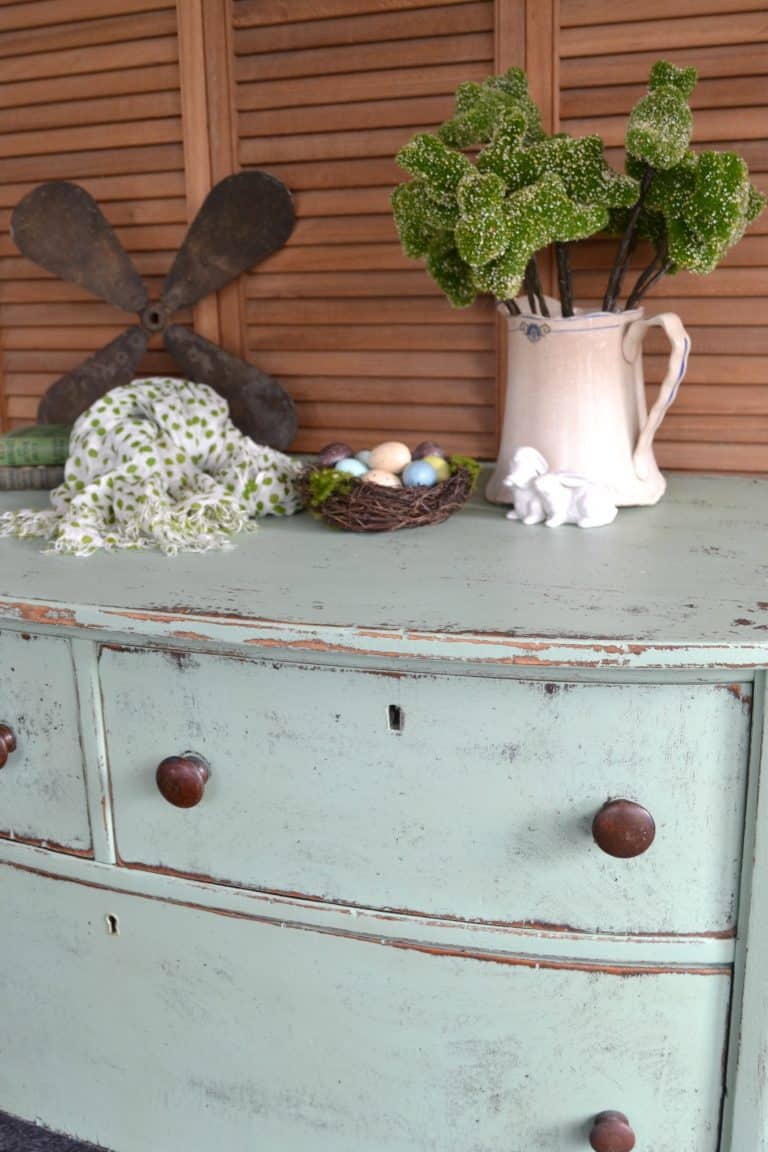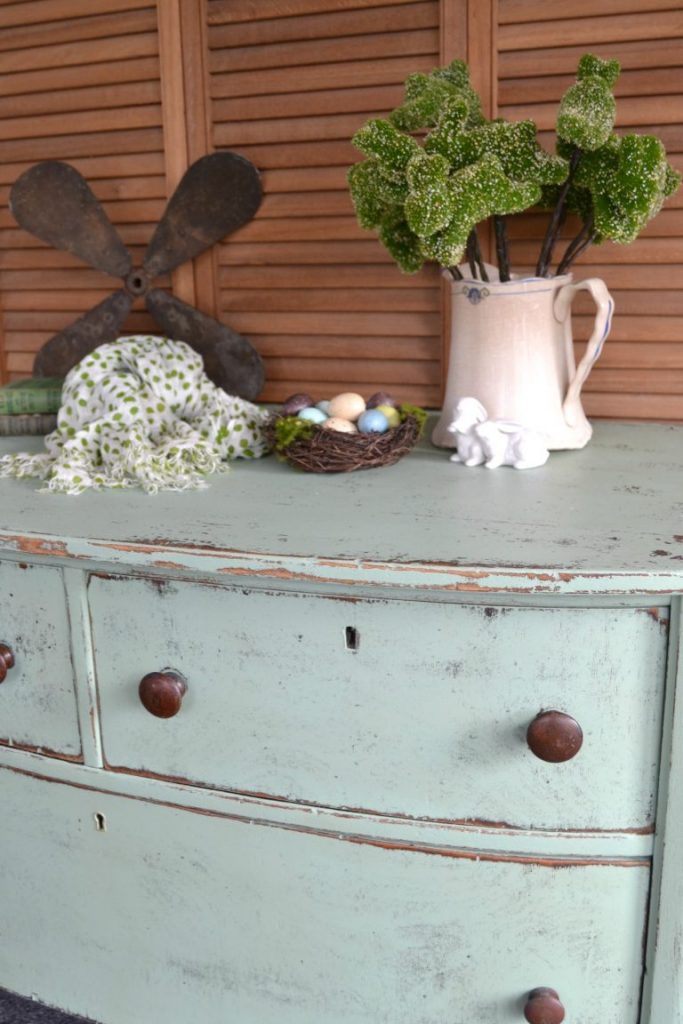 The sides of this dresser didn't distress much. That's okay. I didn't force it and just let the sander do its magic.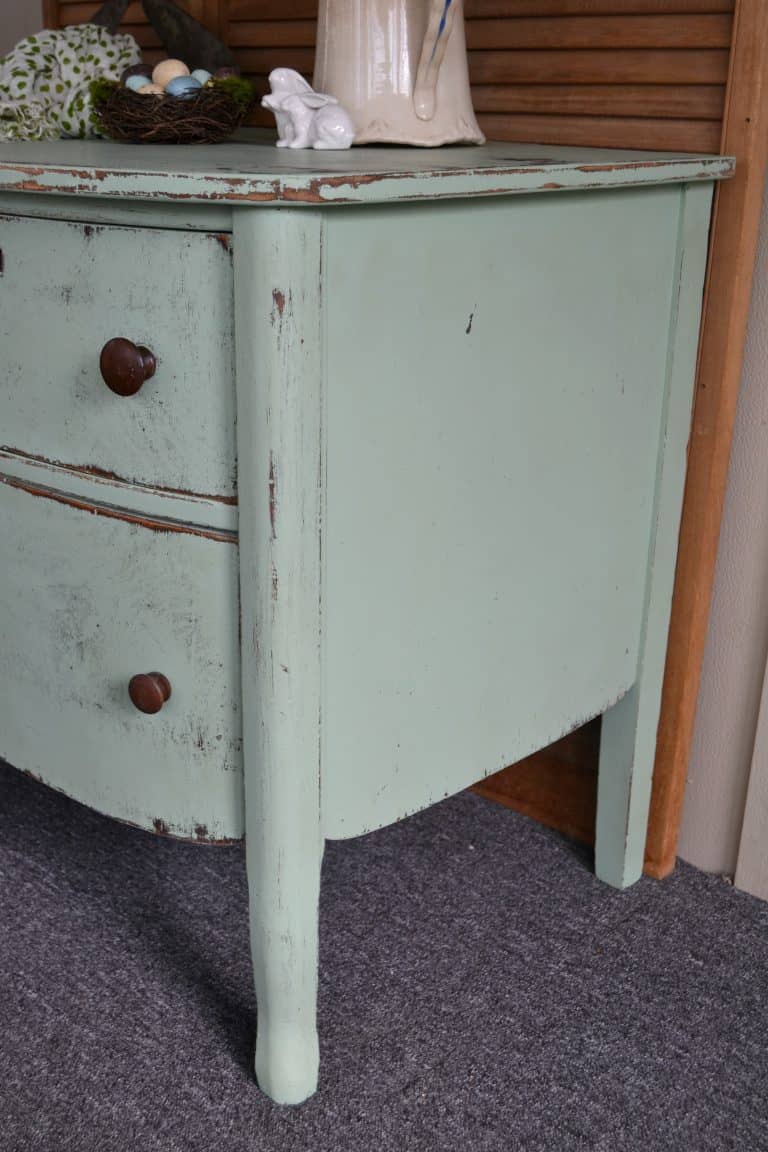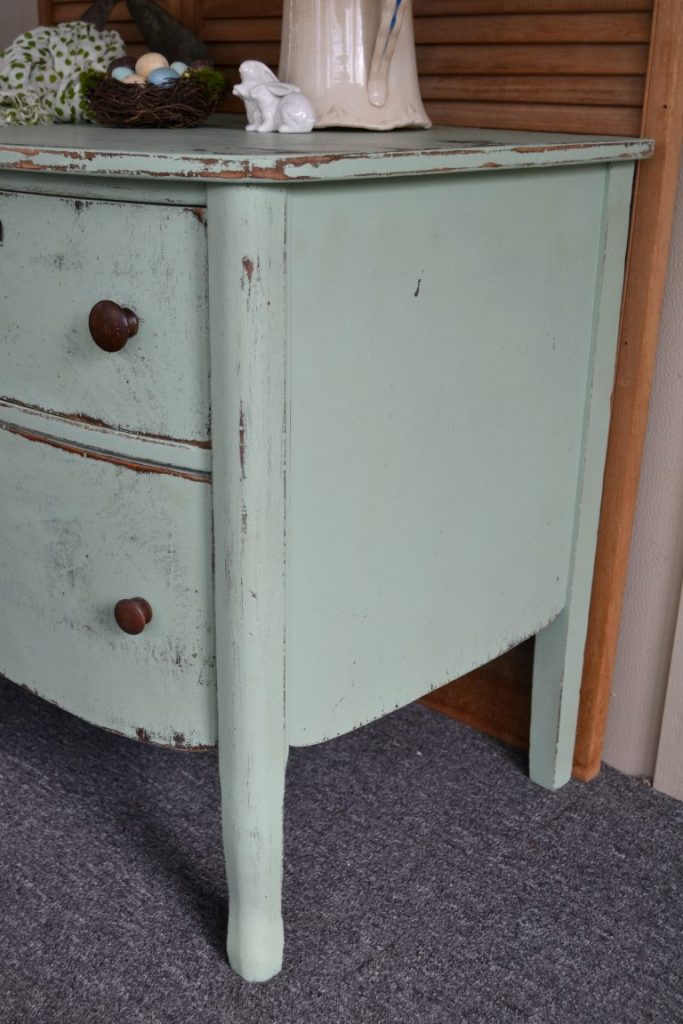 I don't always do this, but I did use a wax after the sanding.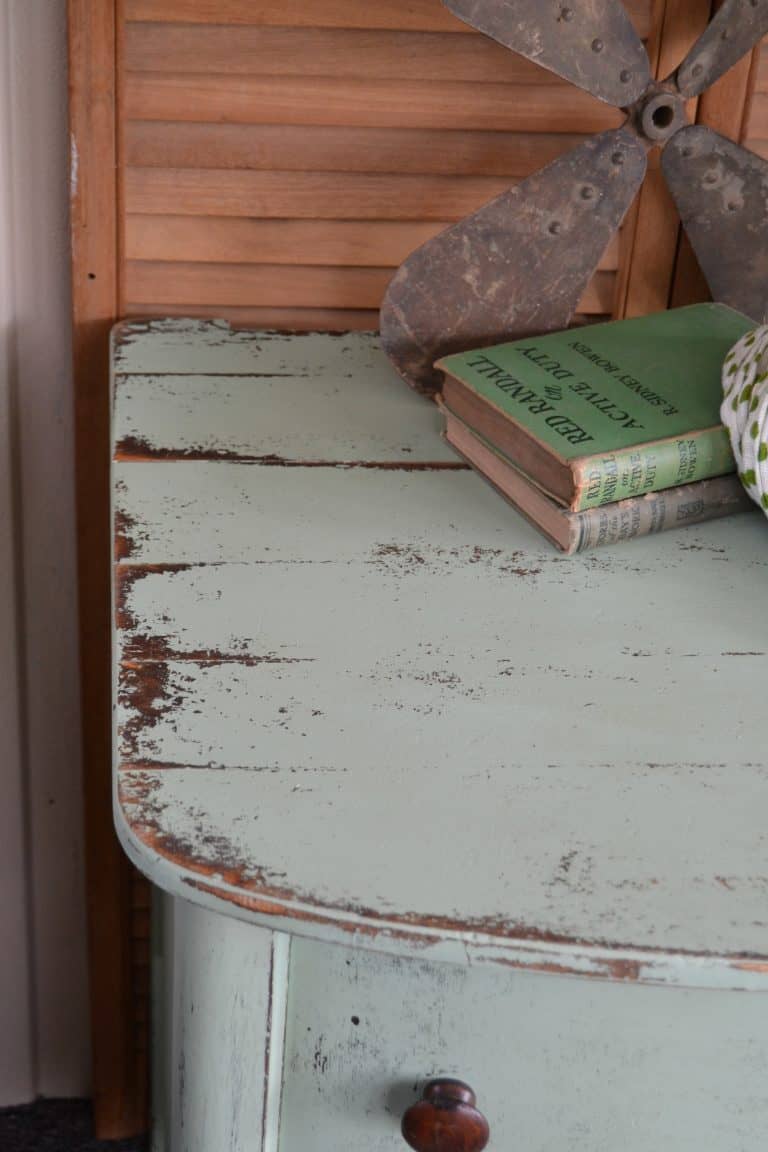 The wax deepens the color a little bit and adds a protective coat. Sometimes after I sand a piece, I don't like the way the paint looks. The wax smooths out the color and enhances it. This distressed dresser definitely needed it.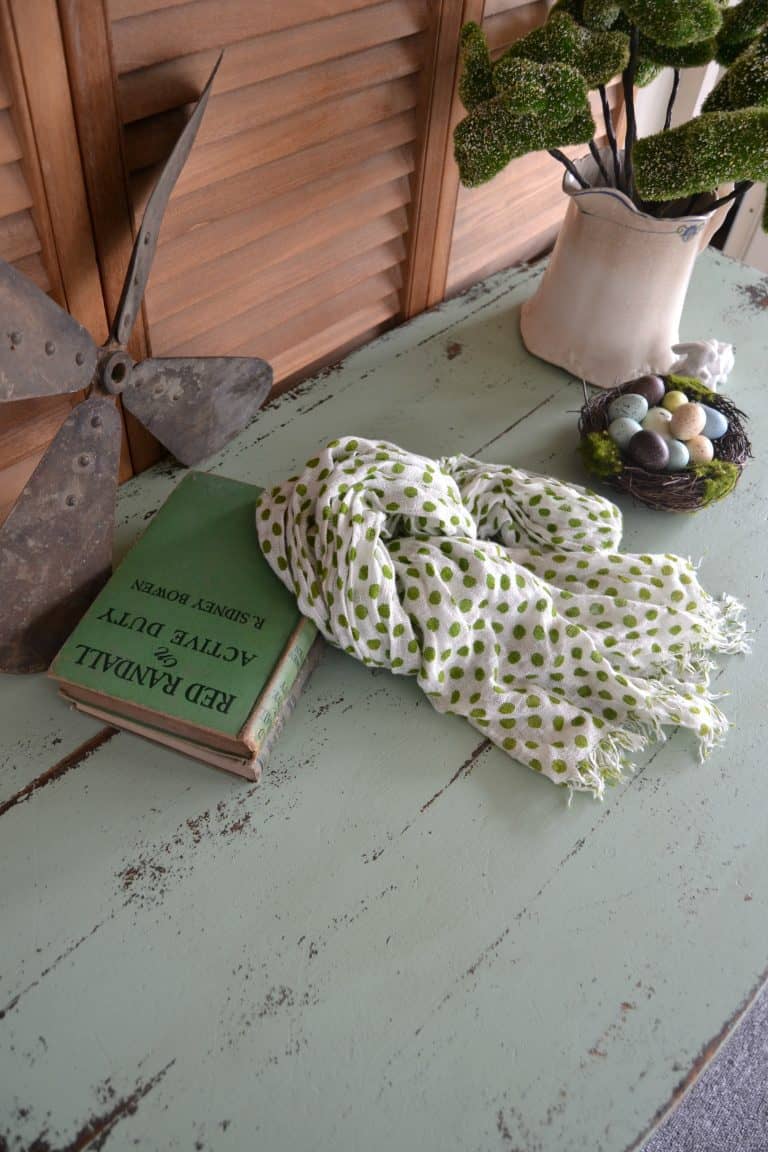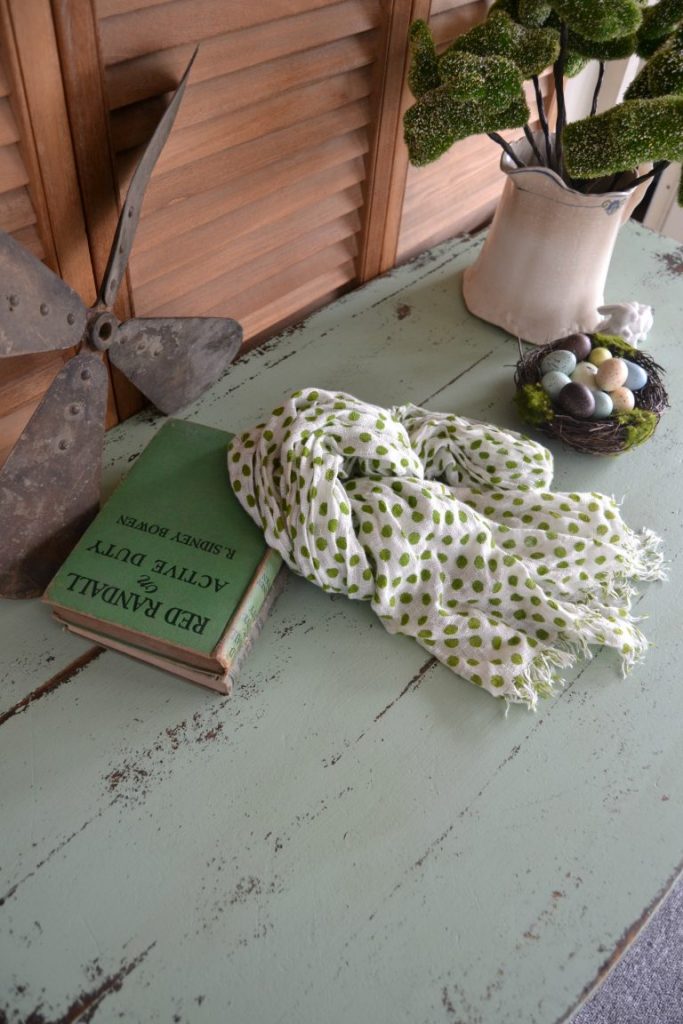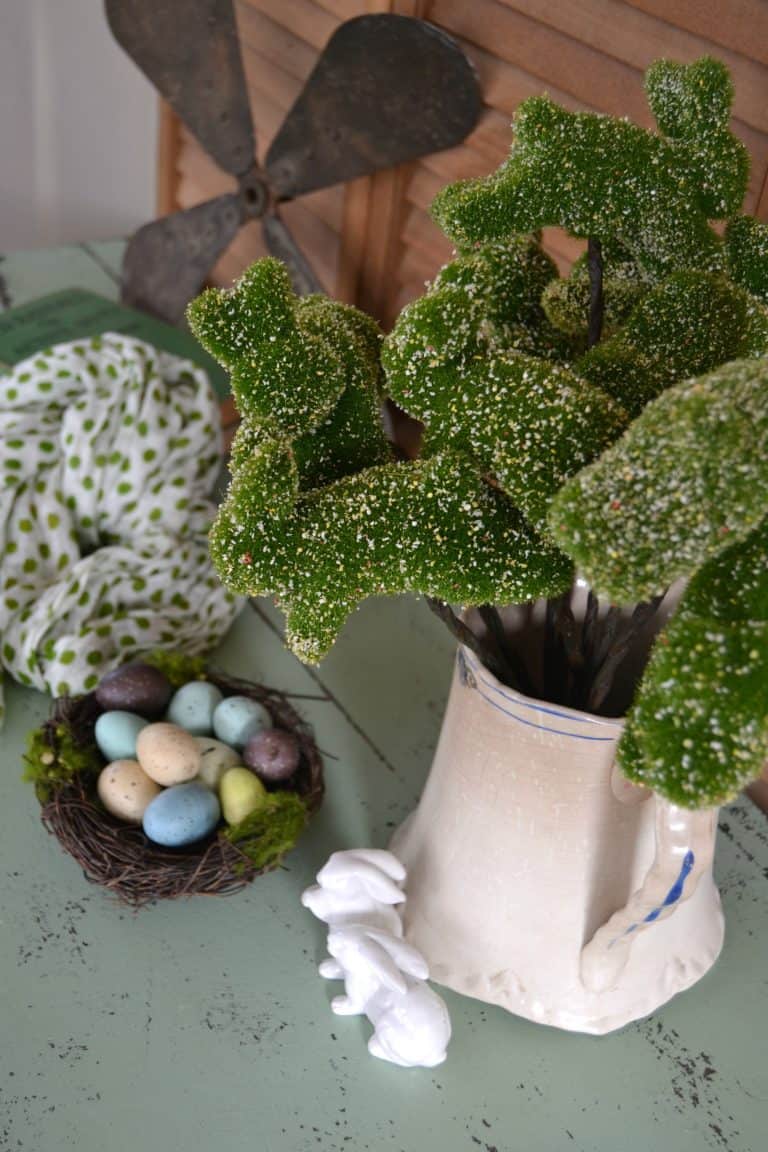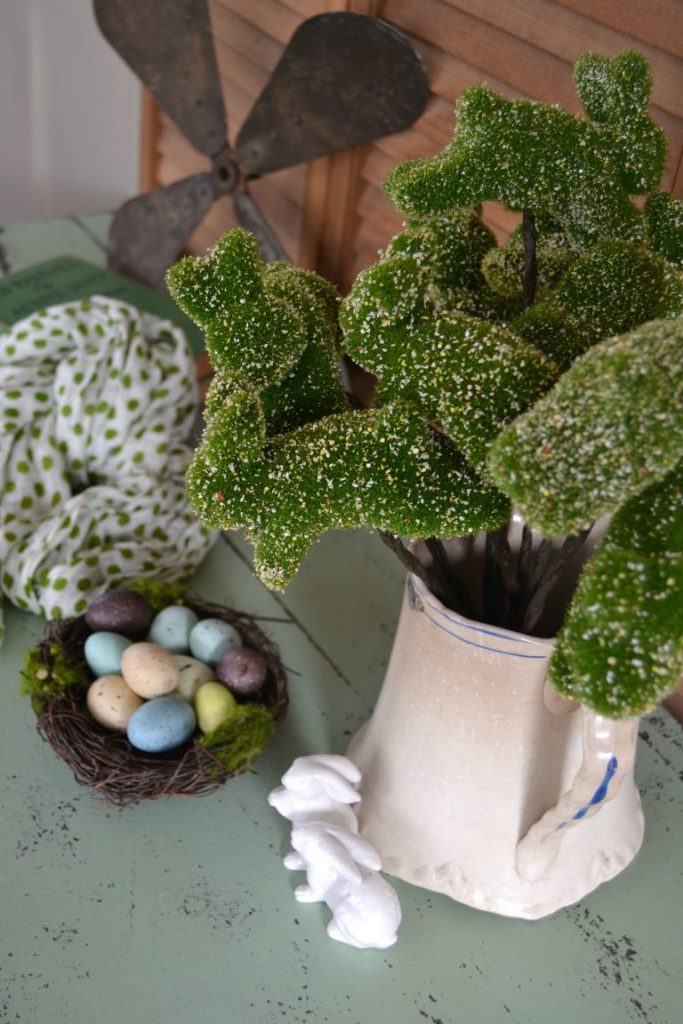 It always amazes me what we find on the side of the road. It doesn't happen all the time (I wish it did), but we have found some amazing pieces that people want to just throw in the landfill. Distressing furniture doesn't have to be scary or make you hesitant to try it. You do need some tools to make it happen, but once you have them, there is no limit to what you can do.
Do you make over furniture?
PIN THIS POST!


If you liked this distressed dresser post, you will also love these tips:
The Easy Way To Remove Paint From Glass Hardware
10 Tips On How To Paint Furniture