Today is all about pallet wood projects.
Do you use pallets for projects?
Have you ever wanted to try Pallet Wood Projects?
If you spend any time on Pinterest, you know that there are so many great things you can do with pallets. In the past, we used them a lot for projects. As time went on, we quickly formed a love/hate relationship with them because they are perfect for their free wood, but a lot of times, they are a pain to take apart.
Through our experiences, we have learned two great tips if we are going to do Pallet Wood Projects:
Always have your project idea in mind before you search for pallets: Pallets come in all shapes and sizes and you want the right pallet for each project. The more you plan ahead, the less work it will be for you to get the project done.

Check the quality of the wood on the pallets before you bring them home: Make sure the wood on the pallet is in good condition. A pallet full of wood you can't use is not worth dragging home. (Trust me, we have done it way too many times).
This DIY Pallet Mud Kitchen is part of a blog hop with some of my blog friends. We have all come together to share different ways to repurpose pallets.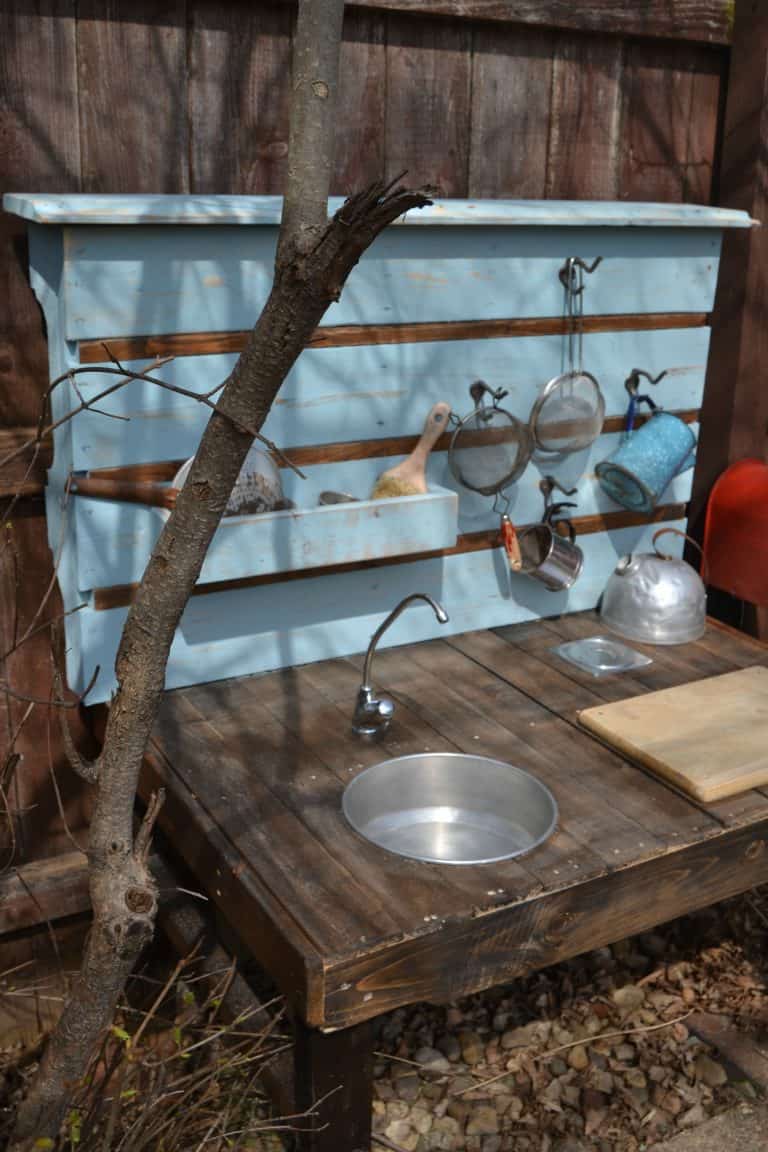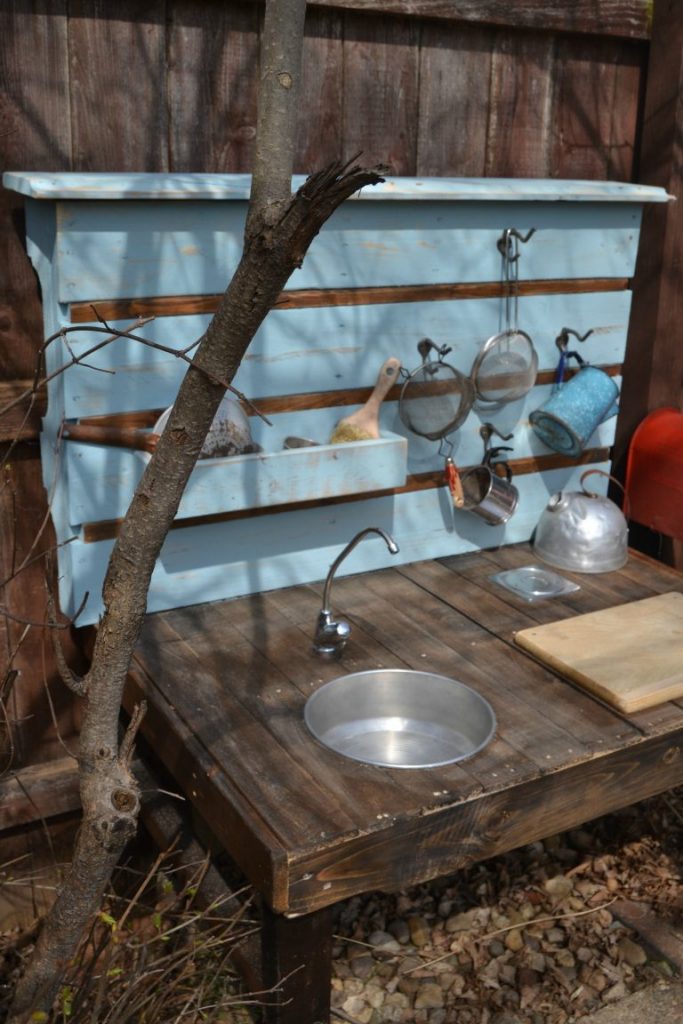 Years ago, we made an outdoor kitchen for our daughter and it is still a favorite place to play in our backyard. A friend of mine wanted one for her kids so I knew a Pallet Mud Kitchen was going to be my project.
Isn't it funny when you need pallets for a project, you can never find them, but when you aren't looking for them, you see them everywhere? That was the case with this project. I could not find pallets anywhere and I was starting to think I wouldn't be able share this project. Then, Matt remembered when we did our Mini Living Room Makeover with Carpet One, they told us to come back and pick up pallets any time we needed them.
Phew.
I found the perfect pallets there for the Mud Kitchen.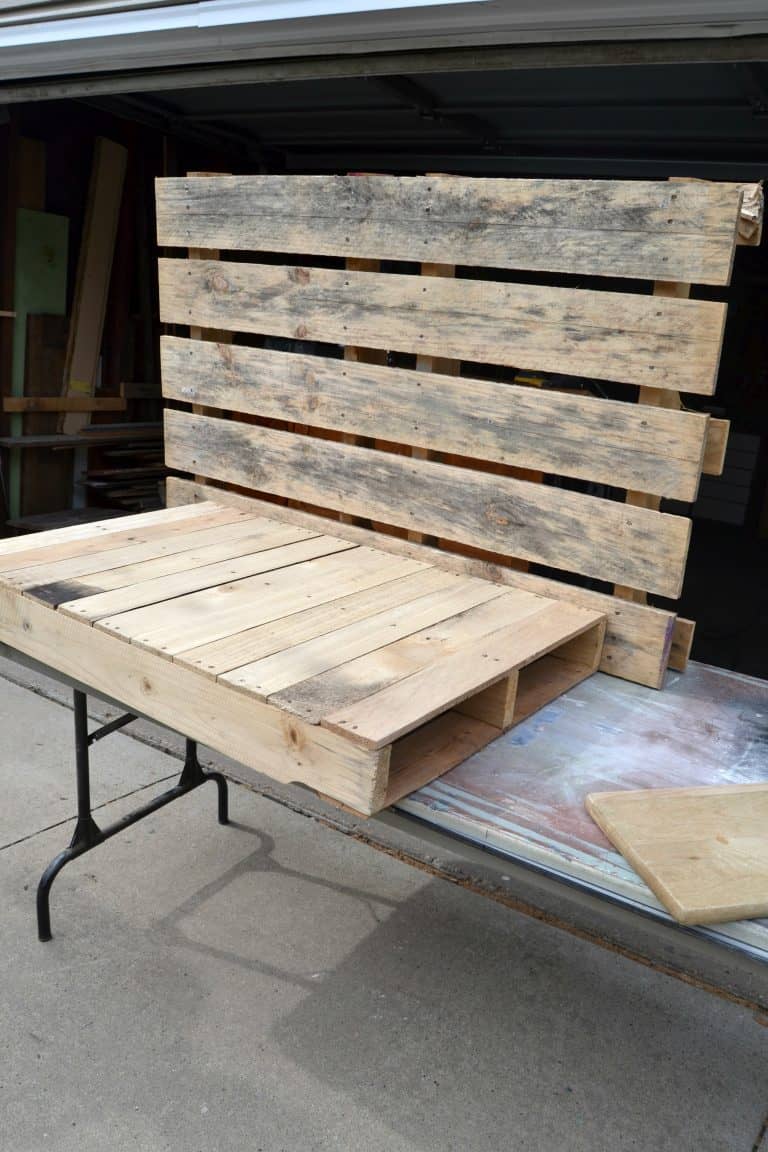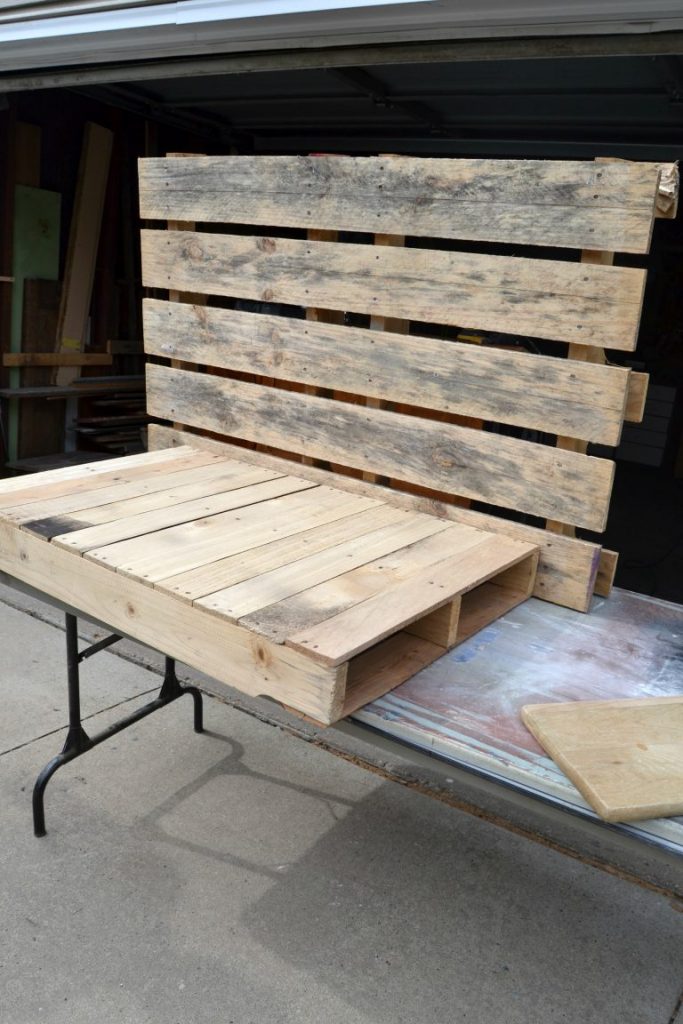 Not only did we find pallets, but the smaller pallet did not have to be modified for this project! It was put together in a way that was perfect for what we needed. Score!
My favorite thing about putting together a mud kitchen is hunting for different things you can use on it. Old lids become sinks, coasters become burners. Real kitchen utensils are perfect for sifting, stirring and making the best mud pies ever. 🙂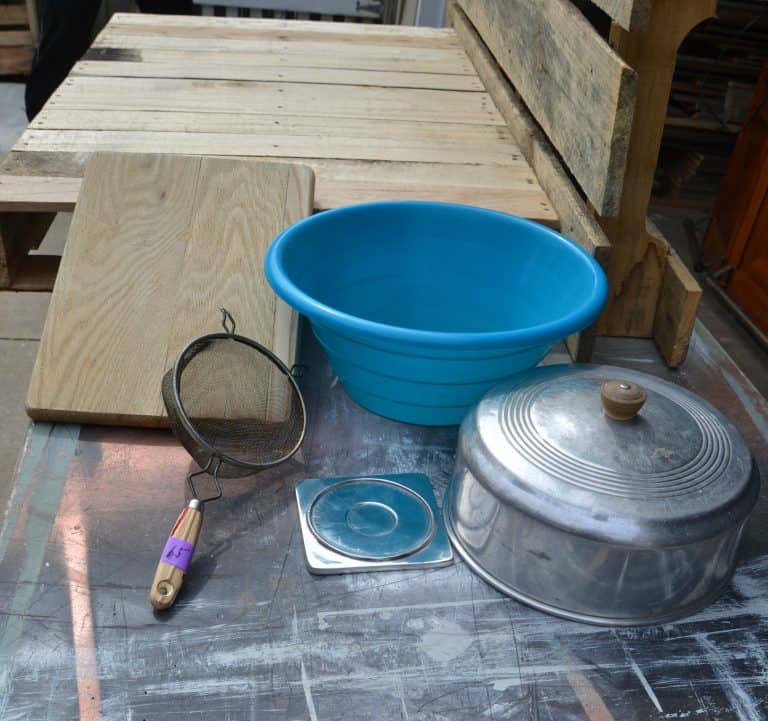 To make the bigger pallet work as the backdrop, we cut it down to size and added trim boards between the slats.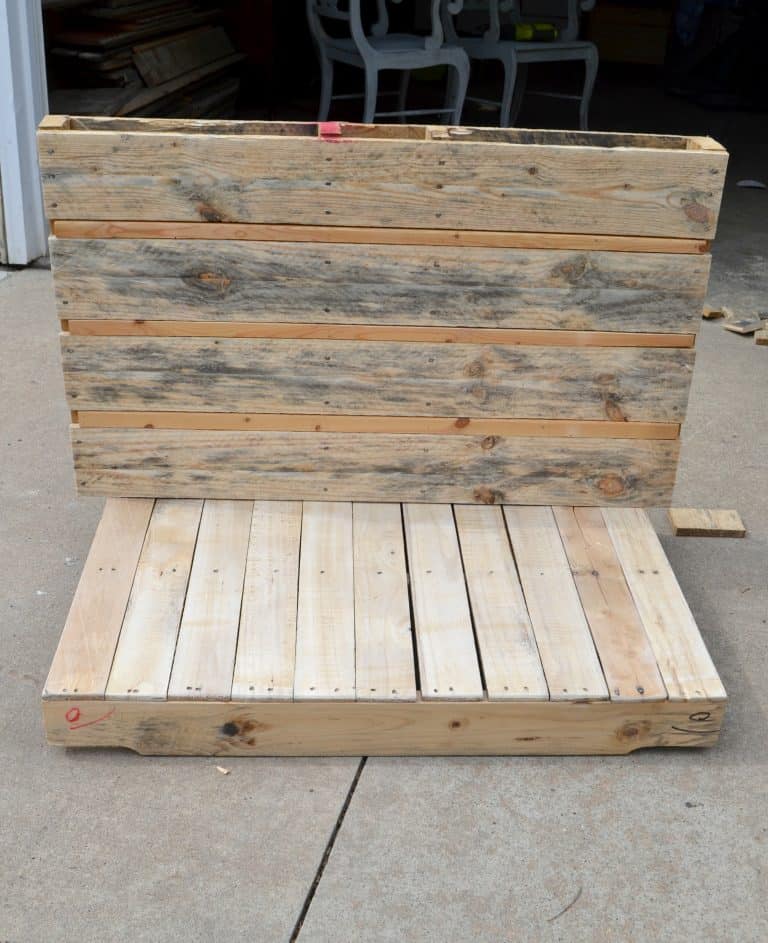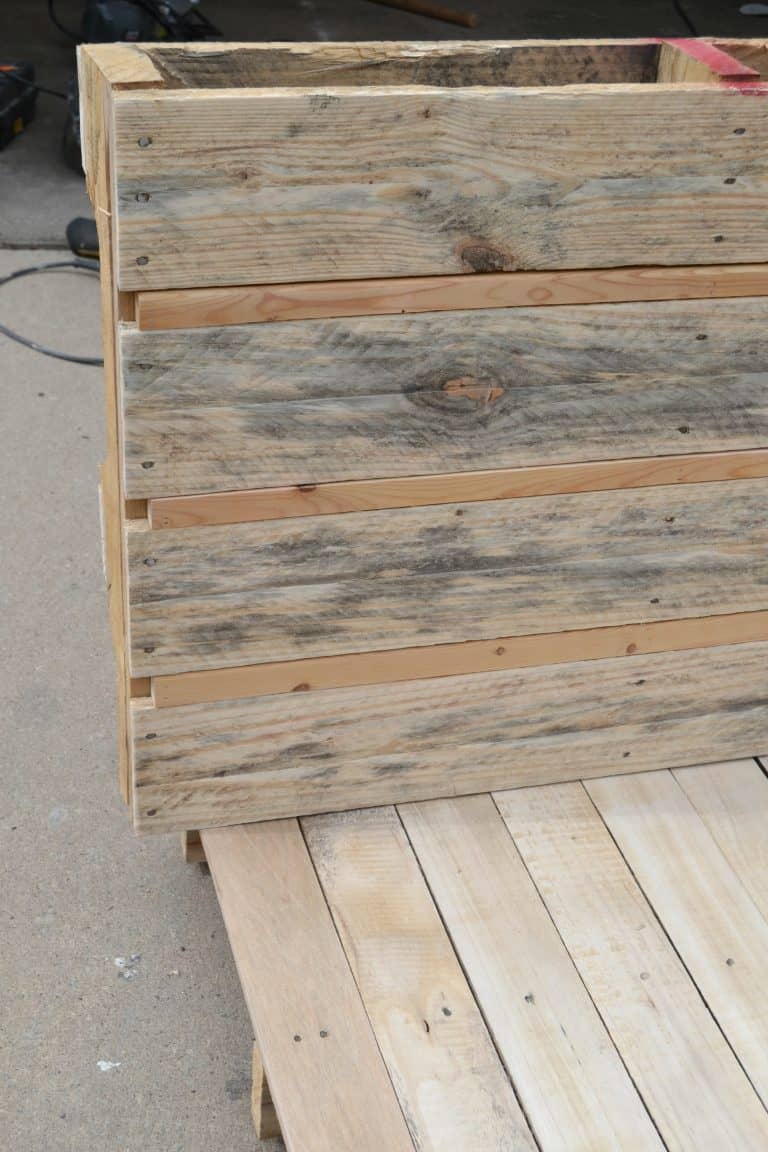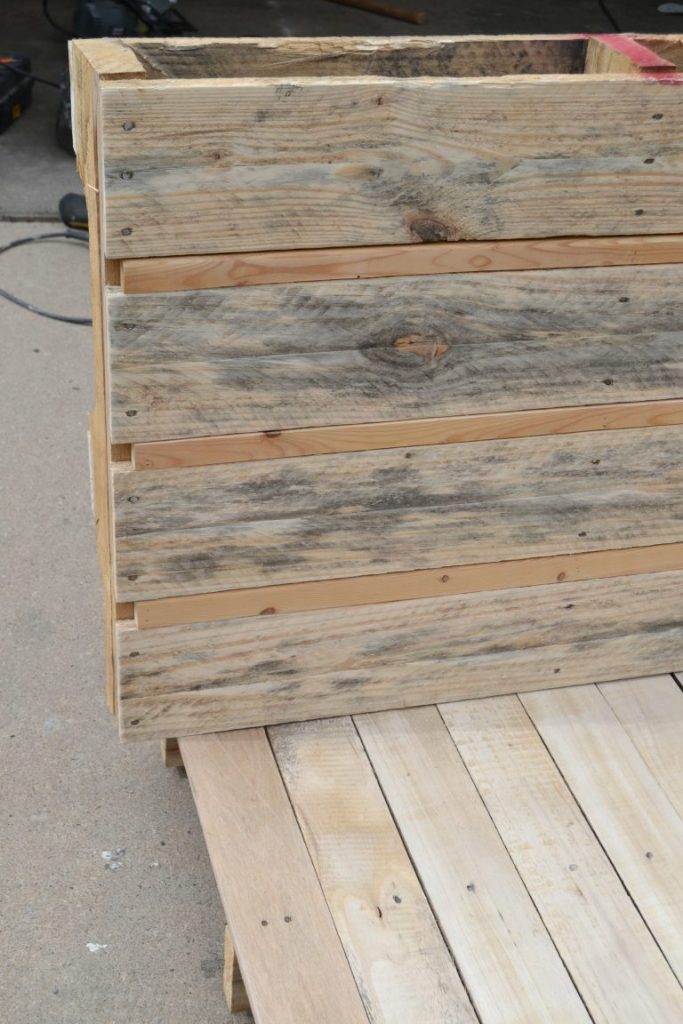 For the legs, we used old boards we had in the garage, but you could easily use more pallet wood if you had an extra pallet.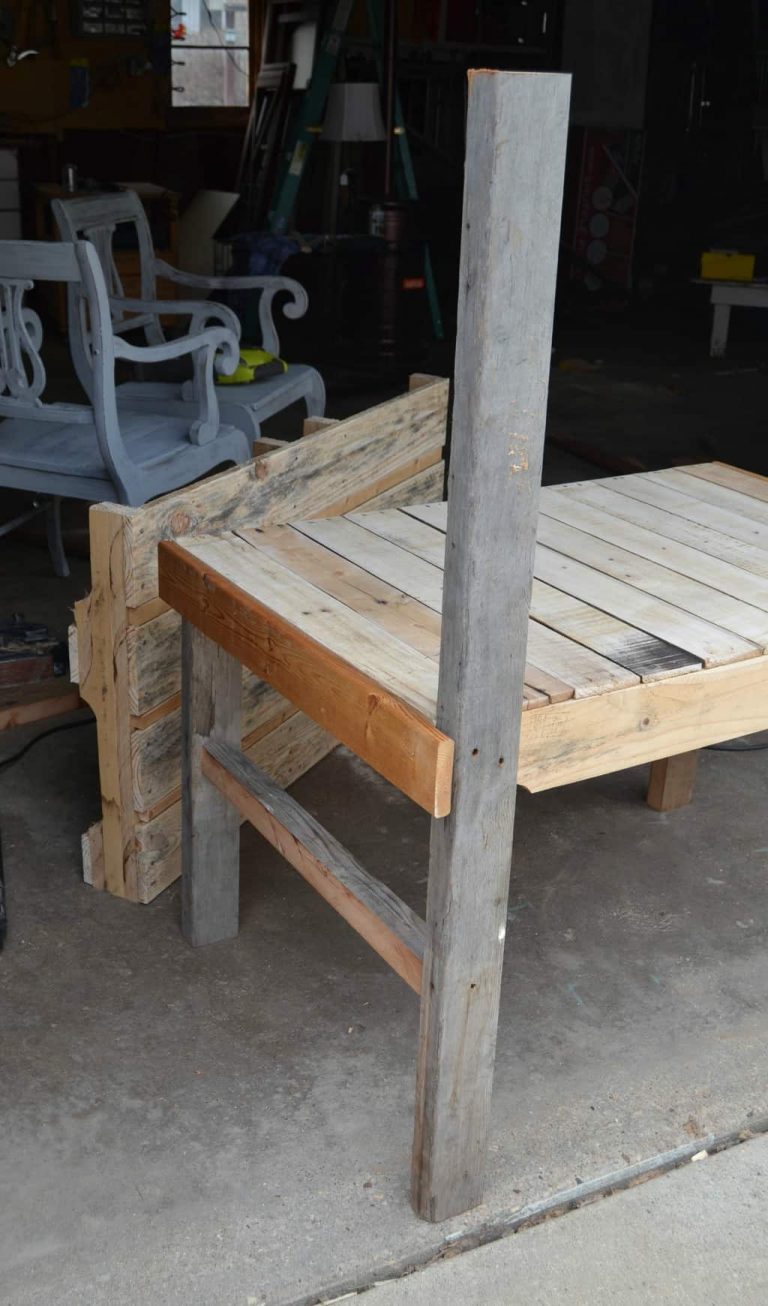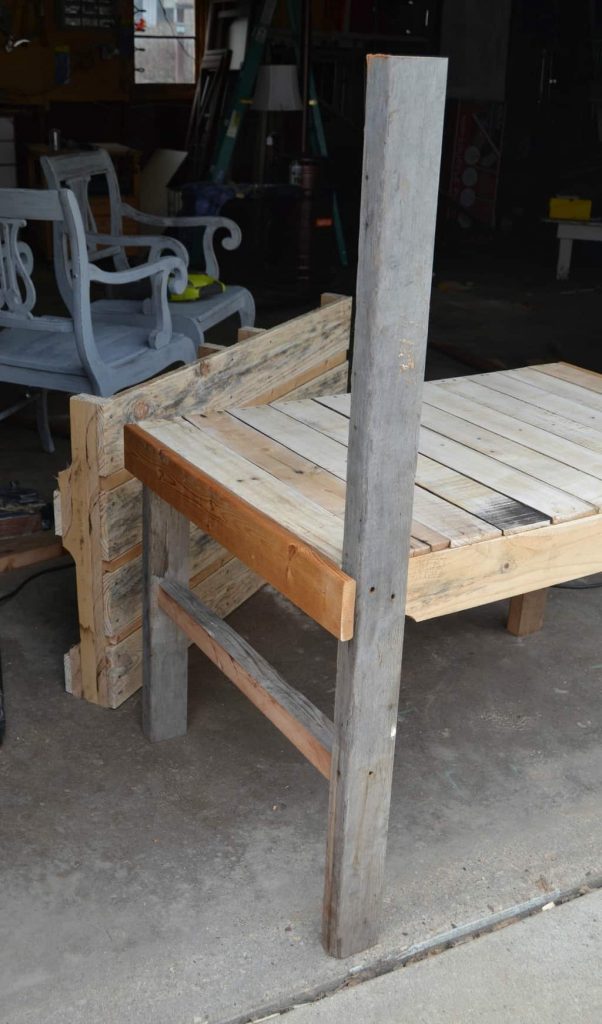 To make the kitchen sturdy, we slid the back pallet on the back legs and attached it. That way, the support is running all the way up the sides of the back pallet.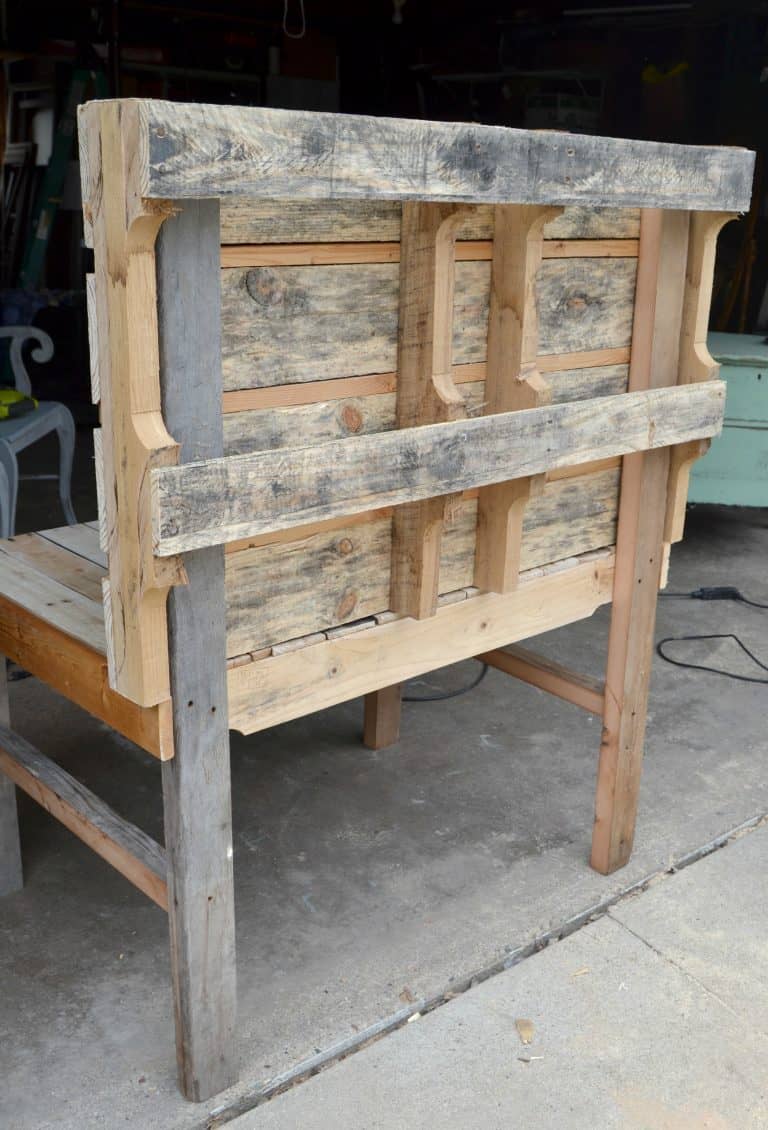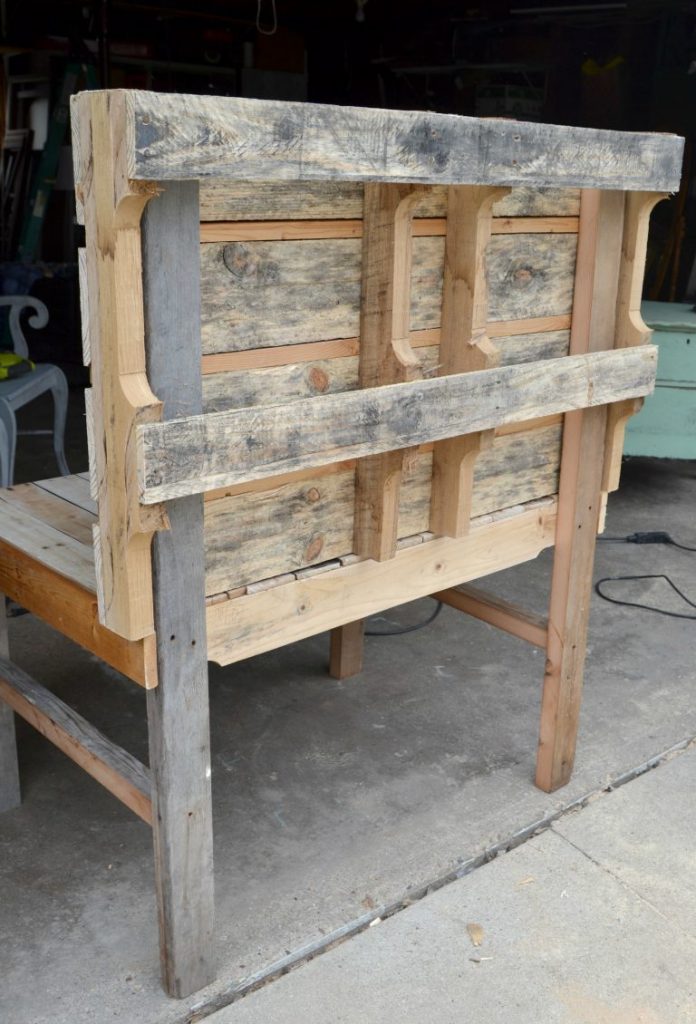 We trimmed out the smaller pallet with scrap wood from our garage.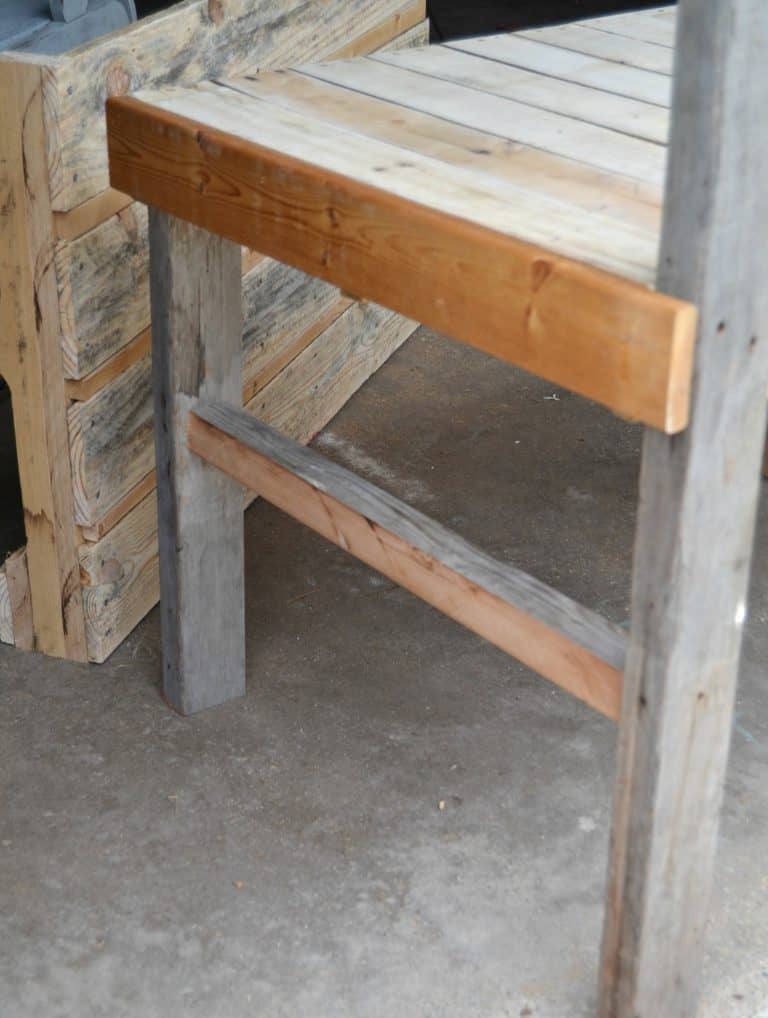 I painted and stained the kitchen and then it was time for the fun stuff.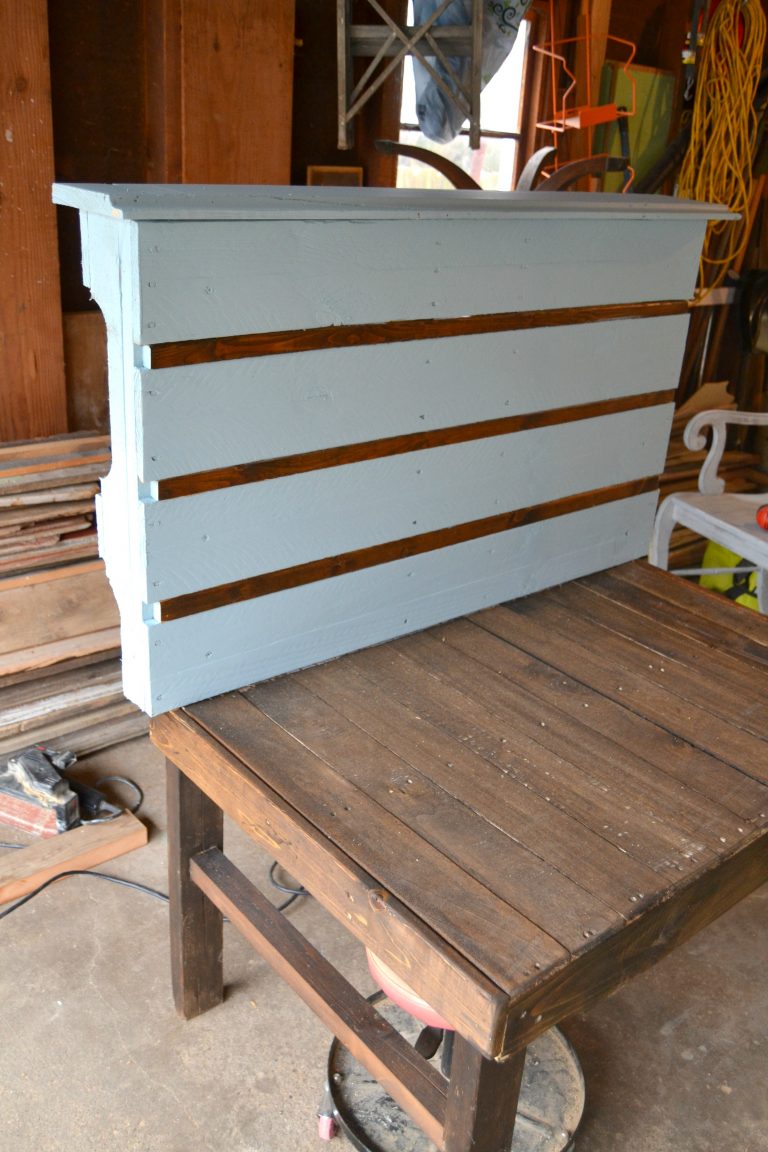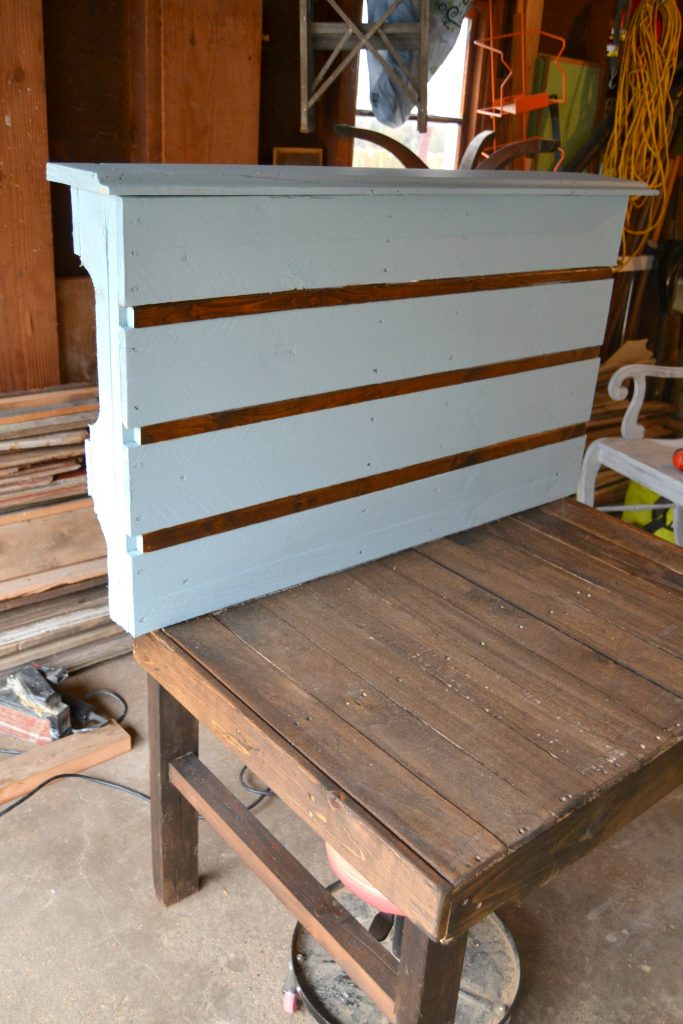 I traced the lid on the small pallet and used a jigsaw to cut just inside that mark. The lid turned upside down in that hole gave us the sink. We used construction adhesive to adhere the coaster burner to the kitchen and the cutting board was secured with screws.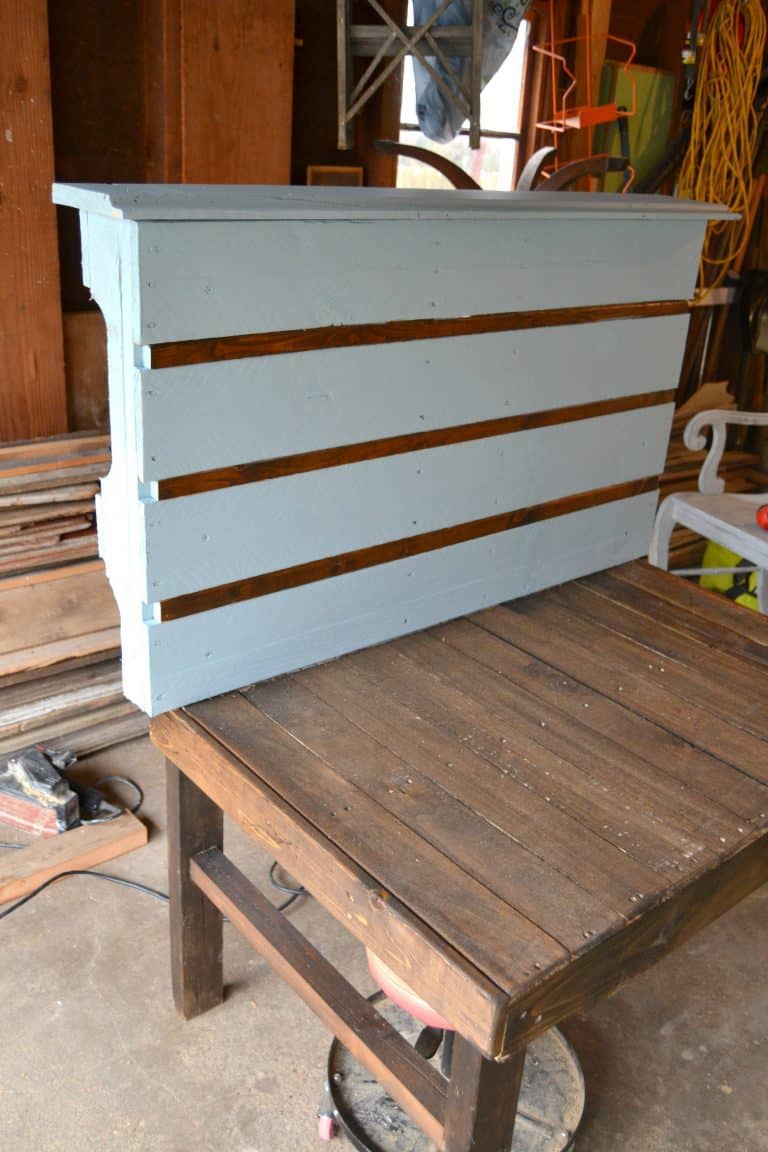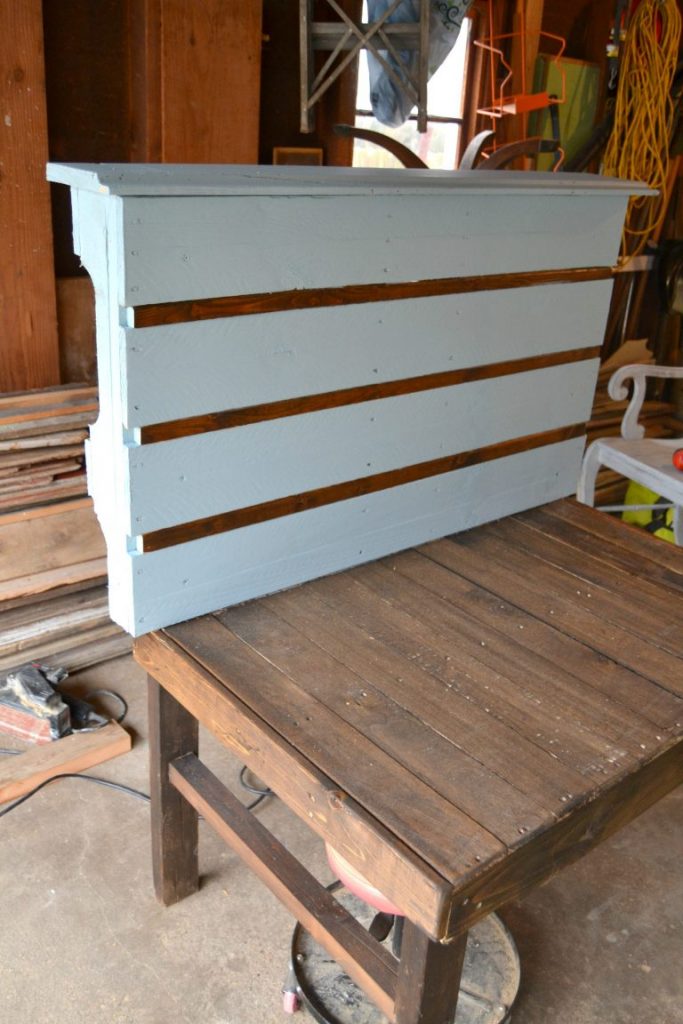 We added hooks to the back pallet for hanging tools.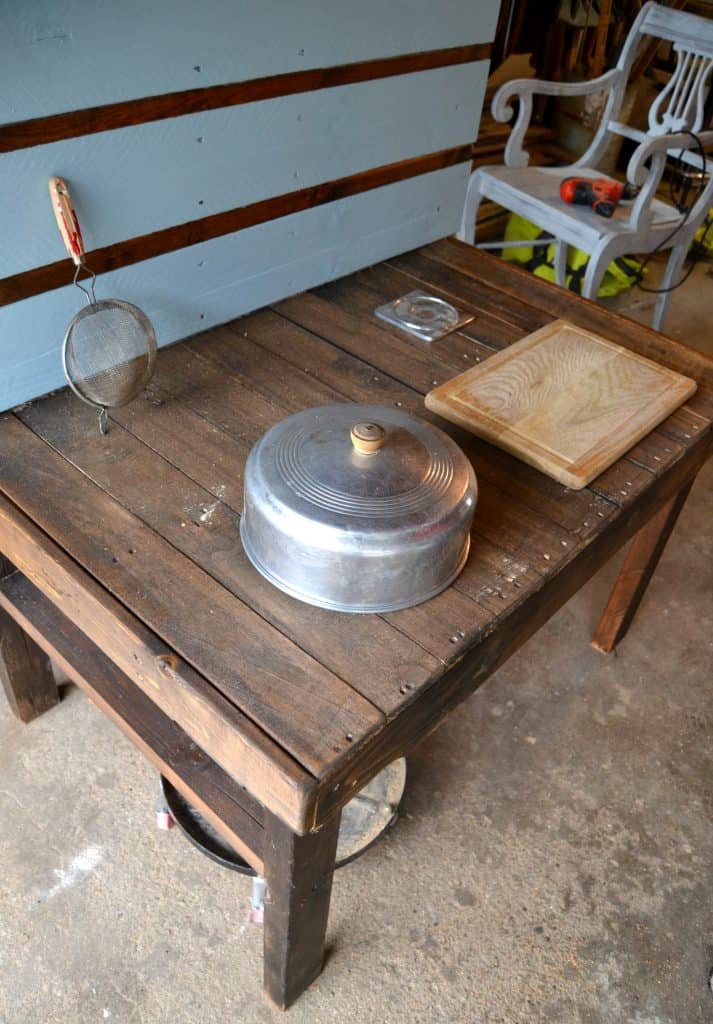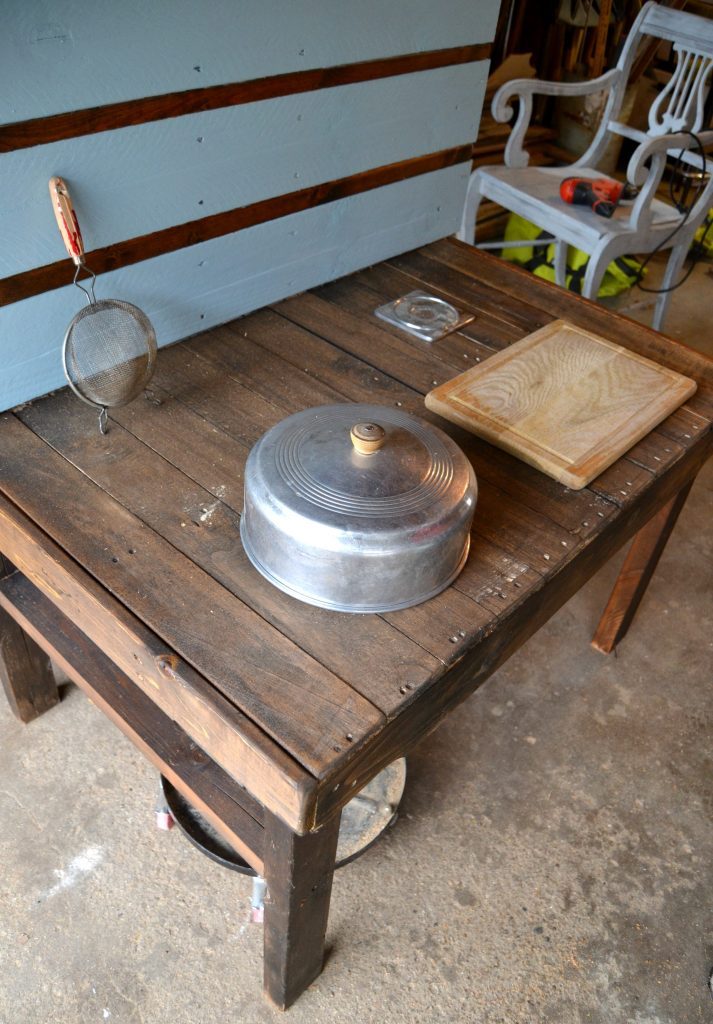 Then, we added a shelf on the left side for more storage. We stapled chicken wire to the bottom of the shelf so water would drain out.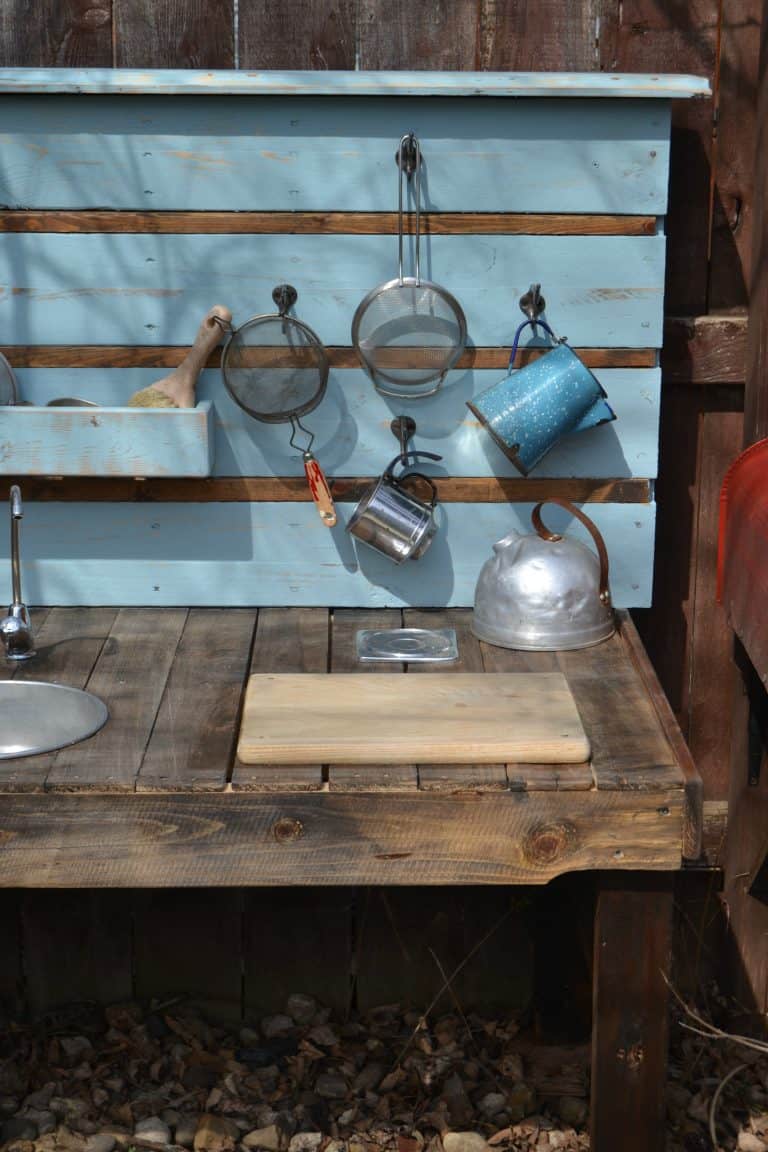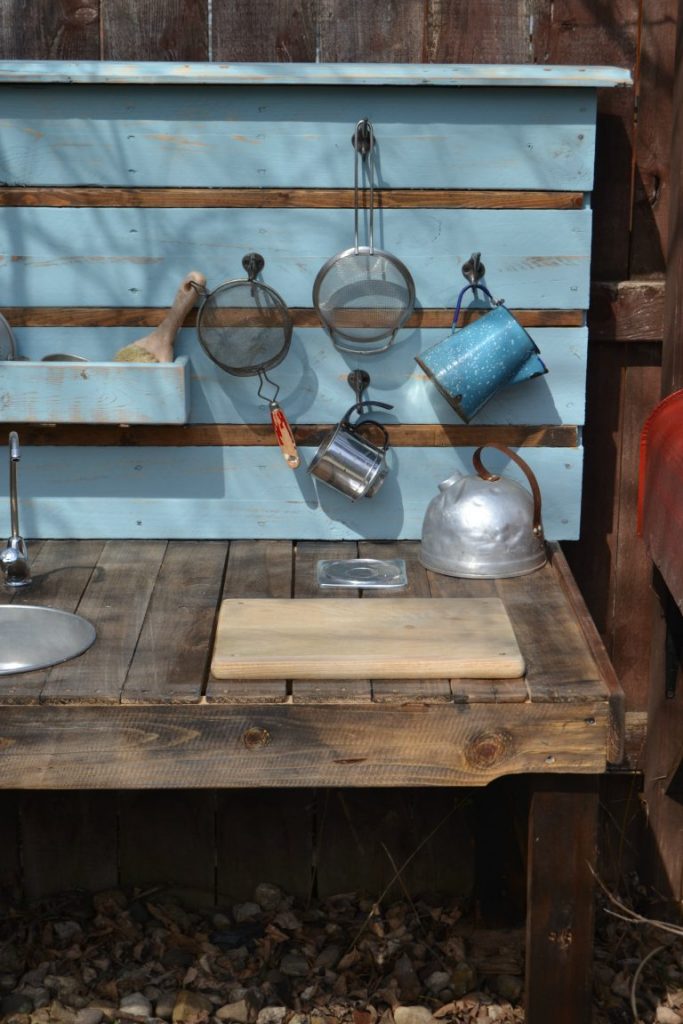 The faucet was a Restore find.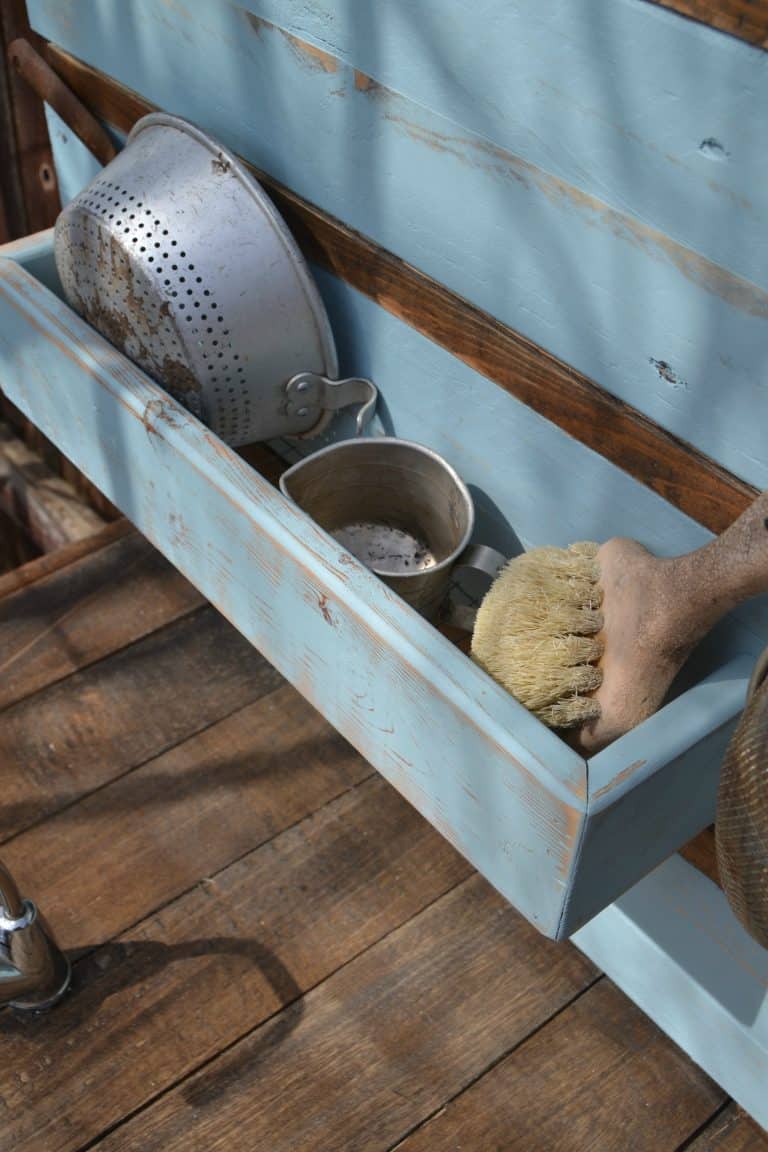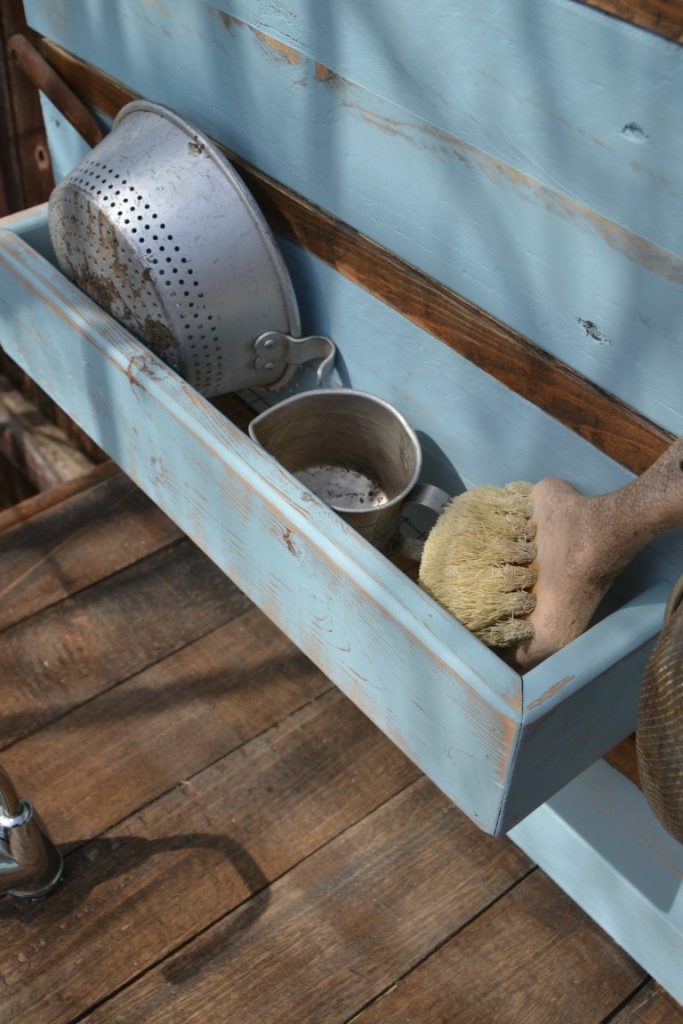 Of course, I couldn't just leave the paint alone. I used a sander to distress it a little bit and then I water sealed the entire kitchen.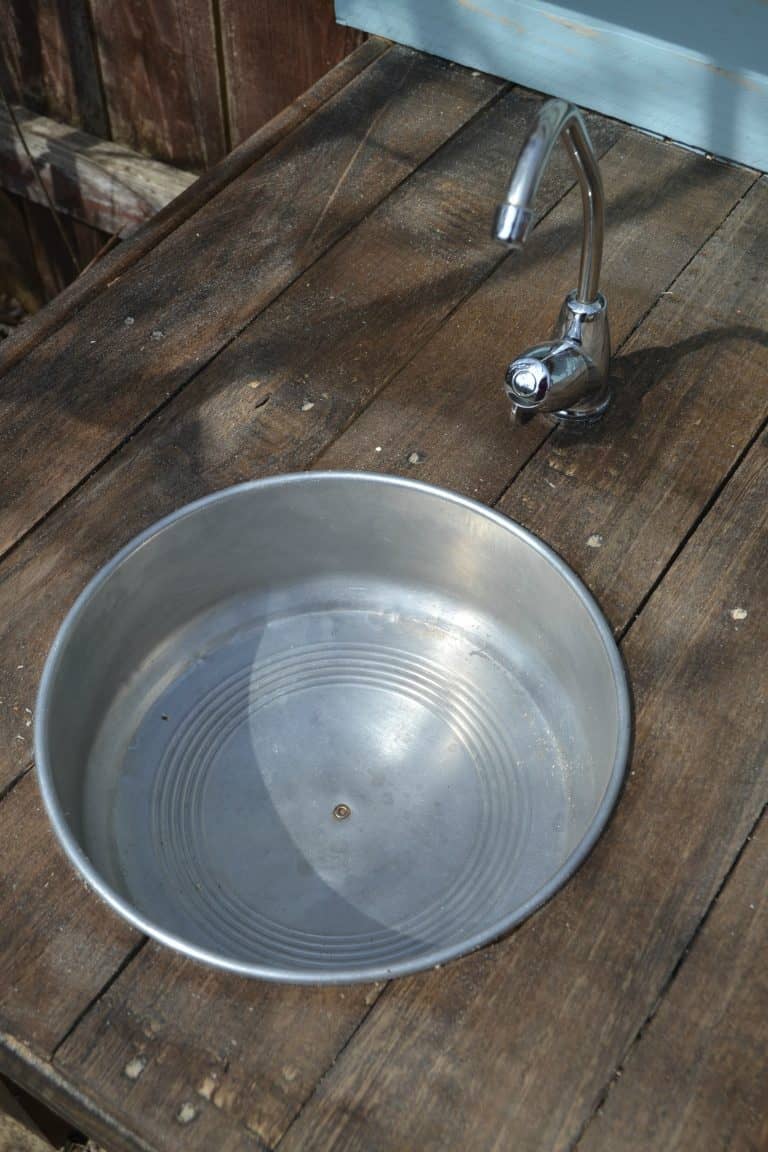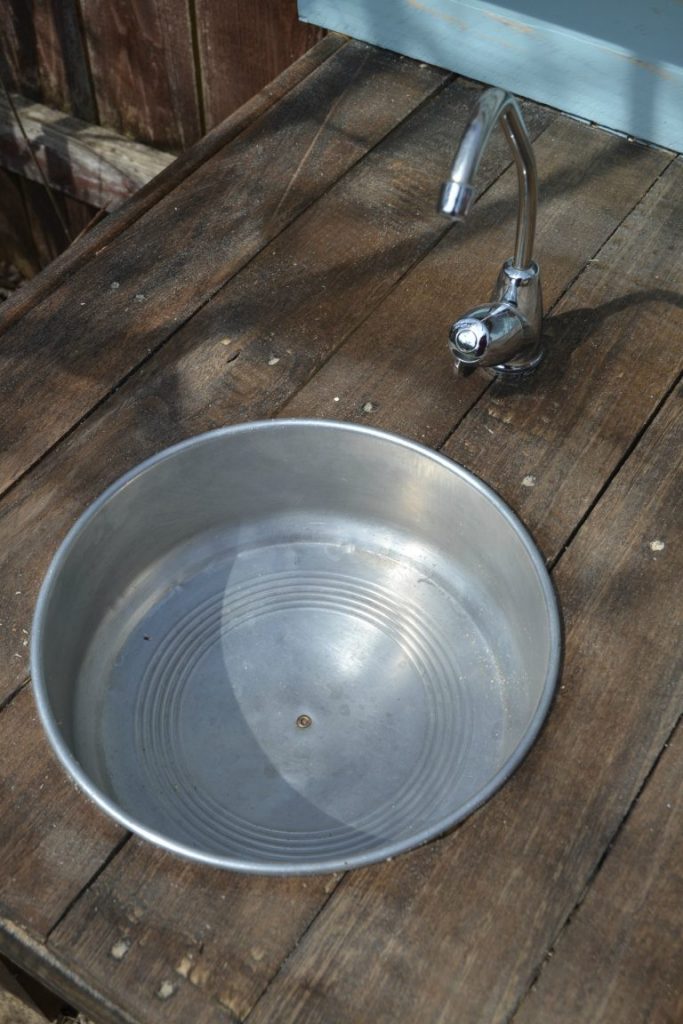 Our daughter and her friends have made countless concoctions in her mud kitchen. I know that my friend's kids are going to spend hours at their new kitchen too.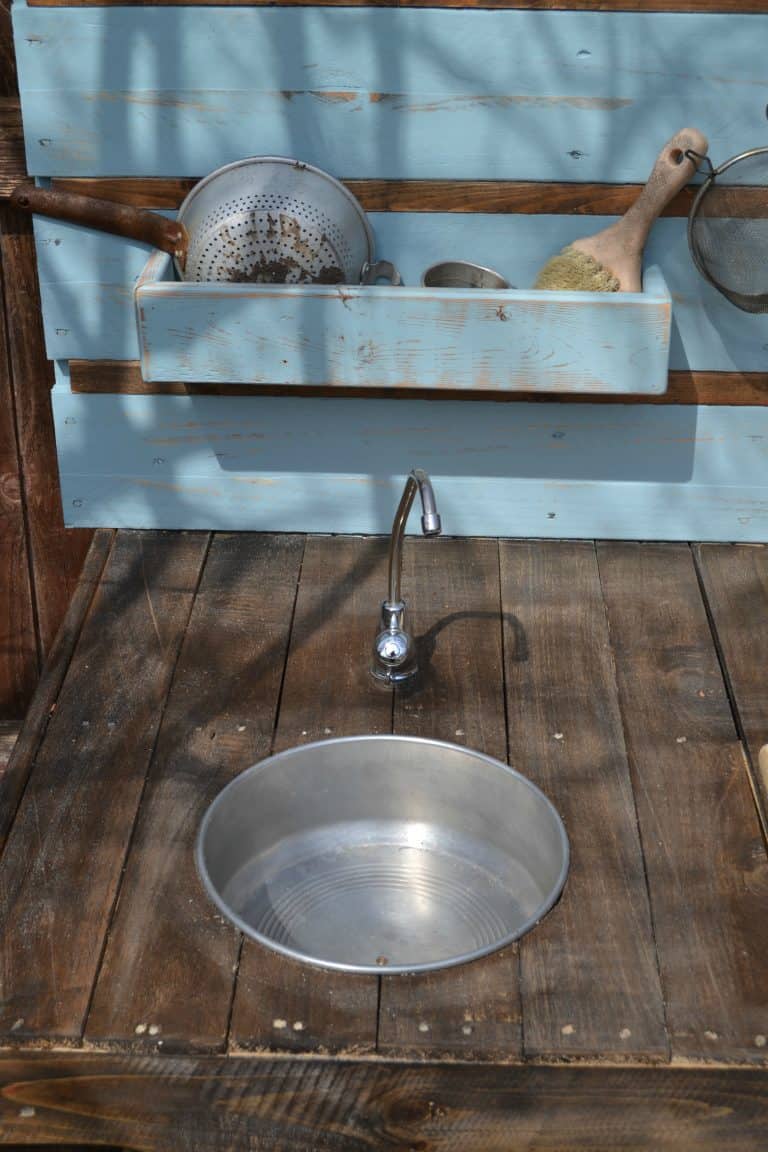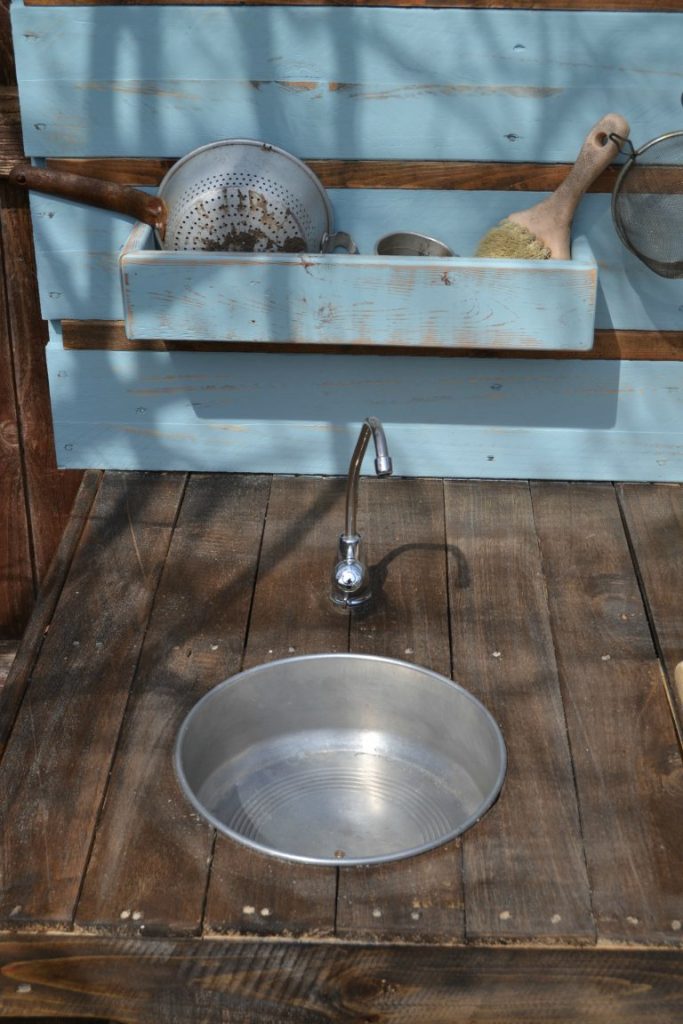 As a mom, I love all the imagination and creativity that a mud kitchen encourages.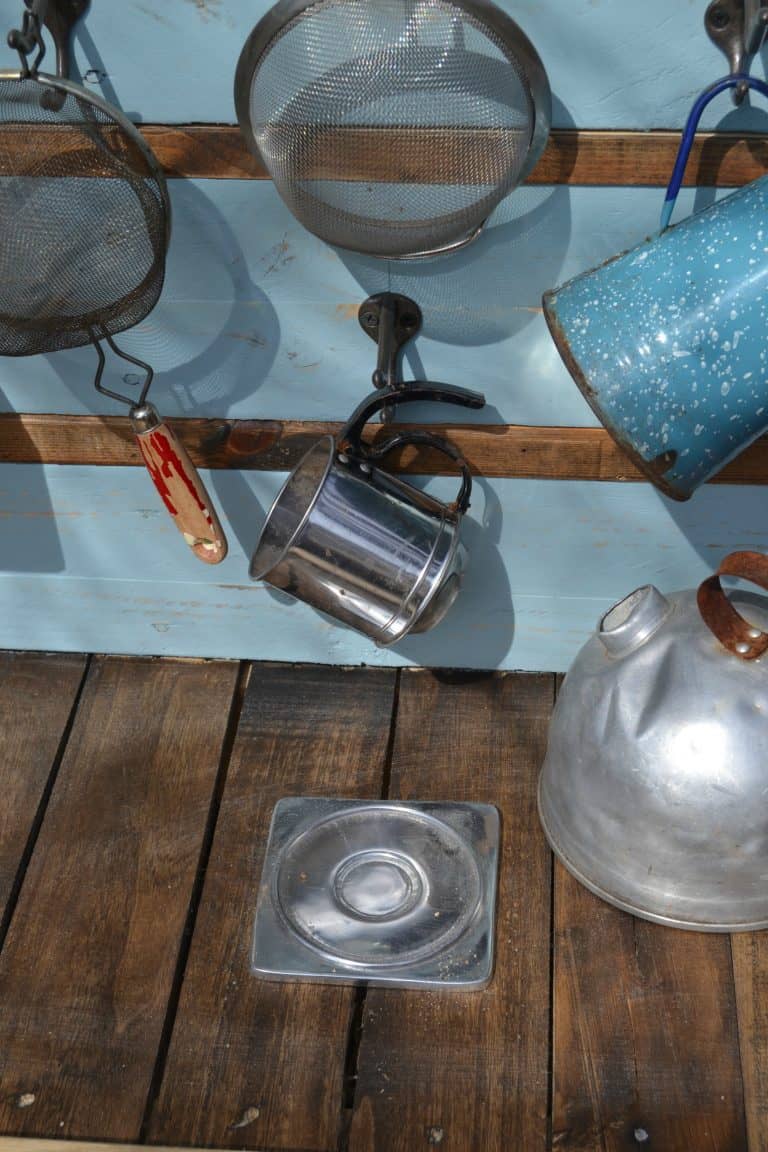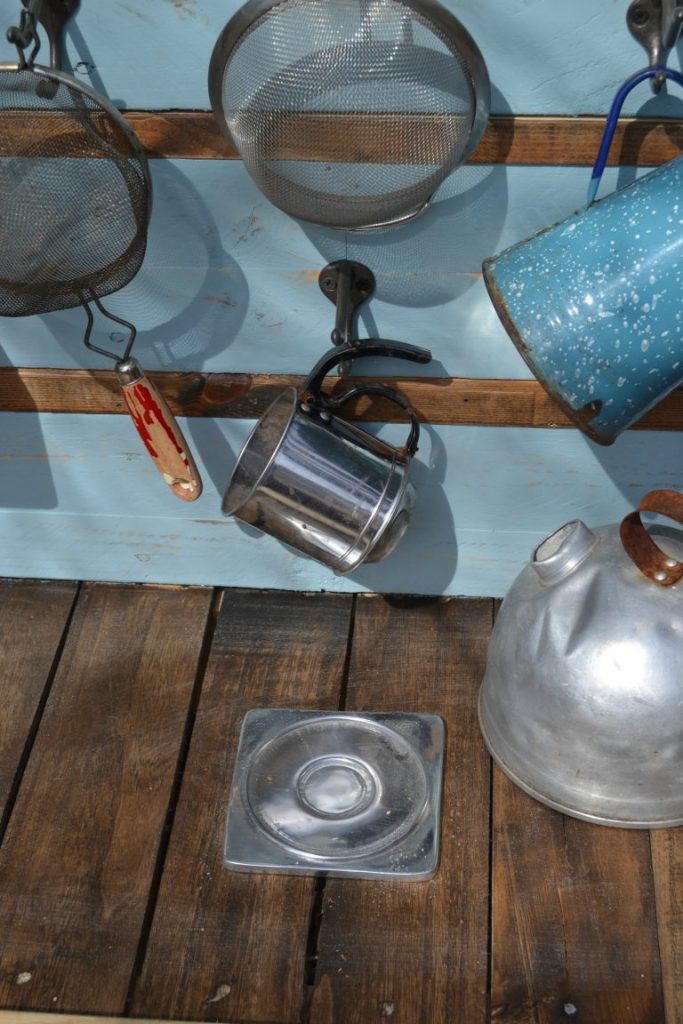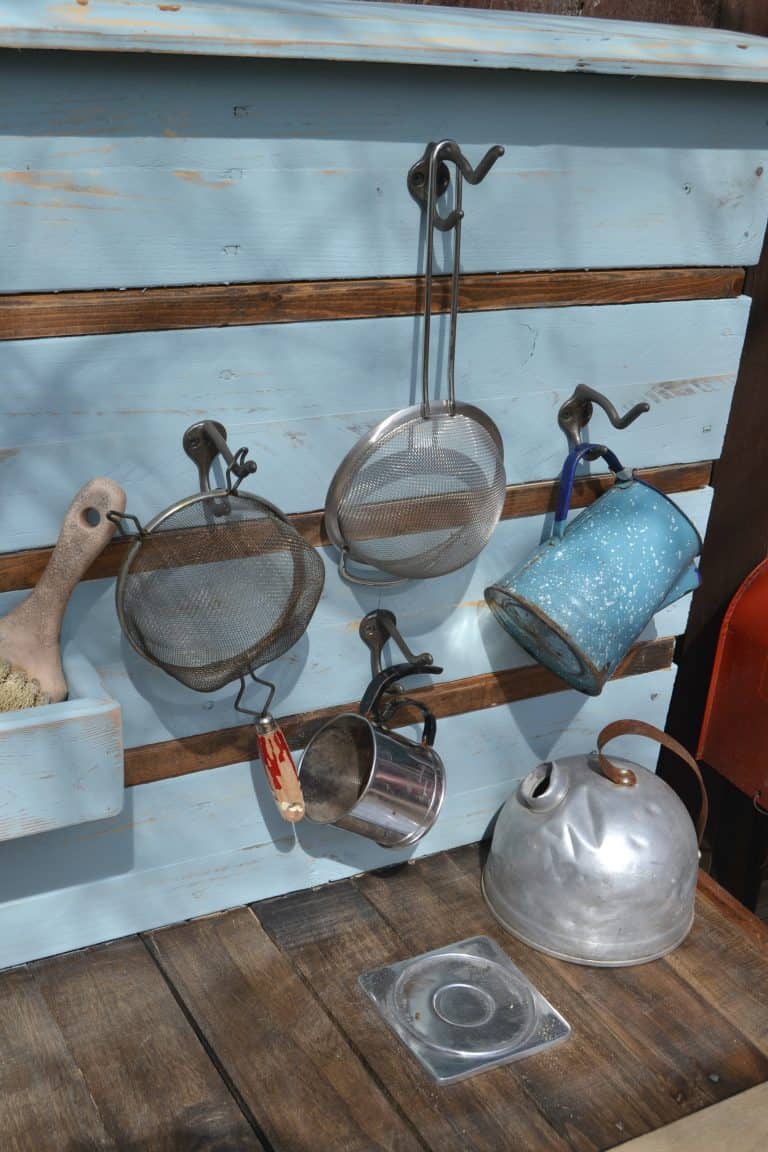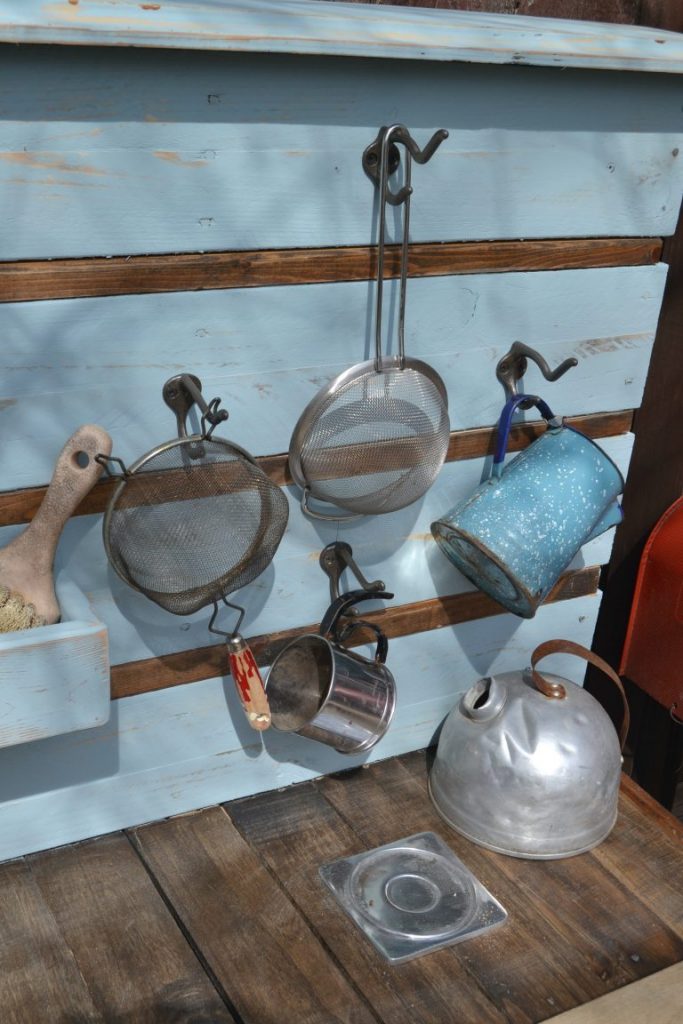 If you are looking for something new for the backyard this spring, a Mud Kitchen is it. Your kids will thank you for it and you will be thanking yourself for the hours of entertainment it will provide. 😉
PIN THIS POST!


Make sure to check out all of these other fabulous pallet wood projects: