Dive into this collection of 25 Adult 'You've Been Booed' Halloween Basket Ideas. From spooky snacks to hauntingly beautiful decor, you will find something fun for your family, friends, and neighbors!
Halloween isn't just for kids; adults can get in on the fun too! I miss "booing" the kids' friends every year. We would put together fun treat bags and head out to drop them off at doorsteps around Halloween. The kids are older so we don't do it anymore. I wanted to change that this year and put together some baskets for my friends. These "You've Been Booed" basket ideas are so much fun. It's a way to spread Halloween cheer to friends and neighbors. In this blog post, you will find 25 creative and spooky ideas for adult Halloween "You've Been Booed" baskets that will leave everyone howling for more.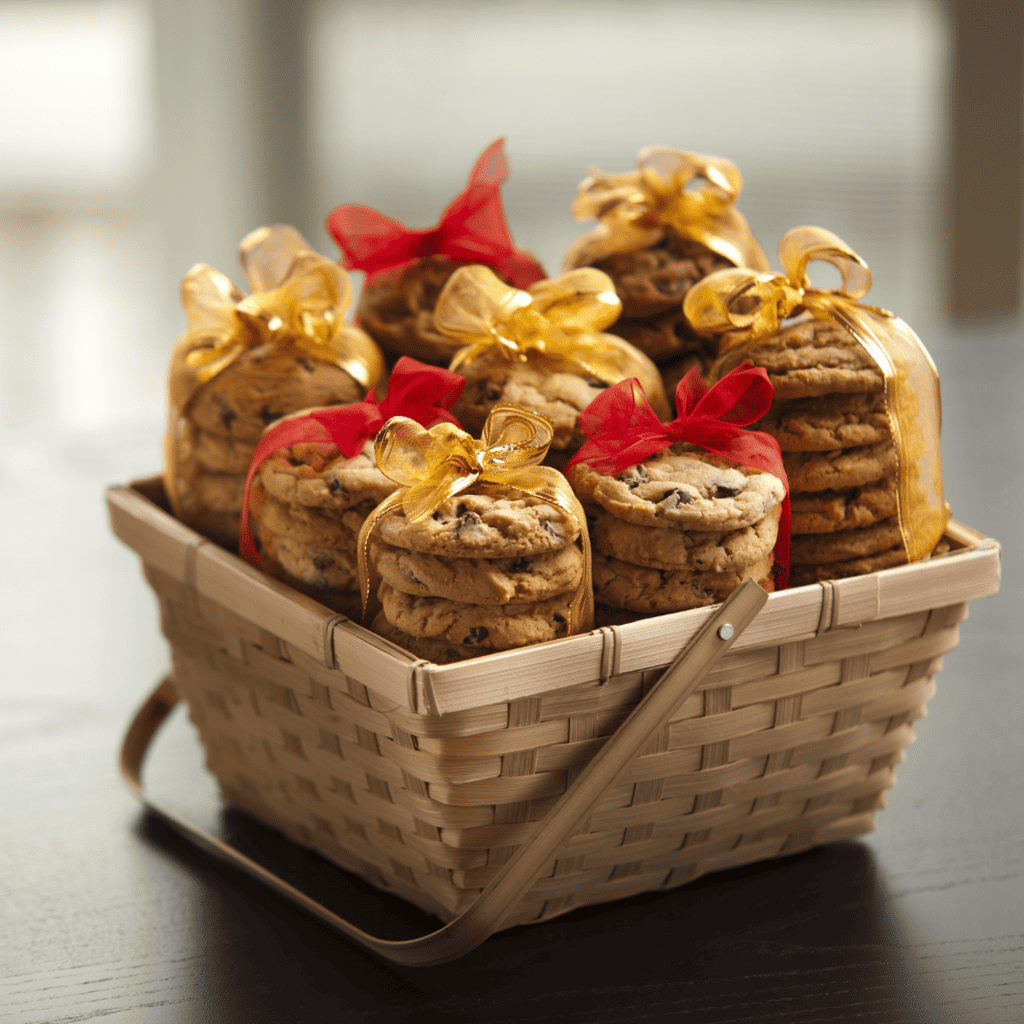 Fill your basket with unique and exotic teas, a cauldron-shaped mug, and some eerie, green-colored syrup for a witchy twist on traditional brews.
Pumpkin Spice Lover's Delight:
Craft a basket full of pumpkin spice-flavored goodies, from coffee and cookies to candles and bath bombs.
Include gourmet popcorn, caramel apples, and spooky-shaped chocolates in a Halloween-themed basket perfect for movie night.
A candle lover's dream! Gift a basket with an assortment of scented candles, matches, and a stylish candle holder.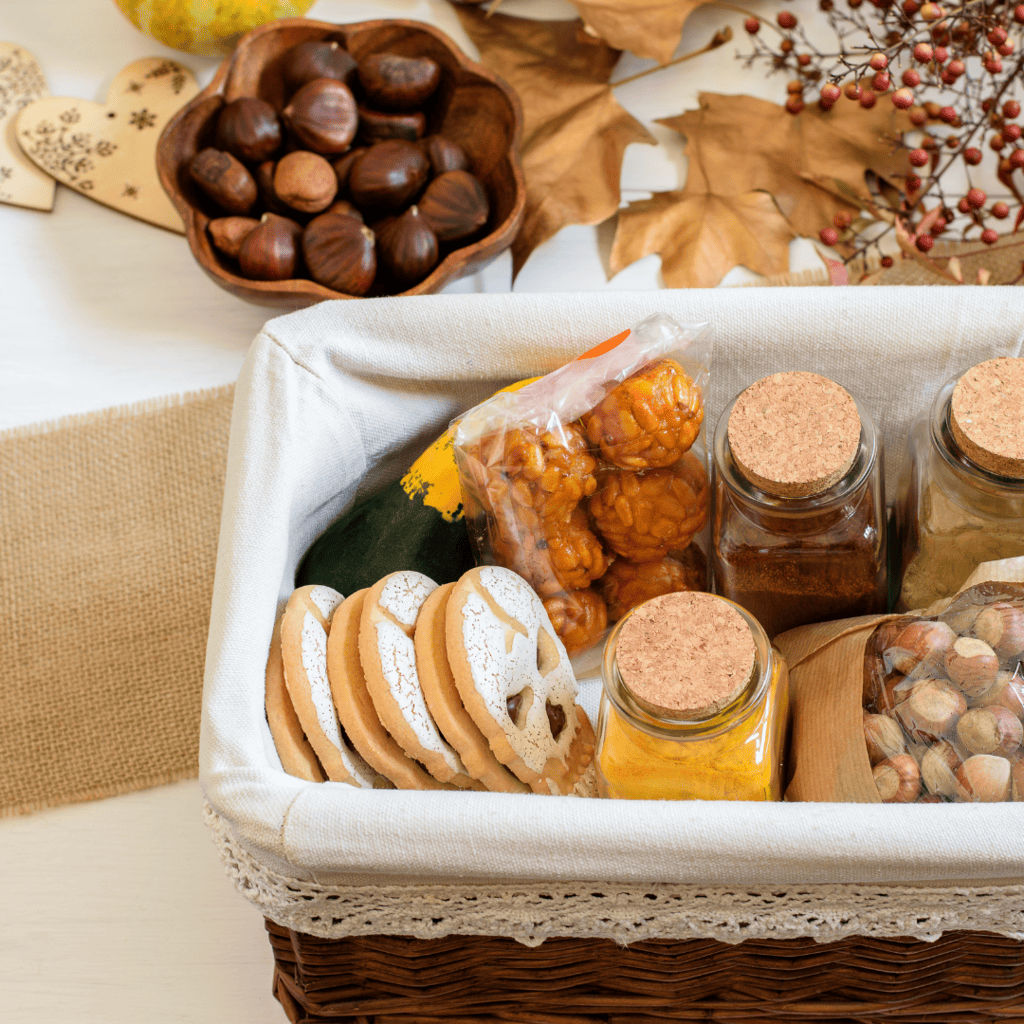 Create a basket filled with an assortment of classic monster movie DVDs and some movie night snacks.
Choose a selection of your favorite Halloween-themed wines and pair them with spooky wine glasses and bottle stoppers.
For those who love decorating, fill a basket with Halloween-themed decorations, like creepy candles, spider webs, and skull ornaments.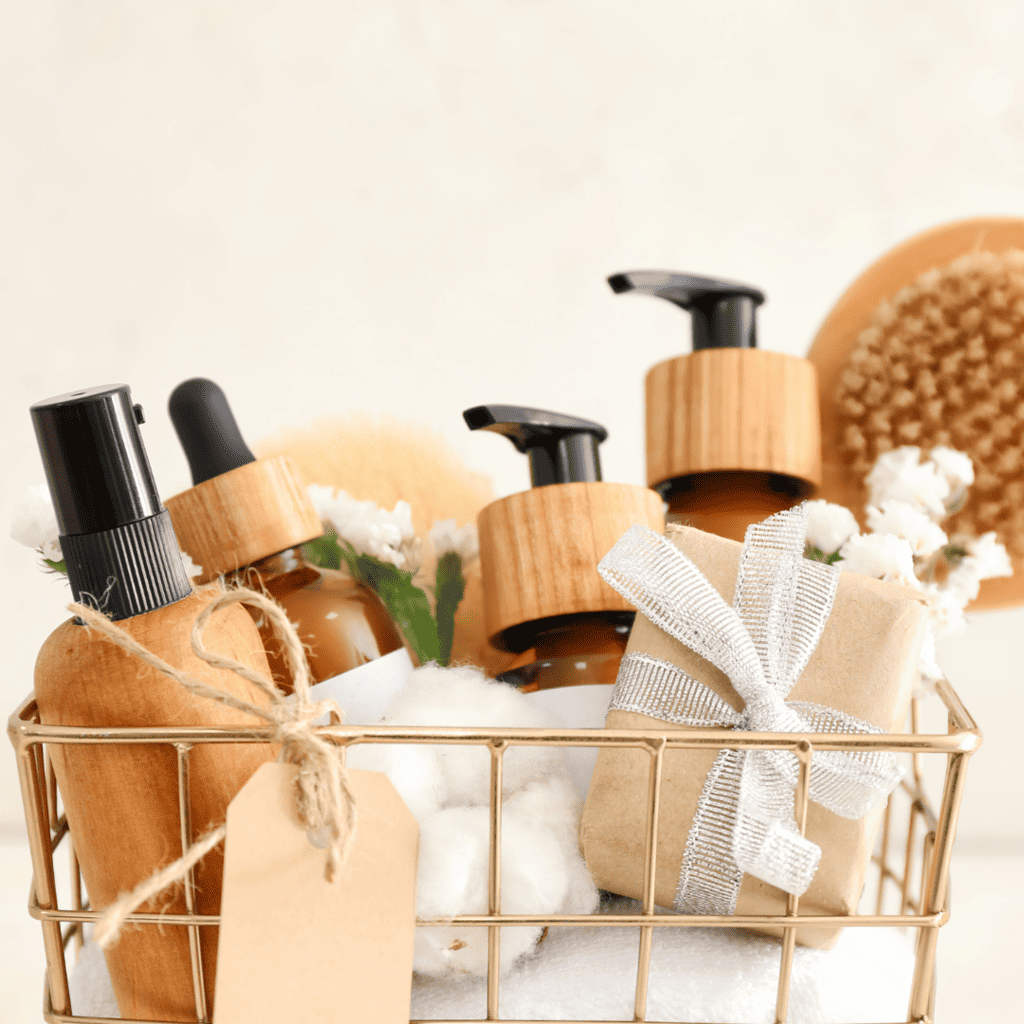 Put together a basket brimming with a variety of candies, including polarizing candy corn, gummy worms, and more.
Pumpkin Carving Party Kit:
Include carving tools, stencils, and a few pumpkins to inspire a night of spooky creativity.
Gather board games, puzzles, or cards with a Halloween twist, along with some snacks for a spooky game night.
Gift a basket filled with thrilling horror novels, a cozy blanket, and a hot beverage for a night of frightful reading.
Encourage creativity with a basket full of crafting supplies for making Halloween-themed decorations or costumes.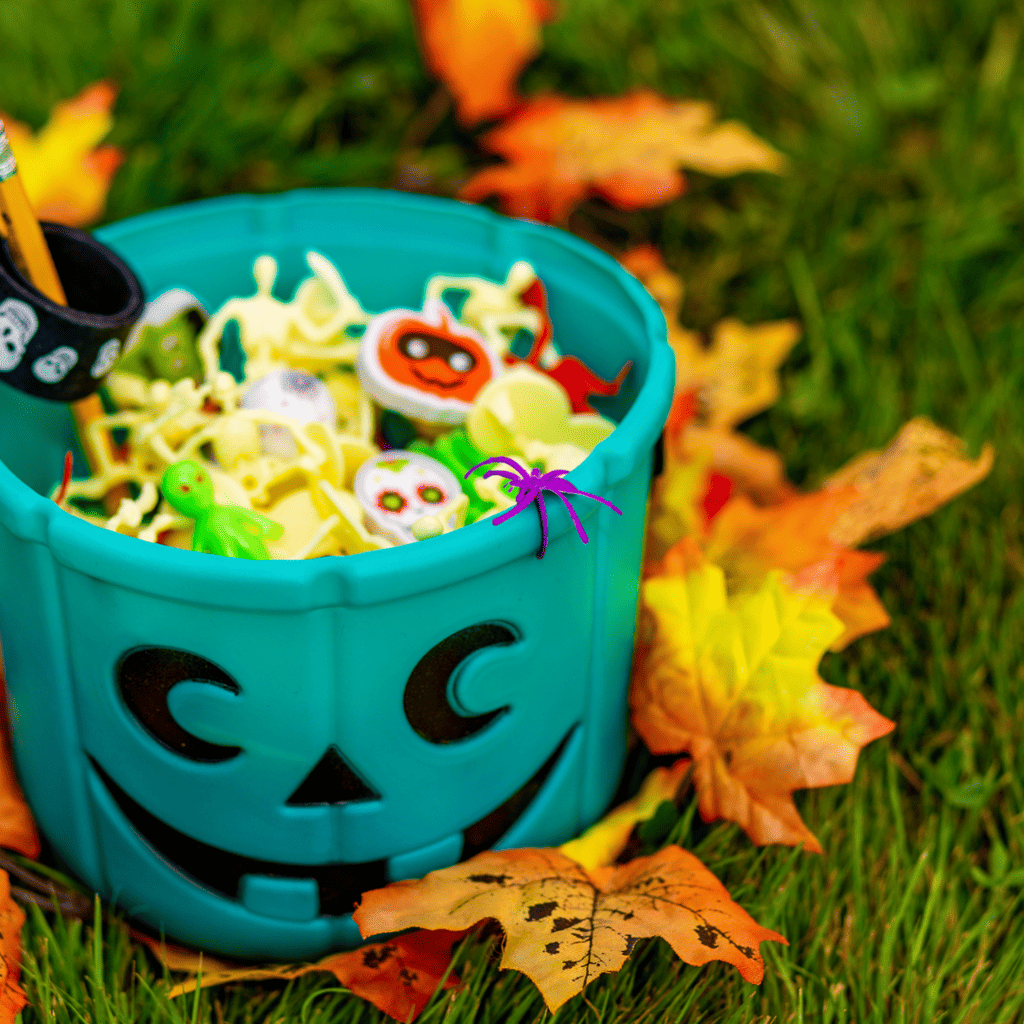 Playfully assemble a basket with "zombie repellent" items like energy drinks, protein bars, and first-aid supplies.
Trick-or-Treat Movie Marathon:
Include a selection of classic Halloween movies and some themed snacks for a movie night like no other.
Fill a basket with luxurious bath and body products for a spa-like experience, complete with spooky bath bombs.
For the fitness enthusiast, create a basket with workout gear and healthy treats to stay fit during the Halloween season.
A basket of spooky-shaped snacks like skeleton-shaped cookies and bone-chilling candy.
Curate a basket featuring gourmet chocolates, cheeses, and wines with a dark, elegant twist.
Wickedly Whimsical Art Supplies:
For the artist in your life, provide art supplies with a Halloween theme, like sketchbooks and spooky paint colors.
Create a playlist of eerie tunes, add some quality headphones, and throw in some snacks for a musical Halloween experience.
Handpick a selection of vampire-themed wines, pair them with elegant wine glasses and add a velvet tablecloth.
Zombie Apocalypse Munchies:
Include non-perishable snacks and survival essentials for a zombie apocalypse-themed snacking adventure.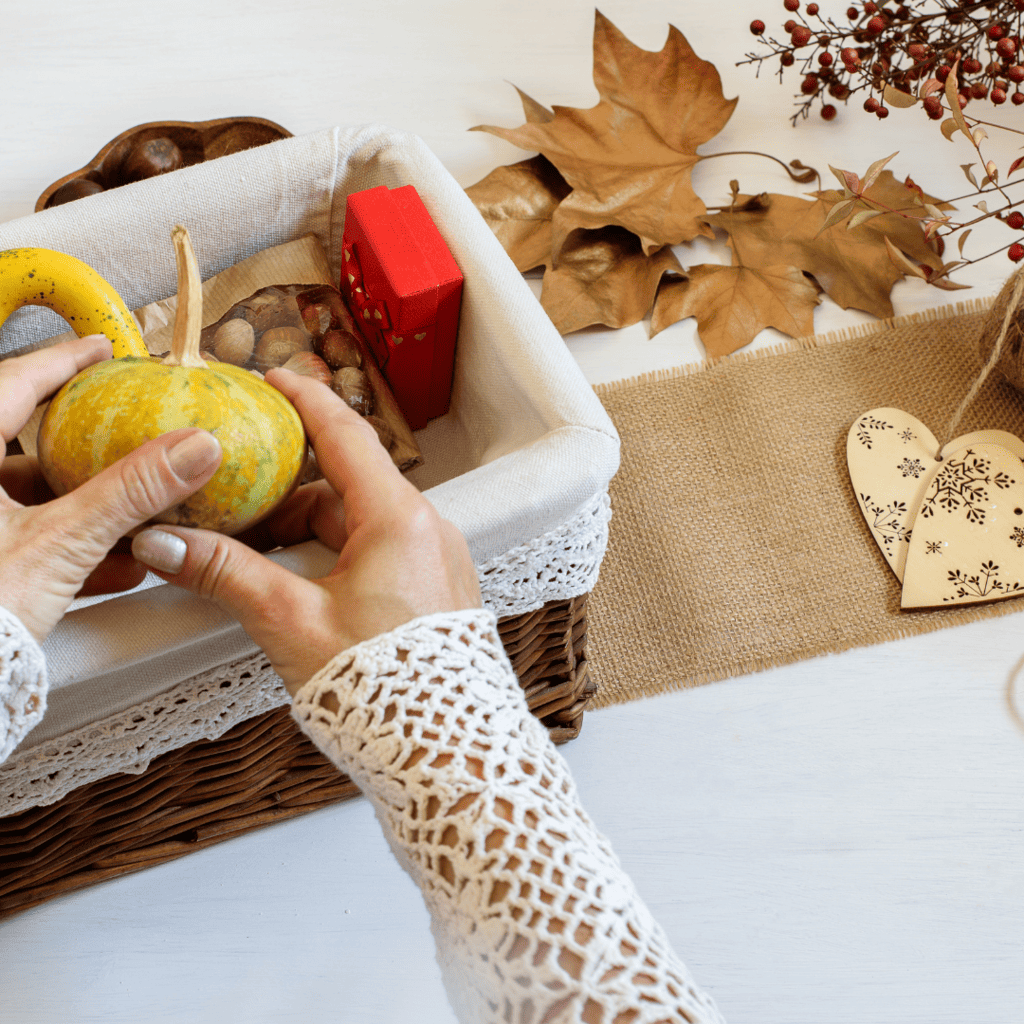 Select a few premium whiskeys, add some whiskey stones, and perhaps a stylish flask for the whiskey connoisseur.
Gothic Gardener's Paradise:
For green thumbs, offer Halloween-themed planters, succulents, and garden tools.
Create a basket full of unique and mystical items, like tarot cards, crystals, and a spellbook.
With these 25 enchanting ideas, you're sure to bring a smile to your friends and neighbors this Halloween season.
Which one are you going to put together?
I put together another Halloween basket idea on my YouTube channel. You can watch that HERE. Make sure you SUBSCRIBE when you are there because I am uploading new videos every week!
PIN THIS POST!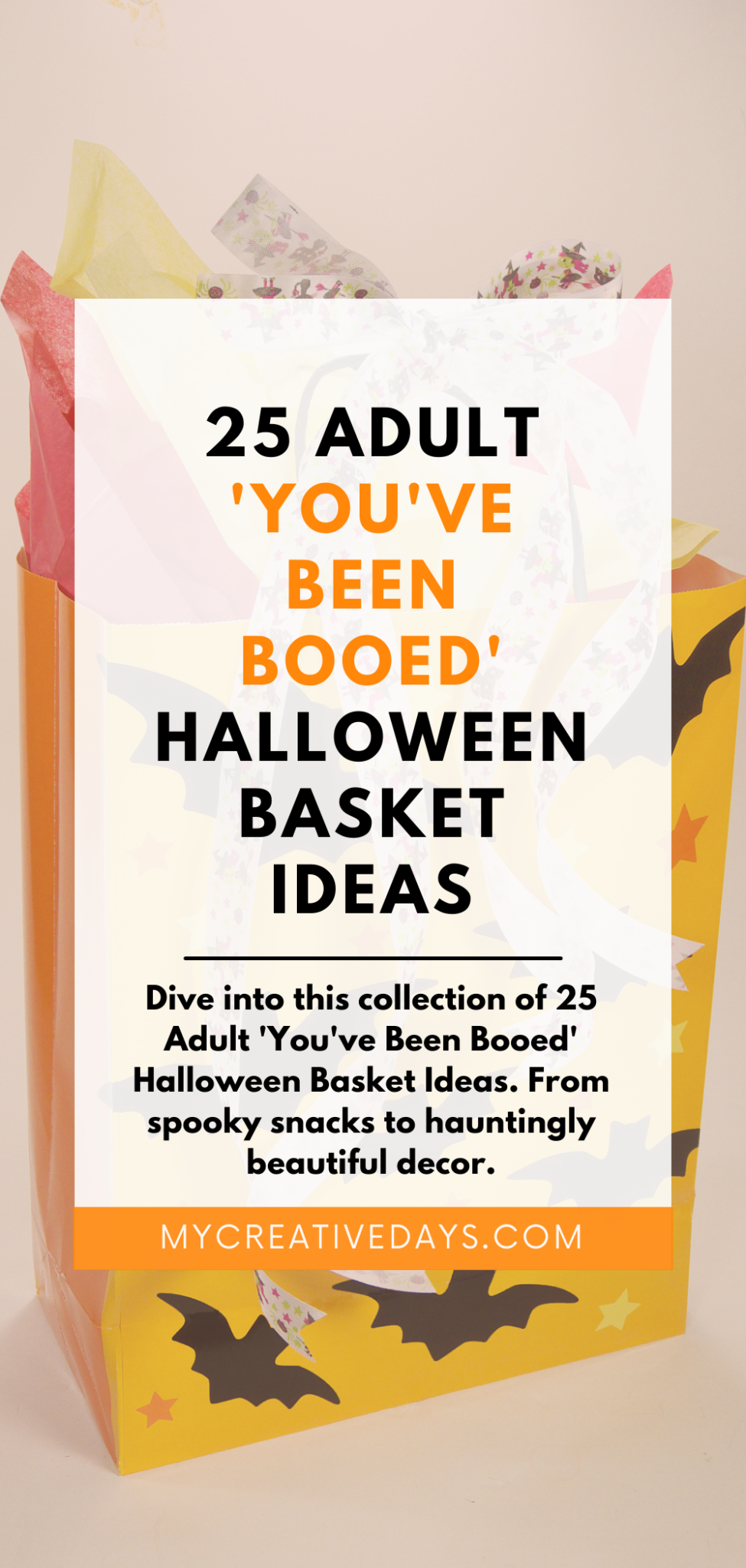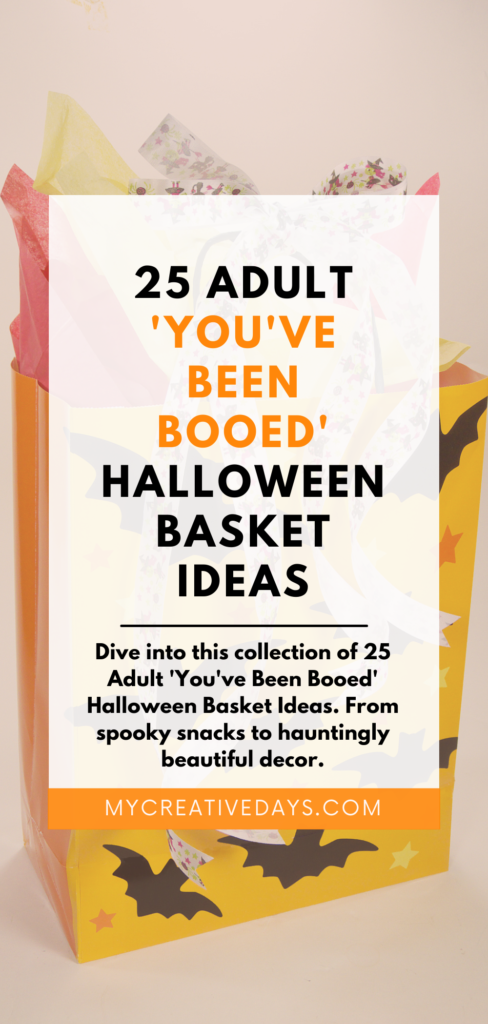 If you liked these Adult 'You've Been Booed' Halloween Basket Ideas, you will also love these ideas:
DIY Dollar Store Ghost Garland
Halloween Drinks: Vampire Punch