In April, I ventured out to my first yard sale of the year. I always get excited for this day because I have been anxiously waiting for it all winter long. I never have high hopes when I go out the first couple of times. For some reason, it just seems like the first few sales aren't that exciting. When I was approaching the driveway at this particular sale, I didn't see anything that caught my eye. I used to drive by these kind of sales, but since it was the first one of the year and it was the only one that day, I had to get out and look around.
When you shop at yard sales, LOOK AT EVERYTHING. Don't just browse around the things on the tables, but look at the tables themselves. That is how I found this wooden chest of drawers. The top of it was filled with stuff for sale. Filled!!! I asked the guy at the sale if the cabinet was for sale and he said, "Yes, is $10 okay?"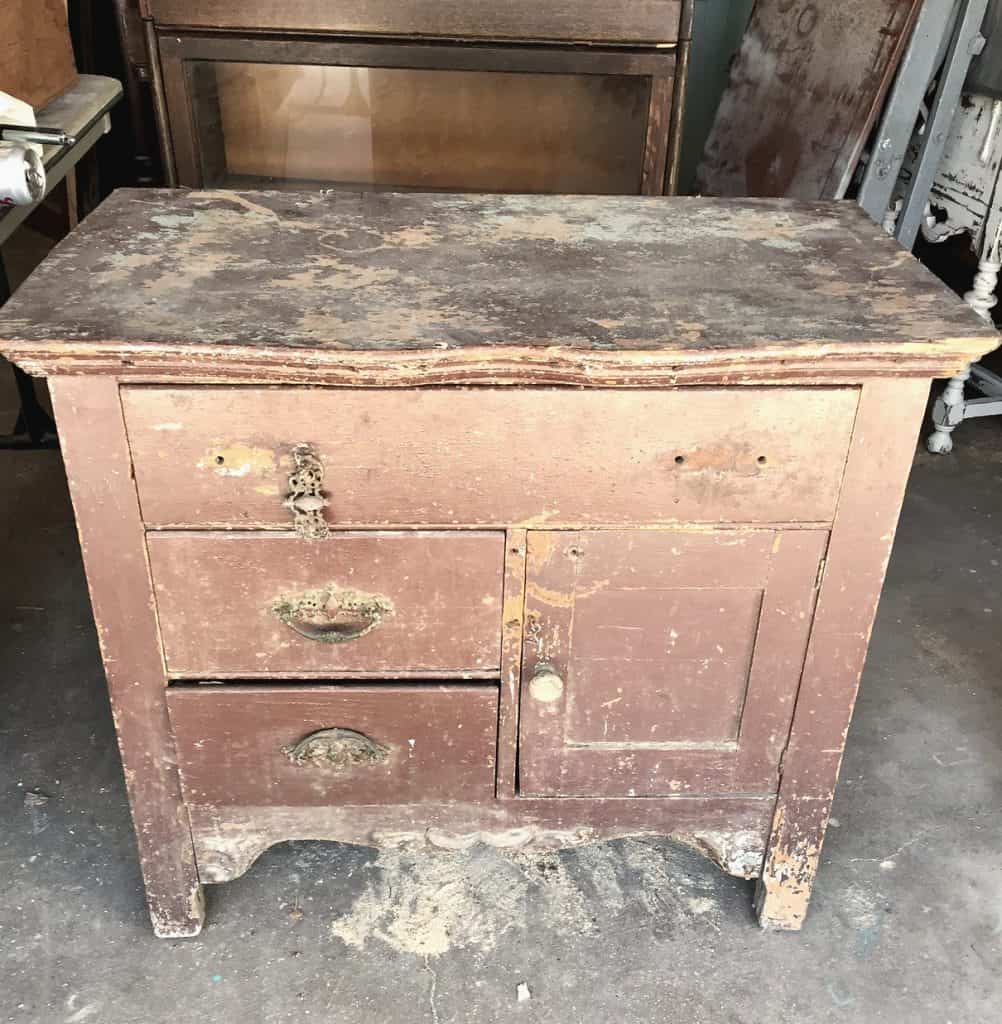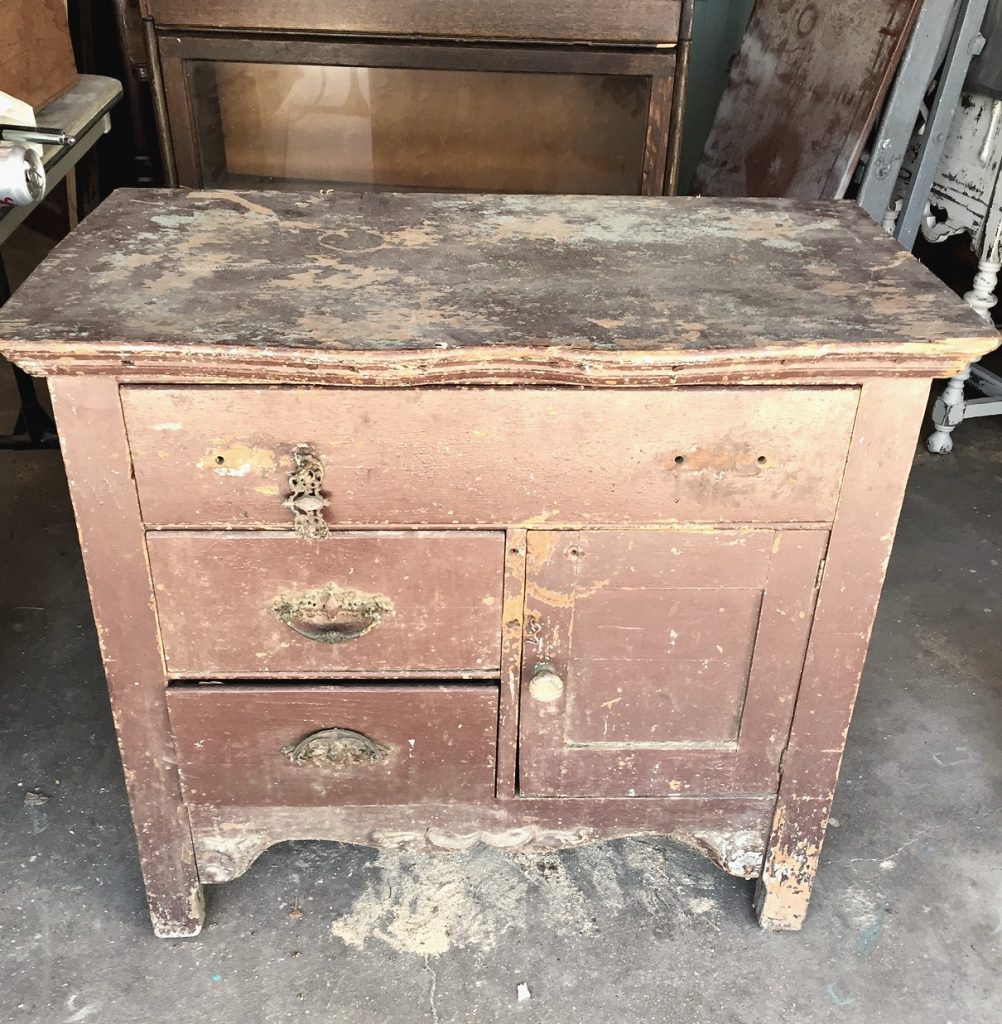 Now, most people would never pick up a wooden chest of drawers that looked like this. It is missing hardware. The hardware that is still there is broken. The finish is in horrible shape. It looks like it has been in a barn or garage for years and it is missing the back piece it originally had.
Me? I saw the glass knob it still had (I am a sucker for original glass hardware). The three small drawers and tiny cabinet door were charming and the detail on the bottom was stunning. I also loved the curve on the top. This piece had loads of potential and $10 was the perfect price for me to take it home.
After I had it home for a few days, I started making a plan for it. Then, after Plan A fell through, I had to come up with a Plan B.
Plan A For This Wooden Chest Of Drawers Makeover:
Sand and stain the top a dark color.

Paint the rest of the cabinet a green color.

Find new hardware (It killed me that the original hardware couldn't be salvaged).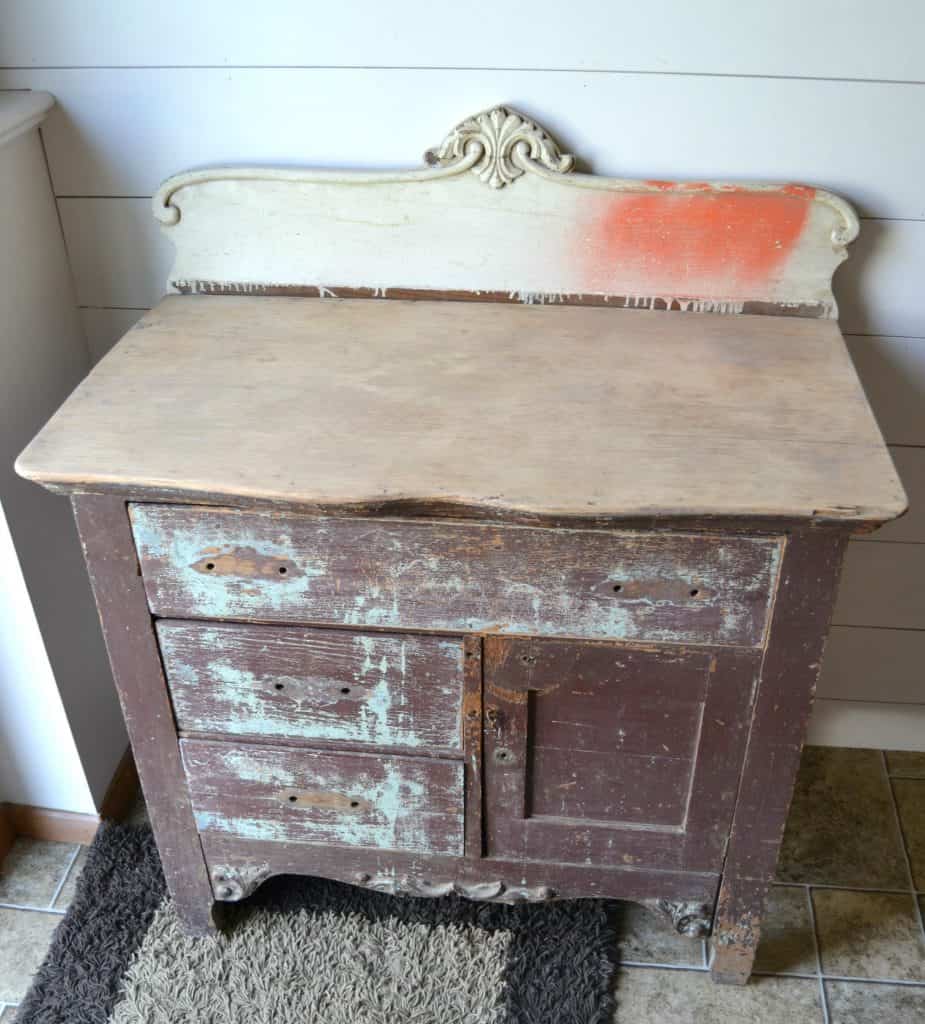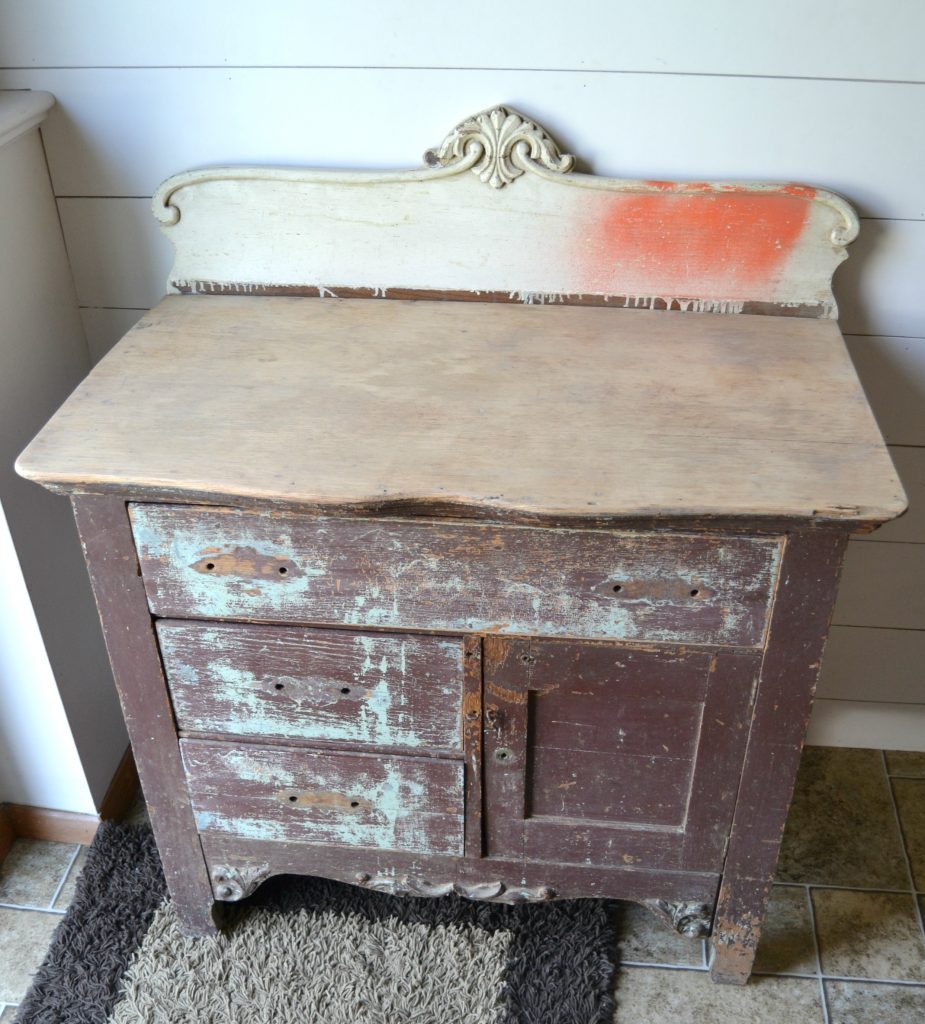 Plan B For This Wooden Chest Of Drawers Makeover: (Because Plan A fell through.)
Sand the top and find out you can't remove the damage and staining it will just enhance the water marks on it.

Paint the entire piece a green color.

Once the paint is dried, decide it needs to be a deeper color so add dark stain over the stain. (Never tried this before, but I am always up for new ideas.)

Scour through your "salvage pile" and find a piece that is the exact size needed to put on the back of the cabinet.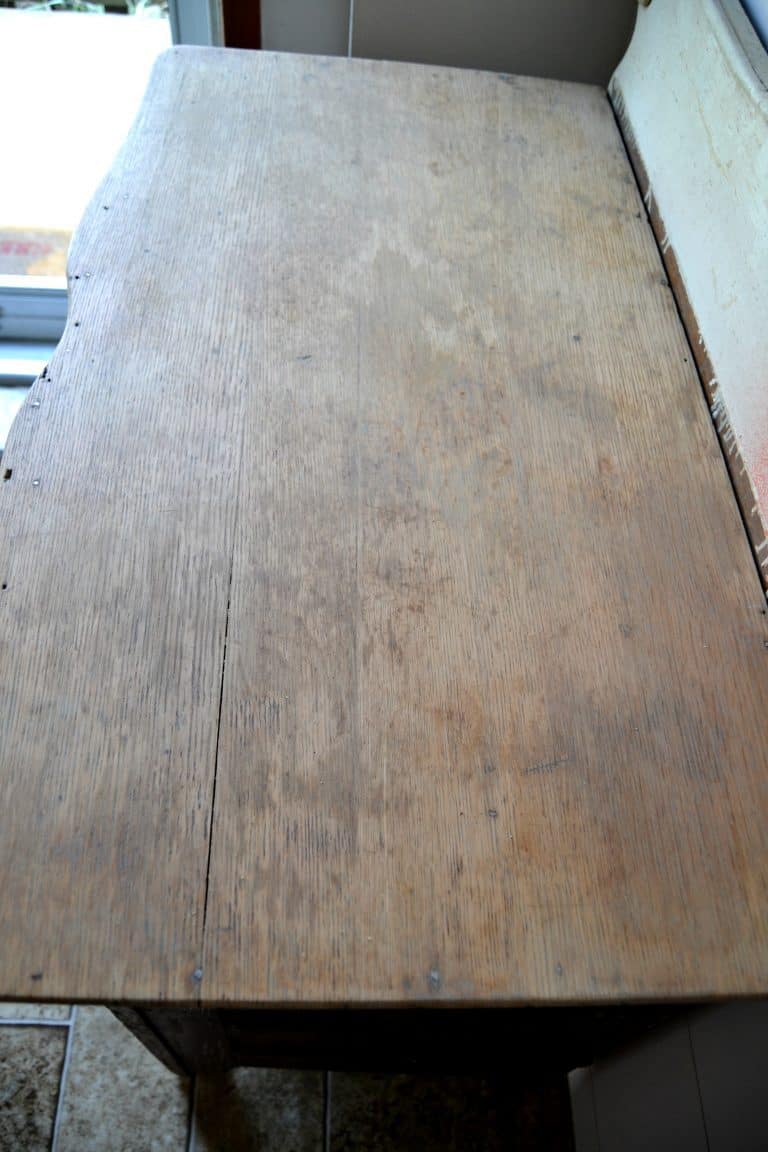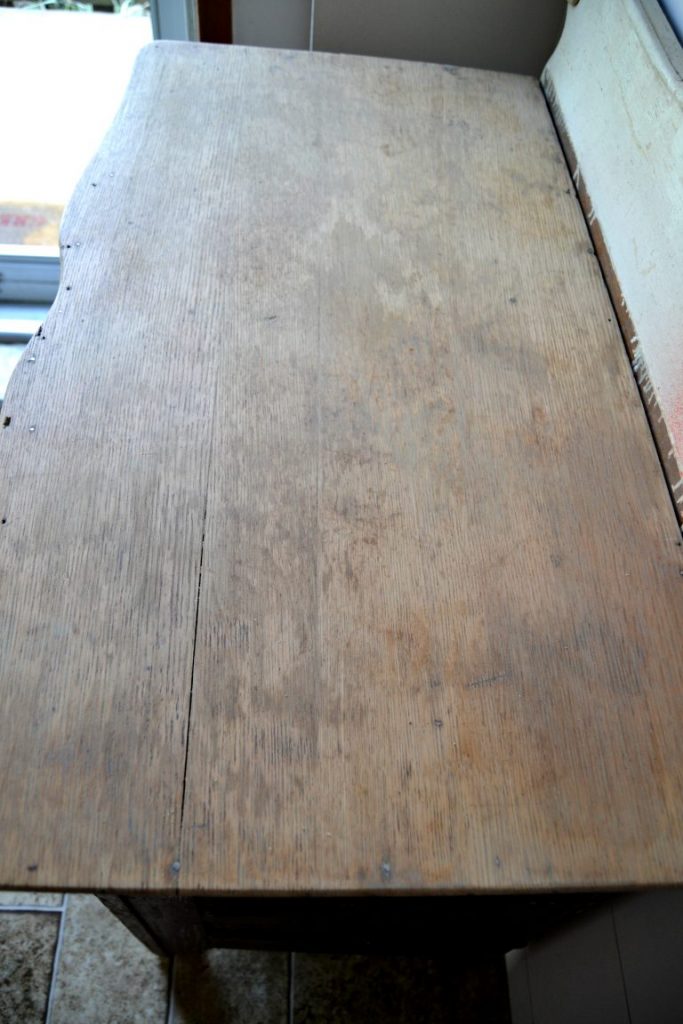 The hardware on this piece was amazing. Two of the pieces were still in good order, but one was broke and it was missing the other one. I couldn't save them. So, I wanted to find some hardware that didn't stand out and just blended in with the cabinet. I went to D. Lawless Hardware and found the Sheraton Style Bail Pull w/ Rope Design Trim that I thought was good, but I knew I would have to paint them to make them work.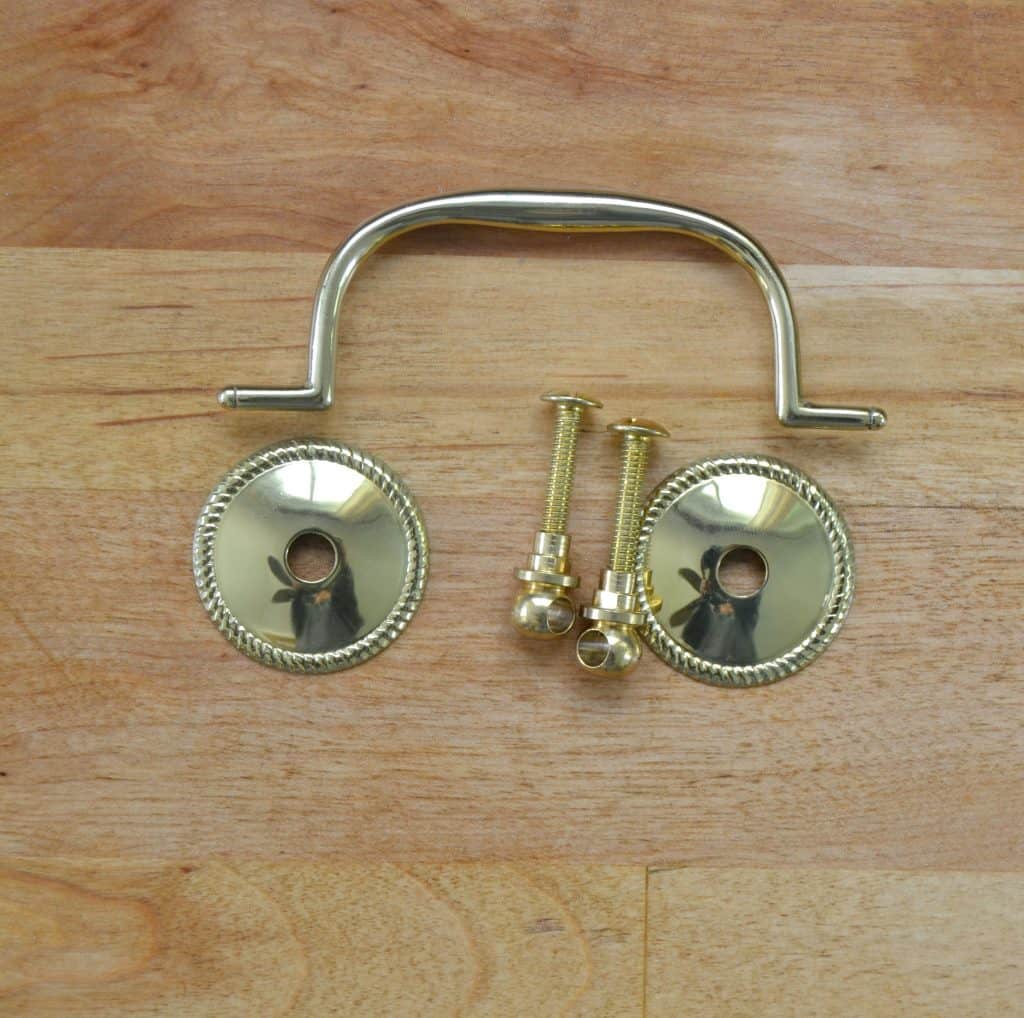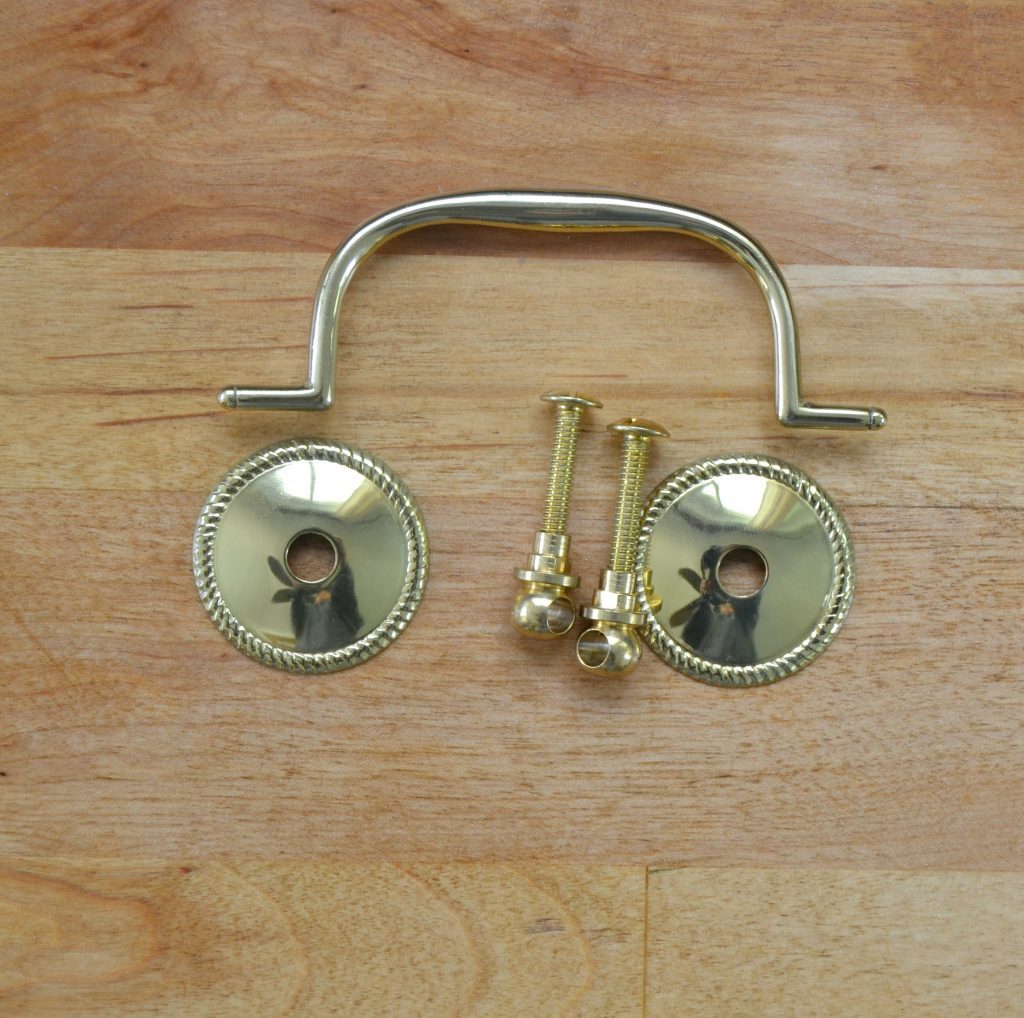 (Affiliate links are used in this post. You can see my full disclosure HERE.)
Supplies Used For The Wooden Chest Of Drawers Makeover:
Valspar "Redstone Blue Spruce" Paint.
Sheraton Style Bail Pull w/ Rope Design Trim from D. Lawless Hardware.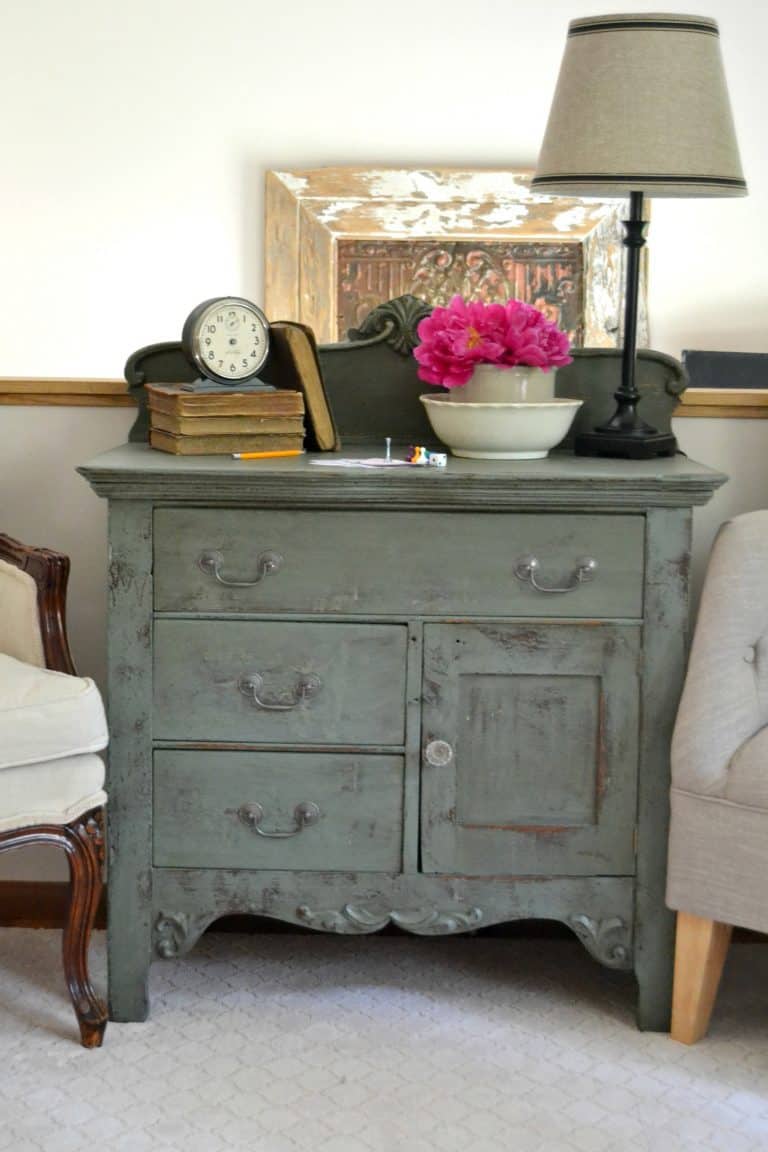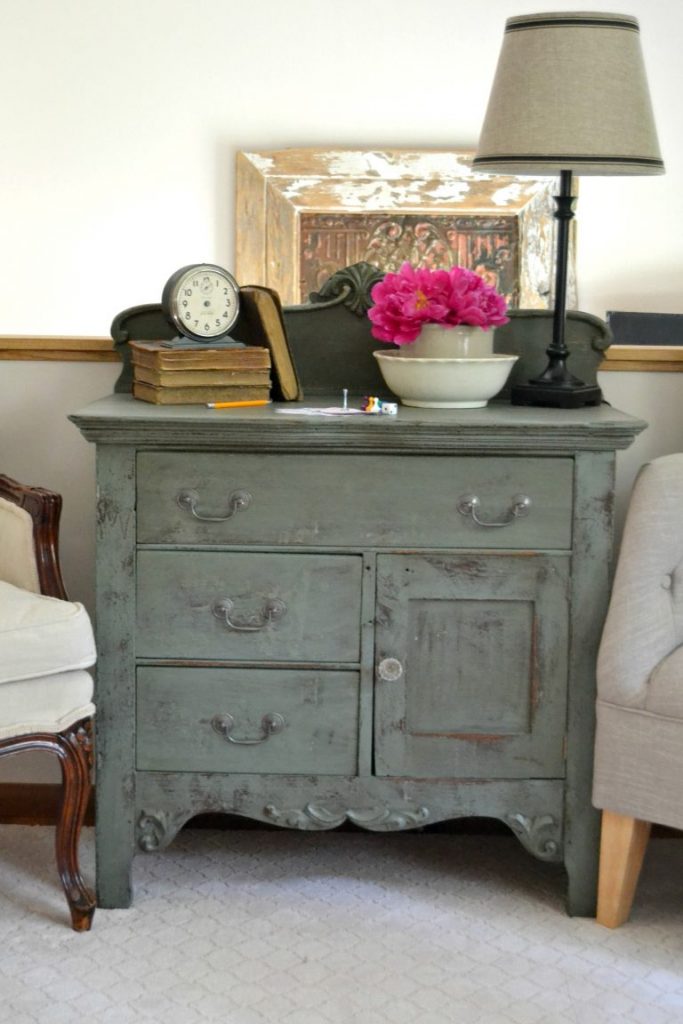 I love green and I am always looking for that "perfect green" for projects. I have not found it yet, but I had a few paint colors on hand and I thought that Valspar "Redstone Blue Spruce" would be a great color for this piece. After I got the entire piece painted, I wanted to color to be a little deeper and richer.
Not knowing what I was going to do, I used my sander and went around the entire piece with it. I didn't spend a lot of time with the sanding and let the paint come off where it wanted to and left the other spots alone.
Again at a standstill, Matt came out to see what I was working on. I told him that I wanted to change the color and he suggested adding a dark stain over the paint. What? I have never done that before. Can you do that? What do we have to lose? Let's try it.
I used a rag to rub Minwax "Dark Walnut" and "Jacobean" all over the cabinet. IT WORKED LIKE A CHARM! It deepened the green color and made it look so much more "authentic" and rich. Like it has been around for a long time. It is gorgeous.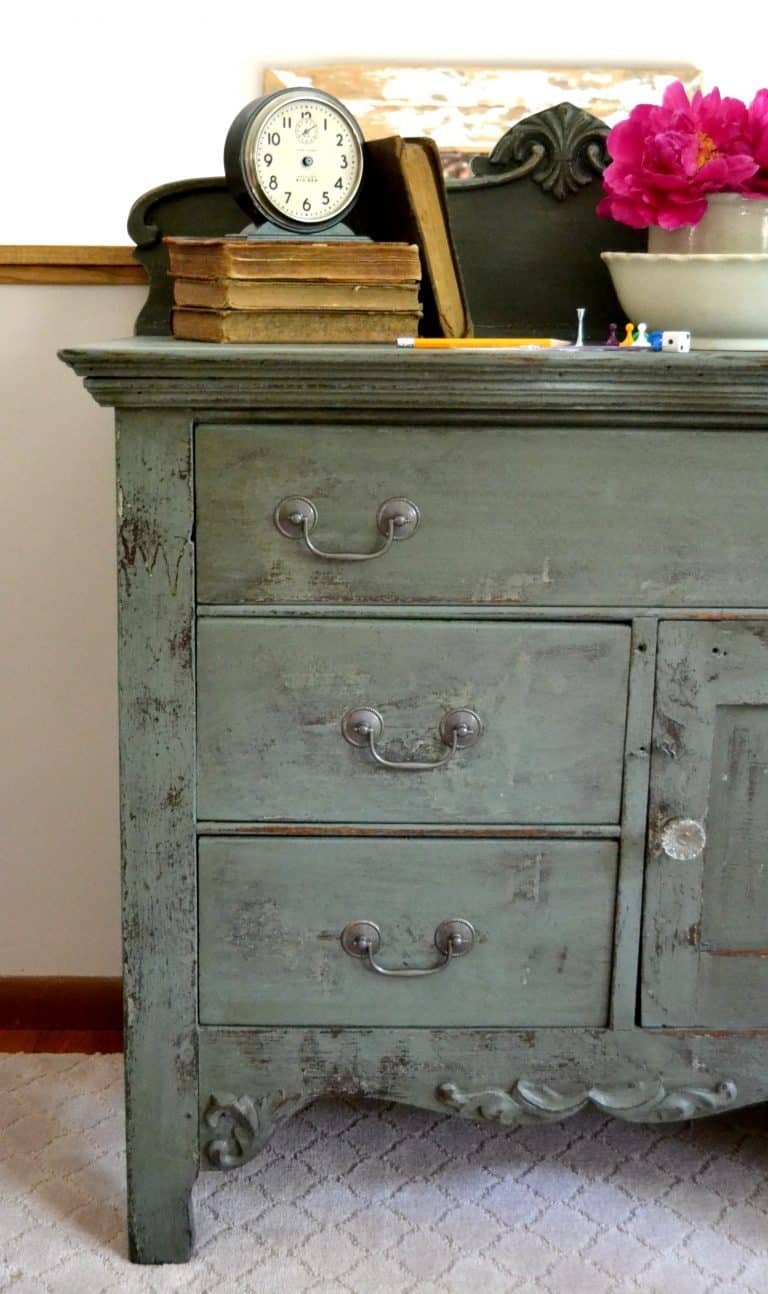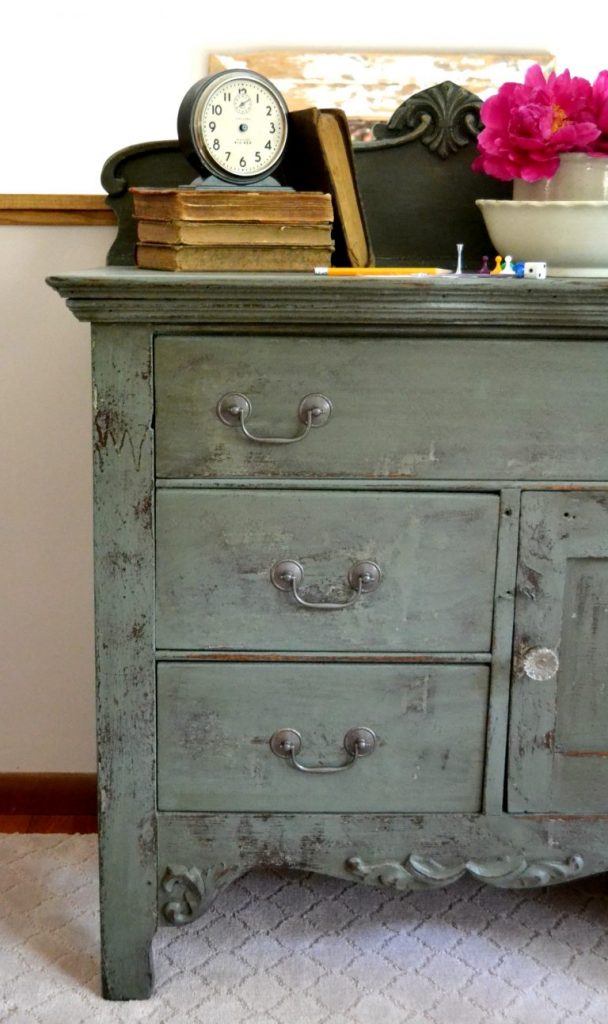 It is so much fun trying a new "application" and having it work out. I thought the stain wouldn't soak in because of the paint, but once it was all dry, it wasn't tacky at all.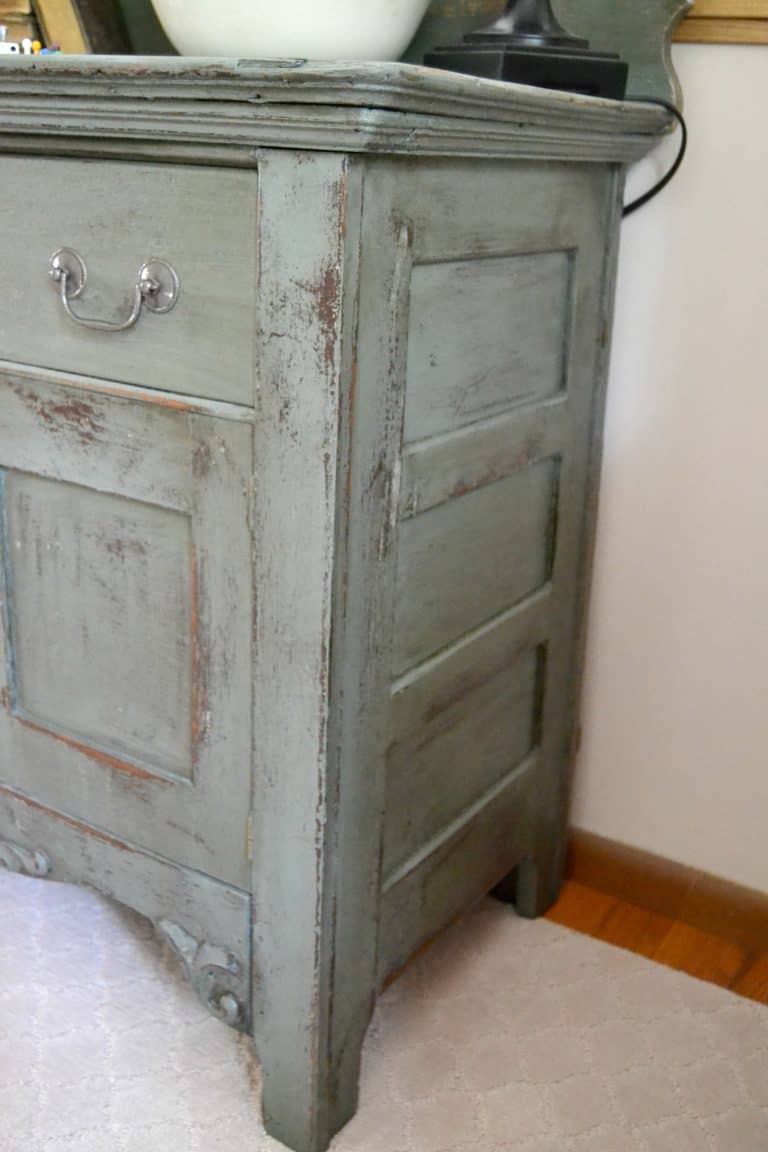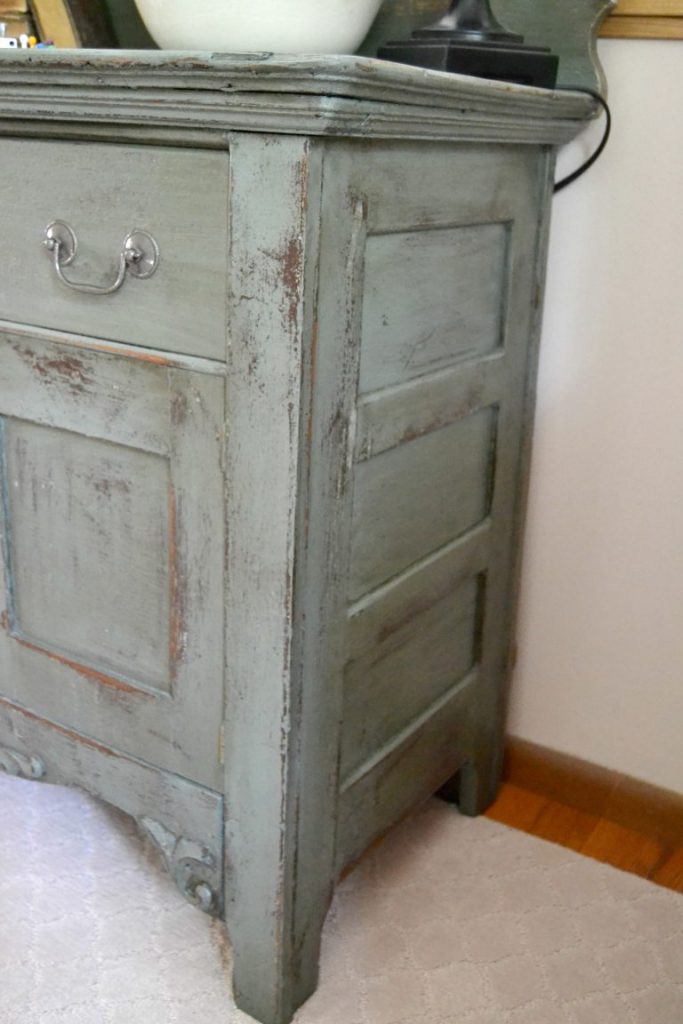 The piece we added to the back looks like it always belonged there!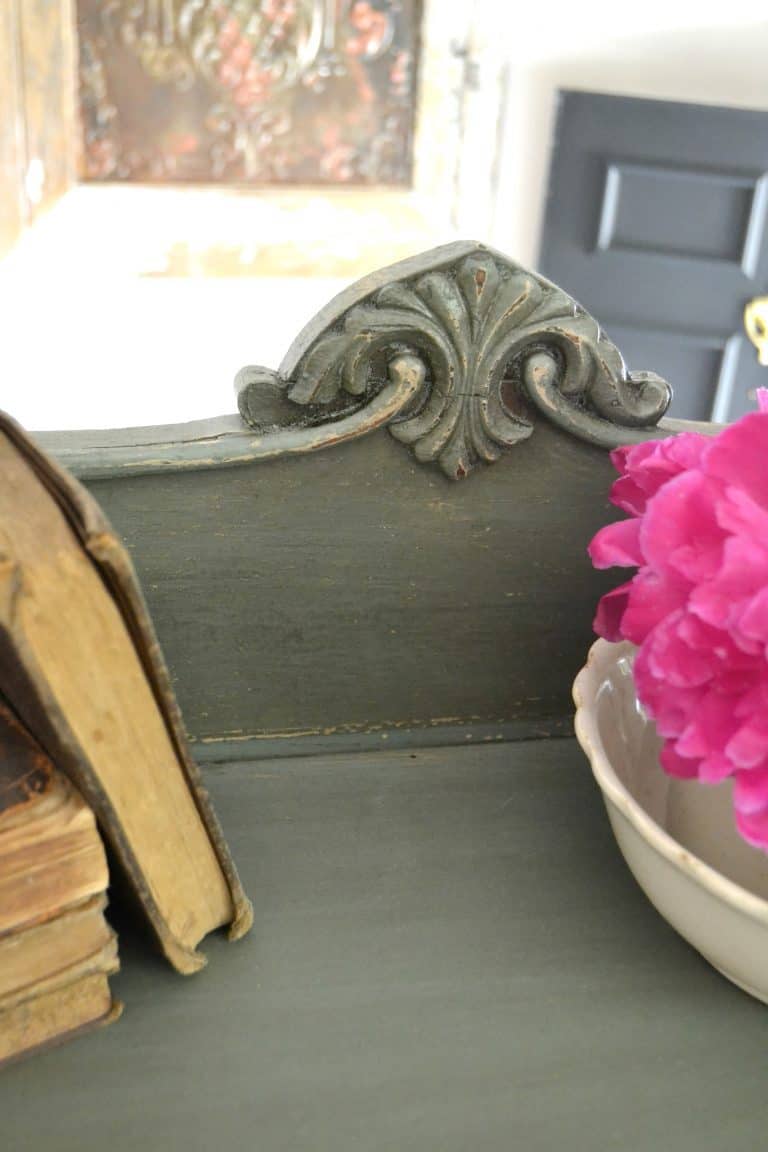 This cabinet makeover was so good, I moved it into our living room. 😉 I had an old radio cabinet in this spot before, but the green color on this cabinet fit better. It is still the perfect size to fit some of our games too.
Can you guess what game we were playing this day? (My kids are hooked with this game since their grandpa taught them how to play it.)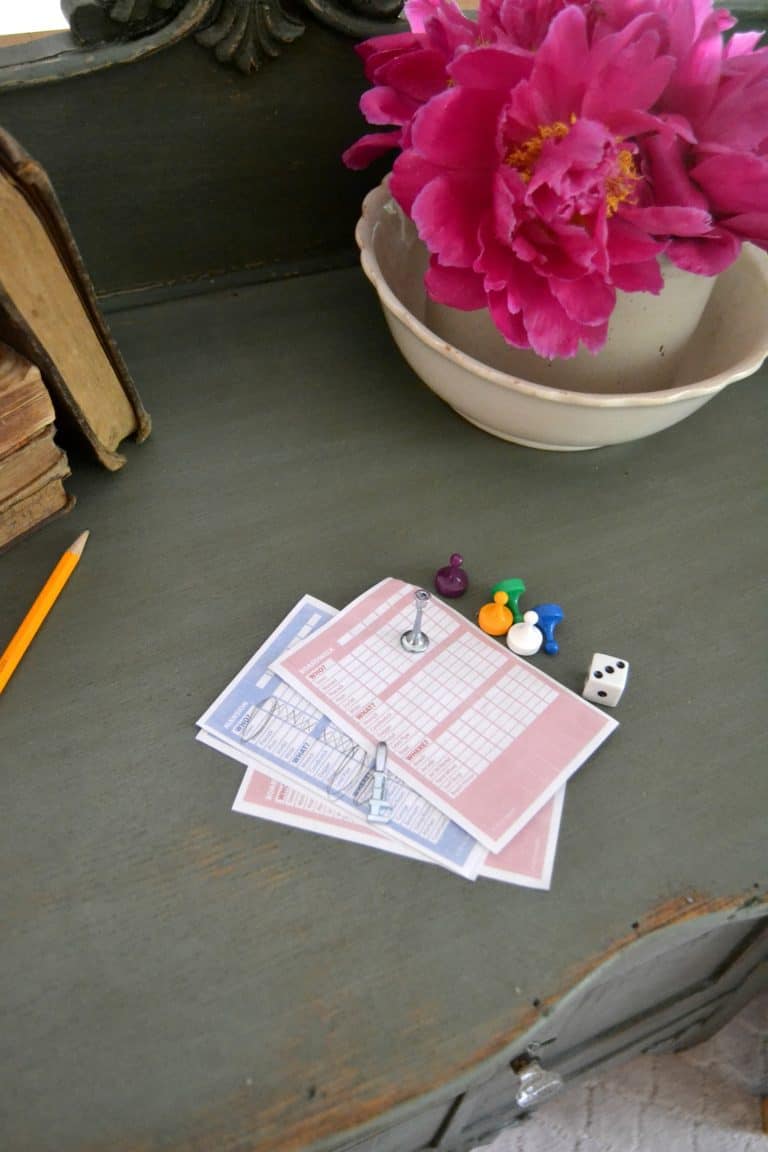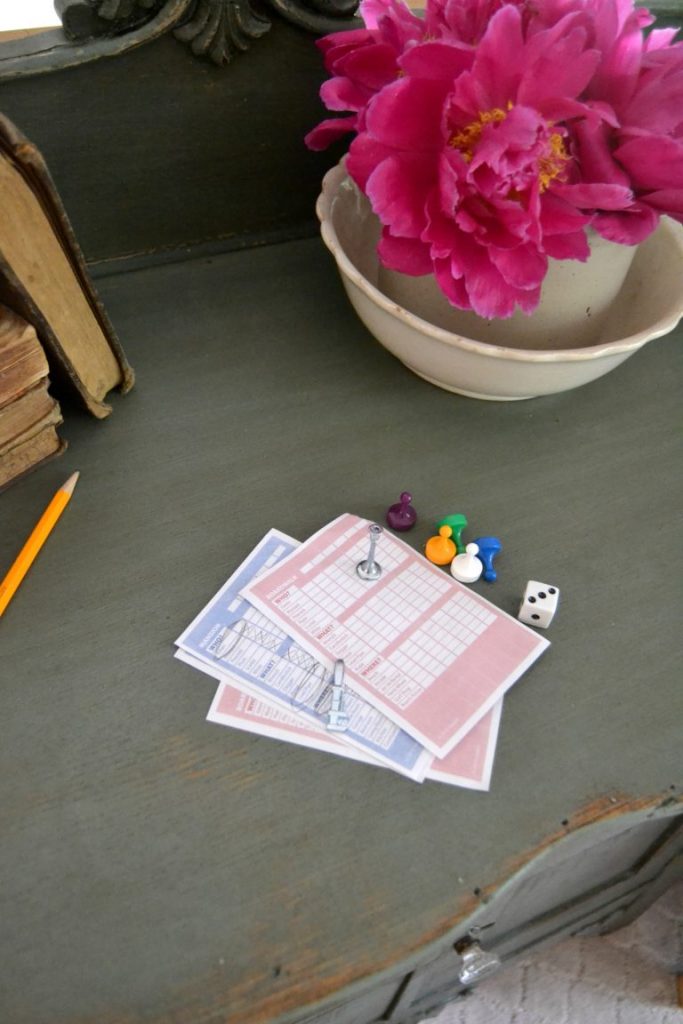 This is the first time trying this process. It went so well, that I will try it again if I come up with the same issue on a project. I can't tell you how many projects I have done that the Plan B route was actually better than what I had planned originally. If your project isn't working out as planned, step away from it. Think about it and see what else you can do to make it better. You would be surprised how many times it works out better anyway!
Would you have rescued this cabinet? What color would you have painted it?
PIN THIS POST!

If you liked this wooden chest of drawers makeover, you will also love these makeovers: