Buffets and side boards are some of my favorite pieces to make over. This DIY Painted Buffet Makeover was no exception. It had a ton of potential and I couldn't wait to get started on it! It was one of the first pieces I rescued when spring yard sales started happening in our area. A flip house, huge yard sale and tons of projects in between, I am excited to finally bring this to you here. I shared this makeover on the Behr website a few months ago.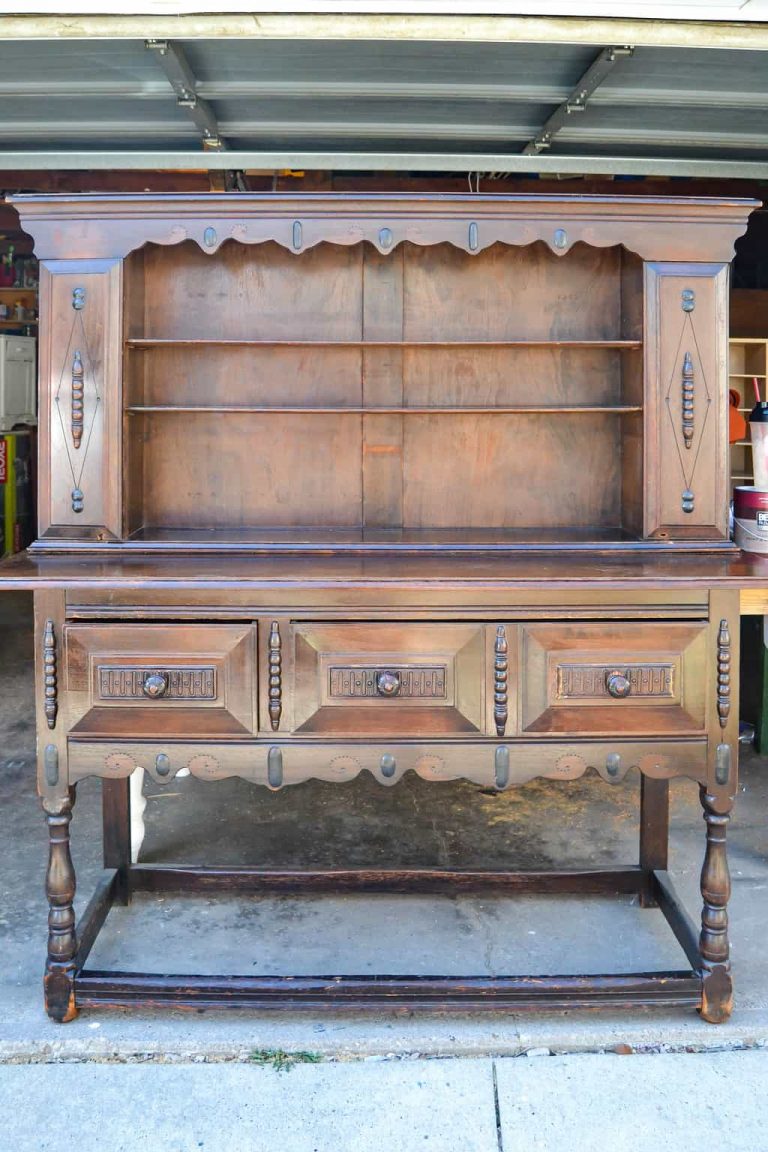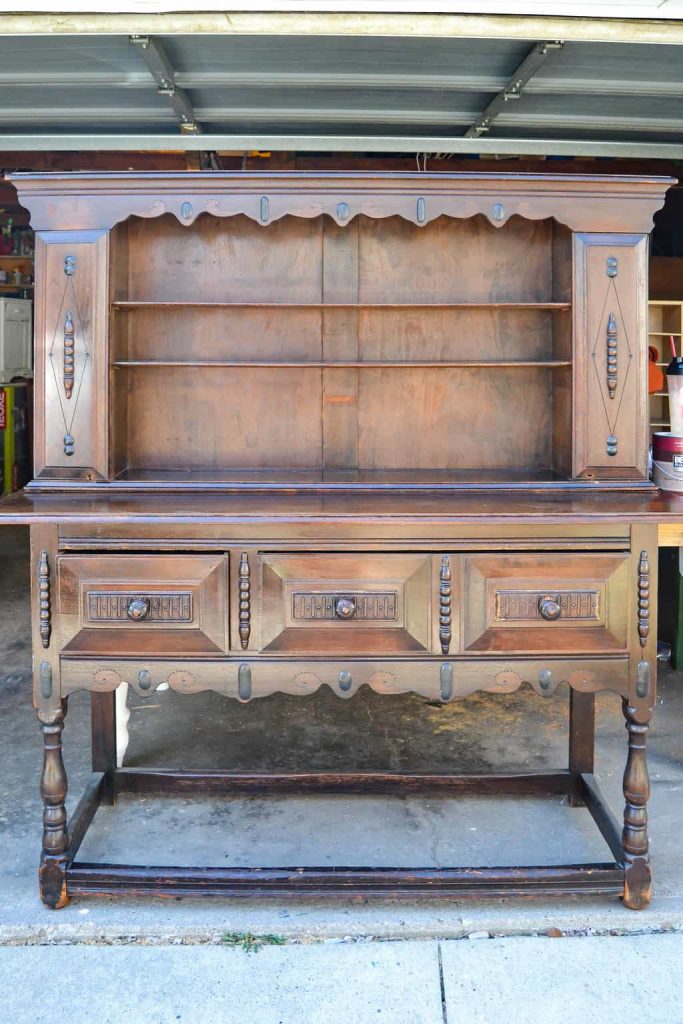 This buffet was at the first yard sale we stopped at in early spring. I saw it as soon as we pulled up and had to get a closer look.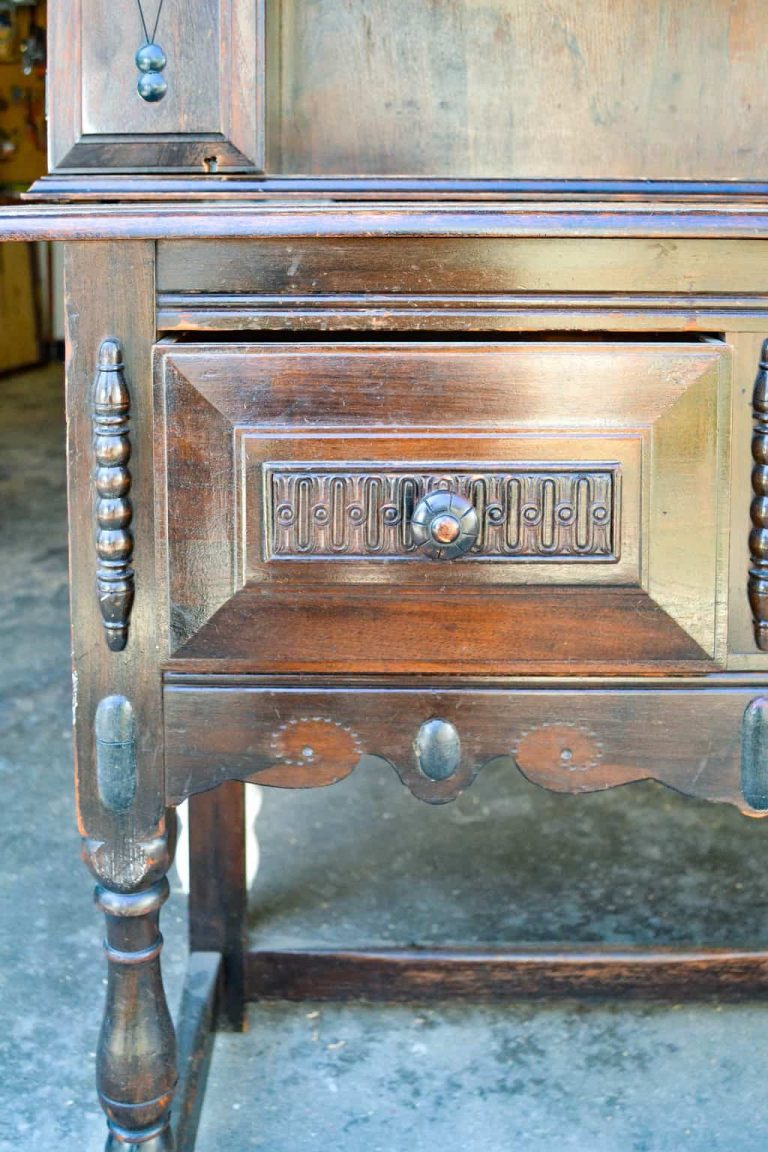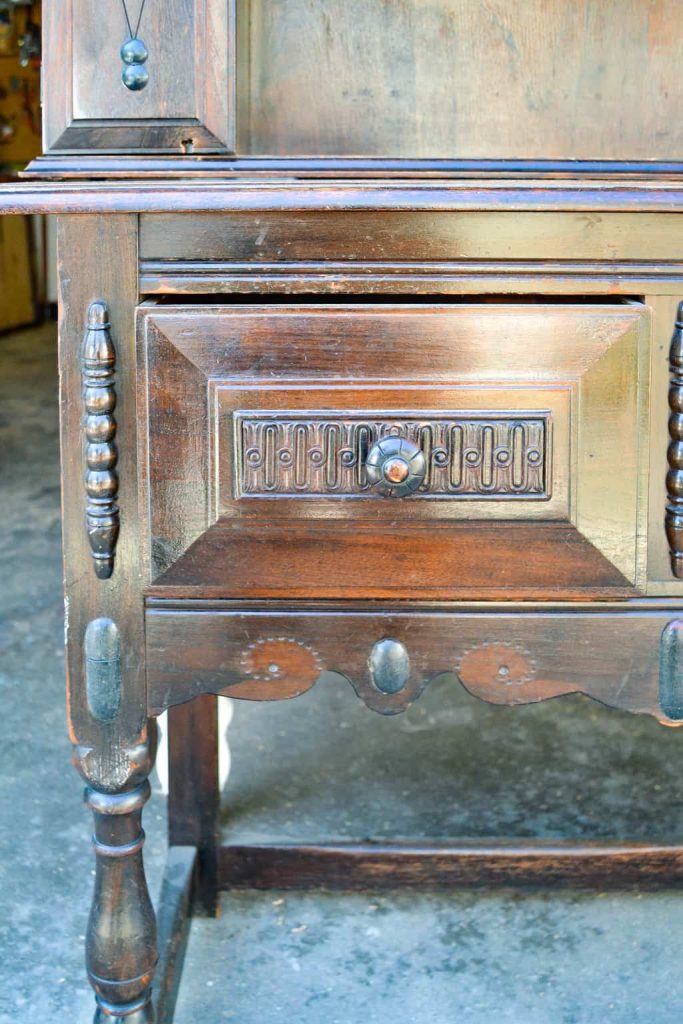 The buffet had loads of character and charm. There were great details on the drawers and the scalloped detail on the bottom and top were too cute to pass up.
The dark stain really gave it a 70's vibe and didn't accentuate the features at all.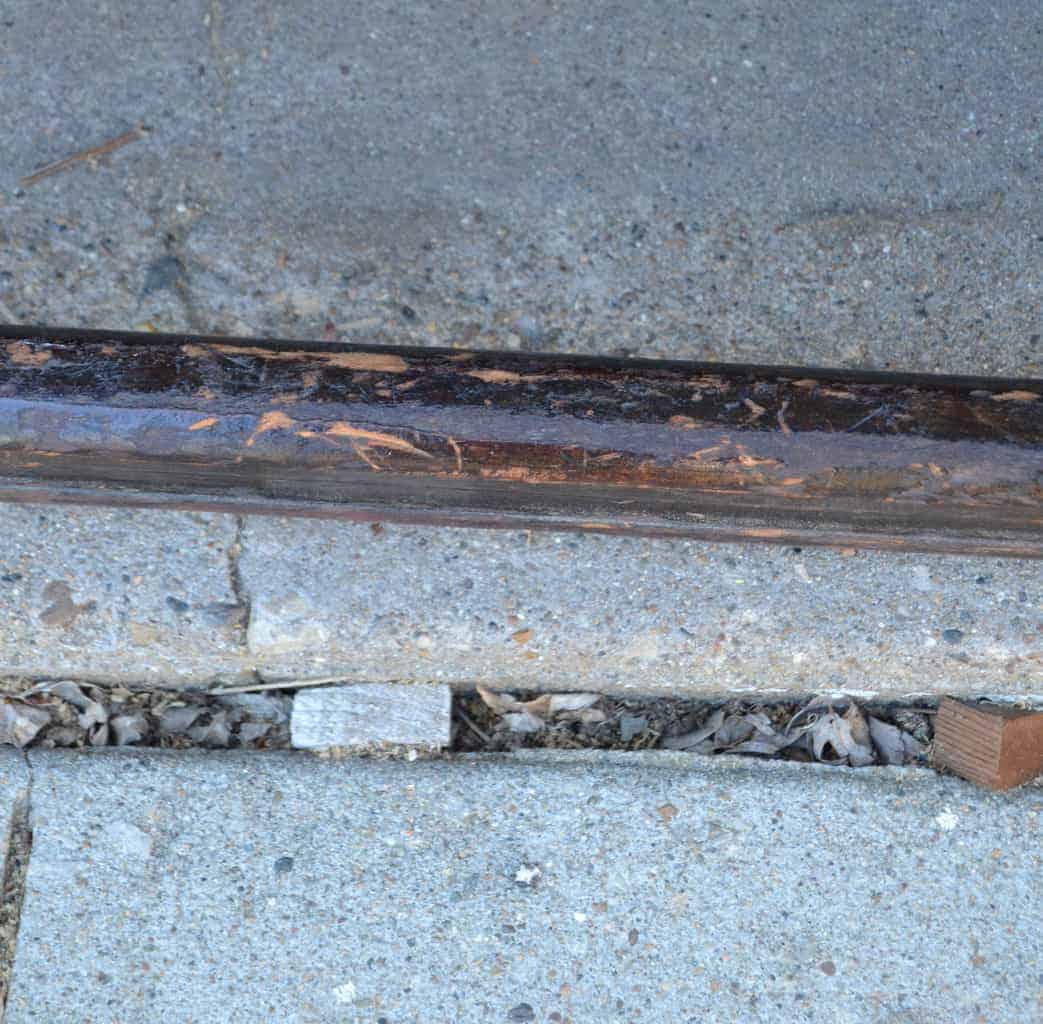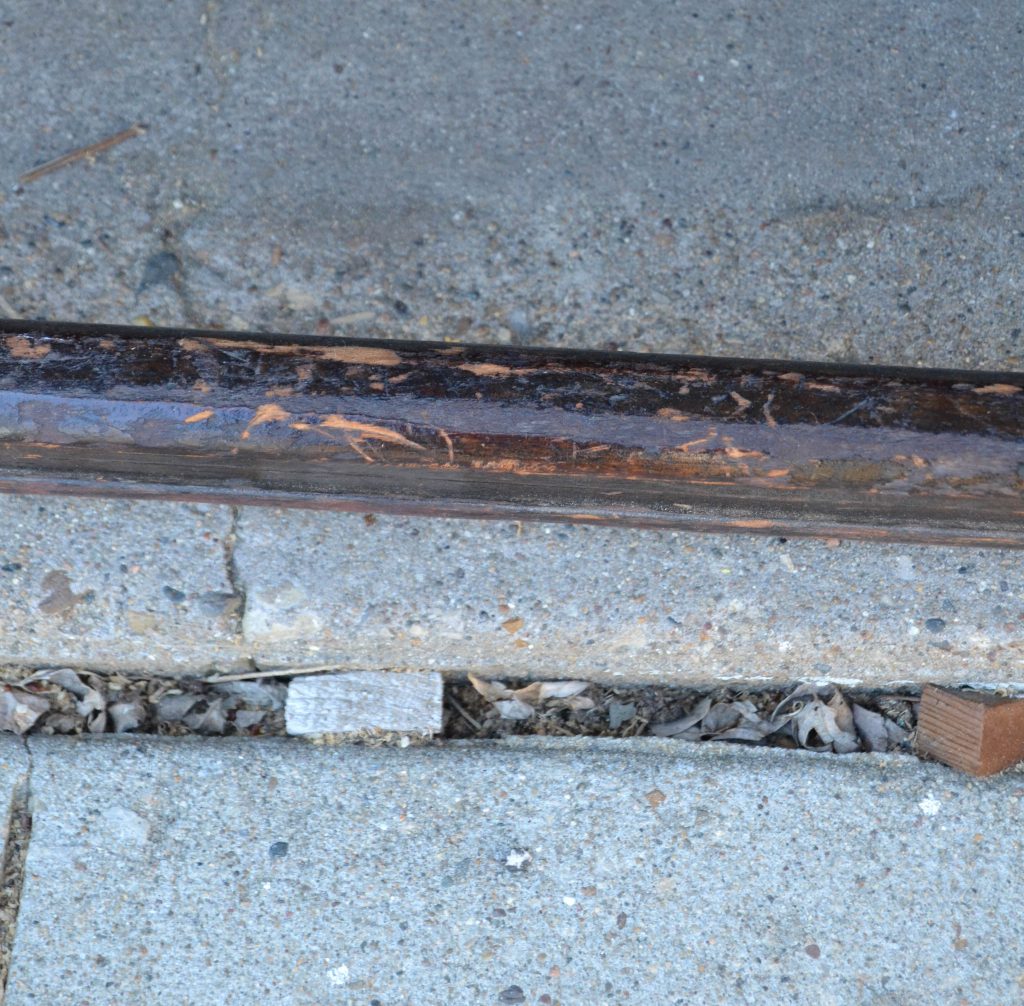 Like every furniture piece I rescue, this Painted Buffet Makeover had some issues. There were many scratches and dings in the wood. That never scares me away. I knew I would paint it and the "issues" would be covered up anyway. The buffet was sturdy so there wasn't any structural concerns. The dings, dents and scratches could be taken care of with paint so I looked right past them. As you start shopping more and more yard sales you will learn what can be looked over and what is an issue that can't be fixed.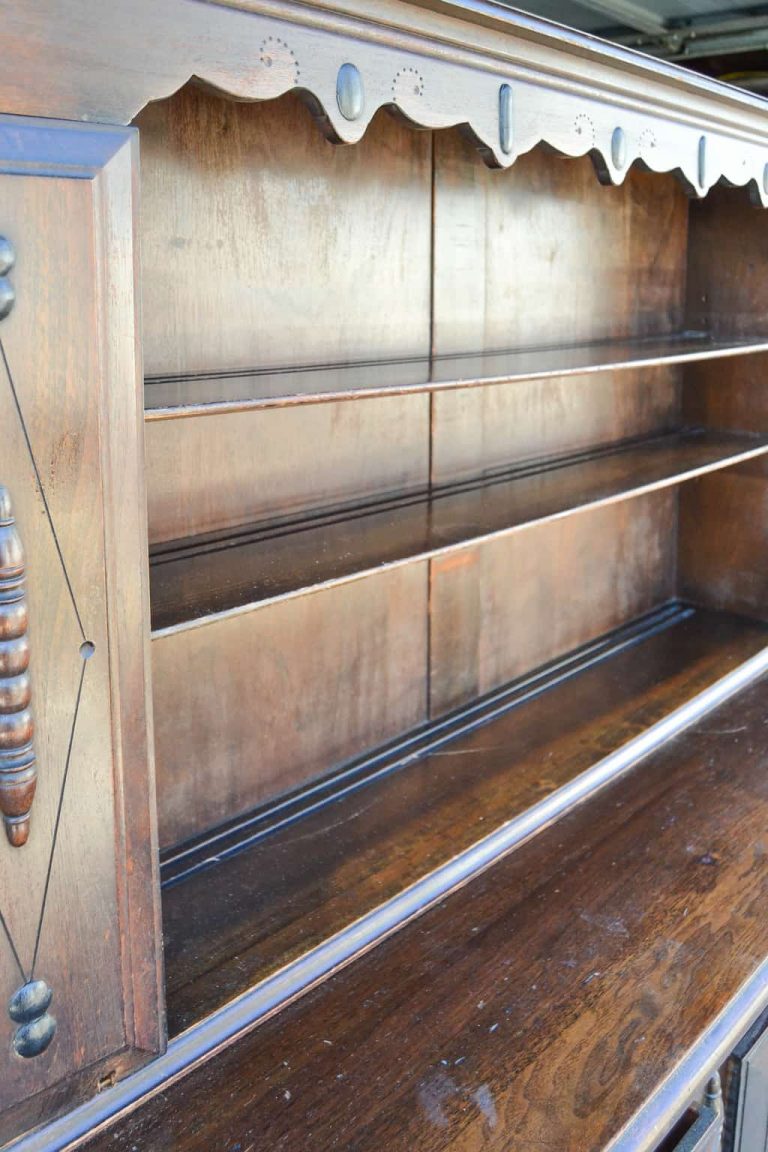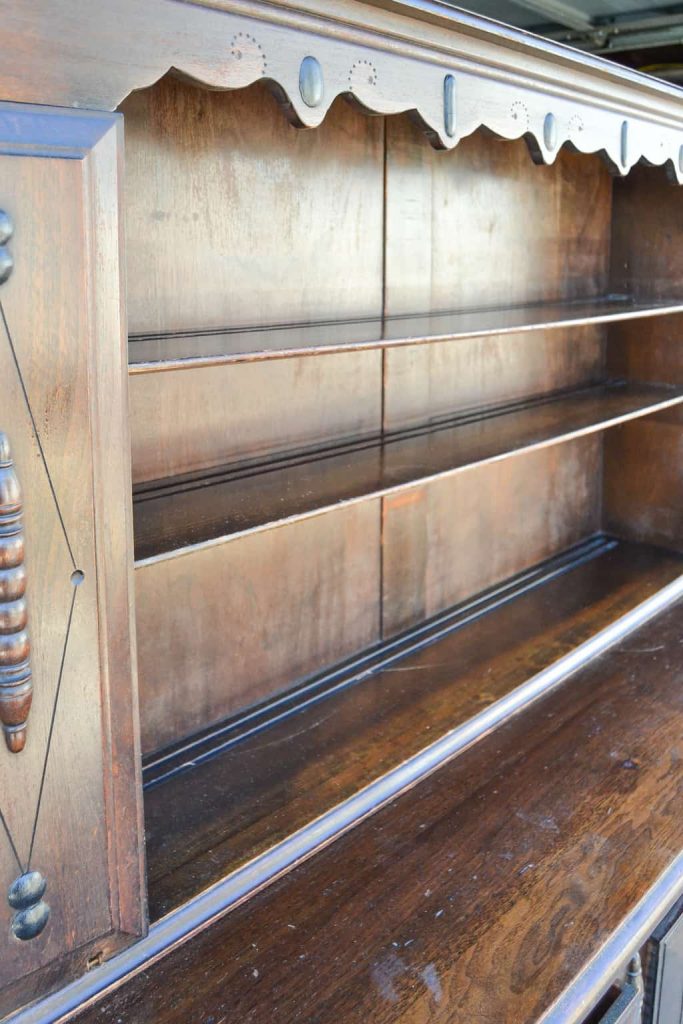 The top piece of the buffet is not connected to the bottom so it could be used together or separately. Two pieces for the price of one? SOLD! The shelves with the plate indents were a great selling feature for me. I already had the piece cleaned up, painted and decorated before I had the cash out to pay for it. That happens a lot when you have so much experience shopping and decorating this way. If I can't picture it all done before I buy it, it may not be a great buy.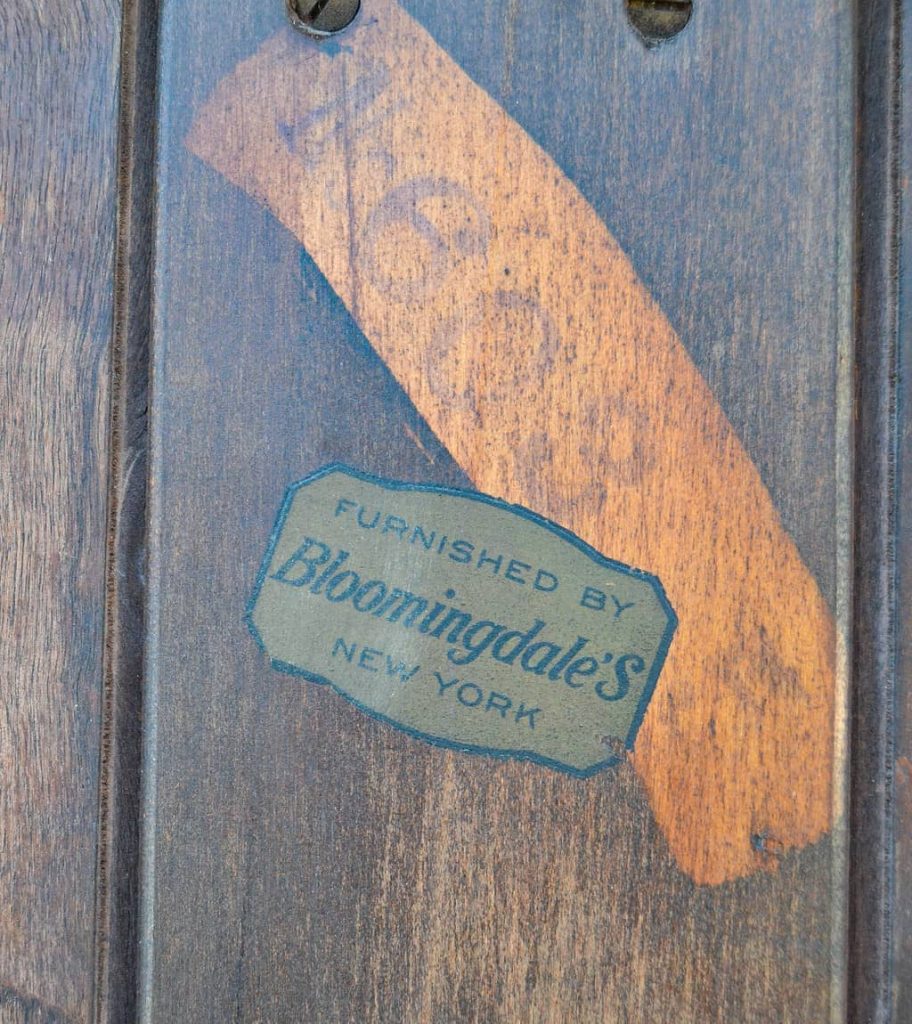 When we were putting the buffet in the van, I noticed this sticker on the back. Just another sign that this was going to be a great DIY Painted Buffet Makeover.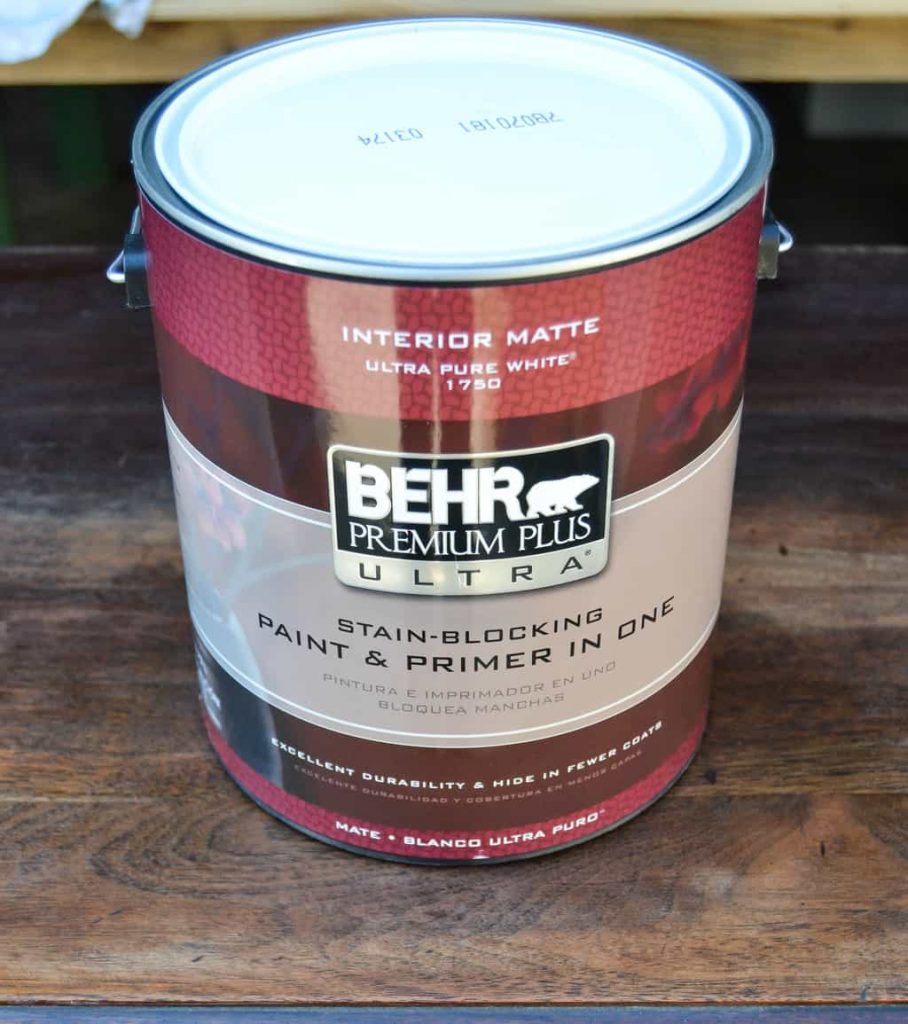 After we got it home and I looked at the buffet a little more, I knew I wanted to paint it a crisp, bright white. The white color will bring out all the fabulous details and it will also freshen up the piece and make it feel brand new.
I went to Home Depot and after some back and forth about white paint colors, I chose Behr Premium Plus Ultra in "Ultra Pure White" in matte finish. I chose this particular paint because it has stain-blocker and it is primer and paint in one. Going from a dark, 70's wood color to white is hard to cover so I needed a paint that would cover it well.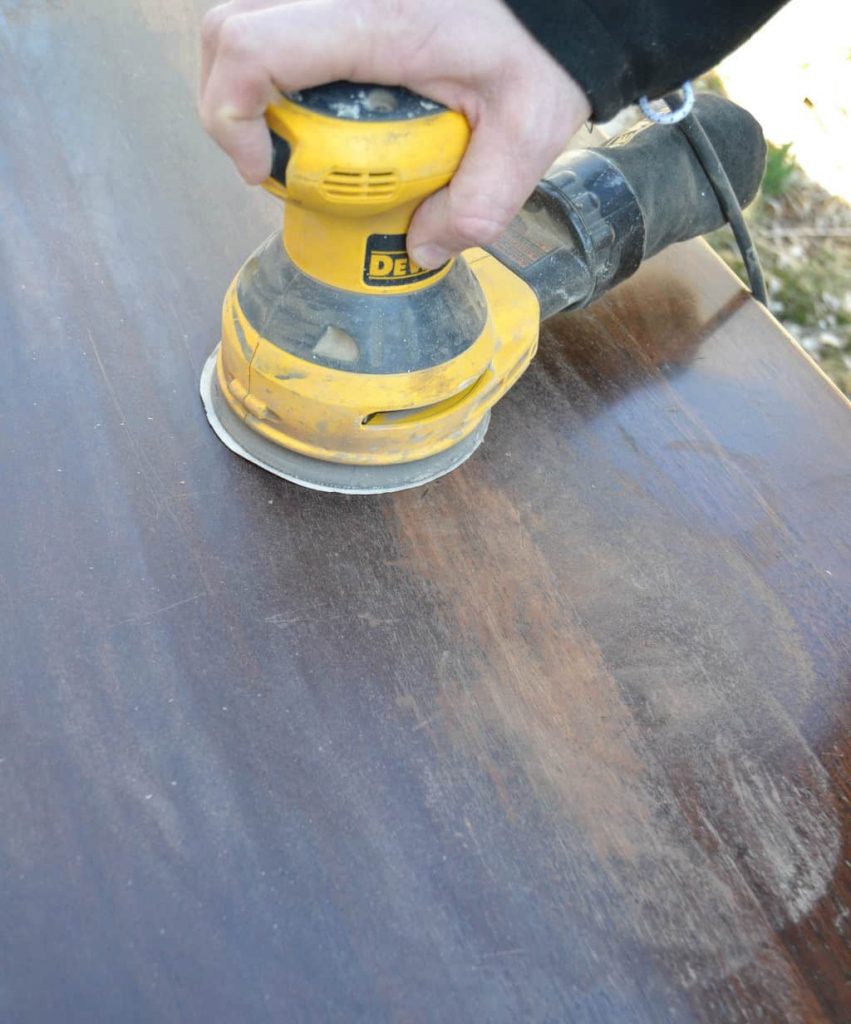 To prep the buffet, we sanded it first. The finish of the wood was not great and I wanted to rough up the surface a little to ensure the paint would adhere to it.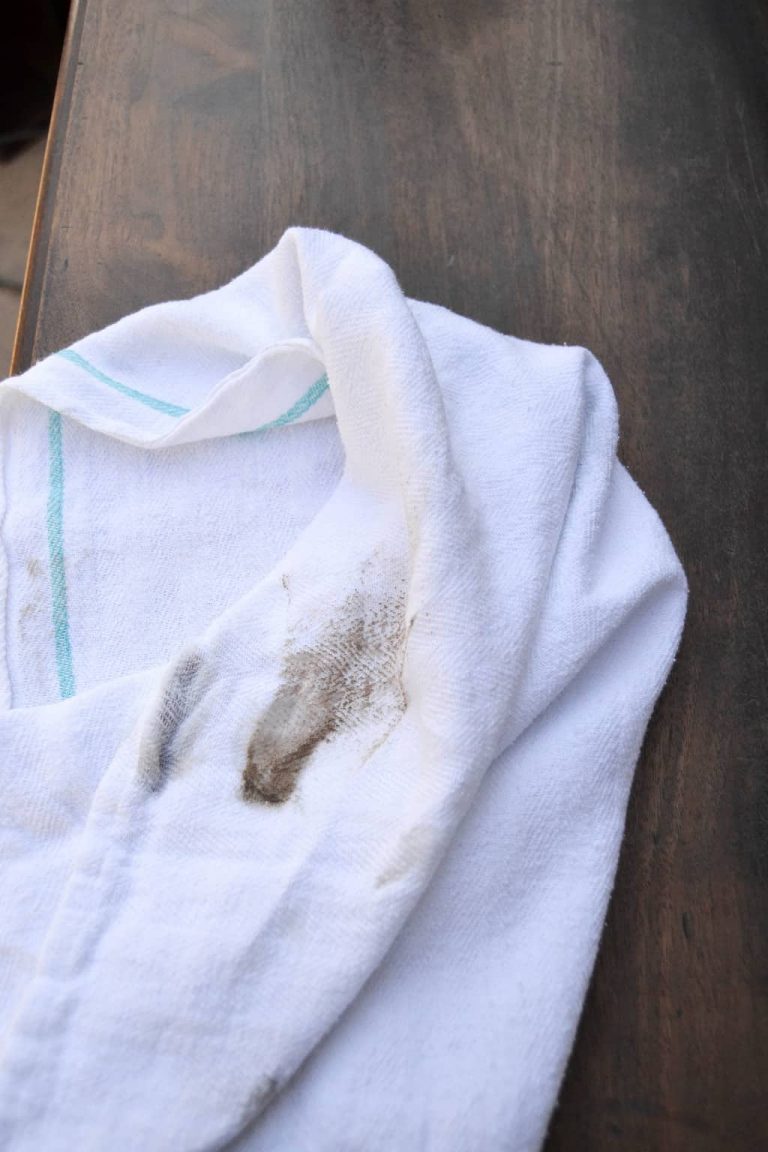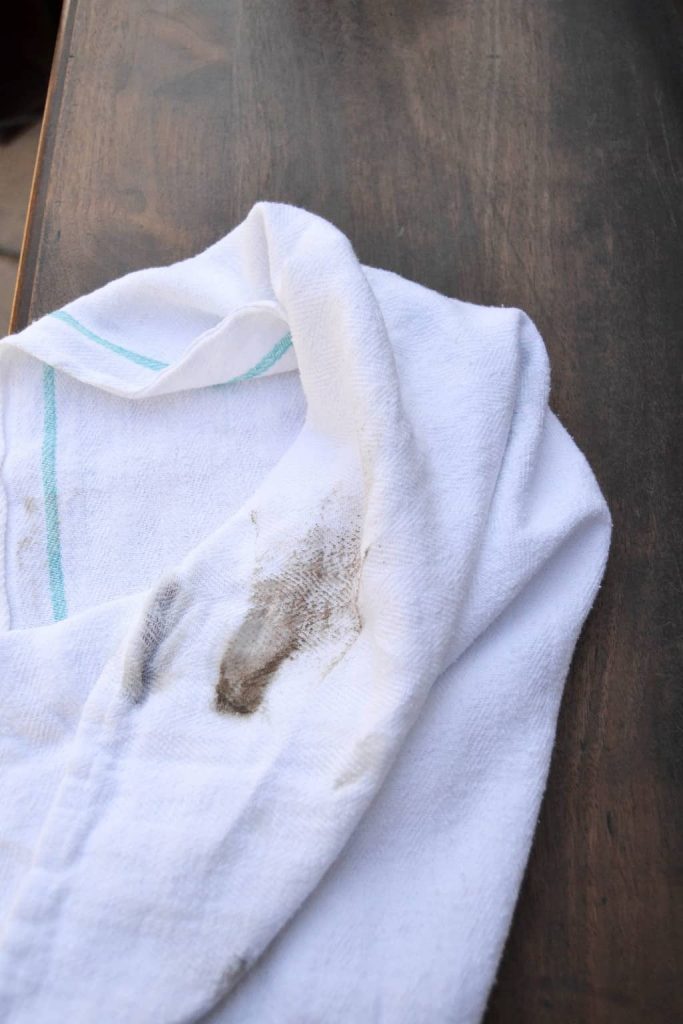 Once the sanding was done, I took a damp cloth and wiped down the entire piece to collect all the dust.
Now, the fun part! It was time to transform this buffet and make it beautiful again.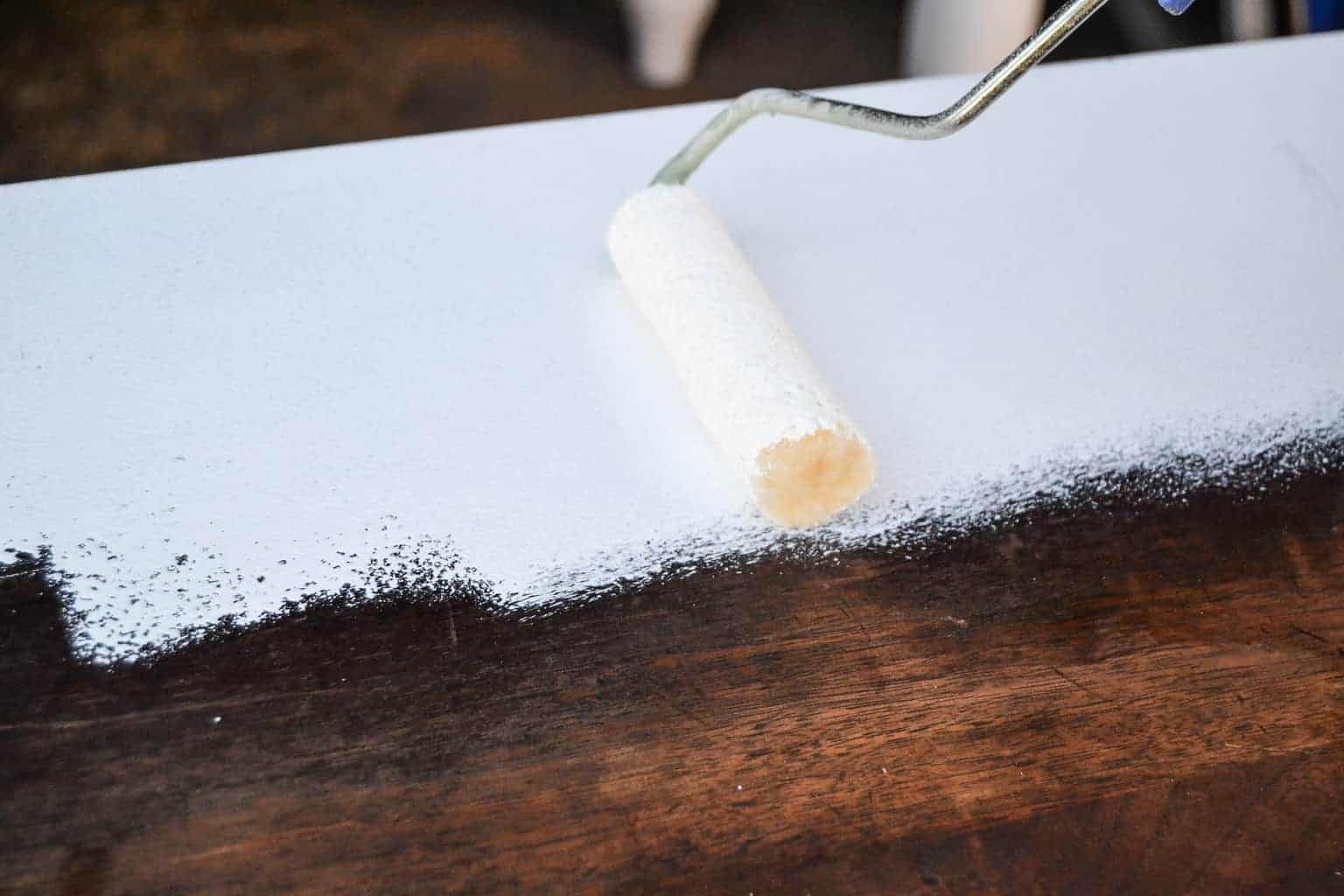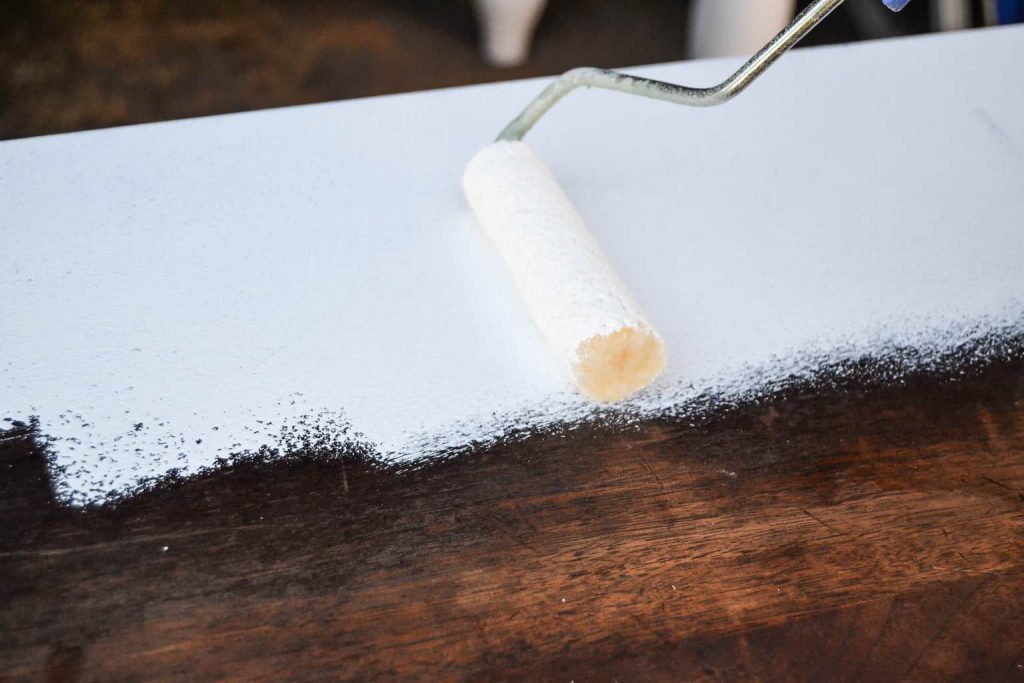 I started painting the top with a small paint roller. You can find paint rollers at Home Depot for all kinds of jobs. This roller was made for matte-finish paint so I chose this one. Paint rollers always help me get a good coat of paint on a piece. If I am painting bigger pieces, I prefer to use a roller on the flat surfaces. For the smaller details and smaller areas, I use a paint brush.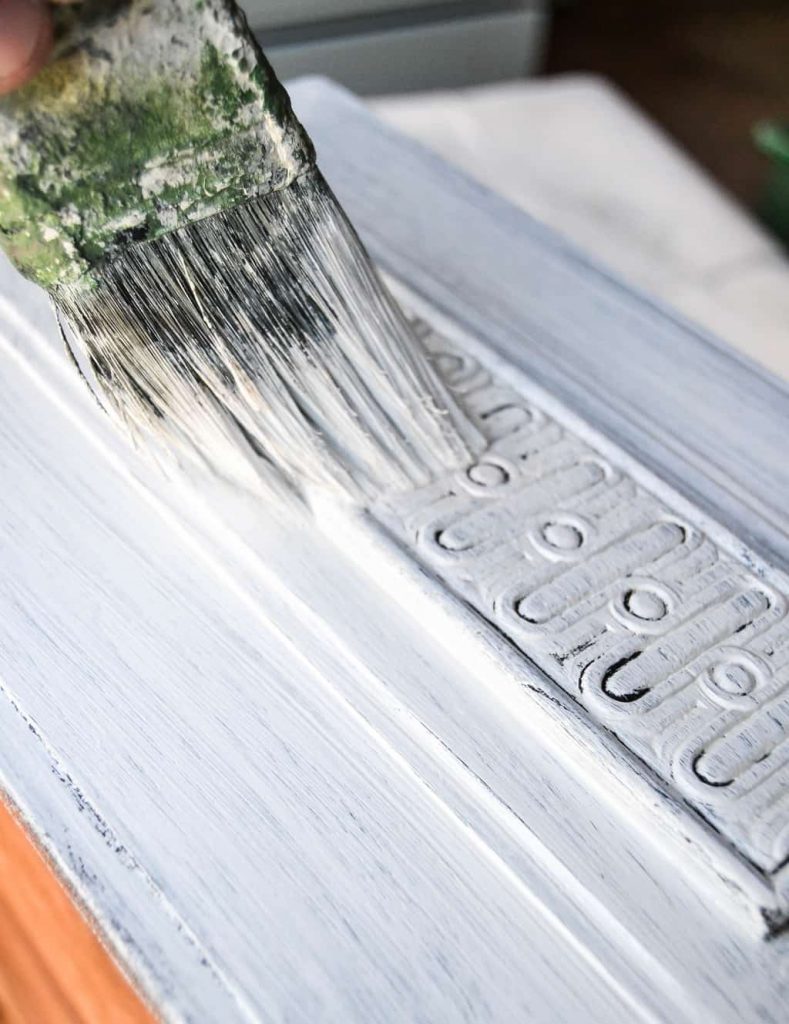 As soon as I had the first coat of paint on the buffet, I knew I had picked out the right color. It was already amazing!
This DIY Painted Buffet Makeover took three coats of paint to cover it. It went pretty fast and the outcome was worth the extra coats.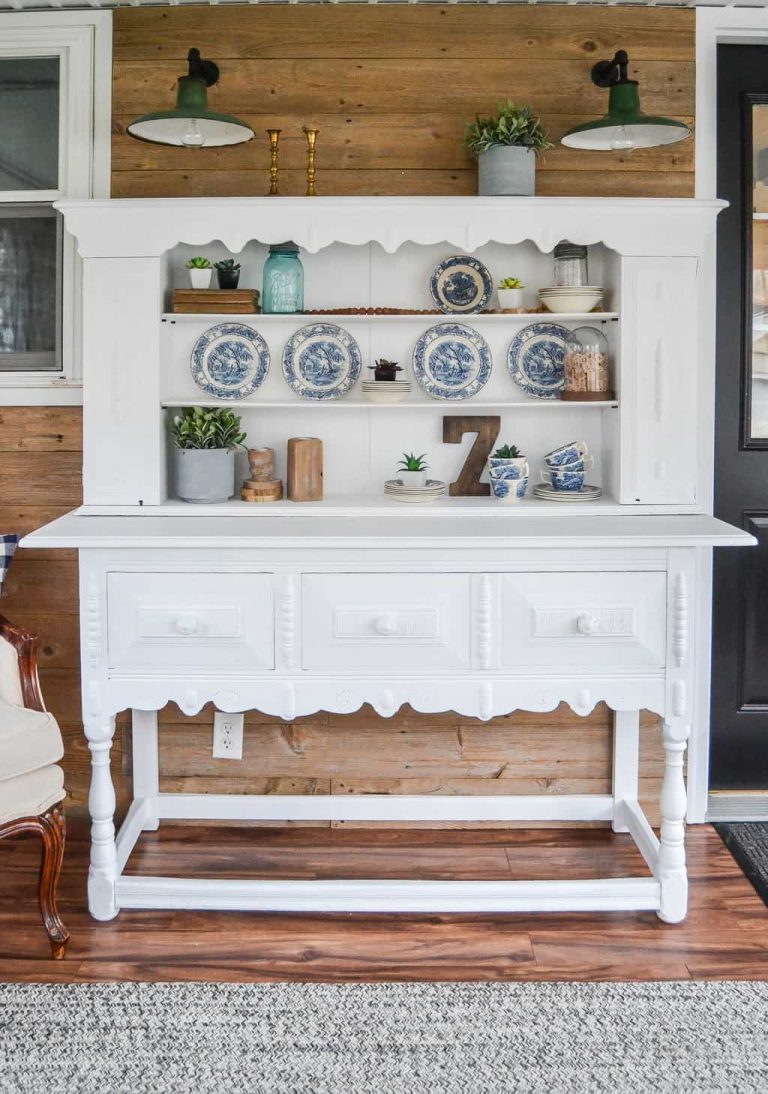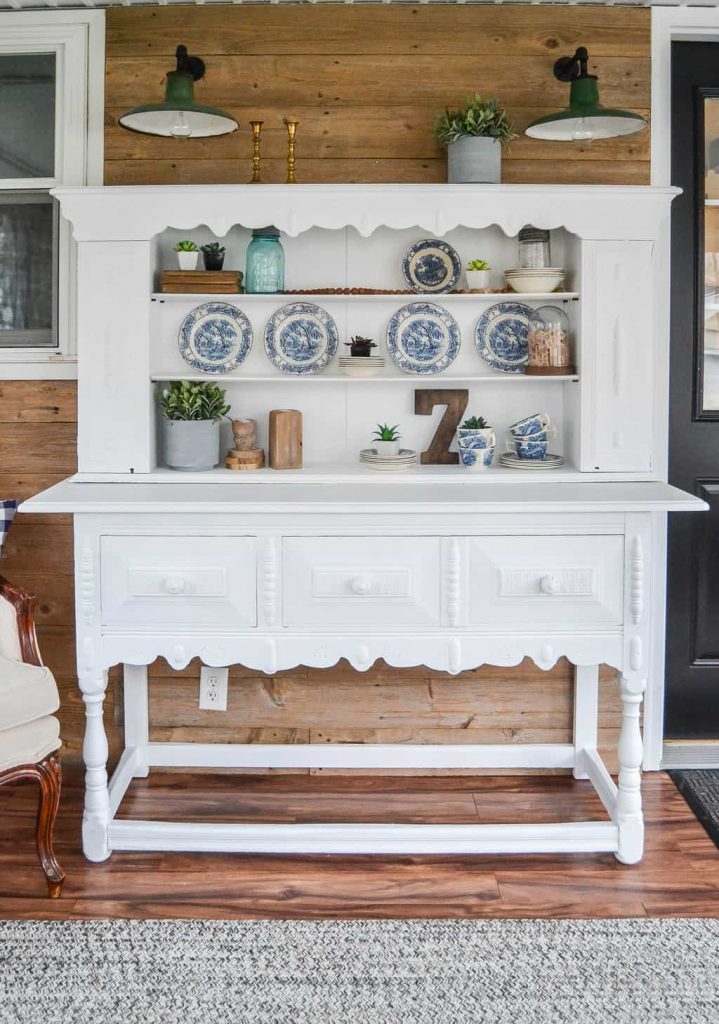 Once the buffet was fully dry, I grabbed all the pieces I had pictured on it when I bought it and added them to it.
Isn't it beautiful!
My mom used to collect the blue and white dishes when we were little and she gave me her collection. I knew this buffet would do them proud.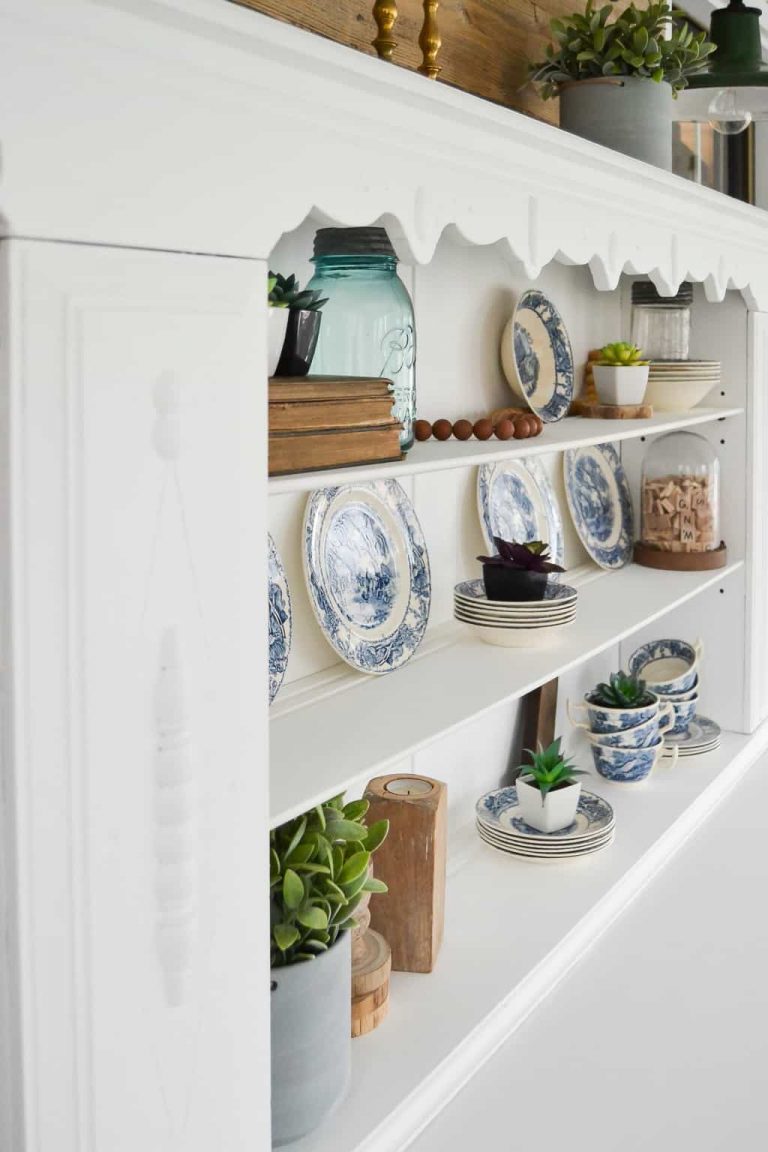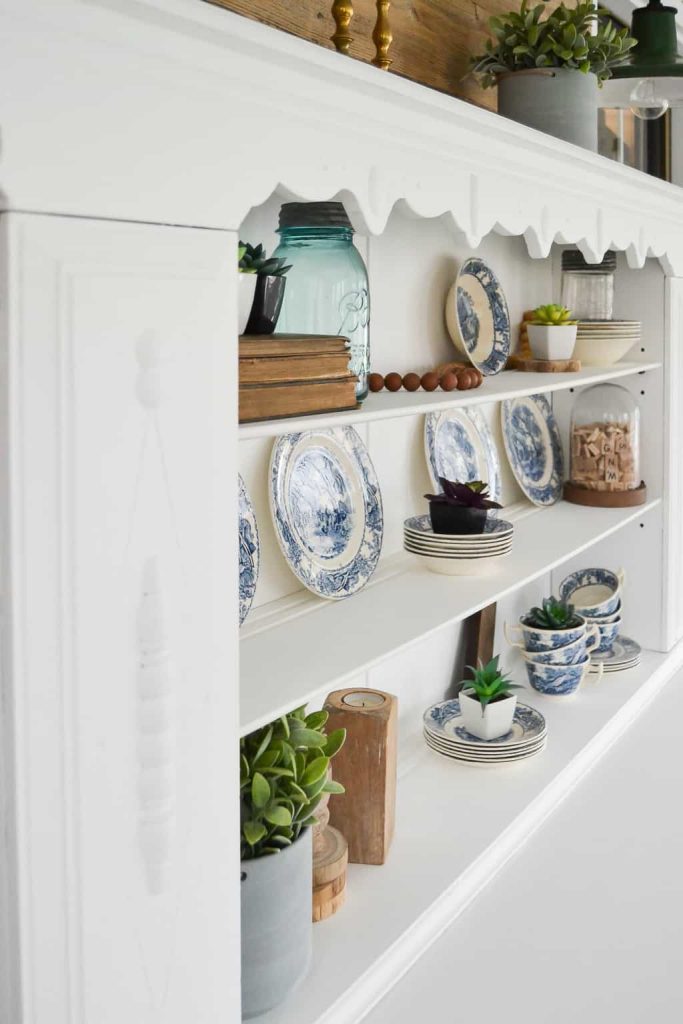 This Painted Buffet could be used for so many things. It would be gorgeous in an entry. A great spot to set your keys and mail when you come in from a long day. Of course, it would be pretty in a dining room to display pretty dishes and small trinkets. If there was room in a kitchen, it would function well in there too.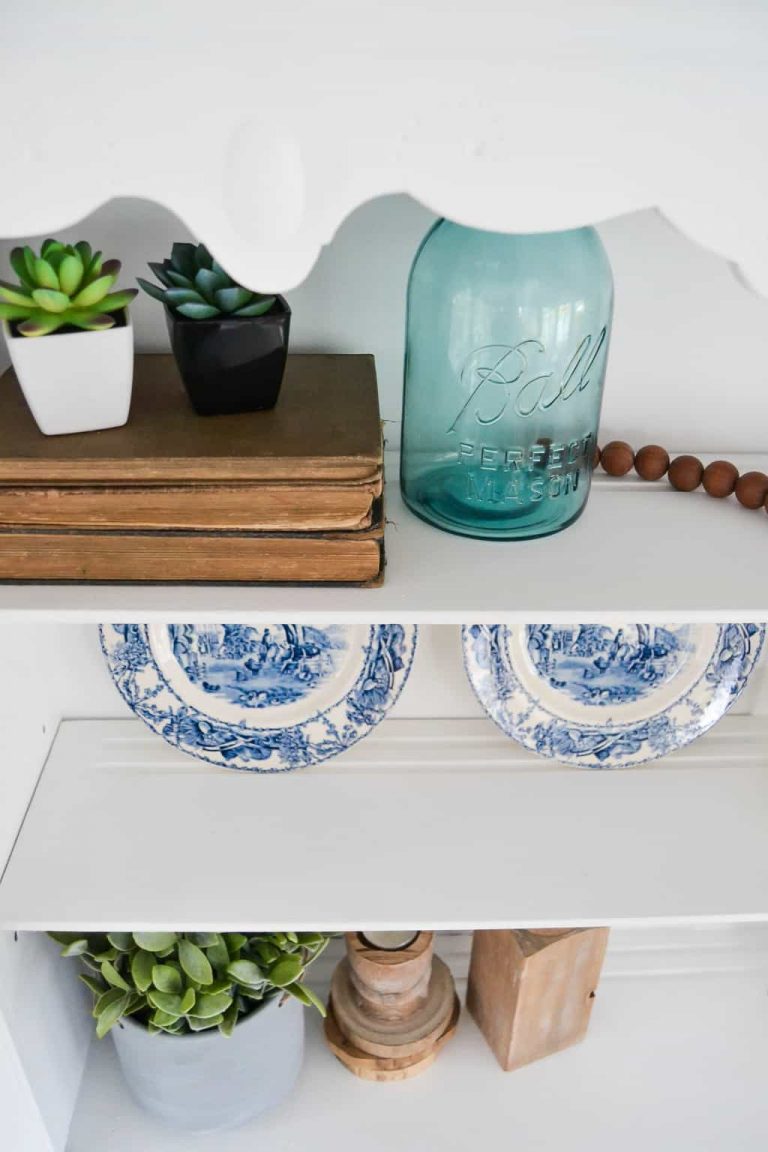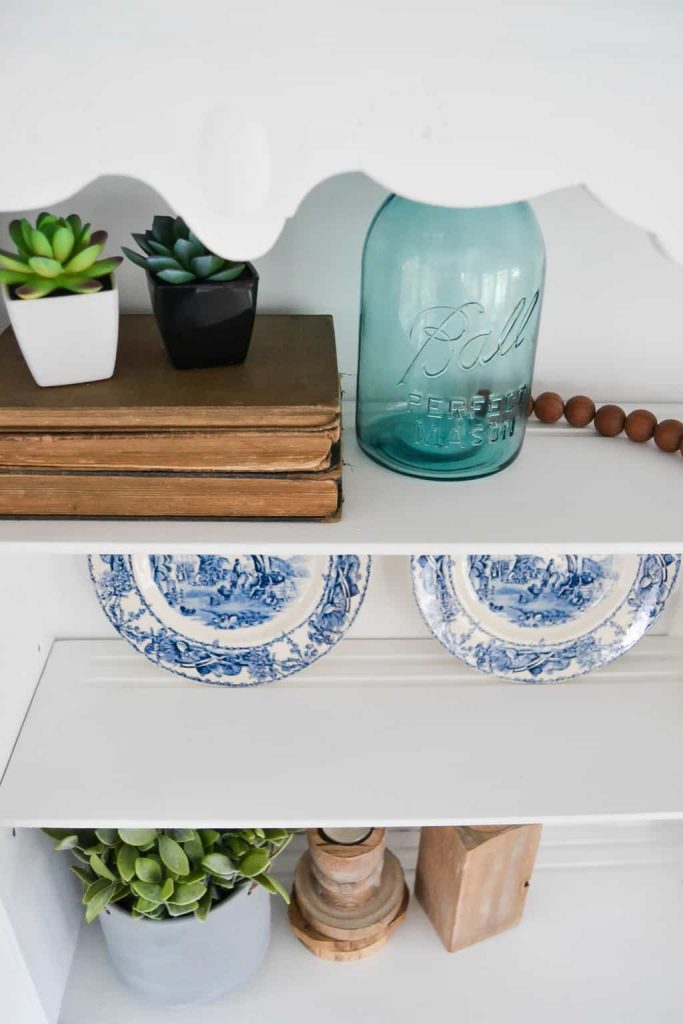 The drawers add just the right amount of storage and the doors on each side also have a little storage.
The scalloped details are so much cuter now that they are painted white. And the details around the drawers stand out so much more now too.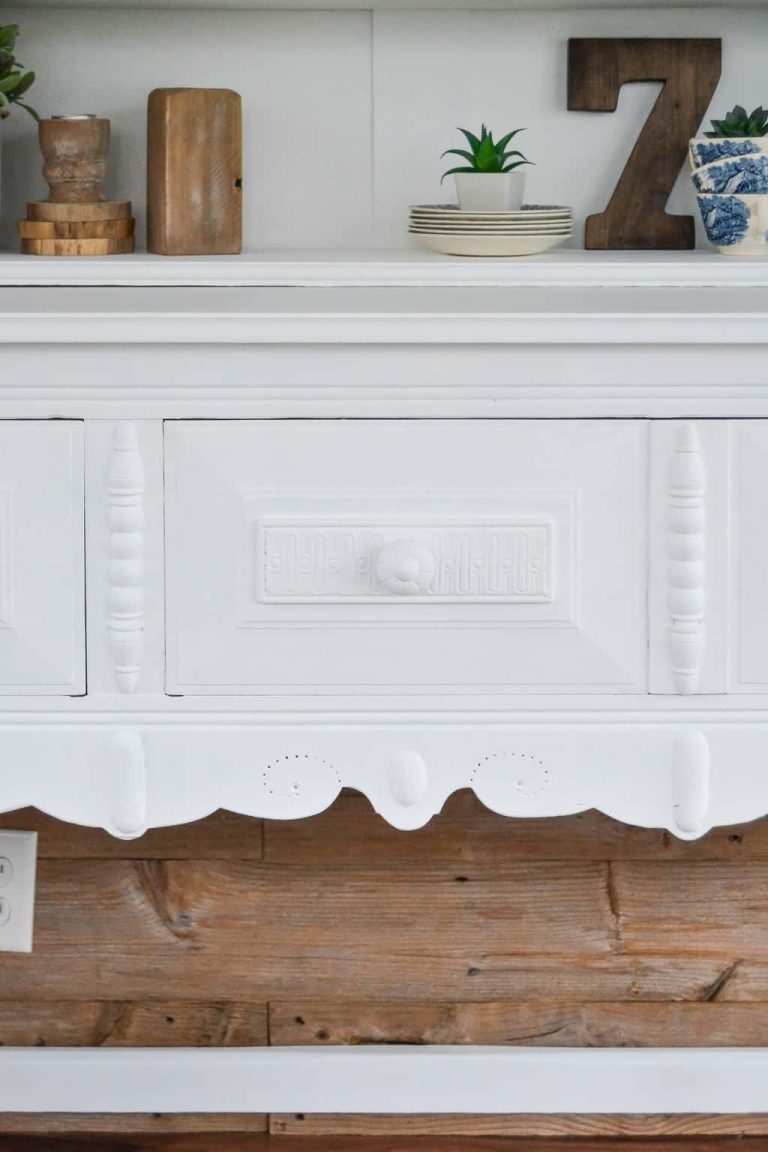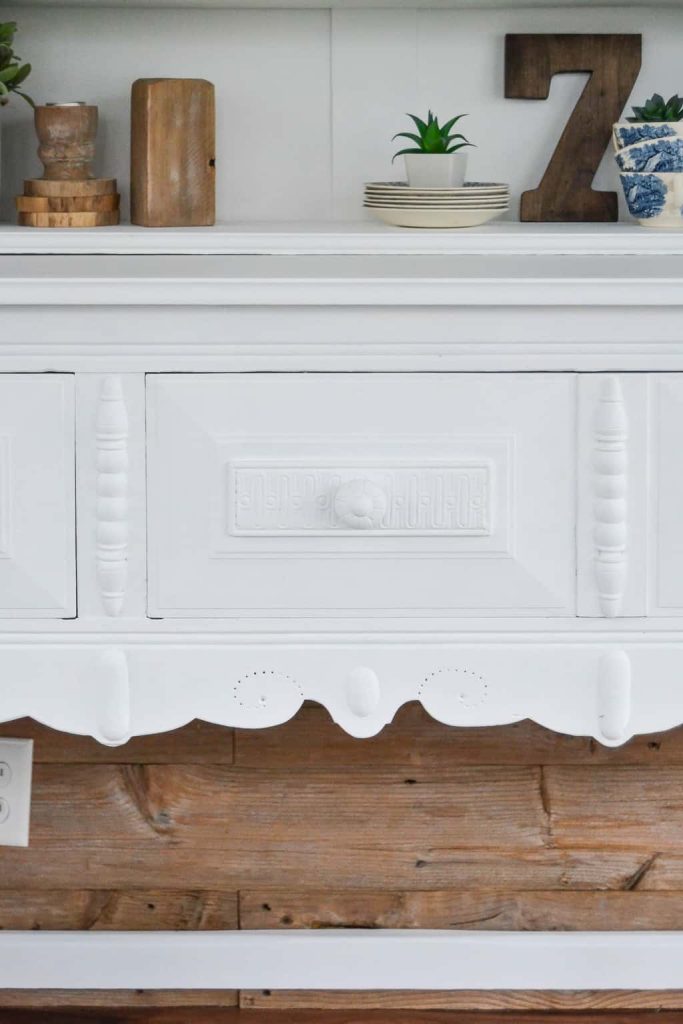 This Painted Buffet is one of those pieces that I would decorate and redecorate over and over again. I would get it perfect one day just to change it all up the following day when the decorating bug bit again.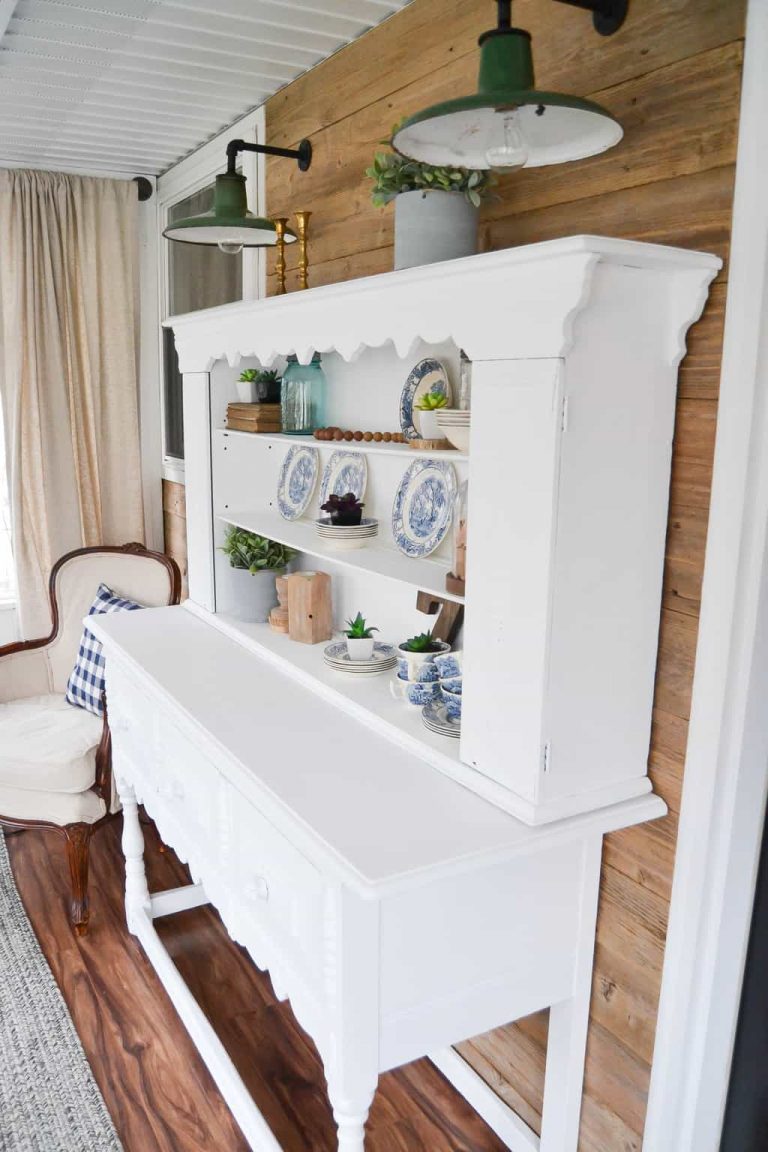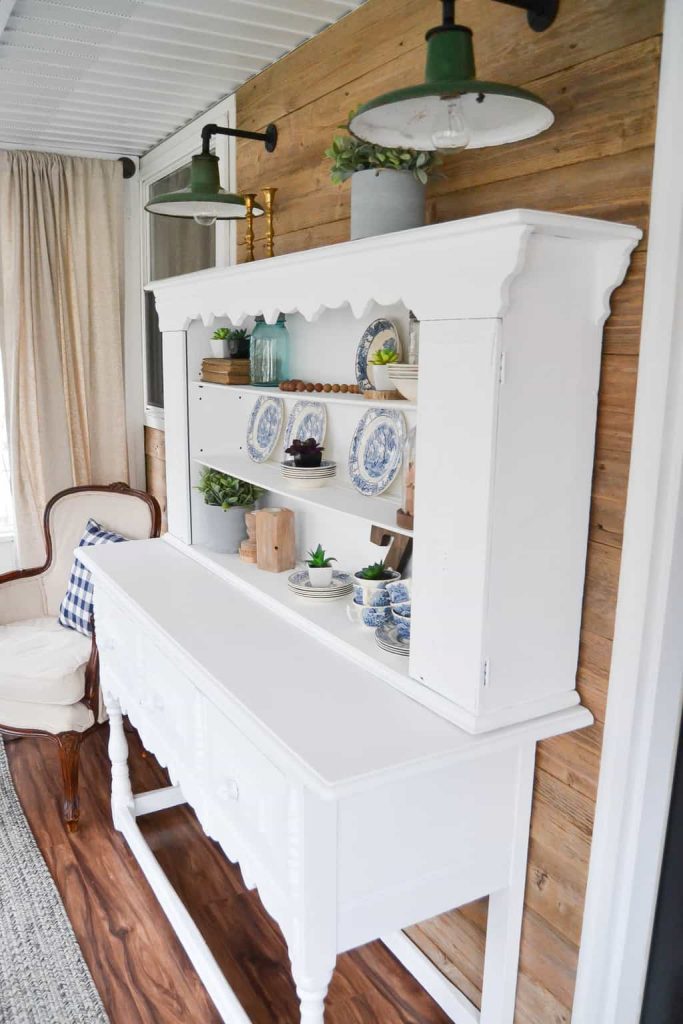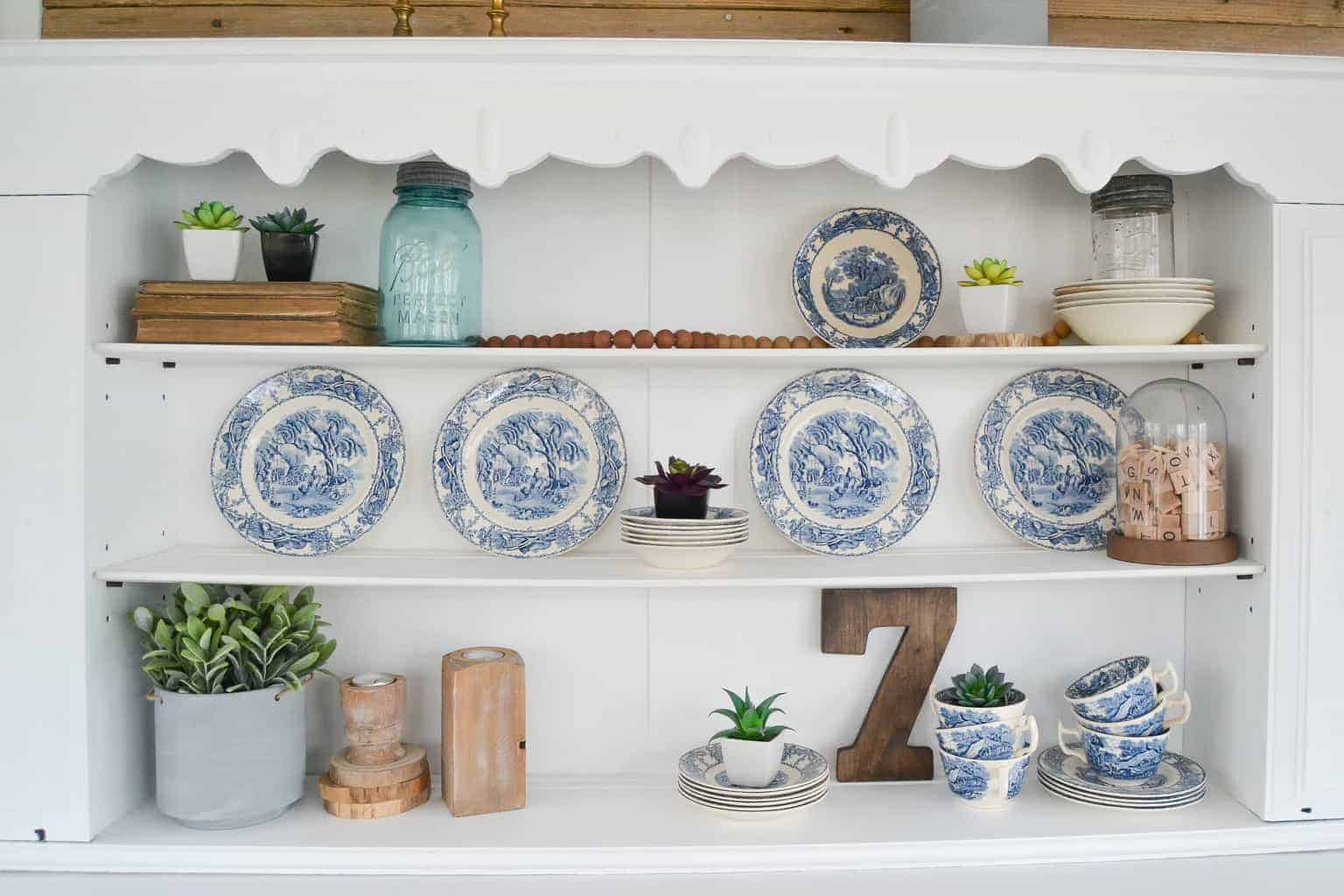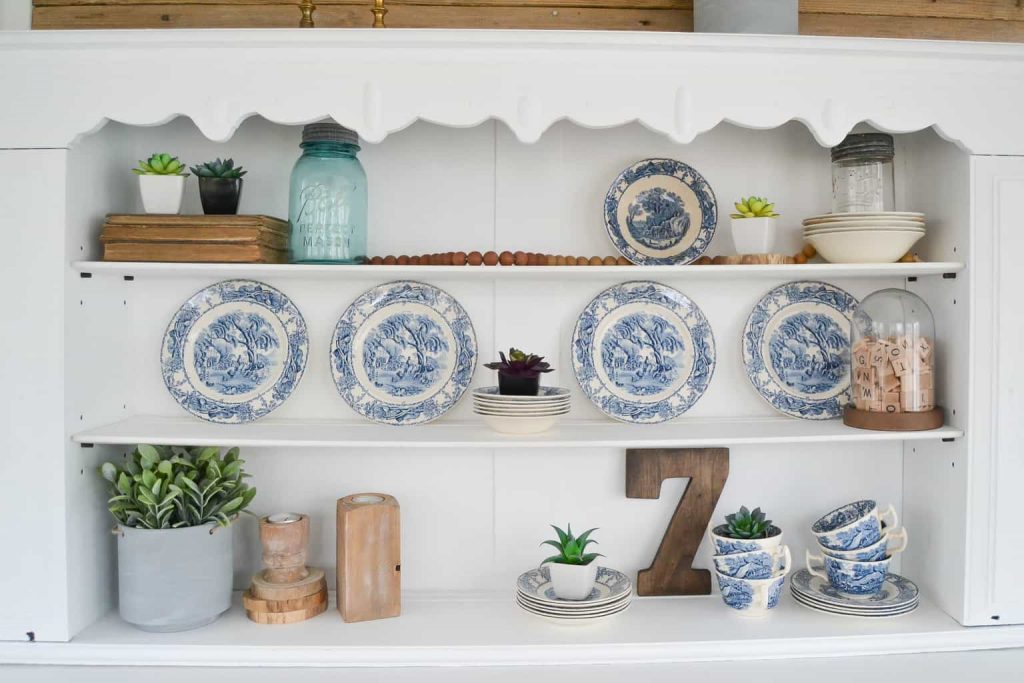 Where would you use a piece like this? What would you store in it?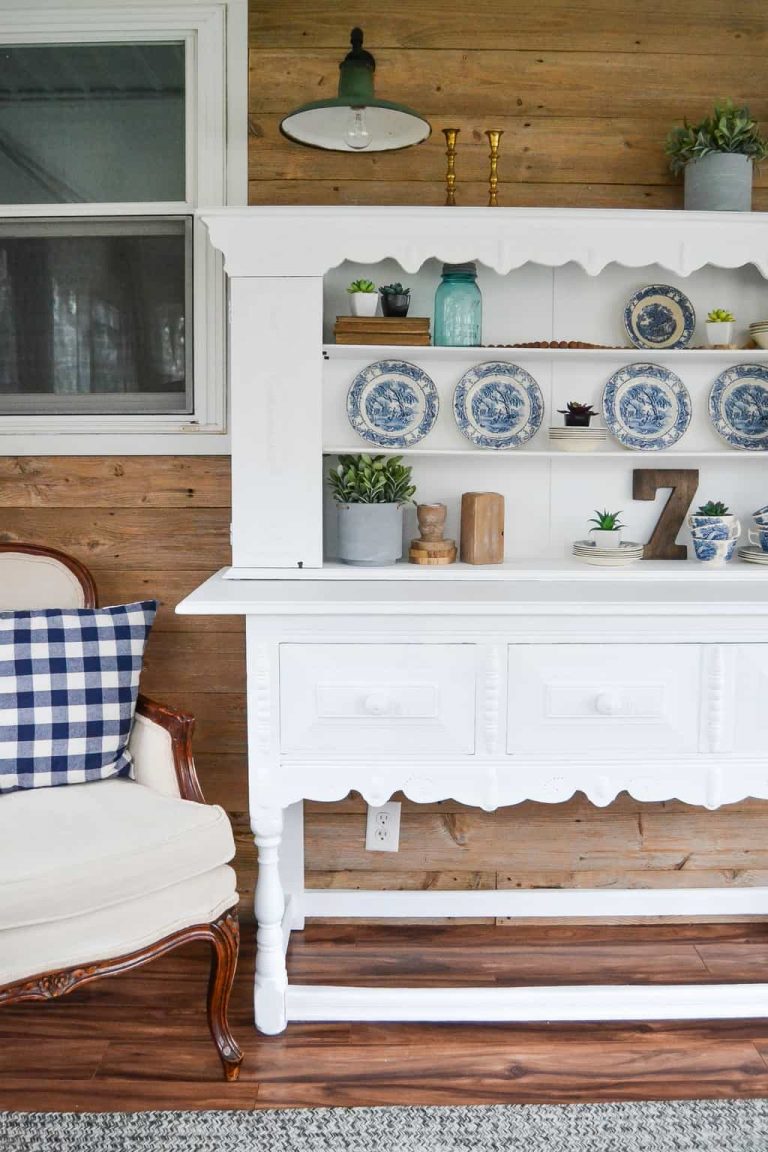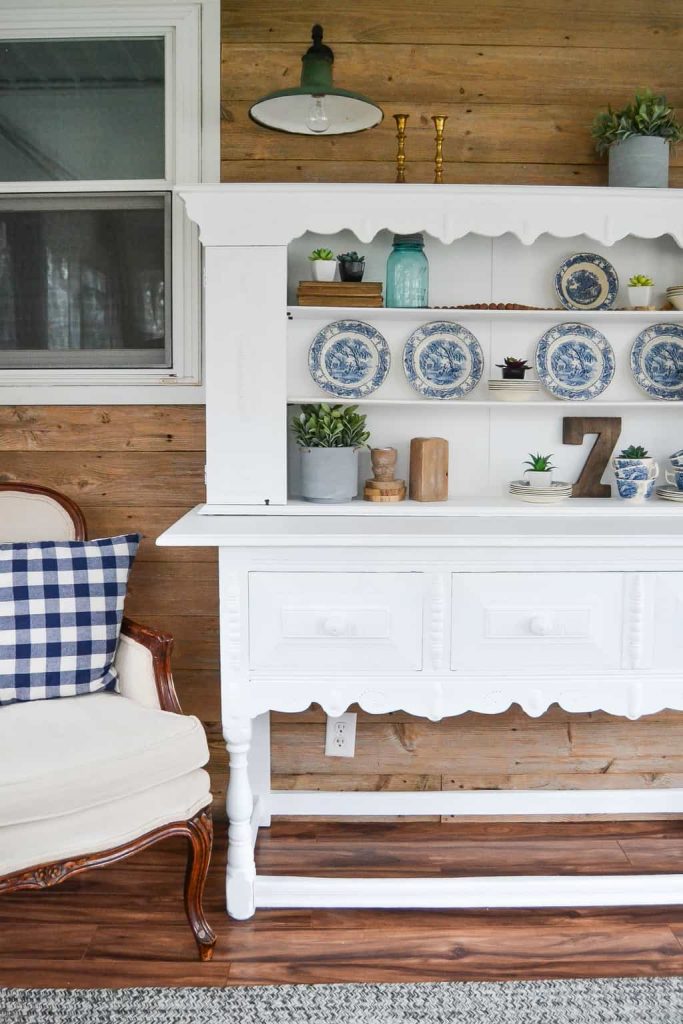 Rescuing and making over furniture is a passion of mine. I started doing it out of desperation because I wanted to decorate our home like I saw in magazines, but our budget wouldn't allow that. Now, I wouldn't decorate any other way. Being able to make one-of-a-kind pieces for our home that are full of character and charm is the best way to decorate and we are keeping money in the bank doing it!
This painted buffet makeover is one of my favorite projects to date!
PIN THIS POST!

If you liked this painted buffet makeover, you will also love these posts:
Farmhouse Table And Chairs From Curbside Find