Welcome to thrift haul two! If you have a hard time deciding what to pick up from the thrift store to decorate your home, this haul will help.
Shopping thrift stores to search for home decor is so much fun. It can also be overwhelming to some. I get a lot of messages from people who have a hard time figuring out what to pick up from the thrift store that they will actually like in their homes.
I started this series to share ideas of the kinds of items to pick up at the thrift stores to decorate your home. In these posts, I am sharing my thrift hauls and why I picked them up. I don't want anyone to feel overwhelmed, stressed, or intimidated when it comes to thrifting for your home. It should be fun, stress-free, and something to look forward to.
Let's get to this thrift haul two!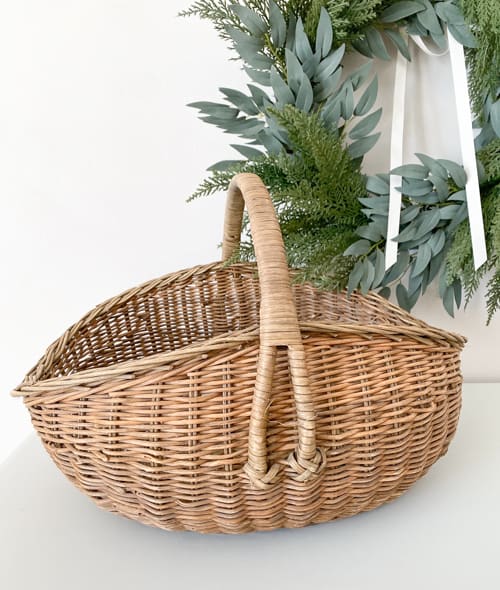 This gathering basket is a great example of a basket that can be used in all kinds of ways. The fact that it is vintage and has a great patina makes it even more appealing. This is a larger basket so it can hold larger items. It would be great to hold throws at the end of a sofa. It could hold flip-flops in an entry. These baskets are perfect on a dining table or large island.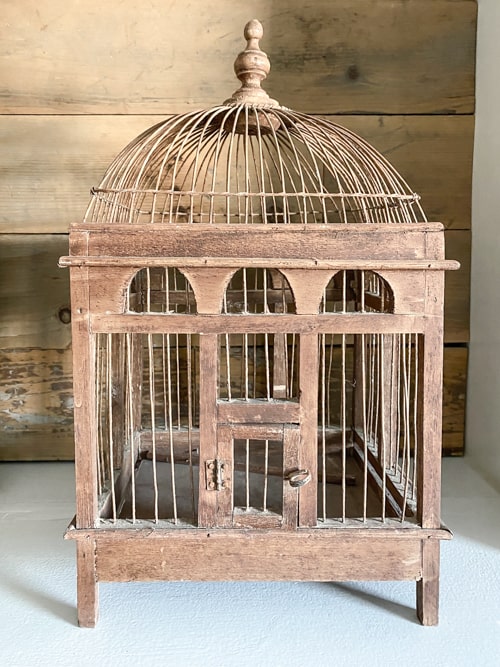 One of my biggest tips for anyone who is thrifting for their home is to shop for all seasons.
If you are shopping in December and you come across spring decor that you love, pick it up. I find Christmas items in the summer and fall items in the winter. This wood birdcage is a fun find. It would make a great statement in a hutch, on a shelf, or on a mantel. You can leave it as-is or add some flowers, a bird nest, or a faux candle inside. They are also fun to put over a diffuser when you are diffusing essential oils.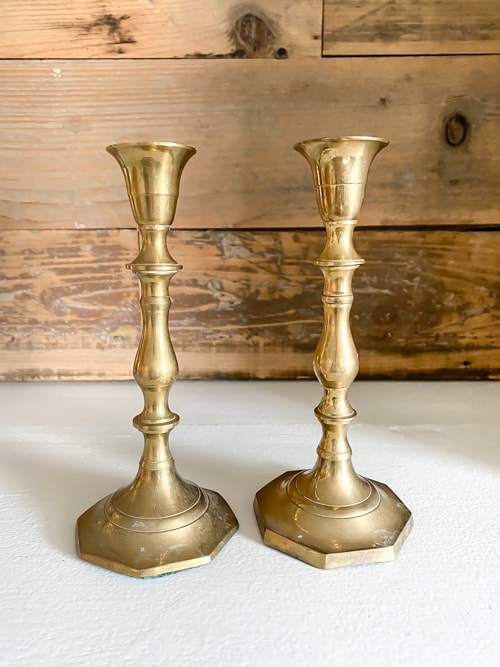 Vintage brass is a good addition to any vignette. Vintage brass candlesticks are always a good find. If you can find a pair, it is like hitting the jackpot. These are gorgeous any time of year but I especially love them around the holidays.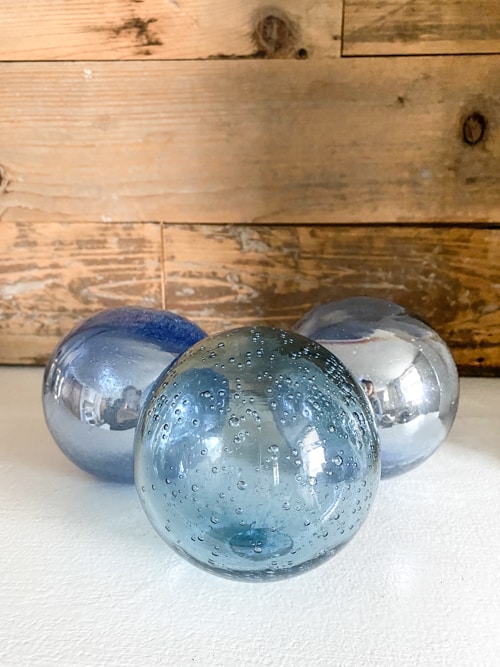 Hand-blown glass is so pretty and these glass balls were so pretty. These are the kind of "unexpected" decor items that is great inside a basket on the coffee table or a large glass jar on a shelf.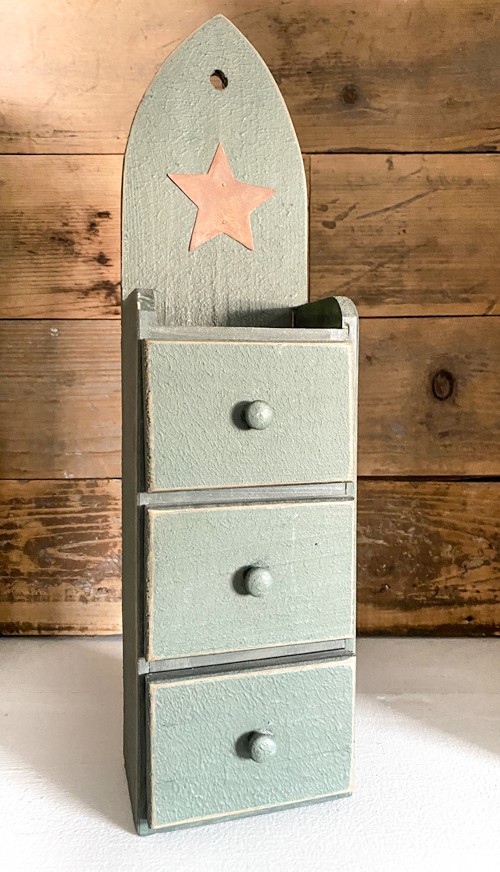 I love searching for anything with small drawers or cubbies. This is a piece I would put on a shelf in a corner. You could hang it as well. You can remove the star if that doesn't fit your style and you could paint it to change the color. Always look past those things when shopping at a thrift store for your home. You can usually change a lot when it comes to the items you are finding. You just have to keep an open mind and think outside of the box.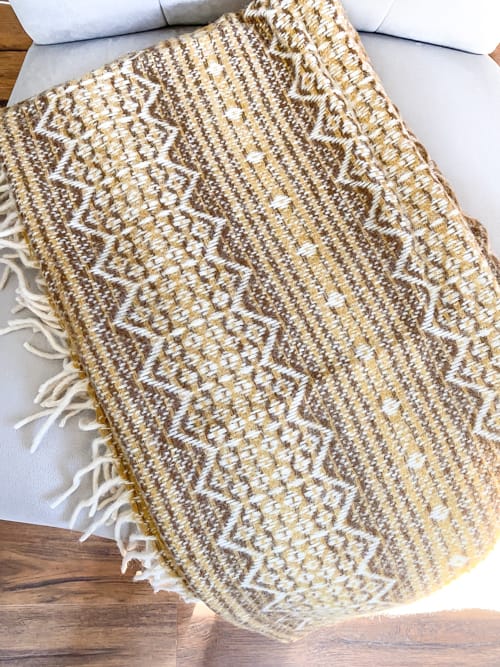 Always check the linen section of your thrift stores.
This thrift haul two has a lot of my favorite things and one of them is vintage wool throws and blankets. This one still had the original tag on it. It was brand new. Changing up throw blankets and pillows in your spaces is an inexpensive way to revive a space and make it feel new. Always check the linen section. You never know what you will come across.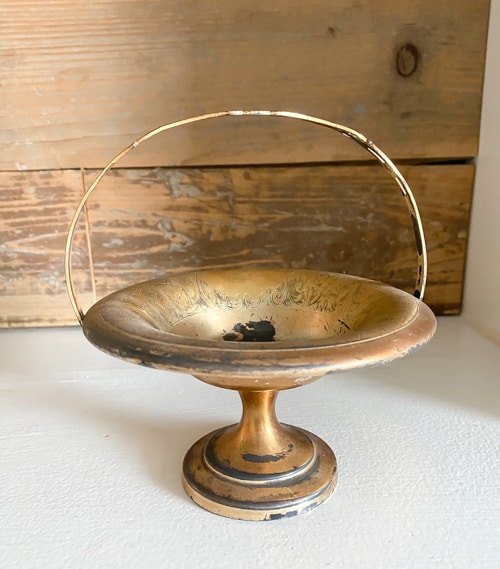 I have seen this referred to as a candy dish and some say it is a vintage ashtray without the glass insert. What do you think it is? When I am browsing a thrift store for home decor, I don't get hung up on what a piece is, if I am not sure. I loved the shape of this piece and thought it would be amazing to hold change and keys at the end of the day OR a great pot for a succulent. Again, thinking outside of the box and seeing pieces that can be used in new ways is a big part of thrifting for decor. The patina and look of this piece drew me to it. I do always use my Google Lens app to find out more information about certain pieces but I don't get stuck or don't buy something because I am not sure what it was used for at one time.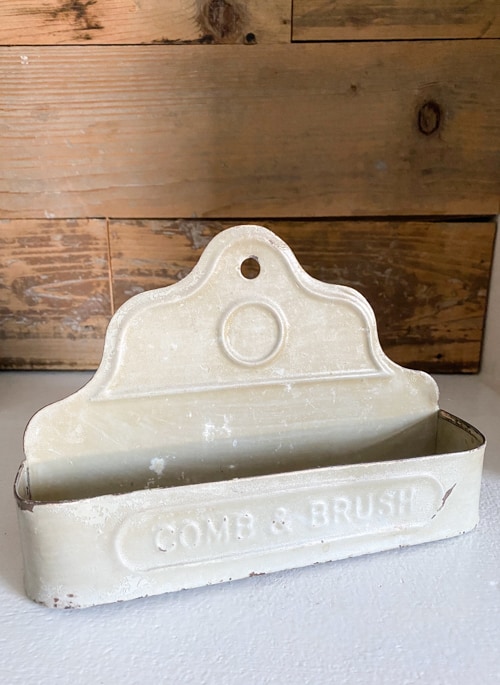 Vintage finds are some of the best finds for the home.
This vintage comb and brush piece is one of my favorite finds recently. I love these kinds of pieces to add to our home because they are conversation pieces that add charm and character no matter where they are. You can store or display all kinds of things in a piece like this too.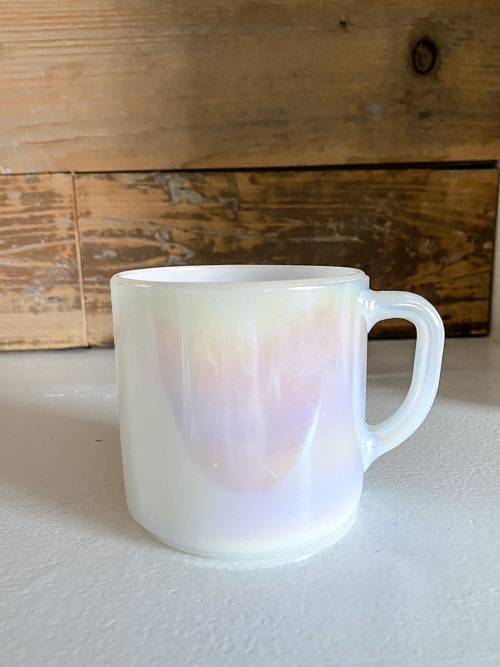 Sometimes, the items I pick up may not be characterized as "decor" but could be used that way. I was so surprised to find this vintage Federal glass Moon Glow mug. They aren't easy to find. It could be used on a desk to hold pens and pencils but it would also be a fun piece to use in the kitchen as it is intended. Having a mismatched mug collection is always fun.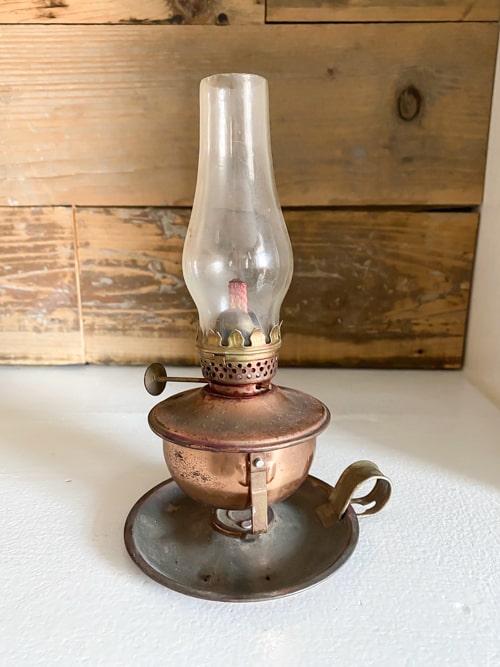 I love vintage metals. This little copper lantern was all intact and is a perfect piece when you need a small addition to any space in your home.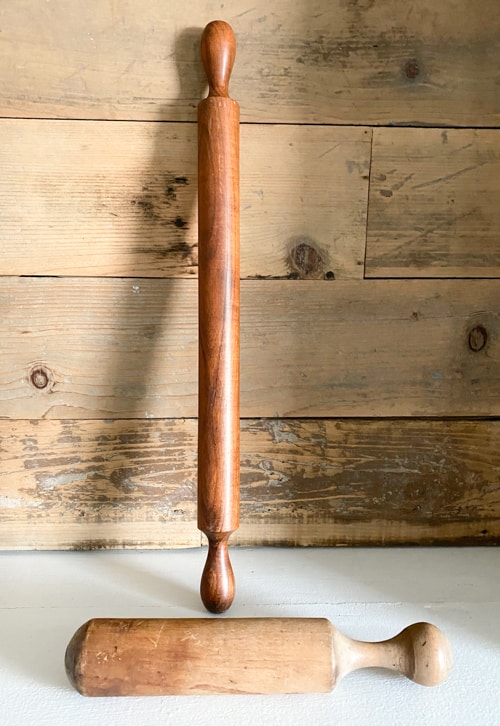 Vintage wood utensils are a great addition to any kitchen. The patina on the wood is usually really good. I like to have these in a container that sits inside an old box next to our oven.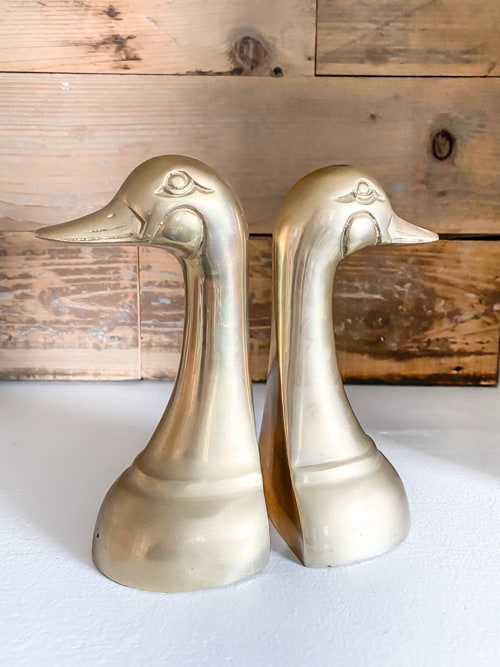 Another amazing brass find. These duck bookends are so good. Again, finding the pair is amazing. They would be a perfect addition to holding a collection of old books on a shelf.
Have fun when shopping your thrift stores for decor!
Whenever I share these hauls, I love to hear what your favorite find was. In this thrift haul two, what was your favorite? Which items would you have picked up and which would you have left at the store?
I would also love to hear if you find these posts helpful. Does it help you to look at things differently or give you ideas to take with you next time you are in the thrift store?
I share all of my weekly thrift hauls on my YouTube channel HERE. Head over there to follow along and SUBSCRIBE so you don't miss any of them.
I have also been asked many times if I would sell my finds so I have started a shop page where you can shop my thrifted finds. I launch new items every Wednesday at noon, central time. You can find my shop page HERE.
PIN THIS POST!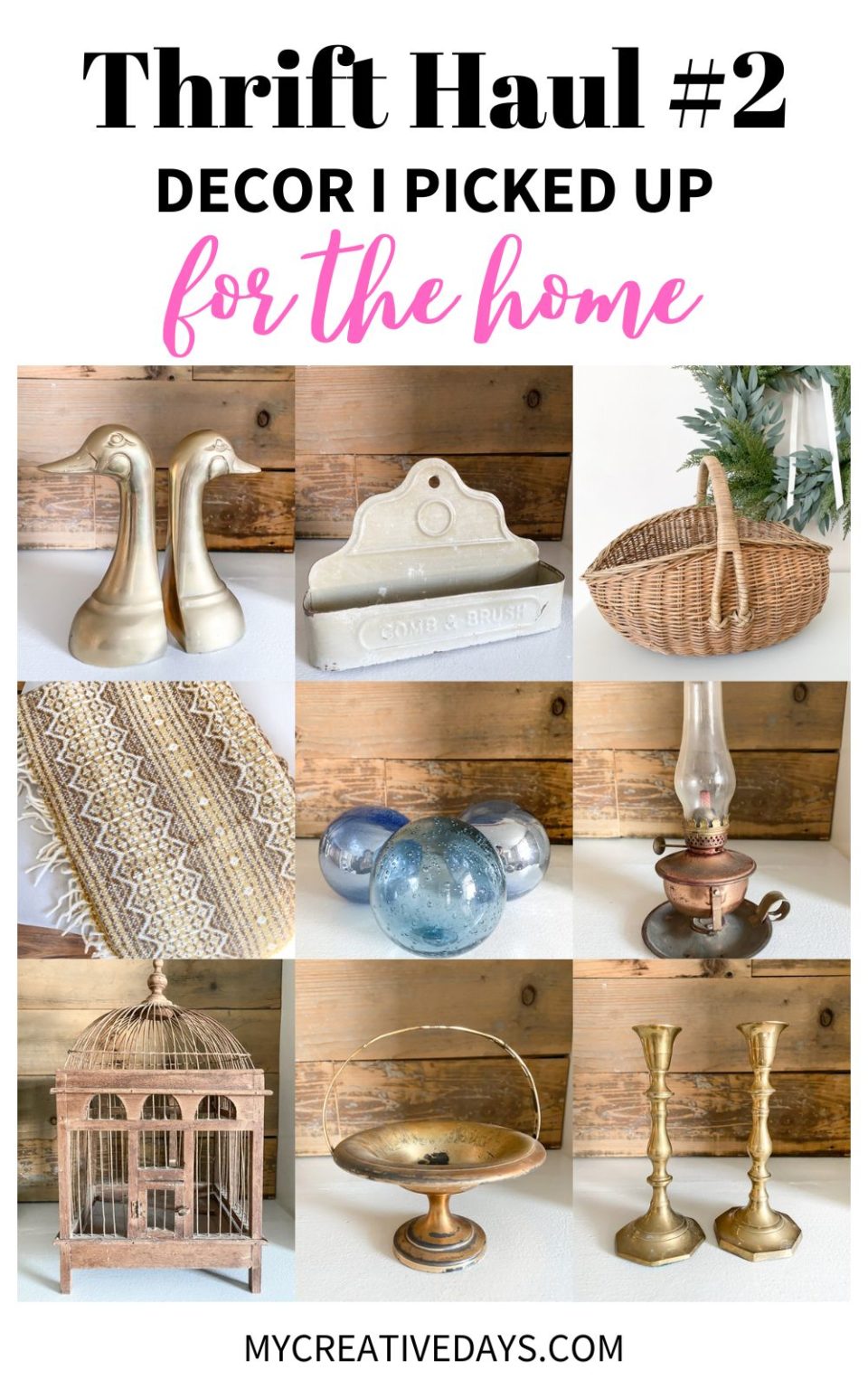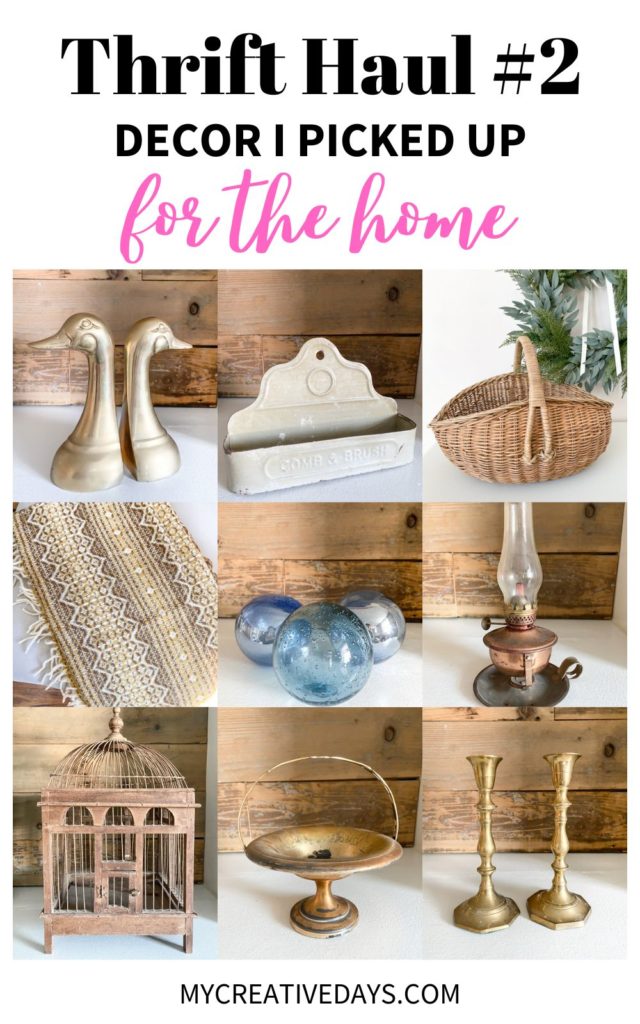 If you liked this thrift haul two, you will also like these posts:
5 Tips For Buying Thrifted Decor
What To Buy At Thrift Stores To Decorate Your Home