This Slow Cooker Spaghetti shop has been compensated by Collective Bias, Inc. and its advertiser. All opinions are mine alone. #CampbellSavings #CollectiveBias
The school season is creeping up quicker than I would like. This summer, we have been very busy with camps, play dates, 3 on 3 basketball and the pool. As the summer has kept us so busy, I had the feeling a couple of times that maybe we were too busy. Summer break is for relaxing and not being so regimented like we are during the school year, right?
As the summer break is winding down and we don't have anything "scheduled" for the last few weeks of break, I am starting to get things ready for the school season. One of those "things" is coming up with easy meals that will ensure we have time for a family dinner together every night. This Slow Cooker Spaghetti with chicken is one of those meals. The slow cooker does most of the work and I make an easy bruschetta and side salad to go with it and dinner is ready in no time.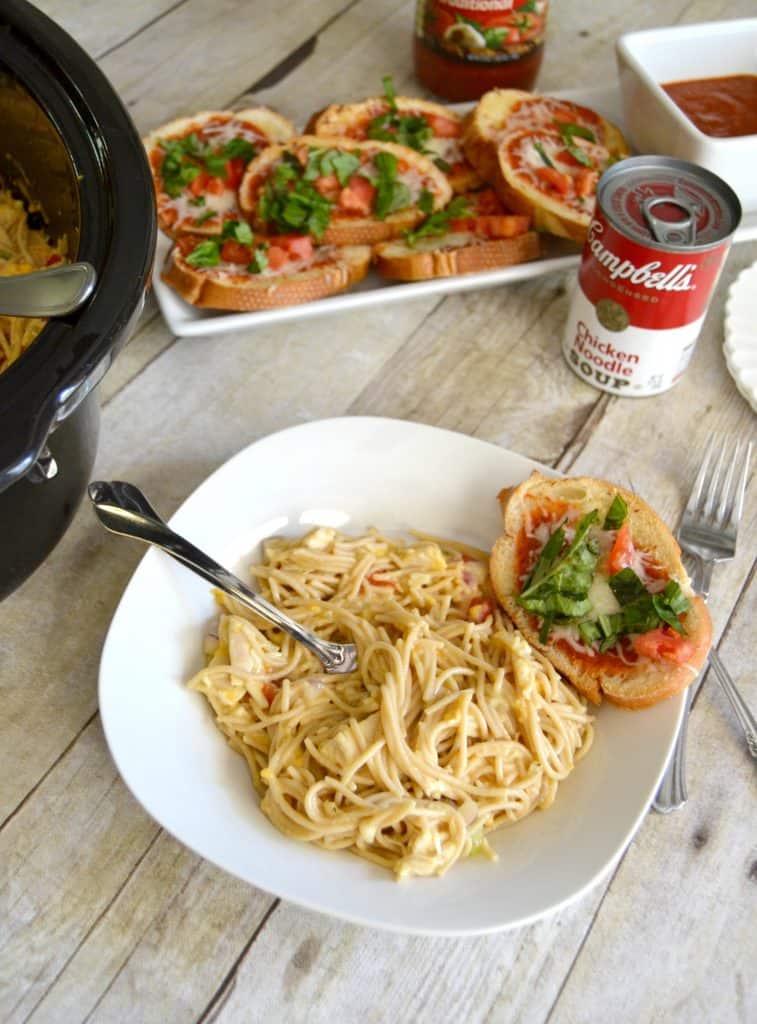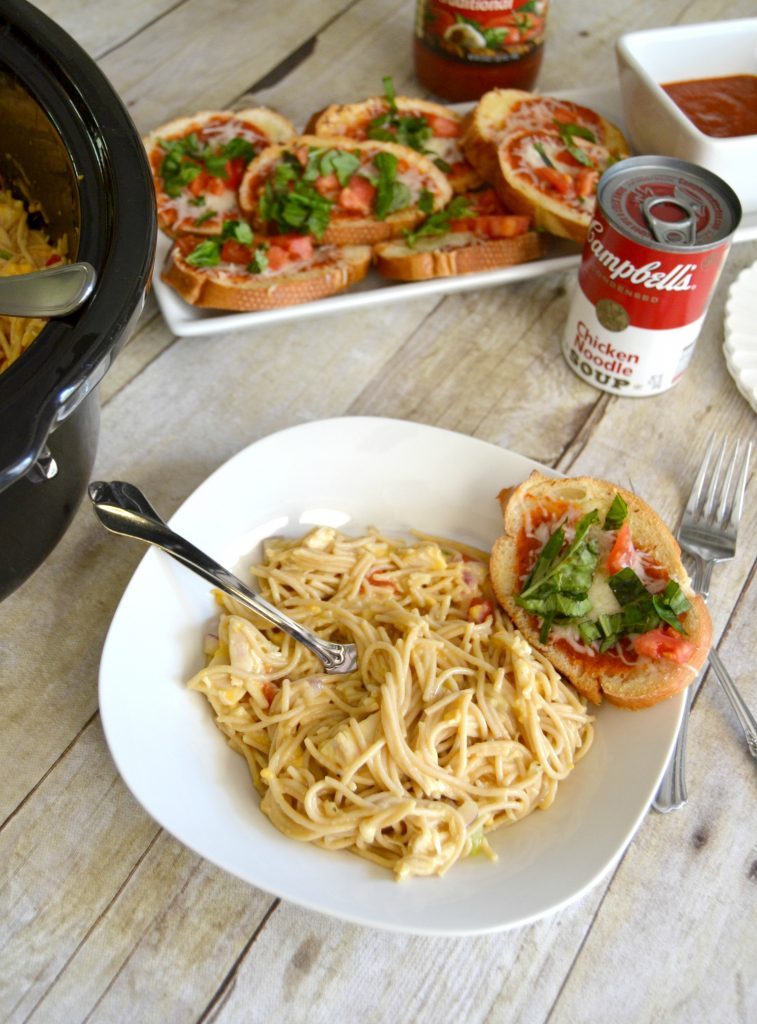 Slow Cooker Spaghetti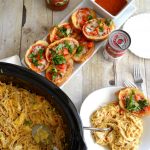 1/2 onion (diced)

small red bell pepper (diced)

1 small green bell pepper (diced)

1 tsp. garlic powder

Italian seasoning – 1 tsp.

salt & pepper (to taste)

1/2 to 1 full rotisserie chicken (shredded)

can Campbell's Chicken Noodle Soup

1 can Cream of Chicken Soup

1 lb. cooked whole grain spaghetti

3 c. shredded cheddar cheese

a few splashes of milk or chicken stock
Mix onions, peppers, garlic powder, Italian seasoning, salt, pepper, chicken, cream of chicken soup, Campbell's Chicken Noodle Soup and 1 cup of the shredded cheese together in a crock-pot.

Cook on low for 2-3 hours.

Pour in cooked spaghetti and remaining cheese.

Toss to coat the pasta in the sauce and melt the cheese. I add a few splashes of milk or chicken stock if the sauce needs it.

Cook another 20-30 minutes on low and it is ready to serve.
Campbell's Chicken Noodle Soup is full of mouth-watering flavors your family will love and it makes this sauce taste like it has been cooking all day. It is a traditional family favorite loved by kids for generations and generations.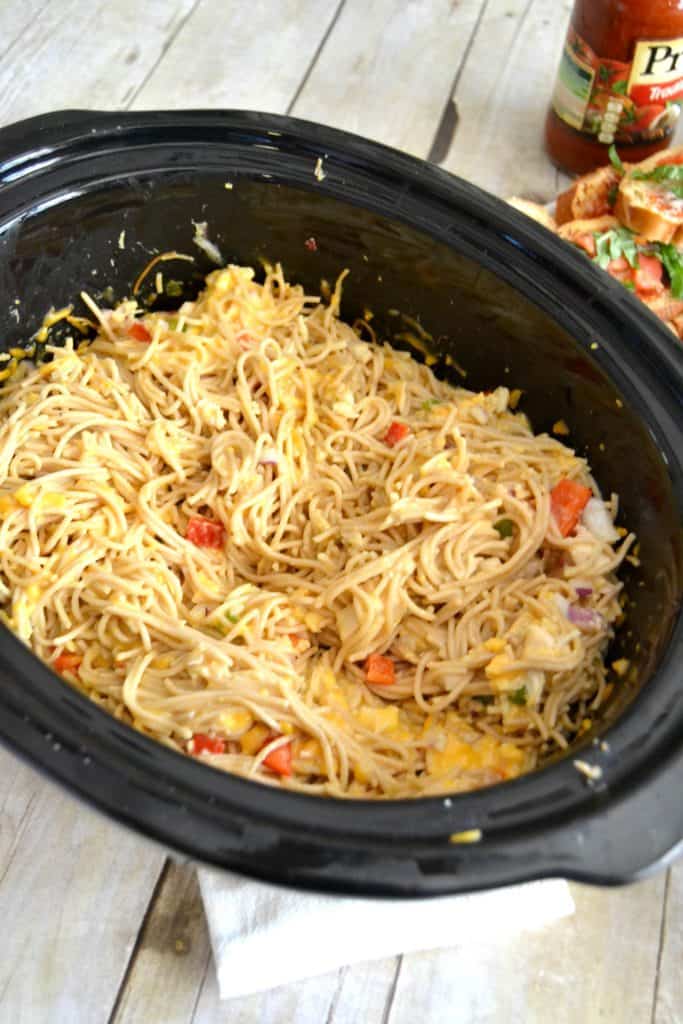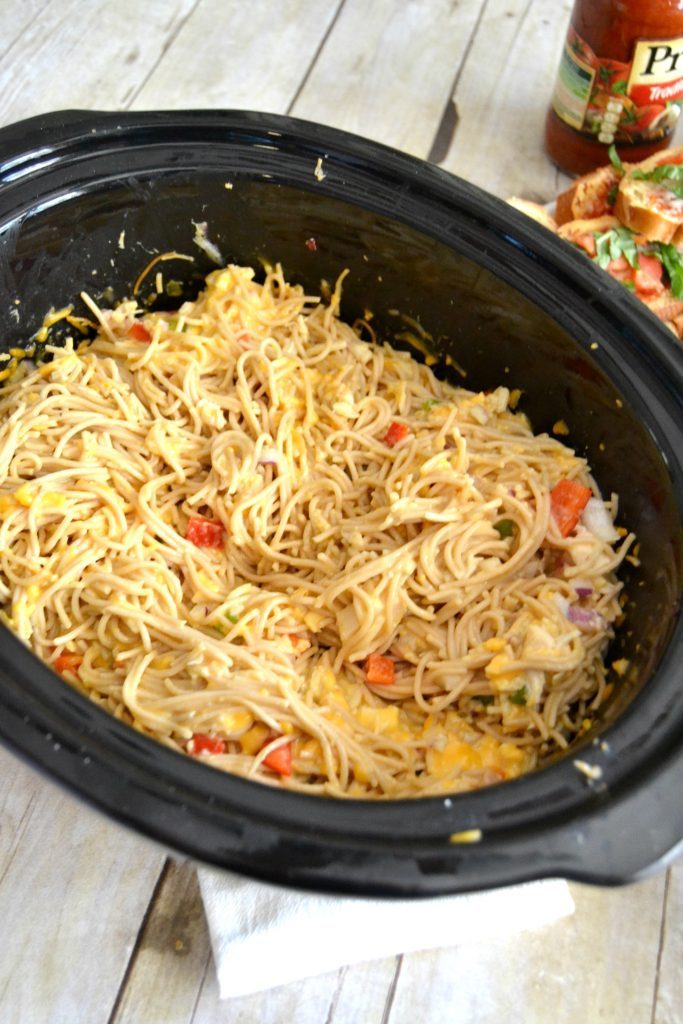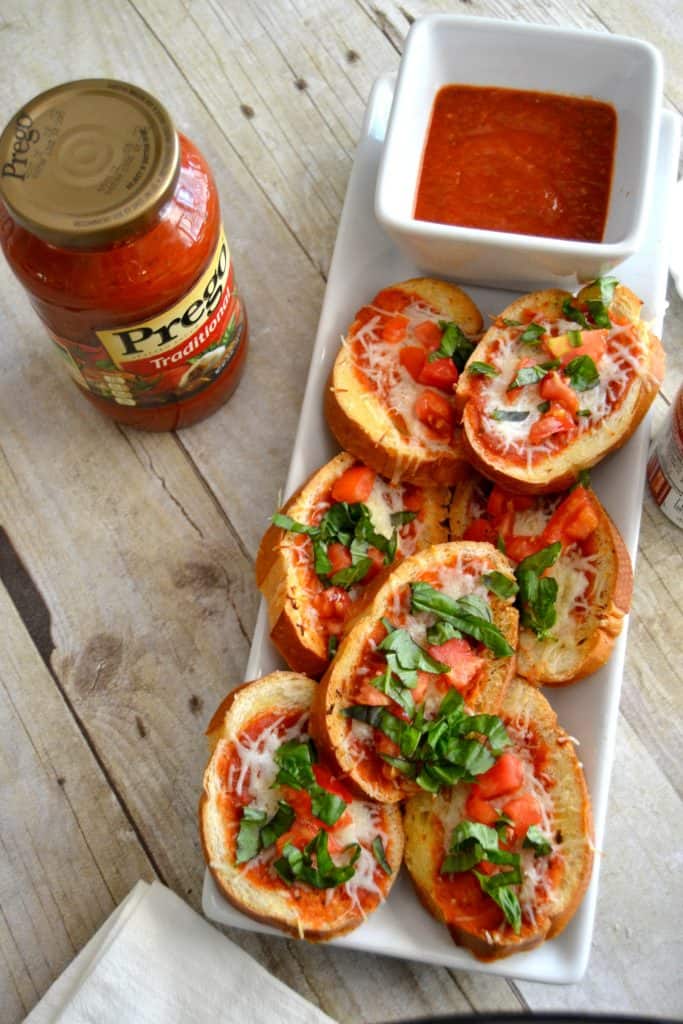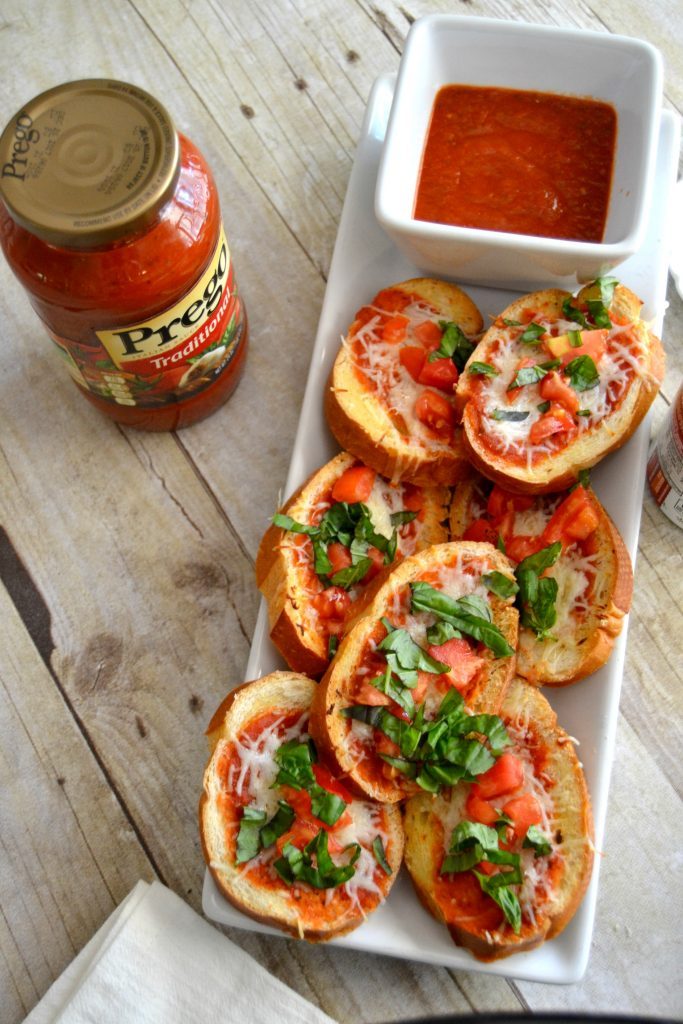 To make an easy bruschetta to go along with the Slow Cooker Spaghetti, slice a loaf of French bread. (I used a French loaf this time, but you can use whatever you like or have on hand). Spread butter on each slice and sprinkle garlic powder on them. Put the slices on a cookie sheet and bake in a 350° oven for about 6-8 minutes (until they start to get crispy).
Remove the sheet from the oven and spread each slice with Prego Italian Sauce and sprinkle them with mozzarella cheese. Put them back in the oven for a few minutes until the cheese melts. Bring them out and top them with diced, garden fresh tomatoes and chopped basil. YUMMO! Prego Italian Sauce is rooted in Italian American heritage and has a great homemade taste. It is the perfect balance of sweet and savory Italian flavor and makes the perfect base for this easy take on bruschetta.
The bread is the first thing that is gone every, single time!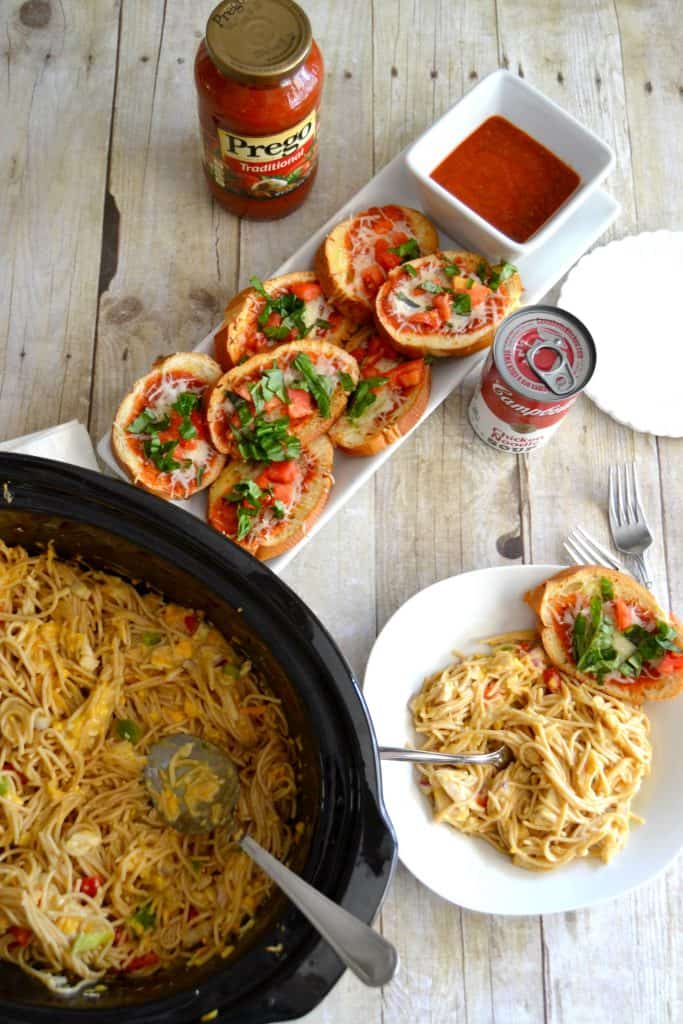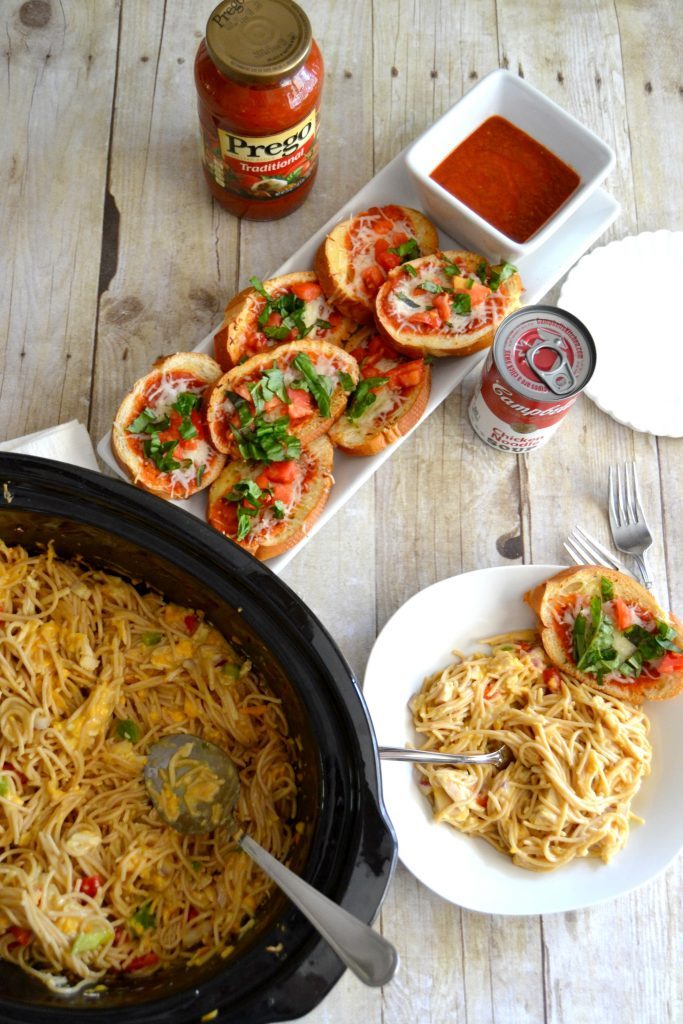 I found both the Prego Italian Sauce and Campbell's Chicken Noodle Soup at my local Walmart in the soup and Italian aisles.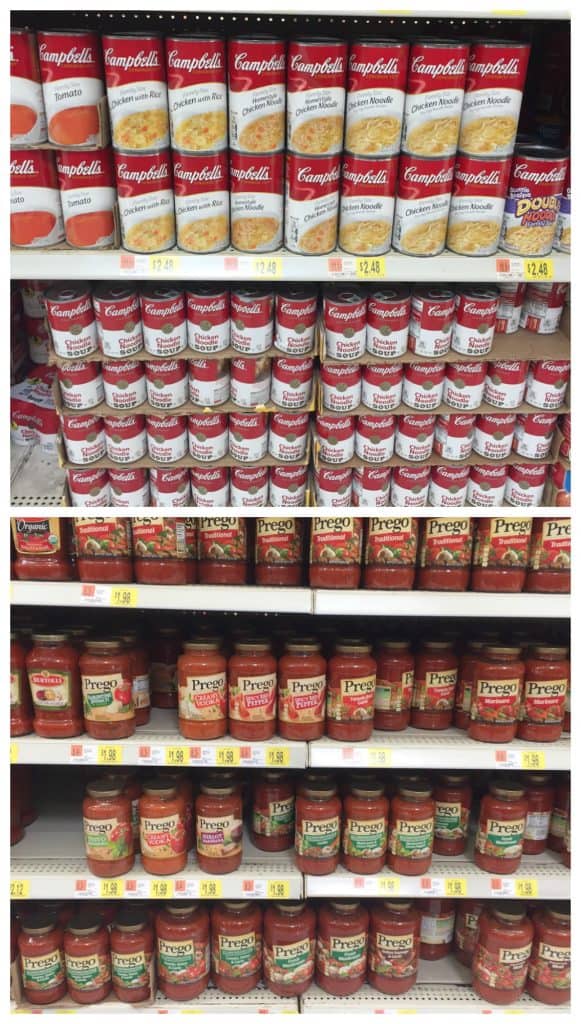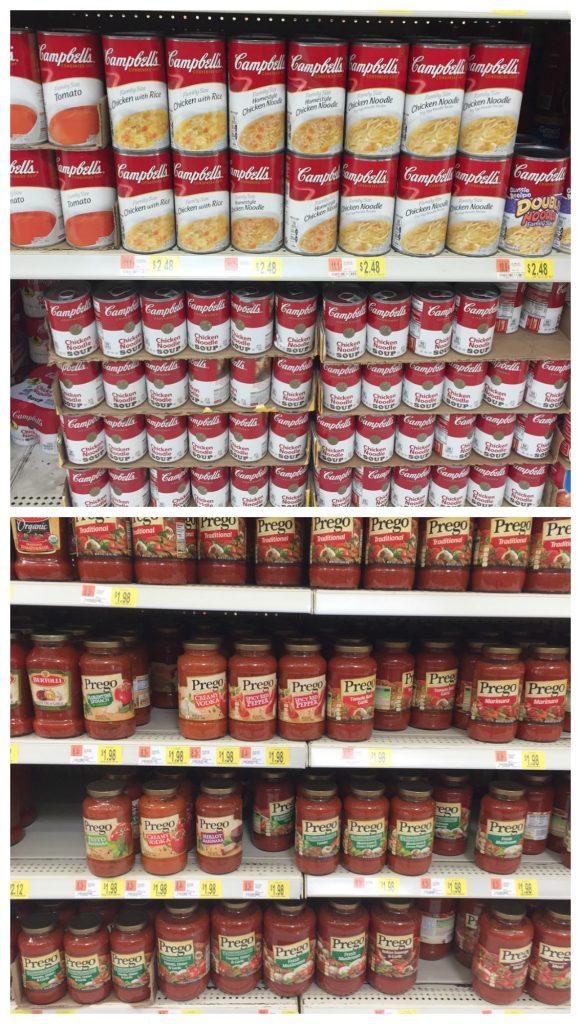 What are some of your favorite easy meals to serve your family during the busy school season? What staple ingredients to you always have on hand to make great recipes?
PIN THIS POST!


If you liked this slow cooker spaghetti recipe, you will also love these recipes:
Soup Recipes That Your Family Will Love
3 Ingredient Slow Cooker Meatballs