I have a game-changer tool for you today! This paint sprayer will paint a room in minutes.
We are knee-deep in our third flip house project and just like with the other two, we are learning new and different things every time we are there. This flip house is different than the other two in that we have had to do a lot of cleaning and prep work before we could do any painting or other changes. So far, we have learned The Best Smoke Odor Eliminator For Stained Ceilings (what a difference that made), and today, I am sharing the new tool that had the entire inside of the house primed in one hour. The living room took less than ten minutes.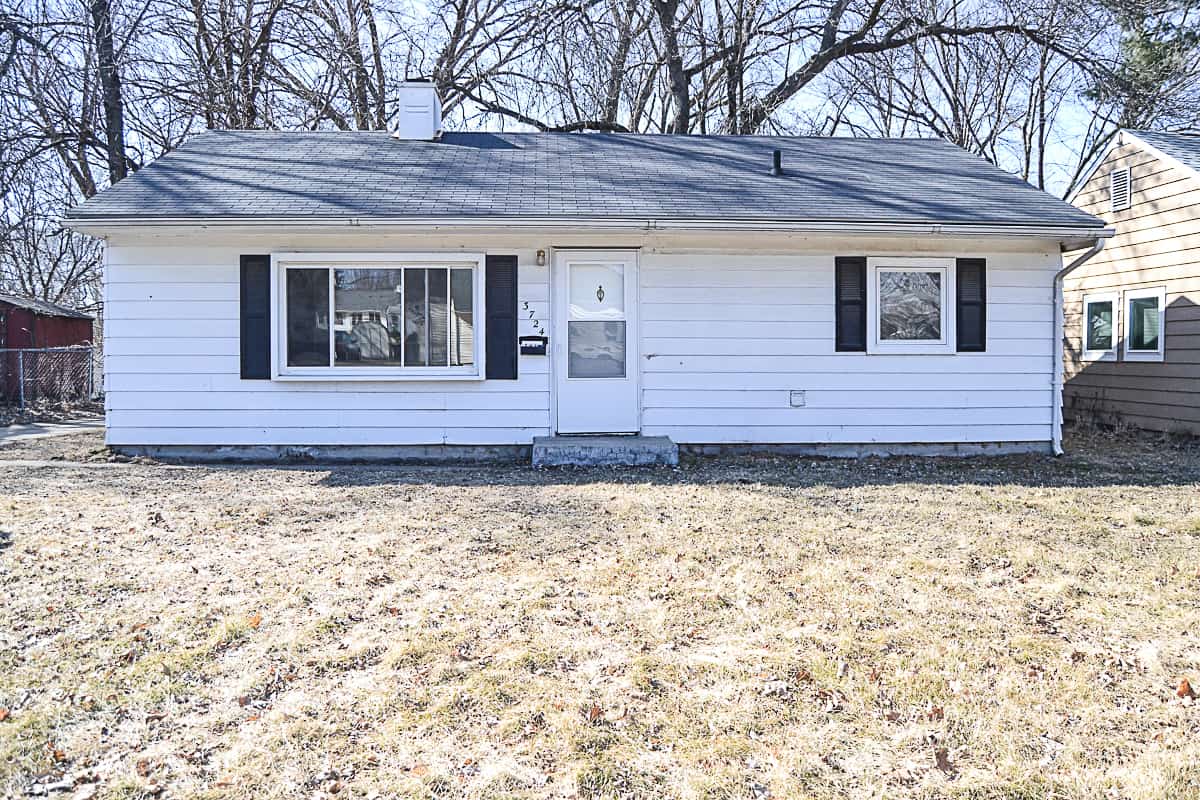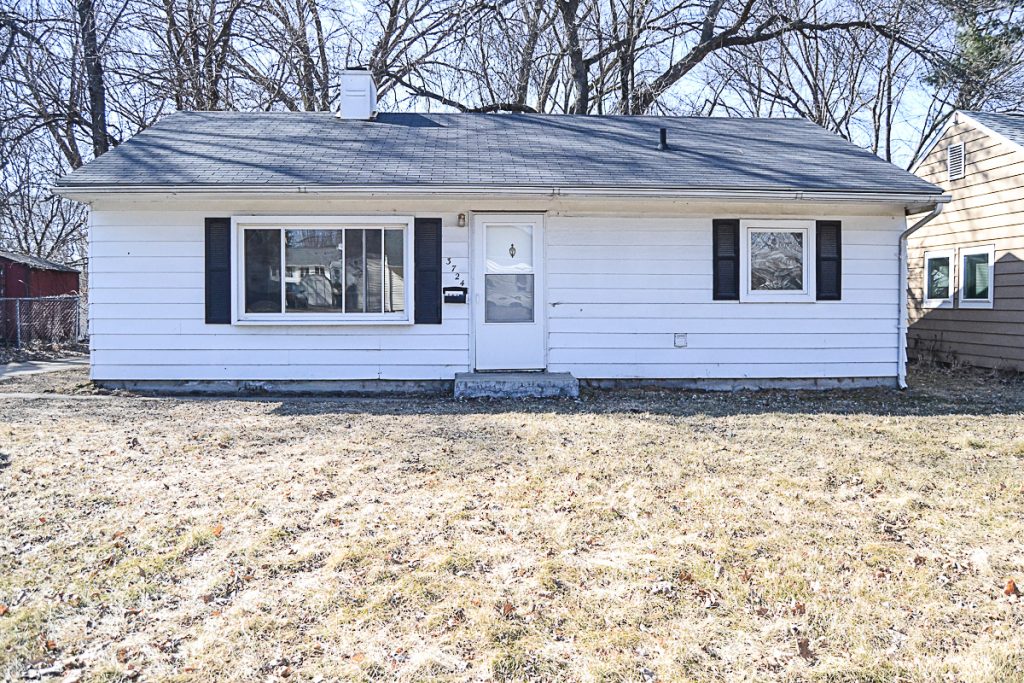 (Affiliate links are used in this post. You can see my full disclosure HERE.)
We are flipping a small house. It is a three-bedroom, one-bath house that doesn't have a basement. The paint sprayer helped us get the priming done fast, but the fact that it was done in under an hour was because of the size of the house. If we had a bigger home, the time would have doubled. But even then, if I can prime or paint all the walls in an entire house in a few hours, I am all in.
Let me introduce you to the HomeRight Power Flo Pro 2800.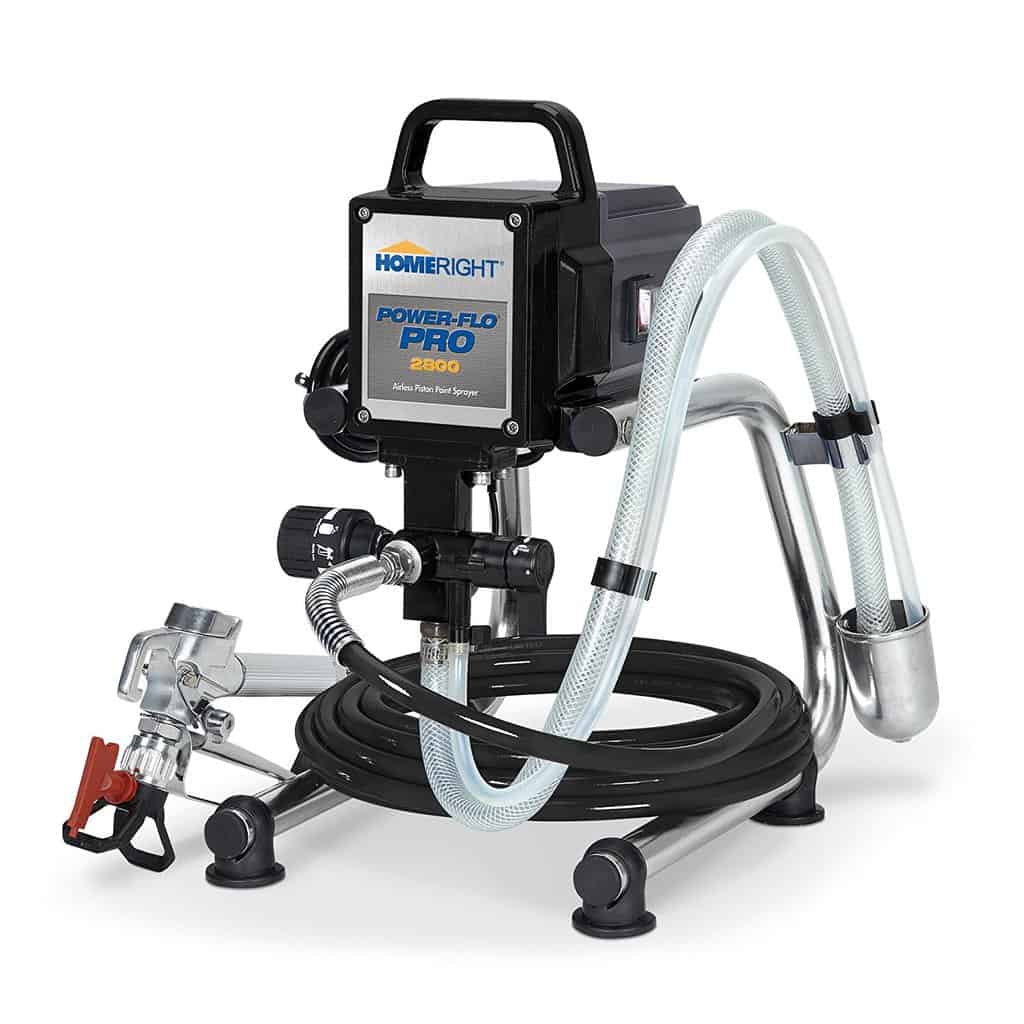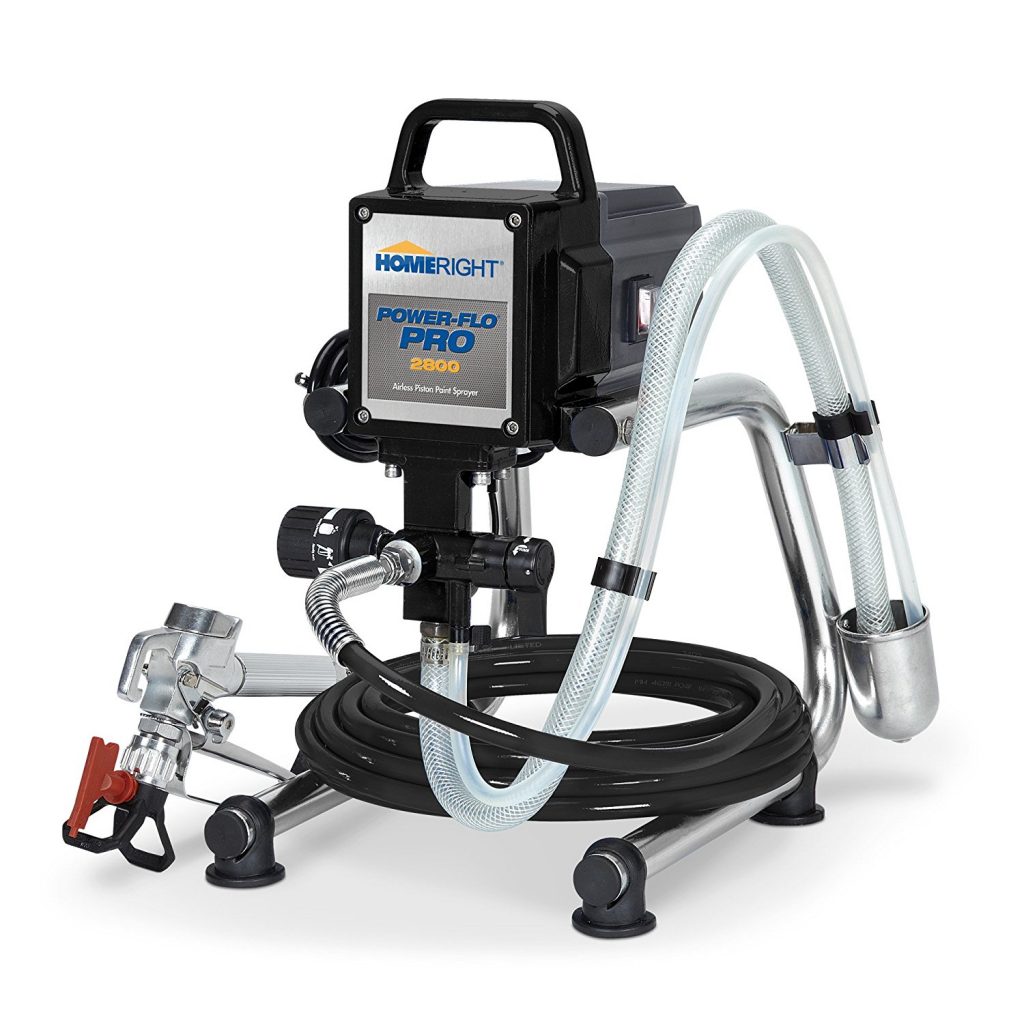 This paint sprayer is magical! Matt and I were high-fiving and so happy with how well it worked.
It took us a little time to figure out how to set it up

(I should probably write a post about how to do that), but once we had it together

, we were off to the races. Matt was so excited to use the paint sprayer in the flip house because he knew it would make light work of the priming and painting. HE WAS RIGHT! After we cleaned the ceilings and walls, we knew we were going to have to prime everything before we painted. To cut down on all that painting time, Matt and I were talking about a bigger paint sprayer because we had a blank shell and needed every inch primed and painted. This flip house was a perfect candidate to try the HomeRight Power Flo Pro 2800

.
I did a Facebook live video and a few Instagram stories while we were doing the priming because we were so excited about it and I had to share it. Projects like that where you can see the change instantly always have me mesmerized. If I didn't have other work to do, I could have watched Matt spray for the entire hour. It was instant gratification. When you are knee deep in a flip house and think you will never see the end, something like using this paint sprayer is the light at the end of the tunnel you need to keep pushing through.
To prep the house for the paint sprayer, we covered all of the windows with plastic. Then, we covered all of the outlets, switches, and the thermostat with painter's tape.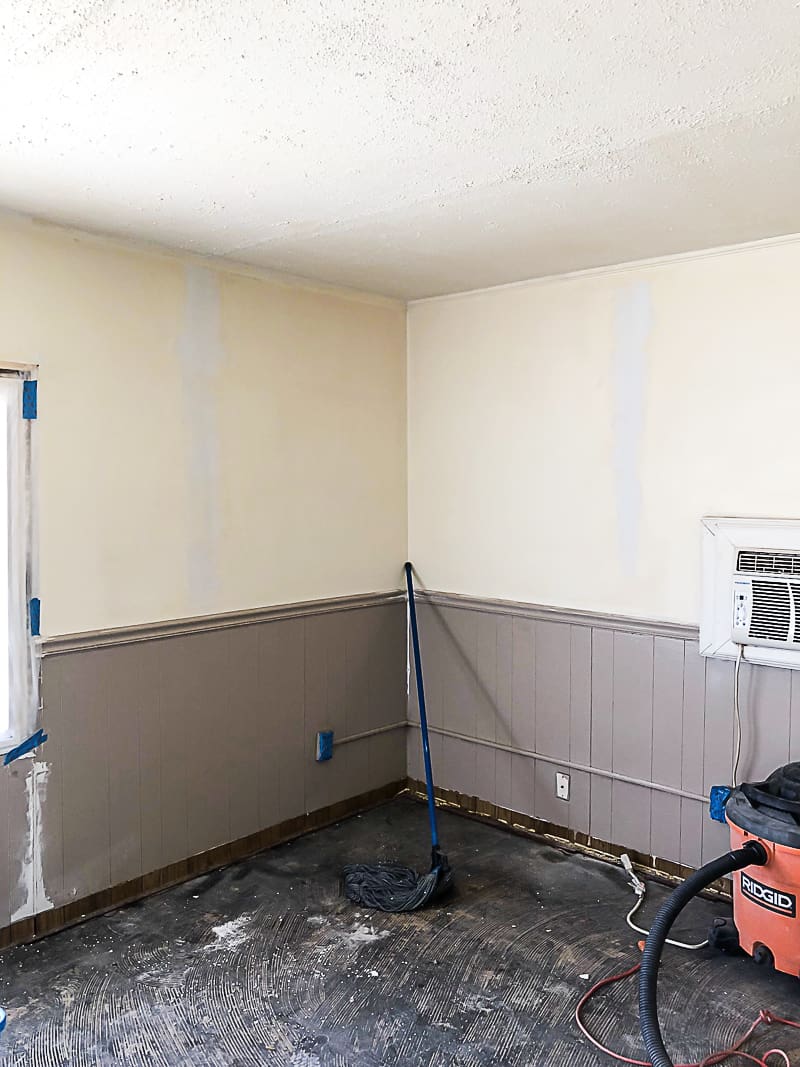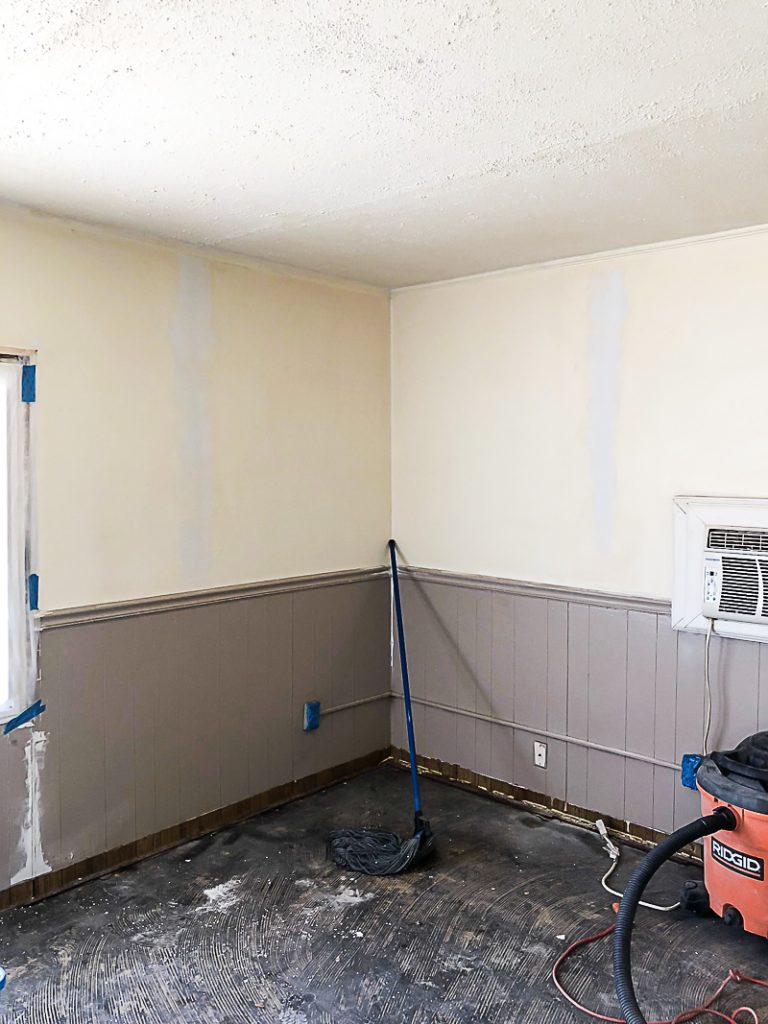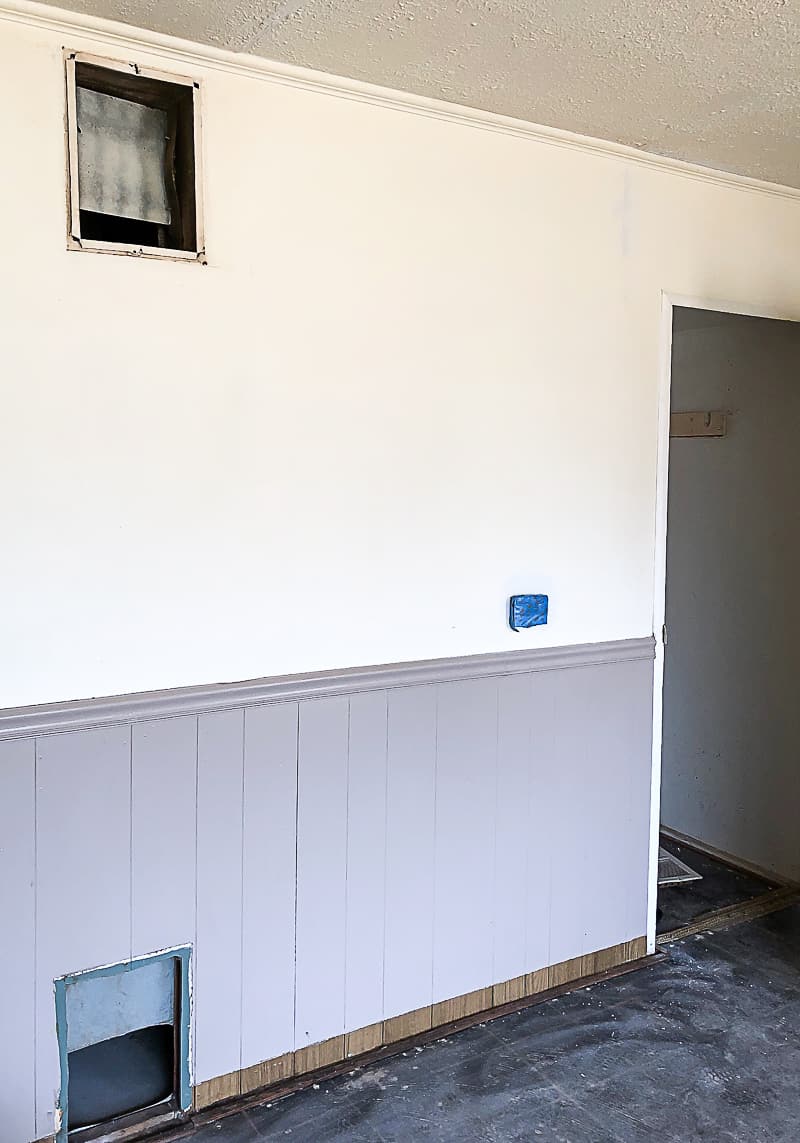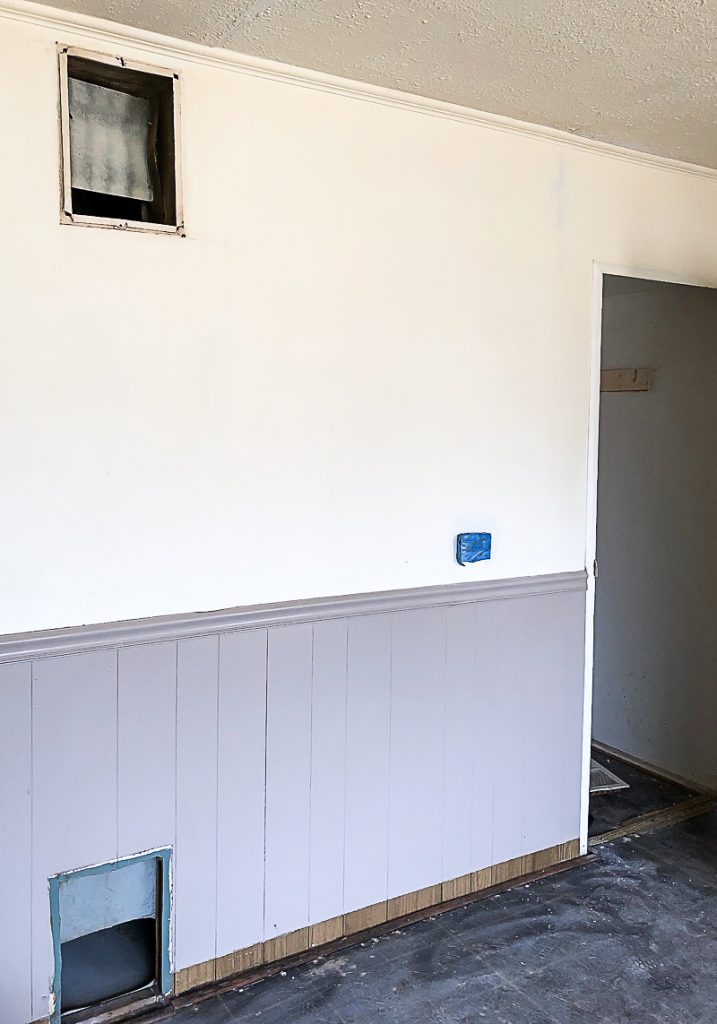 The spray was easy to control so we weren't worried about overspray. We knew we needed every inch of the house primed so Matt just went to town once we got it set up.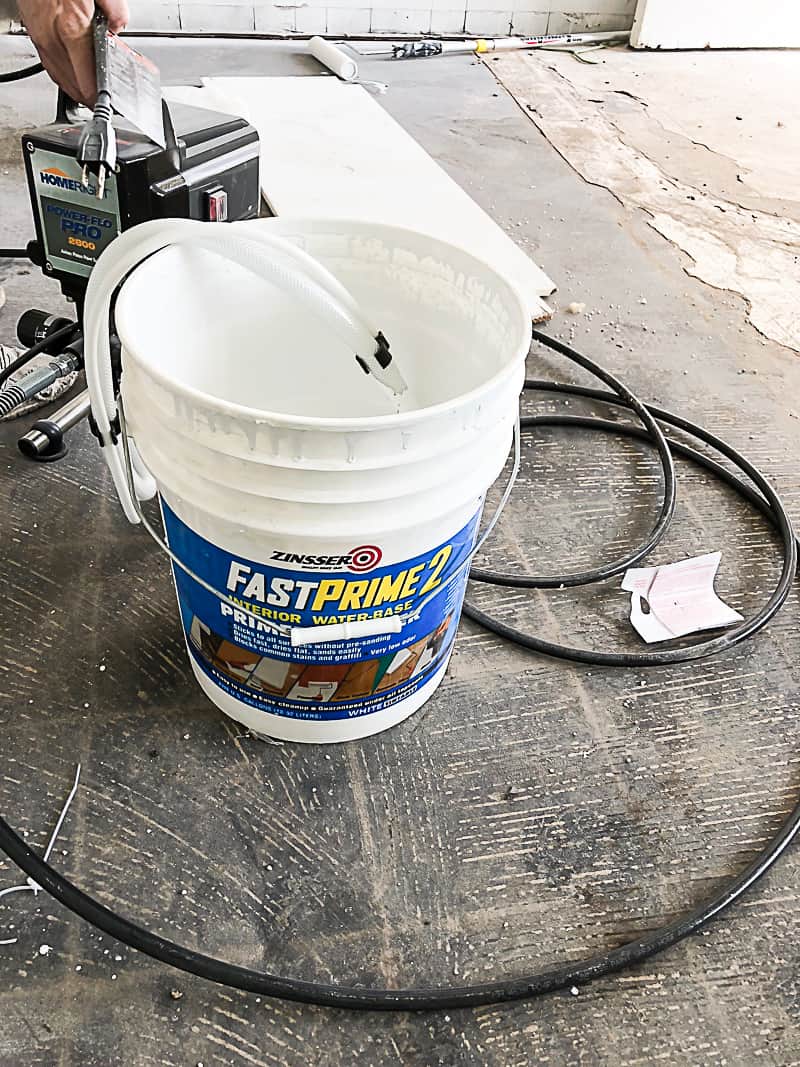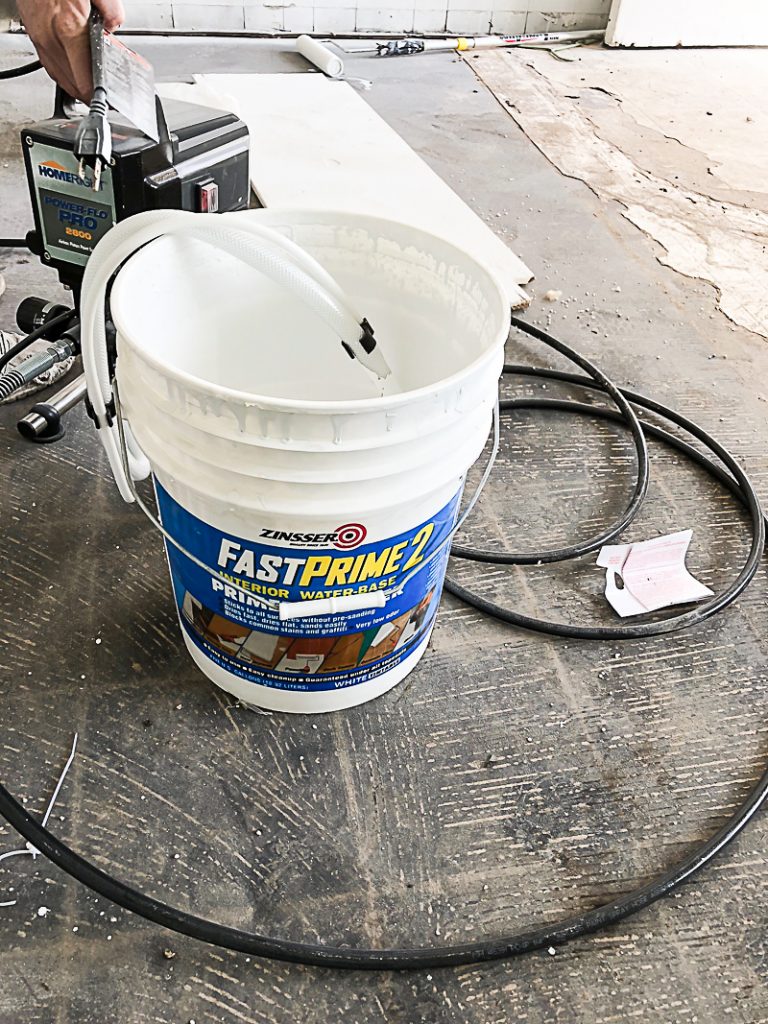 We bought one 5-gallon bucket of primer to do the house. Halfway through, I needed to go get another 5-gallon bucket. The walls were so dark and dingy from being vacant for so long, that we had to do a few coats of the primer before we felt like we had good coverage and it would be ready for paint.
One of our favorite things about this paint sprayer was how easy it was to clean!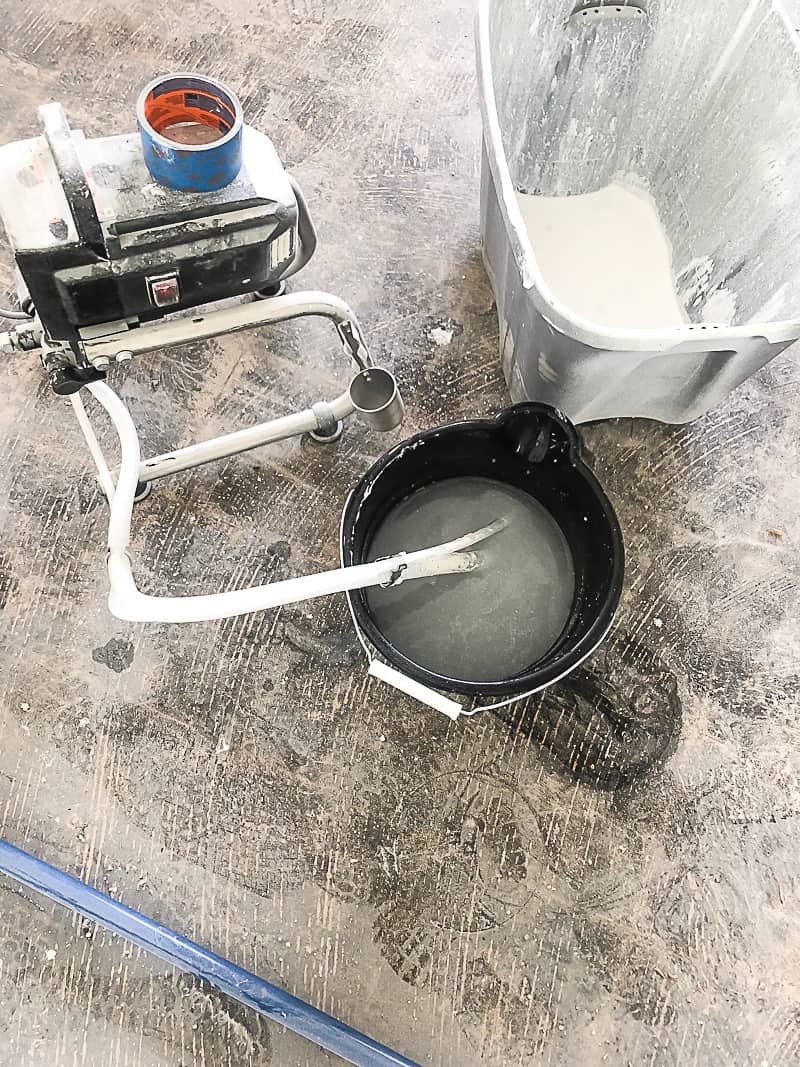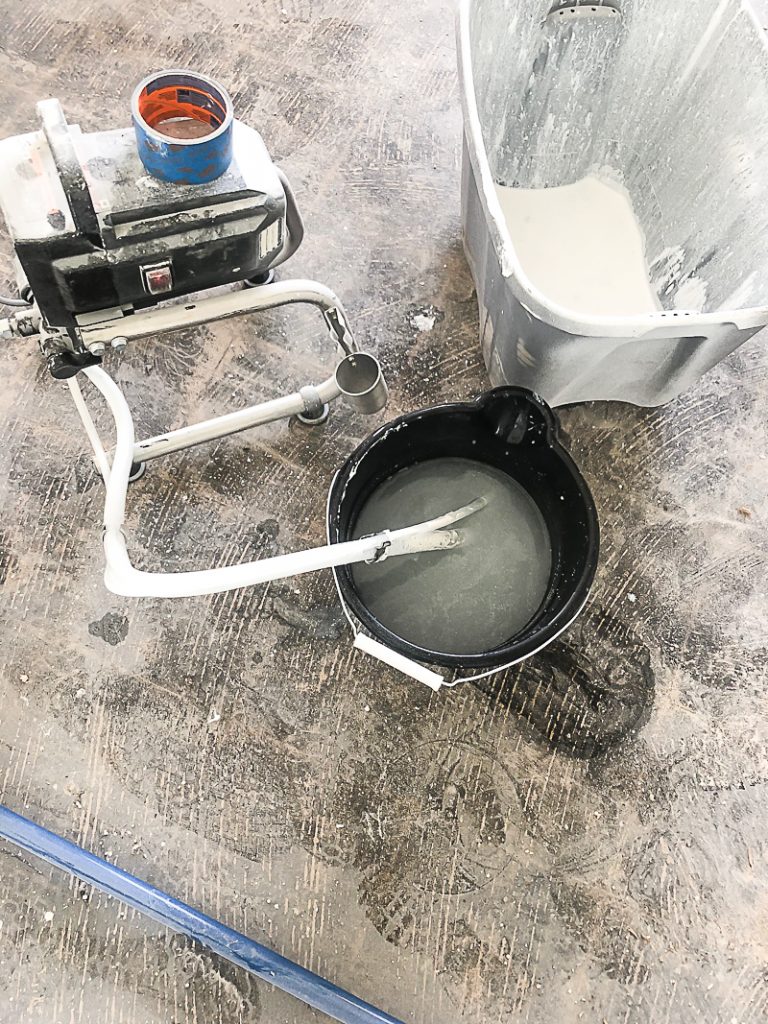 We filled a bucket with hot water. Then, we ran water through the paint sprayer until the water coming out was clear. Matt took some time to clean the spray nozzle too, but it was not hard or time-consuming.
We are so happy with this paint sprayer. We would recommend it to anyone doing bigger paint jobs.
Now, I am just basking in the white primer all over the walls and ceilings in the flip house. It looks cleaner and newer already. Now, I am so excited to start picking our paint colors and designing the kitchen and bathroom. Thanks to the paint sprayer, I have the wind under my wings again and I am excited to get this house done.
Have you used a paint sprayer? What is your favorite thing about it?
Here's a quick video to show you how great the HomeRight Power Flo Pro 2800 works!
PIN THIS POST!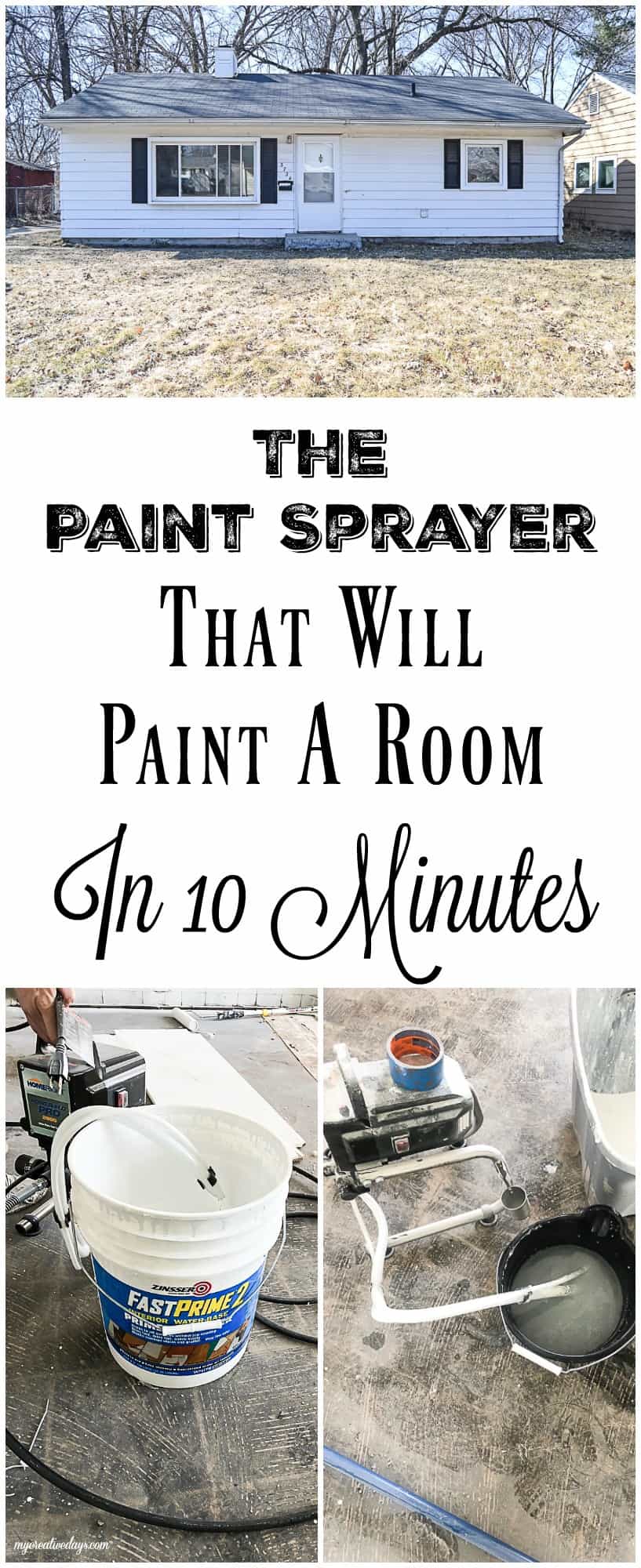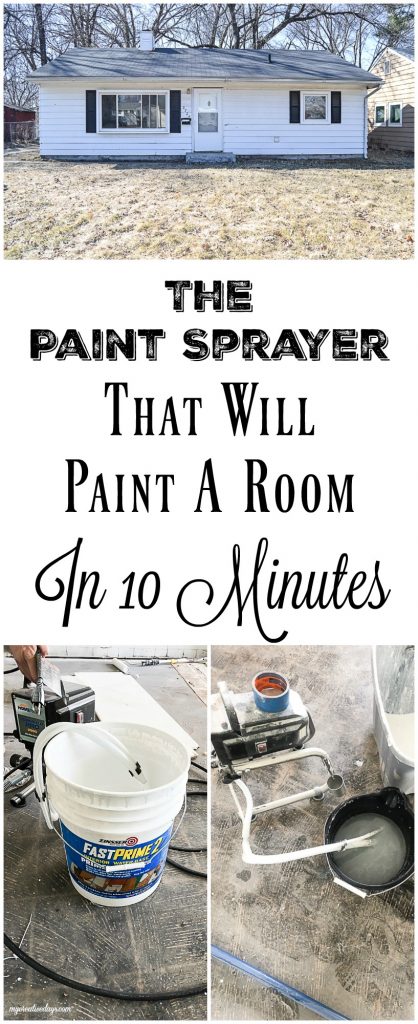 If you liked this paint sprayer post, you will also love these time saving posts for projects:
10 Tips On How To Paint Furniture
How To Brighten Up Your Space Without Paint