Custom wood signs have come a long way. There are so many beautiful options to choose from these days. When we started our family room refresh, I wanted to paint over the words I stenciled on the wall years ago. I didn't think much of it because I am always changing things around here, but when I said I was going to paint over the words, our kids really had an opinion about it. They didn't want to see the words go. They loved the saying and liked it in the family room. Who knew? They have never said a word about it before, but I had never said I was getting rid of it either.
The kids had known those words to be on our family room walls forever. They grew up with those words on the wall. Now, we were talking about changing it and they had something to say about it. To be honest….. I loved that they loved it. I loved that they spoke up about it and really had an opinion about it.
Now, my challenge was to come up with a way to keep the saying and still do the makeover I wanted to do.
This is what the family room looked like before we gave it a makeover.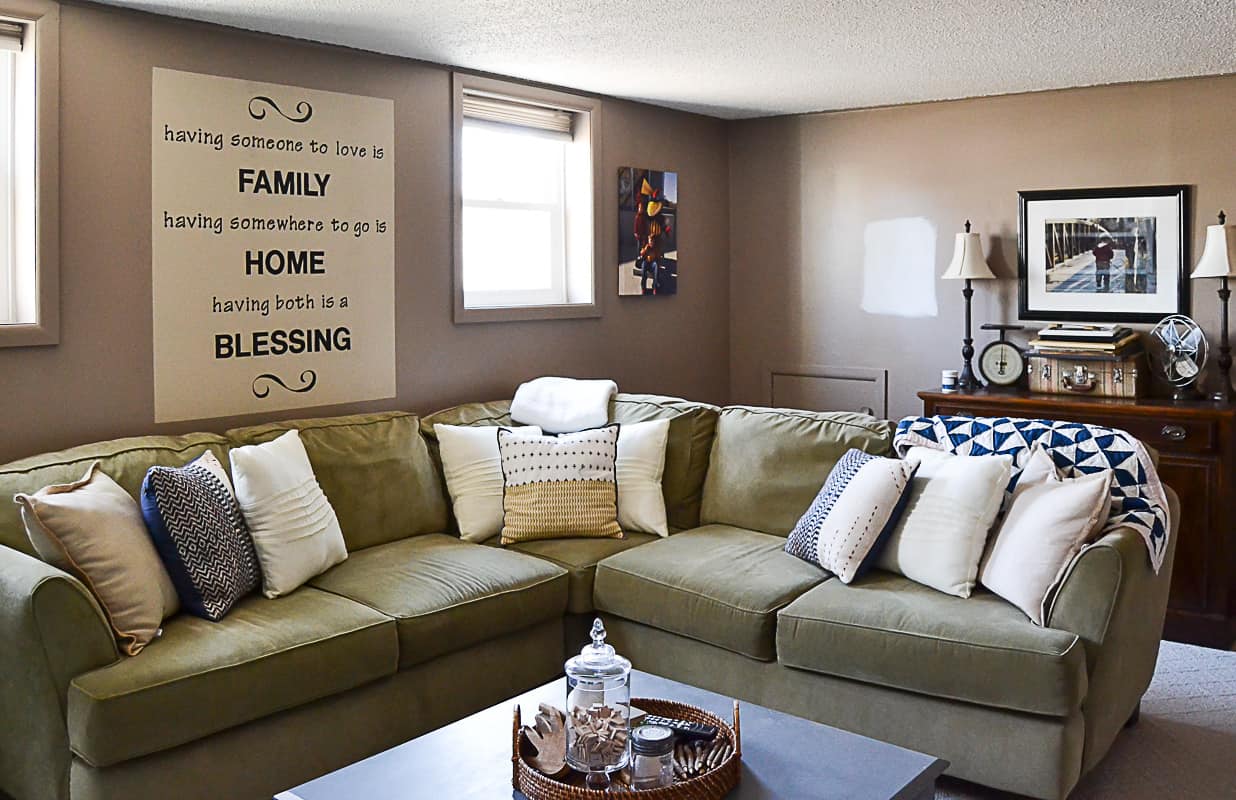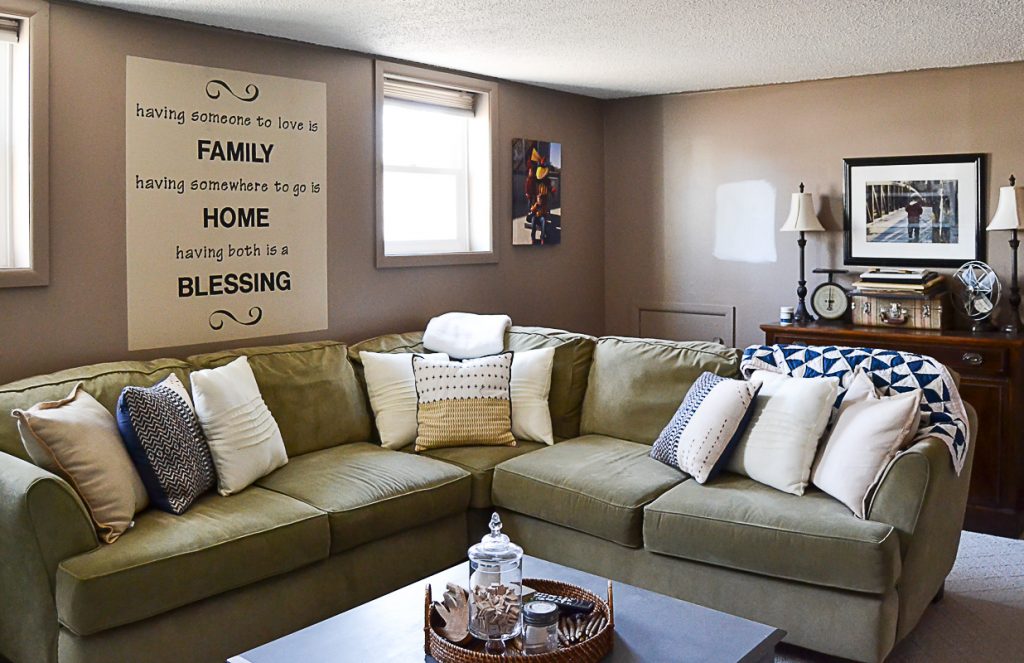 (Affiliate links are used in this post. You can see my full disclosure HERE.)
The room was just too dark and I just wanted to move some things around a bit.
After we painted the walls, I wanted to surprise the kids by bringing the saying back in a new way. I thought custom wood signs were the way to go. I reached out to Naella from

The Country Barn NH

on Etsy and told her what I was looking for. After a few emails back and forth, she created the perfect custom wood sign for our family room makeover.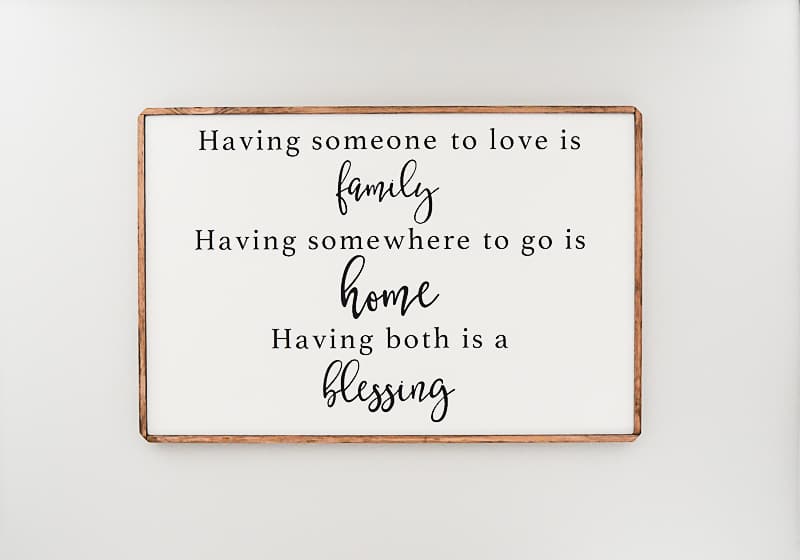 You guys!!!!! Look at it!!! Isn't is perfect! I shared the unboxing on my Instagram stories. I received it the night before we were leaving for our Minneapolis trip and couldn't wait until we got home to open it. So, I opened it and shared our initial reaction on Instagram. The kids were so excited. Gabrielle did a happy dance (off-camera) as I was sharing it.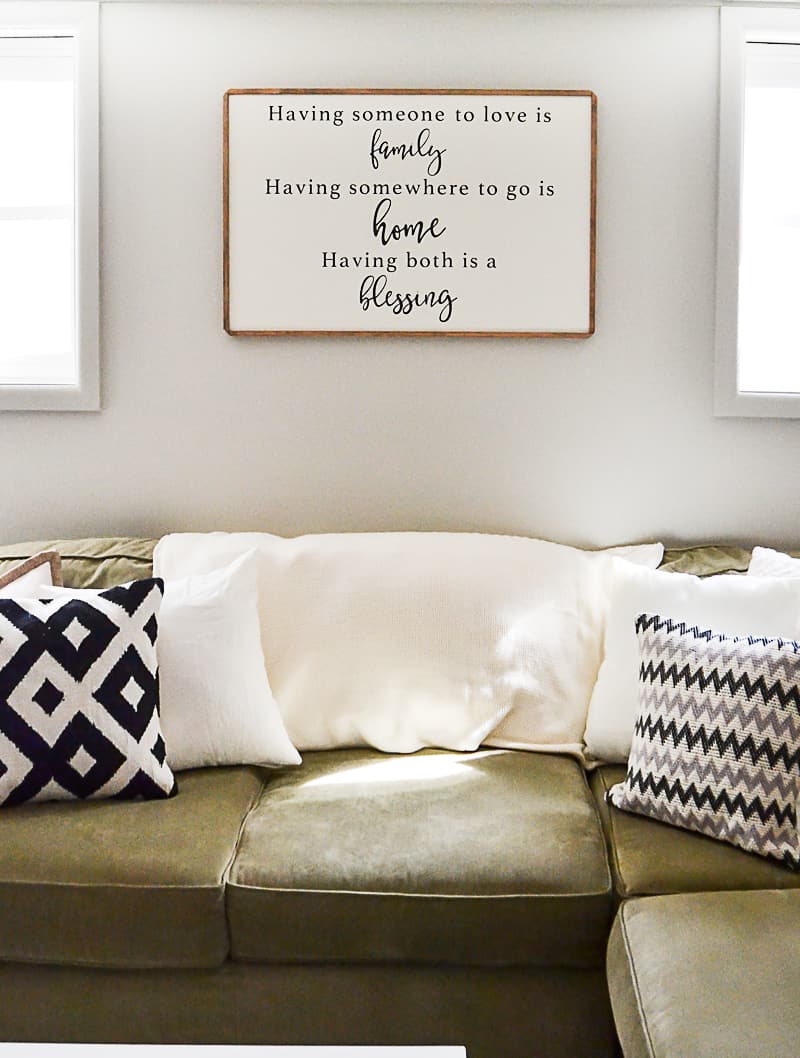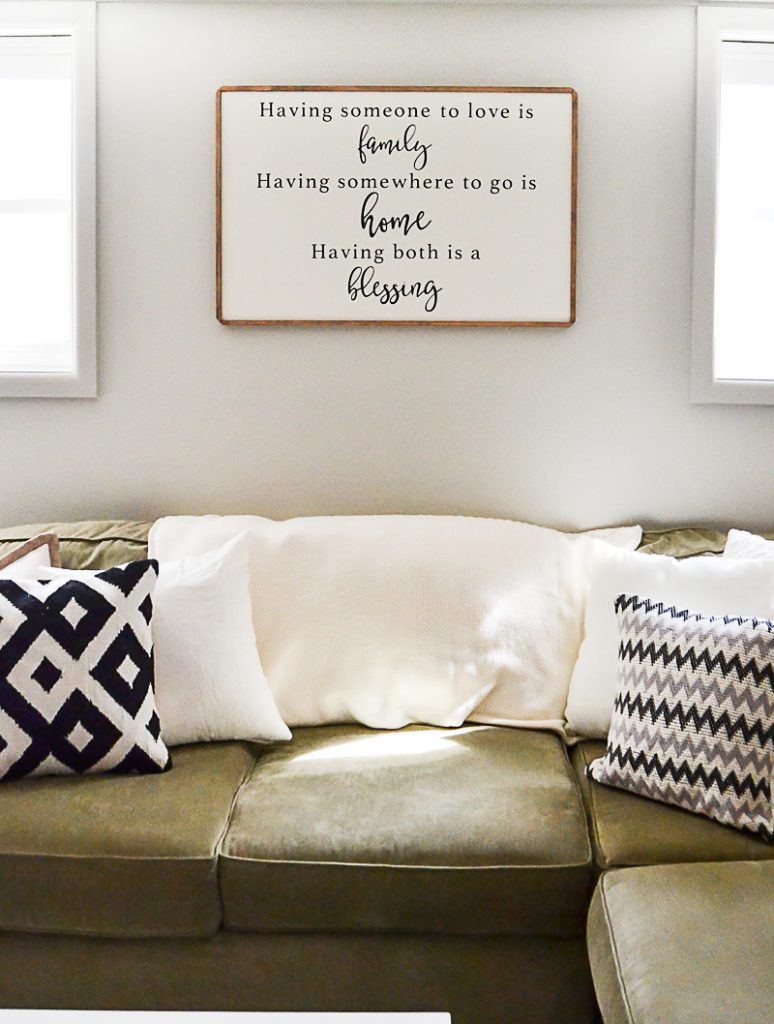 I had a hard time coming up with a size for the sign. The one I painted on the wall was quite large and when Naella and I were discussing wood sizes, we finally settled on 24×36. It was a great size for the space. It fit the wall between the two windows well and it wasn't overpowering. It was the perfect statement piece for that small wall.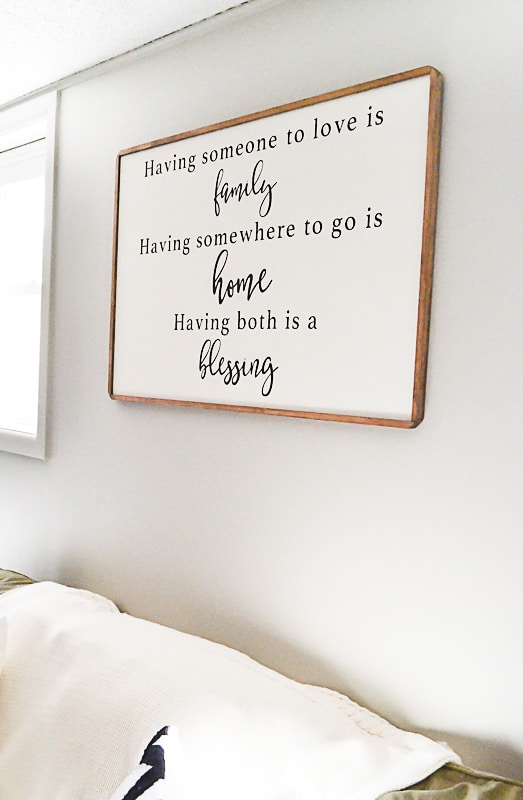 I loved so much about the way Naella created the sign. She took my original "stenciled" design and gave it a fresh, modern look. The color of the wood frame is perfection and the way they cut the corners on the sign is something we will definitely be doing when we DIY frames. It is unique and beautiful.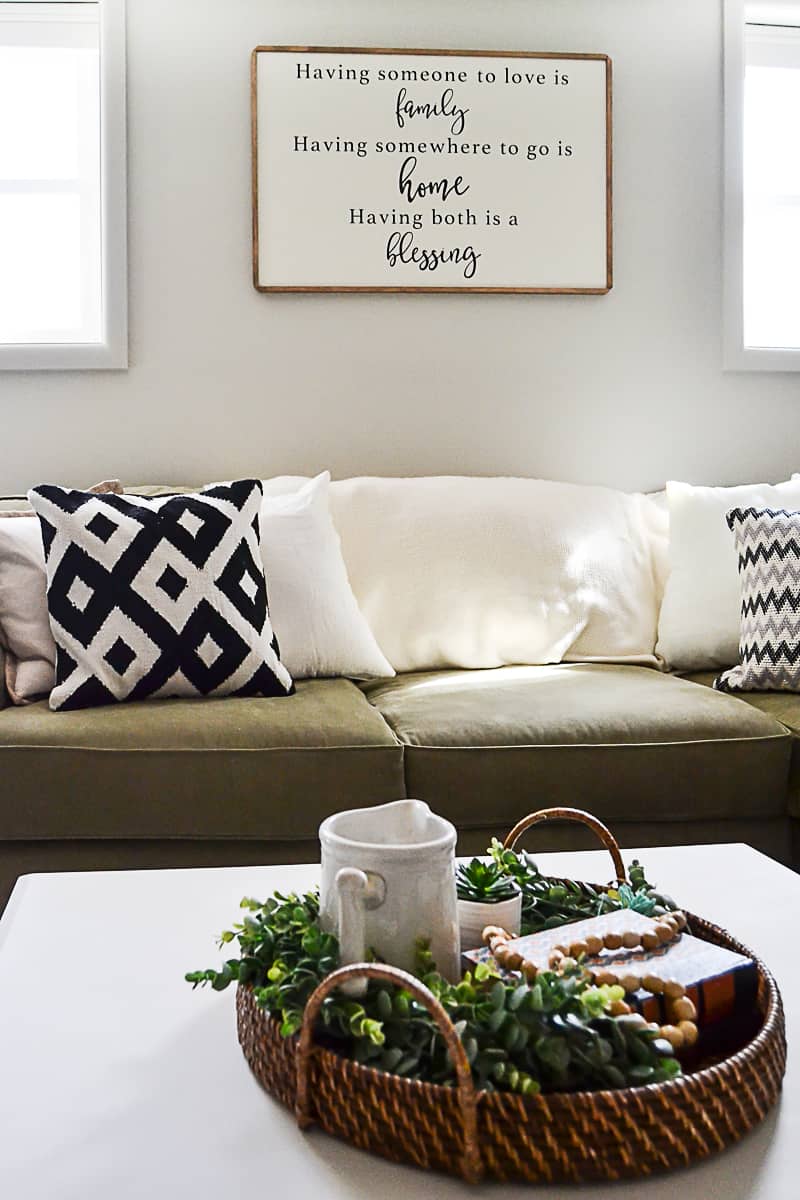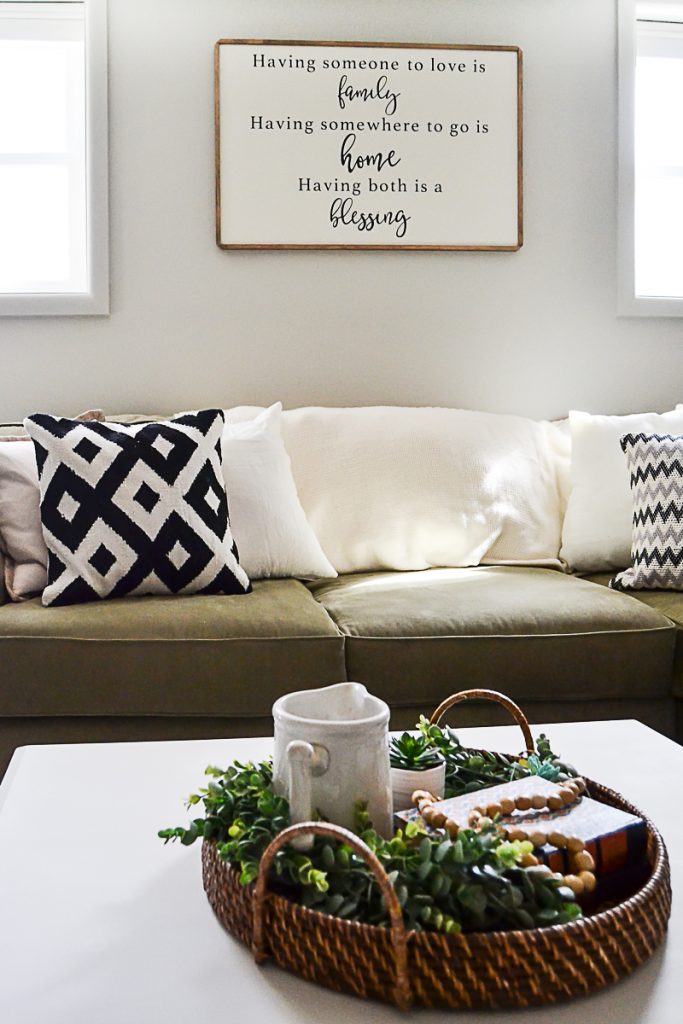 The family room is coming together. I am still waiting on a piece to be delivered so I can create a small gallery wall on the other side of the room, but to be honest, the family room would not have been complete without this saying in it. When we opened the box and saw the sign, it was like the angels started singing. The kids were so happy and the sign fit perfectly in the space. It was meant to be and our family room is better because of it. I know that may sound strange, but when decorating a space in your home, it should always be about family, traditions, memories, and love and this sign was all of that. It was the cherry on top of our family room makeover.
Now, I have even better news!!! Naella is going to start selling this exact sign in her shop! WAHOOOOO!
You can find the sign in her shop HERE. She said she would be happy to make it in different sizes too. She also has many other beautiful signs in her shop! Make sure to check them all out.
This saying is so special and so true. It would be perfect in any space. If you do end up getting one, please, please, please, send me a picture of it in your home! I want to see them all!!!
Does your family have a favorite saying or word that you would add to custom wood signs?
PIN THIS POST!


If you liked this custom wood signs post, you will also love these decor ideas:
DIY Wood Sign: You Are Lucky Enough
DIY Farmhouse Fall Sign On An Antique Ironing Board