How To Get The Most Out Of Thrift Stores for DIY Enthusiasts! Learn insider tips to find treasures, repurpose, and unleash your creativity.
Thrift stores are treasure troves for those who love do-it-yourself (DIY) projects. They offer an endless array of unique items that are just waiting to be transformed into something extraordinary. Whether you're an avid upcycler or a novice DIY shopper, this blog post will guide you on how to make the most out of thrift store visits. You will be able to unleash your creativity and turn ordinary finds into extraordinary creations.
Let's explore the world of thrift store shopping and discover the secrets to successful DIY projects!
Before setting foot in a thrift store, it's essential to have a clear plan in mind. Determine what items you're looking for and the specific DIY projects you'd like to tackle. Create a list. Gather inspiration on the types of items that can be repurposed or upcycled. By having a plan, you'll stay focused and avoid getting overwhelmed by the abundance of choices.
One of the most exciting aspects of thrift store shopping is the element of surprise. While having a plan is essential, it's equally important to keep an open mind. When you are considering how an item can be repurposed, be willing to explore unexpected sections and think outside of the box. Sometimes, the best DIY projects come from the most unlikely finds.
Embrace the Thrift Store Aesthetic:
Thrift stores have their own unique charm and aesthetic. Instead of looking for pristine items, embrace the vintage appeal and focus on the potential of each piece. Look for items with good structural integrity that can be easily transformed with a little creativity and DIY magic. Remember, imperfections can add character to your finished projects!
While imperfections can add character, it's crucial to be mindful of the overall quality of the items you choose. Check for any damages or structural issues that may be difficult or costly to fix. Avoid items with strong odors or signs of mold. Invest in pieces that are sturdy and durable to ensure your DIY projects will last.
Think Beyond the Obvious:
When searching for items in a thrift store, don't limit yourself to their original purposes. Look for hidden potential in unexpected objects. For instance, you can transform an old ladder into a unique bookshelf. Alternatively, you can turn a vintage suitcase into a stylish side table. Let your creativity soar as you reimagine the possibilities of each find.
Get Crafty with Upcycling and Repurposing:
Upcycling is a fantastic way to breathe new life into old items. Instead of discarding or replacing them, you can transform them into something entirely different and functional. Paint, reupholster, or repurpose furniture pieces. Turn vintage glassware into eclectic candle holders. The possibilities are endless, and upcycling allows you to create one-of-a-kind pieces that reflect your personal style.
Connect with the Thrift Store Community:
Thrift stores often have a dedicated community of DIY enthusiasts and upcyclers. Engage with fellow shoppers, join online forums, or follow social media accounts that focus on thrift store finds and DIY projects. Sharing ideas, tips, and success stories with like-minded individuals can inspire and motivate you to take your creativity to new heights.
Thrift stores are a haven for DIY shoppers, offering a vast array of affordable items with hidden potential. By planning your visit, keeping an open mind, embracing imperfections, and thinking creatively, you can unleash your creativity and transform ordinary thrift store finds into extraordinary DIY projects. Embark on your thrift store adventure, and let your imagination guide you to remarkable creations that showcase your unique style and resourcefulness.
Happy thrifting!
WATCH MY THRIFTING VIDEOS: I share all of my thrifting videos and thrifting hauls on my YouTube channel every week. Make sure to head HERE and SUBSCRIBE to my channel for FREE to get all of my tips and ideas in video form each week!
PIN THIS POST!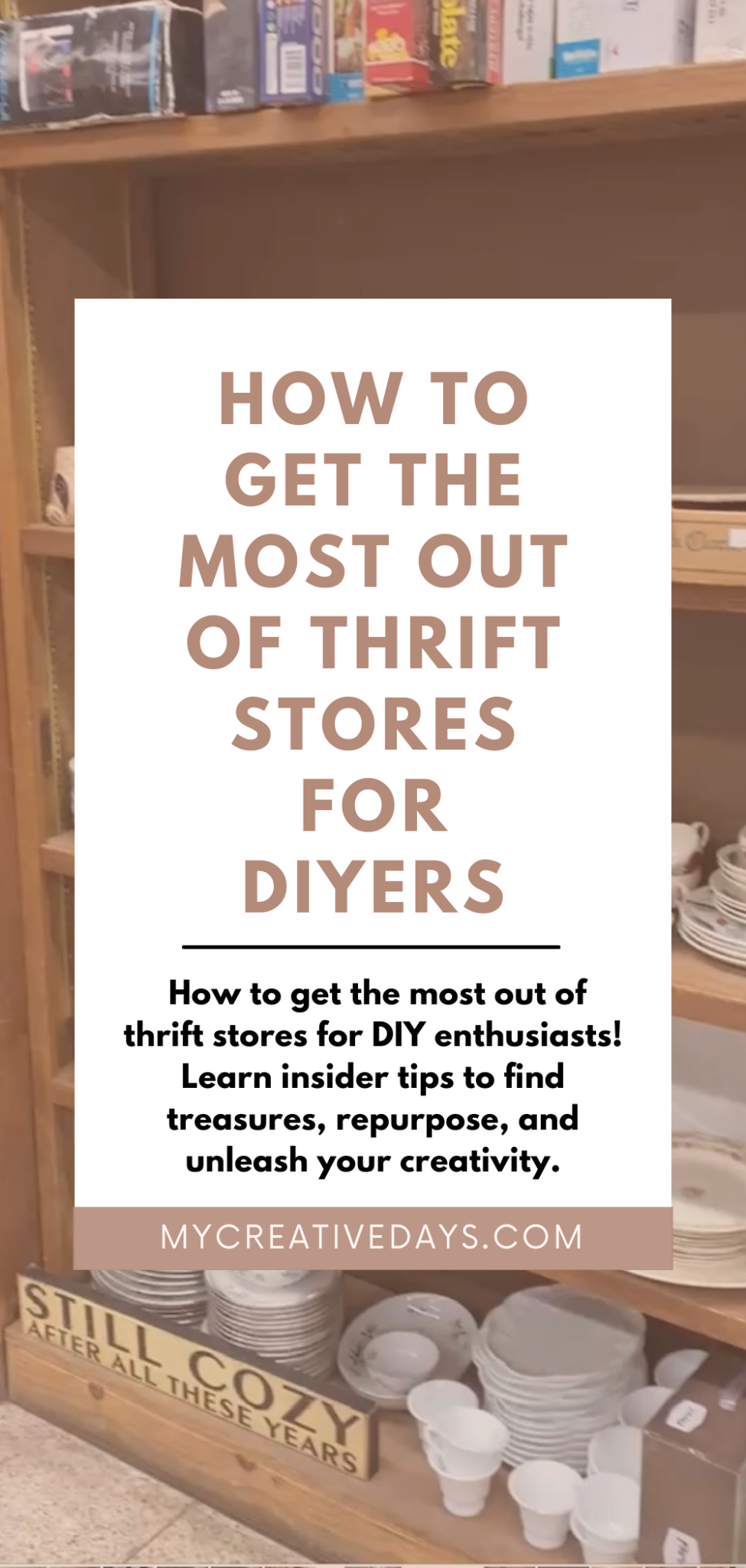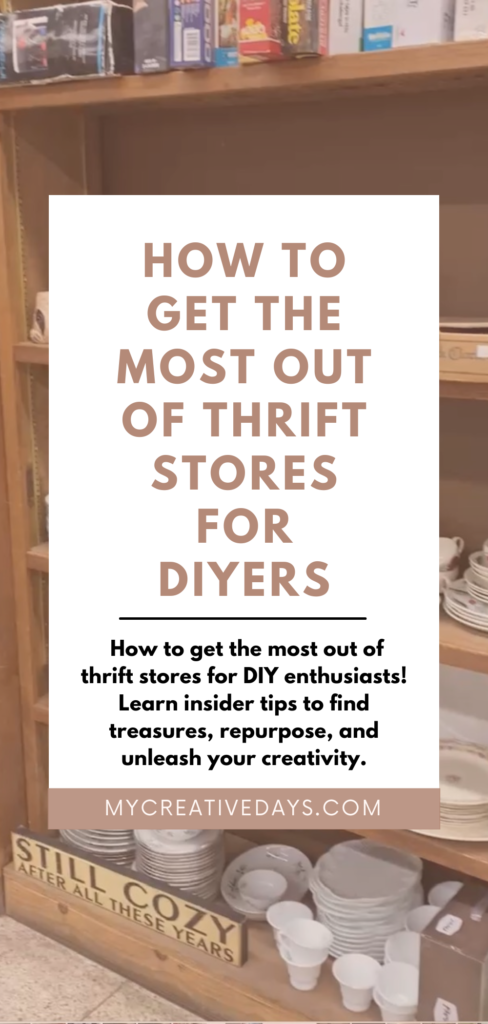 If you liked How To Get The Most Out Of Thrift Stores, you will also love these:
Items To Carry With You When Thrifting
Thrift Store Shopping Tips For A Successful Haul
Thrift Store Shopping: Only Buy What You Will Use