Thrift store shopping tips are something I get asked about often, so I thought I would put together some of the tips I have learned shopping in many thrift stores over the years.
Let's get right to this fun topic, shall we?
Thrift Store Shopping Tips For A Successful Haul
One of the things you have to have for a successful haul at the thrift store is keeping an open mind. Chances are, you will probably not find exactly what you are looking for, but if you have an open mind about the potential in pieces and ways that you can make them over to get the exact look you are looking for, you will have a much better chance of coming away with all of the best stuff.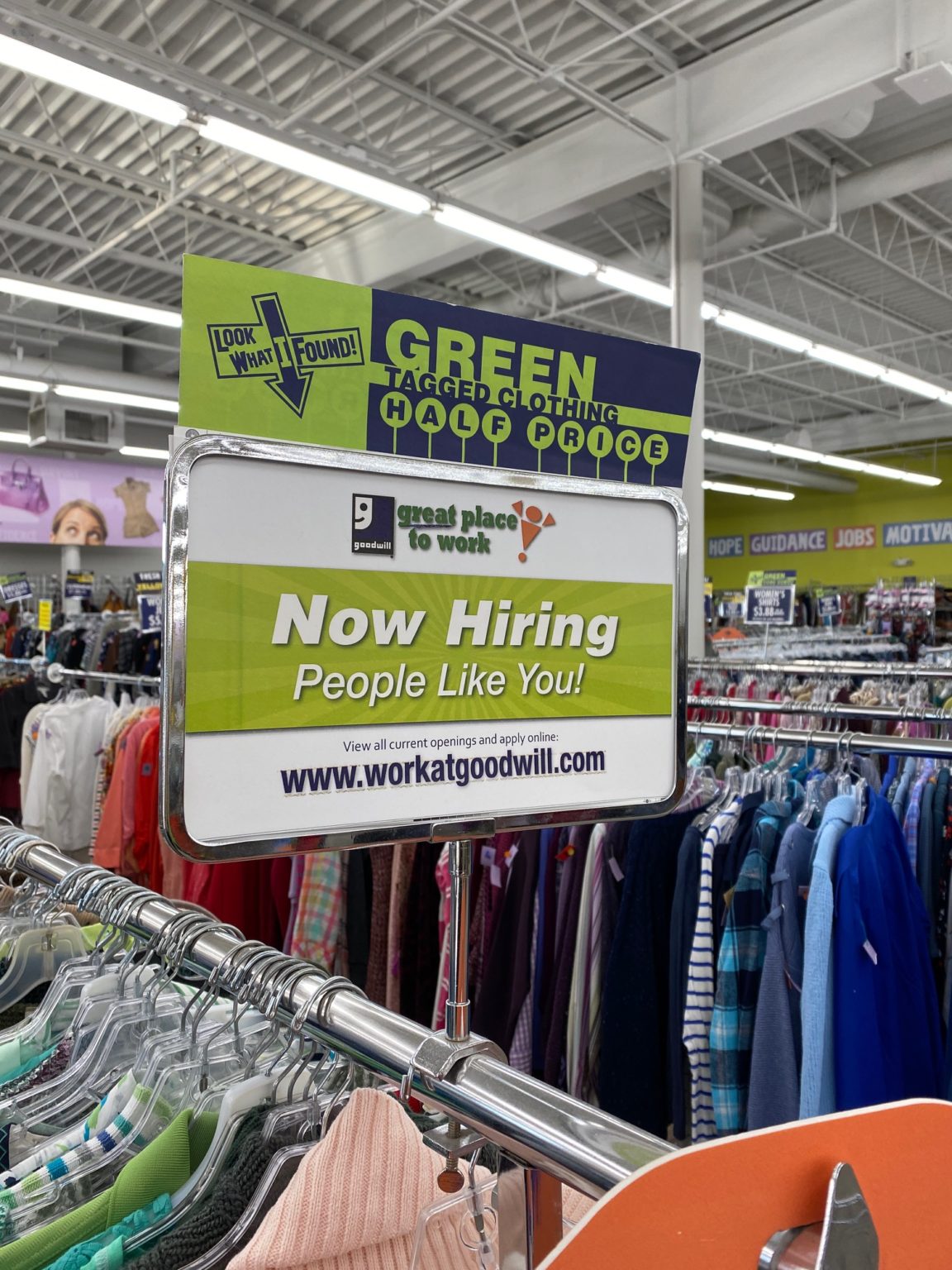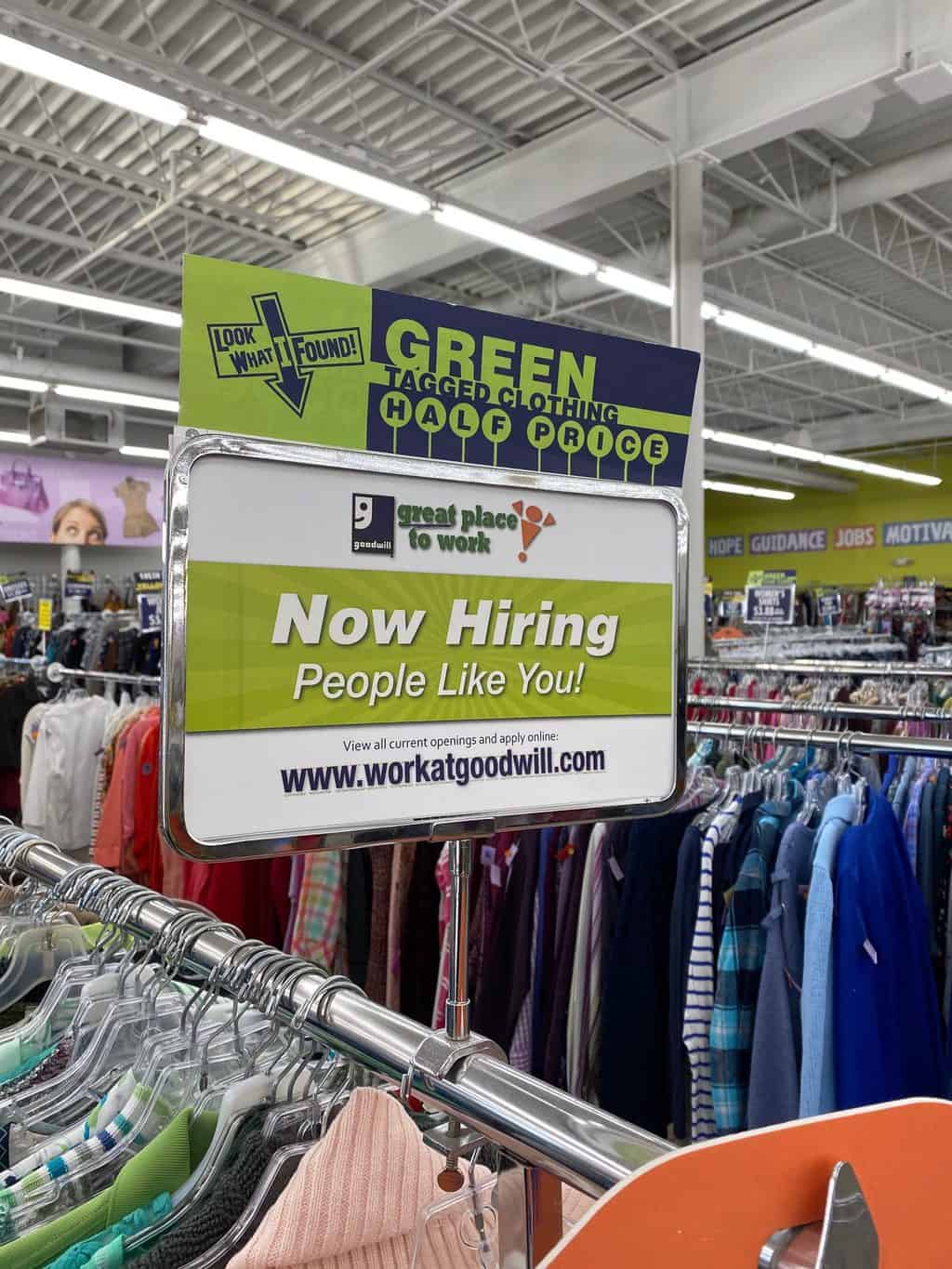 WHAT ARE THE SALES THAT DAY?
I know that all thrift stores are different, but most of them have some kind of sale each day and/or week. The stores near us post the sales at the front of the store (and even shout them out when someone walks in the door). I always want to know what is on sale before I start browsing because the sale will determine the "route" I take through the store.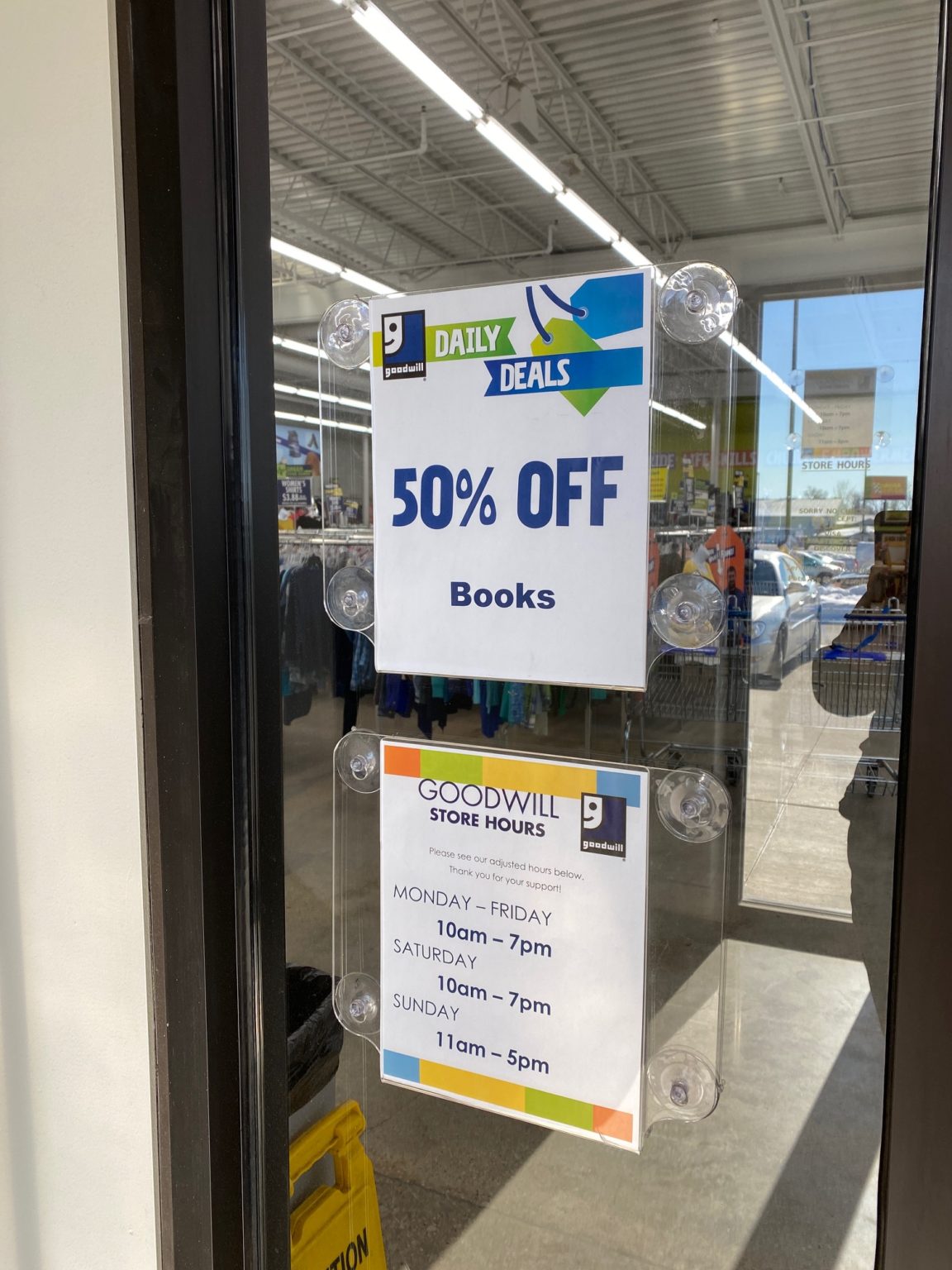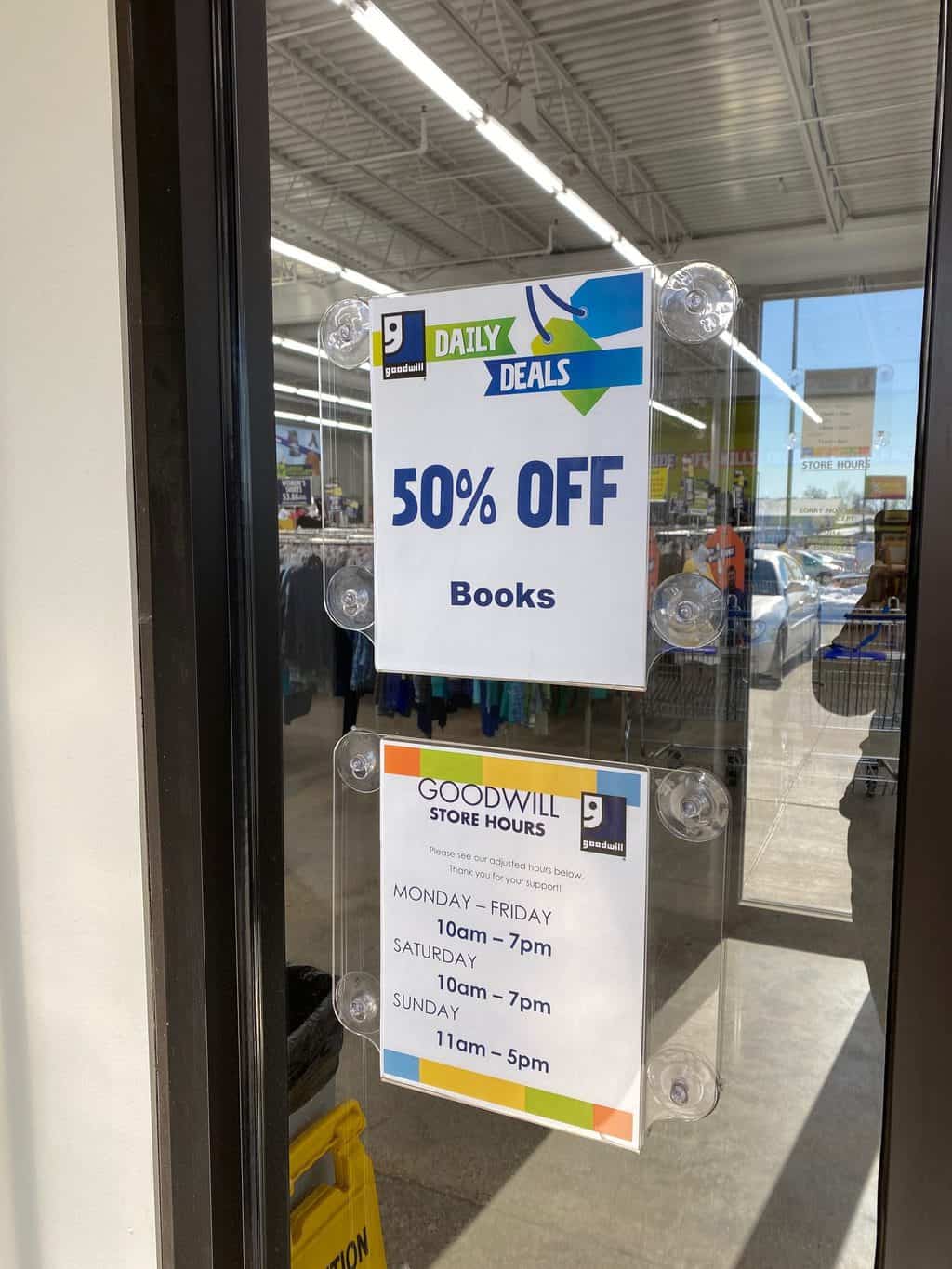 If you are looking for specific items (a piece of furniture, a large basket, a vase to fit inside a bookshelf, etc.) make sure you have the measurements you need that piece to be before you head to the thrift stores. Return policies are different with every store and some don't have a return policy at all. Having the right measurements ahead of time will ensure you get exactly what you need. There is nothing worse than having to leave the store, run home to see if it will fit, and then heading back to the store only to find that someone else has already bought the piece you were looking at.
You may find something that you love, but it needs to be changed a bit. Maybe it needs some repair. It might needs to be a new color. Somtimes, all it needs is cleaned. It could just use some new hardware. It may need something added to it. All of these things are things you can do. Don't disregard something because it isn't the exact color you need or in perfect shape. DIY makes a lot of things possible and I share all kinds of ways to change thrift store finds into pieces that fit your home and style perfectly. DIY and thrift store hauls go hand in hand. Put on your DIY hat as you are browsing the store, keep an open mind, and walk away with an amazing haul!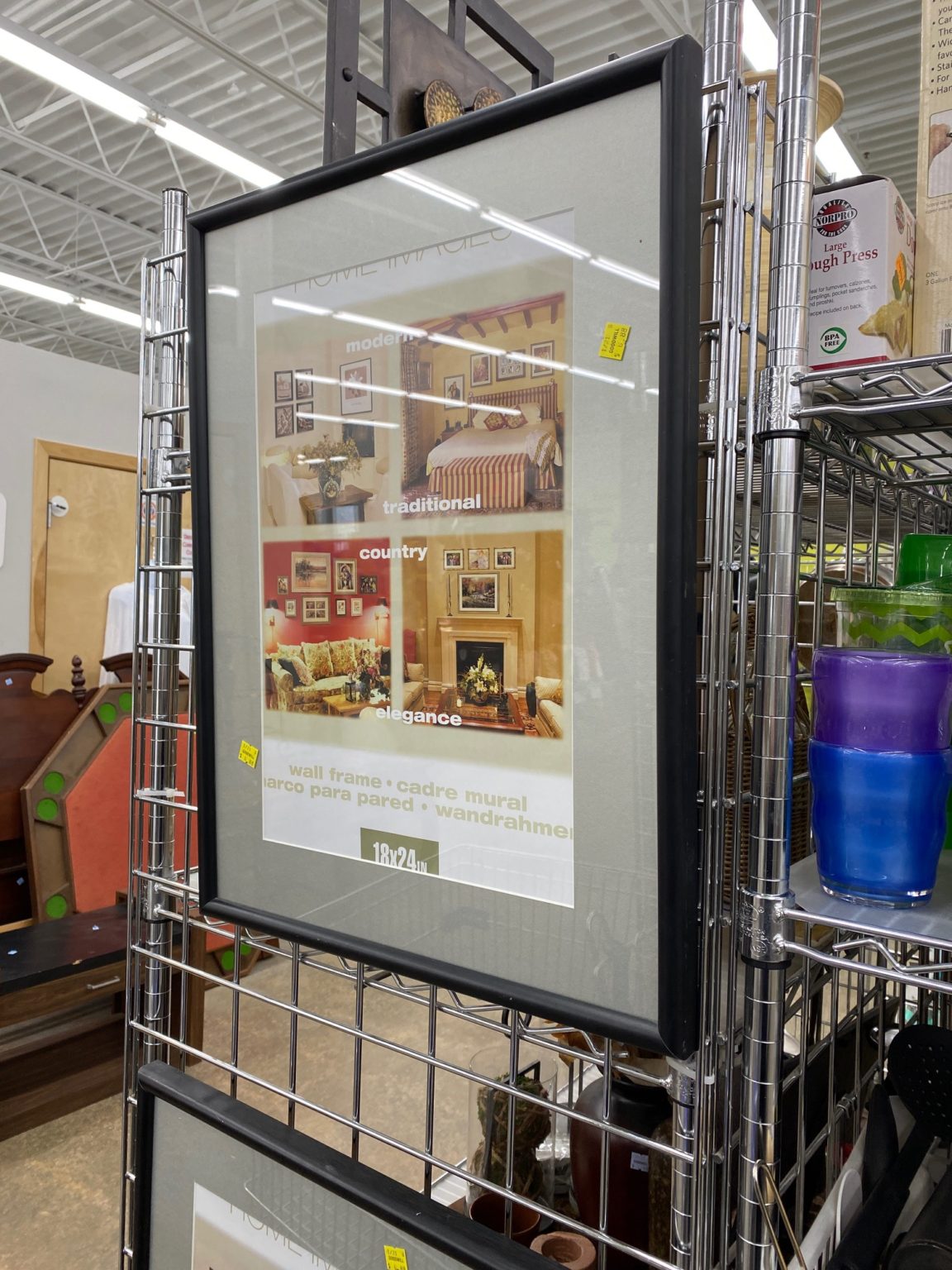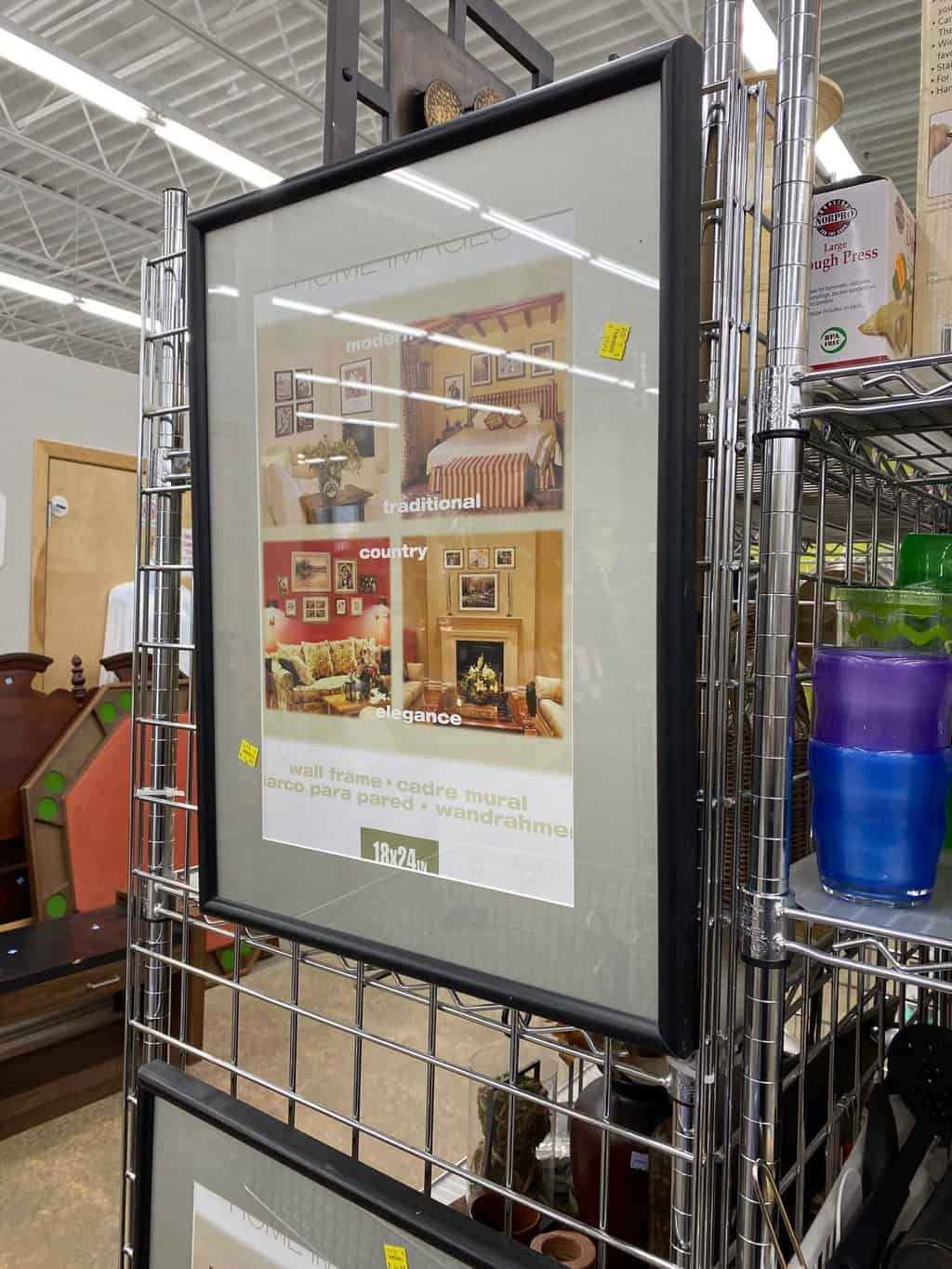 Thrift store shopping is unlike any other store. Thrift stores do have a system of where they put certain items to keep the store organized, but they also have a lot of volunteers and new people who have a different idea about where something should go. That means that you need to check every aisle, shelf, and area inside the store. Also, people are always picking things up and setting them down in other areas in the store.
I have found many decor items in the toy section. I picture moms with a cart full of things who find their kids in the toy section and deciding against something in their cart while they are there and setting it down among the toy trucks and Barbie dolls. Take your time to walk the entire store. You will be amazed at what you find in the "wrong" areas. (Example: The frame in the photo above was hung in the kitchen aisle.)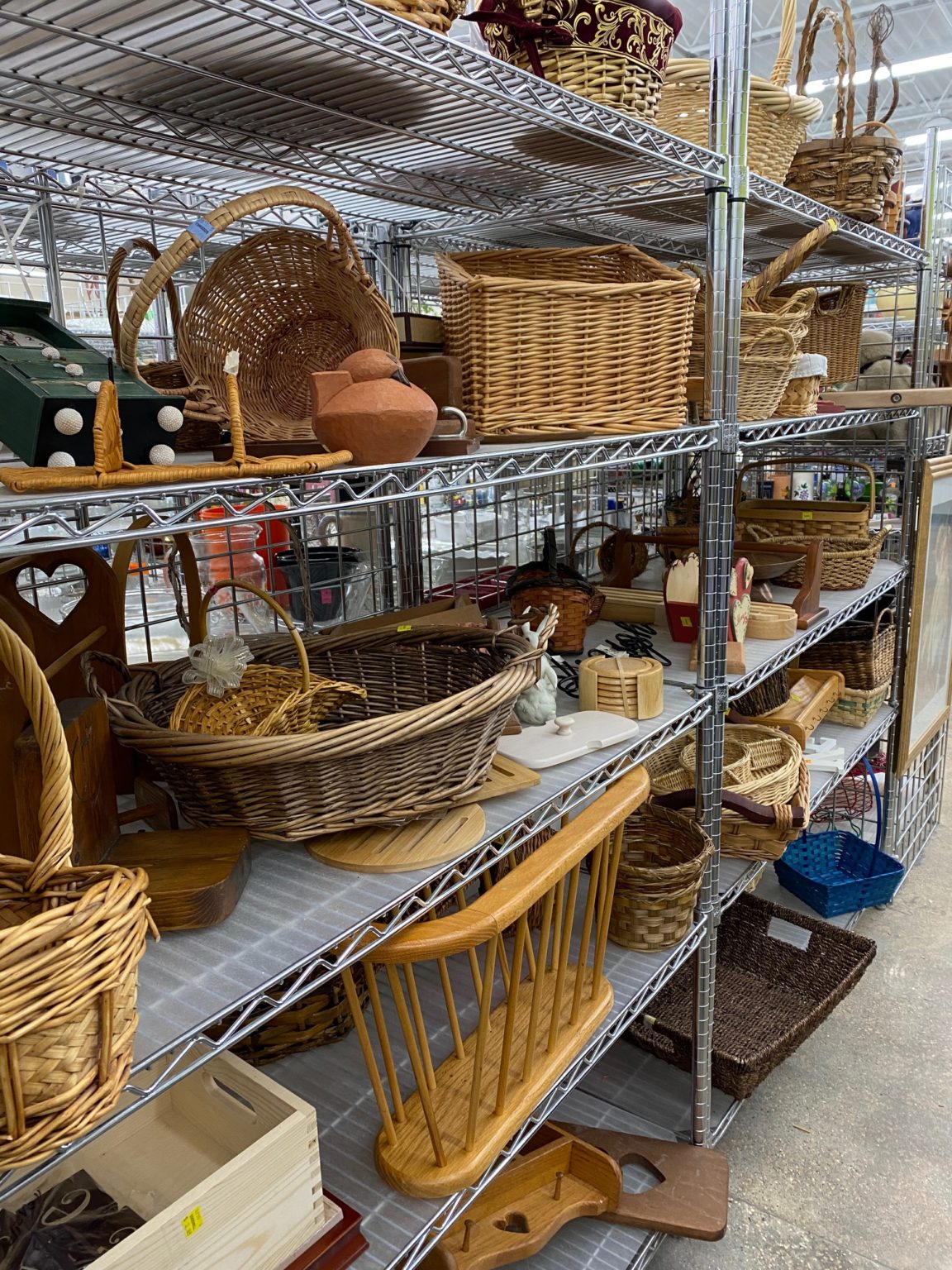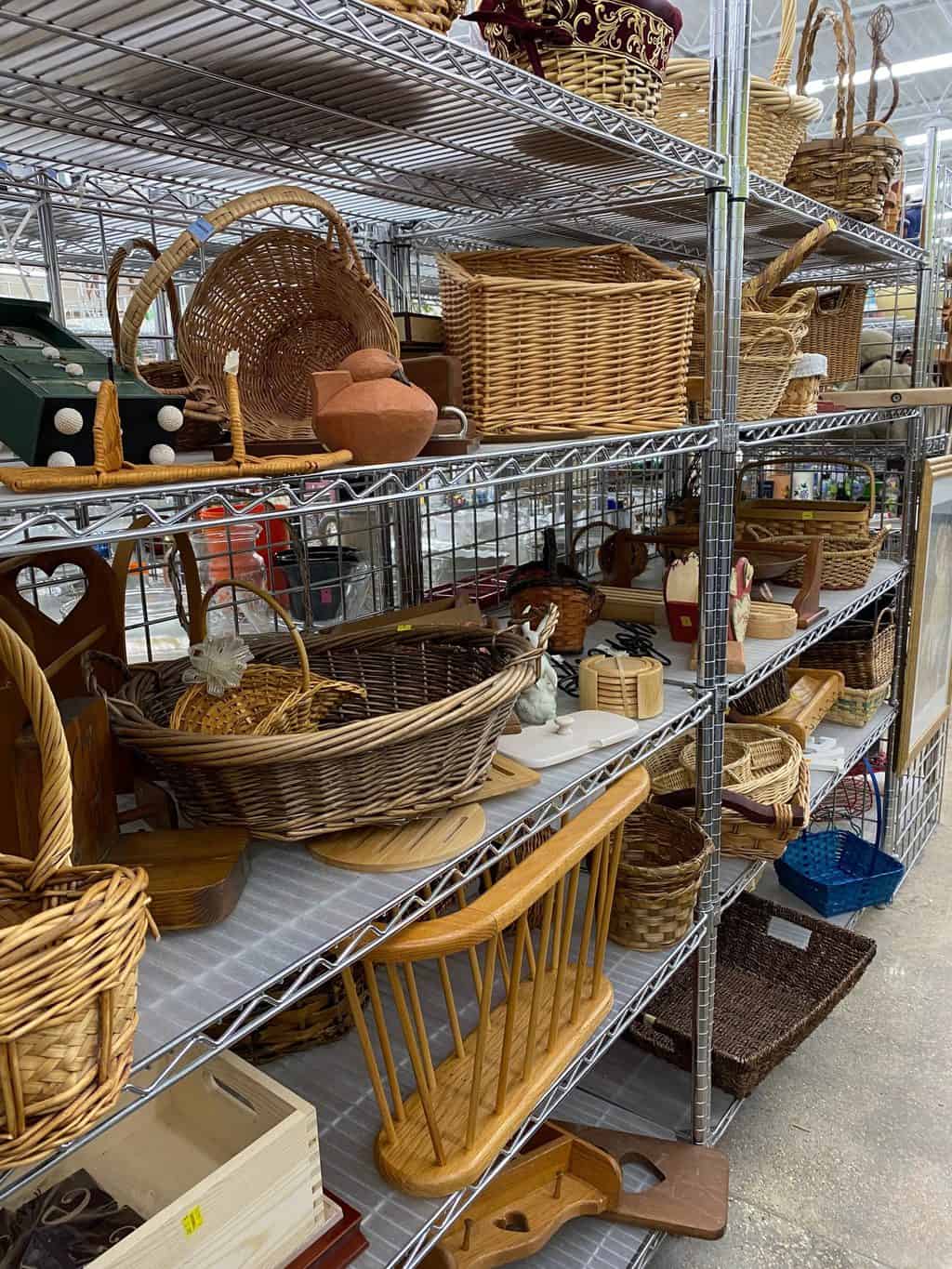 I know this isn't a budget post, but I wanted to mention this because it is a part of thrift store shopping tips for a successful haul. Since I have been shopping at thrift stores for a long time, I know what I will and will not pay for certain items. It is important to have a budget in mind because your trip will not be successful if you come away with amazing things, but feel guilty about what you paid for them. I have walked away from many things I wanted because they were priced out of my "budget" for that item. You will find other items in your price range. If it is too much, walk away. You want to feel happy and excited about your haul.
BE OKAY TO WALK AWAY WITH NOTHING:
A successful haul doesn't mean you have to fill a cart or come away with bags and bags of finds. NO! A successful haul means you are excited about the things you found and even more excited about the price you paid for them. More times than not, I am walking out of thrift stores with nothing. I am just as happy to walk away with nothing than finding a ton of things because I am not regretting anything I bought. A successful thrift store shopping trip and haul mean that you are only walking away with the things you love the most and not settling for something just to get something.
One of the best tips I can tell you is to go often. Even if you have 2o minutes to spend, stop in. You don't have to do an intense search through everything, but you can do a quick walk-through and things will catch your eye.
CHECK THE CARTS THEY ARE JUST BRINGING OUT:
Some thrift stores have a rule against doing this, but if your store allows it, go through the carts of new inventory as they are bringing them out from the back. Our stores will now just push the carts out and let people go through them and then put things on shelves as they have time. The items on the carts are the things that haven't been picked over and you get the first pick. I have found some great things on these carts.
WARNING: I do want to warn you to be careful around these carts because some shoppers are like vultures when they come out. They will fight you to get to them first. HAHA. Just kidding…… kind of. 😉 (It reminds me of my mom and my aunts in a crowd of people trying to get their hands on the new Cabbage Patch dolls back in the day. That was crazy!!!)
I am always looking things up at the thrift store. If I am curious about a brand, an antique, the value, etc., I look it up on my phone. What a great tool to have when you are shopping at a thrift store.
Here is my latest thrifting trip on my YouTube channel. Make sure to subscribe and never miss a video!
I hope these Thrift Store Shopping Tips motivate you to head to your thrift stores with a totally new mindset. Thrift shopping is fun! I promise.
If you do head to your thrift store, post a photo inside the store and tag me on Instagram @mycreativedays!
Or, post a photo of your haul and tag me! I want to see all the stores and all the finds!
PIN THIS POST!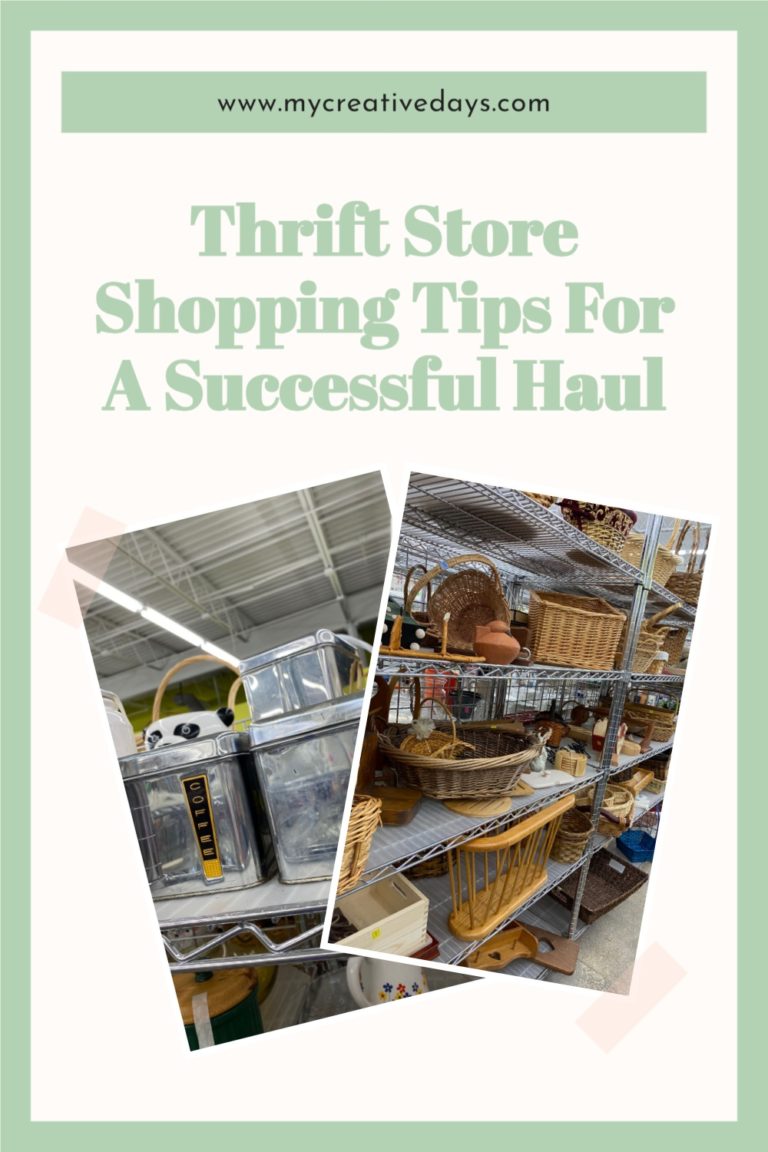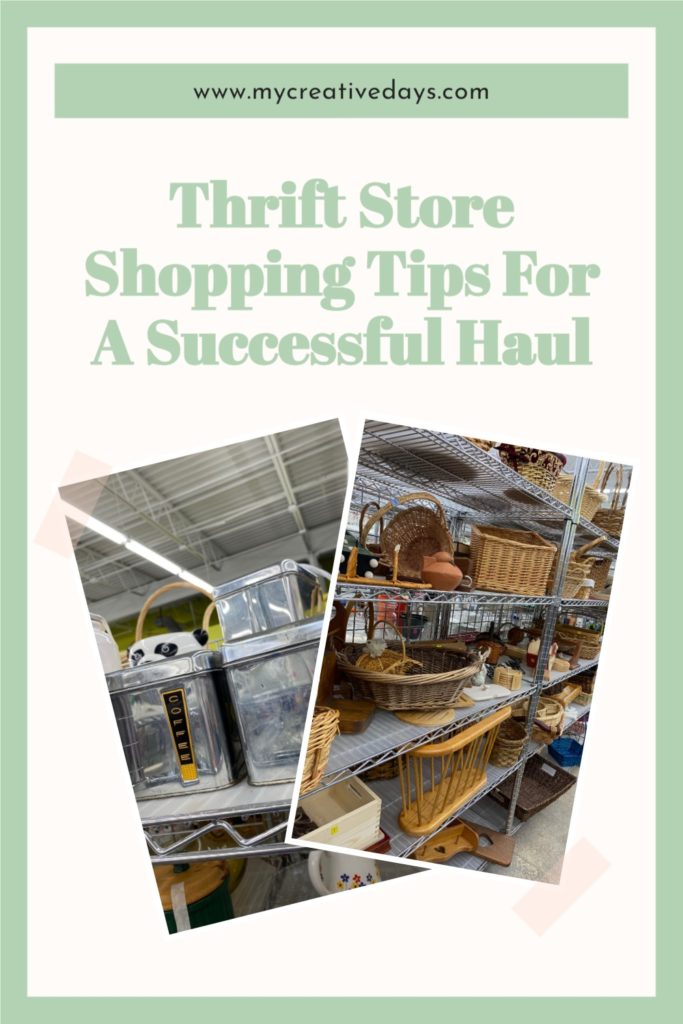 If you loved this post, you will love these tips as well:
10 Tips To Keep Your Home Clutter Free
10 Tips On How To Paint Furniture