Today, I am back with a project for DIY Decorative Hooks.
A few weeks ago, I shared my DIY Recycled Bathroom Organizer and this week, I am sharing some hooks that could also be used in the bathroom.
We did a small bathroom makeover under $50 awhile ago. (Looking back on that post, it is funny to see all the changes I have made to the bathroom since then. It is just the way things roll around here.)
The garden rake I used in that makeover for hand towels was not working so I made a towel hook from a piece of old barn wood and a hook from Hickory Hardware instead.
These DIY Decorative Hooks were inspired by that hook.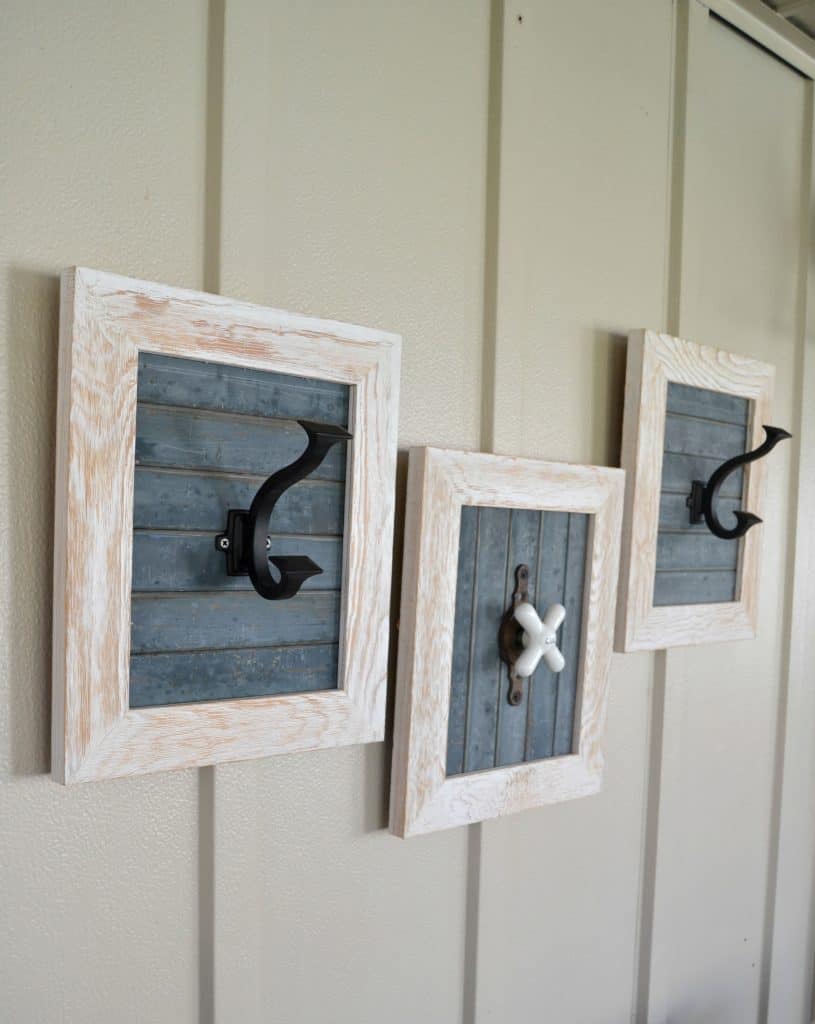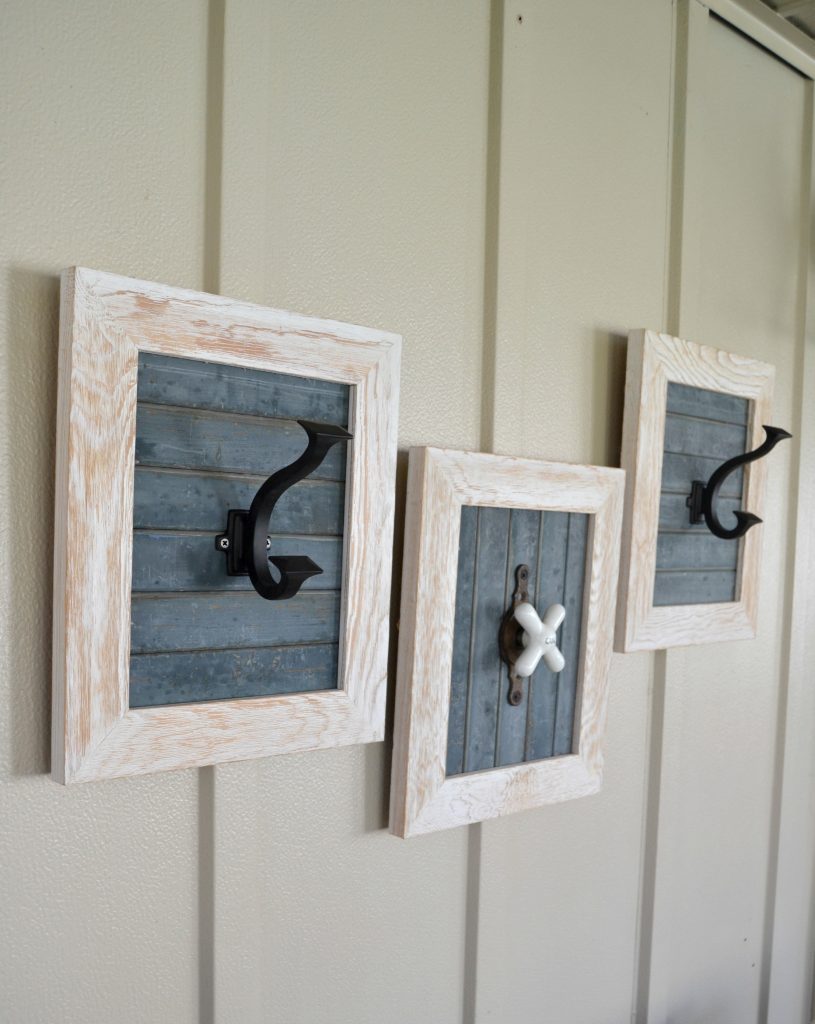 After my grandma passed away, we were going through her house and I found these pictures. Of course, I loved the white distressed frames and knew I could do something with them.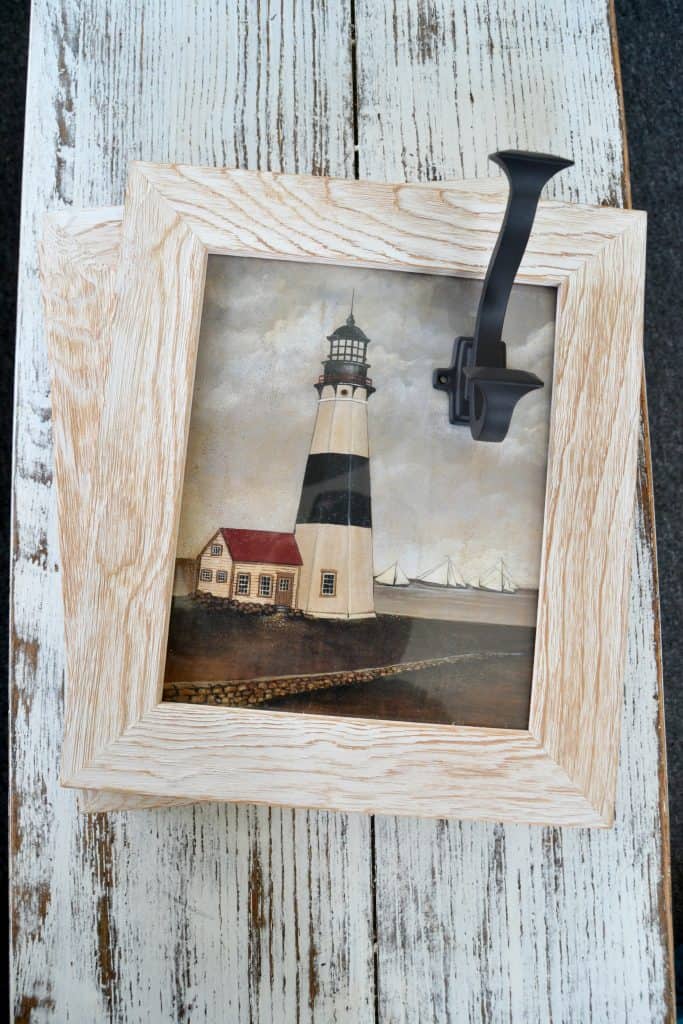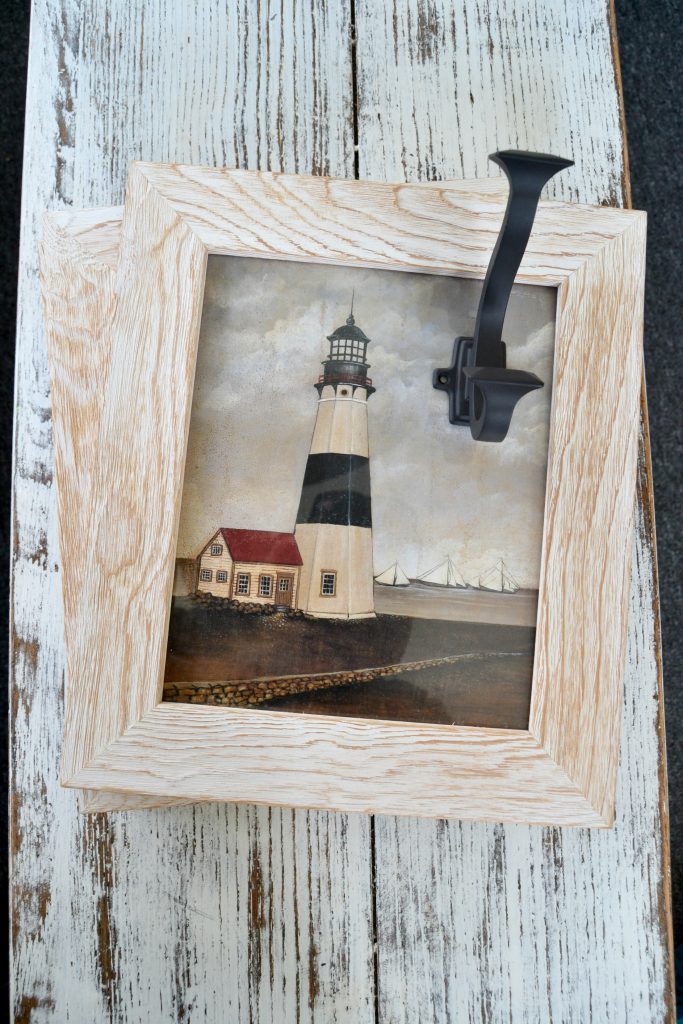 (Affiliate links are used in this post so you can find what you need to make your own DIY Farmhouse Hooks. You can see my full disclosure here.)
Supplies used to make DIY Decorative Hooks:
White 8×10″ Rustic Frames (find similar frames here)
Hooks: (I found some great ones here)
Picture Hanger (we love our picture hanger kit for projects like this)

Heavy Duty Stapler

or Staple Gun (another favorite DIY tool)

Something to fit inside your frame (I added blue wood slats I had left over from a different project. The slats were the perfect size for these 8×10″ frames.)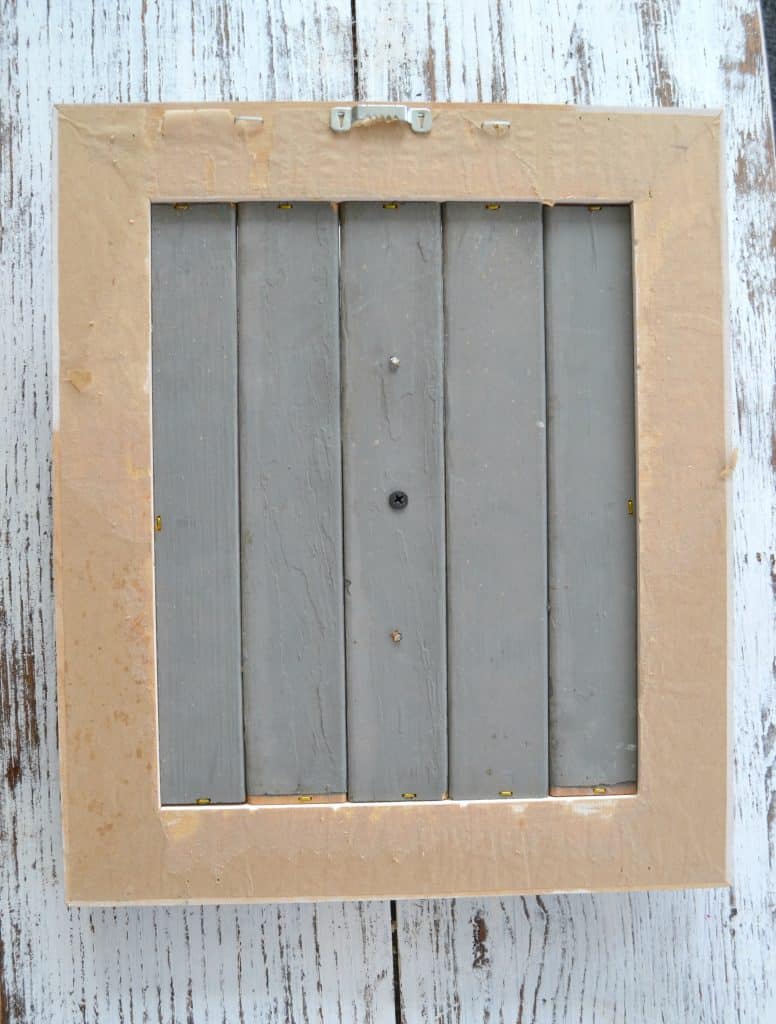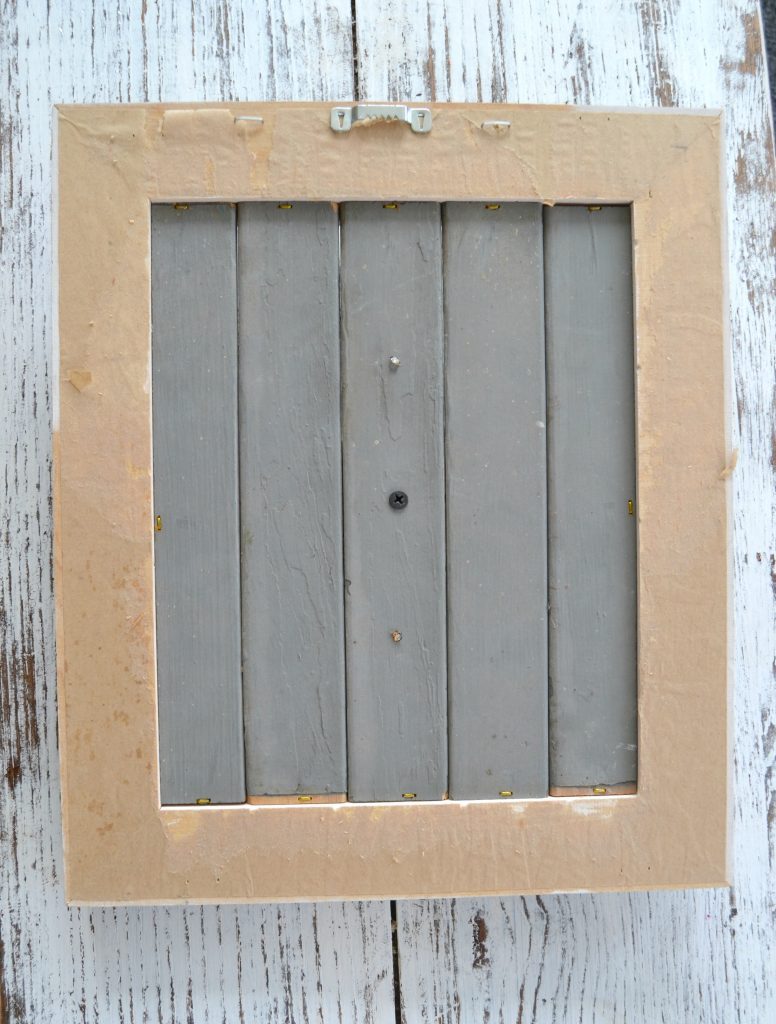 The first thing I did was remove the paper off the back of the frames. Then, I removed the glass and the pictures. Then, we cut the blue wood slats to fit inside the back of the frames and I used my stapler to attach them. Lastly, we screwed the hooks to the middle of the blue slats.
I didn't want all three hooks to be the same, so I went through my stash of treasures I have picked up here and there and found this old faucet and metal plate. Matt was able to make them work as a hook.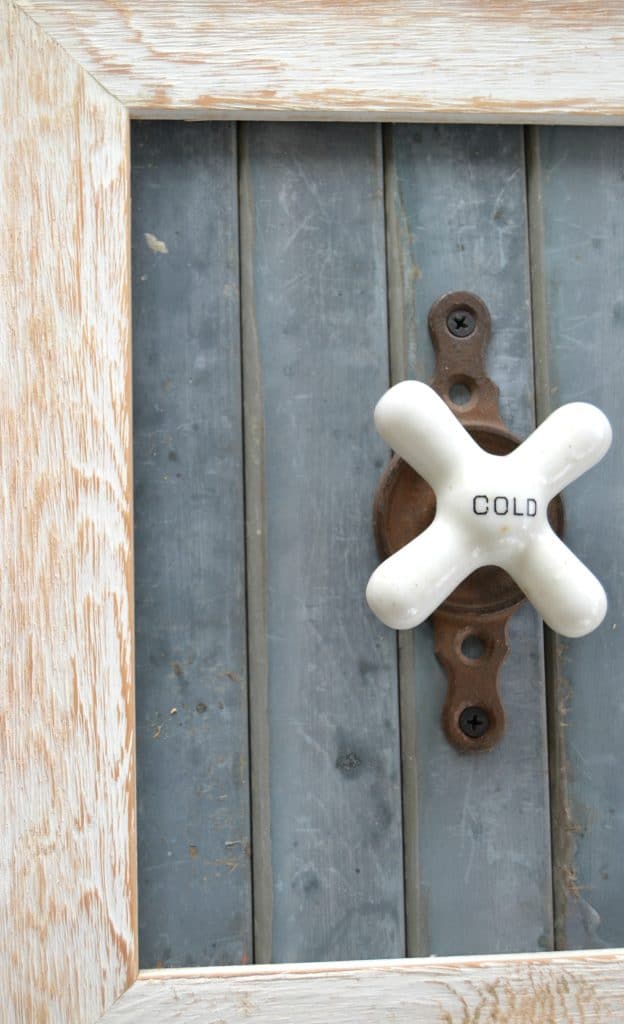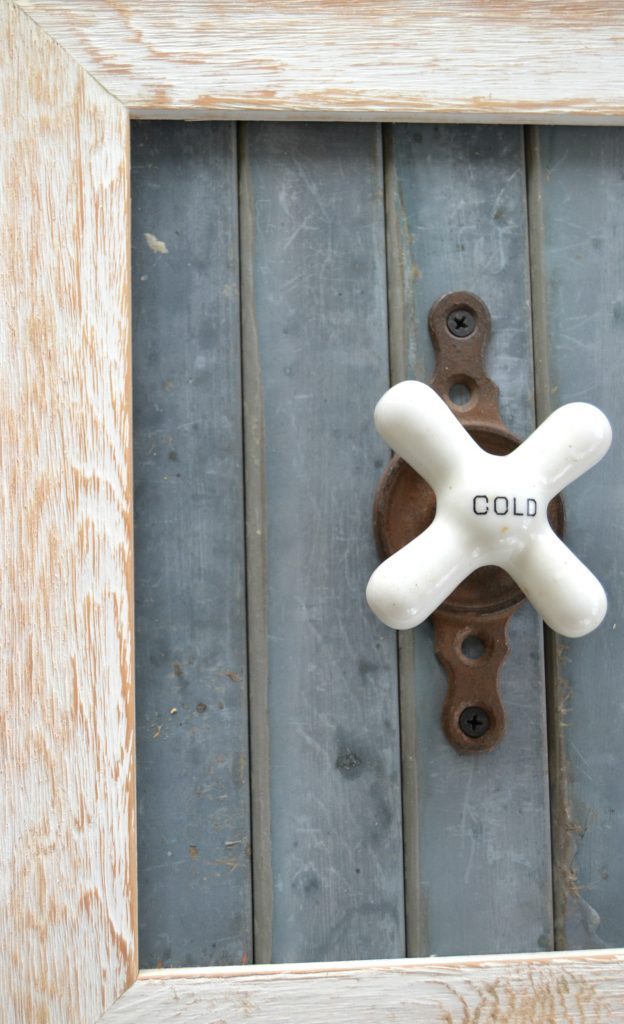 The black hooks give the farmhouse frames an industrial vibe.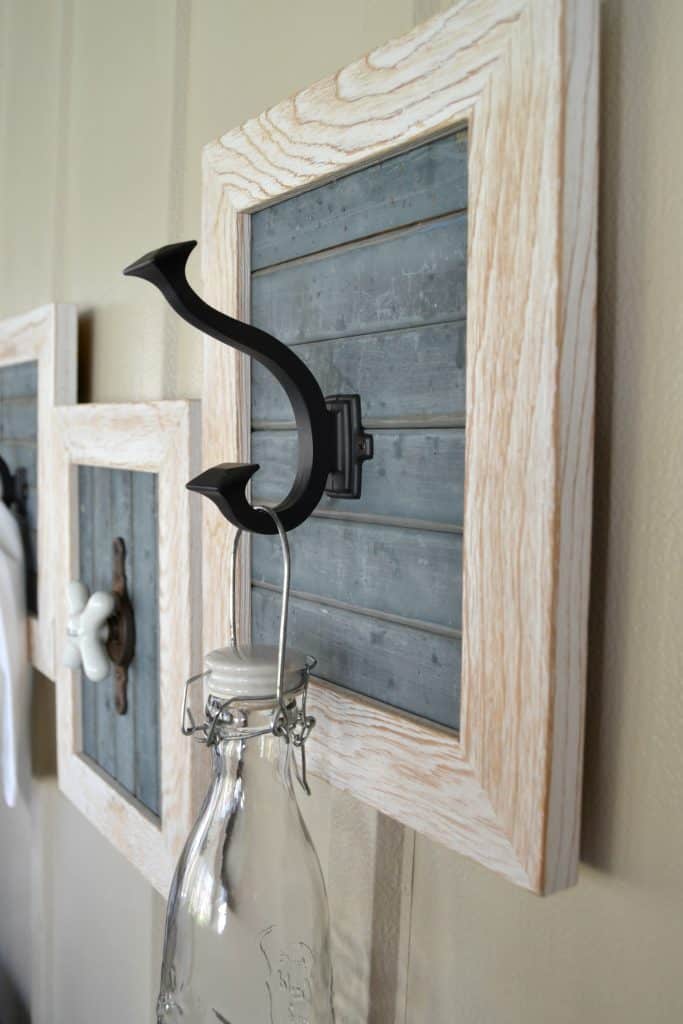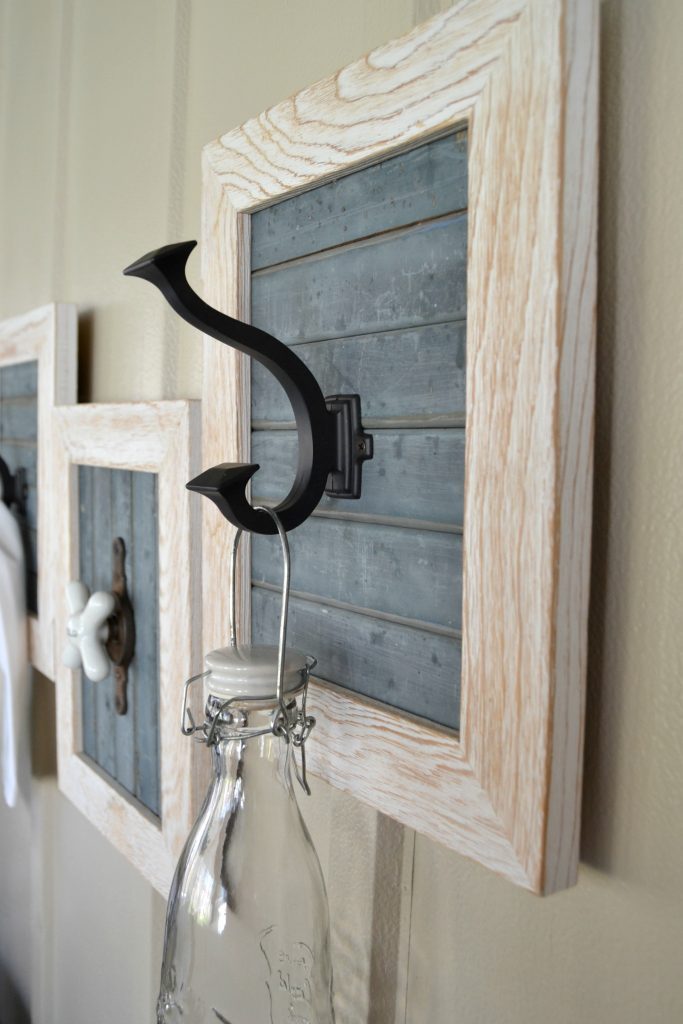 I couldn't be more happy with how these turned out. I am always happy when a project you think is going to be simple, really is AND it comes out better than you imagined.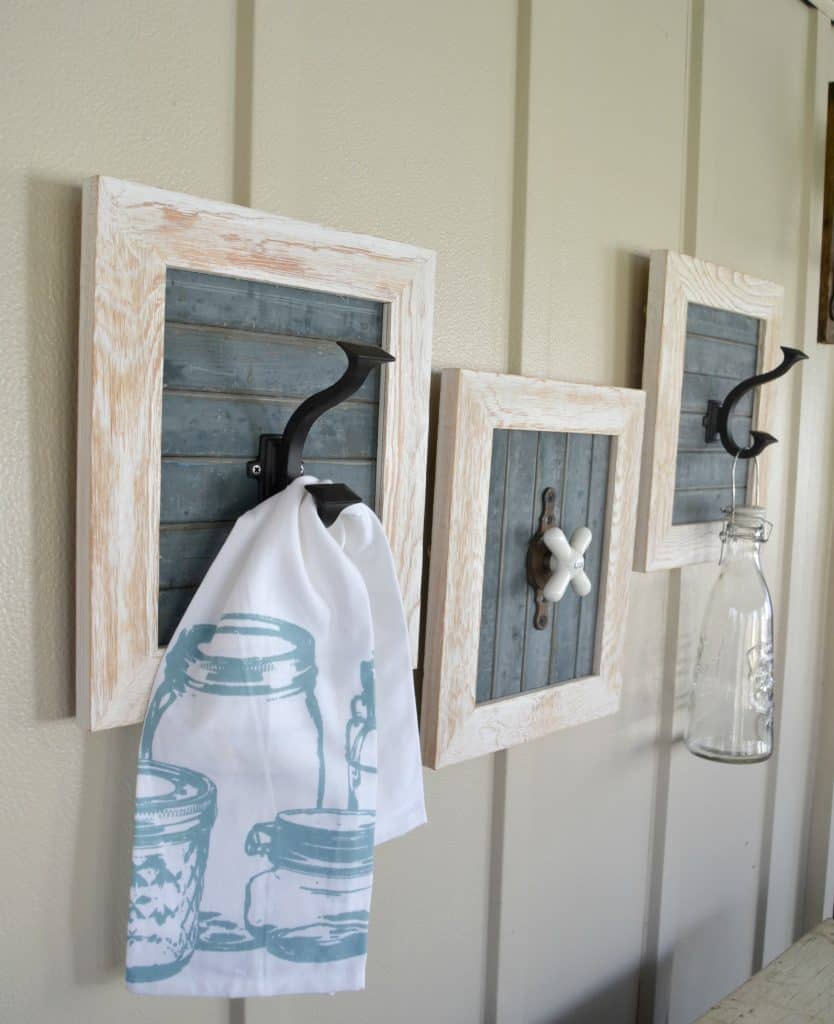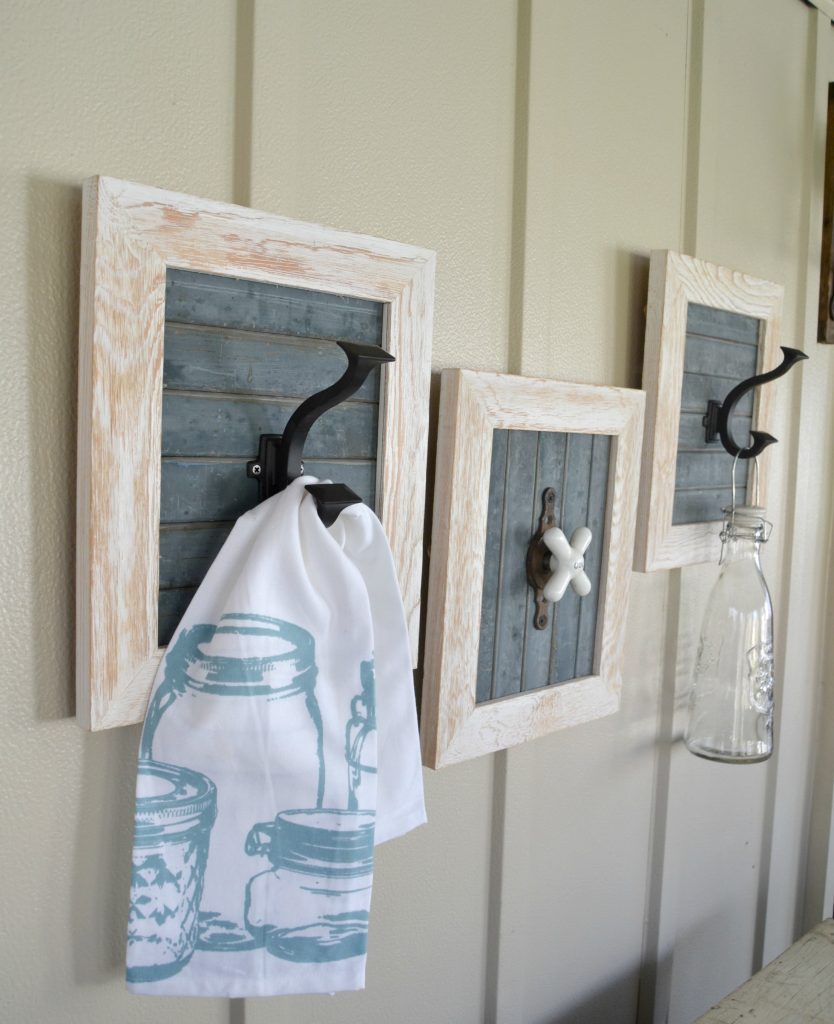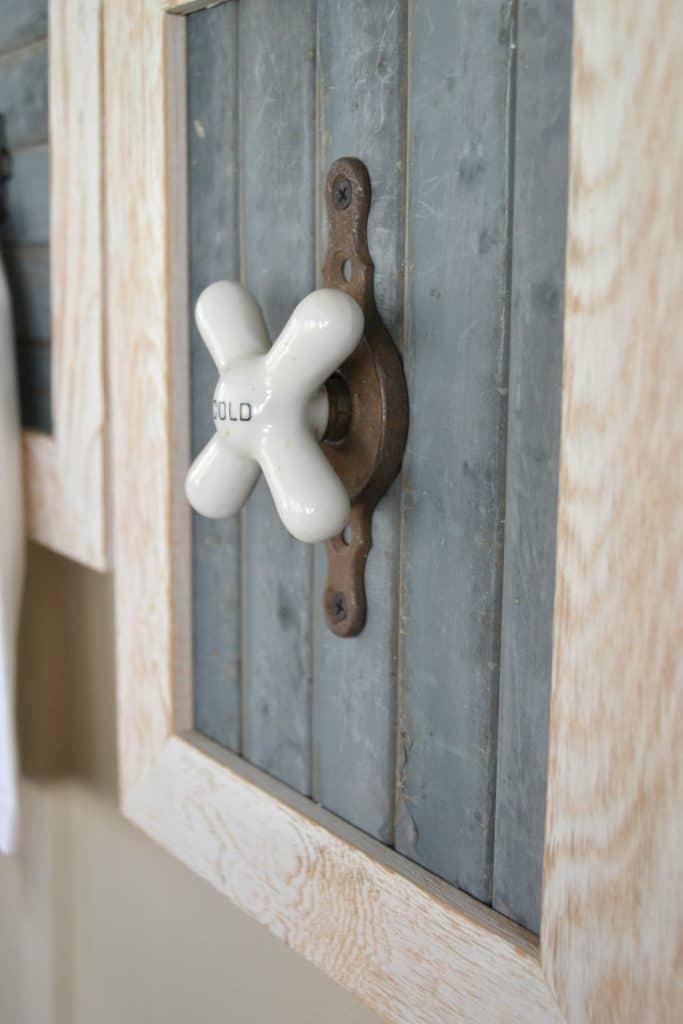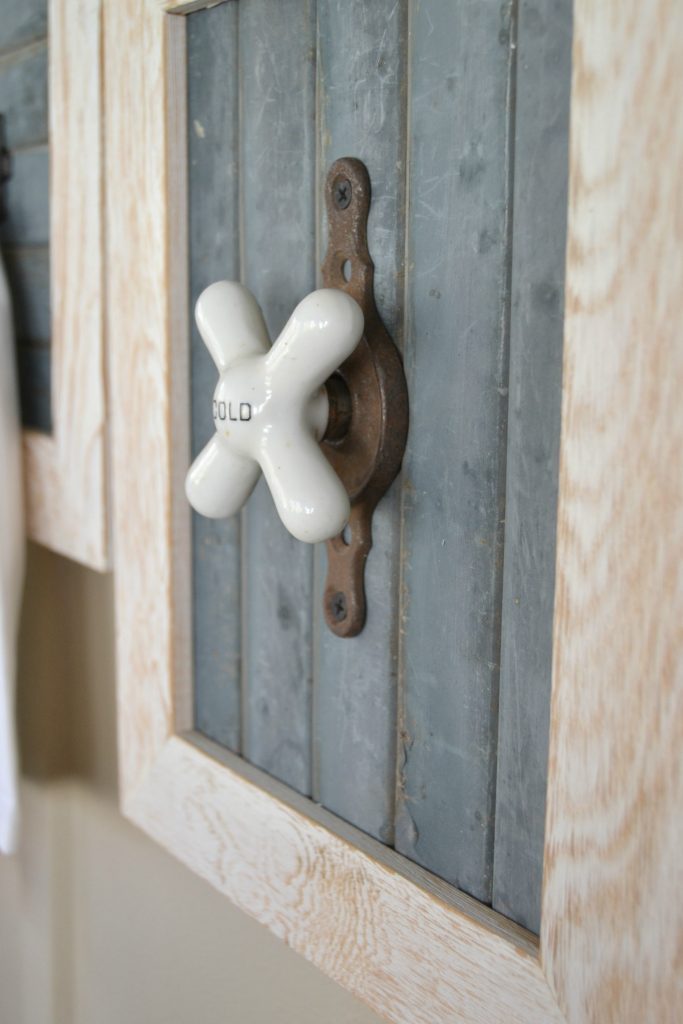 These hooks could be used for so many things. Where would you use them? What would you hang on them?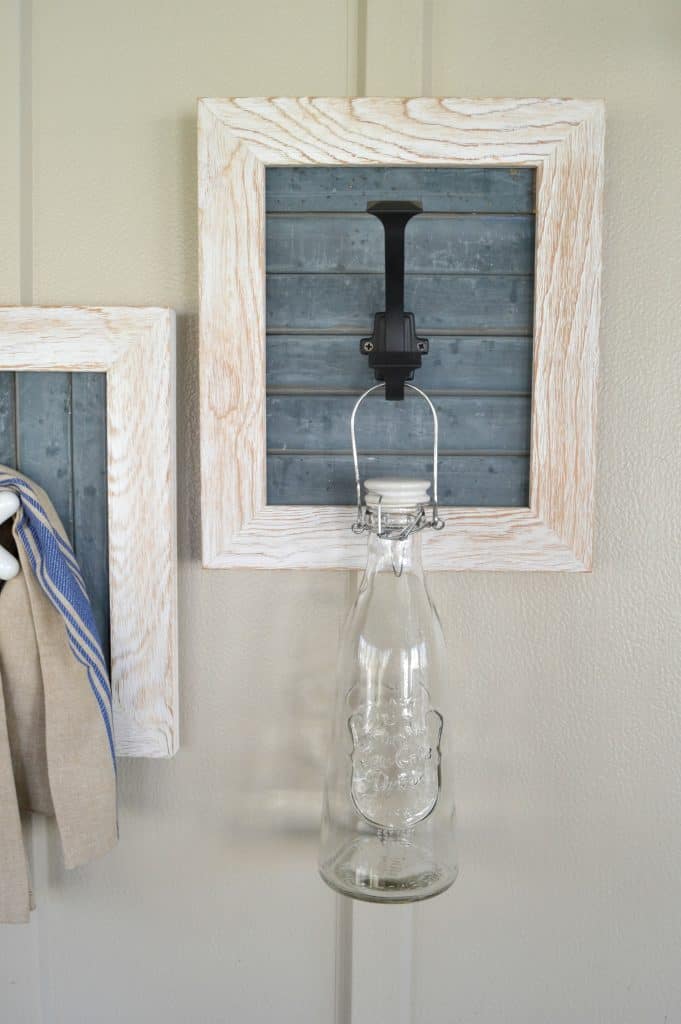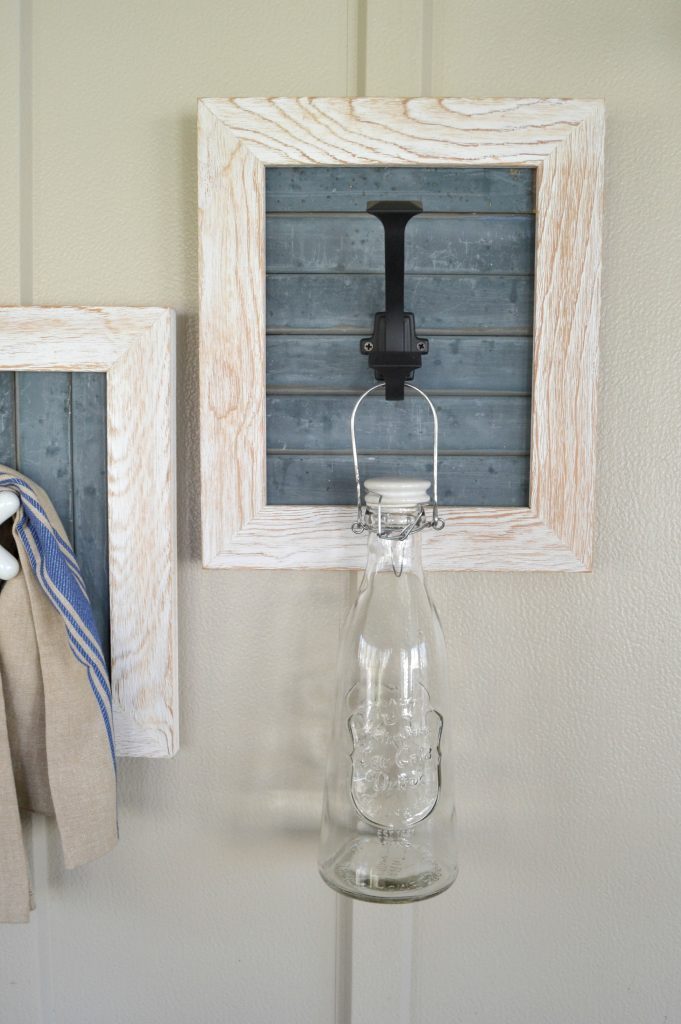 When we put these decorative hooks together, we had about five other projects going on. The weather is getting nicer and we are in full DIY mode around here. I am excited to share all the things we have been working on.
On a side note, yard sale season is about to be in full swing around here. Woop! Woop! I post a lot of pictures of my finds on Instagram and Facebook. Make sure to follow me there to see all the projects I find this season!
PIN THIS POST!

If you liked these DIY decorative hooks, you will love these projects:
The Easy Way To Distress Furniture
Curbside Picnic Table Makeover