When the kids were smaller, I decorated for every holiday. EVERY holiday. Now that they are older, I don't decorate for all of them, but there is something about vintage patriotic pieces that makes me want to decorate for July 4th, aka Independence Day. I grabbed one of my favorite finds the other day and created a 4th of July mantel for the first time in years.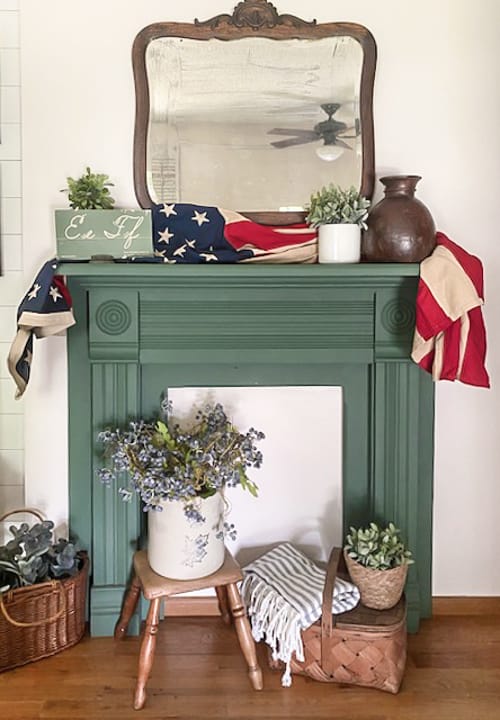 "Independence Day commemorates the signing of the Declaration of Independence and the establishment of the United States as a sovereign nation. It is celebrated every July 4th, and has been a federal holiday since 1870″. (federalpay.org)
There is so much history that goes along with the 4th of July holiday.
So, when I see vintage patriotic pieces, I feel like they are even more special, have stood the test of time if you will. The vintage pieces are full of character and charm and it makes me want to decorate for July 4th even more. Last year, Matt and I went to an estate sale and everything was in boxes. A grandmother had passed away in a city about an hour from us and the granddaughter brought all the grandmother's things back to her house in Cedar Rapids and had a sale in her garage.
The granddaughter didn't want to unbox everything, so she told us to just go through the boxes and to fill an empty box for $5. I was like a kid in a candy store. NOT KIDDING! It was so much fun. The things inside these boxes were unbelievable and I kept asking the lady if she was sure it was $5/box. She kept answering, "Yes, ma'am." She didn't want to deal with all the stuff and I was happy to take some of the things off her hands.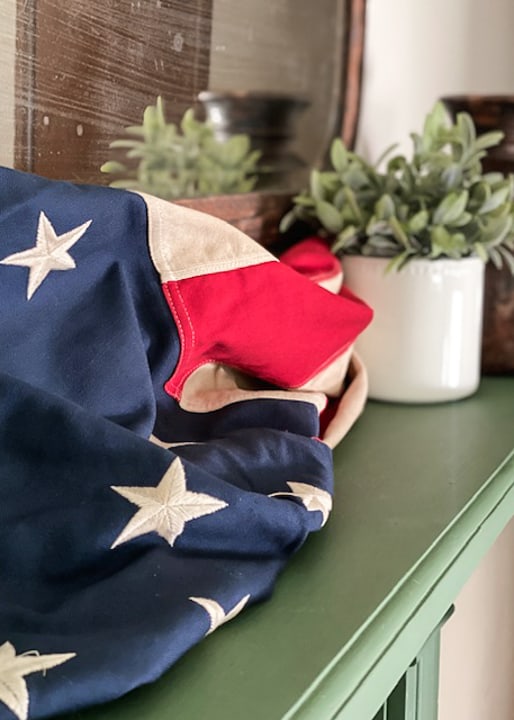 Inside one of the boxes were old American flags. They were rolled up, so I couldn't see what condition they were in, but I didn't care. I put them in my box of things I was taking home. One of the flags I got is HUGE! There aren't any holes in it and the color from its age is my favorite part about it. I decided to drape the flag over the mantel we got for $2.99. (You read that right. $2.99! Read all about that story HERE).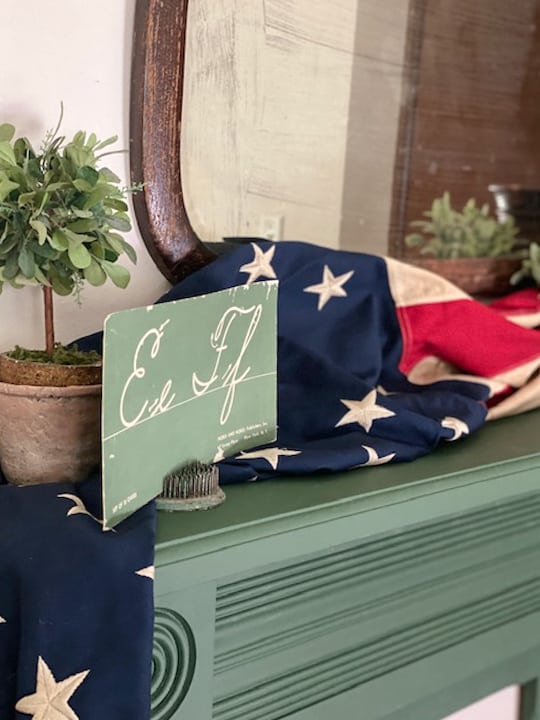 After I got the flag on the mantel, I started shopping our house. Since we are in the middle of COVID, yard sales aren't happening and I am not frequenting the thrift stores like I usually do. So, I had to use what I had on hand.
When I shop our house to change up an area in our home, it makes me love the pieces I move around even more.
By just moving them to a new space or using them in a different way, they feel new. It makes the space look different. I get bored easily with decor. So, changing up spaces in our house using what we have is a great way to feel like there is a big change without spending money. AND, it is fun for me!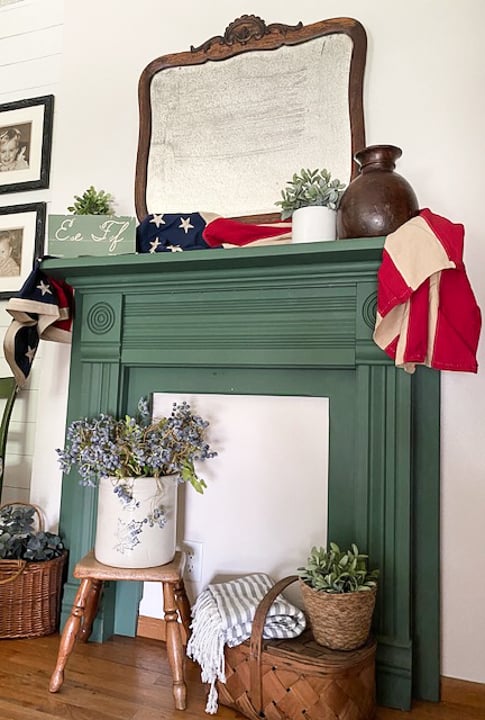 Picnic baskets, blueberry stems, and faux greenery are great staples for summer. They helped bring this 4th of July mantel together.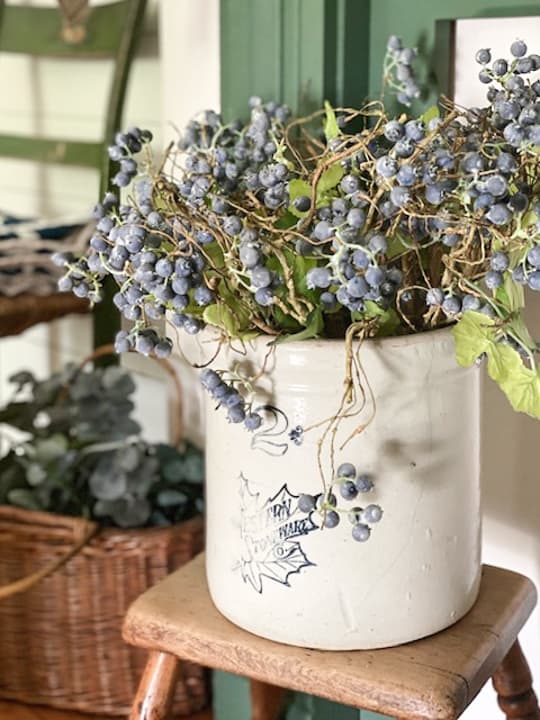 This flag is so good and I am so happy I got it out this year. I have another one from the same sale that I will be putting in the hutch in our living room. This mantle change has made me want to find more vintage, patriotic decor that I can bring out every summer.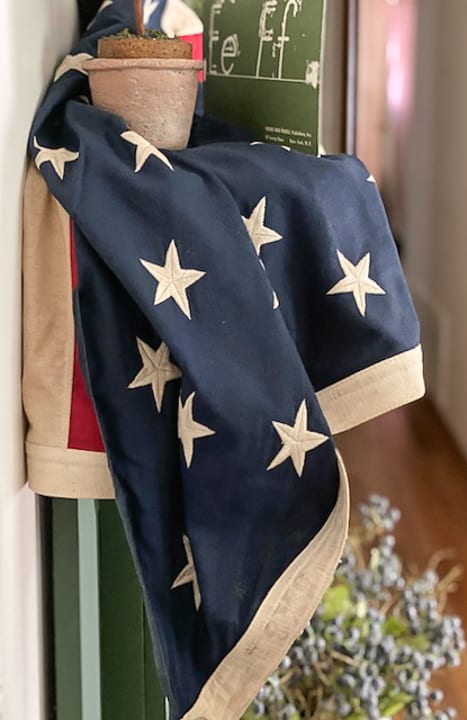 Thanks to COVID, July 4th is going to look a little different for all of us this year.
The fireworks have been canceled here and social distancing is still strongly encouraged. I am looking forward to this all being over and hopefully getting back to some sort of "normalcy" soon. Until then, I will be enjoying our festive mantel and celebrating the holiday as well as we can at home.
Do you decorate differently for the summer months or specifically for July 4th?
Vintage flags are hard to find, but I found these options that look amazing and they are a great price!
PIN THIS POST!

If you liked this 4th of July Mantel post, you will also like these patriotic ideas:
DIY Red, White & Blue Rectangular Planter
30 Minute DIY Projects For Your Home
Patriotic Cocktail: Easy & Fresh