Happy Thanksgiving! Okay, I am getting a little ahead of myself. I am just excited to be sharing my Nature Inspired Thanksgiving Tablescape with you. Not only am I sharing my tablescape, but I have teamed up with some of my blogging friends who are also sharing their Thanksgiving Tablescape. This tour is going to have you ready for Thanksgiving in no time. (The list of all the tablescapes is at the end of this post).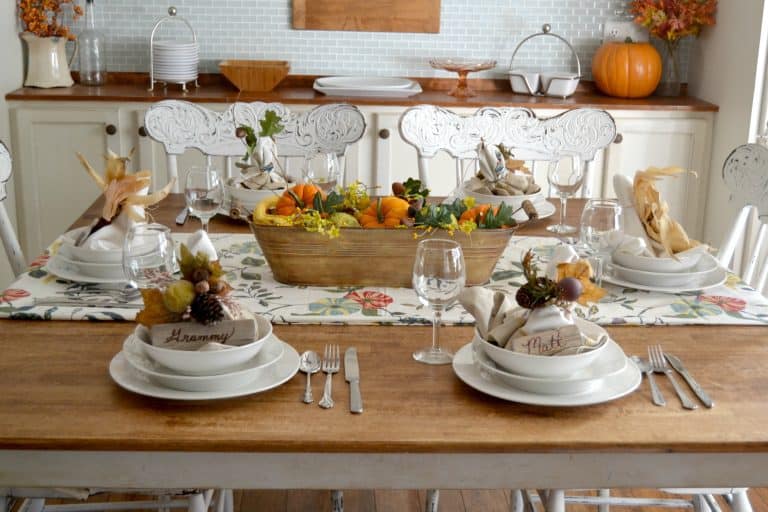 When I started brainstorming for this Thanksgiving Tablescape, I looked around to see what I already had on hand (just like I do with every party, gathering or project). When I noticed how many "natural" elements I had, I decided to base my tablescape around that.
I started with the centerpiece.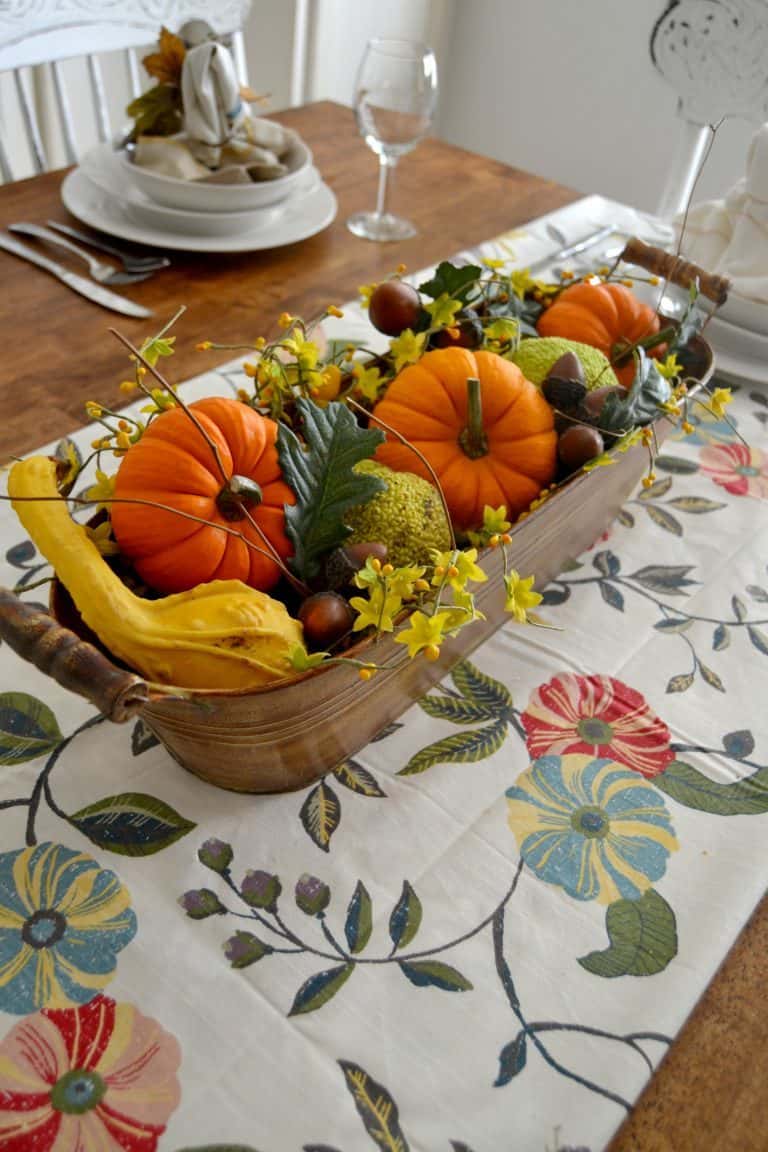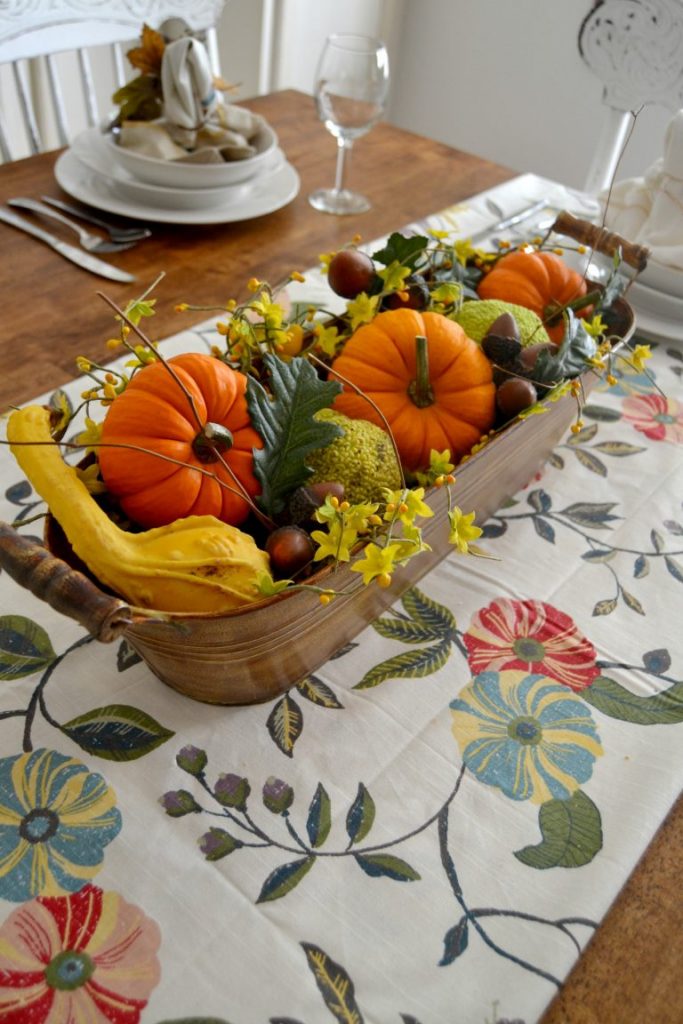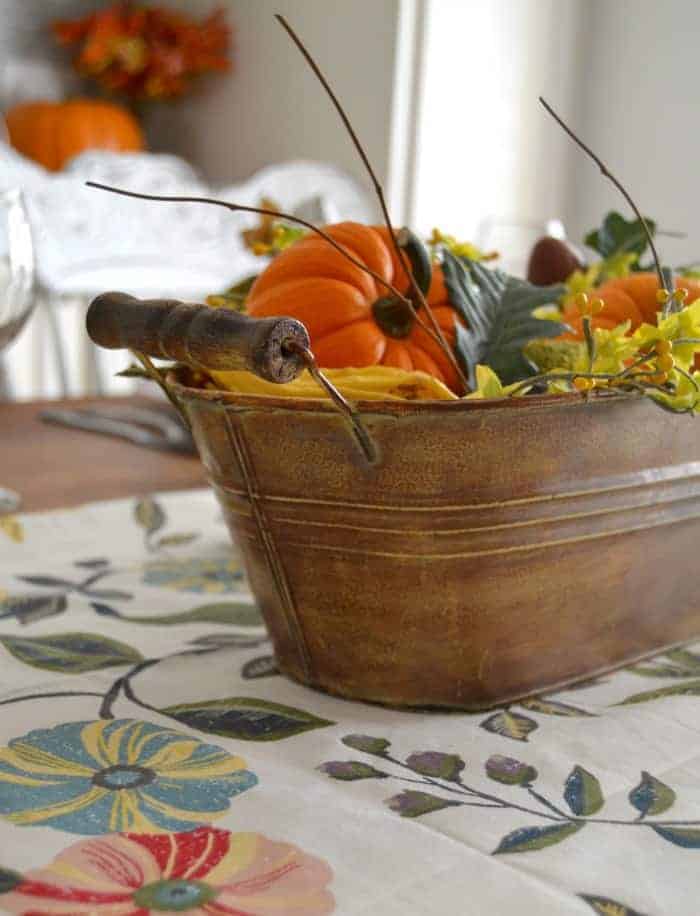 I bought the container at a yard sale this summer for $1 and the yellow flowers and tiny pears you see is actually a wreath I also found at a yard sale for $1. I 'smushed' the wreath down in the container to act as a base for the other things I wanted to add in there.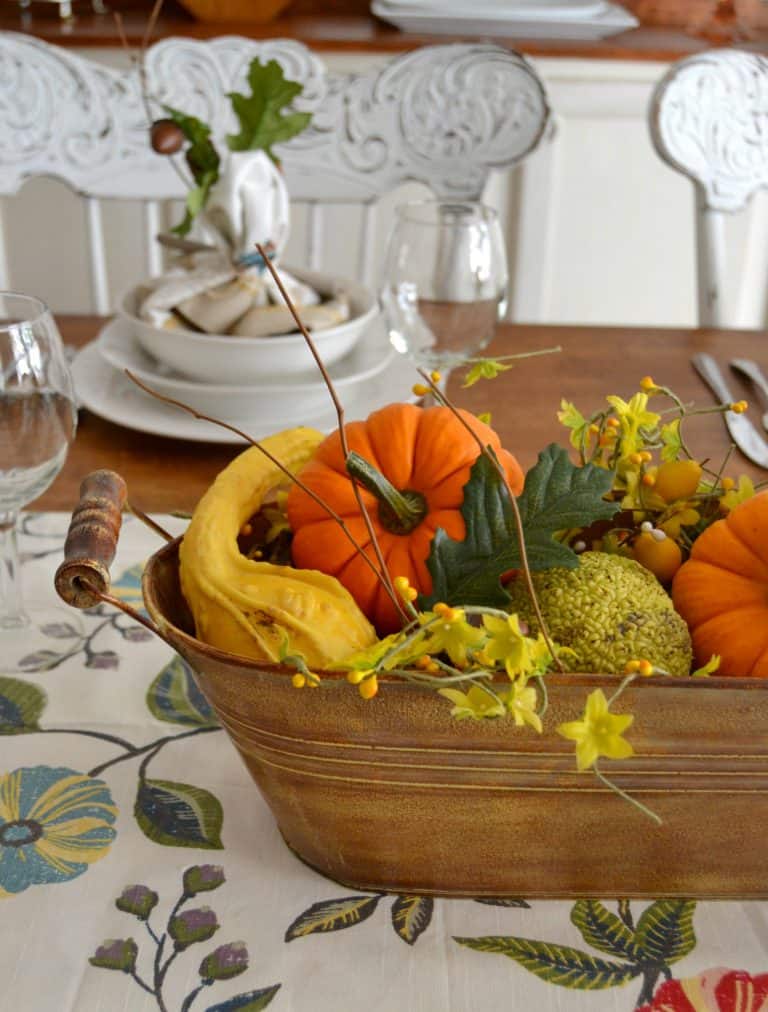 The acorns are part of fall foliage pieces I picked up at yet another yard sale for 10¢ each.
Not kidding. This is how I shop yard sales. If I see something I know I can use, I pick it up. I don't spend a lot of money, I always have things on hand when I need them and I have never bought anything that I haven't used at one time or another. (To find out more of my tips and tricks for shopping yard sales, sign up for my FREE guide HERE.)
I picked up the gourds at a local pumpkin patch.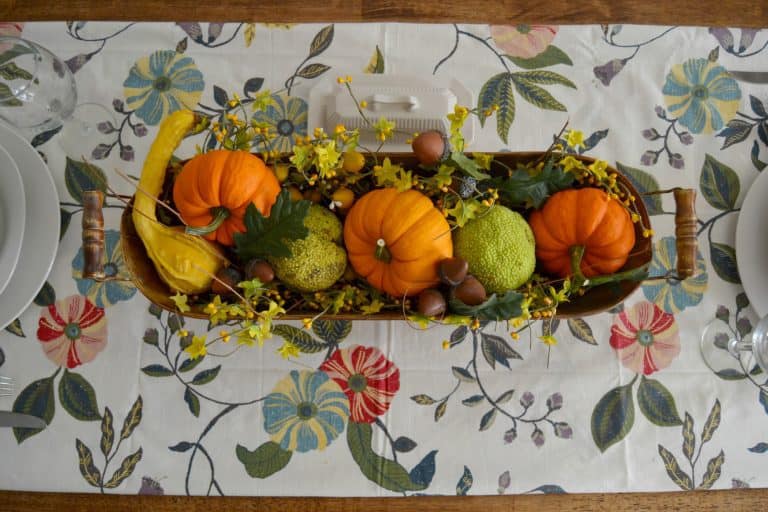 For each place setting at this table, I used more of the fall foliage pieces I picked up to wrap the napkins. Then, I wrote everyone name on a piece of driftwood I had left over from my DIY Driftwood Heart Wreath.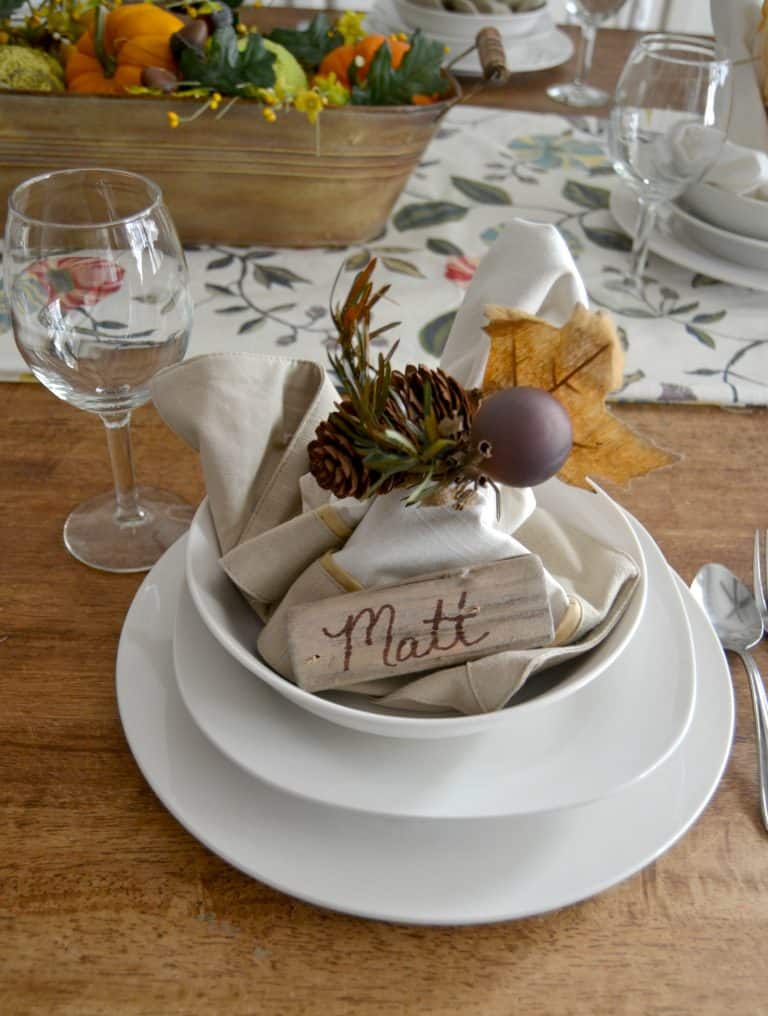 I also used small Indian corn I picked up at the pumpkin patch for some of the place settings.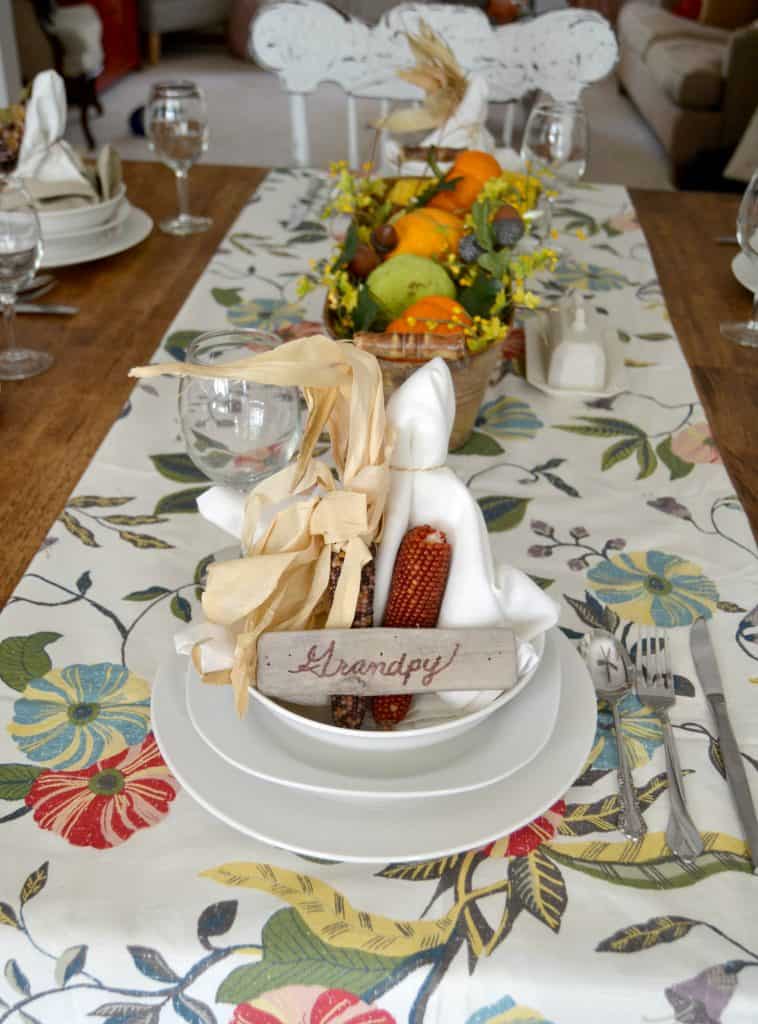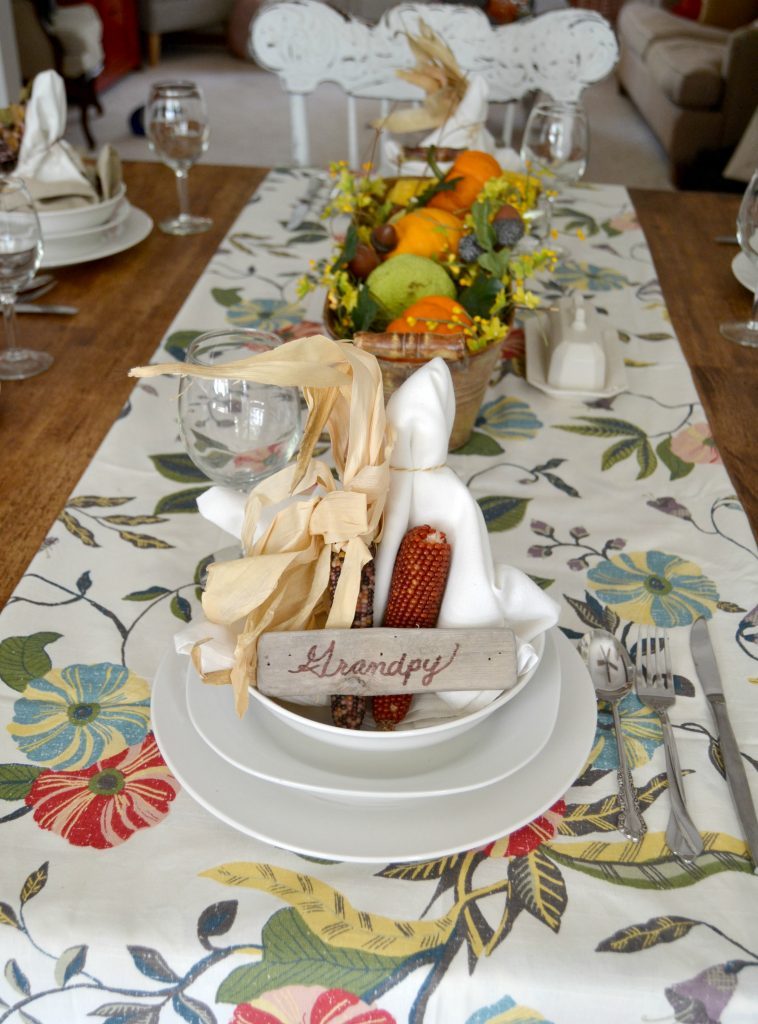 White dishes make everything else pop on the table.
(Shhhhh. Don't tell anyone, but all of these white dishes came from The Dollar Tree!!!)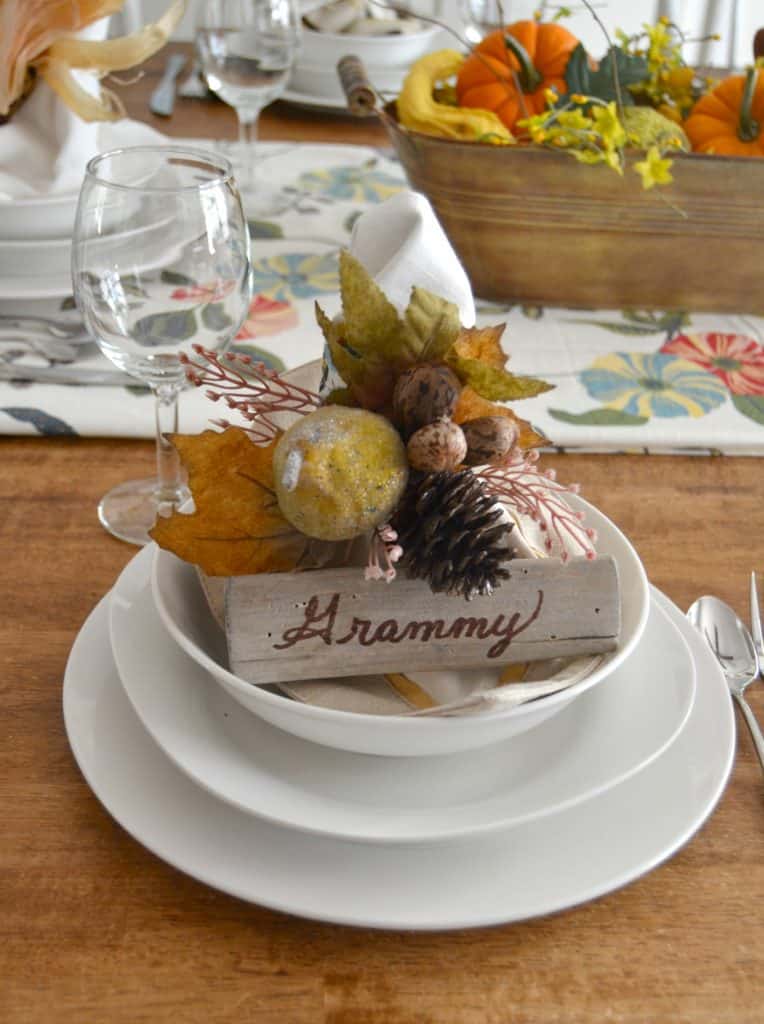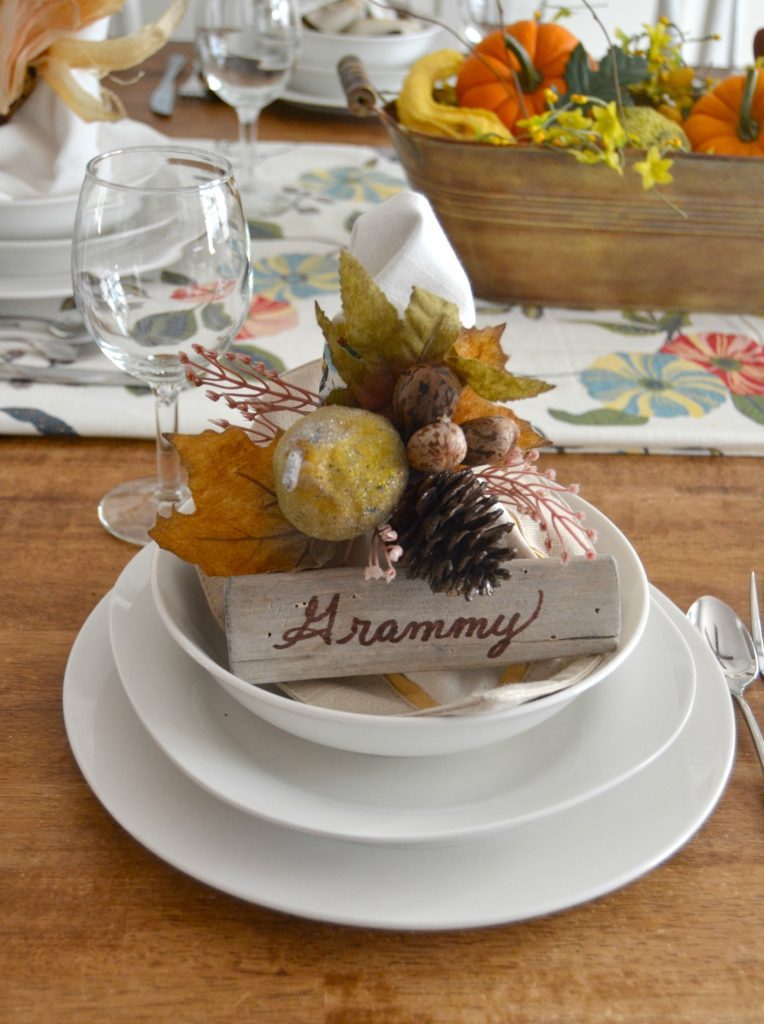 The table runner is actually a full-size tablecloth that I folded to fit the middle of the table. It was a clearance find at Target. It has perfect colors for a Thanksgiving Tablescape and goes great with my natural theme.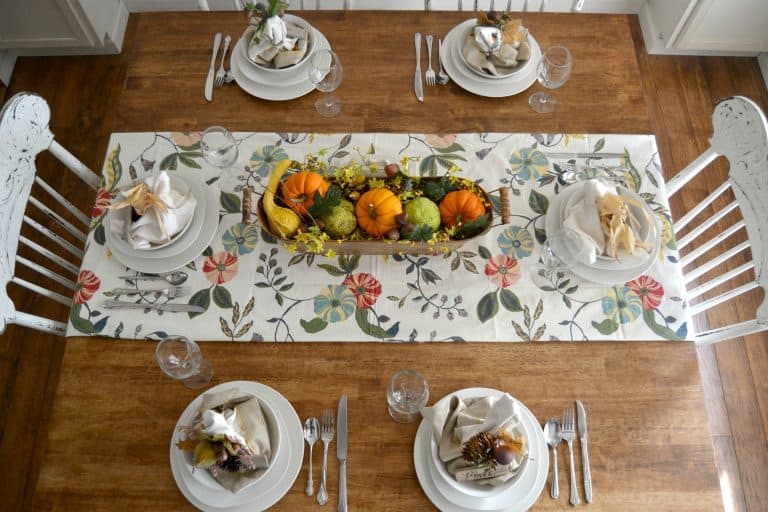 My sister married a "Matt" also so I have two places set for Matt.
My kids thought I should have made one that said "Dad" for our Matt. As long as we all preface Matt with "my", "our" or "yours", we all know which one we are talking about. 🙂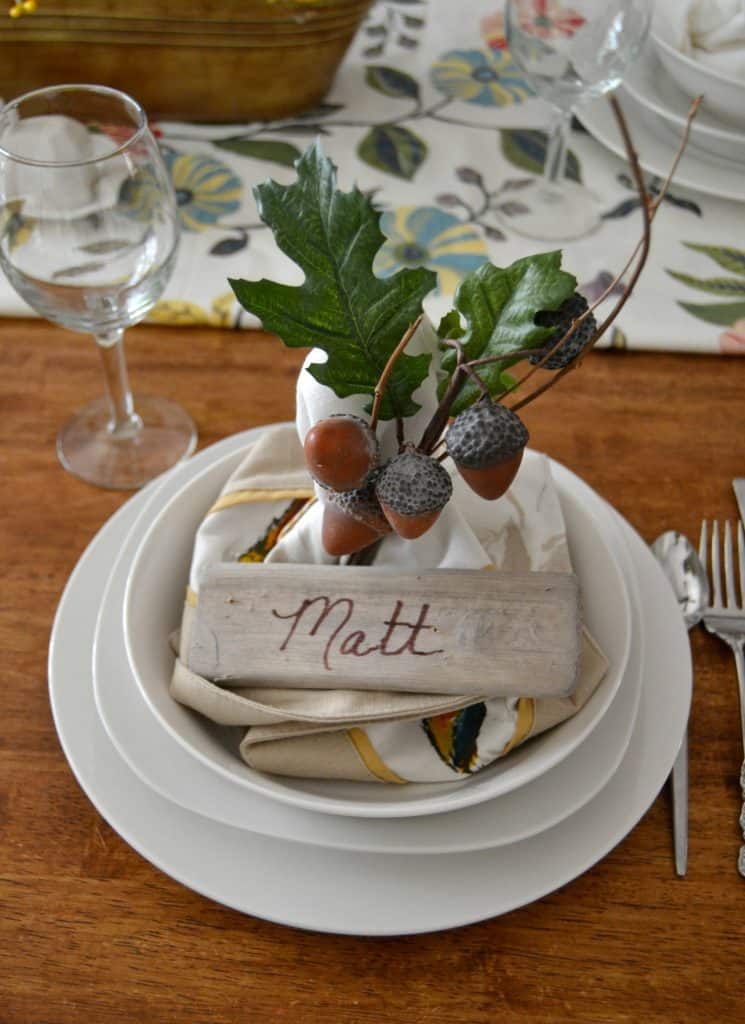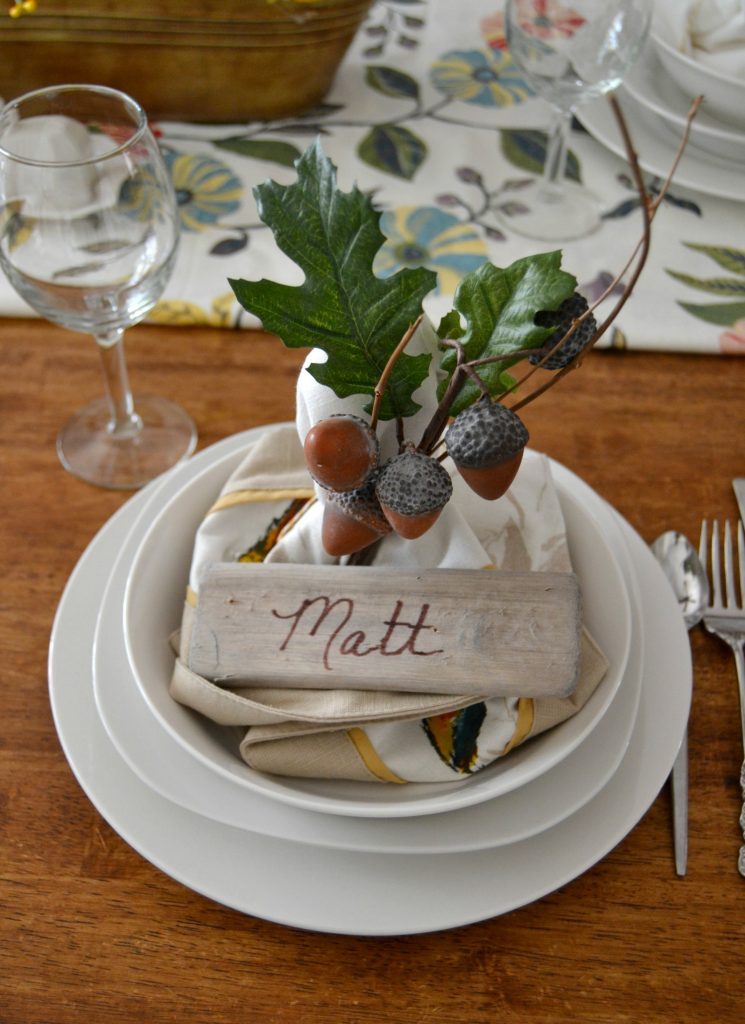 One of my favorite things about this Thanksgiving Tablescape is that each guest gets their own fall presentation when they sit down. No two are alike.
One little tip I wanted to share with this tablescape is something I do every time I have a big dinner/party to get ready for. Once I have the meal planned and know what I am serving, I set the table the night before and then I set out the serving dishes I will need for each dish on the buffet. That way, I am organized the day of and I know where everything will go.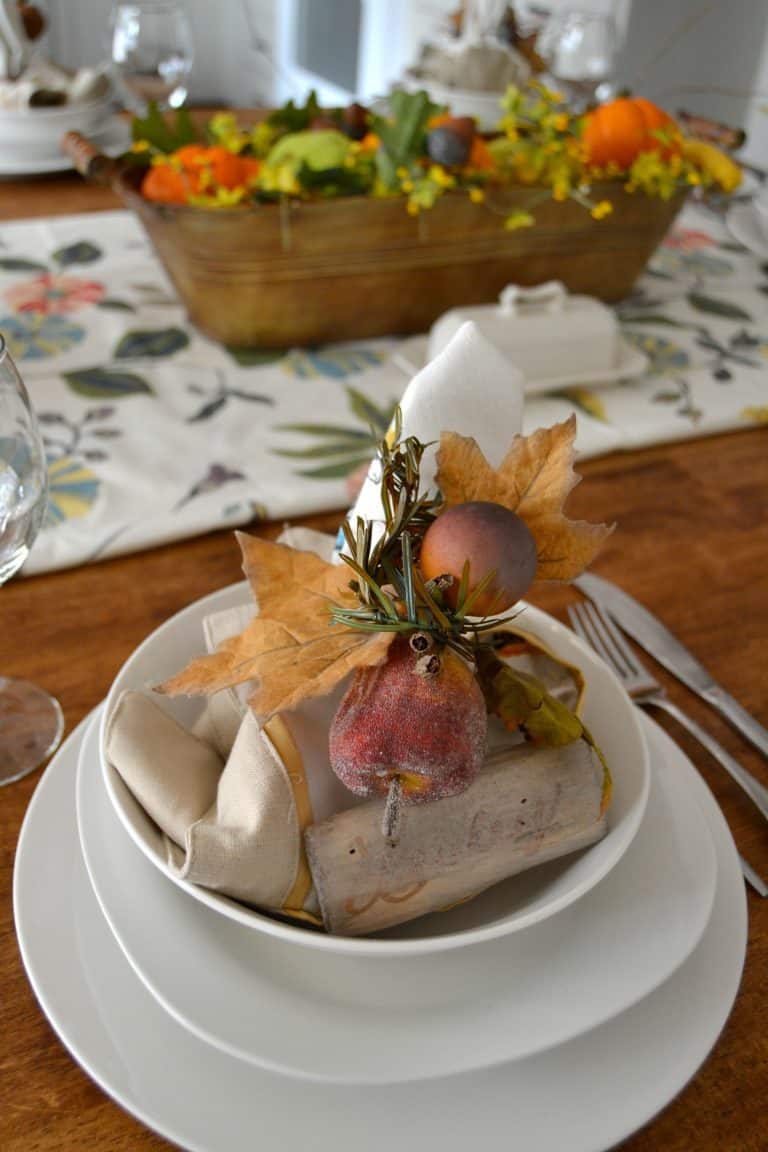 (Affiliate links are used in this post. You can read my disclosure here.)
Thanksgiving is such a special time to spend with family and friends. It doesn't have to be fancy or cost a lot of money. It is the time and memories you are spending and making that really matter.
If you don't have any decor around the house for your table, I found some great Thanksgiving tablescape decor online:
PIN THIS POST!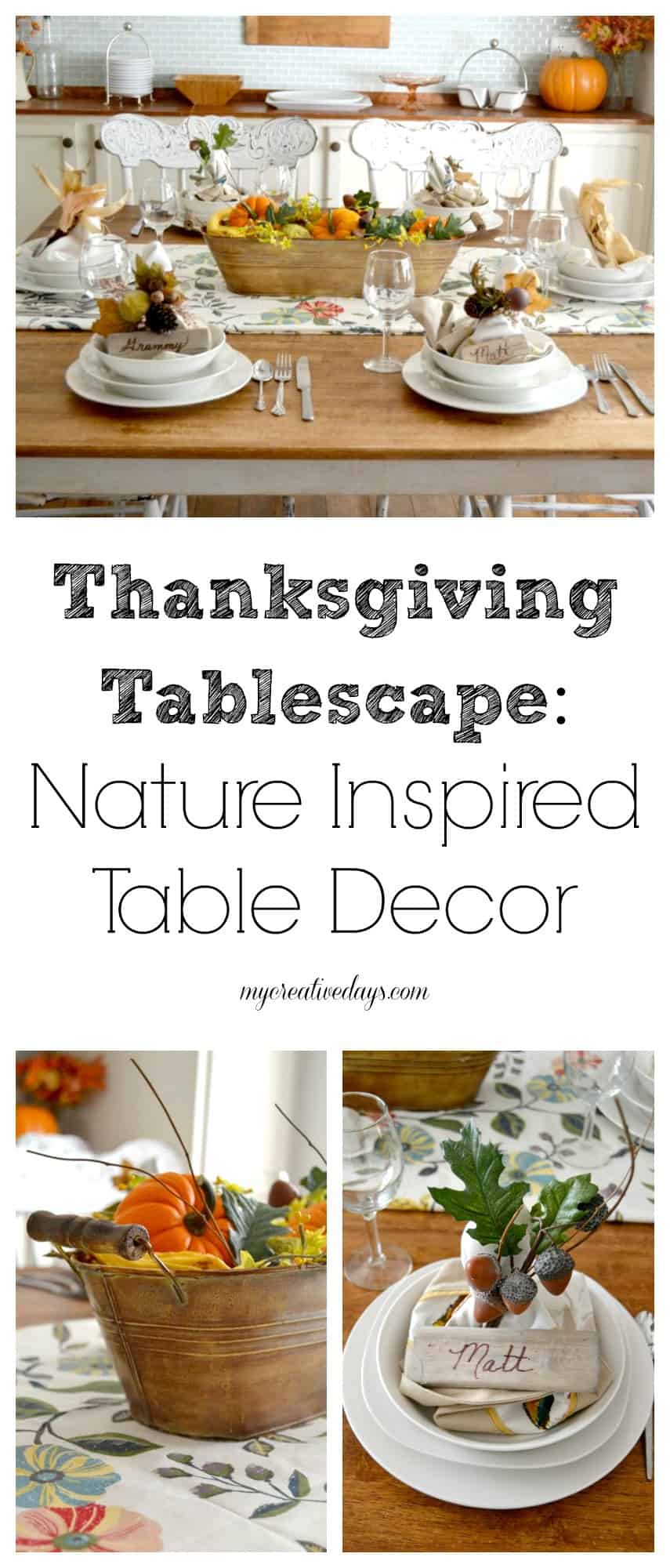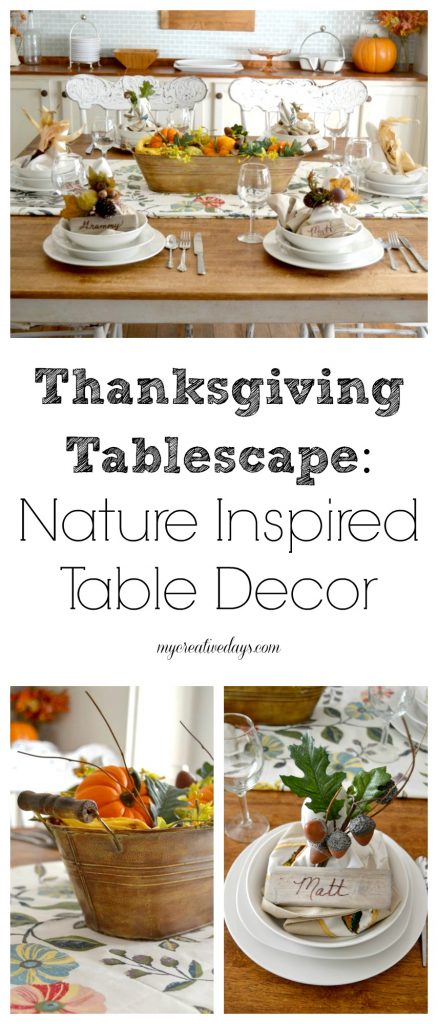 There are so many beautiful Thanksgiving tables to see in this tour. Make sure to check out each and every one of my friends Thanksgiving Tablescapes.