This Monster Party has been compensated by Collective Bias, Inc. and its advertiser. All opinions are mine alone. #MakeItAMovieNight #CollectiveBias
Who is still in the mood for parties after the holidays?
I am!
This shin-dig is all about monsters and we incorporated a movie night into it.
Did your family see the movie "Hotel Transylvania"?
We did and we loved it.
My kids were so excited when they heard Sony Pictures was coming out with "Hotel Transylvania 2".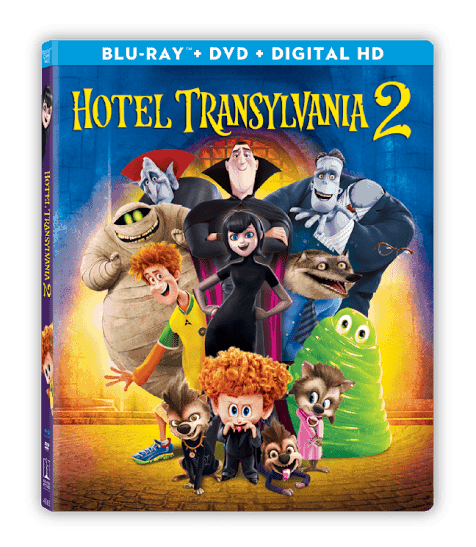 This Easy Monster Party Plan was how we celebrated it!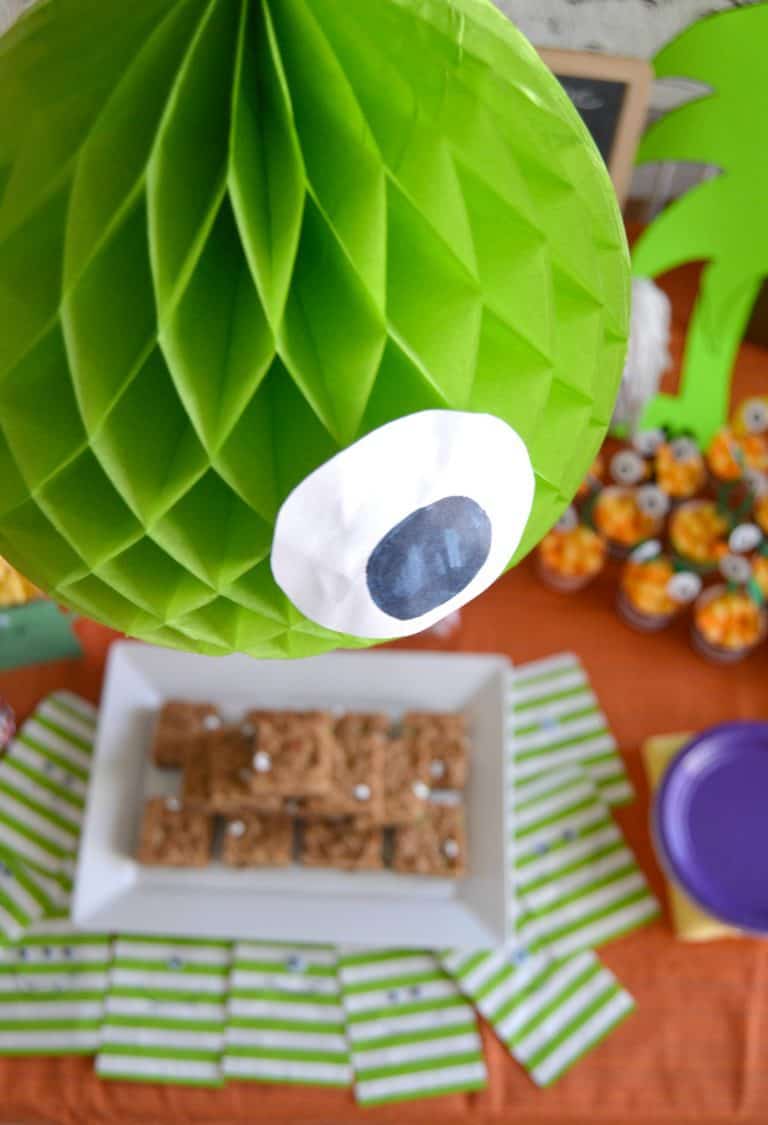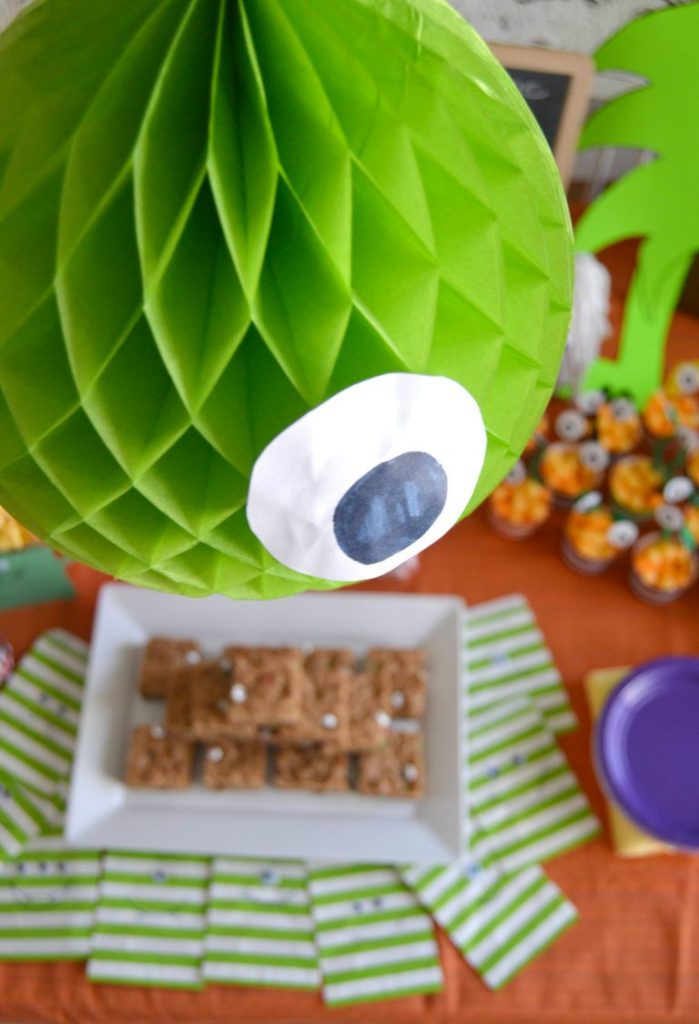 One of my favorite things to do is plan and host parties for the little people in our life. There is nothing better than getting to create a fun atmosphere based around a child-related theme. This Easy Monster Party Plan was not hard to do and yet made this movie viewing night festive and fun.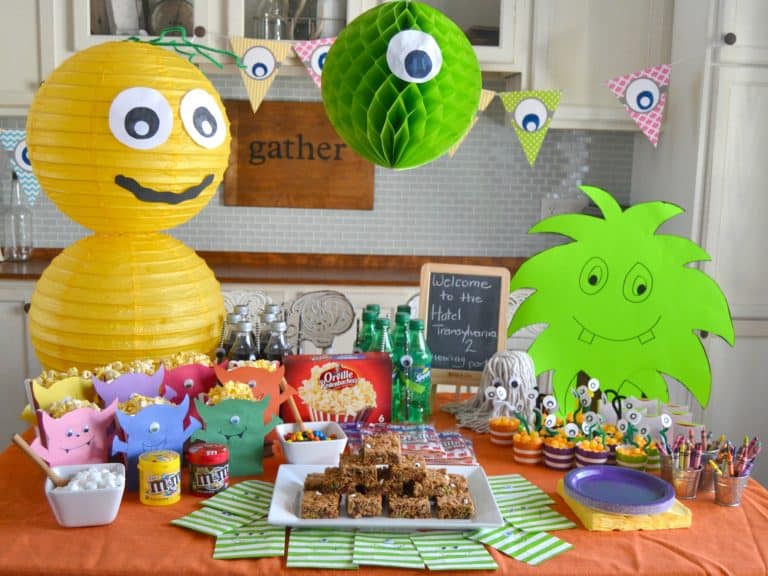 Let's start with the food for this party. One of the most important parts of any party you are throwing is the food. What's better to serve at a Monster Party with "Hotel Transylvania 2" as the featured movie than Monster Bars and Orville Redenbacher Movie Theater Popcorn! These Monster Bars are so easy to make and it yields a huge batch so you are sure to get a few in everyone's tummy. 🙂
Easy Monster Bar Recipe For This Monster Party:
Easy Monster Bar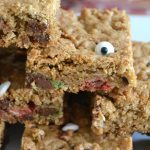 2 tsp baking soda
2 tsp water
1 cup butter
1 cup peanut butter
1½ cups brown sugar
1½ cups granulated sugar
4 eggs
2 tsp vanilla
2 tsp salt
3 cups wheat flour
2 cups quick oats
1 cup M&M'S® Chocolate Candies
1 cup semi-sweet chocolate chips
edible eyes
Preheat the oven to 350 degrees.
Mix baking soda and water in a small bowl and set it aside.
In a large bowl, cream together butter, peanut butter and sugars.
Add the eggs, vanilla and salt.
Mix in the baking soda and water mixture.
Add the flour, one cup at a time.
Add the quick oats and mix well.
Stir in the M&M'S® Chocolate Candies and chocolate chips.
Spread the dough on a greased cookie sheet (some people call them jelly roll pans).
Bake at 350° for about 20-25 minutes, until they are golden brown.
As soon as they come out of the oven, add the edible eyes to the bars.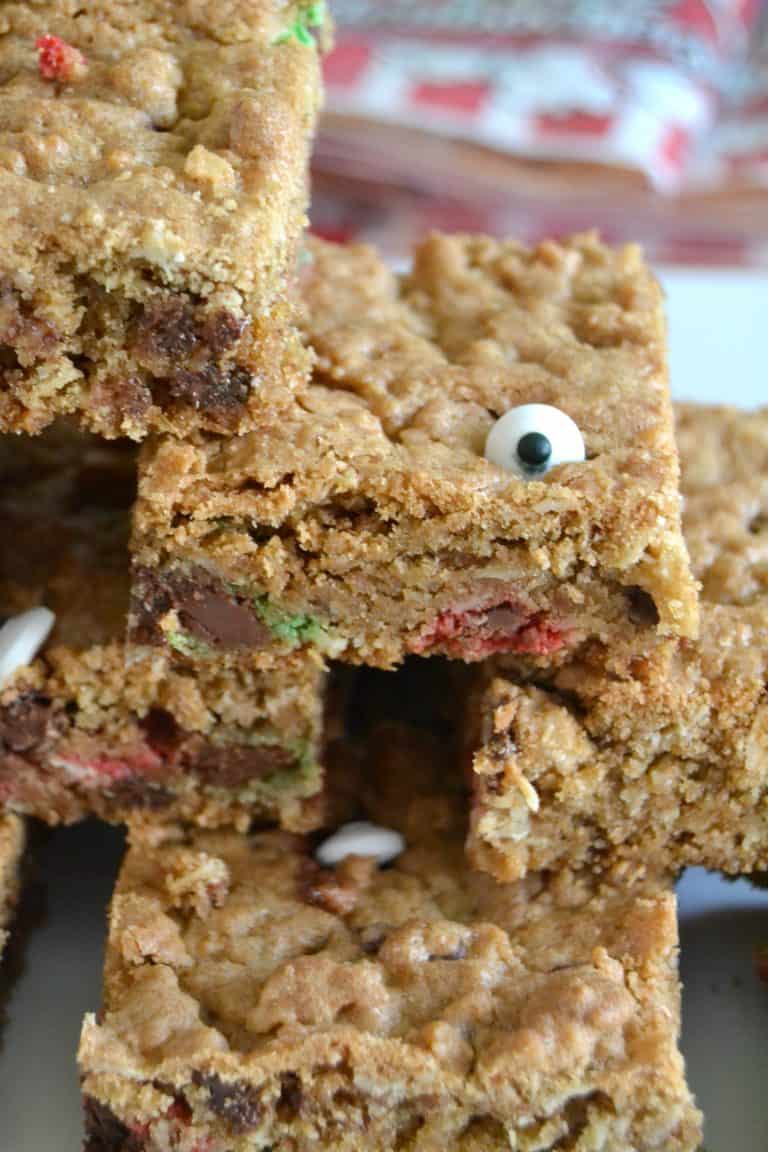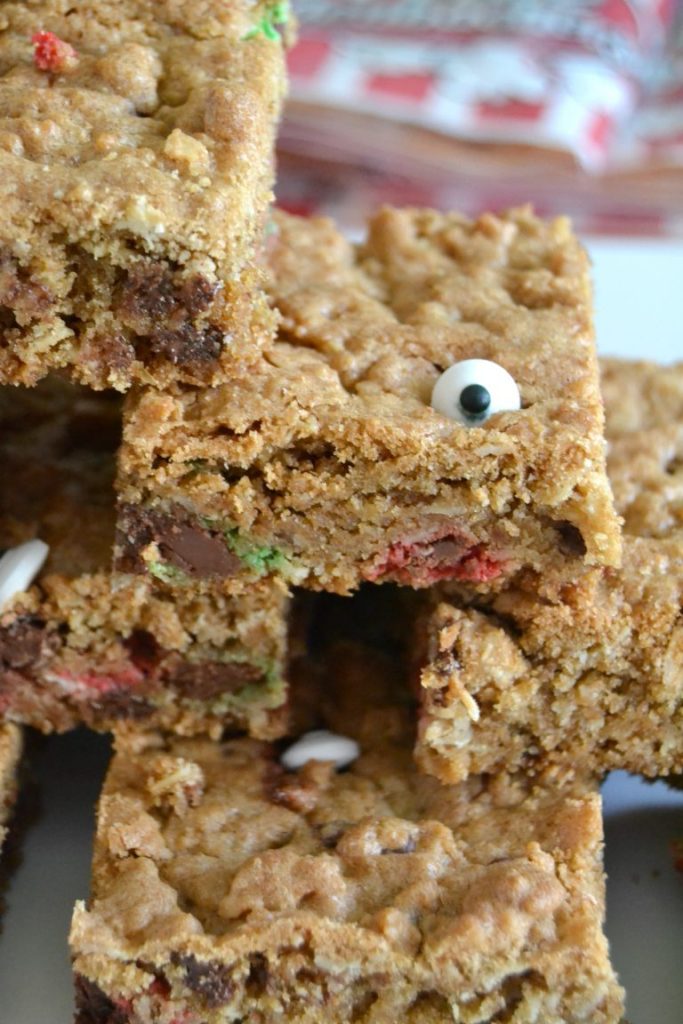 Now that the food has been covered, I want to share the party decor and how I put together the rest of this Easy Monster Party Plan.
I had to set the tone for the guests as soon as they hit the front door. 😉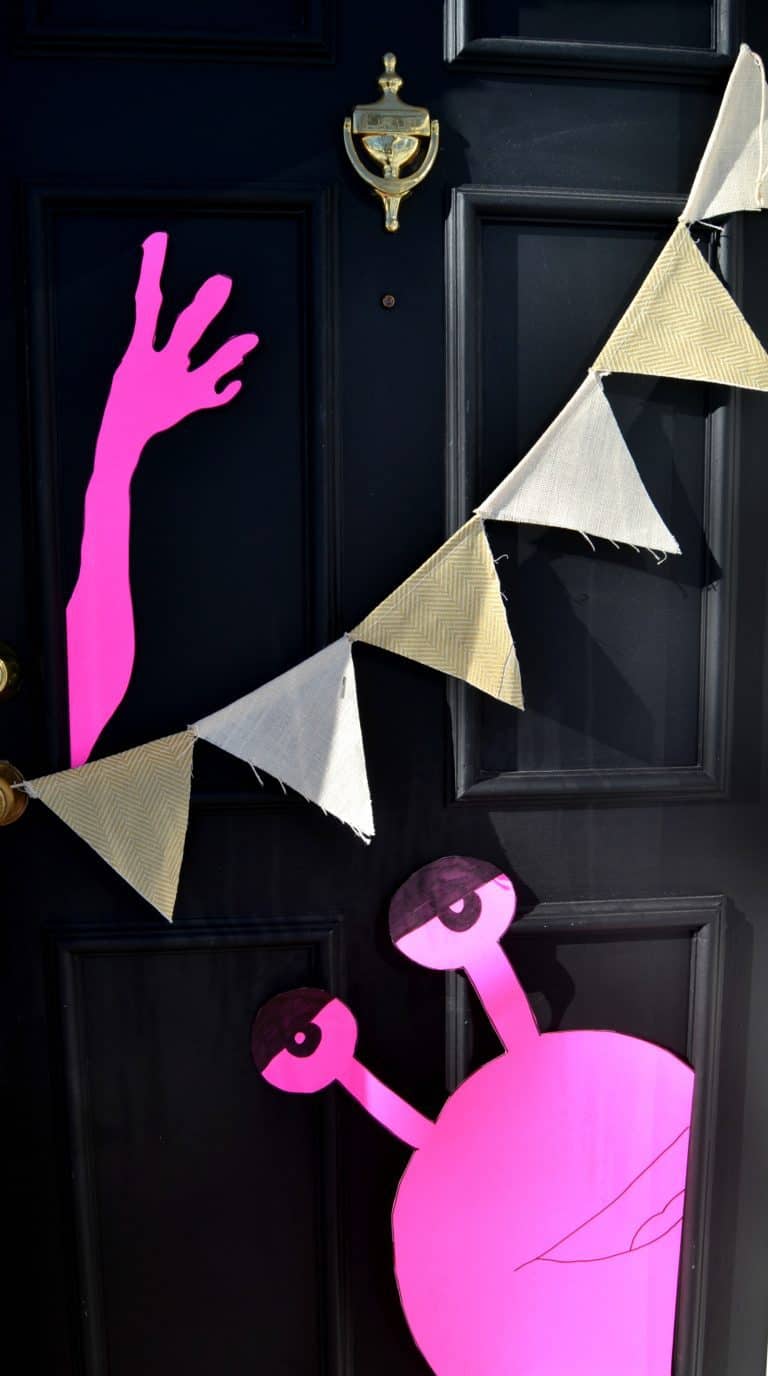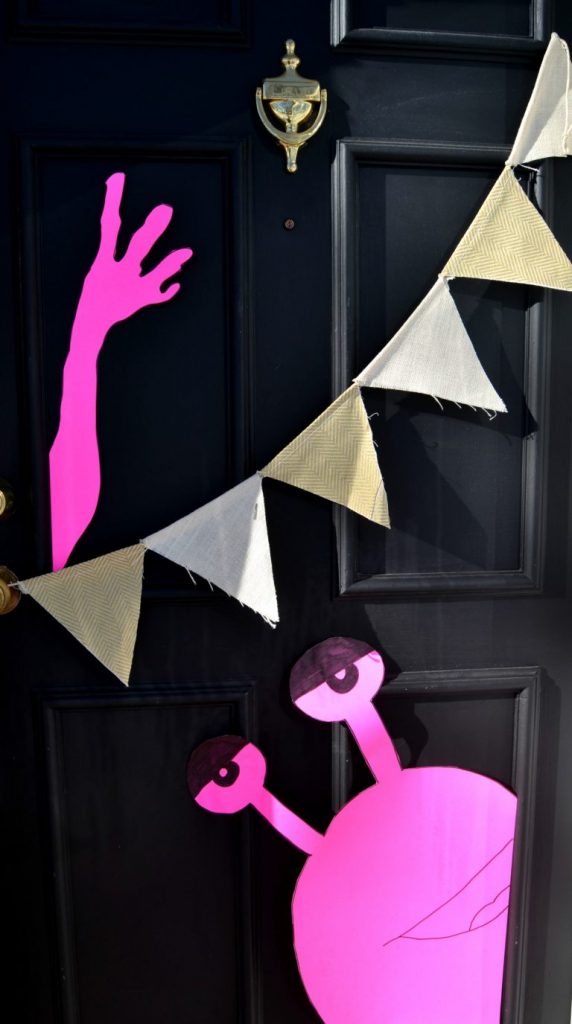 Monsters come in all shapes and sizes so the sky is the limit for what you can do with a Monster Party.
The table was screaming for a big friendly monster. I made him by hot gluing two large paper lanterns together and gluing eyes and green feet to him. And, just because I didn't want him to be too bald, I added some green pipe cleaners for "hair" to the top of his head.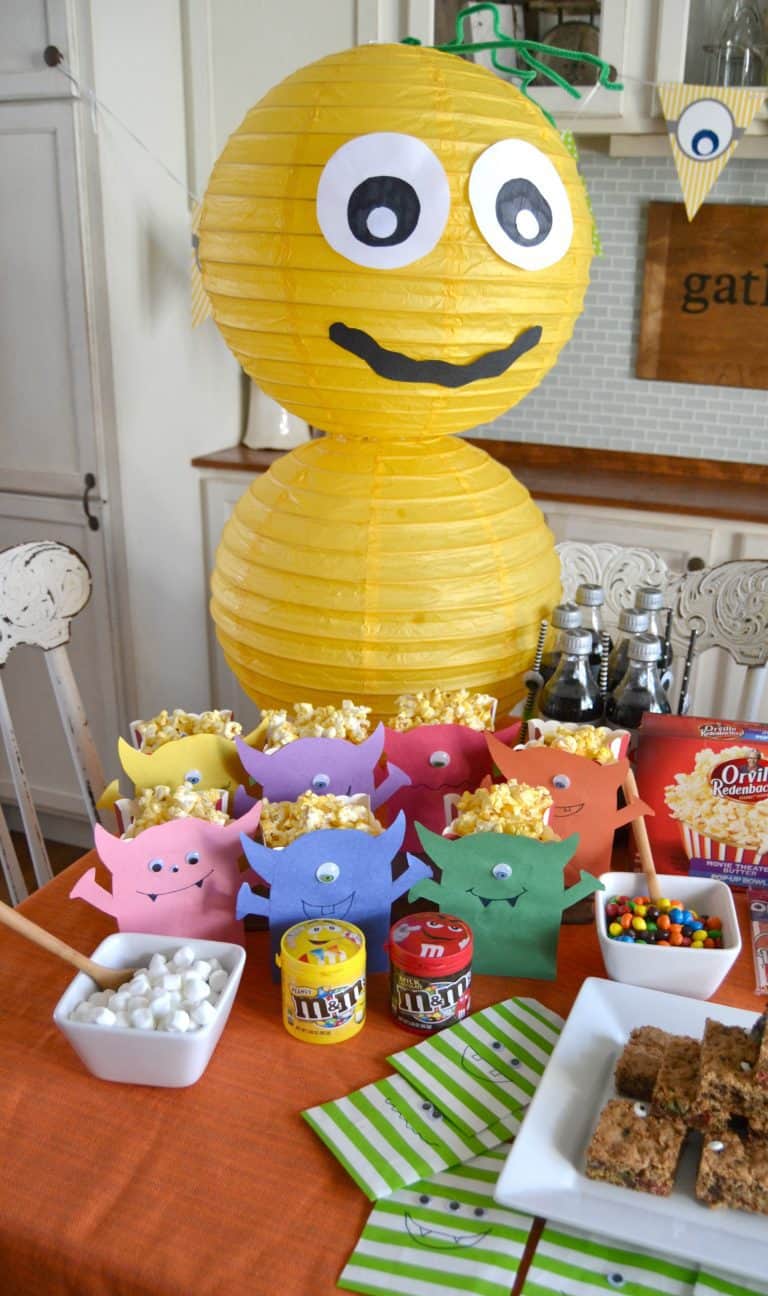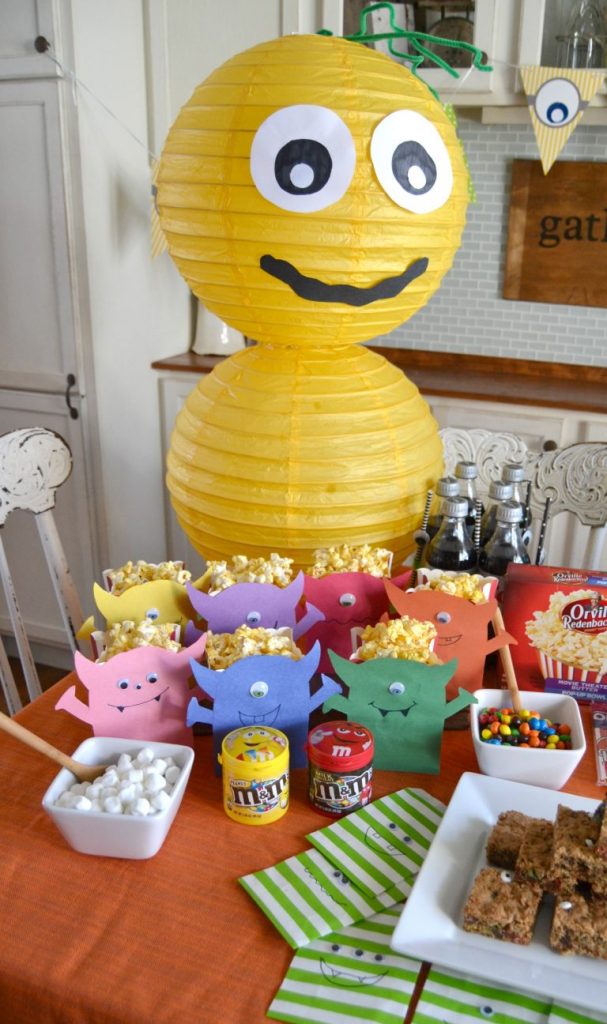 To serve the Orville Redenbacher popcorn, I made different colored paper monsters and glued them to popcorn boxes. The kids thought these were so much fun and named every one of them!
Kids have a lot of fun creating their own monsters so I made a quick activity for them to do that. I taped white paper to small raisin boxes and gave each child a bucket of crayons to draw their own monsters on. I thought these were so sweet and it gives them another snack to enjoy during the movie.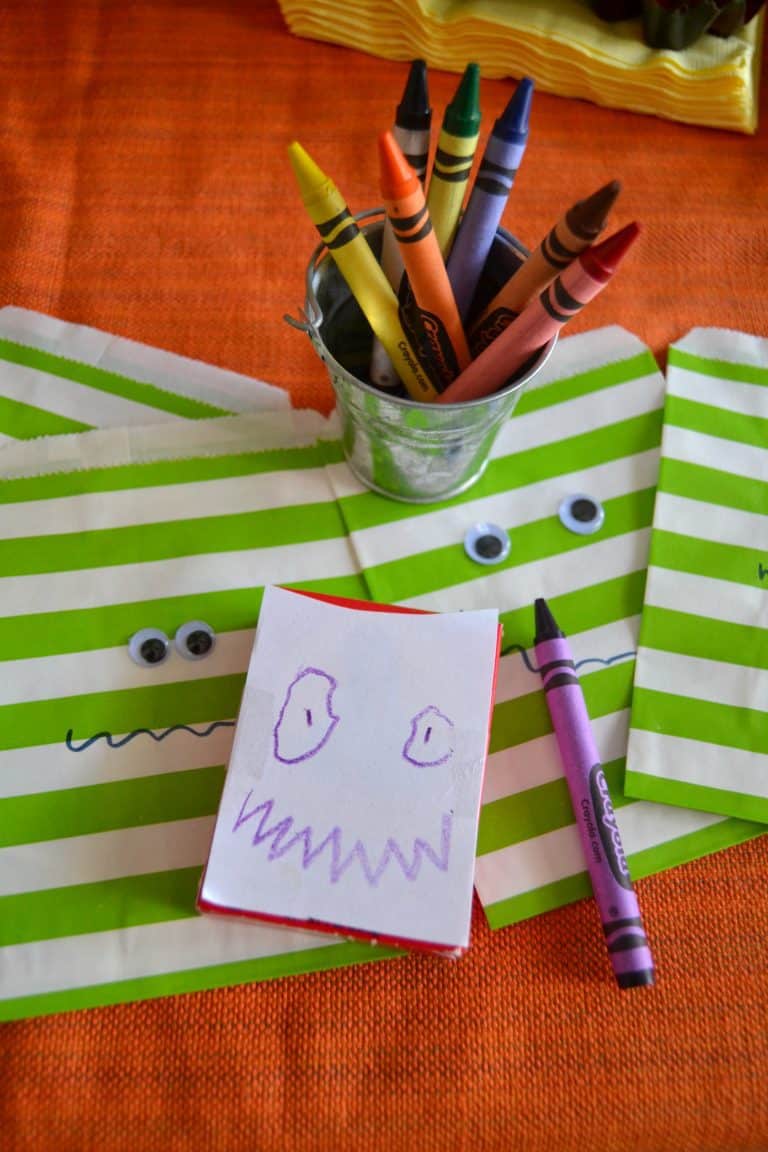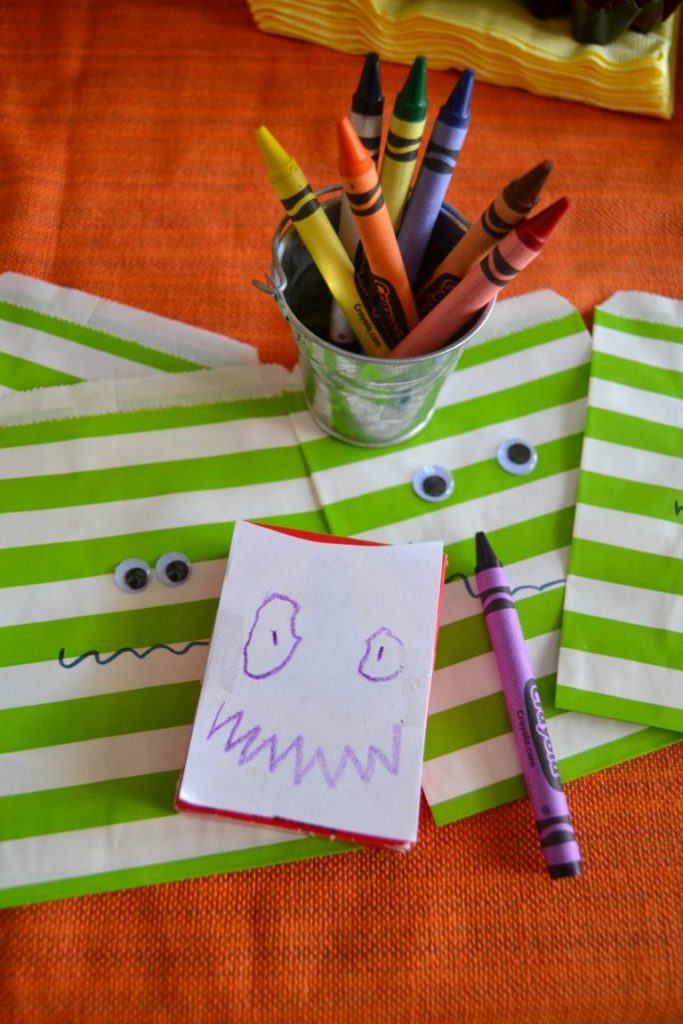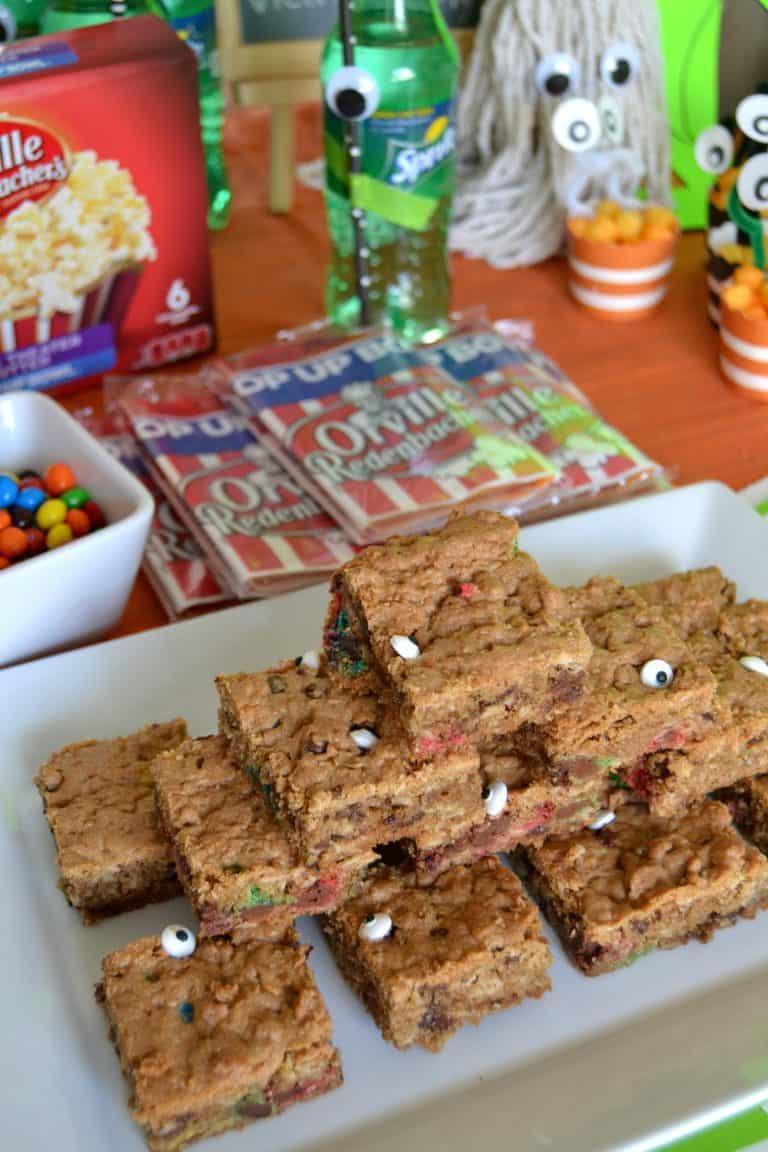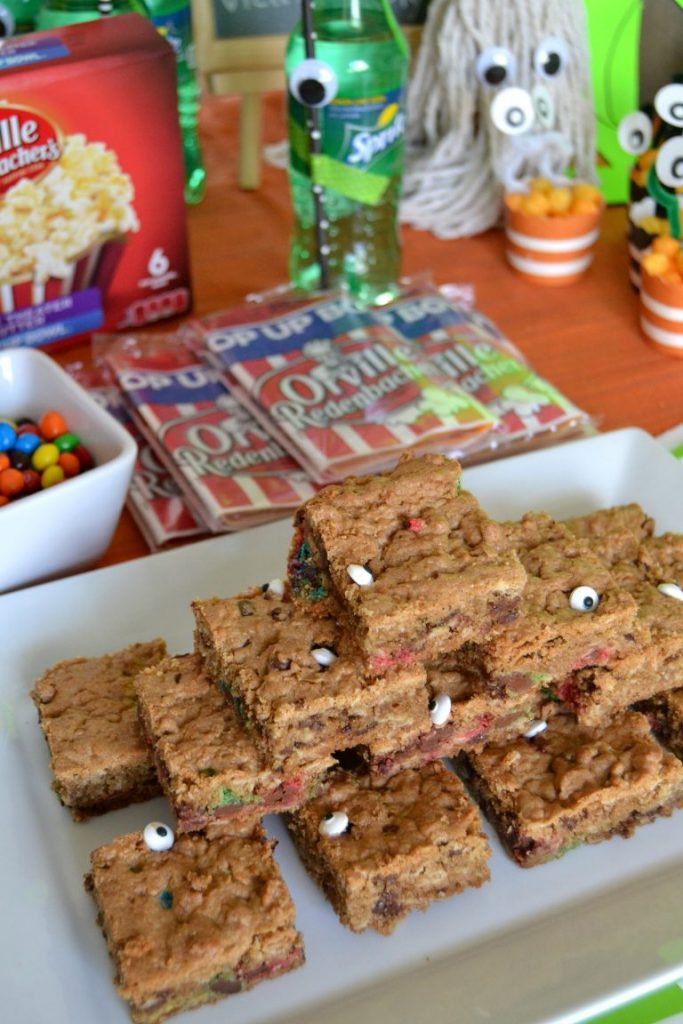 At a Monster Party, the more monsters the merrier,right?! I drew a monster on green poster board and cut him out. He is overlooking the snack table and keeping everyone in line. Snack cups can easily be turned into monsters with big eyes and pipe cleaners. Add Orville Redenbacher popcorn to the cups for the littlest of movie viewers.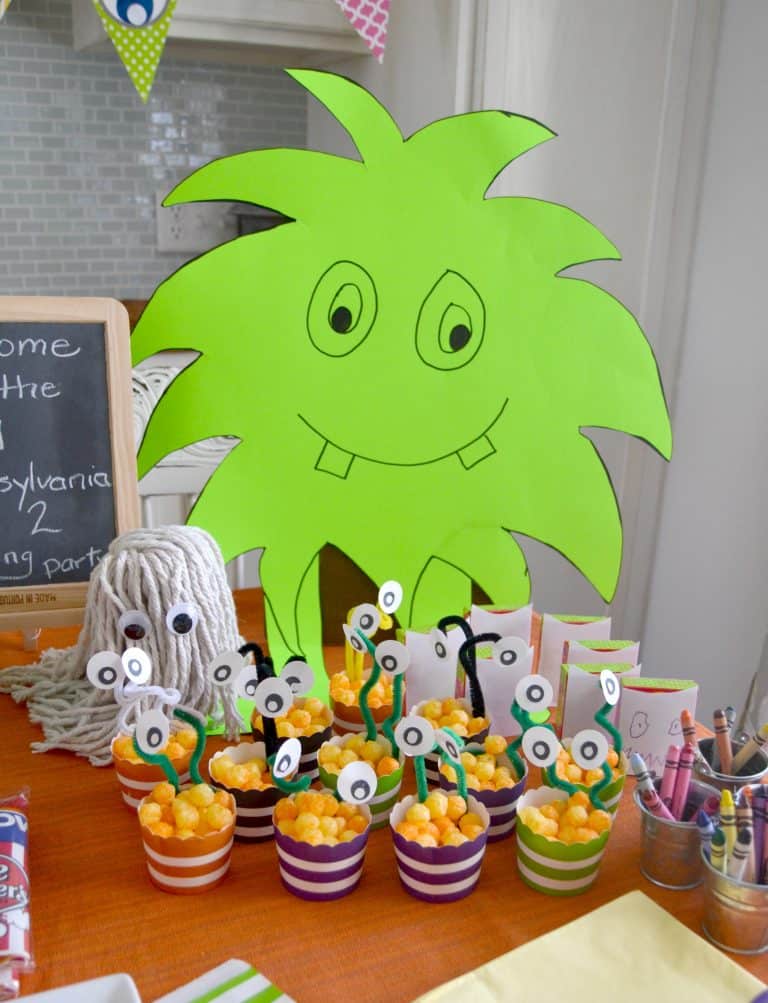 Movie parties are great to host for kids because the activity is already done for you.
Watching the movie is the activity.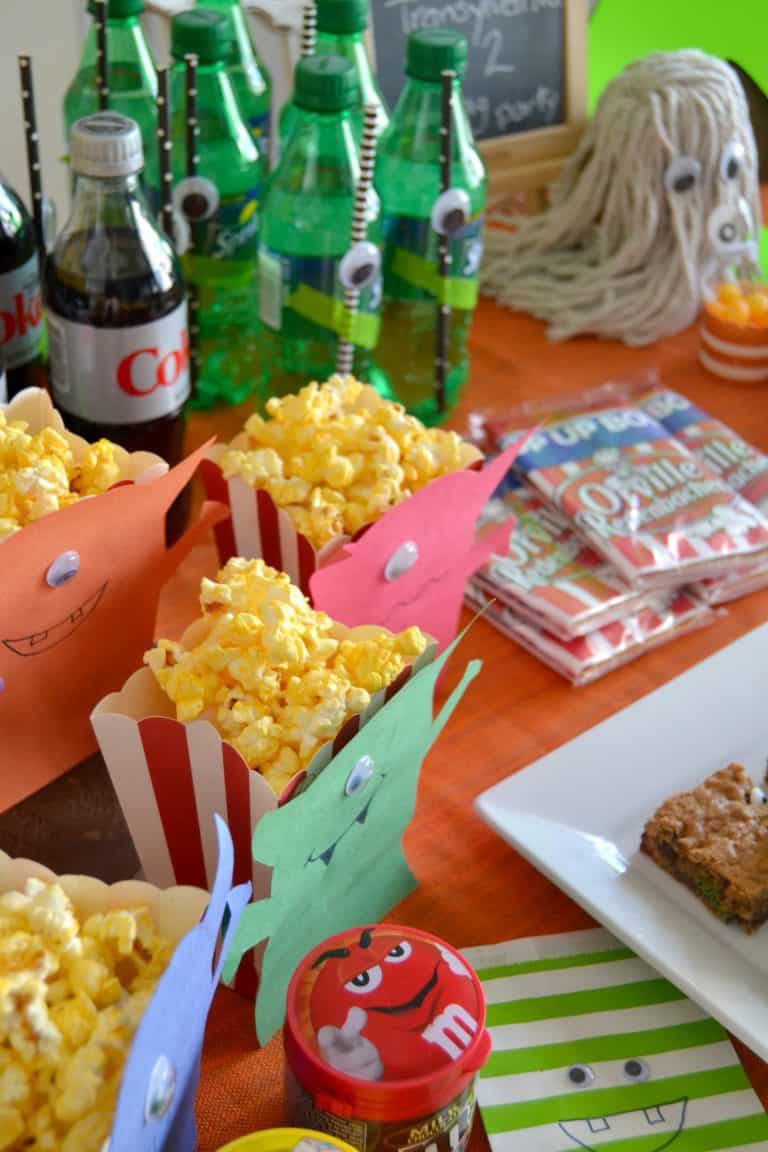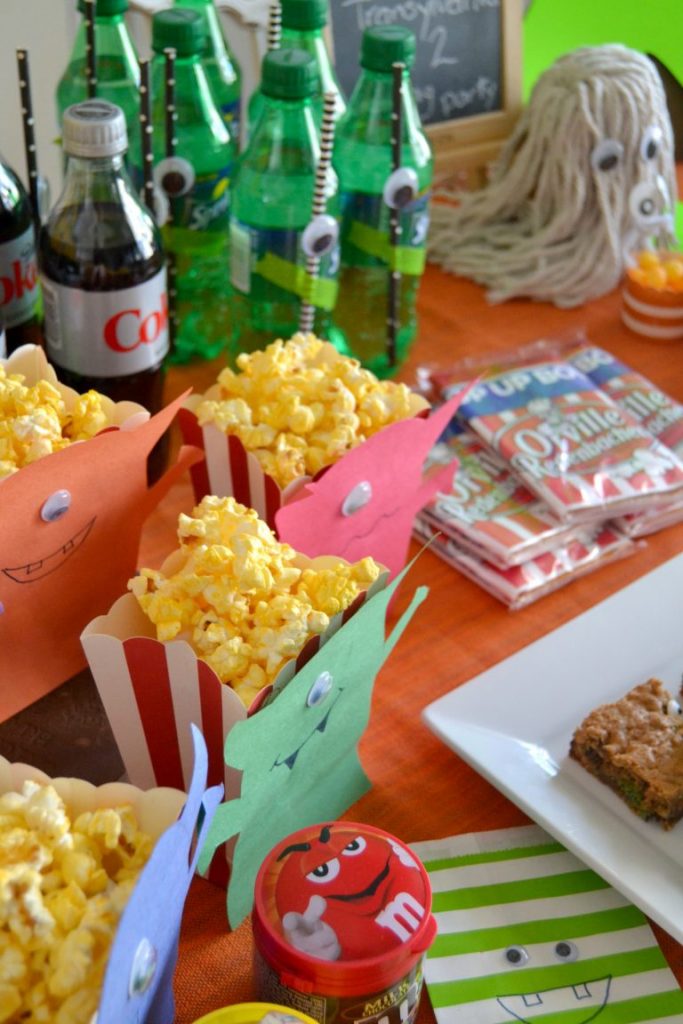 I could not leave the Diet Coke or Sprite drinks "un-monsterfied". I hot glued a googly eye to a straw and then used washi tape to stick them on the sides of the bottles. Easy peasy and yet makes the drinks match the theme.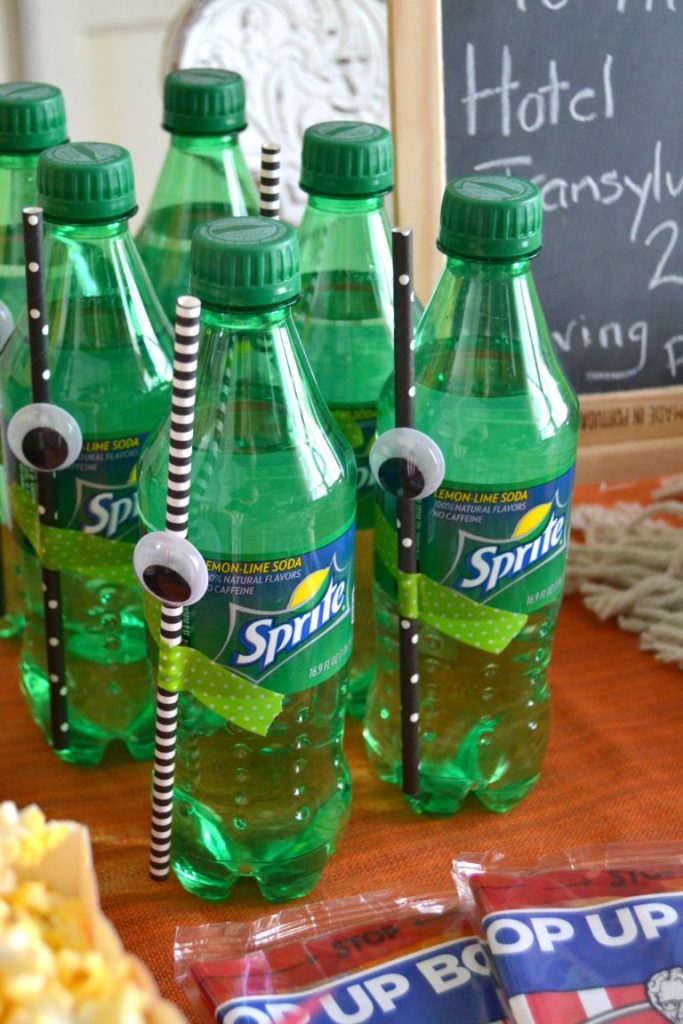 You can easily find the M&M'S® Chocolate Candies, Orville Redenbacher Popcorn and Diet Coke and Sprite products in this Monster Party Plan at your local Walmart.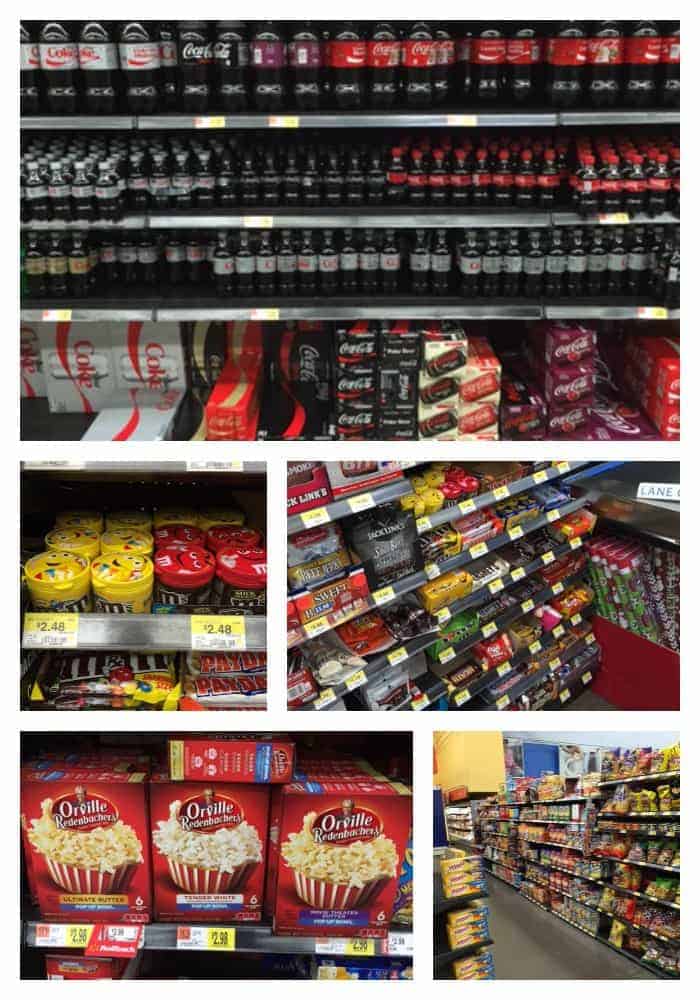 This was a memorable monster party for the kids. Every guest we invited had not seen "Hotel Transylvania 2" yet so that made it extra special. There wasn't anyone ruining it by telling the others what was going to happen next. 😉
PIN THIS POST!


If you liked this Easy Monster Party Plan, you will also love these posts:
Make A Homemade Pinata Using A Kitchen Staple
Easy Football Party Ideas (with free printables)
Halloween Party Plan: Mini-Trifles & Monster Goo