I want to thank Wayfair for sponsoring this Easy Chicken Pot Pie Recipe .

When Wayfair announced they were going to do a "Battle of the Pies" and asked us to submit a pie recipe, I was super excited. Who doesn't love a pie challenge? They were going to choose 40 of the pie submissions for the battle. Initially, I thought about sending over one of my favorite fruit pie recipes, but then I thought there would probably be many sweet pies entered. So, I thought a savory pie would be a better choice and something different to add to the mix. I was right! They added my recipe to the battle. 🙂
Now, I already feel like I won, but whoever gets the most social interaction on their pie wins a pie plate from Wayfair! I could really use a new pie plate so if you could share this post/recipe on all your social channels (and like and comment on my social shares) a billion few times, I will be your best friend for life (okay, maybe I shouldn't go that far, but I would really, really, really appreciate it).
Easy Chicken Pot Pie Recipe is my pie submission. This pie brings up great memories for me. My grandparents would have it once a week. They would eat it on TV trays in front of the television. What I wouldn't give to be able to stop over to their house one more time and enjoy chicken pot pie with them.
Easy Chicken Pot Pie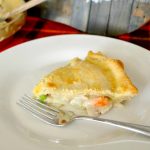 This Easy Chicken Pot Pie recipe is so easy to make. I use store-bought pie crusts and a rotiserrie chicken to make it easier. It is such a great recipe to have on hand this time of year because you can swap out your left over turkey from Thanksgiving dinner for the chicken.
1 small potato (peeled and diced )
1  carrot (sliced )
1/2 c. butter
1/4 small onion (diced)
1/4 tsp. sage
1/4 tsp. poultry seasoning
1/3 c. flour
1 1/2 c. chicken broth
1 c. milk
3 c. diced cooked chicken ((I use a rotisserie chicken))
Handful of frozen peas
2 Store-bought pie crusts
Salt and pepper to taste
Preheat oven to 425°.
Boil the diced potato and carrot to soften. Drain.
Melt the butter in a large sauté pan.
Add the onions and sauté until they are translucent.
Add salt, pepper, sage and poultry seasoning. Stir.
Sprinkle the flour on top of the onion mixture and cook for 1 minute; stirring to evenly cook the flour.
Gradually whisk in the chicken broth and milk.
Add the cooked potatoes and carrots and let simmer for a few minutes to thicken.
Stir in the chicken and peas. Turn heat off.
Put one of the pie crusts in the bottom of a deep dish pie plate.
Pour the chicken filling into the pie shell.
Place the second pie crust on top and press the crust edges together to seal.
Brush the egg wash on top of the pot pie and use a knife to cut a few slits in the top of the pie to let the steam escape.
Place the pie on a baking sheet and in the oven for 30 minutes.
I let it sit for about ten minutes before I cut it. The pieces come out better after it sits a little bit.
This Easy Chicken Pot Pie Recipe is a comfort meal. It doesn't need anything with it, but if you are looking for something else to serve alongside it, a simple salad is a good option.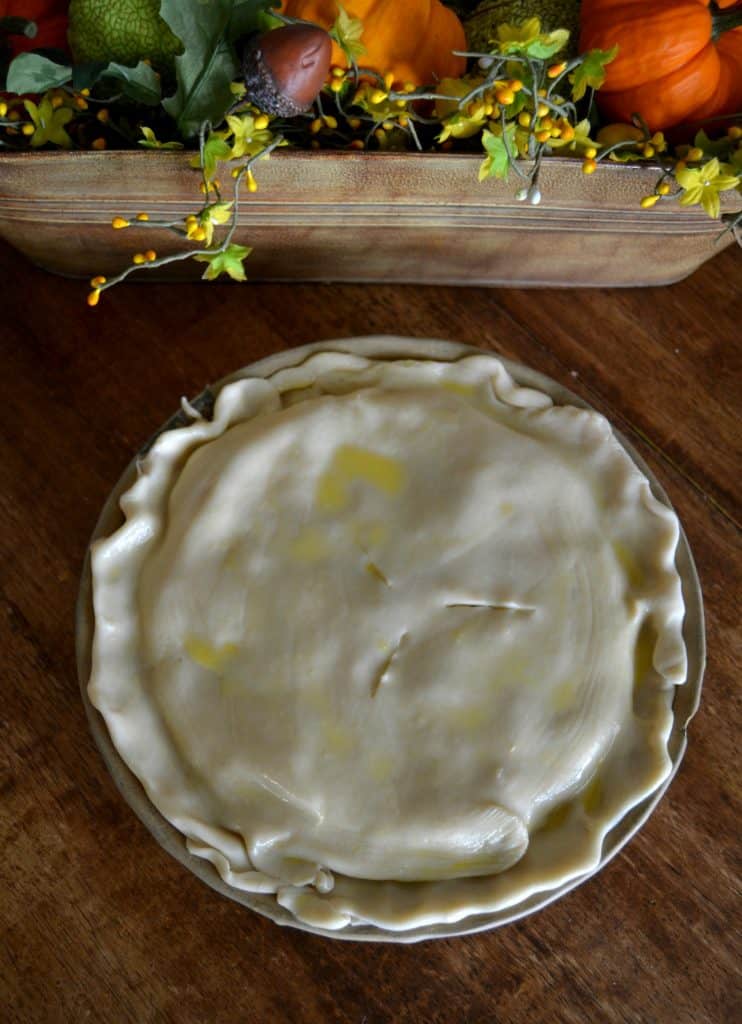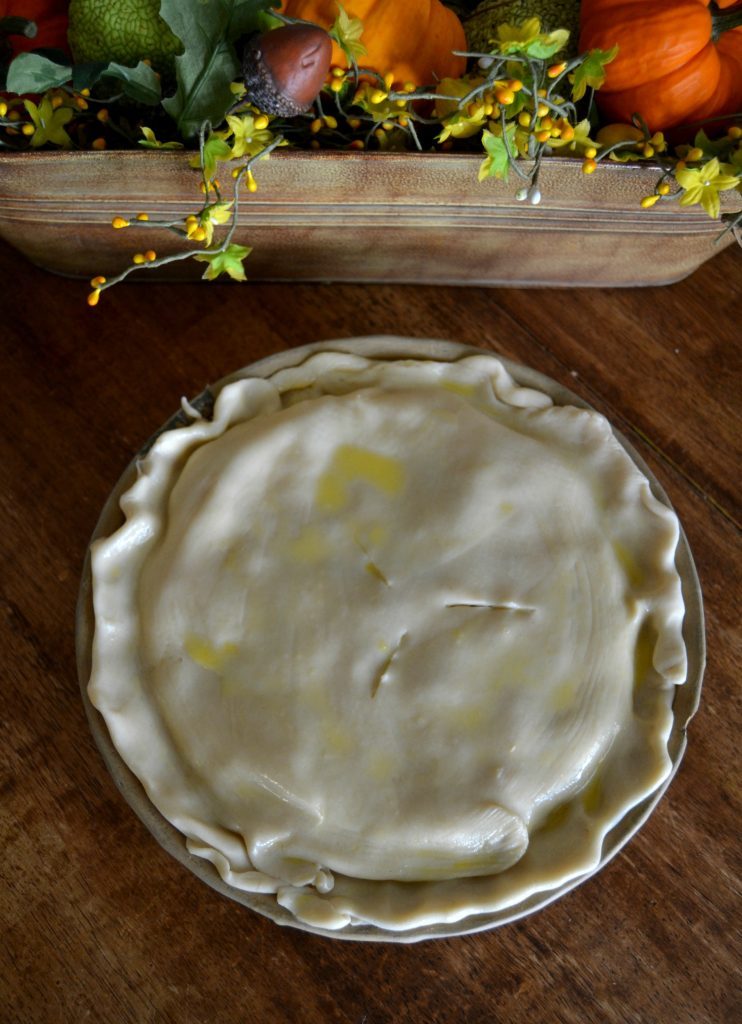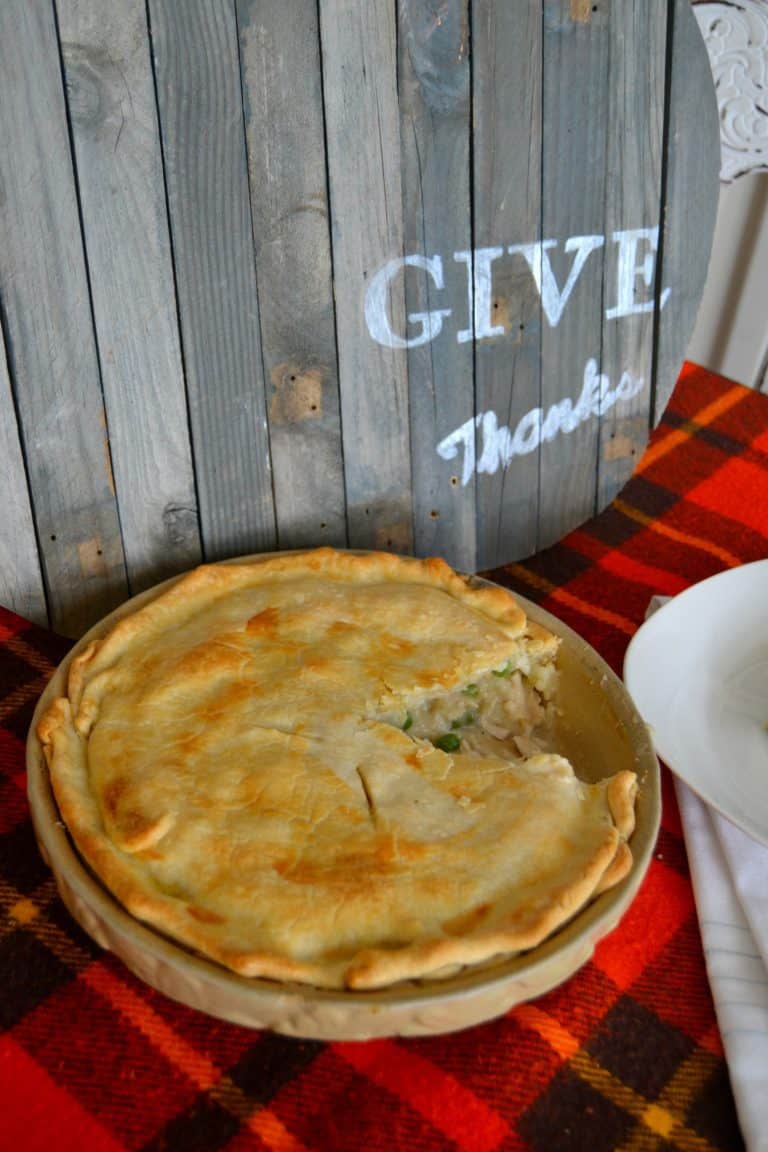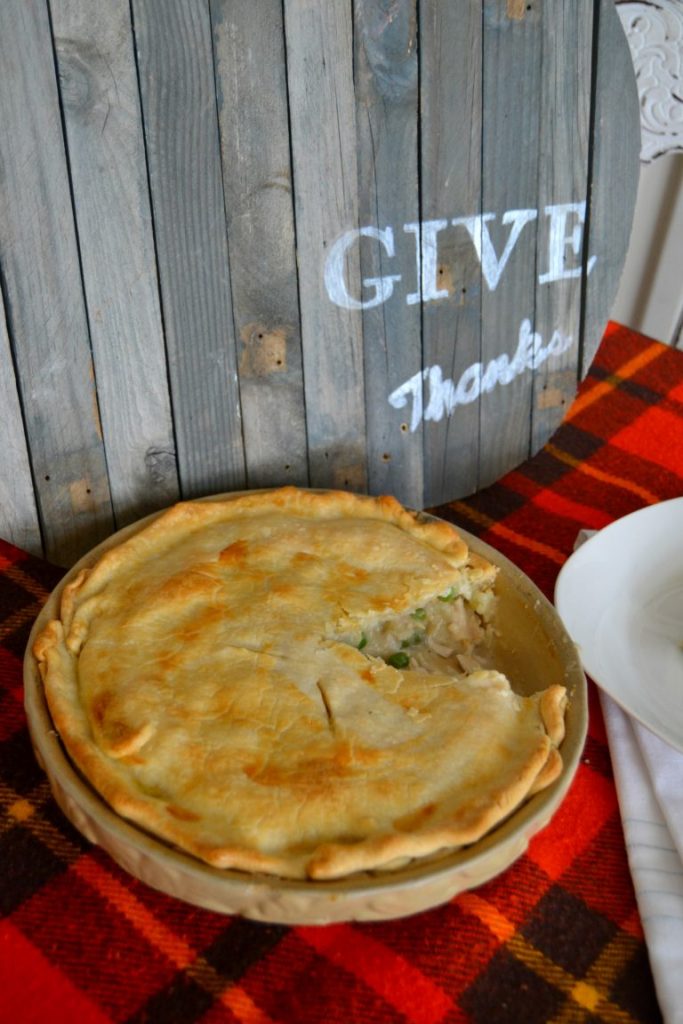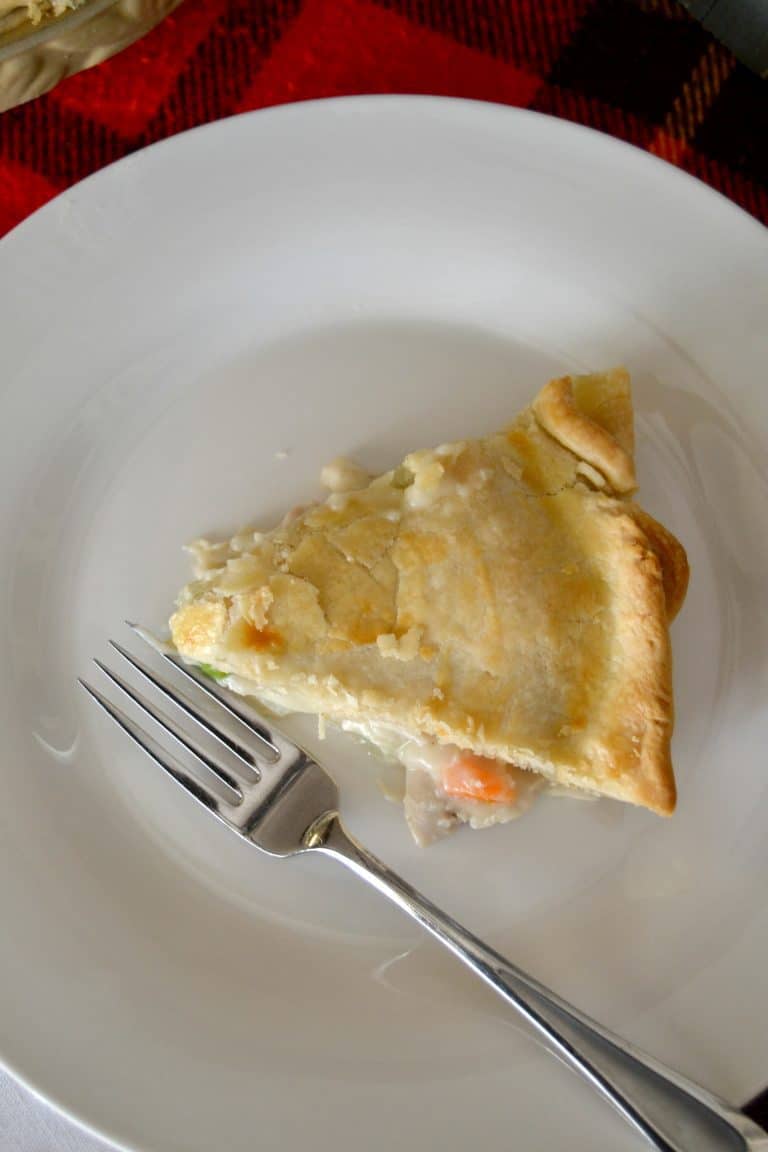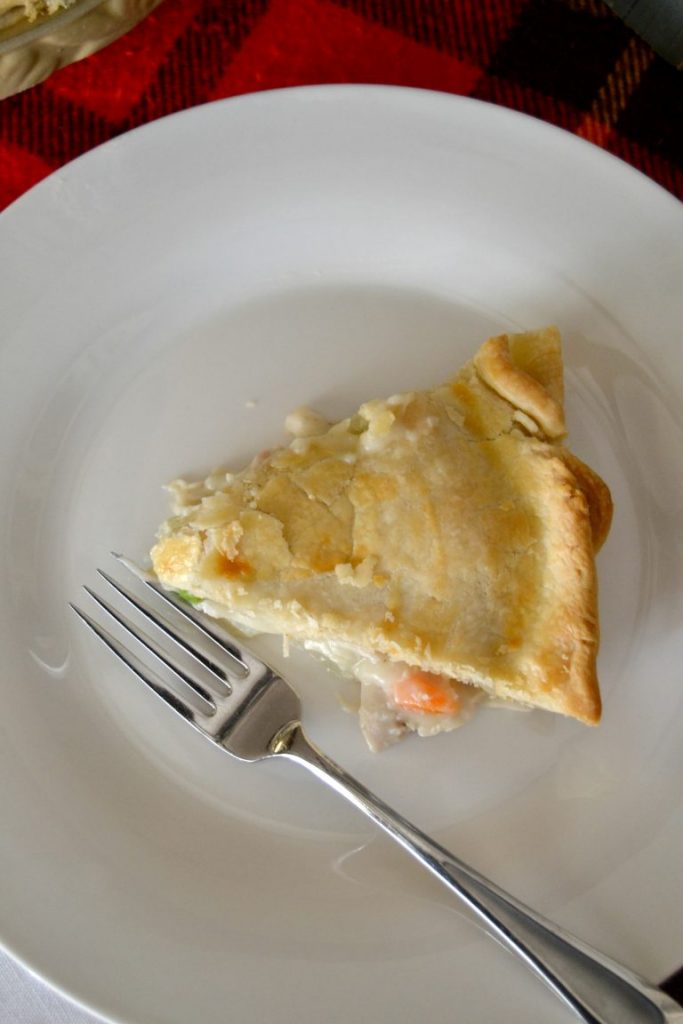 When I was taking the pictures of this Easy Chicken Pot Pie, the plaid blanket in the living room caught my eye. It was the perfect "tablecloth" for this meal. Nothing says fall like a plaid blanket and warm Chicken Pot Pie.
PIN THIS POST!


There are tons of pies to drool over in this Battle of the Pies. Make sure to check them all out. I would love to know which one you would like to try first!
| | |
| --- | --- |
| Miss Information | http://www.missinformationblog.com/apple-pie-cookies/ |
| A Blissful Nest | http://ablissfulnest.com/2015/10/butterscotch-apple-pumpkin-pie-recipe.html |
| A Southern Mother | http://asouthernmother.com/2015/10/bourbon-butterscotch-pie.html |
| Bree Johnson | http://breejohnson.ca/2015/10/rainbow-fruit-pie/ |
| Busy at Home | http://busy-at-home.com/coconut-cream-turtle-pie/ |
| Chase the Star | http://chasethestar.net/2015/10/apple-butter-pie.html |
| ChistinaWilliams | http://christinawilliamsblog.com/caramel-pecan-pie/ |
| Cooking with Ruthie | http://cookingwithruthie.com/2015/10/21/brown-bag-apple-cinnamon-pie/ |
| Fearlessly Creative Mammas | http://fearlesslycreativemammas.com/2015/10/double-chocolate-cream-pie.html |
| Graceful Order | http://gracefulorder.com/2015/10/21/my-favorite-pecan-pie-recipe/ |
| Happily Hughes | http://happilyhughes.com/2015/10/mini-caramel-apple-pie.html |
| House of Tubers | http://houseoftubers.com/apple-pie-in-a-bag-say-what-wayfairpiebakeoff/#.ViZRmH6rSCg |
| Leahs Life | http://leahslife.com/2015/10/20/fall-is-here-and-i-feel-like-wrapping-myself-in-a-plaid-wool-blanket-pie-recipe/ |
| Legal Miss Sunshine | http://legalmisssunshine.com/smores-pumpkin-pie-recipe/ |
| Mama of 3 Munchkins | http://mamaof3munchkins.com/2015/10/too-good-sweet-potato-pie.html |
| Our Holly Days | http://ourhollydays.com/2015/10/pecan-pie-cheesecake/ |
| Polish my Crown | http://polishmycrown.com/yum-castiron-apple-pie-recipe/ |
| Simply Darrling | http://simplydarrling.com/2015/10/delicious-chocolate-mousse-pie-recipe/ |
| Close to Home | http://stayingclosetohome.com/pumpkin-cheesecake-pie-recipe/ |
| The Summary Umbrella | http://thesummeryumbrella.com/2015/10/strawberry-rhubarb-pie/ |
| 100 Directions | http://www.100directions.com/super-easy-apple-pie-bites/ |
| Bright Green Door | http://www.brightgreendoor.com/grandmas-famous-raspberry-pie/ |
| Clarks Condensed | http://www.clarkscondensed.com/food/chocolate-peanut-butter-pie/ |
| Designer Trapped in a Lawyers Body | http://www.designertrapped.com/2015/10/epic-german-chocolate-pie.html |
| Creative Juice | http://www.getcreativejuice.com/2015/10/heart-raspberry-hand-pies.html |
| Harlem Love Birds | http://www.harlemlovebirds.com/2015/10/no-bake-deep-dish-triple-layer-pumpkin.html |
| Holy Craft | http://www.holy-craft.com/2015/10/homemade-caramel-apple-pie.html |
| Migonis Home | http://www.migonishome.com/2015/10/grandmas-georgia-pecan-pie-reinvented-healthier/ |
| Miss in the Kitchen | http://www.missinthekitchen.com/no-bake-fudge-bottom-caramel-pie/ |
| My Creative Days | https://www.mycreativedays.com/battle-of-the-pies-easy-chicken-pot-pie/ |
| Rad Mom Cool Kid | http://www.radmomcoolkid.com/2015/10/peanut-butter-banana-pudding-pie-with-wayfair.html |
| Simply Nicole | |
| Sunday Public | http://www.sundaypublic.com/2015/10/22/gingerbread-pumpkin-meringue-pie/ |
| Table and Hearth | http://www.tableandhearth.com/2015/10/chocolate-salted-honey-pie.html/ |
| The Craft Patch | http://www.thecraftpatchblog.com/2015/10/decadent-caramel-pie-with-chocolate.html#.VijzRn6rSCg |
| The Logbook | http://www.thedempsterlogbook.com/2015/10/chocolate_pecan_pie/ |
| Thome Home | http://www.thethomehome.com/chicken-pot-pie-with-a-sharp-cheddar-pie-crust/ |
| Wife in Progress | http://www.wifeinprogressblog.com/2015/10/grannys-puff-pastry-apple-pie/ |
| Wit Wisdom Food | http://www.witwisdomandfood.com/recipe/sugar-cream-pie |
| Aimee Broussard | http://aimeebroussard.com/sweet-potato-smores-pie/ |
| Dearest Geeks of Earth | http://www.dearestgeeksofearth.com/2015/10/easy-apple-pie-recipe/ |