This Christmas Lights Scavenger Hunt is a fun, family activity that your kids will look forward to every year – no matter what their age is.
Since our kids were small, I have always wanted to make every holiday fun and full of memories. I would come up with games, recipes, activities, experiences, and anything else I could think of that would make the holiday or season stand out.
The Christmas season is so much fun because it is a season that can be prolonged and drug out. It is a season that can start the day after Thanksgiving or the first day of December. With what I do, I am always decorating for Christmas a little earlier than most people (sometimes in October). It is a fun part of my job and it also puts me in the mood and gets me thinking about the holiday season early.
Family Activities Make The Christmas Season Memorable
Every year, I create an Advent calendar for the kids (you can find all my homemade Advent calendars HERE). When they were really little, we bought calendars that had little toys and things in them. When they got a little older and didn't really want the toys inside, I started changing the way I did the Advent calendars. Instead of little gifts, I would plan an activity of some kind for each day. The activities ranged from wrapping gifts and hot cocoa nights to picking out toys for kids in need and giving food to the hungry.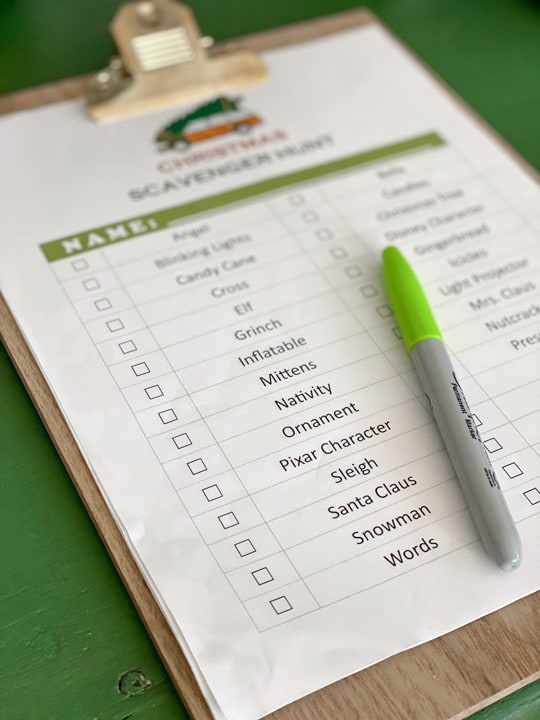 Every year, one of the planned activities is always looking at Christmas lights around town. The kids used to dress in their Christmas pajamas (now the are too grown and too cool to wear pajamas for the occasion) and I pack hot cocoa, Christmas cookies, and other snacks for our drive around town to see the lights.
The Christmas Light Scavenger Hunt Is Great For Kids Of All Ages
As the kids got a little older, I thought it would be fun to add a twist to the "light viewing" night. I turned it into a friendly scavenger hunt competition and we have done it this way ever since.
Every year, I create a Christmas Lights Scavenger Hunt. I print one out for each kid and put them on clipboards. I add a marker or pen to the clipboard and keep them hidden until the night we head out. Once we get into the car, I hand the kids their clipboard, but they have to keep it upside down until the hunt starts. Once we get out to an area that has Christmas lights, I tell them to flip the boards over and start hunting.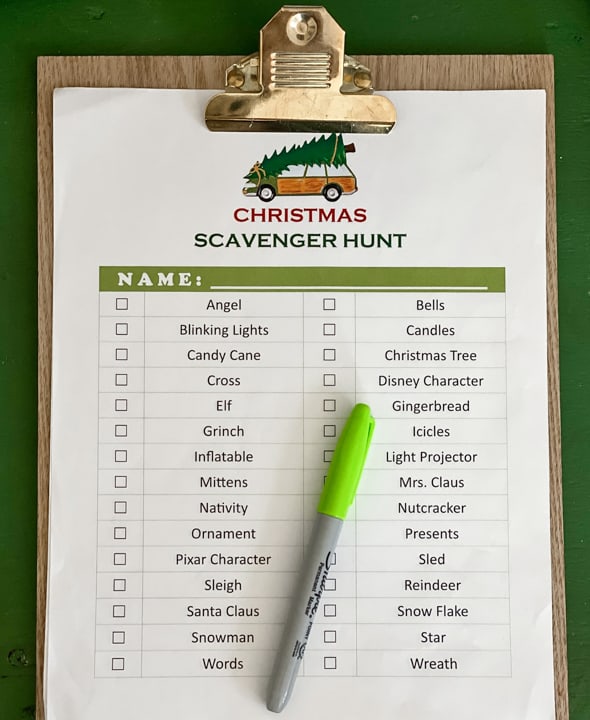 The goal is to be the first one to find all the Christmas lights listed on the sheet.
When we first started doing this, the kids would shout out when they found something. Then, the other one would mark that off the list. Now, we play it differently. If you find the light first, the other player can't mark it off on their sheet. It starts out loud. But then, they really start looking and not wanting the other one to see what they are finding. It is so much fun.
Make Up Your Own Family Rules For The Hunt
You can play this however you want. Add your own rules or change things up depending on the age of your kids. It doesn't even have to be a competition. You can just print one off and have the entire family look for the things on the list and have one person crossing it off as you go. The Eidahl family always likes to add a little bit of friendly competition into things like this.
I have to tell you that this is something we still do to this day. Our kids are teenagers, but they still love the scavenger hunt. We still pack hot cocoa and snacks before we head out too. I change up the list every year, but the rules and the game stay the same. I can't tell you how happy it makes me when our kids still look forward to the memories and traditions we have made. These are things they will remember forever and they are things we will do with our grandkids as well.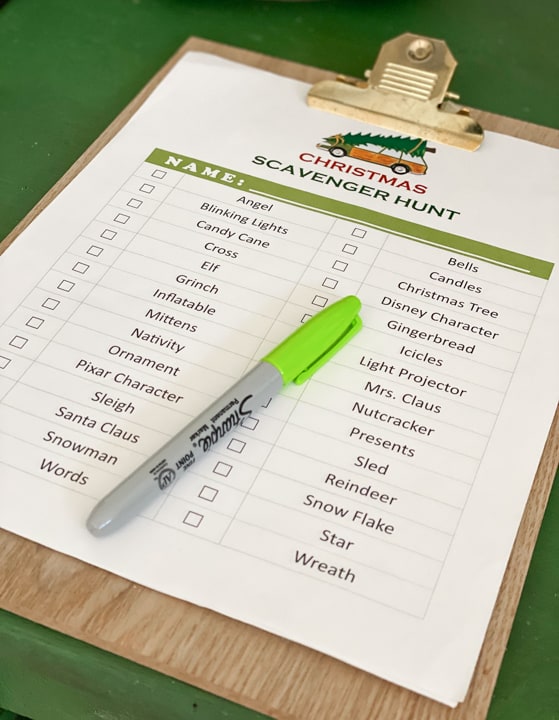 I have shared this activity as we are playing it on Instagram and I always get asked for the printout. IT IS FINALLY AVAILABLE!
You can now get the FREE Christmas Lights Scavenge Hunt printable HERE.
I hope your family has as much fun with this as ours has. I would love it if you would tag me on Instagram when you play it!!
What is a holiday tradition your family looks forward to every year?
PIN THIS POST!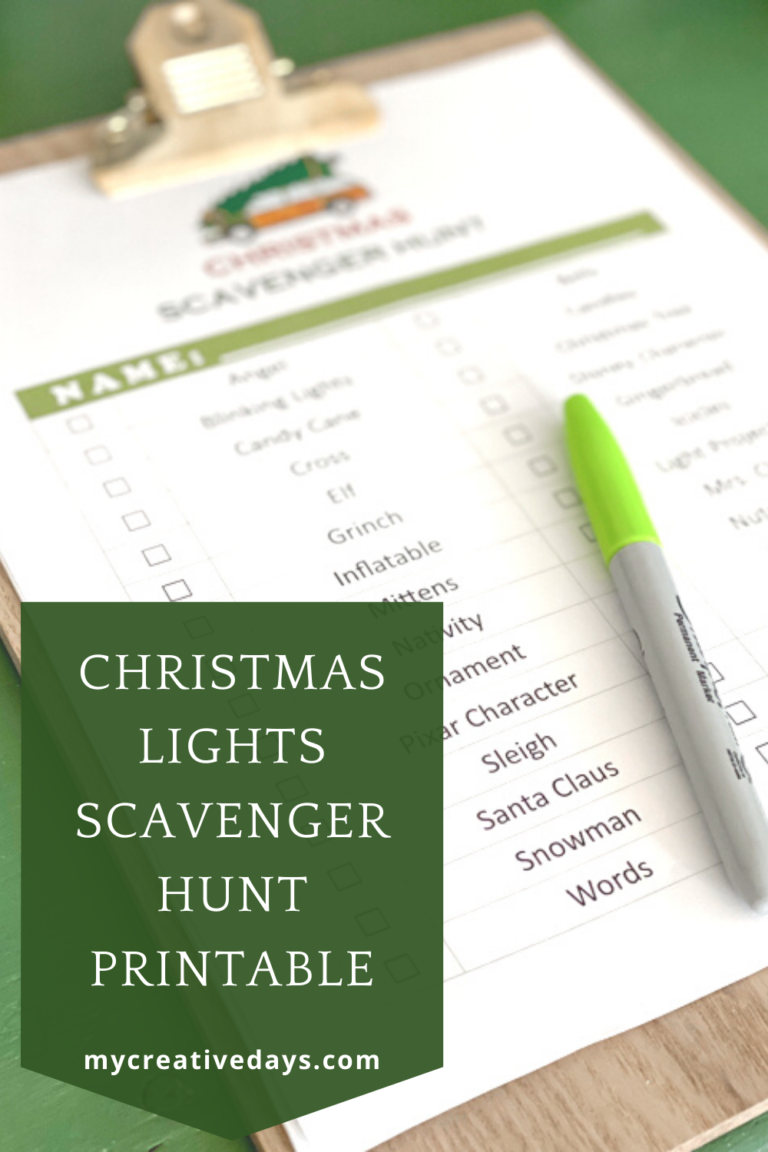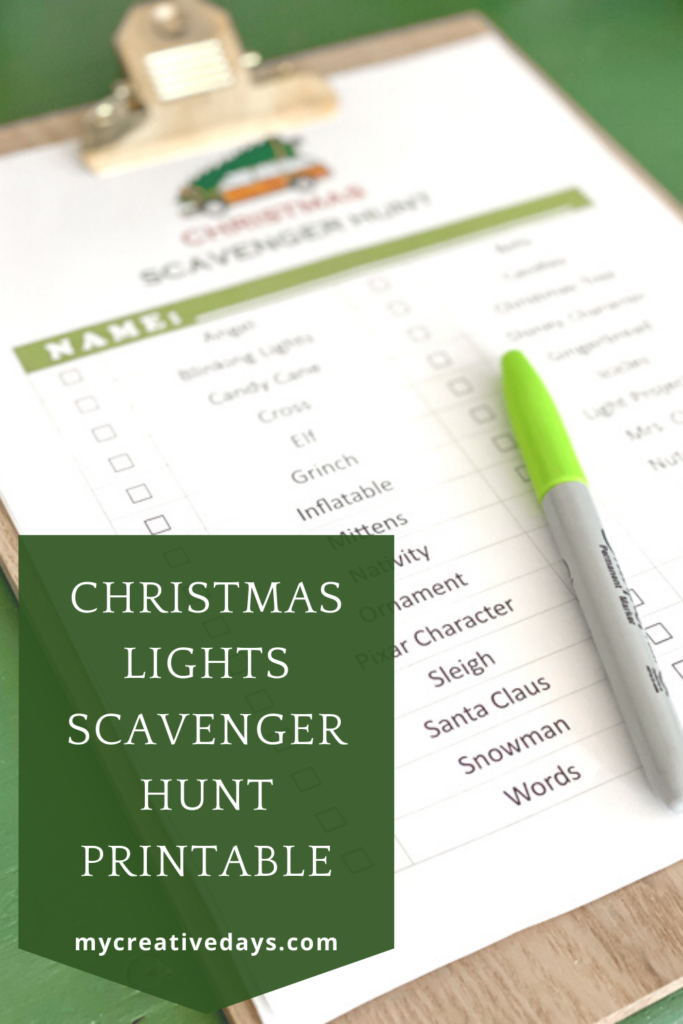 If you liked this Christmas Lights Scavenger Hunt, you will also love these Christmas ideas:
DIY Wood Burned Christmas Tree Garland
Nutcracker Christmas Ornaments