If you are looking to sell your own home or a home you flipped, these 5 Ways To Get Your Home Ready To Sell will make the process successful.
I love all things home. Having a home to decorate and make memories in is something I have really become attached to. It is what started this whole My Creative Days journey. It is still crazy when I think about how all of this evolved. The day after Matt and I got married, we bought our first house.
We made it our own and then after a couple of years, my dad was doing some work on a house and he said the owners were moving to a condo and were wanting to sell. My dad took us to that house and it is the house we have been in for the past twenty years. We bought this house from the original owners – the people who built it. Everything was original and that is what we loved most about it. We knew we could add our touches to make it ours.
Our kids grew up in this house and have never wanted to move. It has been an amazing house and street for us over the years, but recently, Matt and I have felt the urge to start looking for something else. Not only that, but we are also always on the hunt for our next flip house. While living in this house, we have flipped five other properties so we have sold houses over the years – just not the one we live in.
We have learned a lot over the years about things you should do to get your home ready to sell. I am going to share five of my top tips in this post today.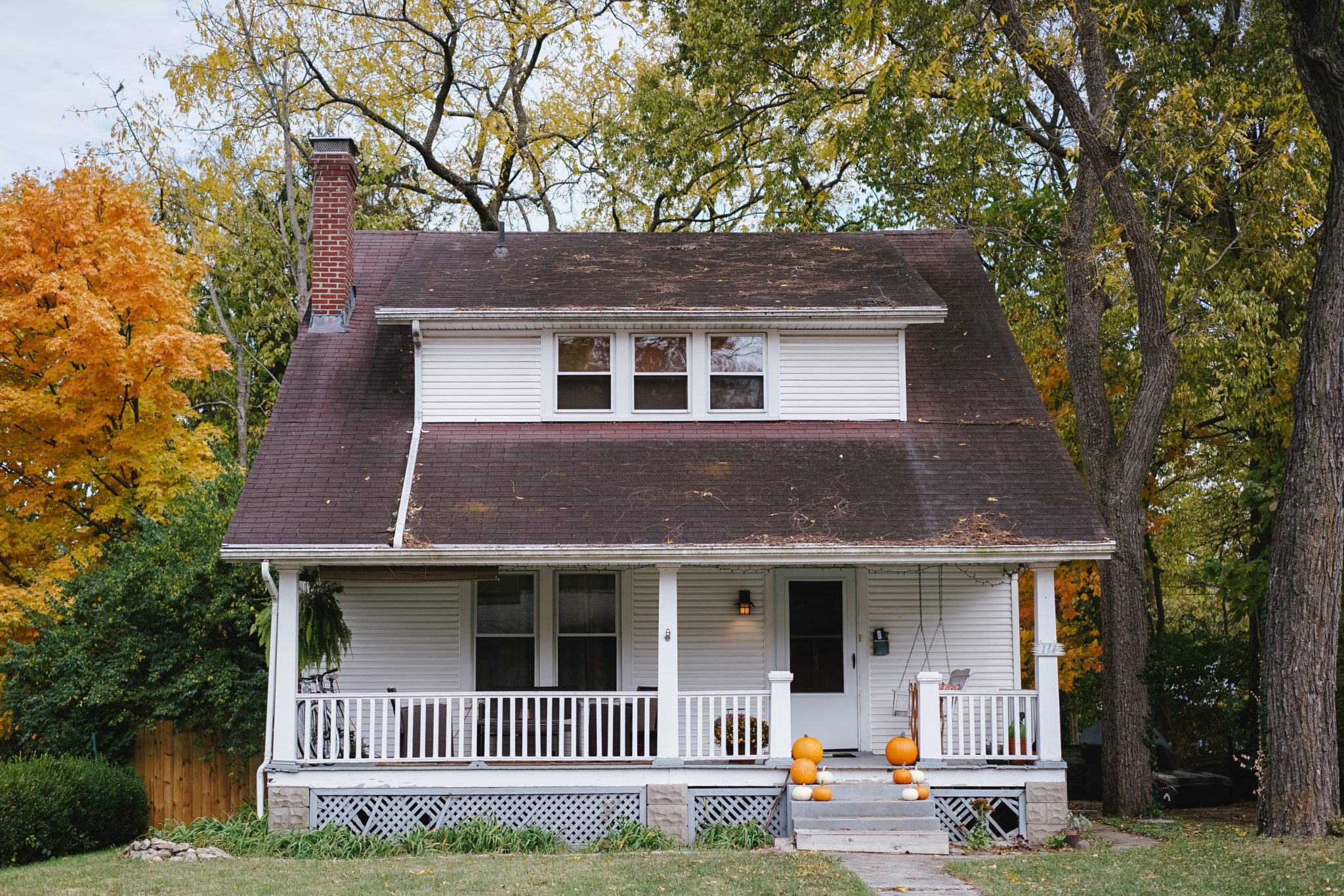 5 Ways To Get Your Home Ready To Sell
Selling your home can be an overwhelming experience, but with proper preparation, you can make the process smoother and quicker. To get the best price for your property, you need to ensure that it is well-presented and attractive to potential buyers. In this blog post, we will discuss five ways to get your home ready to sell.
Declutter and Depersonalize
One of the first steps to getting your home ready to sell is to declutter and depersonalize your space. Start by removing any unnecessary items that may make your home appear crowded or cluttered. You want the buyer to feel like the spaces in the home have ample room for what they need. This could include furniture, personal photos, and knick-knacks. By depersonalizing your space, you allow potential buyers to envision themselves living in the home. I have a 5-day organization guide that can help you get your home decluttered fast. Find that HERE.
A clean and well-maintained home will always sell faster and for more money than one that appears dirty or in disrepair. Take the time to deep clean your home, paying attention to areas like the kitchen and bathrooms. Also, make any necessary repairs such as fixing leaky faucets, patching holes in walls, and replacing burnt-out light bulbs. When a buyer comes in and sees that you haven't taken the time to fix minor repairs, it could make them question what other major repairs you have not done either. That could turn a buyer away fast.
Staging your home can help it sell faster and for a higher price. Start by rearranging furniture to create an open and inviting space. Add decorative touches like fresh flowers or throw pillows to make your home feel cozy and welcoming. You don't want to add a bunch of things to the house to make it look cluttered and you want to use neutral colors so it appeals to all buyers. If is has a neutral palette many more people can picture their own style in the house. If you're not sure where to start with staging, consider hiring a professional home stager to help.
First impressions are crucial when it comes to selling your home. Improve your home's curb appeal by mowing the lawn, trimming hedges, and planting flowers. Consider adding a fresh coat of paint to your front door or shutters to make your home stand out. Remember, a well-maintained exterior can attract more potential buyers and increase your home's value.
Price Your Home Correctly
Pricing your home correctly is crucial to a successful sale. Research the local real estate market to get an idea of what homes similar to yours are selling for. Consider hiring a real estate agent to help you price your home competitively. Overpricing your home could lead to it sitting on the market for too long, while underpricing could mean losing out on potential profits.
These 5 ways to get your home ready to sell require a bit of effort, but it can pay off in the end. By decluttering, cleaning, staging, improving curb appeal, and pricing your home correctly, you can attract potential buyers and sell your home for the best possible price.
PIN THIS POST!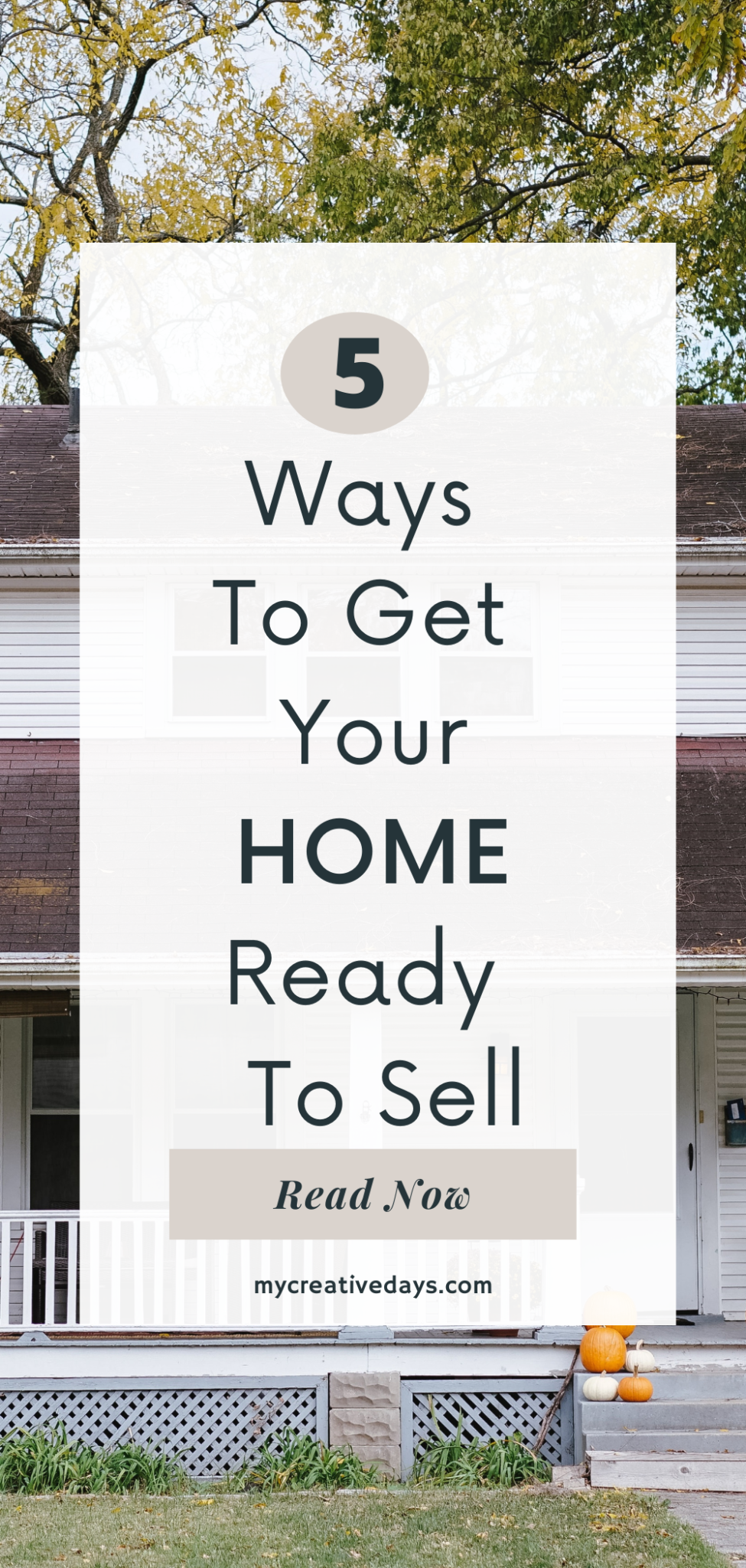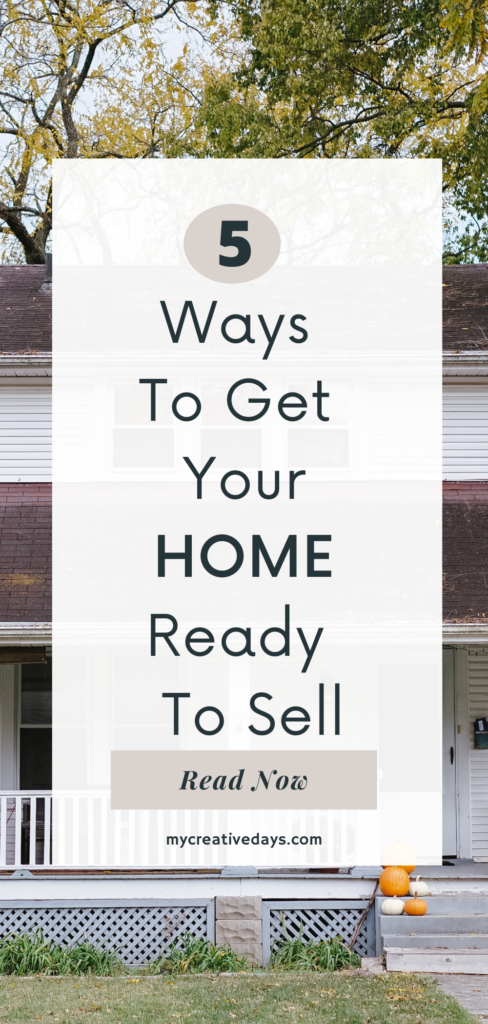 If you found this post helpful, you will also love these posts:
105 Things To Get Rid Of For Instant Decluttering
How To Purge Your House In One Weekend