This 5 Easy Hobo Dinner Ideas post has been compensated by Collective Bias, Inc. and its advertiser. All opinions are mine alone. #KingOfFlavor #CollectiveBias
When I think of hobo dinner ideas, I think of my childhood. Mom would make our entire meal in one little package and we thought it was so much fun to eat that way. Now that I am all grown up and have my own kids, I have made so many different meals this way. The last time I made them, we had some family come over and I made a few different meals for them to choose from.
The reason I love hobo dinner meals is because there isn't a "precise" recipe you have to follow. You can add whatever you like to the individual packages and they always come out so good. When I am making them, I set up a "prep station" with all the meat and veggies prepared and cut. Then, when I go to make the hobo meals in the aluminum foil packages it is like an assembly line and very simple to do. Today, I am sharing 5 Easy Hobo Dinner Ideas that are perfect for a family meal or feeding a crowd.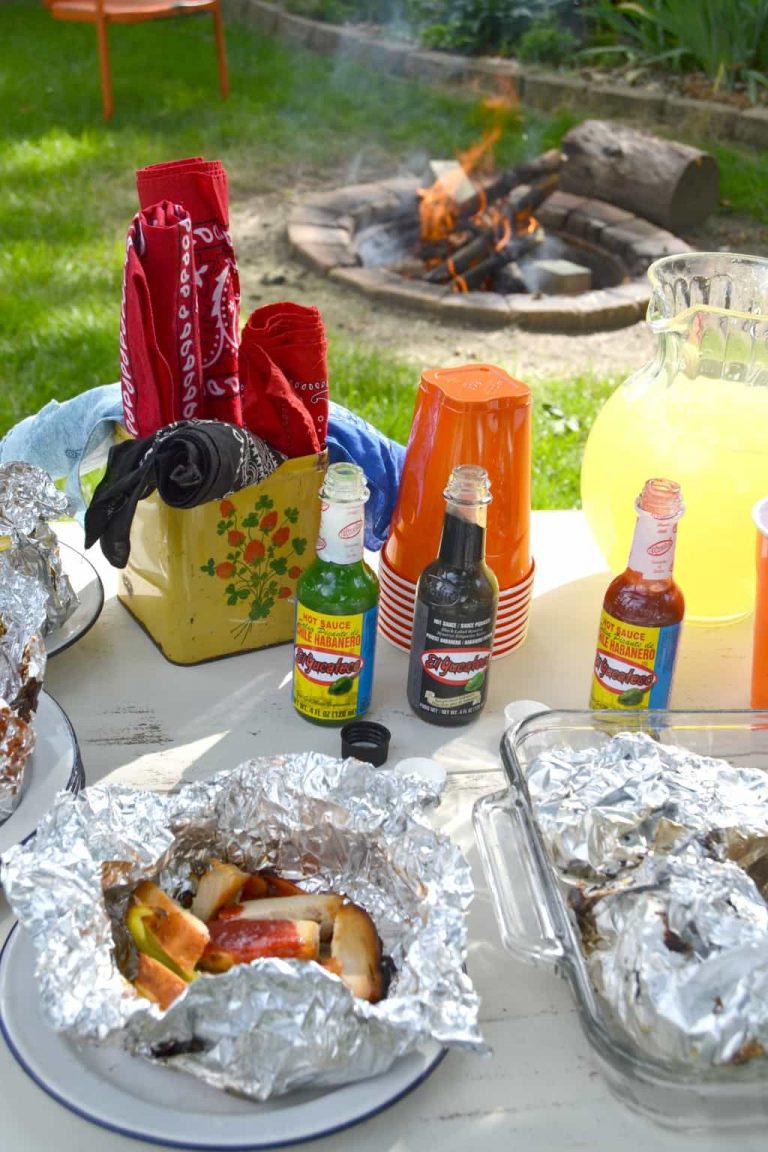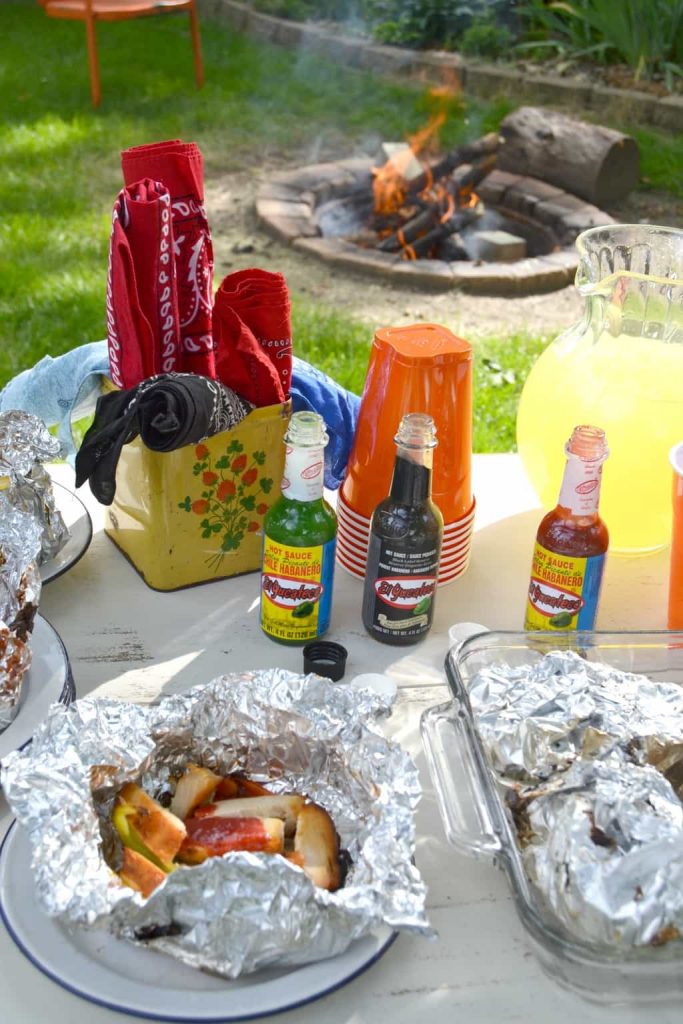 5 Easy Hobo Dinner Ideas:
Chicken Fajitas:
This is one of my favorites. To make them, I slice up chicken breasts or chicken tenders, onions and different colored peppers. I lay the peppers and onions on the bottom of the foil and then put the chicken breast on top. After that, I sprinkle my favorite fajita seasoning on top and sprinkle two tablespoons of El Yucateco® Red Habanero Hot Sauce on top. Close the aluminum foil and place on the grill for about 25-30 minutes (depending on how full you make them and how much chicken you added.)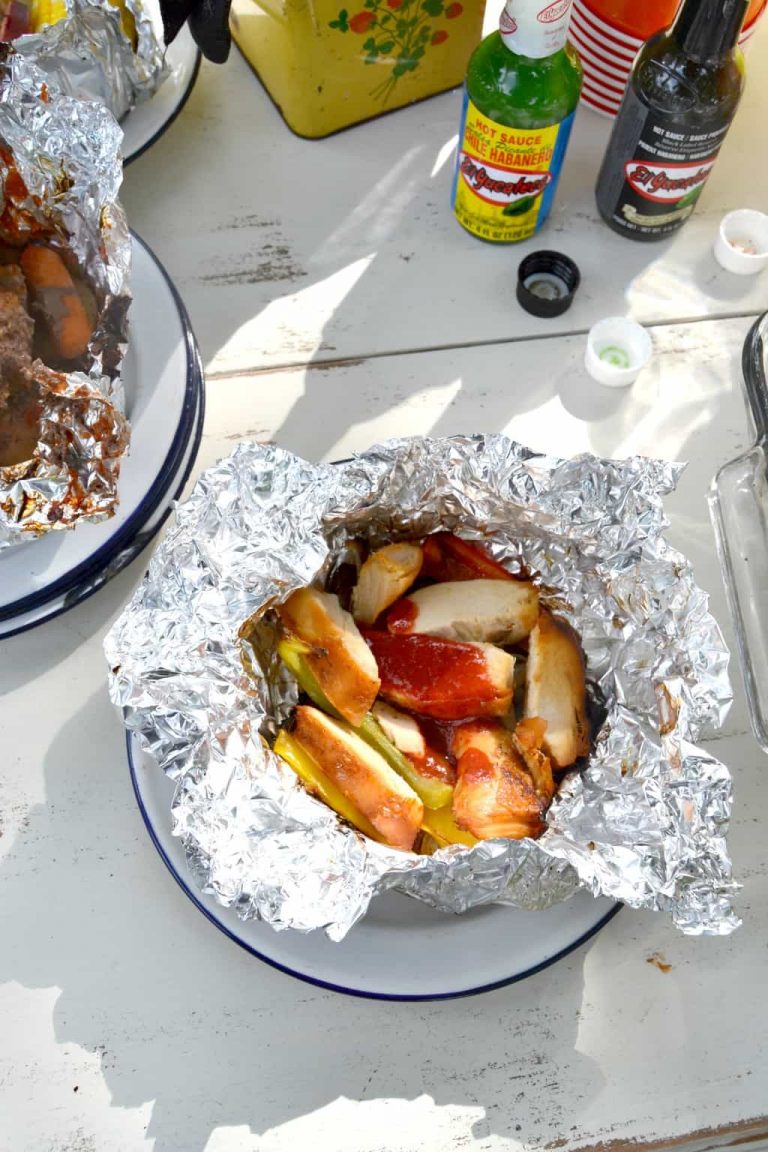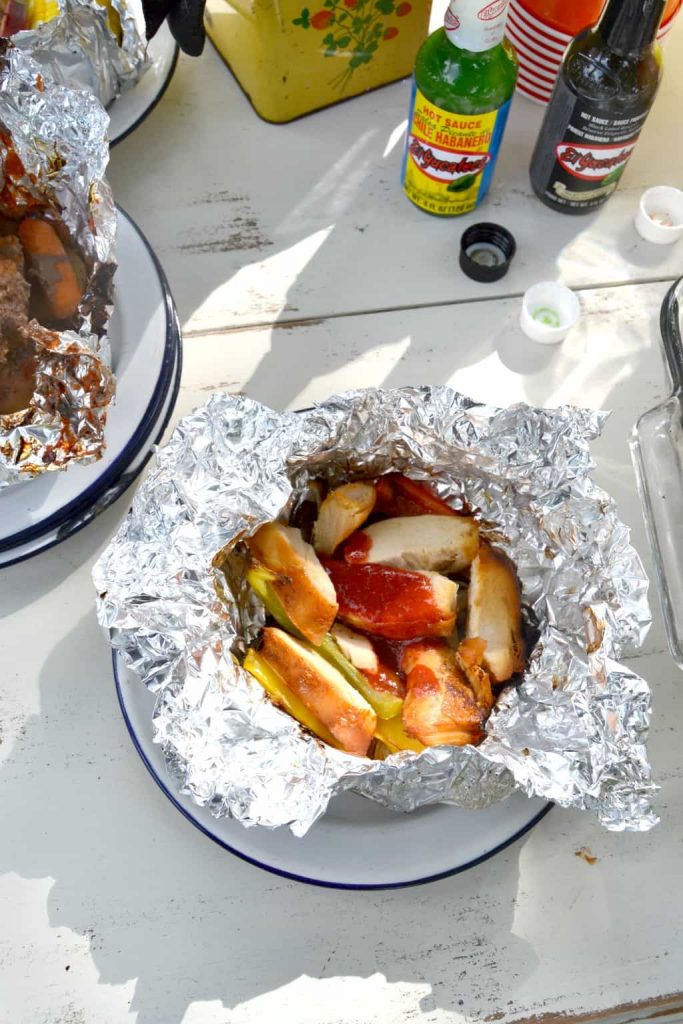 Mini Meat Loaves:
This hobo dinner calls for your favorite meatloaf recipe. This time, I made it simple. I used ground turkey, chopped onions, garlic powder, salt, pepper, two tablespoons of El Yucateco® Red Habanero Hot Sauce, ketchup, red potatoes and carrots. I used one pound of ground turkey and mixed the rest of the ingredients in (minus the ketchup). Then, I chopped the red potatoes and laid a few of them on the bottom of my foil packet.
I put a couple of carrots on top of the potatoes and then I portioned the pound of ground turkey meatloaf into individual servings and set them on top of the potatoes and carrots. I drizzled ketchup on top and closed the packet. Again, these cooked for about 25 minutes.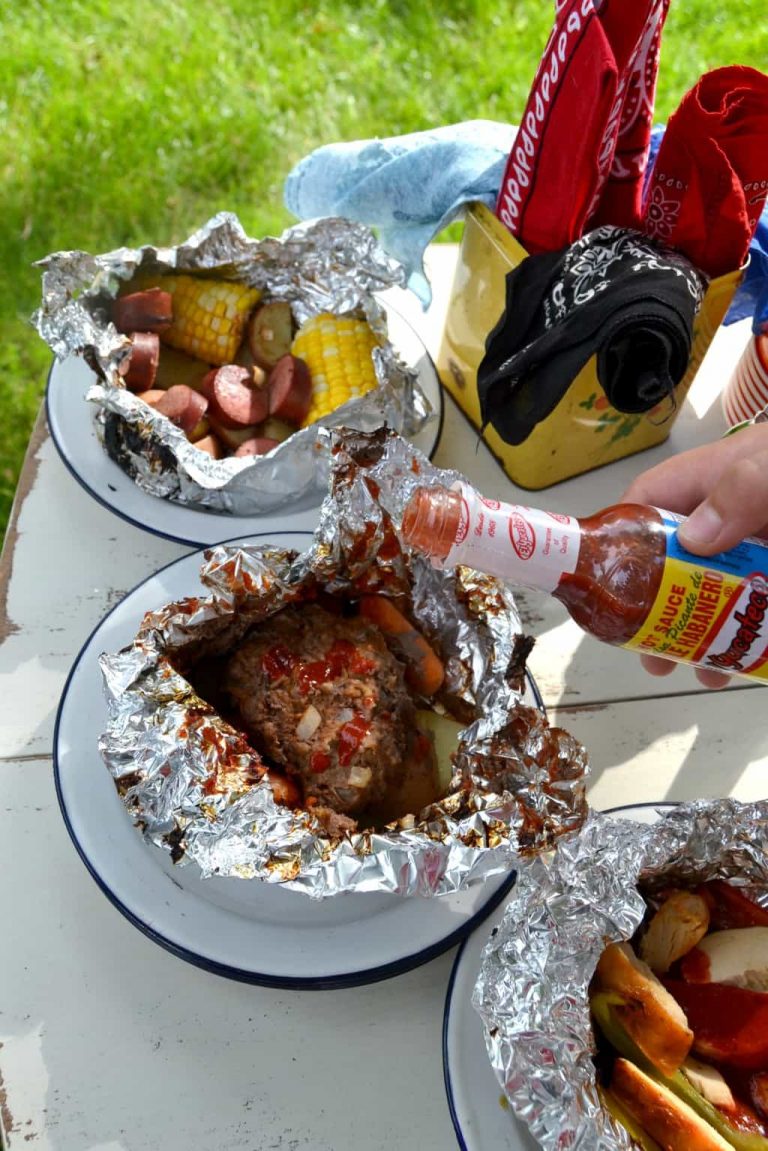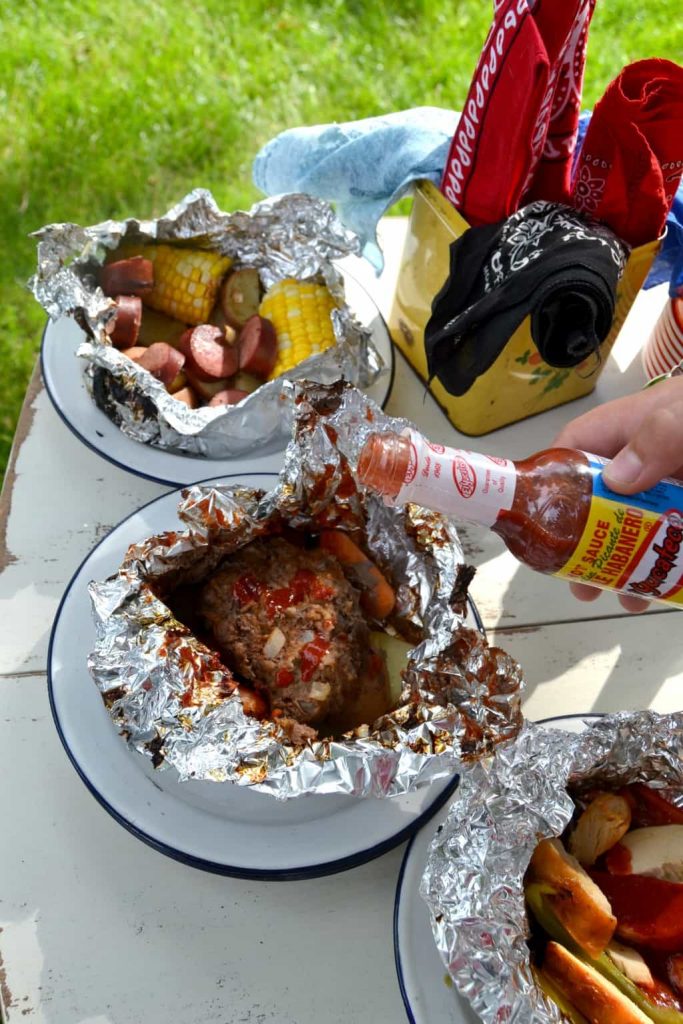 Kilbasa, Corn and Potatoes:
For this hobo dinner meal, you will need Kilbasa, corn on the cob, butter, red potatoes, salt, pepper and garlic powder (or any seasonings you like). I cut up the Kilbasa and potatoes into one inch pieces. Then, I cut the corn on the cobs into thirds. I laid a handful or potatoes on the bottom, two piece of corn on the sides and a handful of kilbasa on top of the potatoes. I added a pad of butter and the seasonings on top of it all and closed the packet. It cooks for about 20 minutes.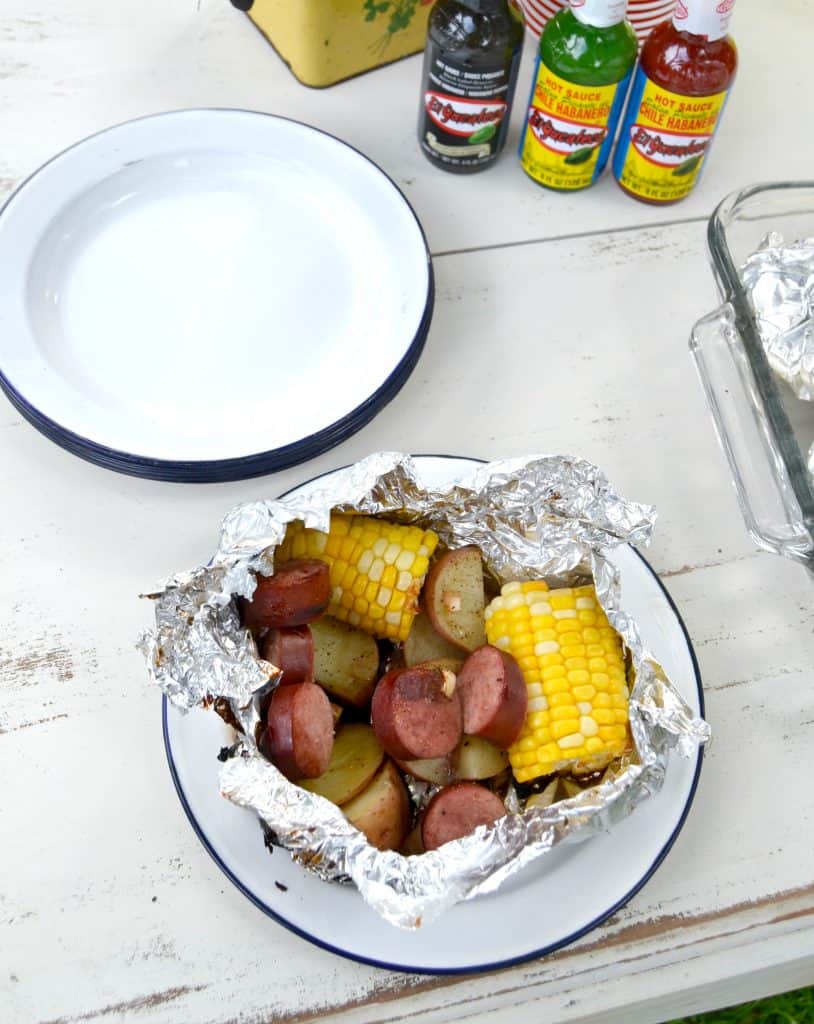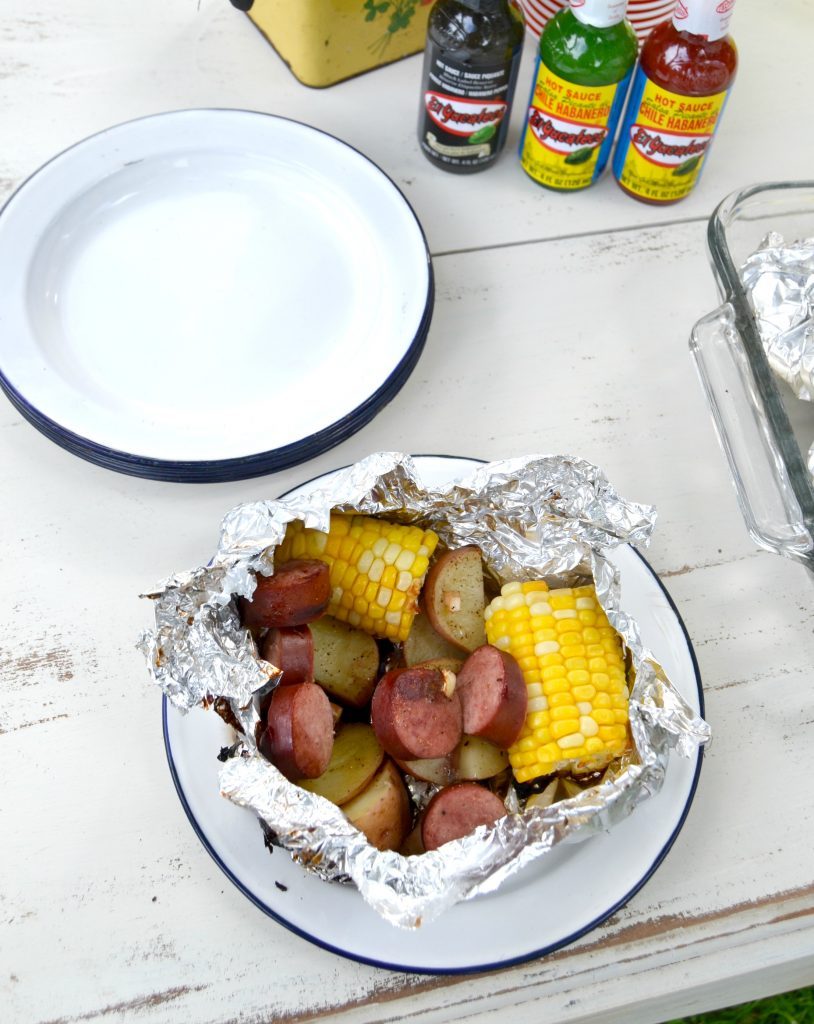 With these three hobo dinner meals, my family added a little more El Yucateco® to their meals. I easily found the sauces in the Mexican food aisle at Walmart. El Yucateco® is the #1 consumer choice. It is a fun flavorful brand that people love and make a part of their every day life. I carry mine in my picnic basket. You can also carry it in your backpack or your purse. It is great to bring camping, to a friends BBQ or to a favorite restaurant, the options are endless.
The Red Habanero Hot Sauce is made with fresh red Habanero peppers, tomato, and select spices and seasonings. It is the perfect "all-purpose" sauce. It packs a little more kick then the average hot sauce but with far less vinegar, so you get the true flavor of the pepper when you add this sauce to any dish.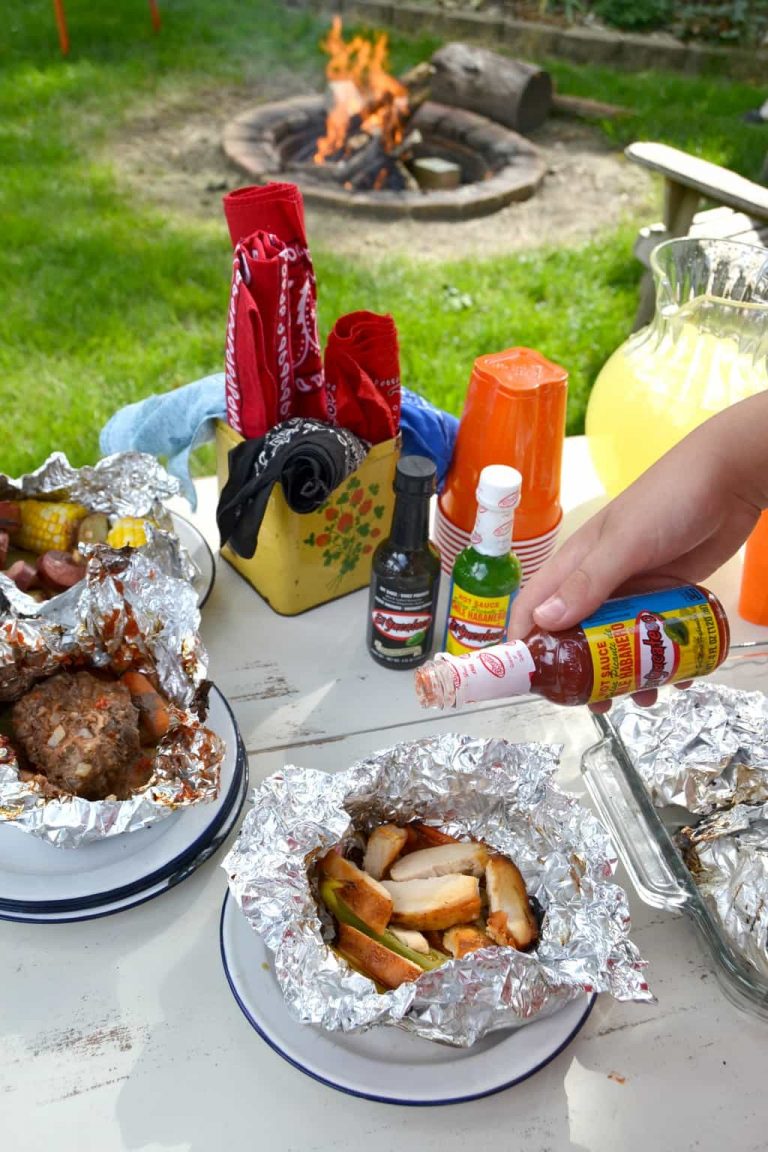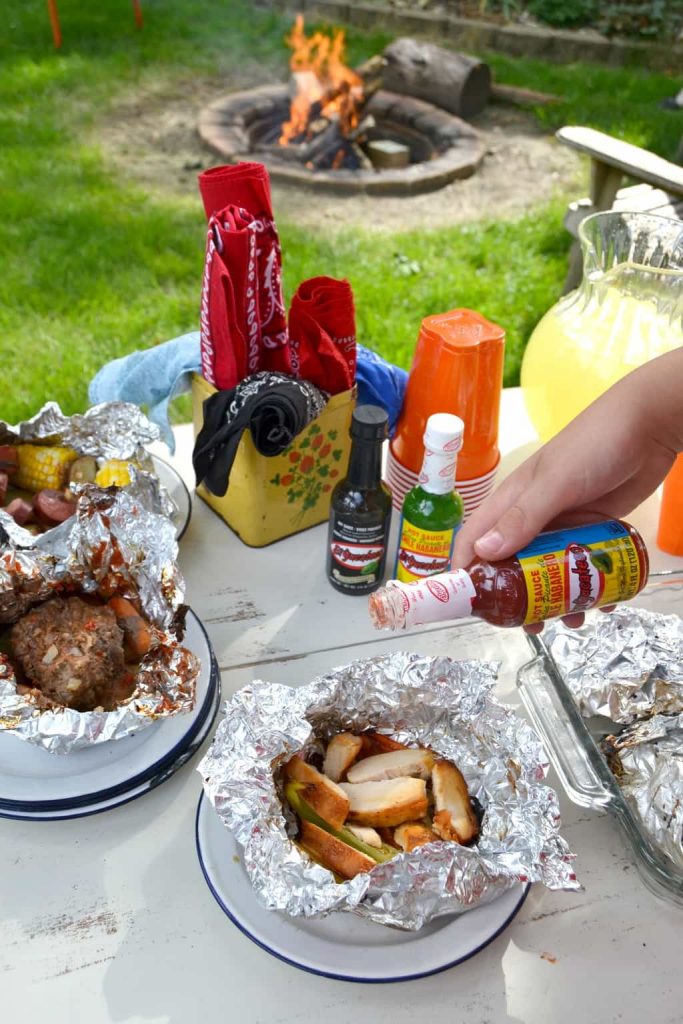 Burger Hobo Meal:
Another great way to enjoy a hobo meal is to make your favorite burger. If you love a mushroom and Swiss, BBQ or just a cheeseburger, you can make them in the hobo meal fashion. Add your favorite potato and you have a great burger meal.
Steak and Veggies:
Steak is always a good option for grilling and cooking outdoors. I would add my favorite veggies and potato and then my choice of steak and steak seasonings. You can even make this one fajita style as well.
Have you made hobo dinner meals before? What is your favorite meal to cook this way?
PIN THIS POST!

If you liked this hobo dinner post, you will also like these recipes: