I have been thinking about writing this How To Pay Off A 30 Year Mortgage post for a long time. It is one of those posts that has made me a little nervous to put out there. How will people receive it? Will our way of doing this be the wrong way? Will someone not agree with how we were able to check this goal off our list? Every time I would sit down to write this post, all of these questions would start popping up in my head so I would just put it off.
Then, I had an AH-HA moment a few months ago that really put my mind at ease about some things. I started this blog to help people. Everyone's journey looks different and everyone's goals are different. If any one of my posts can help just one person, then my job has been done. So, here it goes. I am ready to write this post and share how to pay off a 30 year mortgage in 13 years.
This is our journey.
*WARNING!!! This is going to be a longer post than you are used to so make sure you have your favorite drink and some time to soak it all in.
You can always pin this How To Pay Off A 30 Year Mortgage In 13 Years Post to come back to it later too.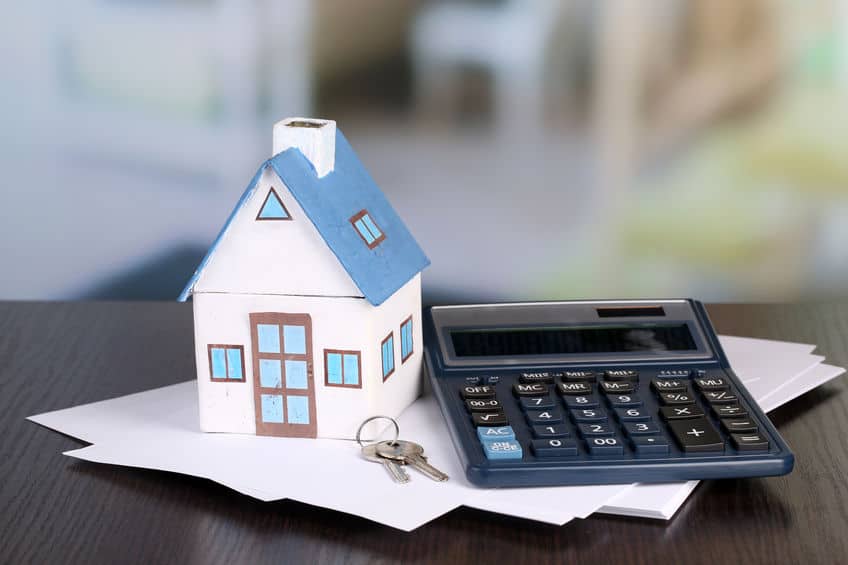 How To Pay Off A 30 Year Mortgage In 13 Years:
When Matt and I bought our first home, we heard over and over again that you are always going to have a house payment and you will always have a car payment – that was just the way life works. Then, when we bought our second home, Matt and I started talking about living debt-free and going against the grain of what everyone was telling us.
Why couldn't we live a life without debt? We wanted more control over our money and we didn't like the idea of paying tons of interest to someone else every month. We had different plans, but we needed to figure out how to put those plans into action and pay off a 30 year mortgage faster.
To pay off a 30 year mortgage was a big goal and one we didn't think we would see, but we were willing to try everything we could to see where we got. Through trial and error, we reached our goal in 13 years and I am excited to share how we did it. This is our story, how we made it happen for us.
I know all of the choices we made aren't going to be for everyone and everyone's journey will look different, but I am hoping some of the tips and tricks we learned along the way will help others also want to pay of their mortgage faster.
Okay, I will stop blabbing and get to the list of things I think were the most important in reaching our goal.
When Matt and I were first married, we moved into our first home. We knew it wasn't going to be our forever home, but we were so excited to have a home of our own. While we were in the house, we didn't have kids and we were spending what little money we had. We weren't thinking about saving back then. Then, about a year and a half later, my dad was doing some work for an elderly couple who was getting their home ready to put on the market.
My dad told them not to list the house because he knew a couple who might be interested in it. He called us and we went to look at the house that weekend. We loved it and made an offer the next day. We closed on our home in July of 2002. This house was built by the couple we bought it from and they took immaculate care of the house.
We loved that. There were many cosmetic changes we wanted to make, but we knew we were investing in a solid home and the changes could be made over time as our budget allowed.
Now, we could have done what a lot of our friends were doing and either build a new home or buy a home that was going to eat up a huge chunk of our monthly income, but we were ready to save and pay off what we could and we knew we have to pick the right house to make that happen. Picking the right house will make all the difference in paying off your mortgage faster. Choose a house that you can afford and that won't put a huge strain on your monthly budget.
Don't do what everyone else is doing. Pick a house that fits your needs and budget and that will get your closer to a mortgage-free life if that is your goal.
This one is just as important as the first one. You will pay off a 30 year mortgage faster if you and your spouse are on the same page with that goal. After a few years in our home, Matt and I really started talking seriously about living debt-free. At first, "debt-free" meant paying off college loans and the car loans.
In the beginning, we weren't even thinking about the mortgage. Then, after we paid off the college loans and car loans, we knew if we worked together, we really could pay off our mortgage as well. It was possible if we were both on the same page with that goal.
If you are a dual-income family, try to live off one income for a few months. I know, this one seems hard, but it doesn't have to be. If you aren't able to live solely off one income, try to live off one income and supplement only what you have to from the other income to cover expenses. If that works, keep doing it. Once you get smaller debt paid off, see if you can cut back on using the second income entirely and commit to living off one income.
Matt and I did that when I quit my job in 2006 to raise our kids. At first, he was the only one bringing home an income, but then, friends started calling me to watch their kids and that turned into a full-time, in-home childcare for ten years. Even though I was making an income, we lived off Matt's salary. It is a great way to build up savings and pay down debt.
Every month, I would pay whatever extra we had set aside to the principal of the mortgage. BUT – before you do this, make sure you have at least a 6-month emergency fund set in place that you can get to in case you need it. If you don't have an emergency fund, start putting any extra money towards building one. (Extra money? Who has that? I know what you mean, but even if you can only spare $25 or $50 a month to the fun that is great.
It will add up. Something is better than nothing.) Once the emergency fund has six months worth of living expenses in it, start paying more towards the principal of your mortgage each month.
We started off with a 30 year mortgage when we bought our house, but after we had our other debt paid off, we started looking into interest rates for refinancing. Since we were paying more on our mortgage each month, we looked into shorter term loans. Once the rates got down so low, we were able to refinance to a 10 year loan.
Refinancing made our monthly bill higher, but we were already comfortable with that because we were paying extra each month anyway. Check mortgage rates and refinancing. If the rates are lower and you plan to stay in your home for at least two years, refinancing is a good idea.
Set A Budget And Stick To It:
THIS ONE IS HUGE! You and your spouse need to be together on this one as well. If you have one person buying whatever they want and the other sticking to a budget, it will only lead to arguments and frustration. You need to set a monthly and weekly budget that you both are happy to stick to. If not, your financial goals will not happen. Print out a monthly budget (find ours below) and fill it in together. Write down anything and everything you can think of each month to keep your budget on track.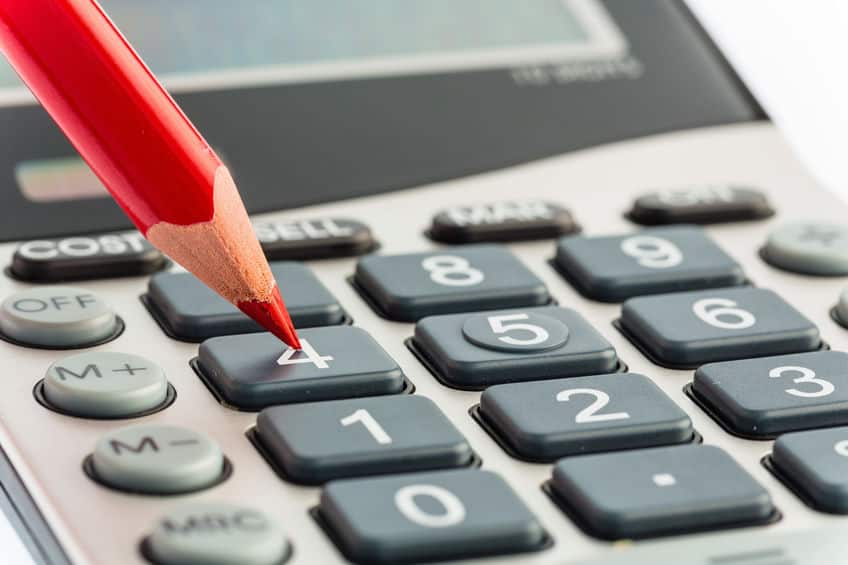 Coupons will become your friend. For the grocery budget, I had to get creative. I learned how to use coupons like a boss. I was obsessed with how much I was saving our family with coupons. It became a game I would play every time I went to the store.
Even though I was having so much fun with it and saving our budget a ton of money, I am not going to lie, IT WAS WORK! It took time, research and sometimes going to different stores to get the best deal, but I look back now and know it was so worth it. I did all of the coupon "work", but Matt was always asking what coupons he needed if he ran to the store. He was just as happy to use them. With everything I learned about couponing and all the money I saved, I am still obsessed with it.
I use them all the time. No matter what, I am always searching for ways to save money on things we are buying.
Subscribe To Saving Sites & Coupon Blogs:
This is a great tip because everything is so easily assessable online. There are all kinds of websites dedicated to saving money and posting coupons and deals. Start browsing different sites and find the ones that have a style you like and can understand. I found a lot of coupon sites that were so jumbled and not organized that I would feel anxiety visiting them. A few that I like are Hip2Save and FunCheaporFree, but like I said, there are a million out there.
The best thing about these sites is that they do all the leg work for you so you save so much time because you don't have to browse for great deals and money-saving ideas. Their job and site is there to do that work for you. I would love to hear if you any favorites or find some great ones in your search. Leave a link to them in the comments so we can all check them out!
What? Lindsay has lost her mind. She is telling us to use a credit card when we are trying to pay off debt? I know, I know – it doesn't seem right, but I have a method to this madness. Now a days, credit cards give you different perks for using them. For us, we still wanted to travel so we chose a credit card that gave us credits towards hotels. While friends were jetting off on major vacations, we were happy traveling close to home to save money but still get away.
We made just as many memories as our jet-setting friends, but we were also paying off all of our debt and they weren't. Our kids still talk about those vacations and we still visit them often. My point here is that if you are diligent about paying off your credit card in full every month, sign up for one that gives you the perks you are looking for (money back, travel points, airline miles, etc.) and use it on your every day purchases (groceries, gas, even the water bill if you are able to). Let me reiterate:
*THE ONLY WAY THIS WORKS IS IF YOU PAY OFF THE CREDIT CARD IN FULL EVERY MONTH.
I am not telling you to go out and buy a bunch of things you don't need with the credit card, but for the things you already have budgeted for each month, it is a smart idea. I felt like I was paying for these things anyway, why not use a credit card that will give me something in return. It was like I was getting more bang for our buck. To make sure I stayed on track each month, I took it one step further.
Any time I used the credit card for gas, groceries, oil changes, etc., I would write the amount in our checkbook each time like I had used our debit card for it. If I spent $80 at the grocery store and put it on the credit card, I would write $80 in the checkbook. That way, I stayed on our monthly budget and the money was already accounted for when the bill came. It made it so easy and I was never freaked out when the credit card bill came because I knew it was already accounted for.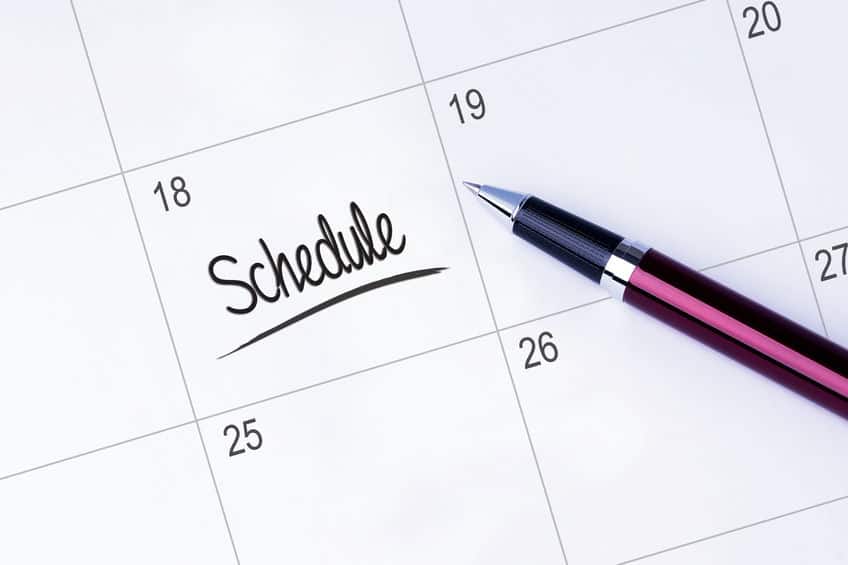 Keep Your Finances Current:
I know so many people who never balance their checkbook or look at their bank statement. I don't know how they stay on top of their finances without ever looking at them. Schedule a time to sit down with your spouse and go over the finances at least once a month. To to pay off a 30 year mortgage faster, both of you need to know where the budget and numbers are at all times.
If you can live with no vehicle or share a vehicle, do it! Matt and I have always needed two vehicles. He works 45 minutes from home and for the first 6 years of our marriage, I worked 35 minutes from home. Even after I quit my job and stayed home with our kids, I still needed a car because Matt works so far it was never convenient for him to drive home if I needed to take the kids somewhere or had an appointment to get to. We would have saved a lot more money if we could have lived with one vehicle, but that wasn't our reality.
So, we made the most of our reality. Matt drove the Honda Accord I bought when I got my first job right after college until it literally could not be driven anymore (one of the tires fell off on the interstate when he was driving home – scariest story ever). That car had 297,000 miles on it when we sold it.
Matt really wanted to make it to 300,000 miles before we even started thinking about a new car, but his safety and the amount of time he spends on the road was more important. Don't waste your money on a new car every few years. Buy used, keep up with the maintenance and pay them off as soon as you can so you can pay off a 30 mortgage even faster.
Thrift Stores/Yard Sales & DIY:
This tip is my favorite. The entire process of how we lived a great life while trying to become debt-free is what the foundation of this blog was built on! Thrift stores, yard sales and DIY projects became a way of life for us way before I started the blog. Matt and I became so in-tuned with getting out of debt that we became pros at shopping thrift stores (find our thrift store tips and tricks HERE) and yard sales (sign up to get my yard sale shopping tips HERE) and DIYing our way through the home we were working so hard to pay off.
I was decorating our home with DIY projects and yard sale finds and people were starting to notice. People wanted the things in our home!! They were asking us how we did things. When they learned how much we were saving, they were pushing me to share our ideas. My Creative Days was born. If Matt and I hadn't embarked on this goal to pay off a 30 year mortgage goal, I would have never started this blog. I can't even imagine that. I am having too much fun! 🙂
One thing we have learned over the years is that the more money you have, the more money you spend. So, for many years now, we have not used any raises that Matt has received at his job. Instead, any time he gets a raise, we put that amount into retirement.
So, basically, we are living off the same pay check he had back in 2010. Paying off different debts over the years freed up income that we would add to our emergency fund or savings. The "mortgage savings" enabled us to write the last chunk and pay off a 30 year mortgage at thirteen years.
You would be amazed what you really need to live off of. If you are living off of one income, try not to add any raises or bonuses to your budget. Instead, put it away (retirement, savings, build up your emergency fund, etc.) If it's not there, you won't miss it and more importantly, you won't spend it.
You will learn to live within that income you have. If we didn't put Matt's raises into something else, we would have just spent that extra money on unnecessary things. This way, we don't see it on his paycheck. And, we continue on with the same income we have for years. We are happy to know that "extra" is building our future instead.
When you want to buy something, ask yourself if it is a need or a want. If it is a want, walk away. If you think it is a need, don't buy it right away. Sit on it for a few days. If you still decide it is a need, go back and get it.
Our kids have watched us doing this and it has helped them save a lot of money. They will wait a few days if they think they want to buy something. Nine times out of ten, we never go back for them to buy it. All that money we saved doing this one little exercise was money we were able to put towards our mortgage.
Cut Out The NON-Necessities:
Things like cable, newspaper, magazine subscriptions, other subscriptions, Starbucks, eating out, internet, etc. Anything that isn't a necessity should be cut out while you are trying to pay off a 30 year mortgage.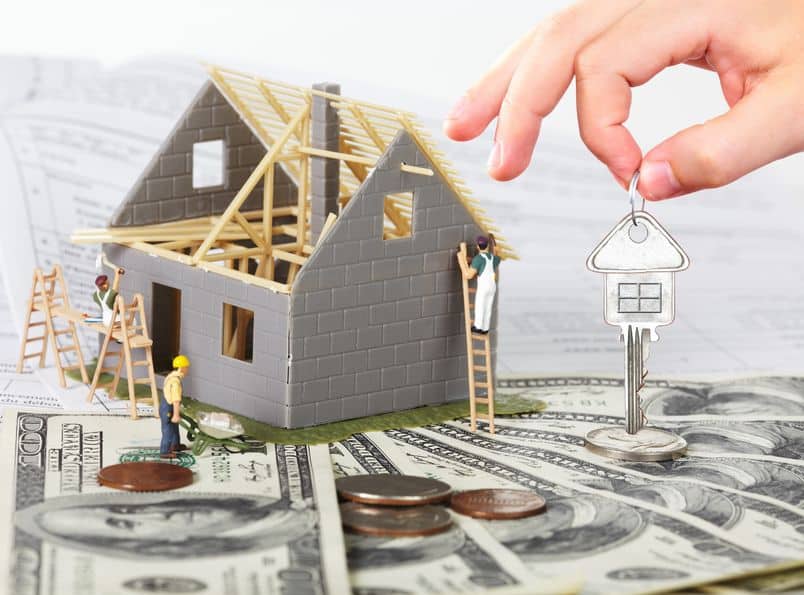 This journey to pay off a 30 year mortgage was not easy. There were many times Matt and I would question our goals. Or, we would talk about wanting a new car or moving to a bigger house. There were many times when we thought jumping on the "Keepin' Up With The Jones'" train would be easier. Whenever one of us started to waver, the other one had to be strong. We would talk about why we started the journey.
Thinking about what our life was going to look like after we reached our goal kept us going.
The end always looked so far away. Now that we have made it, we feel like it was just a small journey in our lives. We learned so much and it taught us so many lessons. We were able to teach our kids so much about money, saving, spending and debt too.
No matter where you are in trying to pay off a mortgage, I am here to tell you that you can do it. It is going to take time, work, diligence and patience, but it is all worth it in the end. Living without a monthly mortgage payment is freeing.
To pay off a 30 year mortgage, we were able to tackle one of our bucket list items and buy

our first flip house project

and a few months ago, we invested in our first rental property.
Even though it seems surreal that we were able to pay off a 30 year mortgage in 13 years, we are still living the same. We haven't bought new cars, we haven't shopped for a new house and I still use coupons whenever I can. Life is still the same since we paid off our mortgage. But, we feel like we can breathe a little easier now.
Do you want to pay off a 30 year mortgage at a faster pace? I hope this post has helped give you different ways you can make your goal a reality.
PIN THIS POST!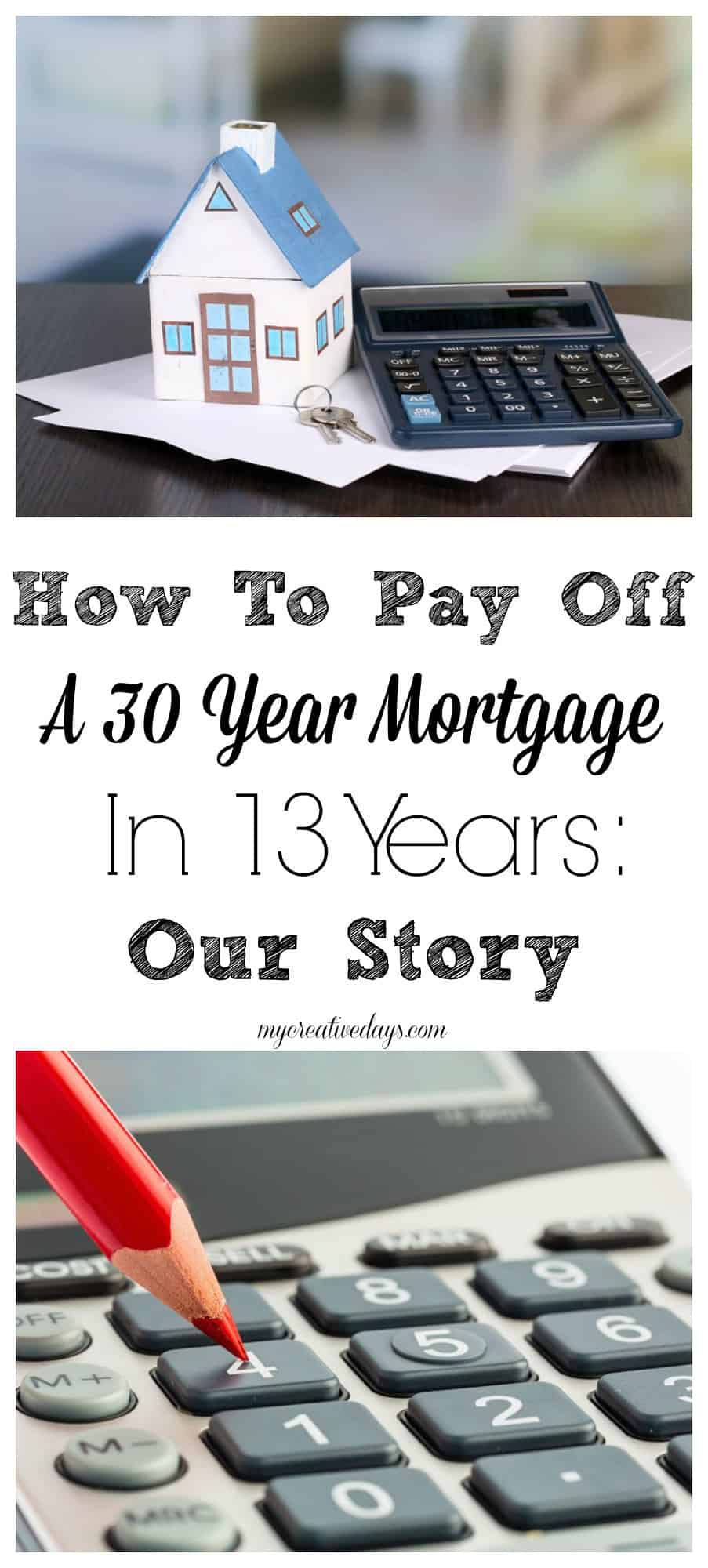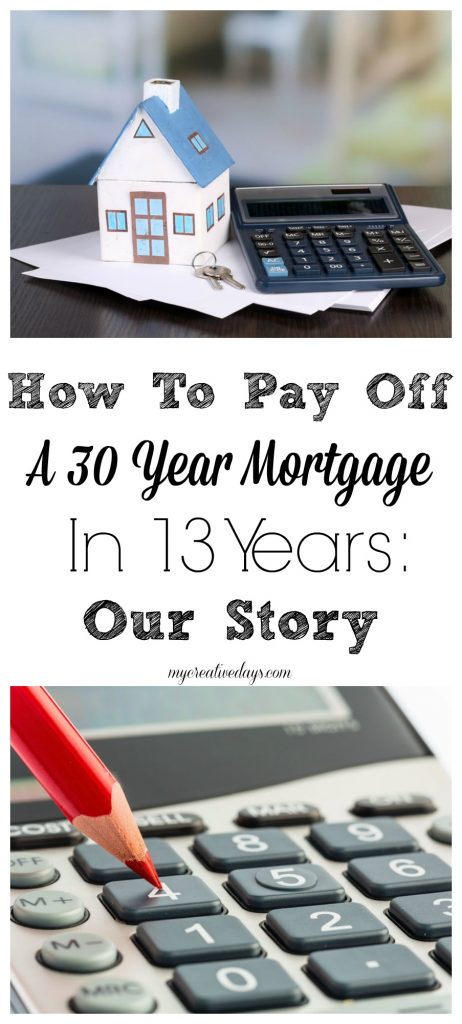 If you liked this post, check out these other great posts:
Things We Bought That Helped Us Become Debt Free
10 Tips: How To Be More Productive
10 Habits That Will Keep Your Home Clean