Learn To Flip With Lindsay is my brand new course that launches today!

Learn To Flip With Lindsay is my very first course. I am so excited to be sharing all the details of it with you. In fact, I know it's going to be a game-changer for so many people. If you have been following me for a while, you know my story. What you might not know is that I was able to turn this part-time gig into a full-time business with unlimited opportunities. I had no idea when I first started this that there was so much opportunity out there. Now I have 20+ years of experience flipping furniture and I know all the ins and outs of running a successful business and I want to share that with everyone I can.
I created Learn To Flip With Lindsay because I get messages DAILY asking me how to get started, what supplies to use, how to fix certain things, which brands to partner with, how to grow a social media presence around the business and SO MANY OTHER QUESTIONS! I can't help everyone in my Instagram and Facebook dm's no matter how hard I try! So I thought, why not create a course that answers ALL of the questions?!
Learn To Flip With Lindsay is a video tutorial course. It walks you through the entire process step-by-step. I have included over 40 worksheets, checklists, forms, and templates to go along with the videos, in hopes that you get as much information from this course in as little time as possible, and do it all at your own pace.
Let's dive a little deeper into what is inside Learn To Flip With Lindsay:
Module 1: Prep Work: Before You Start Your Flip
Prep Work isn't just sanding your piece down and cleaning it. While these steps can make a HUGE difference, we need to take a step back and make sure we have everything we need for the next project BEFORE we get started! In this module we will cover how to pick out your supplies, where to get supplies and how to set up your workspace so you can be ready once we find your next piece!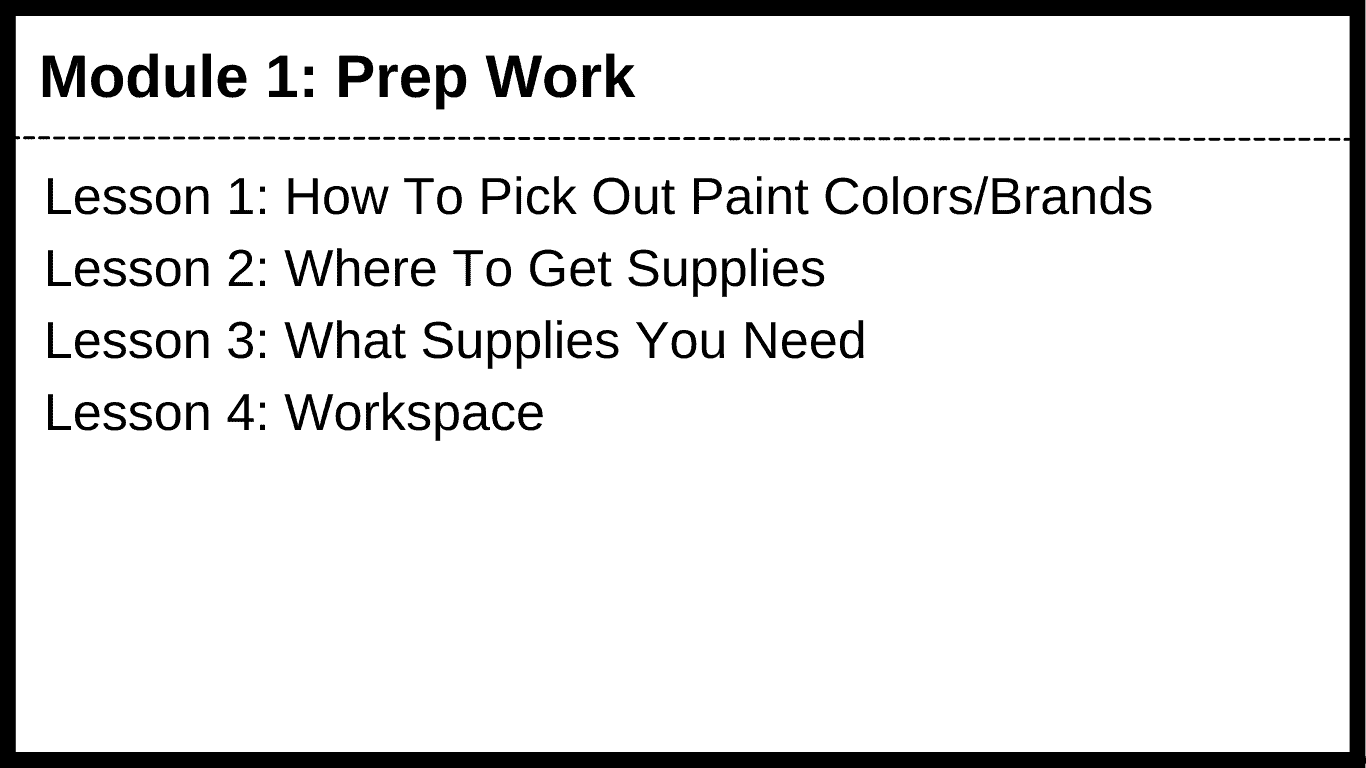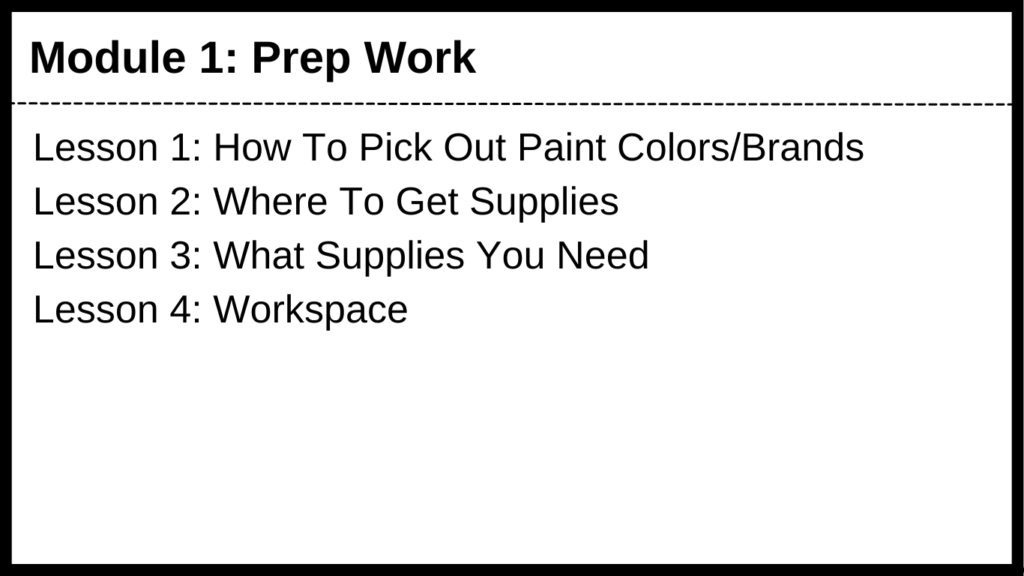 Module 2: Finding Pieces to Flip
In this module we will cover everything from how to know the value or worth of a piece, to where to find pieces, what pieces to avoid picking up, and how to haggle on pricing.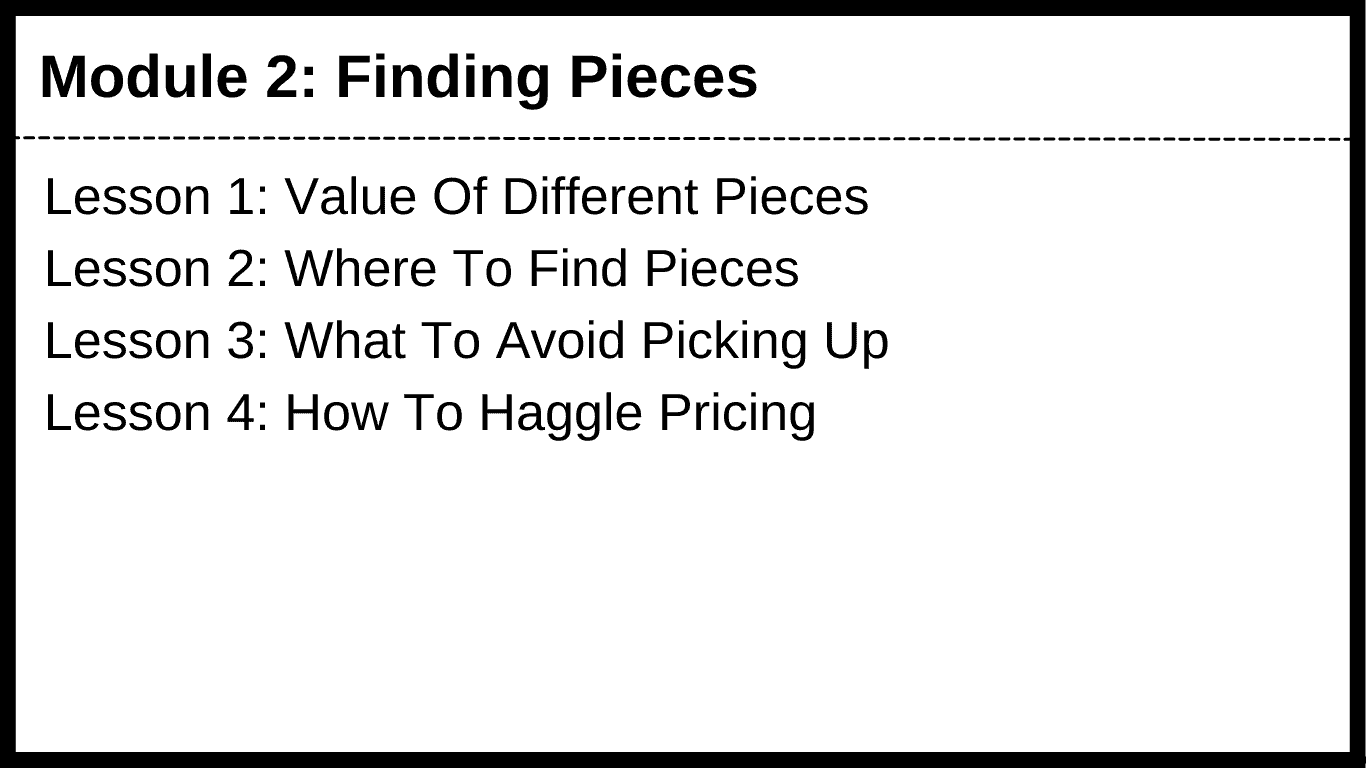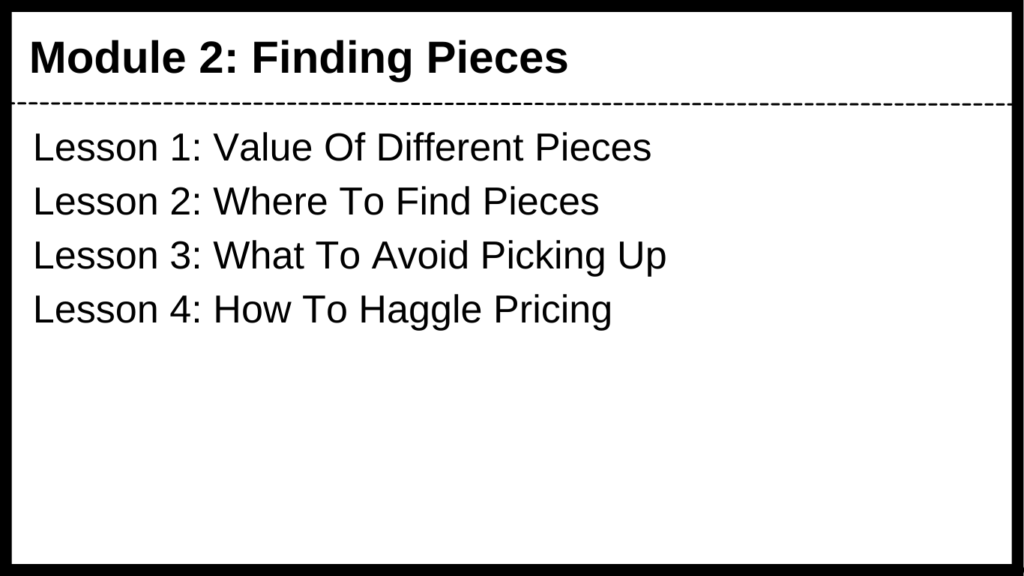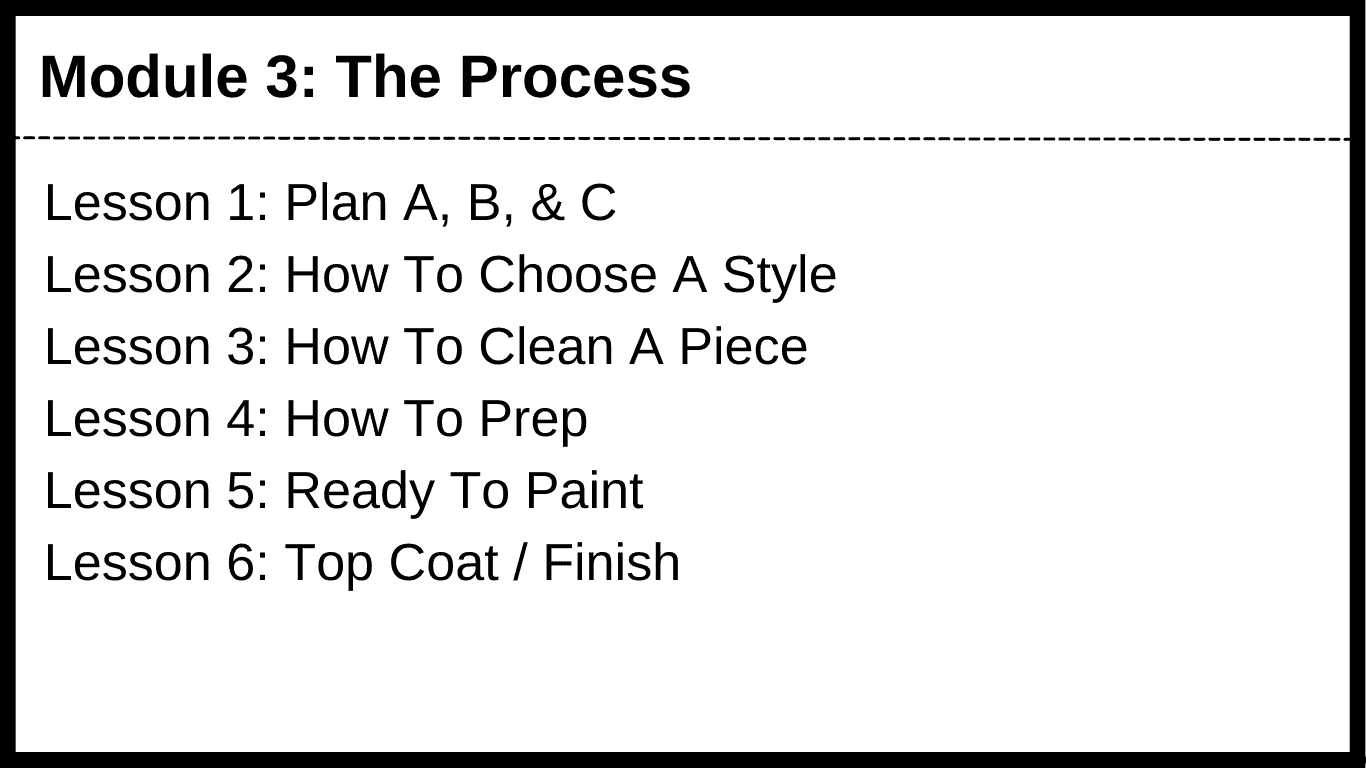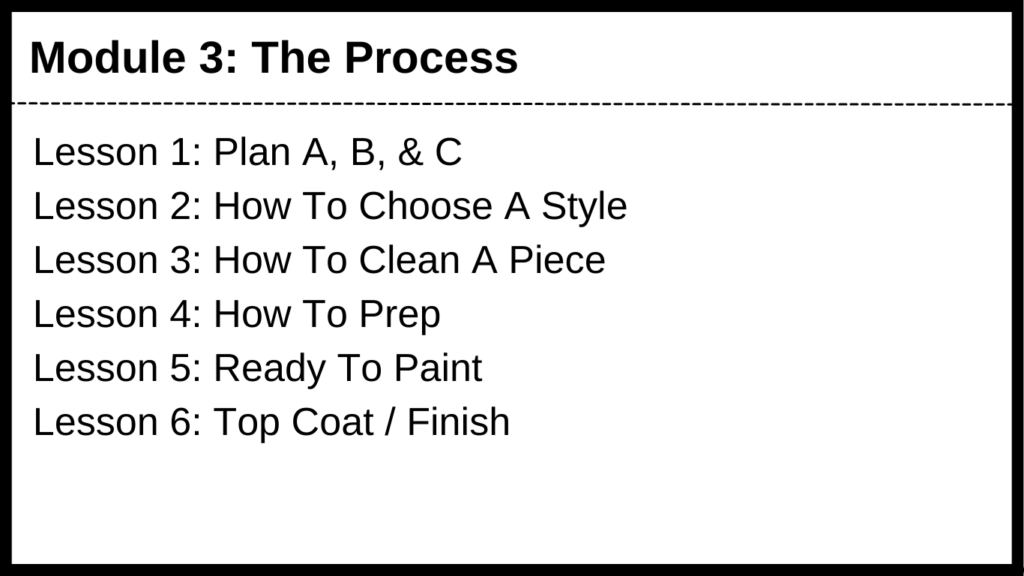 Module 4: Learn How to Stage Your Finished Pieces
In Module 4 we will be covering all the basics you need to know in order to stage a piece. From understanding the lighting, to what decor to use for staging, all the way to the actual taking of the photos.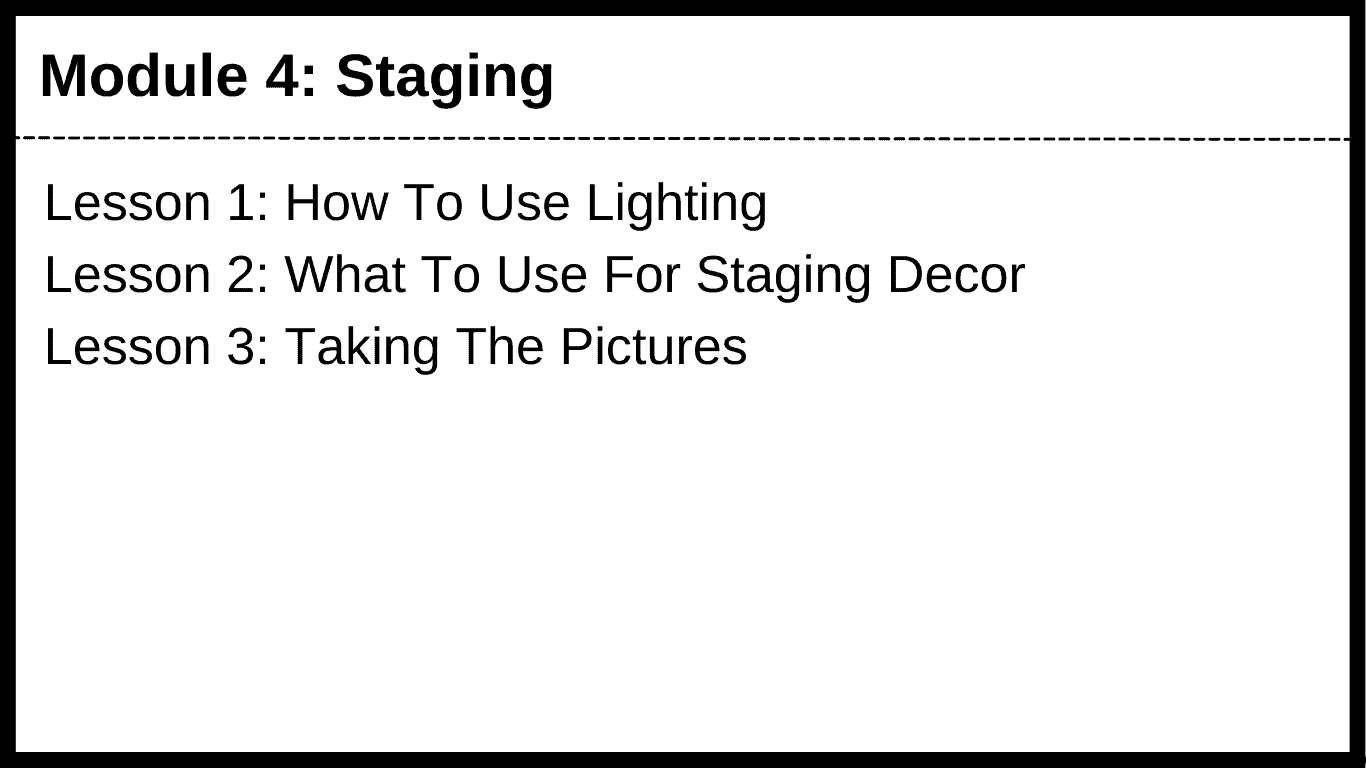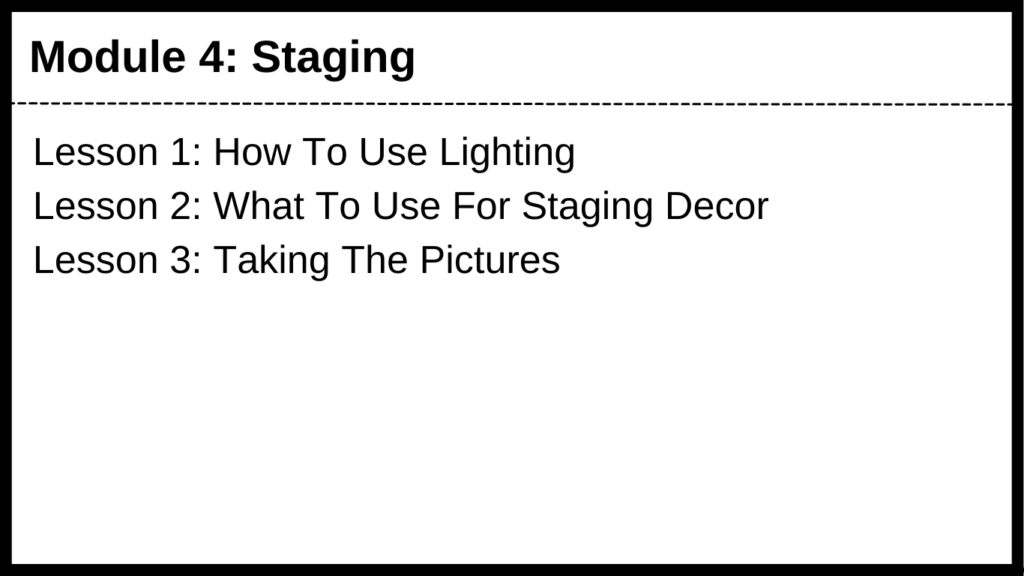 Module 5: Selling Your Flip
In Module 5 we are going to cover everything there is to know about selling. From researching the market, to pricing your pieces, to making sure you have a REALLY good description written up for it, where to sell it, and how to best communicate with the customers, so they become repeat customers.
In this module, we are also including some Professional Templates to help you sell your pieces.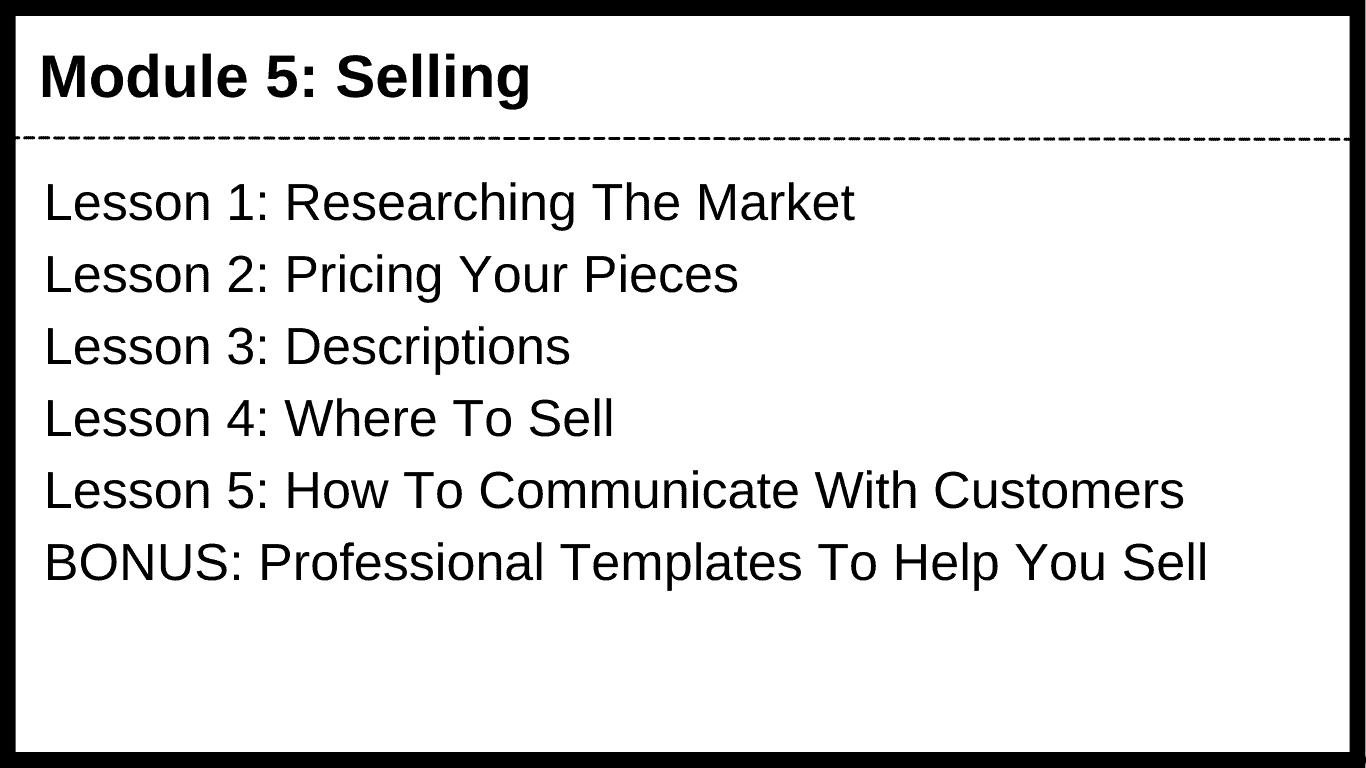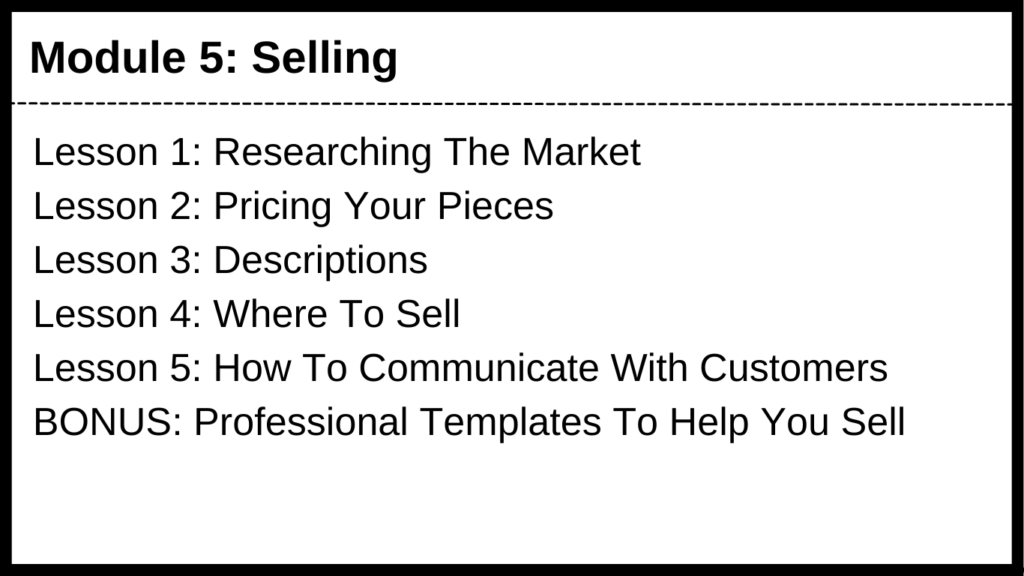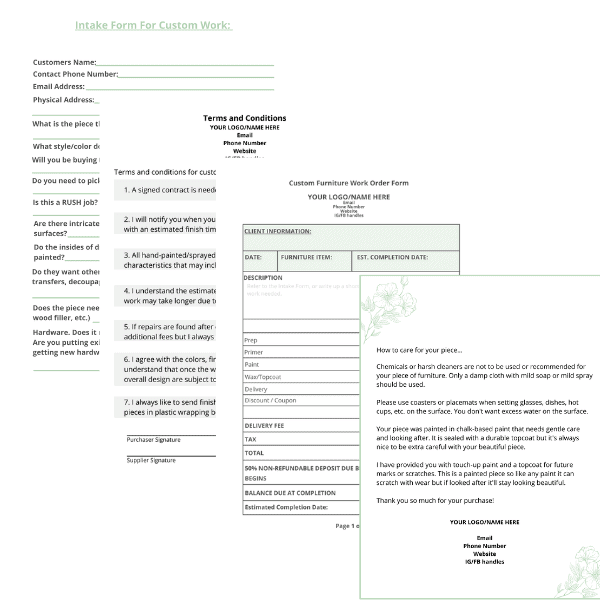 Module 6: Branding Your Business
In Module 6 I want to cover why branding and social media are so crucial to your business. We will find your ideal avatar, decide on a social media channel to start with, talk about growing on social media, discuss how to algorithm works and why you have to be consistent and then finally the reason why engagement is KEY to your success on social media.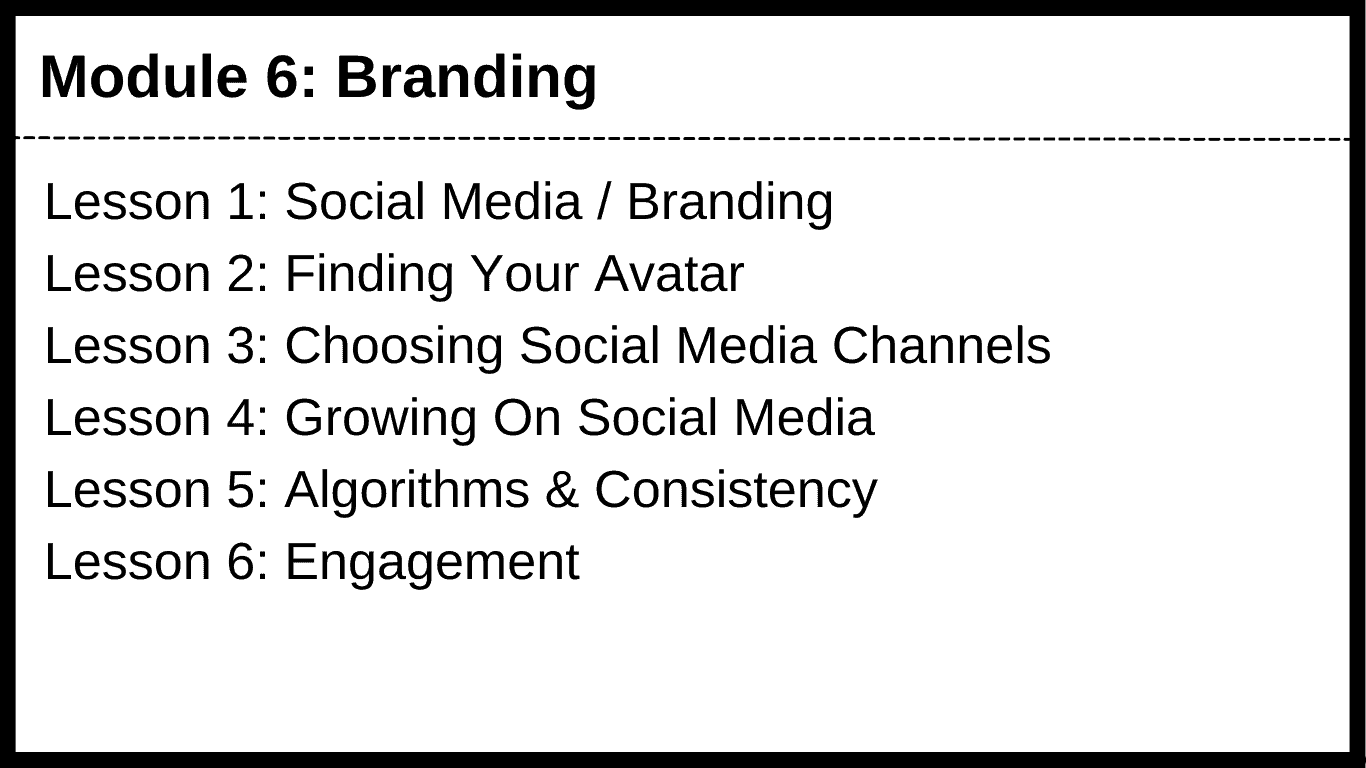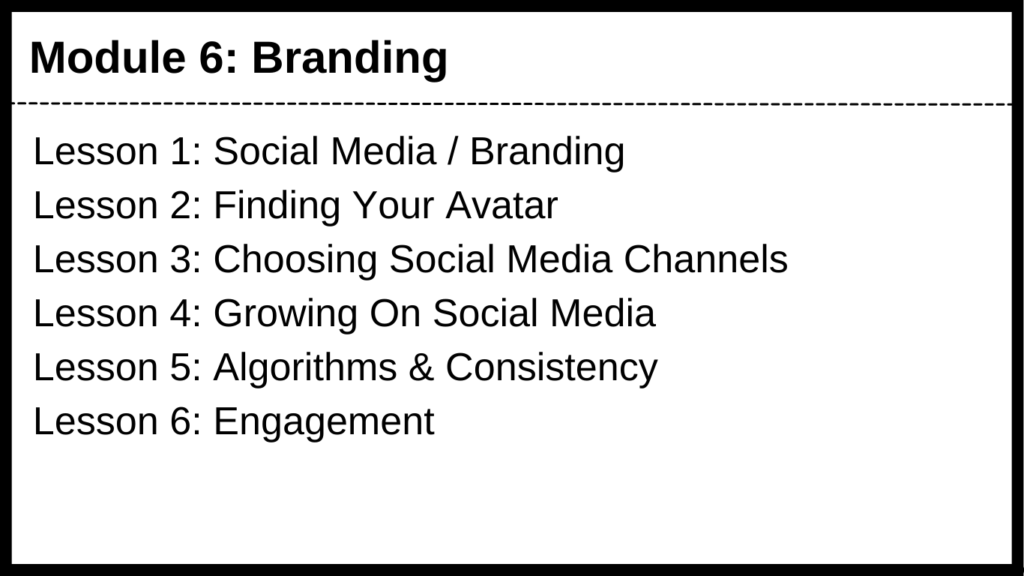 Bonus Module: Working With Brands
I added this module to the course because working with brands is a GREAT way to grow your business. I know not everyone is going to want to do brand partnerships/sponsorships but I still wanted to cover the media kit, rate card, and different opportunities you have if you do want to work with brands.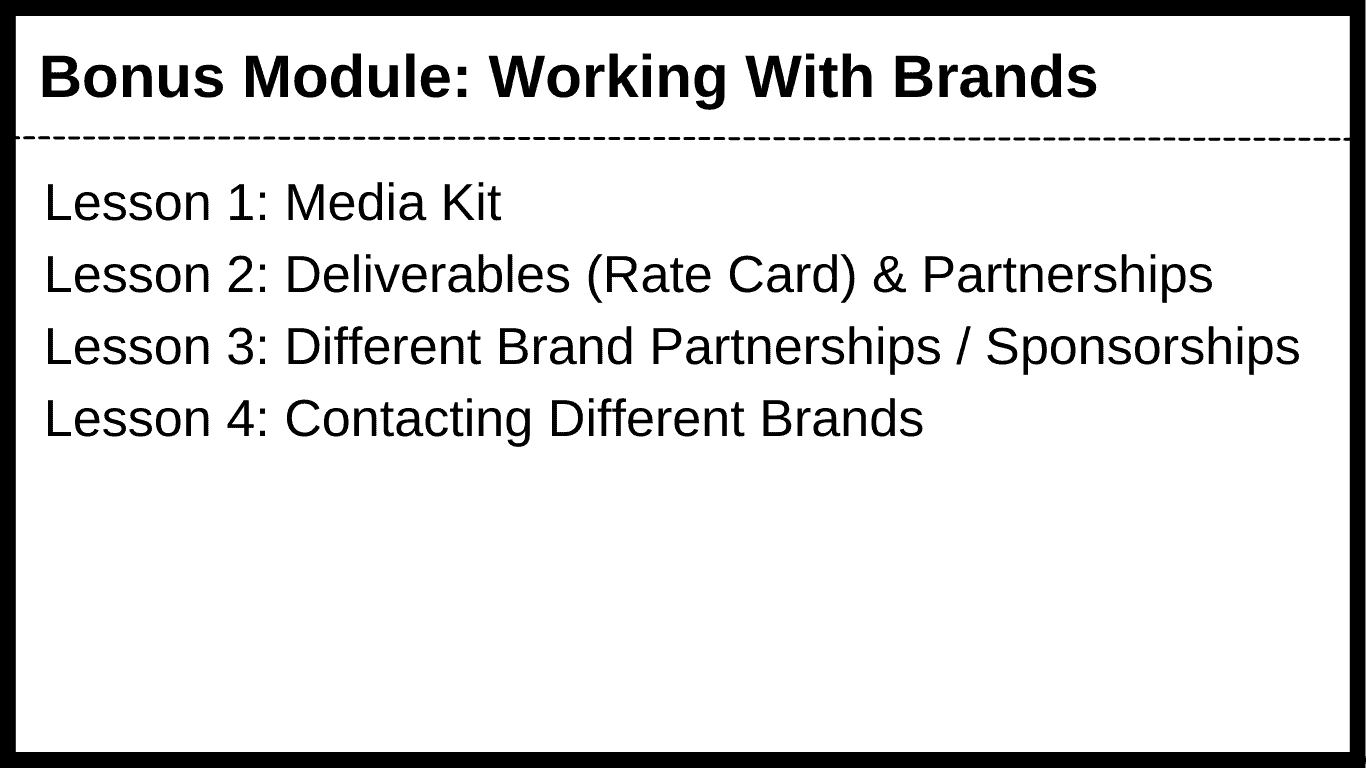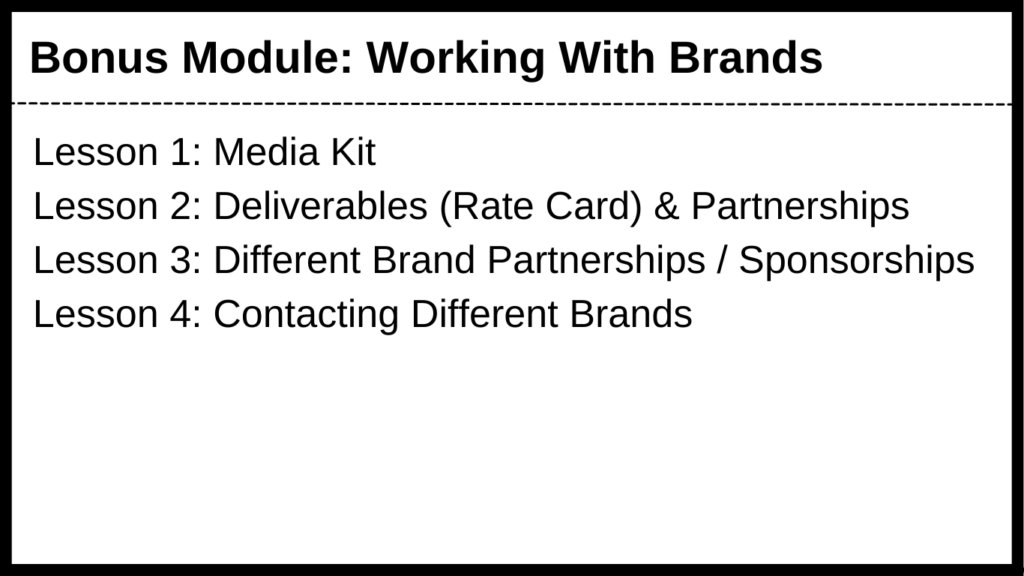 Also – included with the purchase of Learn To Flip With Lindsay is 1 month FREE of my private membership: The Creative Squad.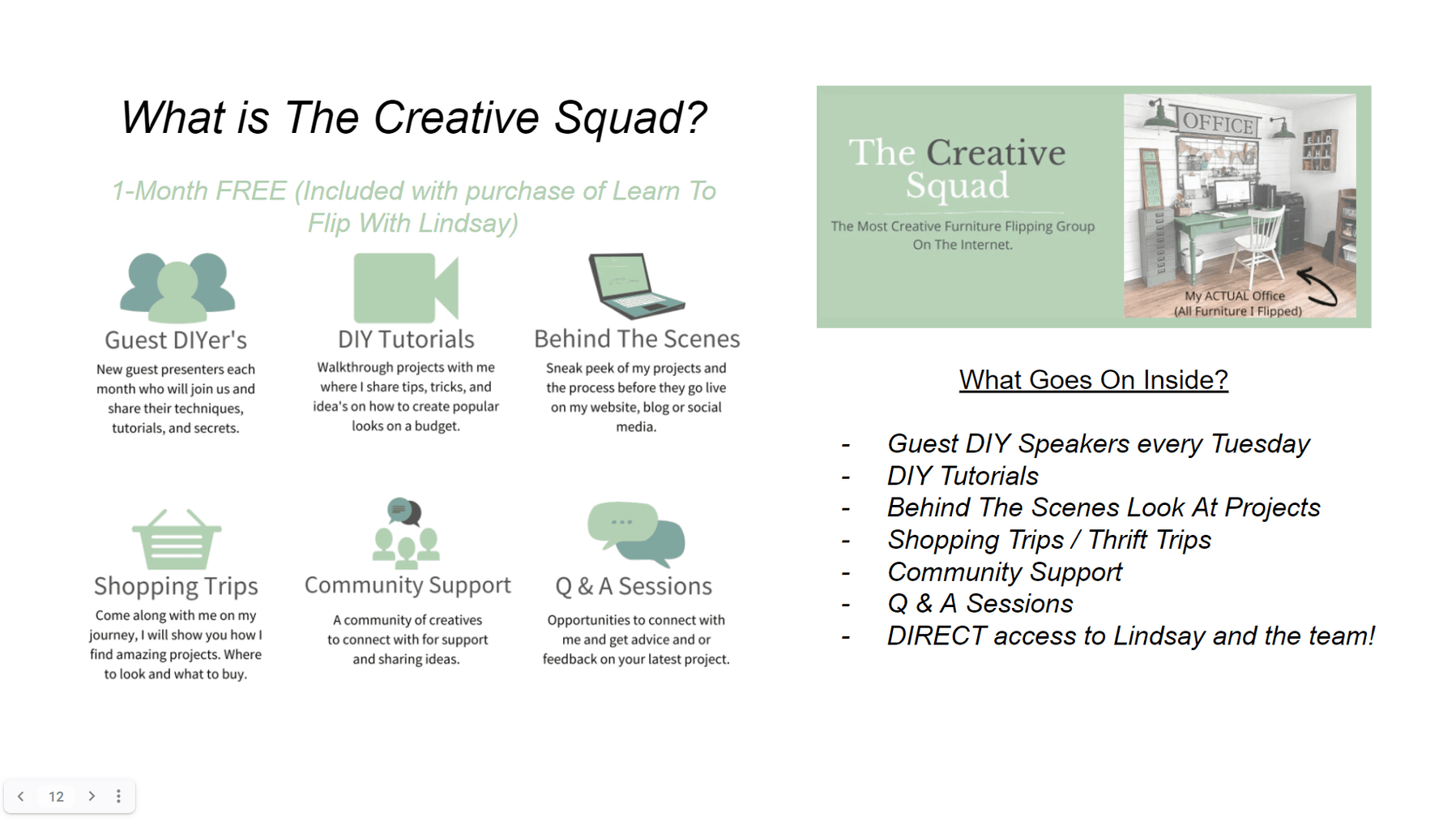 ANYONE CAN DO THIS!
Learn To Flip With Lindsay is for everyone!
I know single parents who flip furniture for extra income. In addition, I know mothers of 6 who homeschool and flip furniture during nap time. I know nurses who flip furniture on their days off. There are many retired husbands and wives who do it just to stay active and use the money on their grandkids. I know stay-at-home moms who just want some extra income, college kids who want to make some extra cash, and even KIDS (under 18) who love to be creative and have created a furniture flipping side hustle to save up money and earn some extra spending money.