Chalk Couture and Chalkology Paste have come to the rescue again to make a plain wood box cute again.
I have been sharing lots of Chalk Couture projects this summer. I have had a little more time to create now that the flip house is done and I am having a blast with all the things Chalk Couture and the Chalkology Paste can do. It is also yard sale season around here, so I have been finding cute pieces that are perfect for Chalk Couture projects. My favorite thing about the Chalk Couture products is that I can create so many different things in minutes. It never takes a lot of time and the projects turn out great every time. I am all about easy projects and Chalk Couture ensures I have an easy project waiting for me when the creative bug bites.
I found this box at a recent yard sale venture.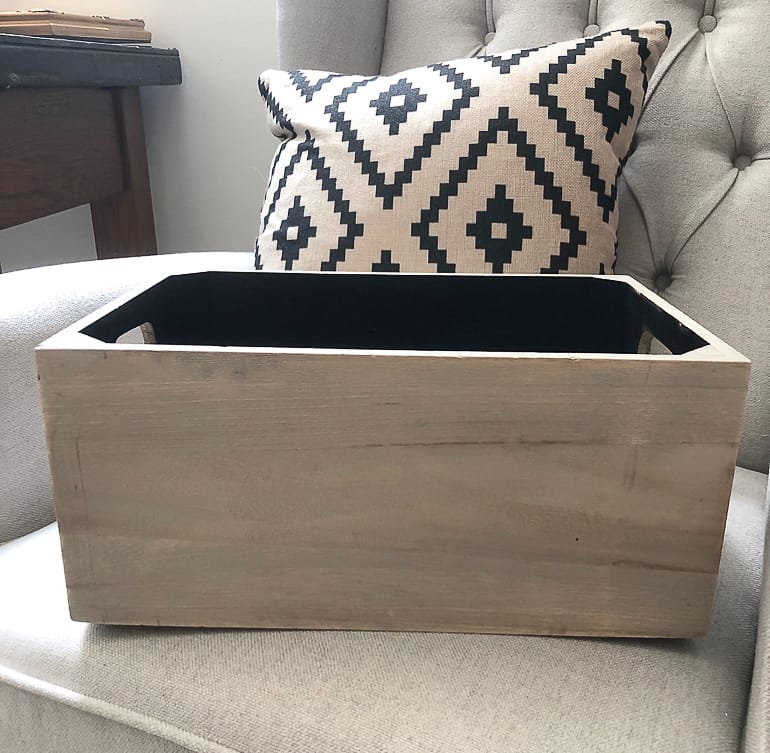 I loved the wood tone on the outside of the box, but there was a little stain on the inside. Of course that didn't scare me because I knew a little paint would take care of it.
Supplies Used To Make This Wood Box Extra Special:
Black Paint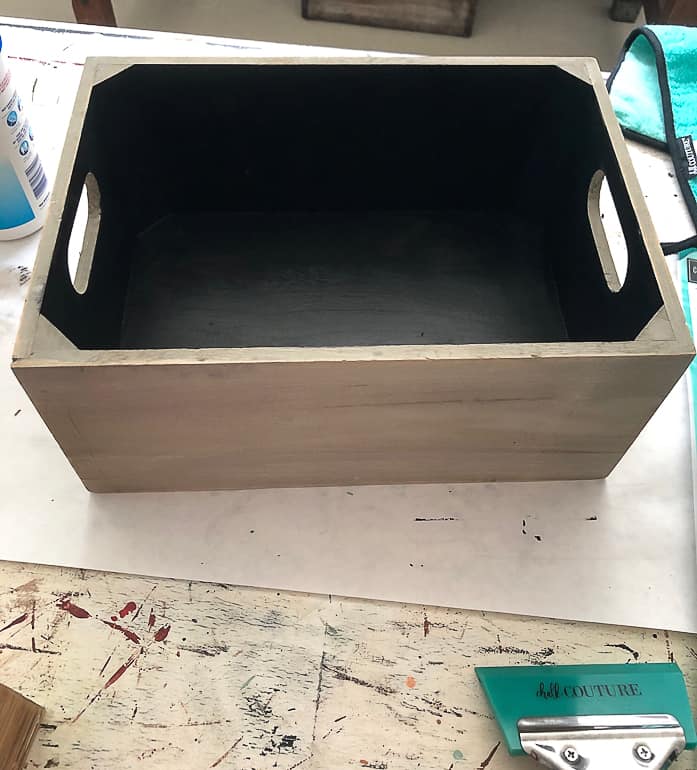 I painted the inside of the box black and while it dried, I started adding the "Farm Fresh" sign to the outside.
Here is a quick video to show you how easy it was to transform this plain box with Chalkology Paste:
You can also use these easy steps:
Cut the

transfer

if needed.
Take the transfer off the backing and place it on the surface you are adding it to. Make sure to press the transfer down really well – especially around the letters and designs.
Open the

Chalkology Paste

and mix it with the

Multi-Tool

.
Add some of the paste to the

transfer

in different areas. You don't need a lot.
Use the

squeegee

to push the paste all over the transfer making sure to cover the letters and designs fully.
Close the jar and pull the transfer off.
Repeat these steps if you are adding another transfer.
Let dry completely.
Clean the

transfers

,

Multi-Tool

and

squeegee

.
The box looks brand new now.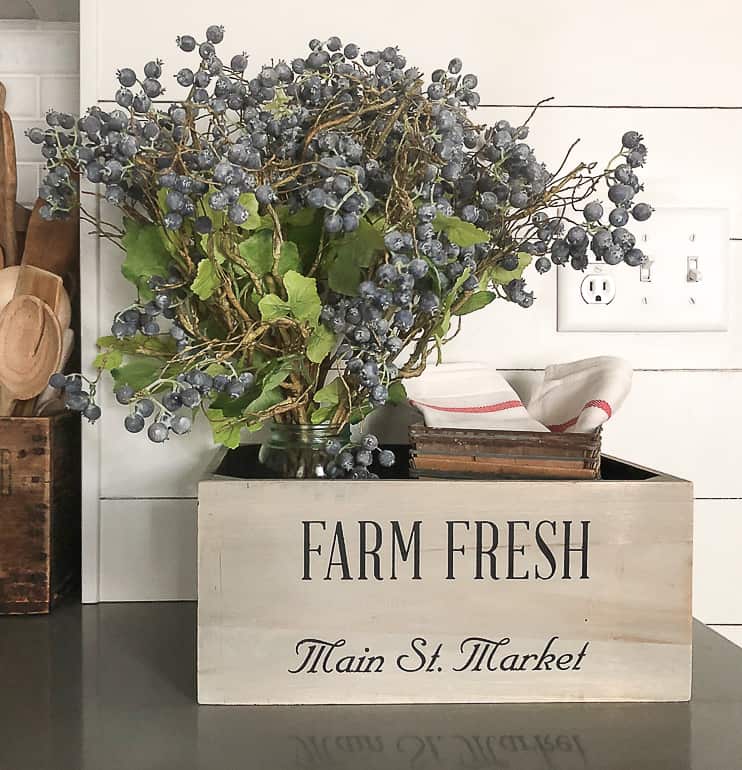 It looks like something you would buy in a store!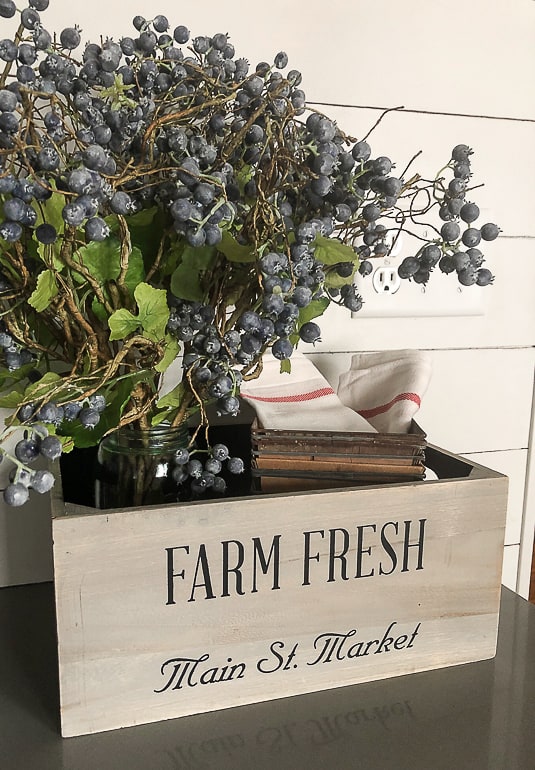 The best thing about this is that I can use the transfers I used on this project for many more projects. The projects never use a lot of paste so I can literally create many things with one transfer and some paste. I feel like I am getting a lot of bang for my buck with these projects and I can see this Farm Fresh sign on so many other things.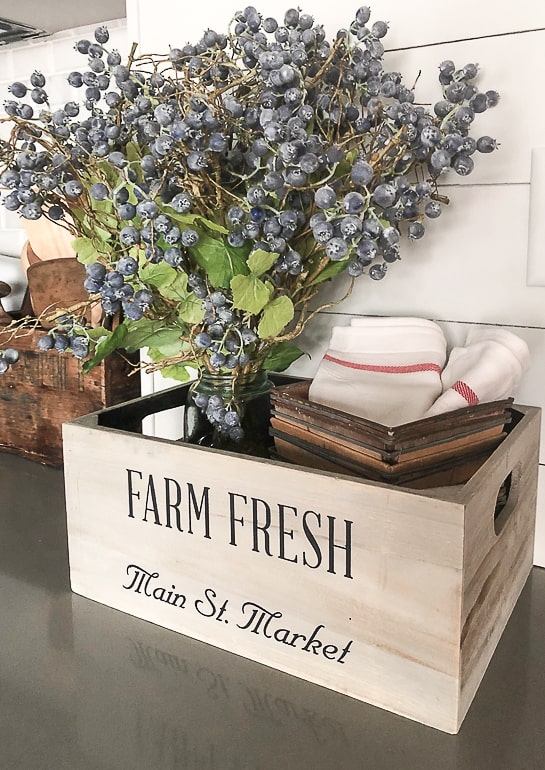 I have been creating all kinds of things with Chalk Couture that I am excited to share with you. Make sure you are following along with me on Instagram HERE and Facebook HERE because I post some of the projects I am not writing blog posts for on those channels.
As always, subscribe to my YouTube channel HERE to see more video tutorials as well.
What would you create with the Chalk Couture transfers and Chalkology Paste?
PIN THIS POST!


If you liked this Chalkology Paste project, you will also love these easy home decor projects:
How To Make A Sign Easily With Chalk Couture
Metal Tray DIY With Chalk Couture